Get connected with our daily update
This story was updated at 11:30 p.m. Tuesday with the final results from Travis County and at 2 p.m. on Wednesday with the final results from Williamson County.
With all votes tallied, Council Member Jimmy Flannigan is headed to a runoff against his opponent, Mackenzie Kelly, in the race for his District 6 seat on Austin City Council.
---
Flannigan led the race, with 40.22% of votes. But he needed 50% to avoid a runoff.
Kelly, one of three challengers, received 33.4%.
Jennifer Mushtaler and Dee Harrison—who, like Kelly, ran on platforms in opposition to Flannigan's stance on police reform, homelessness and Project Connect—had 19.11% and 7.26% of the vote, respectively.
District 6, which includes parts of northwest Austin, is one of five of Austin City Council's 10 seats up for election this year. In his next term, Flannigan will be tasked with the ongoing rewrite of the city's land use code, making further cuts to the Austin Police Department's budget, and—with voter approval of Proposition A—implementing the $7.1 billion Project Connect transit plan.
As a council member, Flannigan has supported all of the above initiatives. His platform included plans to address the pandemic, Austin's affordability crisis, traffic congestion and public safety reform.
Flannigan has proposed replacing the police chief role with a system modeled after the city's 10-1 structure, in which five commanders represented different regions of the city and a civilian police commission would direct the Austin Police Department.
Flannigan also voted to overturn the city's camping ban.
"Austin service provides concur that criminalizations creates barriers to accessing necessary services to get folks experiencing homelessness into housing, while also adding costs to the criminal justice system," he told Austonia last month.
Flannigan outraised his opponents by a wide margin, with around $167,000 in donations, according to the latest round of campaign finance reports.
Harrison recently retired from a career in emergency management at various local and state agencies. She opposes the current council's push to reimagine public safety by reallocating police funds to other city services as well as the Project Connect transit plan.
Harrison raised $2,450 in political contributions.
Kelly is a client care manager who ran against Flannigan in 2014. She also opposes recent cuts to the Austin police department budget and the decision to overturn the camping ban.
"This was a knee-jerk reaction by the city with no solid plan in place to address homelessness as a whole," she recently told Austonia.
Kelly raised $64,0000 in political contributions and was endorsed by local Republicans, such as Travis County GOP Chairperson Matt Mackowiak and former Austin City Council Member Ellen Troxclair.
Mushtaler, a physician and small business owner, ran on a platform that included reinstating the camping ban, fully funding law enforcement and prioritizing neighborhoods in the land use code rewrite process.
Mushtaler raised $40,000 in political contributions.
Travis County saw record turnout this election, with 35,354 District 6 residents casting a ballot in this year's election, compared to 27,599 in 2016.
The Texas French Bread Bakery, located on 2900 Rio Grande Street, has been completely destroyed after a fire erupted on Monday night.
The Austin Fire Department responded to the fire just before 11 p.m., where they arrived to see flames coming from the roof of the bakery. Firefighters fought the fire for about an hour before the roof collapsed.
While no one was injured in the fire, firefighters say the historic building was completely totaled.
AFD determined that the fire was accidental and caused by mechanical failure. AFD said the damages amounted to $1.6 million total: $1.1 million in structural damage and $500,000 in damage to the contents of the bakery.

This year, Texas French Bread will celebrate 40 years of business. Before the bakery occupied the building, it was the Rome Inn, a music venue that hosted 1970s artists like Stevie Ray Vaughan.
Austin's first major league team is ready to extend its reach with a new collaborative sports complex The Pitch, an Austin FC destination packed with local food, beverages and Verde fervor is set to open in Northeast Austin in February.
The Pitch, a collaboration between Austin FC and Karlin Real Estate, among other entities, will be located in the 50-acre Parmer Pond District, which already hosts the club's practice facility St. David's Performance Center.
Dubbed a "true destination" for both soccer fans and the community, The Pitch will consist of multilevel shipping containers designed by Mark Odom Studio that will carve out into a 1,200-seat stadium complete with a soccer pitch made of turf, food and beverage options and a five-acre "Parmer Pond" featuring jogging trails.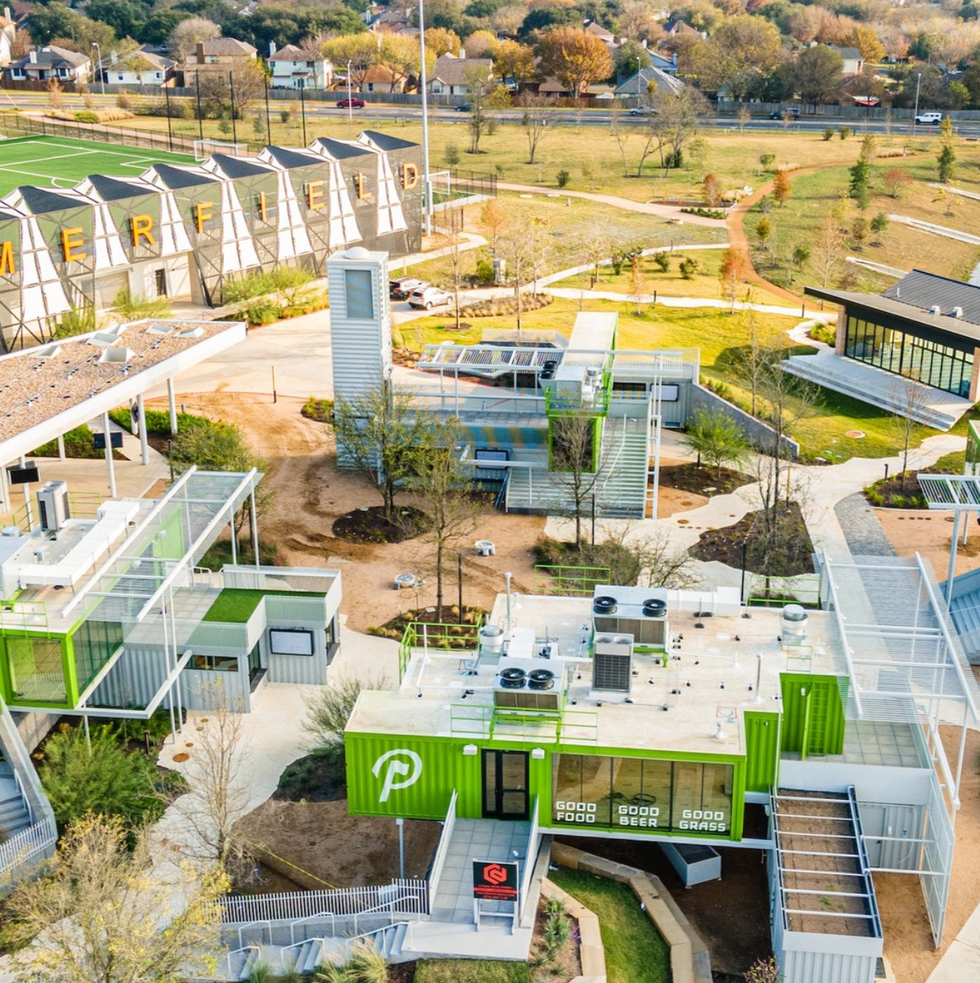 Made from multilevel shipping containers, The Pitch will include food and a 1,200-seat soccer pitch made from artificial turf. (The Pitch)
"The launch of Karlin's new food and entertainment experience will greatly enhance the Parmer development while perfectly complimenting St. David's Performance Center," Austin FC founder Anthony Precourt said. "The Pitch... will offer a strong variety of food options and gathering spaces for guests who will utilize St. David's Performance Center and Parmer Field for a variety of events."
The Pitch project lead Dave Greeley, who helped come up with the concept, is a former president of Austin FC parent company, Two Oak Ventures.
"The vision behind The Pitch at the Parmer Pond District is to be a first-of-its-kind sports, dining and entertainment destination," said Dave Greeley, The Pitch project lead and Team Orbis president. "This will be an unmatched experience for Parmer Austin tenants, Austin FC and club supporters, and the community."
With its proximity to the practice center, the venture hopes to contribute to the growing "soccer city" of Austin during Austin FC matches and youth games with the Austin FC Academy hosted at the St. David's Performance Center.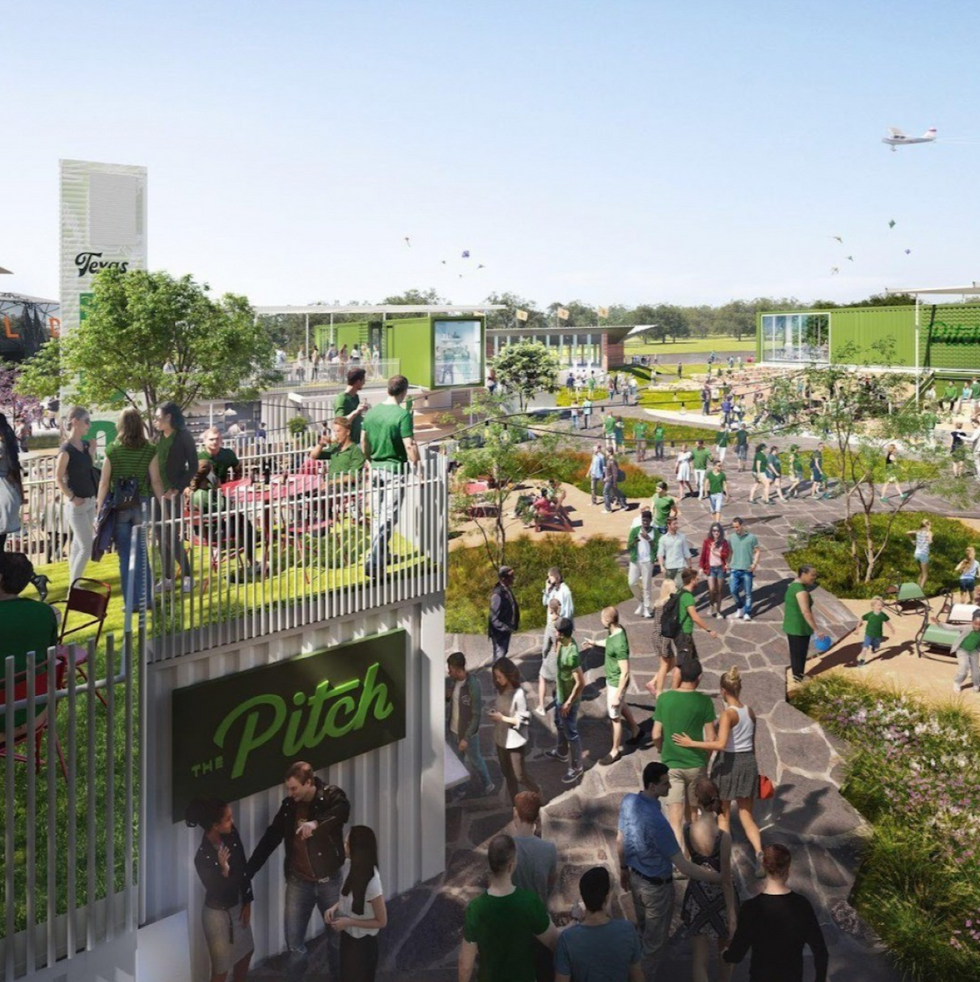 The Pitch hopes to converge both community and club interests with Austin FC. (The Pitch)
In addition to the soccer pitch, stadium and pond, The Pitch will provide a foody experience made by the creative team behind Austin staples like Fareground and Easy Tiger. The complex will offer local bites including:
Ranger Burger, which offers beers and burgers made from highly-coveted Wagyu beef direct from Ranger Cattle in East Austin
Ga Roti, which merges flavors from Northern Vietnam with the culinary techniques of France to create a unique rotisserie chicken joint
Taco Flats, a local taco chain serving Mexico City-style tacos, micheladas and more
Sand Bar, which fulfills its namesake with beauty cocktails, local beers and a sand volleyball court
Coffee Club, a coffee shop and bakery
Corner Kick Bar, the soccer-focused main bar of The Pitch complete with "tunes, TVs and (a) beer garden"
The Pitch will squeeze between St. David's Performance Center and Parmer Pond alongside the southern edge of Parmer Austin, a Karlin Real Estate venture that will eventually include multifamily housing, corporate office space and an aerospace and defense center.