Austonia AM
100% Austin news, info, and entertainment, straight to your inbox at 6 a.m. every morning.
In five minutes, you're fully informed and ready to start another great day in our city.
Get connected with our daily update
Fourteen months into the pandemic, downtown Austin is still reeling from its impact: pedestrian traffic declined as much as 74%, hotel occupancy rates plummeted, at least 10 music and event venues closed permanently, as many as 25% of downtown storefronts are vacant and an estimated 3,000 jobs have yet to be recovered, according to the Downtown Austin Alliance.
But a new report issued by the local nonprofit on Wednesday maps out a road to recovery, aided by major developments such as the Waterloo Greenway urban park system, Project Connect and the South Central Waterfront, just south of Lady Bird Lake; small and local business reopenings; and a plan to house the city's unsheltered homeless residents, many of whom reside in tents along Cesar Chavez Street.
---
"It won't happen overnight, but our team is dedicated to working with the community and local government officials and stakeholders to implement this vision that will result in a better downtown experience and a downtown economy that is better able to withstand future catastrophic challenges," President and CEO Dewitt Peart said in a statement.
There are reasons to be optimistic, according to the report. Demand for downtown housing remains strong thanks to rising employment and population numbers, and two new apartment buildings in the Rainey District will add 600 units.

Although many offices remain remote and leasing activity dropped precipitously in 2020, DAA believes demand will rebound. Tech companies such as Google and Facebook, both of which have invested in new office towers downtown, have maintained their intention to return to the office, according to the report. And with the upcoming openings of the Indeed Tower, 300 Colorado and several other office buildings, downtown is set to add more than 1.5 million square feet of Class A, the most luxurious, office space this year, a new annual record.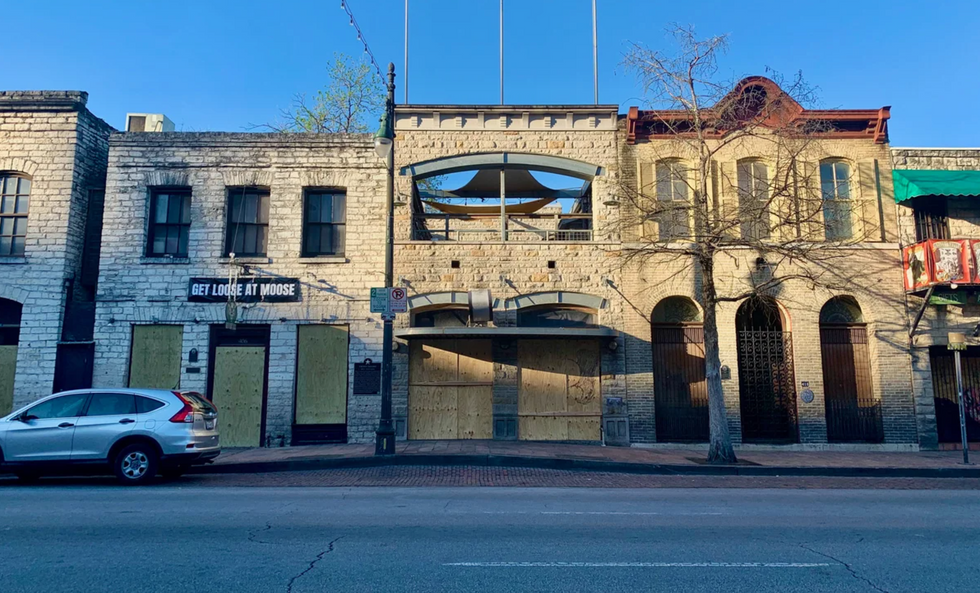 Downtown businesses have been adversely impacted by a loss of pedestrian traffic and tourism during the pandemic, according to the DAA report. (Emma Freer/Austonia)
In addition to downtown's role as a business center, it is also a leisure destination for tourists and residents alike. DAA's roadmap includes plans to expand arts, cultural and music events in downtown parks and to advocate for financial support for small and local downtown businesses, which have been especially hard-hit by the pandemic.

The report comes on the heels of a recent summit of local elected officials, community leaders and organizations including DAA, who developed a plan to address unsheltered homelessness—and as city residents vote on a proposition to reinstate a ban on camping in certain public spaces. The main goal, which Homeless Strategy Officer Dianna Grey presented to the City Council on Tuesday, is to house 3,000 people in the next three years by incentivizing landlords to provide rental units, developing new permanent supportive housing and adding 200 new case managers and other staff positions.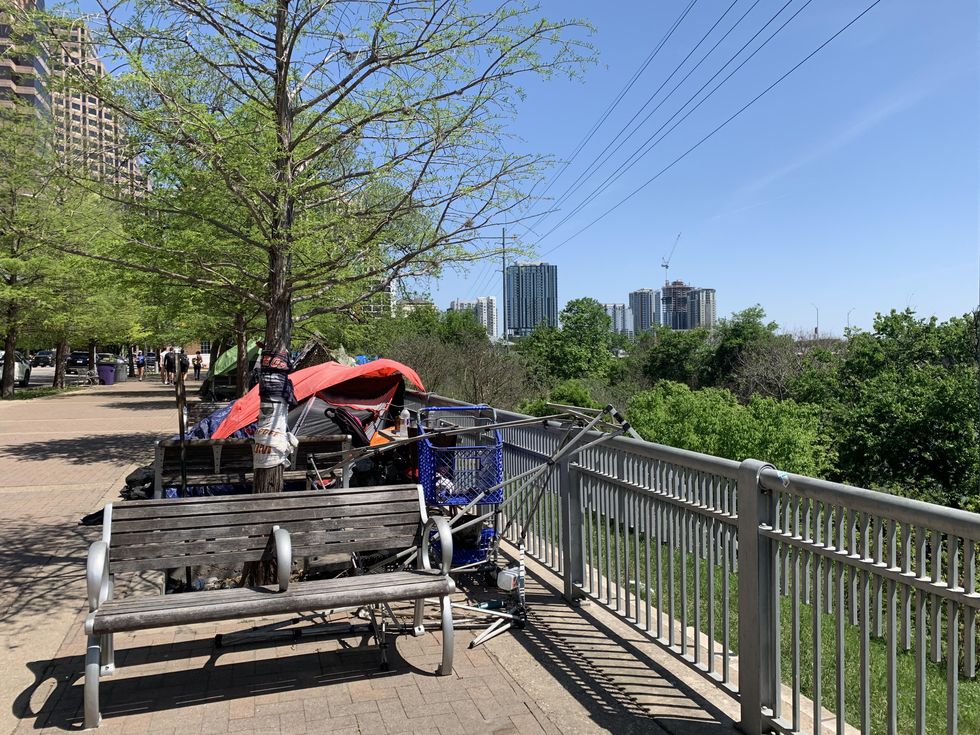 An encampment has formed along Cesar Chavez Street near Lady Bird Lake in downtown Austin and has become a focal point of Save Austin Now, the local political action committee behind Proposition B. (Emma Freer/Austonia)
"So many people love downtown Austin and because it is the economic engine of our region, we need to ensure it remains a destination for job creators, residents, local visitors and tourists," Director of Research and Analysis Jenell Moffett said in a statement. "The fundamental strengths are a strong foundation to build upon."
A week after Texas added two congressional seats and California lost one, state officials reported a population decline in 2020 for the first time in the Golden State's history.
California fell by over 182,000 people from January 2020 to January 2021, dropping almost 0.5% to cap out at around 39.5 million people. It is still the nation's most populous state.
For over thirty years, California has seen more people leave than move in from other states, state officials said, with 6.1 million people moving out and 4.9 million coming in last year. Immigration and births kept California growing, but the state saw a shrink in international migration in 2020 due to COVID and the White House's hold on visas.
Of the steady flow of ex-Californians moving to other states, more are moving to Texas than any other state. Many are relocating to Austin, which has been labeled a "little California" by billionaire resident Elon Musk and continues to grow astronomically.
Meanwhile, California cities including Los Angeles, San Diego, San Jose and San Francisco saw a population decline.
With immigration and state migration on the decline, the Golden State was also hit with a spike in deaths- 51,000 people died from COVID in 2020, and all but seven of the state's counties saw death rates higher than the three-year average.
Still, the California Department of Finance said a "slightly positive annual growth" can be expected next year as the state recovers from COVID deaths and political repercussions.


Ingredients:
1 1/2 oz of hibiscus-infused Tito's Handmade Vodka
2 oz sparkling water
1 oz fresh lime juice
3/4 oz simple syrup
1 tsp allspice dram
Directions: Add infused Tito's Handmade Vodka, lime juice, and simple syrup to a shaker with ice. Shake and strain into a glass over fresh ice. Top with sparkling water, and garnish with a lime slice. Enjoy!
The sun is out, and thousands of Austin FC fans will be as well as Austin FC goes to Kansas to play Sporting Kansas City at 6:30 p.m. on Sunday.
There's plenty of pub partners to choose from, but here's a few watch parties to help you get in on the action.