Get connected with our daily update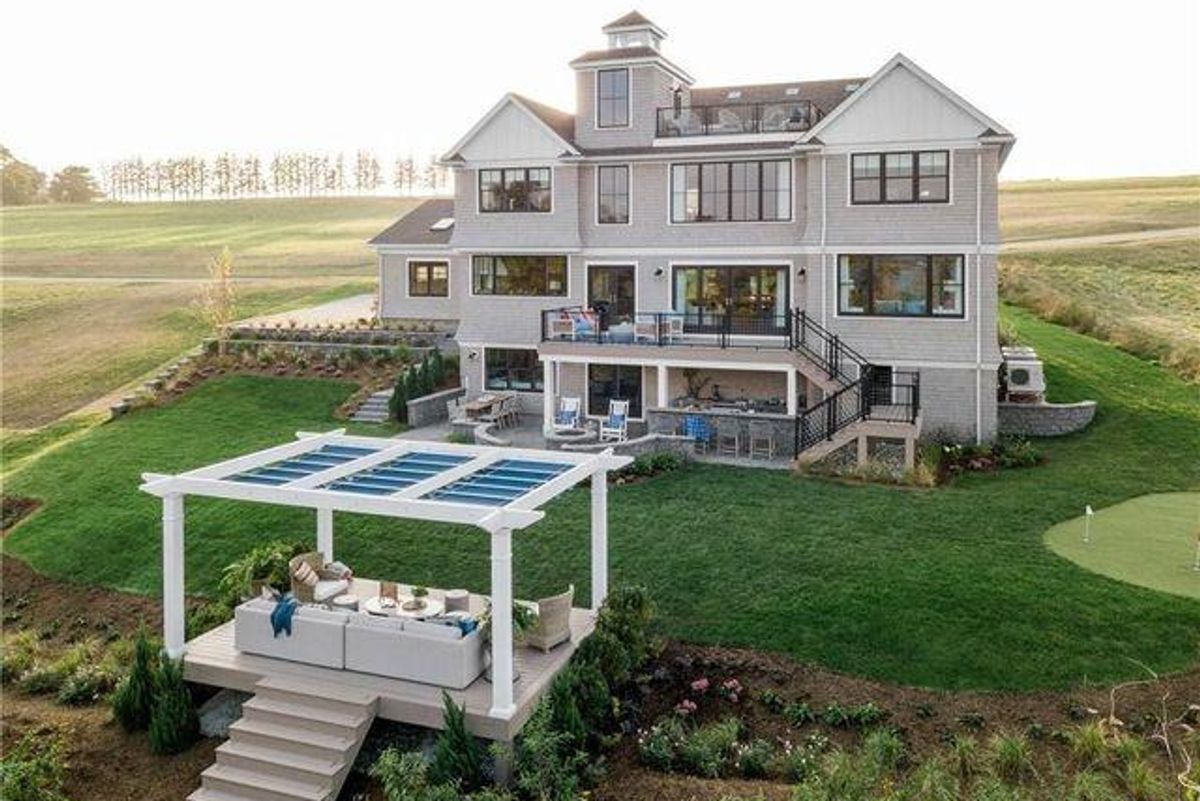 Jeff Yanes of Kyle, TX was one-in-136 million when he was chosen as the winner of HGTV's Dream Home. The catch? The house is in Portsmouth, Rhode Island.
---
Yanes won the fully-furnished home, a $250,000 cash prize and a 2021 motorhome from Camping World after entering in the sweepstakes multiple times over the course of five years. HGTV's ambush crew underwent a virtual interview with Jeff and his girlfriend, Jody, who thought they would be on a show about HGTV fans. The two were shocked to learn they had actually won.
"I didn't think it was true. I thought someone was messing with me," Yanes told HGTV.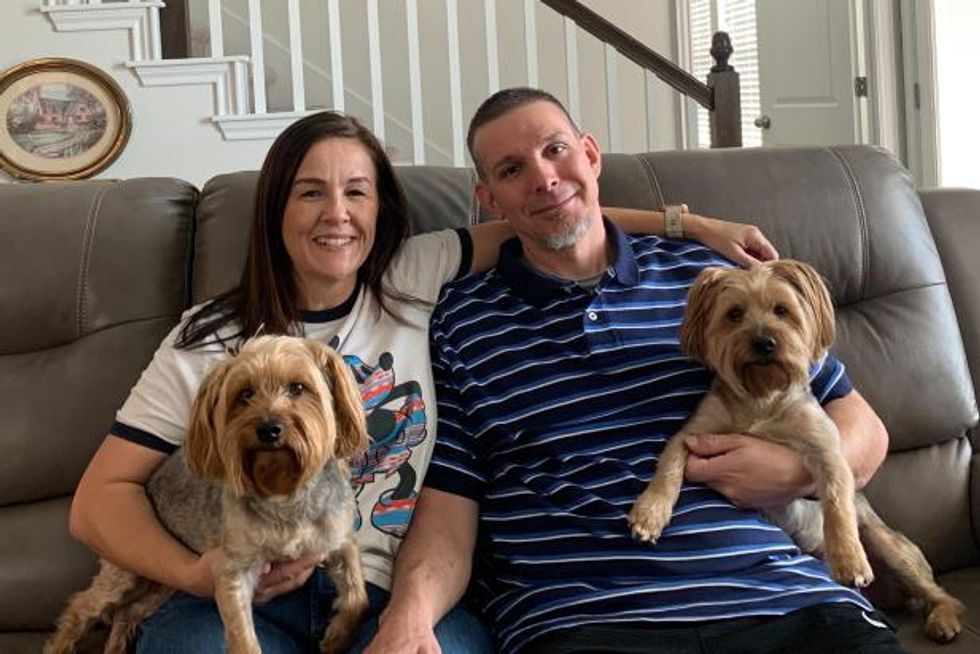 Jeff Yanes and girlfriend Jody couldn't believe that they had won the HGTV Sweepstakes. (HGTV.com)
As it turns out, Yanes isn't ready to leave to leave the Hill Country behind. He instead decided to take the $750,000 cash prize given to winners who do not want possession of the winning home.
That leaves the Cape-Cod style home now on the market for a cool $2.39 million. The home's price includes all of its appliances, nautical decor and red-white-and-blue furnishings, pushing its value up to 2.8 million. The home's nautical design reflects its location on the bank of the Sakonnet River.
Yanes, an independent contractor who owns a bread delivery route to Austin-area grocery stores and restaurants, helped deliver food as an essential worker during the pandemic. He and Jody may not be packing their bags for the Northeast, but they do admire the nearly 3,500-square foot home, especially its rooftop deck.
"It's everything you could want in a house, (so) it's hard to pinpoint one room," Yanes said. " (But) the rooftop deck overlooking the river (is a great place to) have a cold beverage or cup of coffee."
Take a look at the aptly-named dream home here: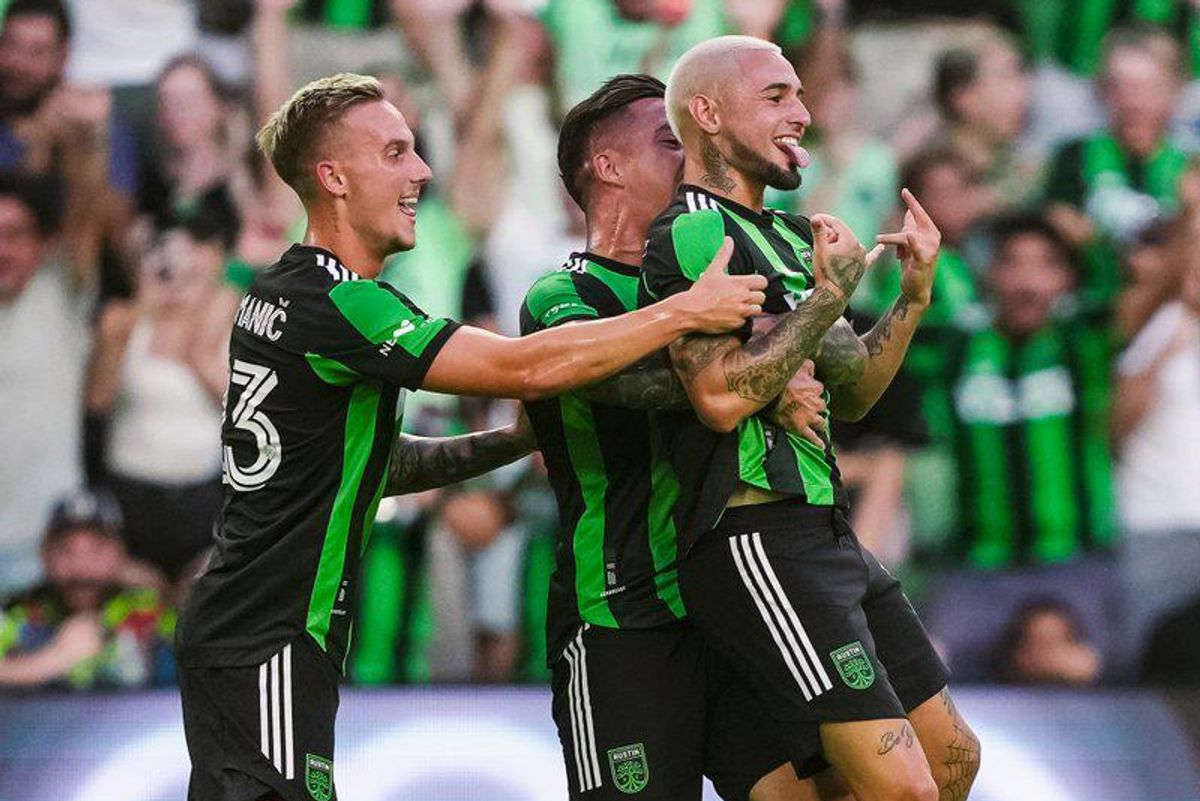 Austin FC took down the Houston Dynamo—including newly-minted Atletico Madrid star Hector Herrera—in a decisive 3-1 win at Q2 Stadium Tuesday night.
The club has secured four wins in a row, including three on the road, and leads the league with 41 goals. The Verde and Black once again sit at the top of the MLS West and will look to sweep their Texas Derby week with a win against FC Dallas Saturday.
Here's a look at the best moments of the match:
It's a long-time trend that tech workers earn salaries that double or even triple the average salary of other workers in the area, and Austin is no exception.
Austin techies are averaging $150,026 annually compared to $78,224 for all other industries. It's following a nationwide pattern where tech salaries average more than 65% higher than other occupations.
The nearly $72,000 difference is seen in a new report on the Central Texas economy by the Austin Chamber of Commerce. The report also shows average annual salaries for all industries have gone up 8.5% from 2020, trailing not far behind the salary growth of nearly 10% for tech jobs in that same time frame.
Tech manufacturing jobs are paying particularly well. The chamber reports salaries tend to be higher in this sector, at $159,593 on average.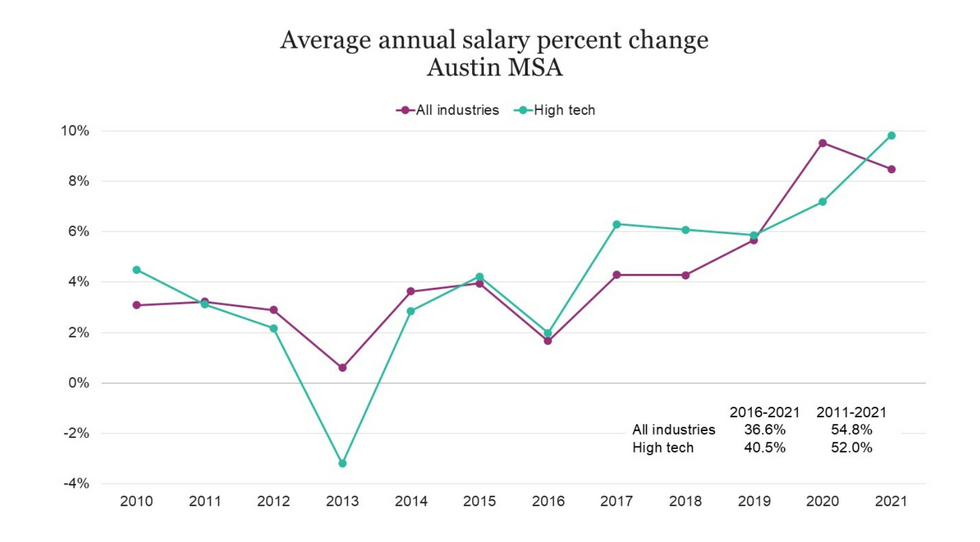 (Austin Chamber of Commerce)
These growing salaries accompany Austin's shining status as a tech hub, with more than 80,000 high-tech information and other IT jobs accounting for a significant share of the jobs here. Tech jobs represent 16.7% of jobs in Austin, compared to 9.2% nationally.
As Austin rides that wave, the city and other groups have made a push to get people into manufacturing jobs and other parts of the tech industry that are hot in Central Texas. Mayor Steve Adler, Workforce Solutions and others announced a "hire local" plan in June and talked about the importance of getting Austinites to fill roles of companies growing and relocating here.
But despite these efforts to get locals jobs in the growing tech scene, this income difference comes at a time when affordability woes are causing some longtime residents to feel pushed out. And with a migration out of the city's center comes an impact that's ironic for a tech hub: a digital divide.
A recent study by research organization MEASURE pointed to residents feeling that the growing cost of living is a threat to digital equity. That's because as people are pushed further out due to housing costs, more time and money are required to reach publicly available internet sources.
One participant described a "digital caste system" in Austin.
"We deem some people worthy of resources (and some) people unworthy of other resources… It's not like we lack the money or technology for everyone to have access," the participant said.