Austonia AM
100% Austin news, info, and entertainment, straight to your inbox at 6 a.m. every morning.
In five minutes, you're fully informed and ready to start another great day in our city.
Get connected with our daily update
(Bob Daemmrich)
Election night ended two days ago but the presidential race is still dragging on, and some Austinites are starting to get antsy.
---
With hundreds of thousands of votes yet to be counted in five key battleground states—Alaska, Georgia, Nevada, North Carolina and Pennsylvania—this election is a nail-biter.
Nervous feelings are being shared among many on social media; the waiting game is testing people's patience.

logging in from beneath my blanket fort to check the election results https://t.co/ZyOJI8cBB6

— the sleepytime owl 😴🧙‍♀️ (@the sleepytime owl 😴🧙‍♀️)1604458197.0
Watching this election is like swimming a no breath 400 IM with jeans on in the Atlantic Ocean.

— Kyle Sockwell (@Kyle Sockwell)1604450937.0
Andrei Matei, who has been living in Austin for more than 20 years now, said he is shocked by the closeness of the presidential race.

"I'm very surprised that the race is as tight as it is at the national level right now," Matei said. "I've never seen our country more divided than it is now."
Austinites are reminding each other to remain calm, knowing the results would not be in anytime soon.
A reminder to all, we will not know who won the election tonight. Likely not for several days or more. Don't stay u… https://t.co/I151d7nCeV

— Jeremy Dooley (@Jeremy Dooley)1604466306.0
Others, like Austinite Rachel Wilson, are awaiting results calmly, with the attitude that whatever happens, happens.

"The presidential election is close as expected," Wilson said. "Regardless of the outcome we will all be OK. In life, and in politics, no defeat or victory is permanent."
Some locals are choosing to laugh the election nerves away, poking fun at the states the country is waiting on.
In this election Arizona, Michigan and Wisconsin showed up like https://t.co/lu6qY5Psd5

— Joe Vargas (@Joe Vargas)1604537974.0
Above all else, distraction via hanging with your pup, getting outside or grabbing a bite are popular choices for this election.

Texas has already had a tense election cycle. In the midst of COVID-19, this election was destined to be different than years prior. With six extra days of early voting in Texas, residents did their part by casting their vote.

In the months leading up to the election, Texas appeared to be a swing state with Republicans and Democrats neck and neck, keeping residents on the edge of their seats into election night.
Though Texas' 38 Electoral College votes will go to President Donald Trump, the election is still undecided. According to the Associated Press, Biden currently has 264 electoral votes and Trump at 214 electoral votes of the 270 needed to win office. With at least five states yet to confirm a lead, the race is still not over.
More on waiting: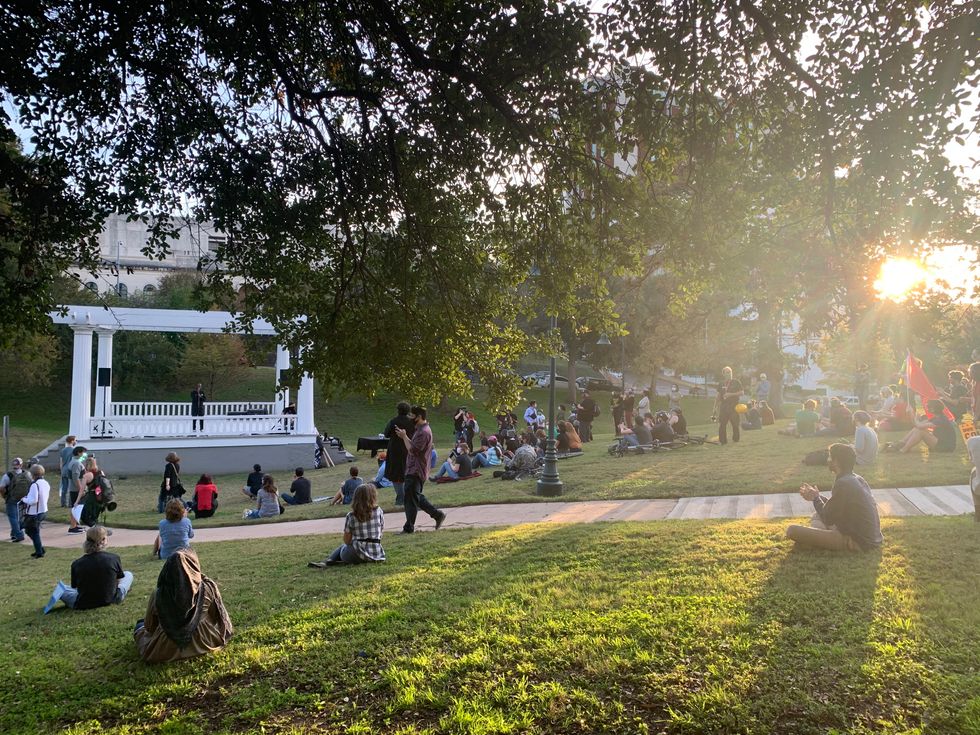 As the presidential election hangs in the balance, Austin progressive groups look to council runoffs and 2021 legislative session
From Your Site Articles
Related Articles Around the Web
(Pexels)
Curiosity into cryptocurrency has grown nationwide with 63% reportedly "crypto curious," or those wanting to learn more about it but have not started investing, according to Gemini, a digital currency exchange and custodian platform. The platform reports 14%, or 21.2 million, Americans currently own cryptocurrency with 68% of owners buying within the last two years.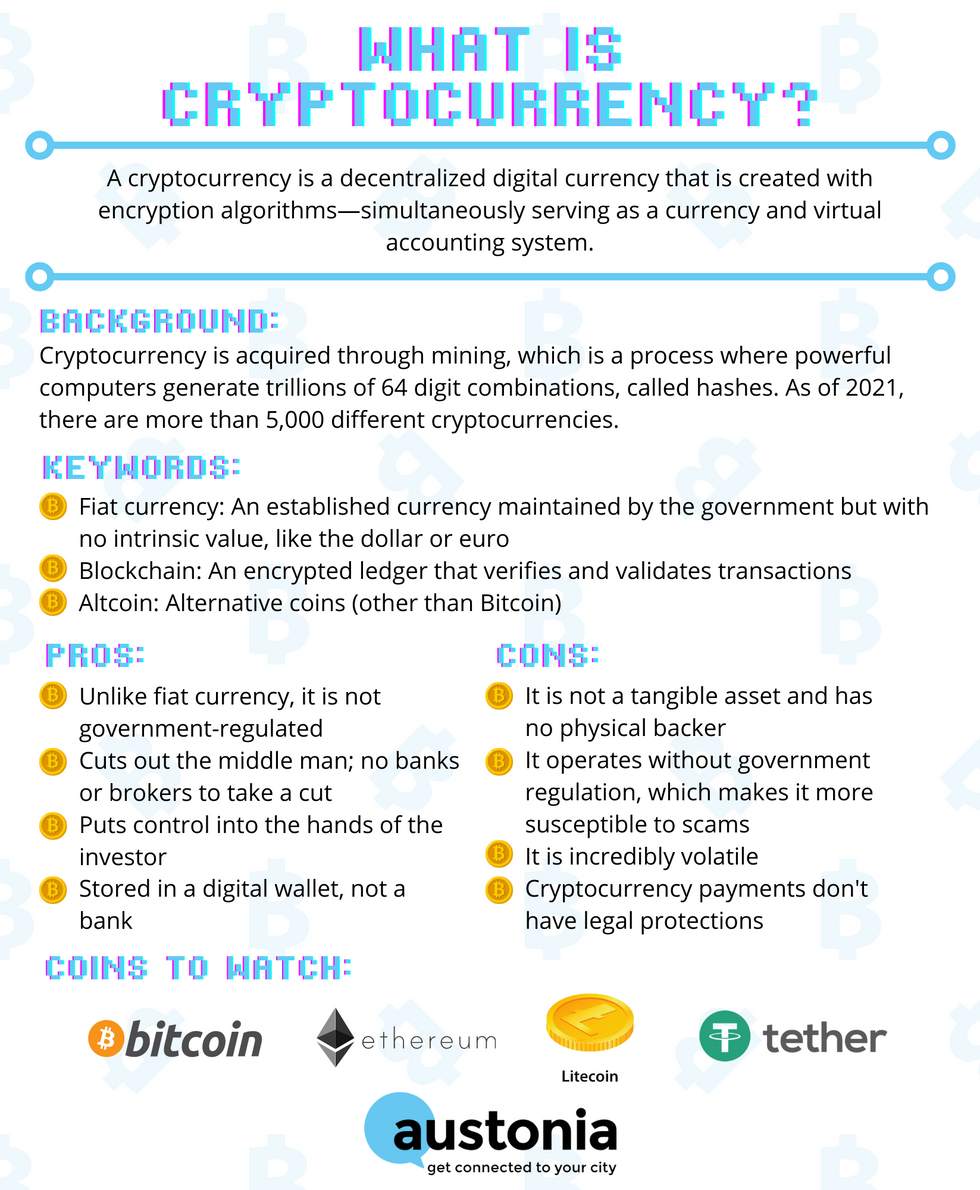 (Laura Figi/Austonia)
Who is buying in?

Sam Nassar, a Texas State University accounting graduate student, started investing in cryptocurrency in July 2020, although he kept up with crypto trends before that. At 23 years old, Nassar said the decision to take the plunge and invest was born from quarantine boredom.
"I've always been intrigued in technology, and I've always been an early adopter, so I just decided to start to invest in it and understand kind of a little bit of behind it," Nassar said. "I do believe in the technology and I know it's so useful and truly is the future"
Since then he has invested over $700 in Bitcoin, Ethereum, Litecoin, Tether, Cardano, Chainlink and Internet Computer.
Cryptocurrency interest is heavily skewed toward younger men with the biggest percentage primarily between the ages of 25 and 44.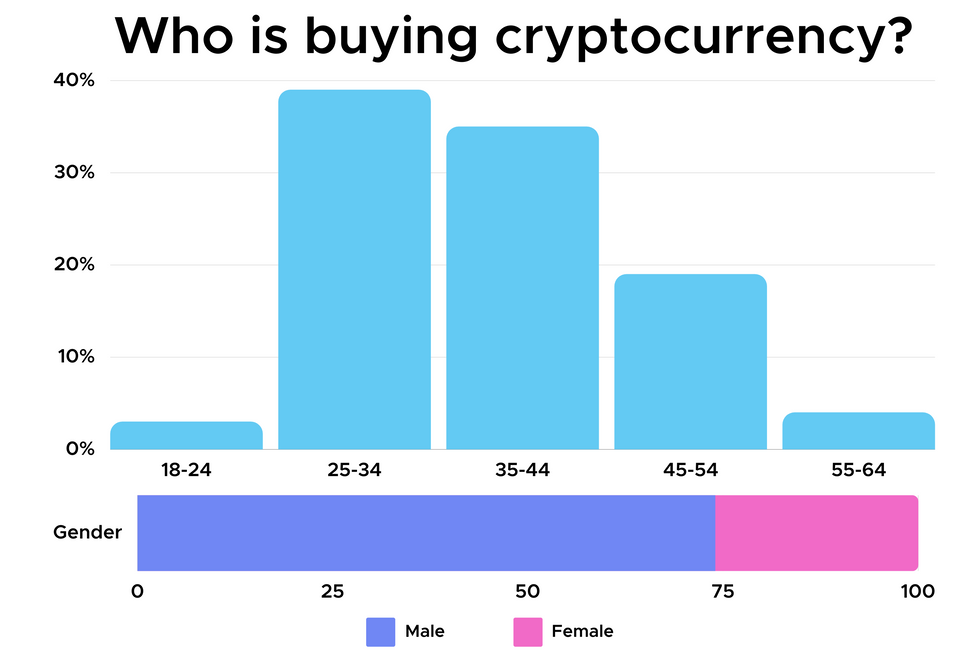 (Laura Figi/Austonia)
Likewise, 26-year-old, Liam Duddy, a South Austin salesman, started to involve himself in cryptocurrency after hearing the buzz about Bitcoin and how much money people were making off of it.

"I was like wow, so you're telling me it only takes me one of these little coins if I can get a hold of them and I have 30 grand," Duddy said. "That opened up a whole different world of all these different kinds of coins you can buy into."
Why are they investing?
For Nassar, cryptocurrency is about being part of the technology of the future. Nassar is studying to be a Certified Public Accountant and believes cryptocurrency, blockchain technology and innovations like smart contracts, or self-executing contracts programs, have the capacity to completely change the industry he wants to work in.
"You're going to have to have specialized auditors that understand blockchain technology in order to truly audit it, otherwise fraud can occur," Nassar said. "I think it really is the future. I really do think that that's another reason I'm investing into it, because I do believe that technology."
Cryptocurrency is about the gains for Duddy, who originally invested $400 and saw a $2,000 return when he invested in Bitcoin and Chainlink. Although he does see value in the future of blockchain technology, Duddy also has fun with it.

"Right now there's not a whole lot (of real-world application), it's not as easy to pay with, but if I have it and it's going up, you have one of them it's worth $50,000 U.S. dollars you can buy a car," Duddy said. "I guess you look at it as something fun to start off with."
What's their advice for new investors?
Do your research before investing
Use a platform meant for cryptocurrency
Don't just listen to Elon Musk's predictions
Look before you leap
Both Nassar and Duddy recommend using an app like Coinbase or Gemini, to track your cryptocurrency.
Finally, don't let the volatility scare you but do make sure you do your research before you sink your life savings into an unregulated currency.
"At the end of the day it's like gambling," Duddy said.
From Your Site Articles
Related Articles Around the Web
Texas Gov. Greg Abbott announced Monday that Texas will opt out of further federal unemployment benefits related to the pandemic effective June 26, citing the number of current job openings and concern about potentially fraudulent unemployment claims. The benefits include a $300 weekly supplement.
"The Texas economy is booming and employers are hiring communities across the state," Abbott said in a statement. "According to the Texas Workforce Commission, the number of job openings in Texas is almost identical to the number of Texans who are receiving unemployment jobs."
TWC listed 837,273 job openings as of Monday afternoon compared to 226,849 unemployment insurance claims filed statewide between March 31 and May 1. An estimated 1 million Texans were unemployed as of March, according to latest estimates released by the state agency.
Some local business owners, including Doc's Backyard Grill owner Charles Milligan, suspect unemployment benefits are deterring Austinites from returning to work. But others agree with economists who say multiple factors are at play, including health concerns and child care availability.
We're seeing lots of posts about how nobody wants to work right now. Just wanted to share our experience.

We received over 60 resumes for a taproom bartender position we posted last week. Every applicant we've set up an interview with has shown up.

People want 𝘨𝘰𝘰𝘥 work.
— Austin Beerworks (@AustinBeerworks) May 11, 2021
Abbott also cited fraudulent unemployment claims. Between March 2020 and April 2021, TWC received 4.48 million unemployment benefit applications, 611,000 or around 14% of which were tagged as suspicious. Most of those tagged were blocked before any benefits were paid out, according to an April 29 press release.

Federal law requires the effective date of such benefits change to be at least 30 days after the U.S. Department of Labor is notified.
From Your Site Articles
Related Articles Around the Web
Is it just us, or is the current Austin mask situation confusing? Are we supposed to wear a mask or not, and where? And should we wear one anyway, even if not requested or required?
Austin health orders requiring masks expire Tuesday. What then?
Take our three-question quiz, and tell us what you're thinking.