Get connected with our daily update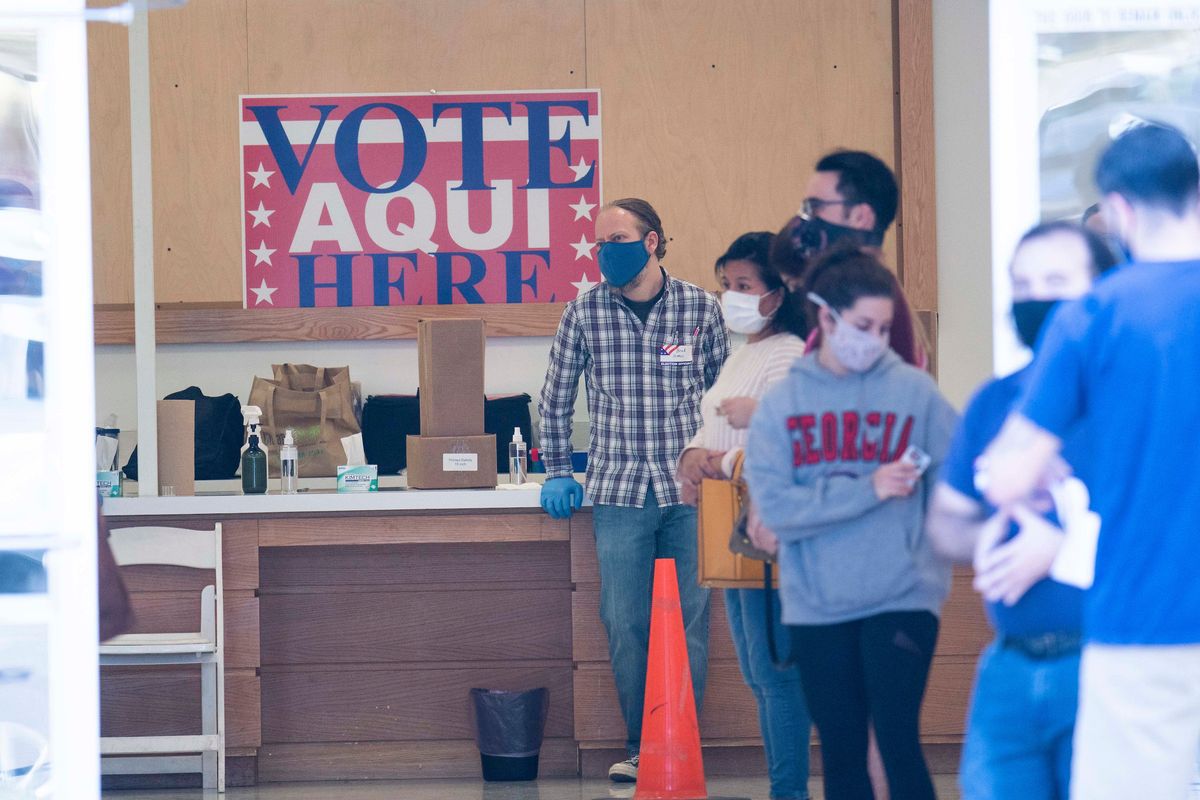 (Bob Daemmrich)
It's Election Day, and nearly 65% of Austin voters have already cast a ballot before the day began.
Short lines made it easy to vote on Election Day in Austin. There will also be Election Day watch parties, mostly virtually, taking place after polls close.
Here is the latest election information:
---
11:30 a.m.: Local election results are in
Election results are complete for Travis County with two council races headed for the Dec. 15 runoffs. And along with those results, the city learns Proposition A—a 15-year, $7.1 billion overhaul of the local transit system—passed.
Read about the results council results here, and the local mobility propositions here.
9:05 p.m.: Presidential race too close to call in Texas
Most of Travis County presidential votes have been counted, but an estimated one-quarter of all Texas votes are yet to be counted so far.
For ongoing vote totals for the Texas presidential race, click here.
8:50 p.m. John Cornyn retains U.S. Senate seat
U.S. Sen. John Cornyn has been elected to his fourth term after beating Democratic challenger MJ Hegar, Texas Tribune projects. Here is more background about the U.S. Senate race.
7:45 p.m. Austin City Council results begin to emerge
Several Austin City Council seats are up for election in 2020. Here is what we know based on early votes that have already been tabulated.
7:20 p.m. Polls close quietly at The University of Texas campus and at Austin Central Library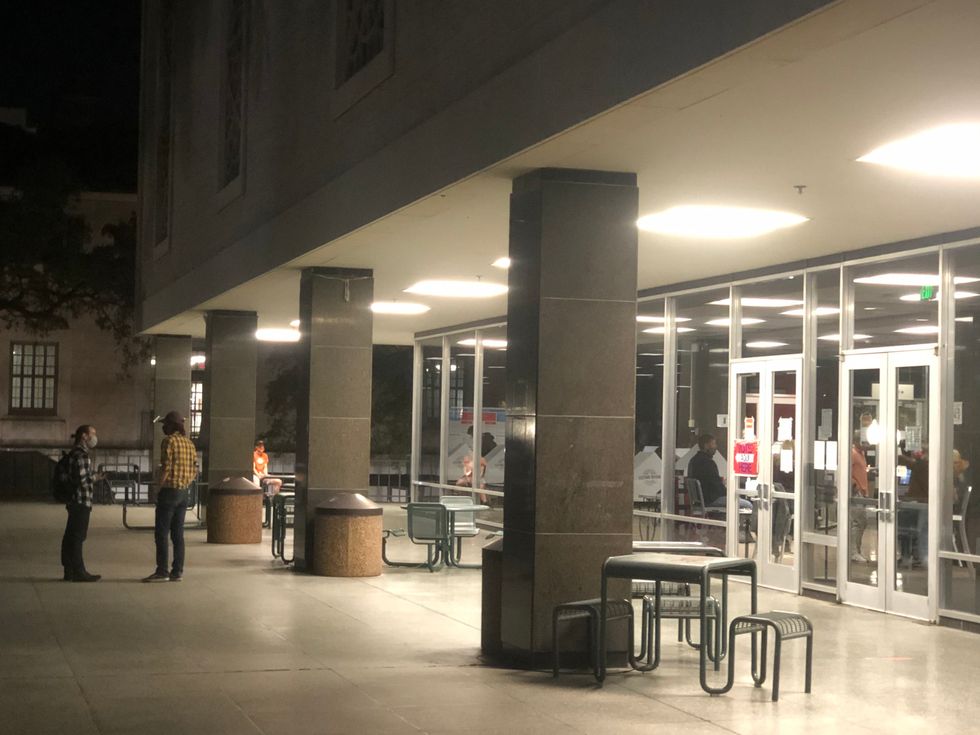 The University of Texas had no lines at campus polling locations after polls opened Tuesday morning.
Joe Lanane
There were no reported lines at The University of Texas campus or Austin Central Library in downtown Austin, two of the highest-profile polling locations in the city.
5:05 p.m.: 43,000 have voted in-person on Election Day with two hours left to go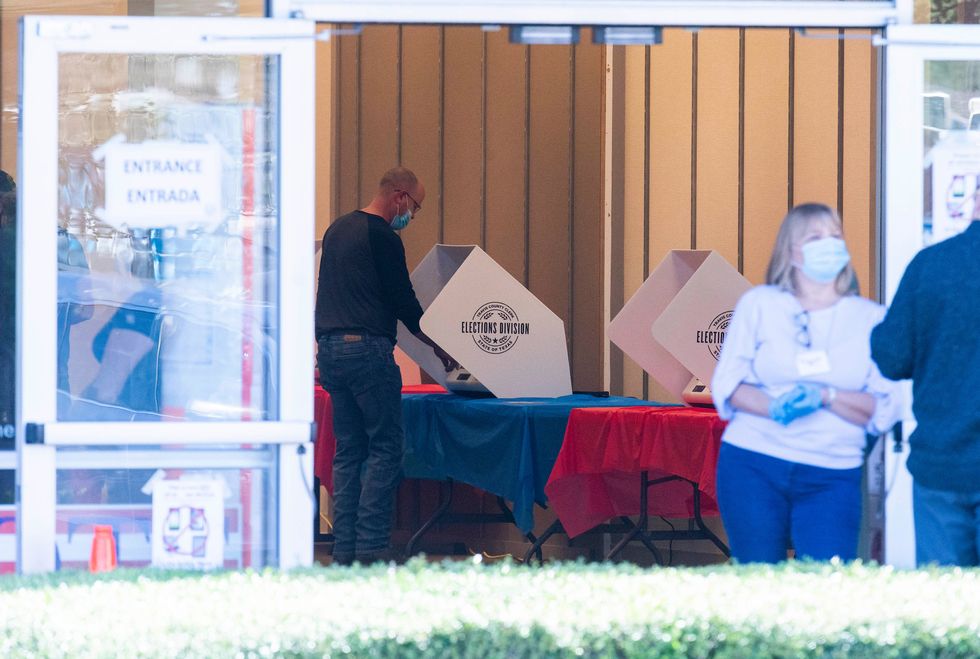 Travis County voters cast their ballots at the Southpark Meadows Shopping Center location in far south Austin during the highly anticipated 2020 general election.
(Bob Daemmrich)
With two hours left to vote and many Austinites getting off work for the day, more than 43,000 Travis County residents have cast their ballot on Election Day, according to the Travis County clerk.
Most of the 178 Travis County polling locations report little to no wait times for voters to cast a ballot.
As of 5 p.m., only one site, Old Quarry library branch in Northwest Hills, reports an extended wait time. It reportedly will take at least 50 minutes to cast a vote at this location, although similar county reports have proven to be unsubstantiated when reviewed earlier in Election Day.
The only other county polling site reporting a delay is located in Manor, where a 50-minute-plus wait is also reportedly occurring.
Polling locations in north-central Austin have little to no wait times for voters mid-afternoon.
According to one campaign worker in front of St. Matthew's Episcopal Church in Northwest Hills, approximately 200 people have voted at the polling location so far today.
Another nearby spot, St. John's United Methodist Church in Allandale, also reported no wait times despite short-lived reports from Travis County that voters were waiting at least 20 minutes to cast a ballot.
Another common Election Day polling location, Congregation Beth Israel in Rosedale, had little activity as well, according to one on-site petitioner.
There may not be any polling sites in Austin's central core reporting extended wait times as of late Tuesday afternoon.
If you want to rock the vote in style, consider stopping by Austin Central Library from 6-7:30 p.m. to enjoy live music while casting a ballot. Jack Craver of Austin Politics Newsletter reports Progress Texas is hosting live music at polling sites across Austin on Election Day.
2:50 p.m.: Election Protection group reports no issues at Austin-area polling sites
Despite reports of a brief wait on Travis County's wait time map, the polling site at Juan P. Navarro Early College High School had no wait time mid-afternoon.
A volunteer from Election Protection, a polling site watch group, reports no major issues at Austin-area polling locations. Election Protection is a national, nonpartisan coalition of various nonprofit and advocacy groups that seek to protect and defend the right to vote.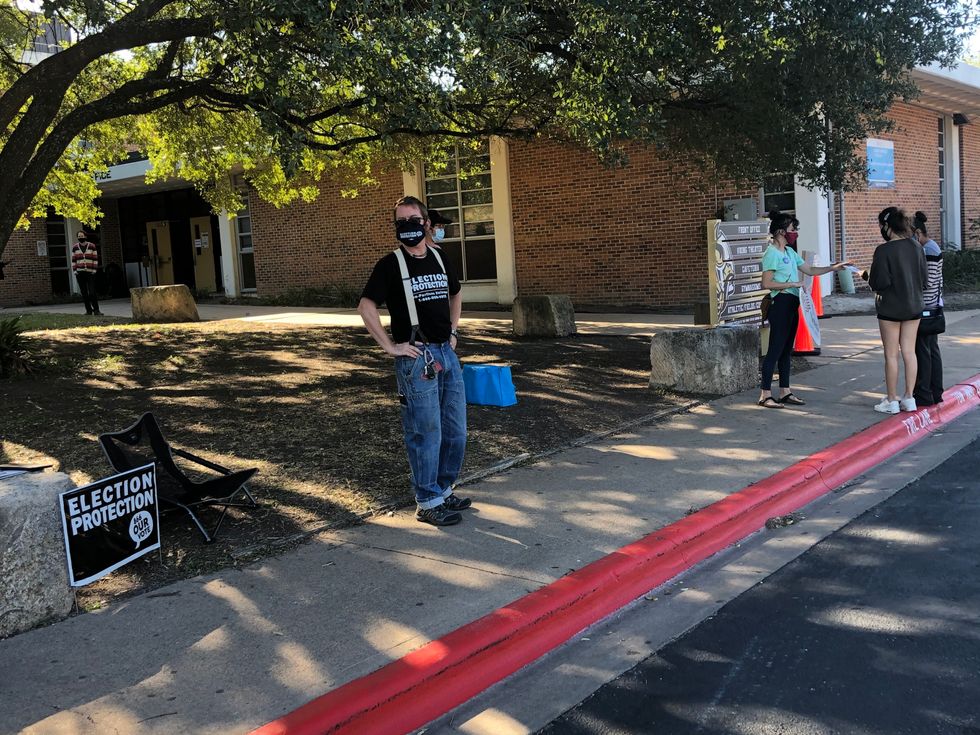 1:30 p.m.: Petitions to recall Austin Mayor Steve Adler circulating at Ben Hur polling location
Ben Hur Shrine Temple in north-central Austin is also reporting slow lines, with more poll workers and campaign volunteers than voters.
However, one notable difference at this location is a campaign to recall Austin Mayor Steve Adler. The Adler recall initiative reportedly needs 61,000 valid signatures by January to qualify for a May mayoral recall election.
At least two people signed the petition on their way to vote after the lunch hour.
Jason Scott, who supports the recall initiative, was on West Anderson Drive on Tuesday waving a sign pointing voters toward the Ben Hur polling location. Some people honked, he said, while others gave him a thumbs down in response to the recall effort.
The Austin-born resident said he disagreed with Adler's decision to close down Austin during the pandemic. He also criticized the lift on Austin's camping ban.
"It's really a bad case of mismanagement," Scott said. "Just watch, there's about to be a big change politically."
Locally owned businesses have suffered most during quarantine measures, Scott said, while big-box national stores such as Walmart have benefited.
"We need to be able to restart the economy," he said.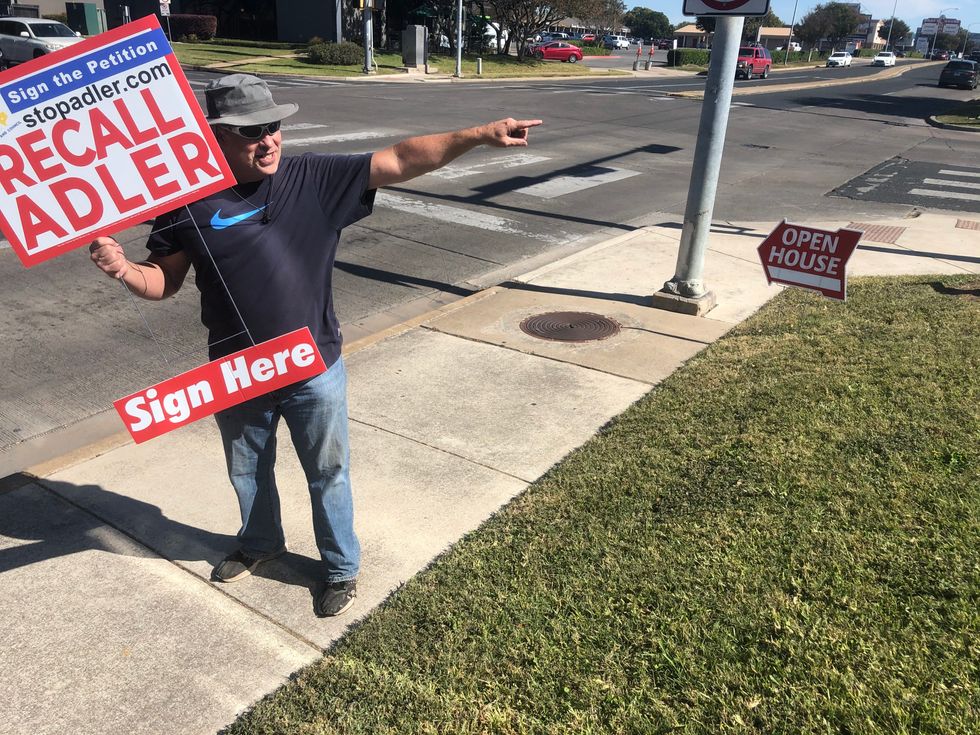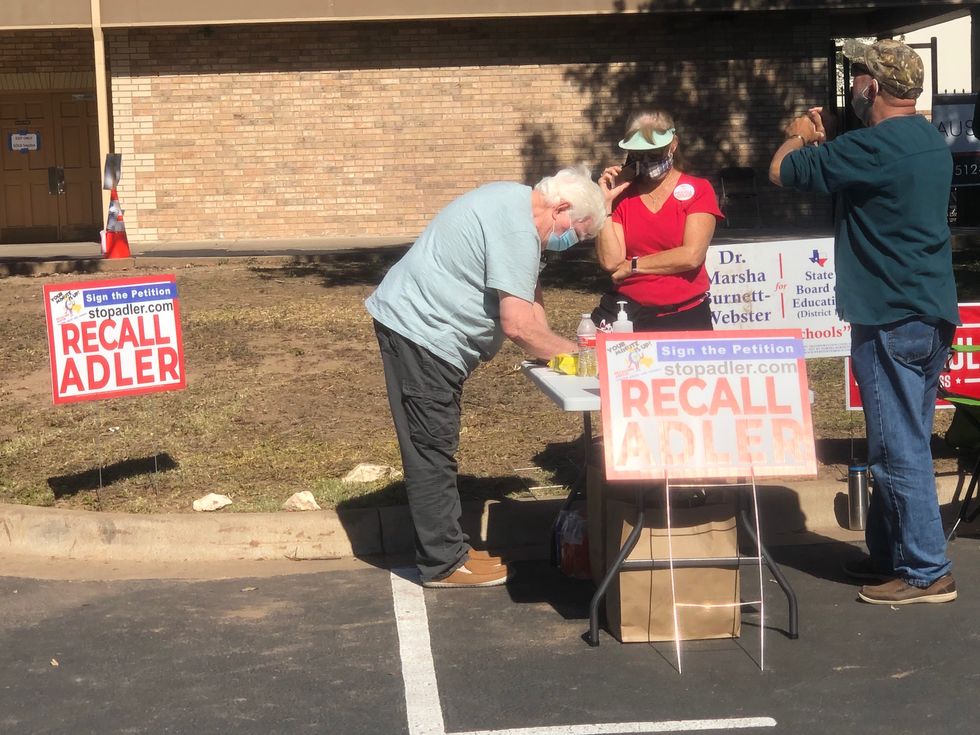 12:15 p.m.: Lines remain short at most Austin voter locations, including spots with a reported wait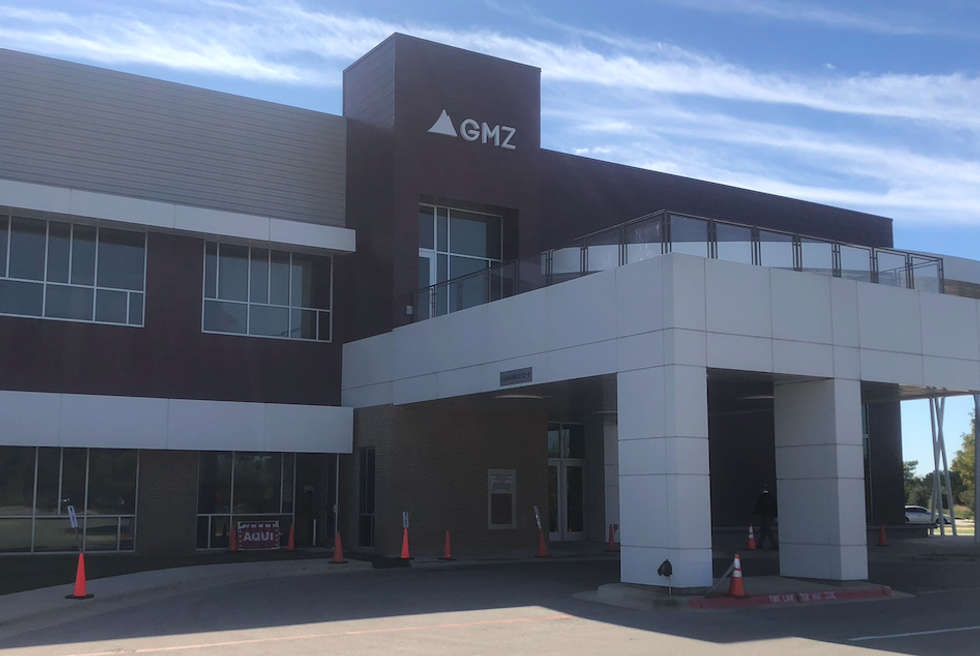 There were no lines at Greater Mt. Zion Baptist Church in East Austin despite reports of longer-than-usual waits at the polling location.(Joe Lanane)
Despite claims earlier in the morning that lines at Greater Mt. Zion Baptist Church were 20-50 minutes long, according to Travis County's wait time map, a poll worker at the site reports "relatively mild turnout" and no extensive wait times. The poll worker attributed the inaccurate report to a potential tech glitch in how they report wait times to the county.

The wait time map has since been updated heading into the noon hour to show that almost all polling locations in Travis County have short wait times between zero and 20 minutes. Only Avalon Pool and Amenity Center in Pflugerville reports an excessive wait time of 50 or more minutes. No other polling site reports wait times that exceed 20 minutes.
At other polling locations throughout Austin, voters could walk in almost immediately to cast a ballot.
10:20 a.m.: First-time poll worker reports no lines at Twin Oaks library branch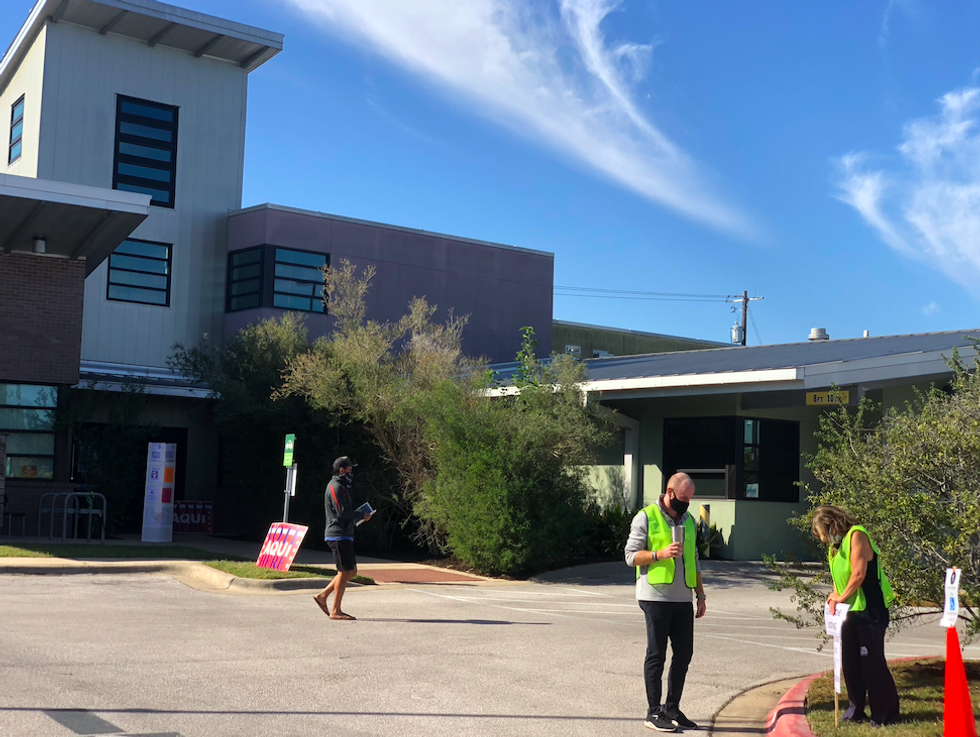 Poll workers set up outside of Twin Oaks library branch in South Austin on Election Day.Joe Lanane
Nothing unexpected has occurred so far at the Twin Oaks library branch in South Austin. A first-time poll worker, who declined to give their name, said they are glad to work the polling site to ensure there are more than enough voting locations open on Election Day.

"It's a generational handing of the baton because this position is usually served by retired people and the elderly," the poll worker said. "I felt like this was a call to action, and other than voting it just feels very hopeful to participate."
10 a.m.: South Austin house becomes pickup spot for Texas Democrats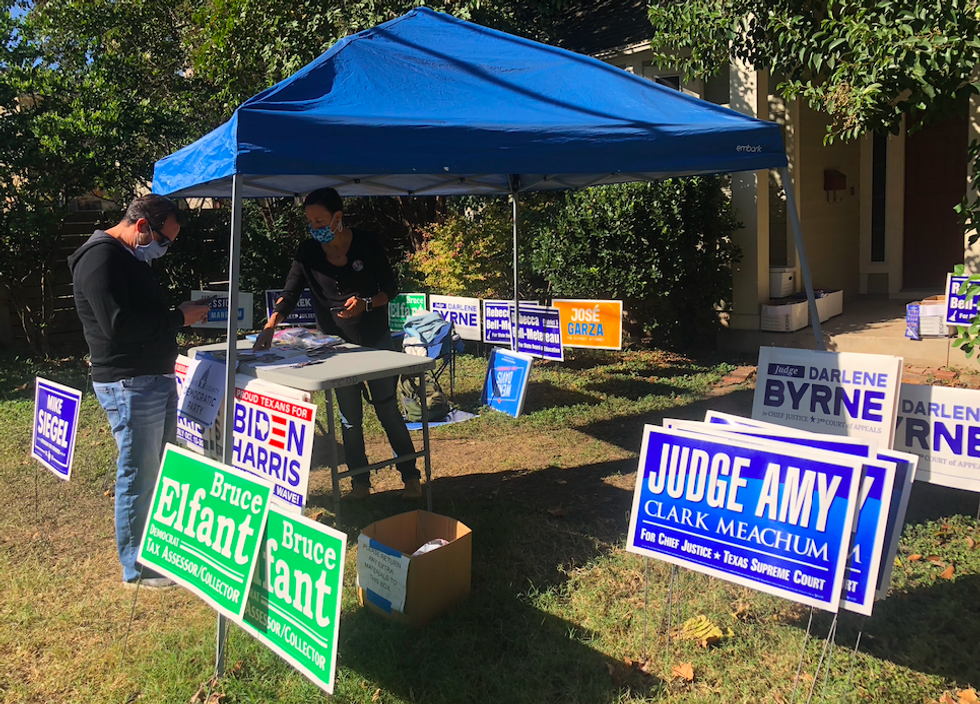 Caitlin Gabor, right, hands out campaign literature to volunteers at a Texas Democrats pickup spot in South Austin.(Joe Lanane/Austonia)
Between two South Austin polling sites is an unofficial pickup spot for Texas Democrats volunteering today. Volunteer Caitlin Gabor is working a makeshift work station to hand off campaign literature to workers—who then will work the neighborhoods to target voters who have not yet cast ballots. Gabor said this is her first time engaging in political activity.
Volunteers, who come and go from the South Austin home, picking up campaign pamphlets, report that many voters still benefit from information about polling locations and how to cast a vote during COVID-19.

9:40 a.m.: South Austin Recreation Center has no lines after morning rush
Outside of the South Austin Recreation Center, located near the South Lamar Boulevard-Oltorf Street intersection, was reportedly busy when polls opened Tuesday morning but has since died down.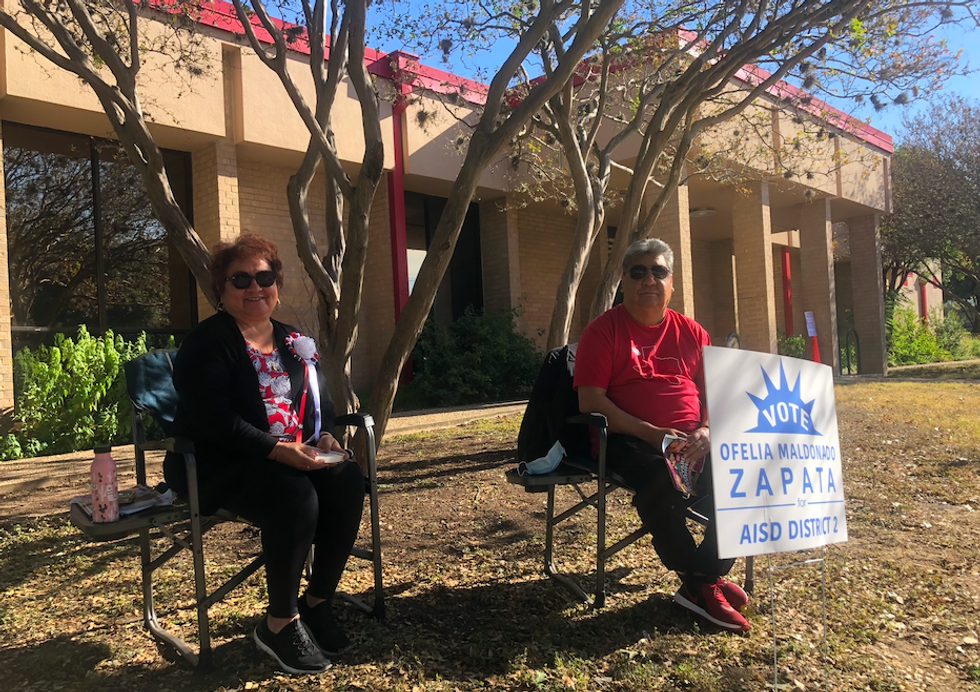 Gloria and Charles Saucedo campaign outside of South Austin Recreation Center on Election Day.Joe Lanane
Gloria Saucedo and her husband Charles, have set up outside of the recreation center to support Gloria's sister, Austin ISD District 2 candidate Ofelia Maldonado Zapata. The polling location is located in AISD District 2, Gloria said, and her sister is one of three candidates running for the open seat.

The couple anticipates more voters to arrive after the work day concludes around 5:30 p.m. Polls close at 7 p.m.
8:40 a.m.: East Austin polling site has no lines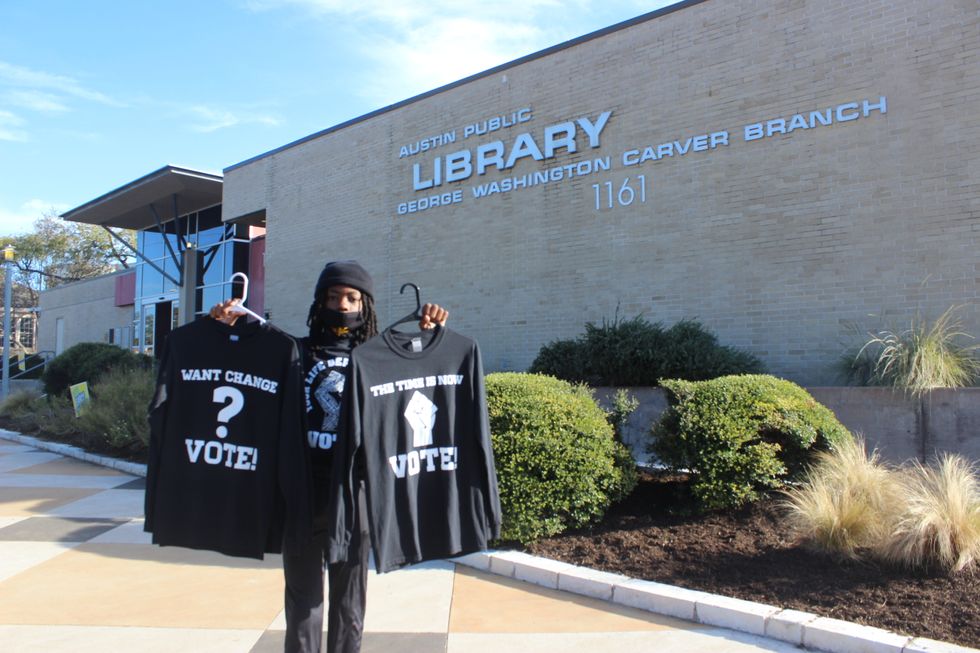 Cinque Kiara sells t-shirts benefiting Carment Kiara's Youth Organization outside Carver library branch in East Austin. (Joe Lanane/Austonia)
Cinque Kiara sells custom T-shirts that encourage voting while standing outside of the Carver library branch polling location, but there weren't many voters to solicit potential donations for the Carment Kiara's Youth Organization, which benefits from the shirt sales.

According to a worker for the Julie Oliver campaign, the site had a 15-20 minute wait at the start of voting Tuesday, but voters have walked right into the East Austin library branch with no wait since the first hour of voting.
8:20 a.m.: Petitioner seeks signatures for local election reforms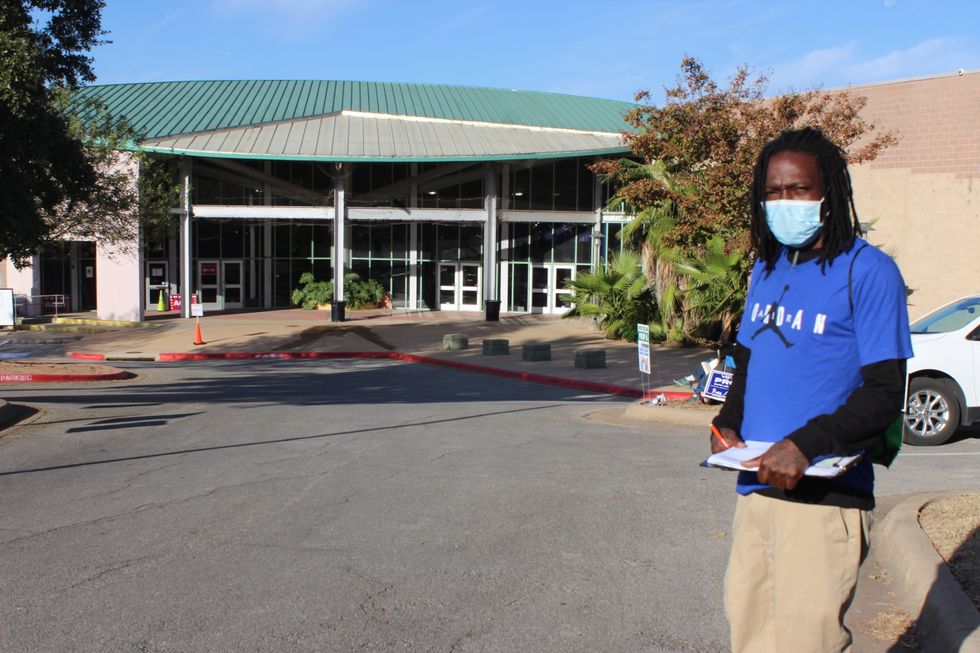 Ernest Smith collects signatures for Austinites for Progressive Reform outside of the Millennium Youth Complex on Election Day. (Joe Lanane/Austonia)

There was no line to vote at Millennium Youth Complex in East Austin, with campaign volunteers outnumbering voters at this time. There was a short line right when polls opened, said Ernest Smith, a volunteer for Austinites for Progressive Reform. Smith was seeking signatures for a petition that could force several election reform initiatives on the local ballot in May 2021.
The reforms include moving the mayoral election to align with presidential election years. Austin Mayor Steve Adler was elected in 2014 in the first local race to be held in November instead of May when most local elections occur in Texas. He was reelected in 2018 during another off-presidential election.

The petition also seeks a ballot question to reform campaign finance rules and make Austin a ranked-choice voting city, the same way Maine will cast ballots Tuesday. Additionally, the reform group seeks to realign Austin's political structure to a mayor-council form of government.
Smith had less than a handful of signatures so far but anticipated more foot traffic during the lunch rush.
8 a.m.: Walk-up COVID-19 testing site is also a polling location on Election Day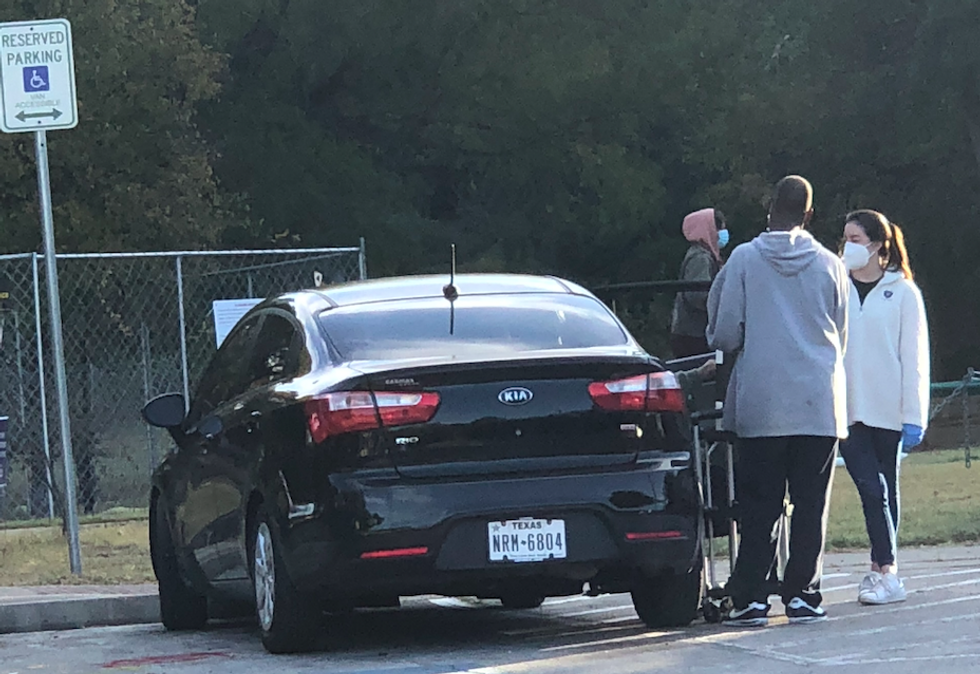 Qualifying voters can vote curbside as part of a new Travis County program. (Joe Lanane/Austonia)

Givens Park, a walk-up COVID-19 testing site during the pandemic, doubles Tuesday as an Election Day polling site. A poll watcher for a civil rights group said there was a 10- to 15-minute wait when polls opened at 7 a.m. but there has been no line since.
Every polling site, including the Givens Recreation Center, offers curbside voting as part of an initiative from Travis County. That means poll workers come to your car to help qualifying voters—mostly seniors and voters with special needs—cast a ballot.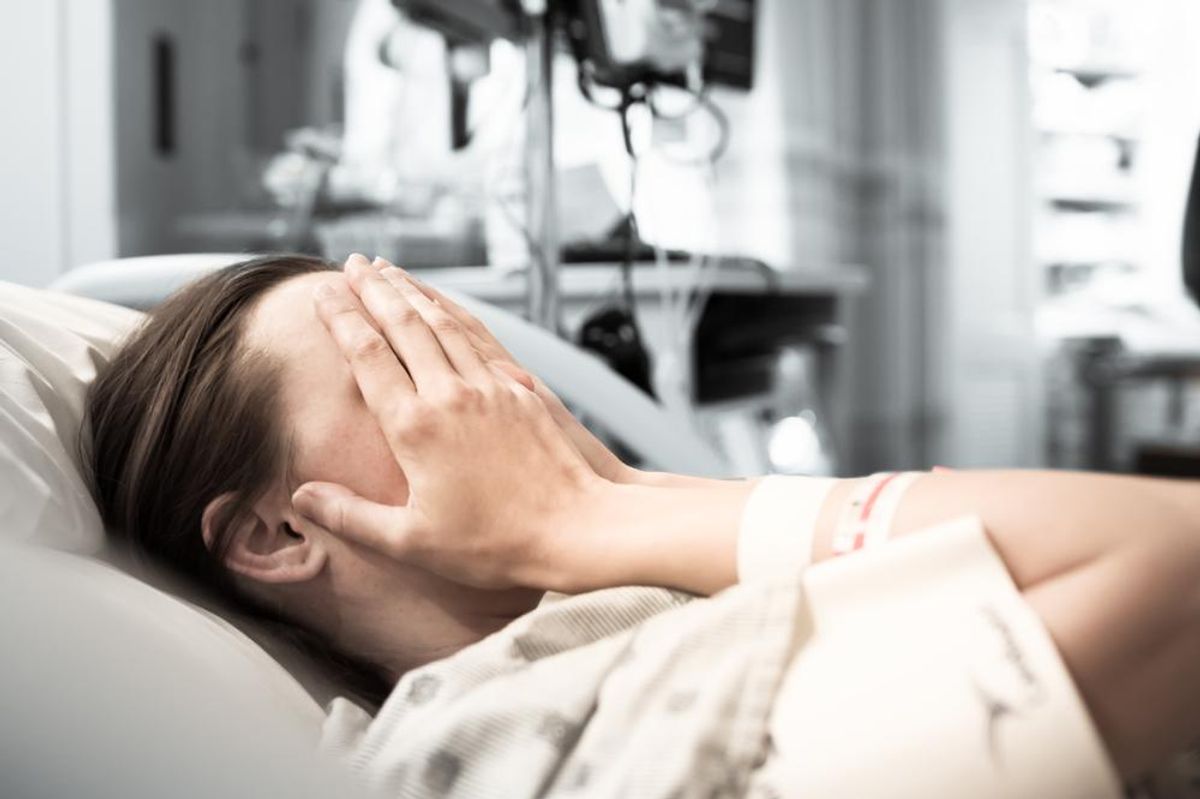 Emmy Amash has always been the friend that people would go to with questions about sex, birth control and women's health issues. It's what called her to work as a birth doula and go to nursing school.
But during rotations around Austin, she's noticed a shift in the trust between patients and healthcare providers, and it's been happening under Texas' Senate Bill 8, which bans abortion after six weeks of pregnancy.
"What I've seen working in the emergency room with women who are coming in experiencing complications after or during a miscarriage is a lot of what feels to me like mistrust and hesitancy to be sharing complete histories of what's going on," Amash said.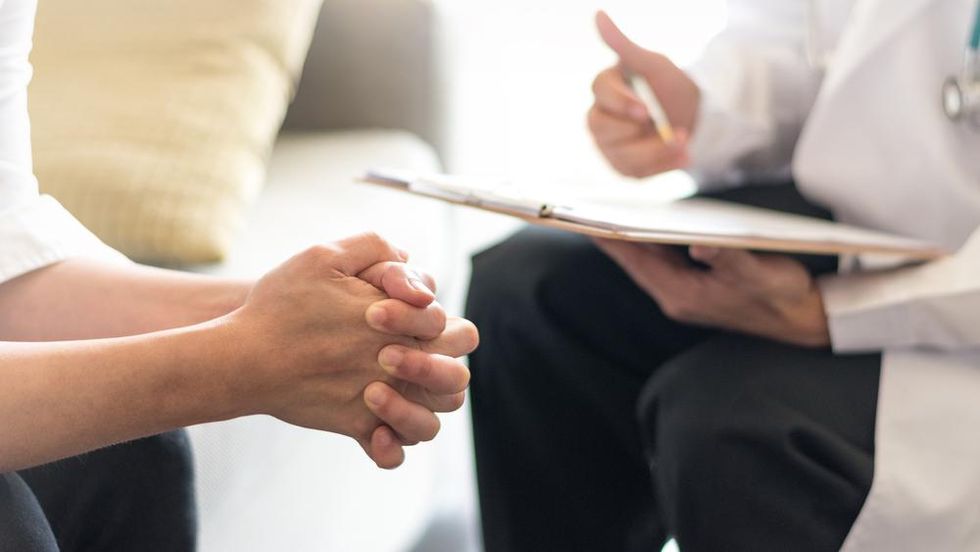 Over the last 10 months, SB 8 has had a chilling effect on healthcare workers and patients that's endangering people's lives, says a new study by the Texas Policy Evaluation Project in the New England Journal of Medicine. It also offers a glimpse at how the Supreme Court's decision to overturn Roe v. Wade—which is expected to outlaw or restrict abortion in almost half of the states—will make the risks to patients more common.
The study shared findings based on interviews with Texas clinicians and 20 people who had medically complex pregnancies and sought care under SB 8. The law—which bans abortion before many even know that they are pregnant—is aimed at those providing abortion care. But researchers say that, to the detriment of patients, it has an effect on other health care workers.
For example, a woman who took part in the study reported receiving a fetal diagnosis of trisomy 18, a rare condition lacking a cure that causes most babies to die before they are born. But the woman's physician didn't inform her about termination options.
"When you already have received news like that and can barely function, the thought of then having to do your own investigating to determine where to get this medical care and to arrange going out of state feels additionally overwhelming," the woman said.
On the health provider side, Amash understands the frustration and secrecy of patients, citing Lizelle Herrera's case as an example of the kind of situation patients may worry about running into.

Herrera, a 26-year-old in the Rio Grande Valley, was arrested on a murder charge in April for a self-induced abortion. She was held in jail for three days on a $500,000 bond until a local district attorney dropped the case.
But there could be more instances like Herrera's, and Amash talked about what it's been like to continue working amid added restrictions on abortion rights. It'll only continue given that Texas and a dozen other states have a trigger law making abortion illegal after the repeal of Roe v. Wade. In Texas; it'll go into effect within 30 days.
"I feel like I've been holding my breath," Amash said. She went on to describe "feeling powerless to this larger system that's making these choices that's so far removed from the actual lives of individuals."
But local officials are taking action in light of the high court's decision. Austin City Council will hold a special meeting the week of July 18 on a resolution aimed at decriminalizing abortion. Submitted by council member Jose "Chito" Vela, it would direct the police department to make criminal enforcement, arrest and investigation of abortions its lowest priority. But for Central Texans, it may only allow for a patchwork system in which only abortions within the city escape criminalization.
"That's nice, and also, it's just not enough," Amash said. "Not enough for how big Texas is for us to have one little area. There's a lot of people here that need care and aren't going to have access to it."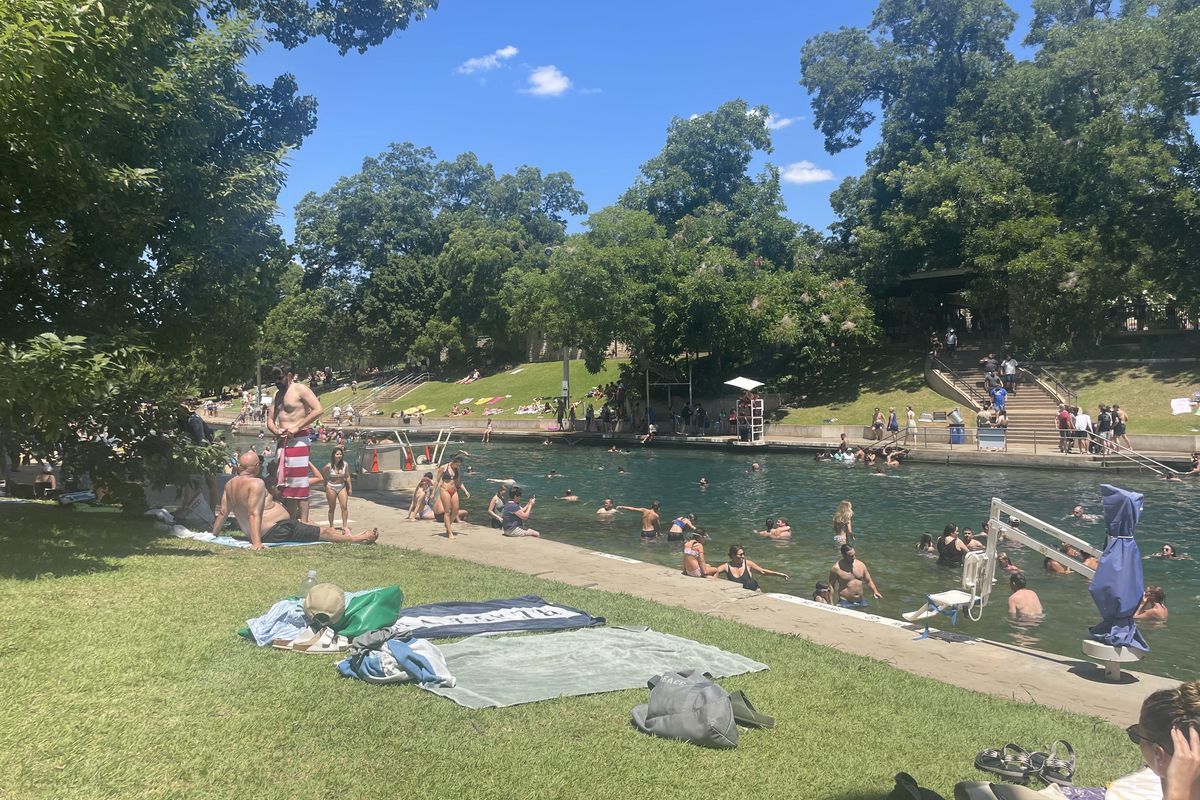 This month has been Austin's hottest June on record after 21 days of triple-degree heat, according to the National Weather Service.
Despite a weather forecast that predicted otherwise, Austin beat the odds and logged its 12th straight day of 100+ degree high temperatures Monday. On the same day, the city also broke its 2008 record with the most triple-digit temperatures ever recorded during the month.
The city has now broke heat records for two months in a row after recording its hottest May ever last month.
But at least some of Austin's hot and dry start to summer may be alleviated soon as a so-called cold front heads into town Monday night. Temperatures are expected to remain below the mid-90s for the rest of the week, and Tuesday could break the nearly two-week streak of 100-degree highs.
With the cold front comes much-needed rain, which is expected to scatter across Central Texas skies Monday night. Lightning and gusts of wind up to 60 mph could hit the area, especially along the I-35 corridor near San Marcos, where a Severe Thunderstorm Warning has been issued.
Scattered storms are expected to remain Tuesday with possibly bouts of gusty winds and small hail, and some storms could continue in the area east of I-35 through Thursday. Austin has seen 2.8 fewer inches of rainfall than the average this month and is only expected to see about a quarter inch of rainfall this week.