Get connected with our daily update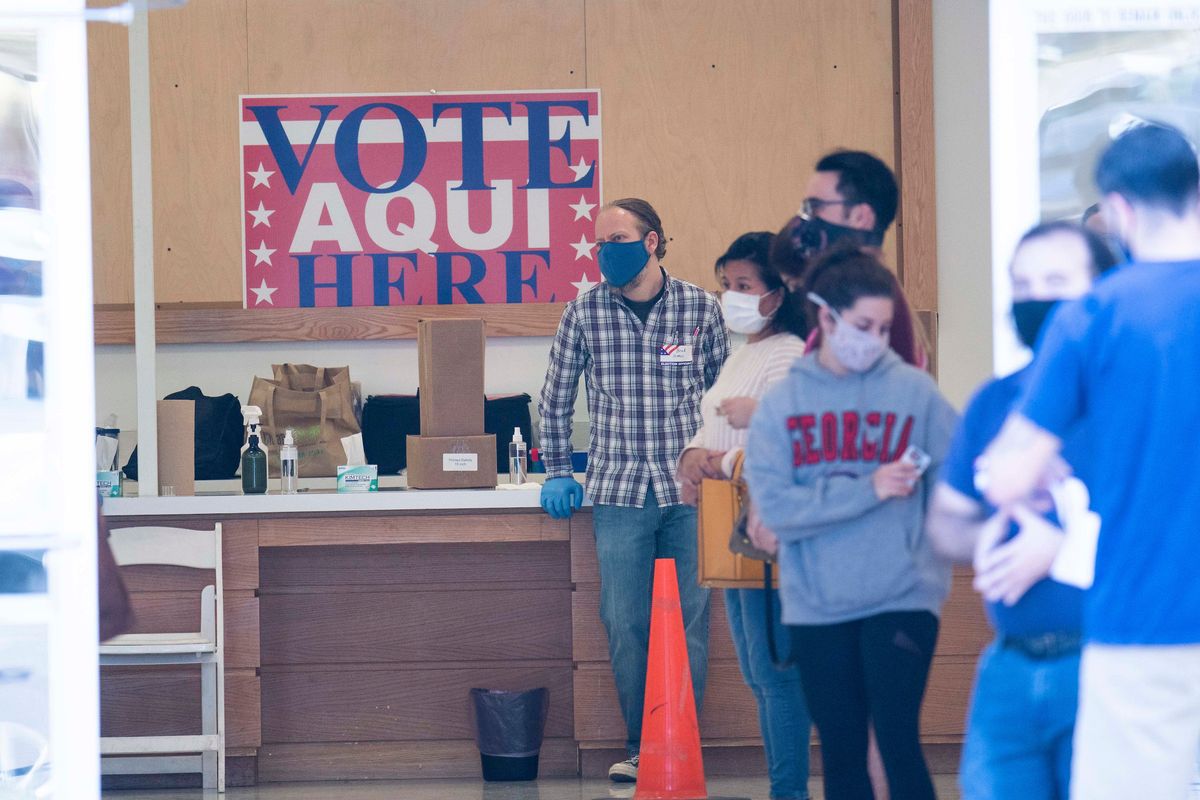 (Bob Daemmrich)
It's Election Day, and nearly 65% of Austin voters have already cast a ballot before the day began.
Short lines made it easy to vote on Election Day in Austin. There will also be Election Day watch parties, mostly virtually, taking place after polls close.
Here is the latest election information:
---
11:30 a.m.: Local election results are in
Election results are complete for Travis County with two council races headed for the Dec. 15 runoffs. And along with those results, the city learns Proposition A—a 15-year, $7.1 billion overhaul of the local transit system—passed.
Read about the results council results here, and the local mobility propositions here.
9:05 p.m.: Presidential race too close to call in Texas
Most of Travis County presidential votes have been counted, but an estimated one-quarter of all Texas votes are yet to be counted so far.
For ongoing vote totals for the Texas presidential race, click here.
8:50 p.m. John Cornyn retains U.S. Senate seat
U.S. Sen. John Cornyn has been elected to his fourth term after beating Democratic challenger MJ Hegar, Texas Tribune projects. Here is more background about the U.S. Senate race.
7:45 p.m. Austin City Council results begin to emerge
Several Austin City Council seats are up for election in 2020. Here is what we know based on early votes that have already been tabulated.
7:20 p.m. Polls close quietly at The University of Texas campus and at Austin Central Library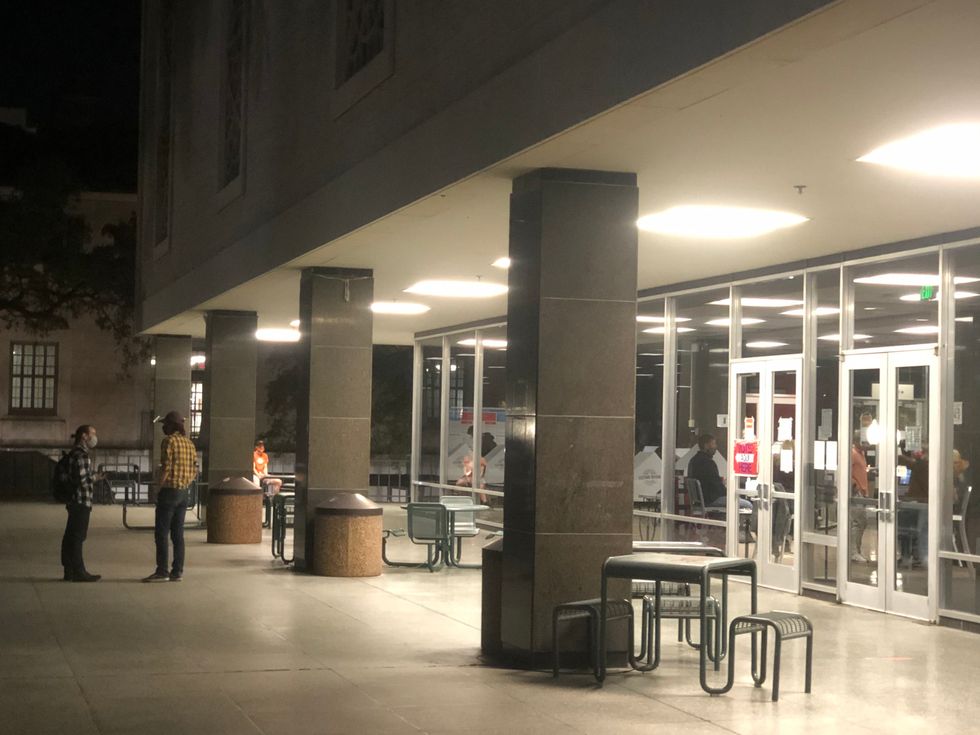 The University of Texas had no lines at campus polling locations after polls opened Tuesday morning.
Joe Lanane
There were no reported lines at The University of Texas campus or Austin Central Library in downtown Austin, two of the highest-profile polling locations in the city.
5:05 p.m.: 43,000 have voted in-person on Election Day with two hours left to go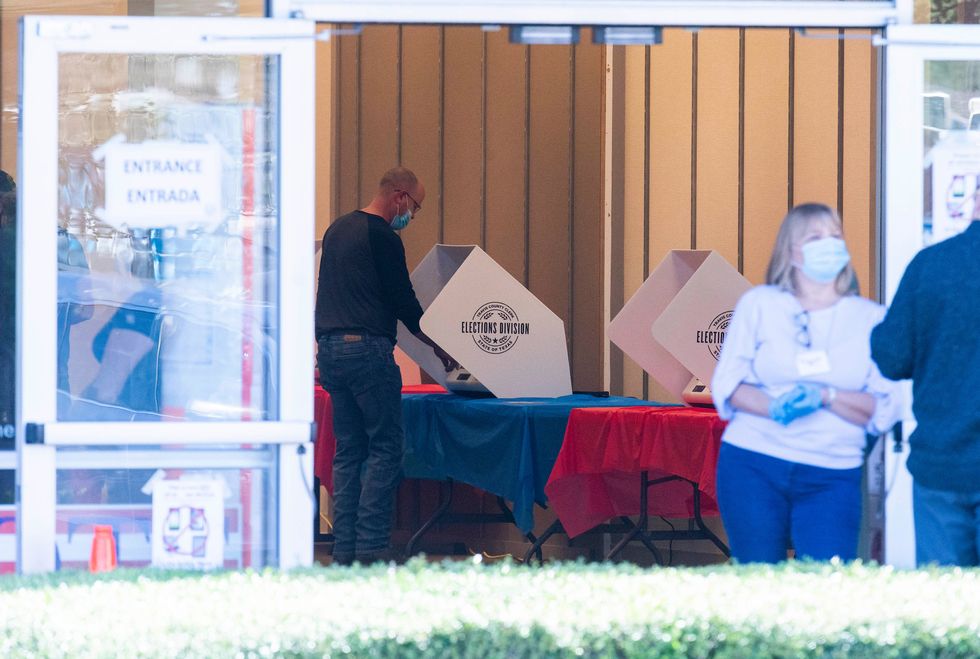 Travis County voters cast their ballots at the Southpark Meadows Shopping Center location in far south Austin during the highly anticipated 2020 general election.
(Bob Daemmrich)
With two hours left to vote and many Austinites getting off work for the day, more than 43,000 Travis County residents have cast their ballot on Election Day, according to the Travis County clerk.
Most of the 178 Travis County polling locations report little to no wait times for voters to cast a ballot.
As of 5 p.m., only one site, Old Quarry library branch in Northwest Hills, reports an extended wait time. It reportedly will take at least 50 minutes to cast a vote at this location, although similar county reports have proven to be unsubstantiated when reviewed earlier in Election Day.
The only other county polling site reporting a delay is located in Manor, where a 50-minute-plus wait is also reportedly occurring.
Polling locations in north-central Austin have little to no wait times for voters mid-afternoon.
According to one campaign worker in front of St. Matthew's Episcopal Church in Northwest Hills, approximately 200 people have voted at the polling location so far today.
Another nearby spot, St. John's United Methodist Church in Allandale, also reported no wait times despite short-lived reports from Travis County that voters were waiting at least 20 minutes to cast a ballot.
Another common Election Day polling location, Congregation Beth Israel in Rosedale, had little activity as well, according to one on-site petitioner.
There may not be any polling sites in Austin's central core reporting extended wait times as of late Tuesday afternoon.
If you want to rock the vote in style, consider stopping by Austin Central Library from 6-7:30 p.m. to enjoy live music while casting a ballot. Jack Craver of Austin Politics Newsletter reports Progress Texas is hosting live music at polling sites across Austin on Election Day.
2:50 p.m.: Election Protection group reports no issues at Austin-area polling sites
Despite reports of a brief wait on Travis County's wait time map, the polling site at Juan P. Navarro Early College High School had no wait time mid-afternoon.
A volunteer from Election Protection, a polling site watch group, reports no major issues at Austin-area polling locations. Election Protection is a national, nonpartisan coalition of various nonprofit and advocacy groups that seek to protect and defend the right to vote.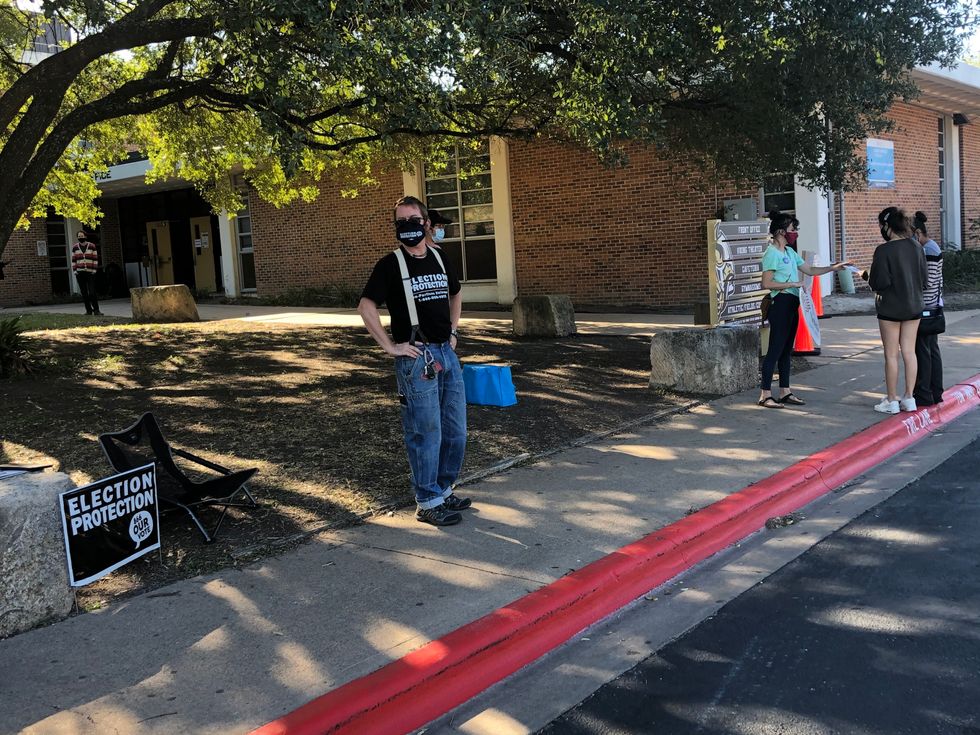 1:30 p.m.: Petitions to recall Austin Mayor Steve Adler circulating at Ben Hur polling location
Ben Hur Shrine Temple in north-central Austin is also reporting slow lines, with more poll workers and campaign volunteers than voters.
However, one notable difference at this location is a campaign to recall Austin Mayor Steve Adler. The Adler recall initiative reportedly needs 61,000 valid signatures by January to qualify for a May mayoral recall election.
At least two people signed the petition on their way to vote after the lunch hour.
Jason Scott, who supports the recall initiative, was on West Anderson Drive on Tuesday waving a sign pointing voters toward the Ben Hur polling location. Some people honked, he said, while others gave him a thumbs down in response to the recall effort.
The Austin-born resident said he disagreed with Adler's decision to close down Austin during the pandemic. He also criticized the lift on Austin's camping ban.
"It's really a bad case of mismanagement," Scott said. "Just watch, there's about to be a big change politically."
Locally owned businesses have suffered most during quarantine measures, Scott said, while big-box national stores such as Walmart have benefited.
"We need to be able to restart the economy," he said.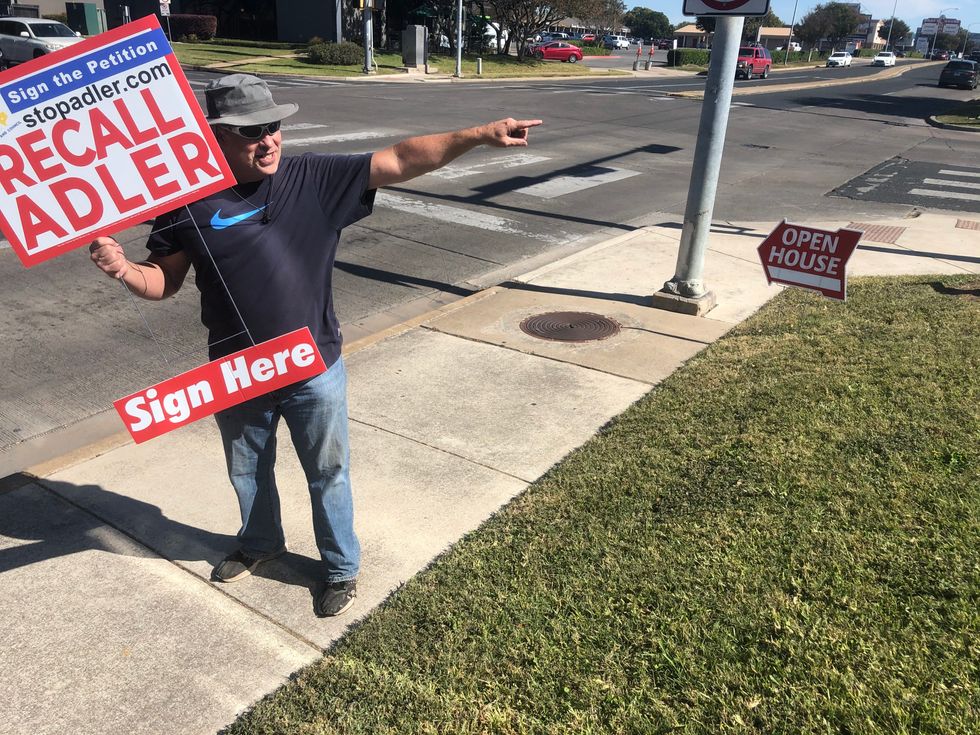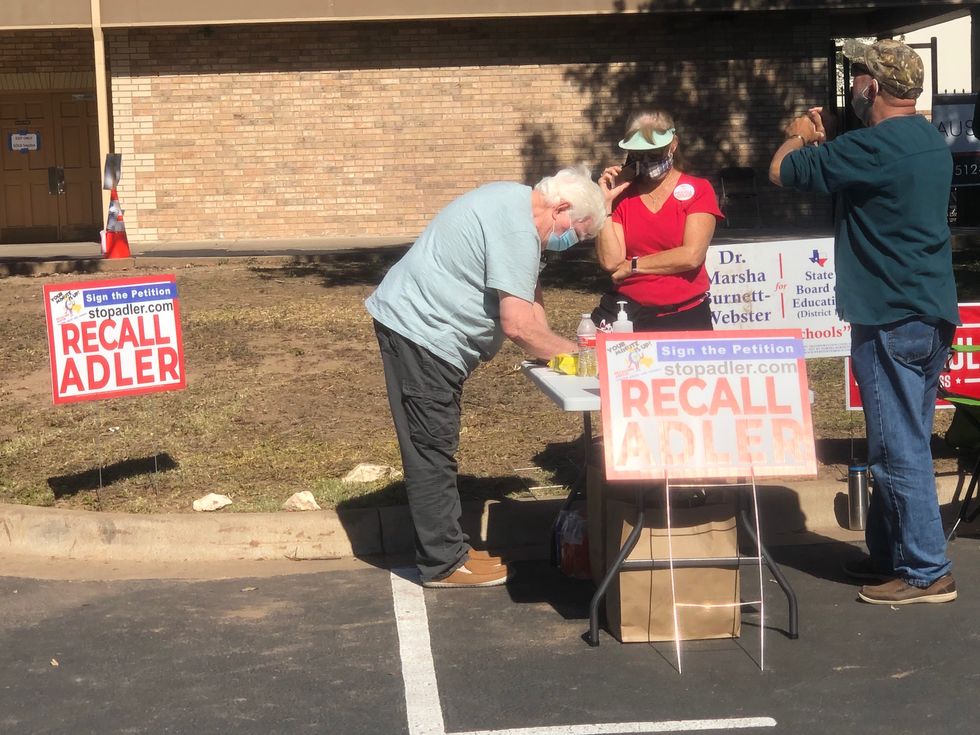 12:15 p.m.: Lines remain short at most Austin voter locations, including spots with a reported wait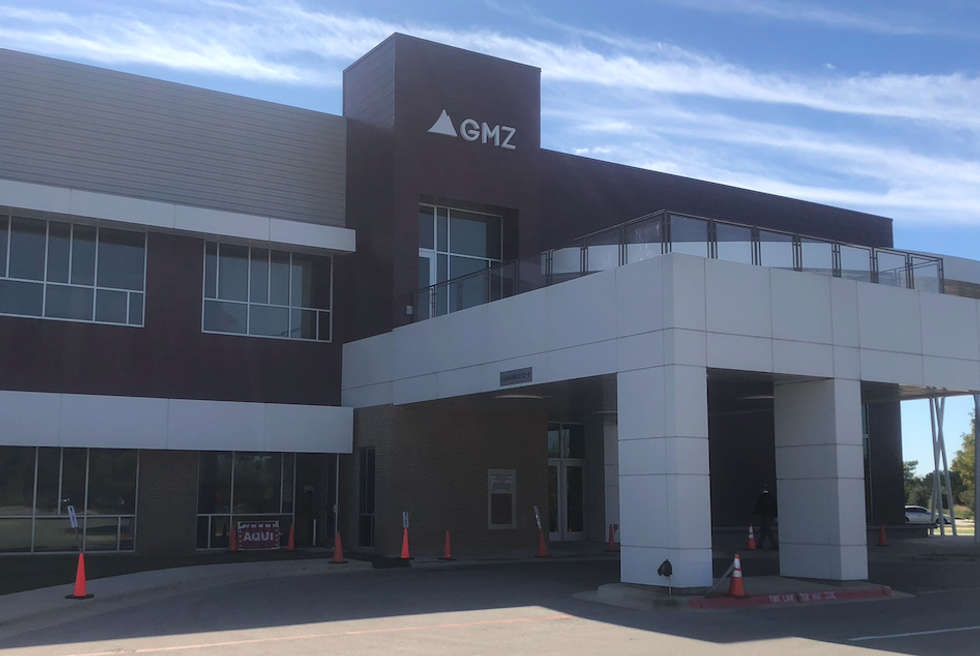 There were no lines at Greater Mt. Zion Baptist Church in East Austin despite reports of longer-than-usual waits at the polling location.(Joe Lanane)
Despite claims earlier in the morning that lines at Greater Mt. Zion Baptist Church were 20-50 minutes long, according to Travis County's wait time map, a poll worker at the site reports "relatively mild turnout" and no extensive wait times. The poll worker attributed the inaccurate report to a potential tech glitch in how they report wait times to the county.

The wait time map has since been updated heading into the noon hour to show that almost all polling locations in Travis County have short wait times between zero and 20 minutes. Only Avalon Pool and Amenity Center in Pflugerville reports an excessive wait time of 50 or more minutes. No other polling site reports wait times that exceed 20 minutes.
At other polling locations throughout Austin, voters could walk in almost immediately to cast a ballot.
10:20 a.m.: First-time poll worker reports no lines at Twin Oaks library branch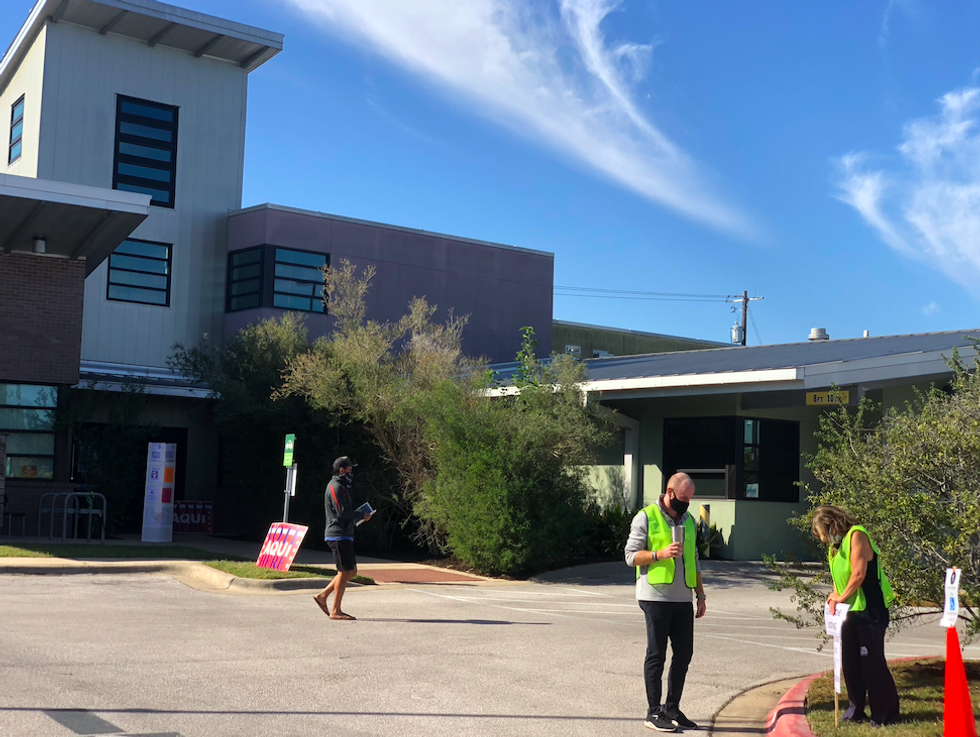 Poll workers set up outside of Twin Oaks library branch in South Austin on Election Day.Joe Lanane
Nothing unexpected has occurred so far at the Twin Oaks library branch in South Austin. A first-time poll worker, who declined to give their name, said they are glad to work the polling site to ensure there are more than enough voting locations open on Election Day.

"It's a generational handing of the baton because this position is usually served by retired people and the elderly," the poll worker said. "I felt like this was a call to action, and other than voting it just feels very hopeful to participate."
10 a.m.: South Austin house becomes pickup spot for Texas Democrats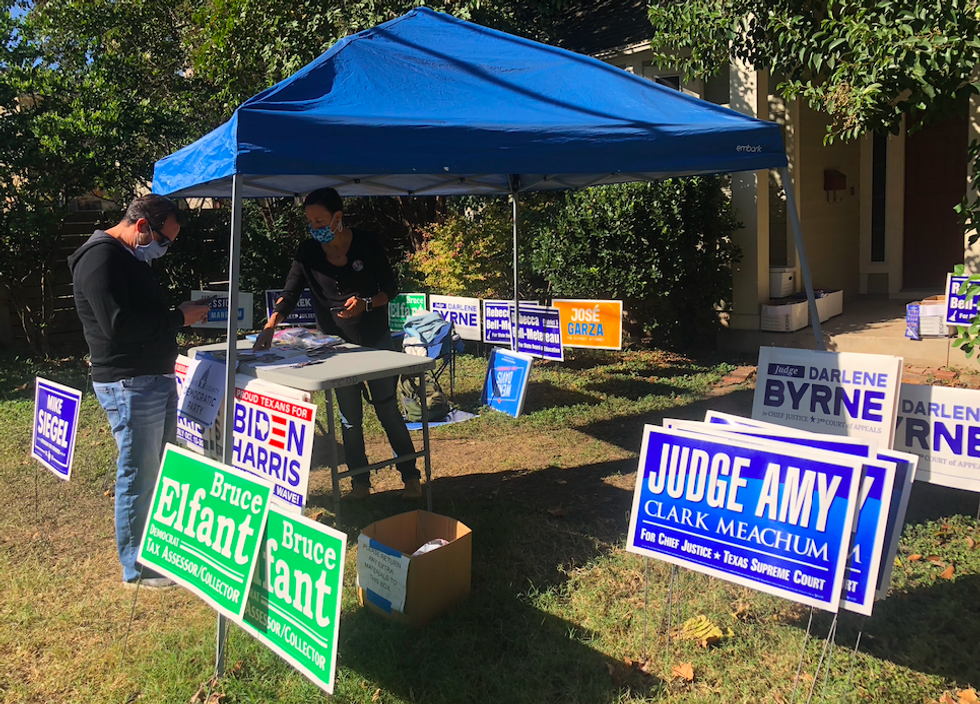 Caitlin Gabor, right, hands out campaign literature to volunteers at a Texas Democrats pickup spot in South Austin.(Joe Lanane/Austonia)
Between two South Austin polling sites is an unofficial pickup spot for Texas Democrats volunteering today. Volunteer Caitlin Gabor is working a makeshift work station to hand off campaign literature to workers—who then will work the neighborhoods to target voters who have not yet cast ballots. Gabor said this is her first time engaging in political activity.
Volunteers, who come and go from the South Austin home, picking up campaign pamphlets, report that many voters still benefit from information about polling locations and how to cast a vote during COVID-19.

9:40 a.m.: South Austin Recreation Center has no lines after morning rush
Outside of the South Austin Recreation Center, located near the South Lamar Boulevard-Oltorf Street intersection, was reportedly busy when polls opened Tuesday morning but has since died down.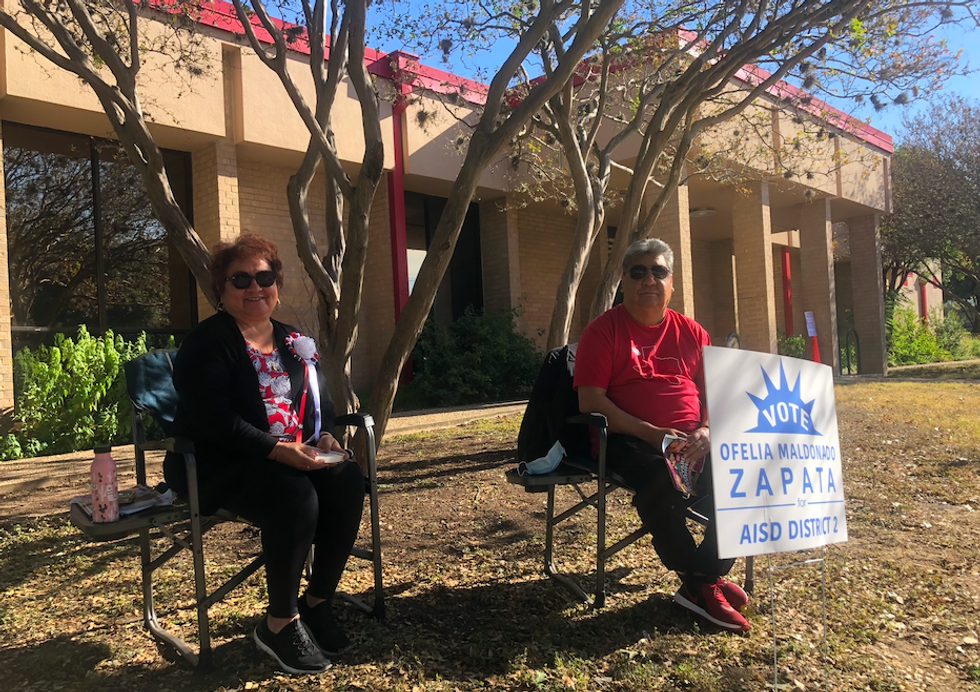 Gloria and Charles Saucedo campaign outside of South Austin Recreation Center on Election Day.Joe Lanane
Gloria Saucedo and her husband Charles, have set up outside of the recreation center to support Gloria's sister, Austin ISD District 2 candidate Ofelia Maldonado Zapata. The polling location is located in AISD District 2, Gloria said, and her sister is one of three candidates running for the open seat.

The couple anticipates more voters to arrive after the work day concludes around 5:30 p.m. Polls close at 7 p.m.
8:40 a.m.: East Austin polling site has no lines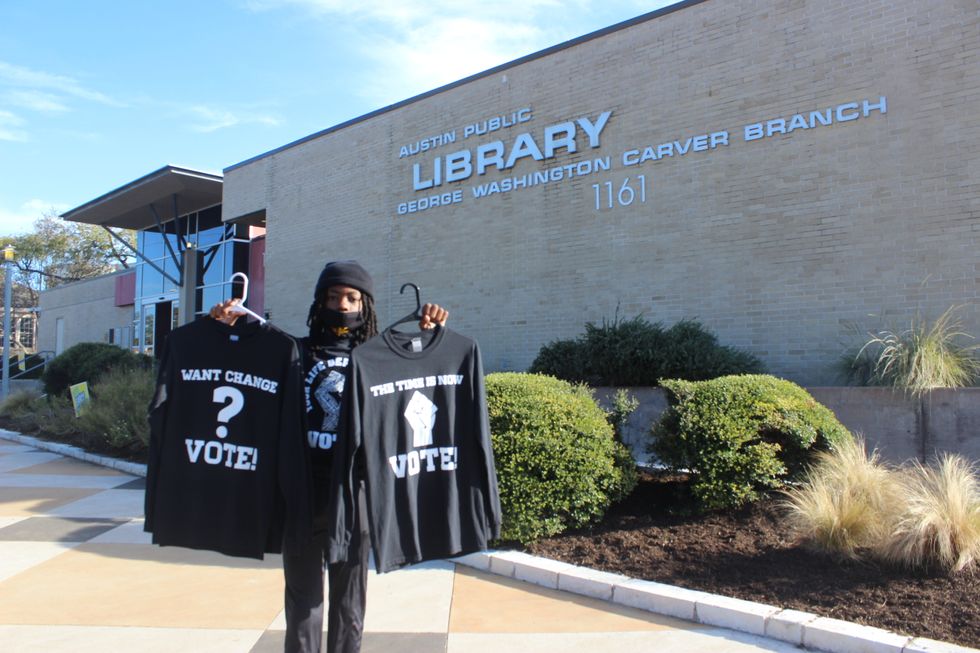 Cinque Kiara sells t-shirts benefiting Carment Kiara's Youth Organization outside Carver library branch in East Austin. (Joe Lanane/Austonia)
Cinque Kiara sells custom T-shirts that encourage voting while standing outside of the Carver library branch polling location, but there weren't many voters to solicit potential donations for the Carment Kiara's Youth Organization, which benefits from the shirt sales.

According to a worker for the Julie Oliver campaign, the site had a 15-20 minute wait at the start of voting Tuesday, but voters have walked right into the East Austin library branch with no wait since the first hour of voting.
8:20 a.m.: Petitioner seeks signatures for local election reforms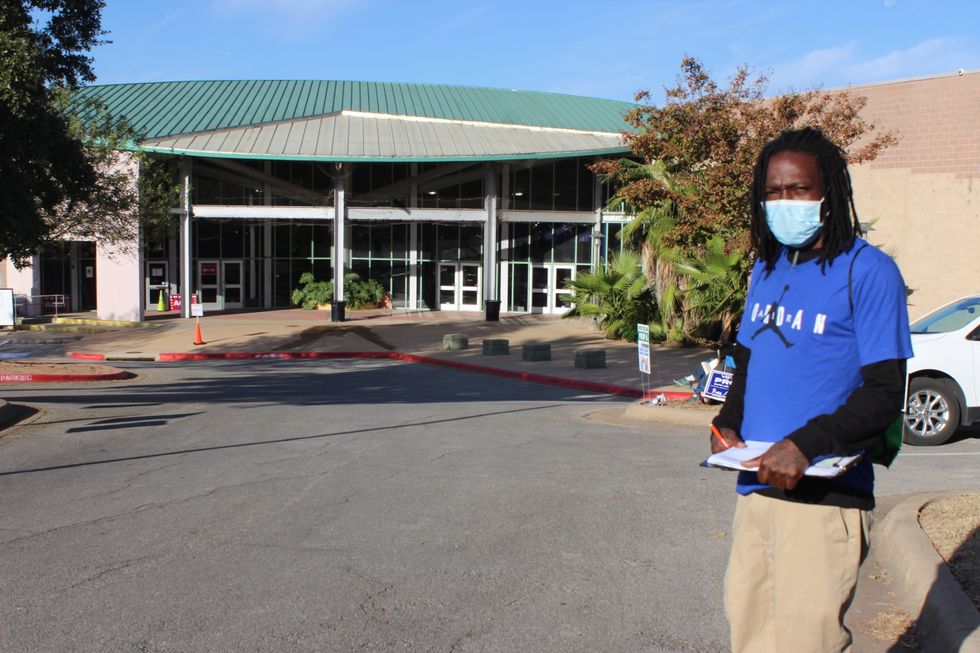 Ernest Smith collects signatures for Austinites for Progressive Reform outside of the Millennium Youth Complex on Election Day. (Joe Lanane/Austonia)

There was no line to vote at Millennium Youth Complex in East Austin, with campaign volunteers outnumbering voters at this time. There was a short line right when polls opened, said Ernest Smith, a volunteer for Austinites for Progressive Reform. Smith was seeking signatures for a petition that could force several election reform initiatives on the local ballot in May 2021.
The reforms include moving the mayoral election to align with presidential election years. Austin Mayor Steve Adler was elected in 2014 in the first local race to be held in November instead of May when most local elections occur in Texas. He was reelected in 2018 during another off-presidential election.

The petition also seeks a ballot question to reform campaign finance rules and make Austin a ranked-choice voting city, the same way Maine will cast ballots Tuesday. Additionally, the reform group seeks to realign Austin's political structure to a mayor-council form of government.
Smith had less than a handful of signatures so far but anticipated more foot traffic during the lunch rush.
8 a.m.: Walk-up COVID-19 testing site is also a polling location on Election Day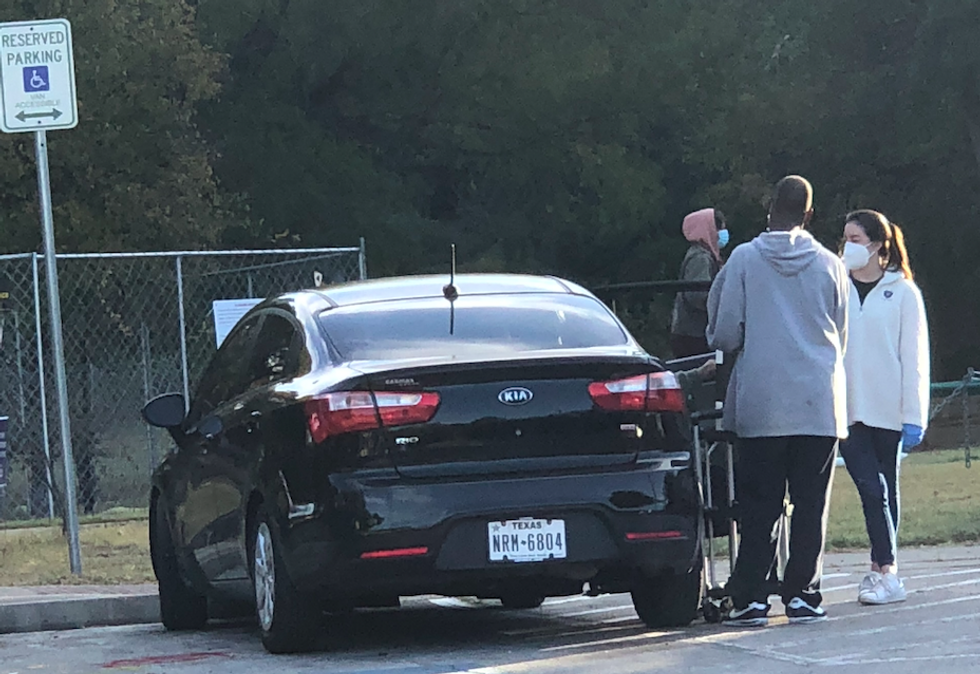 Qualifying voters can vote curbside as part of a new Travis County program. (Joe Lanane/Austonia)

Givens Park, a walk-up COVID-19 testing site during the pandemic, doubles Tuesday as an Election Day polling site. A poll watcher for a civil rights group said there was a 10- to 15-minute wait when polls opened at 7 a.m. but there has been no line since.
Every polling site, including the Givens Recreation Center, offers curbside voting as part of an initiative from Travis County. That means poll workers come to your car to help qualifying voters—mostly seniors and voters with special needs—cast a ballot.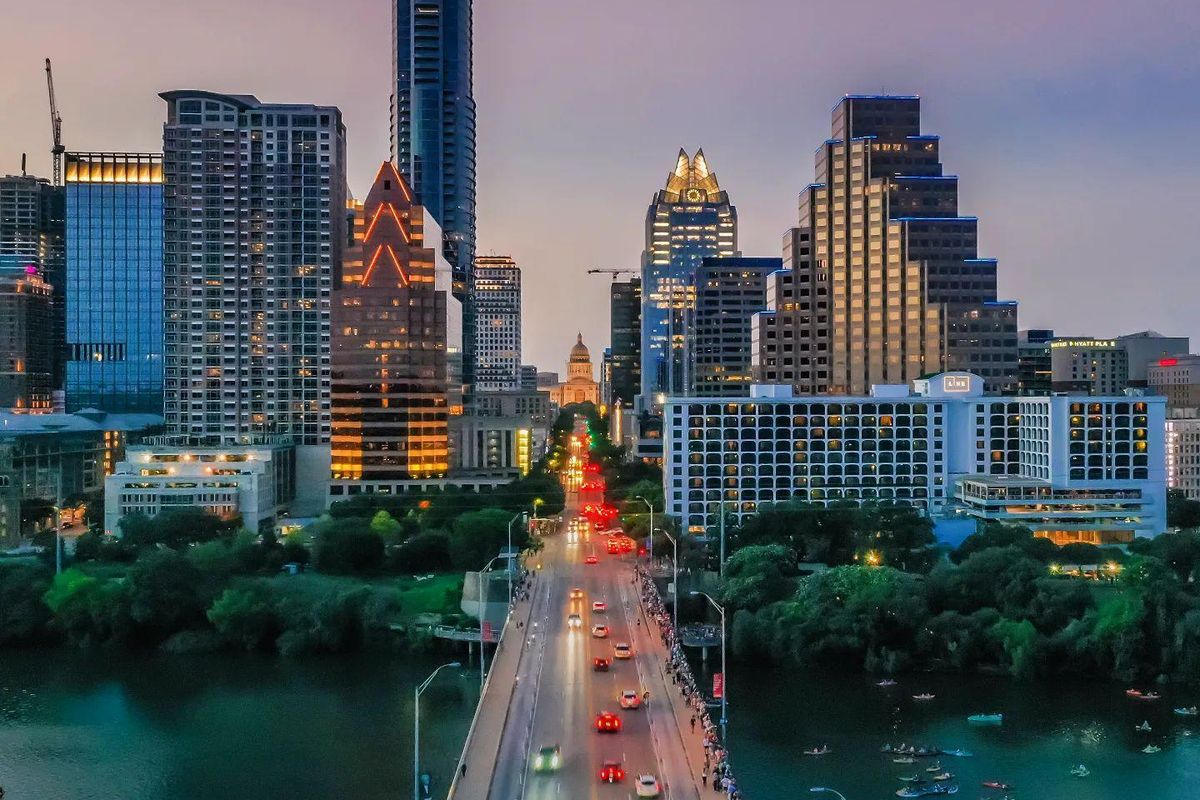 Live Music Capital of the World. Mecca of all things "weird." City of hippies, slackers and honky tonks—Austin's reputation was once synonymous with all things "cool."
But after three years as the top city to live in the U.S., Austin fell to No. 13 in the U.S. News & World Report's ranking this year.
For over a hundred years, Austinites have lamented that their city's charm is gone, and some continue to worry that the city has swapped too many of its grittier live music venues for gleaming corporate towers.

Has Austin's coolness taken a fall from grace? Here's a look at what could be affecting Austin's reputation.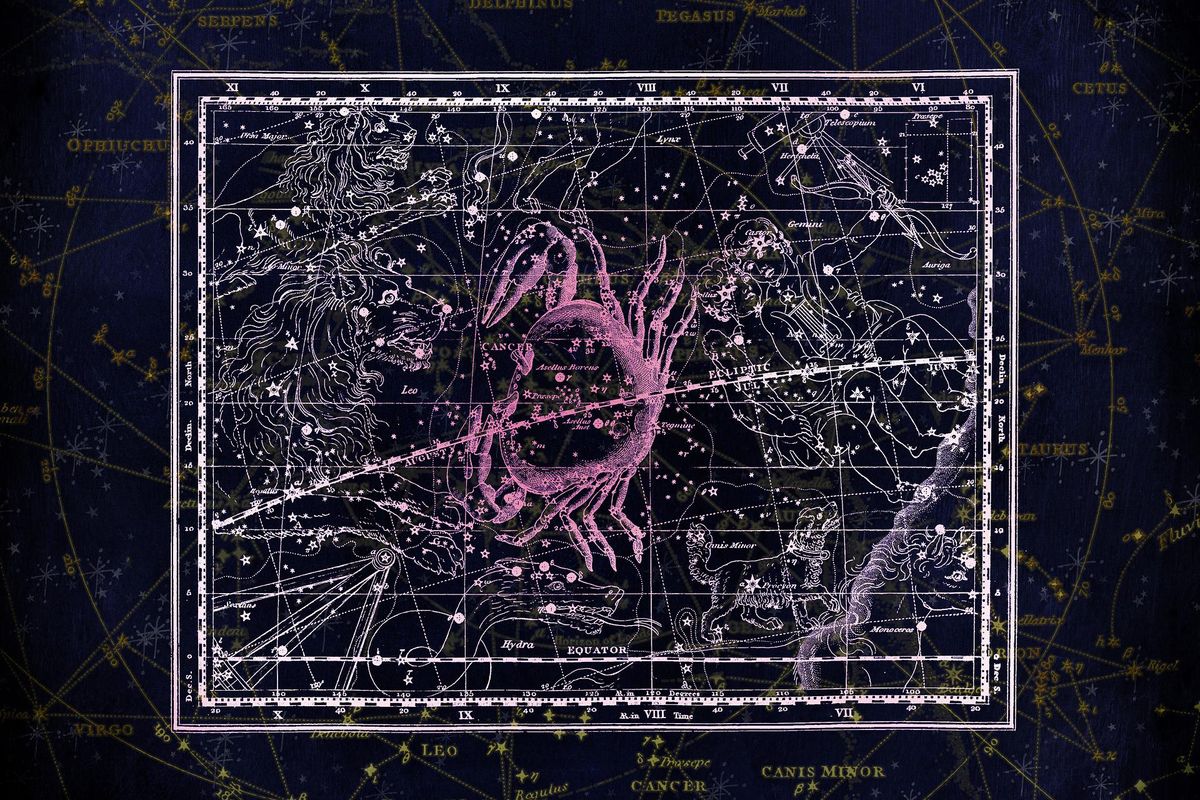 This Cancer season features a strong urge toward self-protection and passionate care for those we love. This comes with a bit of bite and grit, which, if we aren't wielding it ourselves, may feel like a bit of a thorn in our side.
Shortcuts: Aries, Taurus, Gemini, Cancer, Leo, Virgo, Libra, Scorpio, Sagittarius, Capricorn, Aquarius, Pisces
Nevertheless, through this first part of the month, there should be a capacity for lightheartedness and simple joy available to us. Although we very may have to be navigating difficult and urgent themes, it will be greatly helpful to enter into them with a sense of curiosity and willingness to learn. Toward the end of the month, things will take on a bit of a more intense hue, as the Sun opposes Pluto, urging us into the fires of transformation.

Cancer: June 21-July 22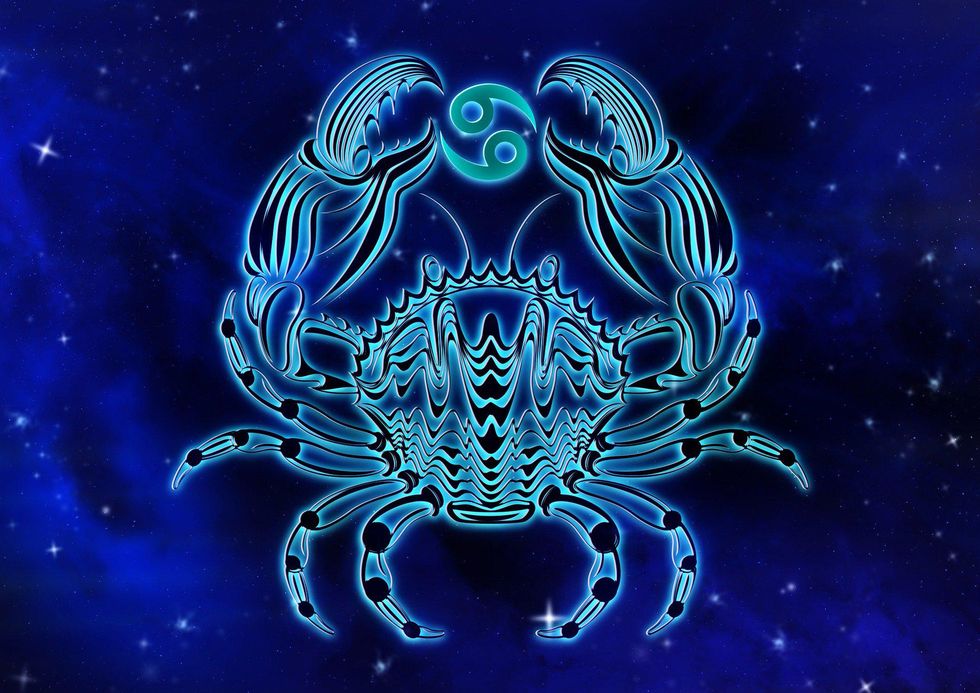 Cancer: June 21-July 22
This Cancer season has a bit of an edge. It's your time of the year to shine, certainly, but consider that your striving toward radiance might have also to do with embracing some healthy contrast. More than just searching for soft and smooth energy, a bit of sharp focus and fiery courage—acknowledging and responding to life's shadowy difficulties—can provide definition that would feel very supportive. This way, your warmth and joy will have more substance behind it, something to fall back on when life gets real and intense, which it especially will toward the end of the month, during our full moon and in the following couple of weeks, as the Sun opposes Pluto.
Leo: July 23-Aug. 22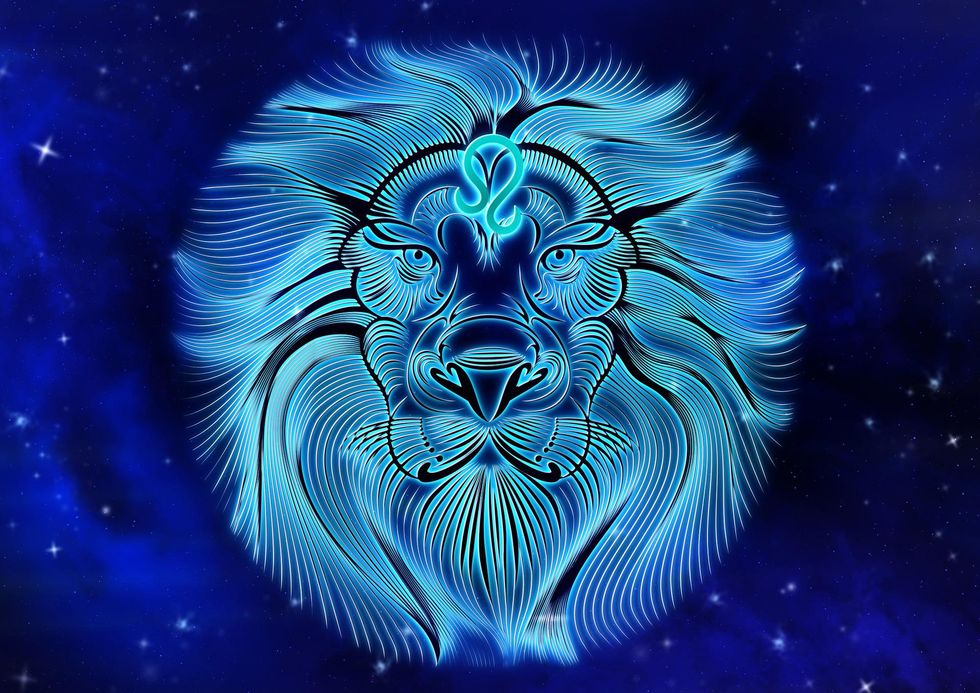 Leo: July 23-Aug. 22
The first part of this Cancer season is relatively soft for you, Leo, and it would be a good time to let yourself breathe into the summer. You're likely to have the oomph to respond to life's demands when you need it, but the most meaningful moments are more likely to be gentle, airy, and will bring more levity into your being. Steeping yourself in this sort of nourishing simplicity will be helpful to prepare you for the second half of the month, which will have a bit more of a feeling of urgency—a spirit that will actually accelerate into August. For the most part, this intensity is demanding that you take more responsibility in your everyday life and relationships, but this shouldn't make you rigid and cold. Really, the best response will arise through a spirit of care and recognition of the truly valuable things in life.
Virgo: Aug. 23-Sept. 21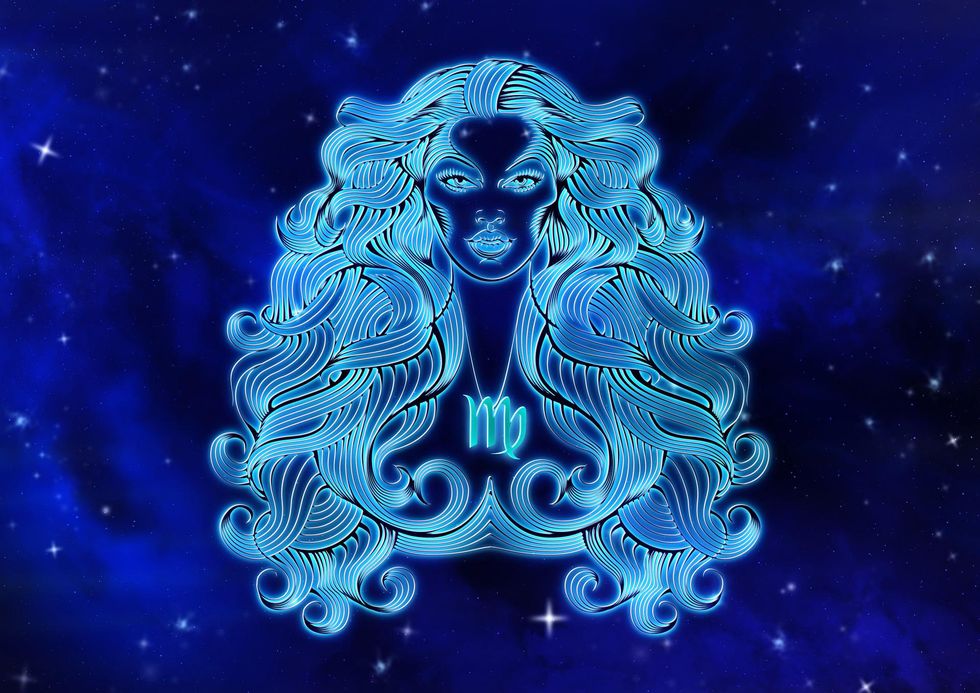 Virgo: Aug. 23-Sept. 21
This Cancer season will be a wonderful time to focus on your broader community, Virgo. Although this can start with a lighthearted social spirit, the real magic will come from a recognition of how intertwined you are with the world outside of you. As you open up to the world, pay attention to the things that ache or make you twinge. There's some heart-opening medicine to be taken here, which can really open your horizons and expand your world. In turn, this month you can have a real reconfiguration of how you understand your role in the world and make some great strides in adjusting your daily rhythms around that clearer purpose. This might feel overwhelming, but consider that this metamorphosis and unfolding is entirely natural and doesn't require contrived effort from you.
Libra: Sept. 22-Oct. 23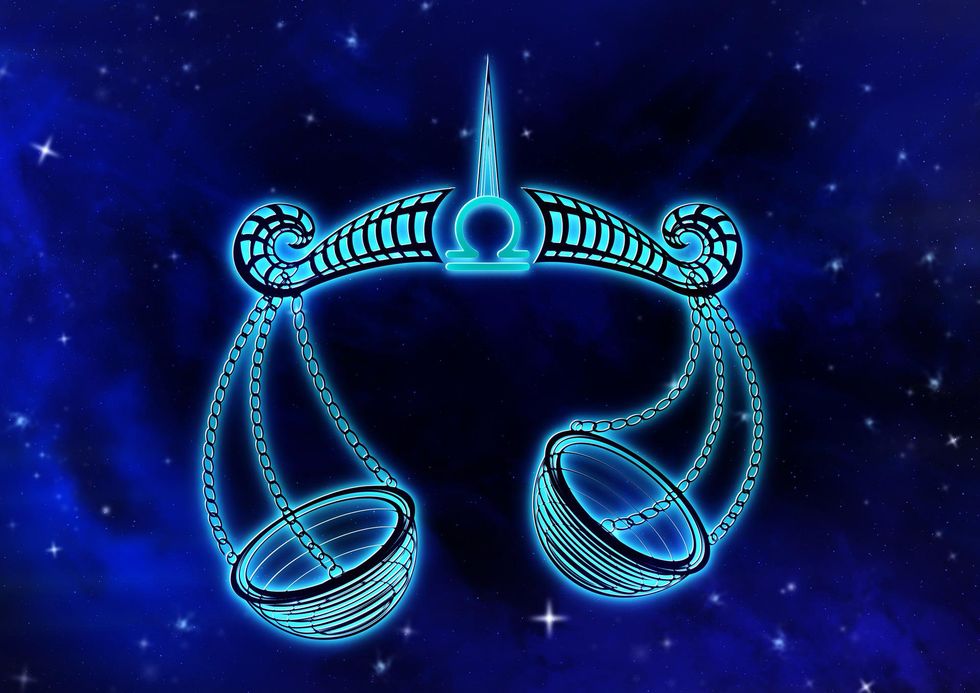 Libra: Sept. 22-Oct. 23
This Cancer season continues some heat and intensity in your relationships, Libra, but takes them to another, deeper and more subtle level. At the start of the month, this will likely feel like a lot of stimulation and excitement, but we'd hope that this would stabilize and set you into more meaningful grooves—a stronger sense of your role and gifts to the world, clearer devotion to those you share your life with, and deeper dedication to the process of learning. Although there's a fiery, crackling spirit to this growth (which will stick around for the summer), the Cancer energy, especially, can bring you into a good bit more humility, softness, and care—which can help you stay even more even keeled and finely equilibrated.
Scorpio: Oct. 24-Nov. 21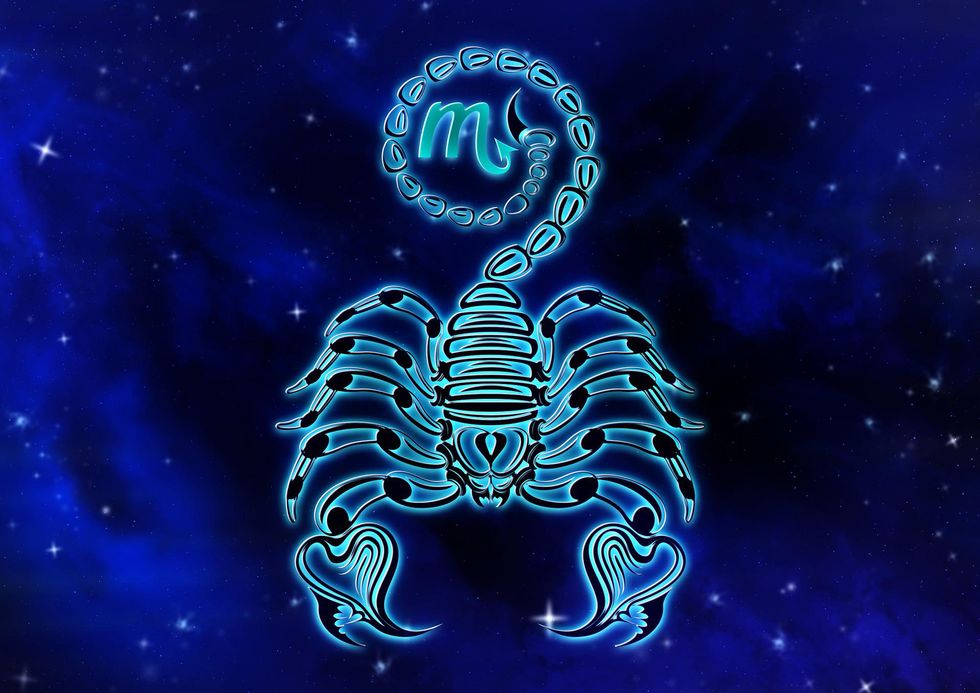 Scorpio: Oct. 24-Nov. 21
Amid a particularly tumultuous year for Scorpios, this month can be a time of smooth growth. Although it might look or feel small or slow, letting yourself flow into new ideas, perspectives, and ways of being can have big impacts—even on a karmic/destiny level. A peak moment in this unfolding will take place on the full moon and the 10 days or so afterward, as life shows you what is ripe for change. Although this might evoke fear or poke some frozen parts of you, that soft, graceful spirit will allow you to thaw and float into your next evolution with minimal strain. Especially at the end of the month, as we start turning over into Leo season, there could be some large flows of previously dammed-up energies which might require a strong response, but here too, the task is more to recognize and align with a natural intelligence, rather than forcing a reaction.
Sagittarius: Nov. 22-Dec. 21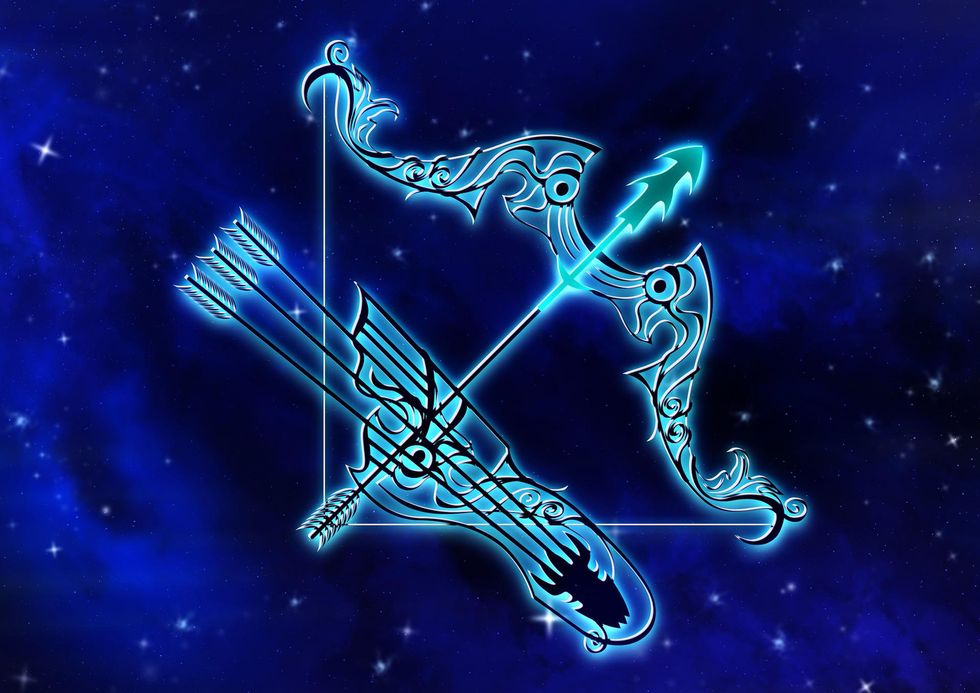 Sagittarius: Nov. 22-Dec. 21
Cancer season presents a challenge for you to grow into more clarity and nobility amid your intimate relationships, Sagittarius. This summer you're having a spurt of sharp, strong energy flowing into you—the task here is to refine that force so that it can deftly navigate the subtle, sensitive intricacies of our deep connections. Although a certain amount of liveliness, friskiness, and unabashed joy will continue to serve you, see how you can encourage yourself into new frontiers of loving maturity. A specific, major realm where you can take great strides is into the simple routines and duties of everyday life. Bringing more connection or camaraderie into these daily rituals would be a great idea, but you might also set higher sights for yourself this month, counting on a bit of extra oomph and endurance, especially later in the month.
Capricorn: Dec. 22-Jan. 19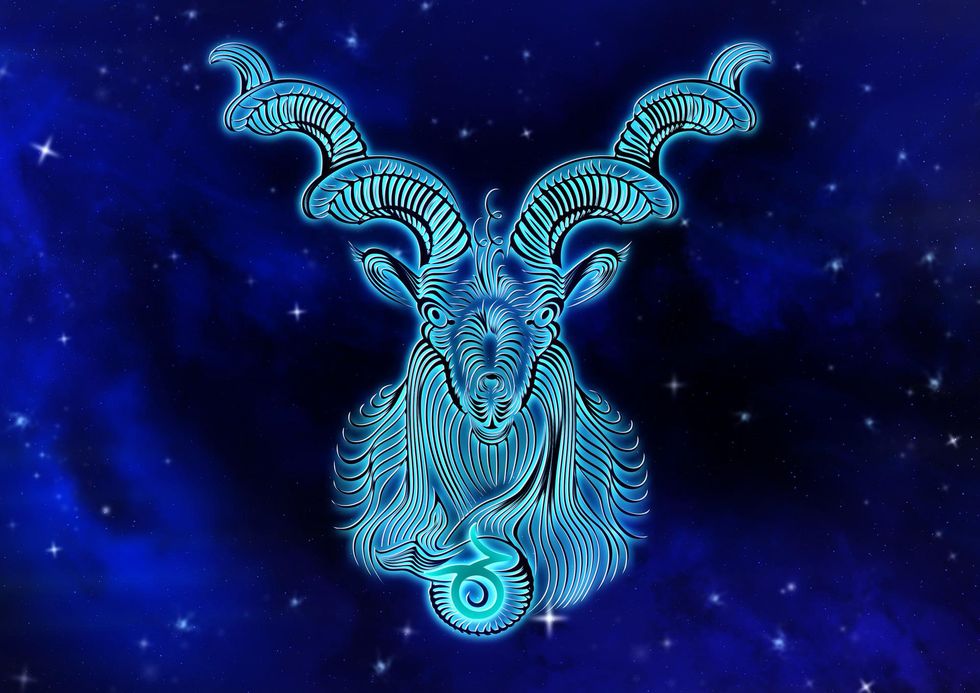 Capricorn: Dec. 22-Jan. 19
This summer's heat is oriented toward illuminating, supporting, and stoking your soul's hearth fire, Capricorn. Amid a world that's sometimes trembling and sometimes buzzing with excitement, your task is to keep your inner light warm, bright and steady. At the start of the month, this might feel like a task that requires heroic concentration and incredible sacrifice, but more than strict discipline, what's really called for is devotion, openheartedness, and a good deal of attentive wit. What can arise is a beautifully simple, ingenious, and elegant self, rooted in goodness and compassion and capable of adapting to small shifts. This allegiance to the essential can usher you through great transformations and initiations.
Aquarius: Jan. 20-Feb. 18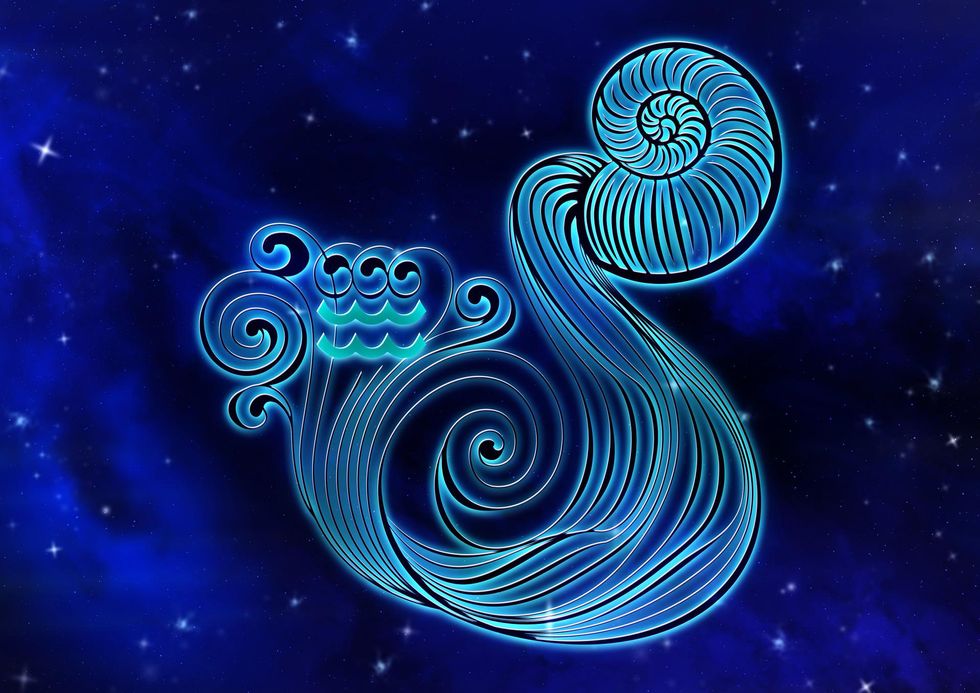 Aquarius: Jan. 20-Feb. 18
Your revolutionary ingenuity is best focused on developing stability and simplicity this summer, Aquarius, orienting your life around the things that truly nourish you and those you care about. Call it nest-building, call it nourishing your roots, call it radical self-care in the end, you should feel more easy, trusting in the future, and settled in your everyday existence. Bringing more sweetness or care to your everyday rituals would be a great idea, especially if it opens up space for you to feel more sacredness and allow your soul to breathe through intense churnings. Especially in the couple of weeks following our full moon, staying tethered to the holiness of the every day can help you resolve the scary or tricky psycho-spiritual knots that come to the fore alongside the Pluto-Sun opposition.
Pisces: Feb. 19-March 20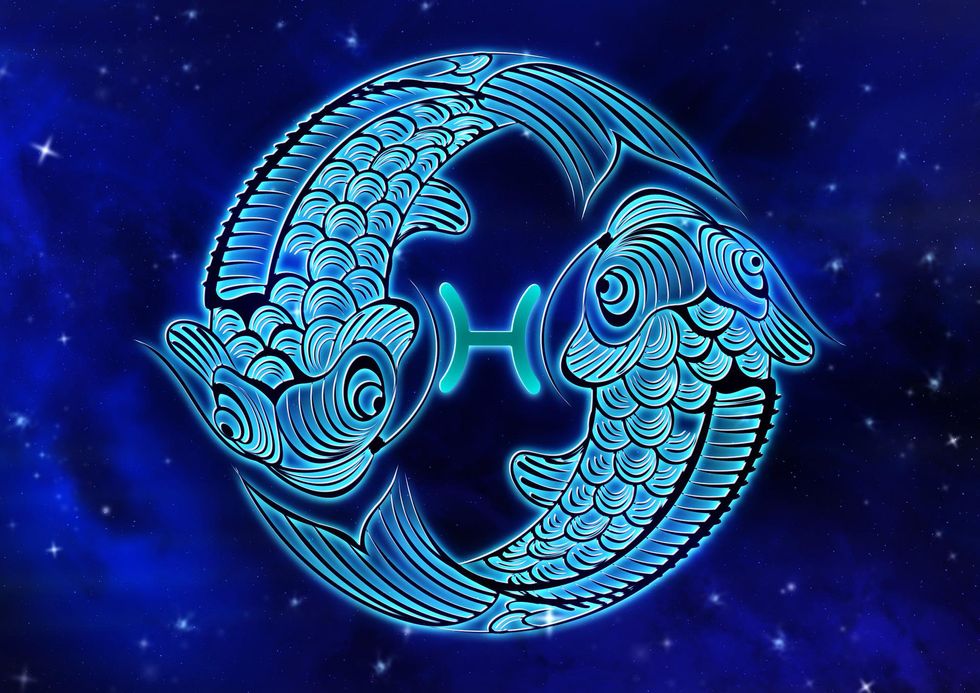 Pisces: Feb. 19-March 20
Cancer season emphasizes your development into a more nourishing sense of warmth and joy, Pisces. A simple and childlike spirit can help balance out some of the bigger shifts unfolding this month, which may or may not feel like they're in your control. Instead of letting yourself get too rattled, if you can maintain an inner smile and watch the cosmic drama with a sense of curiosity and wonder, and focus on your immediate environment, sphere of influence, and quality of your inner experience, you can find reservoirs of optimistic strength to carry you into the future. If this feels fanciful, it could be great to reinforce your connections with your teammates and allies in this life adventure. Even a single warm conversation could help remind you of the inherent goodness and beauty of this ride.
Aries: March 21-April 19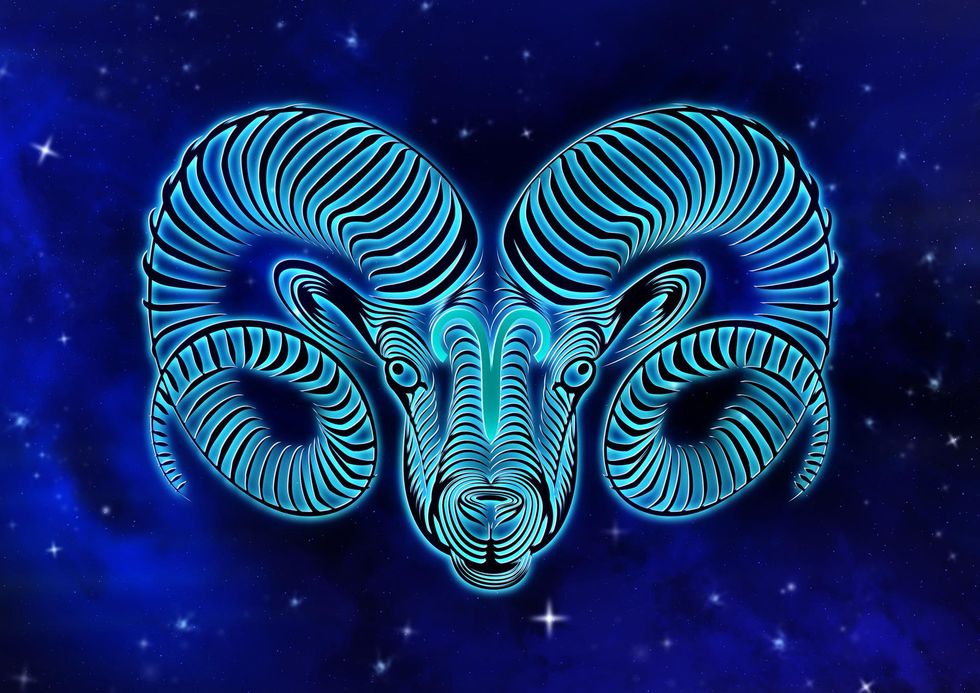 Aries: March 21-April 19
Quite a bit of oomph will be available to you at the start of this Cancer season, Aries, even as it might at times run into conflict with a softer or more sensitive part of your life. You can harmonize these by expressing care with a bit of spice or working up the courage to undertake some necessary deep-cleaning—internal or external. After our New Moon on the 28th, this can stabilize into a steady, growthful groove. Although that might look like a focus on certain habits or specific projects, it could also stem from a deeper, more heartfelt devotion to certain values or visions for the future. Although these should feel electric and exciting, make sure they also integrate an awareness of where things could go wrong or awry. Making sure your inner child feels safe about the future is certainly priority No. 1.
Taurus: April 20-May 20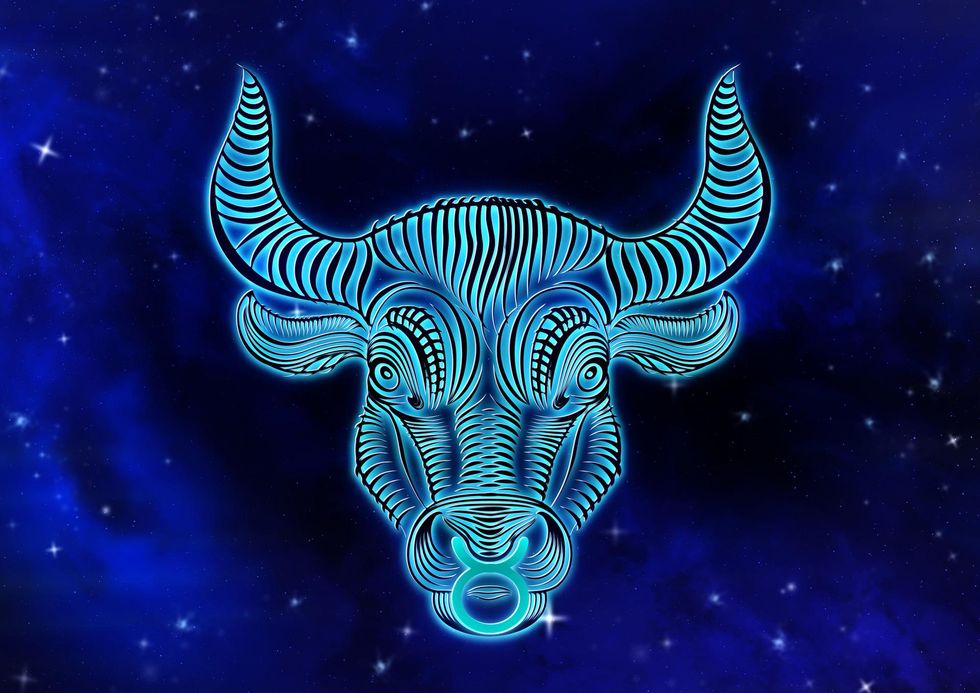 Taurus: April 20-May 20
This Cancer season brings an invitation for you to stoke your deeply held soul-fires, Taurus, tending your inner hearth. Insofar as you know the right, sustainable and abundant fuel for your fire, this is a great month to reach out for those nutrients. If you're still figuring out what you need, or what's possible for you, this month can give you a little kick of urgency into those explorations and conversations. You'll know this precise fuel by its fruit, though—you're looking to be radiant, growing a sturdy and coherent light and warmth to be a more positive force in a quickly changing world. Once you've caught your stride in staying steady, you've got permission to play around with turning up the heat!
Gemini: May 21-June 20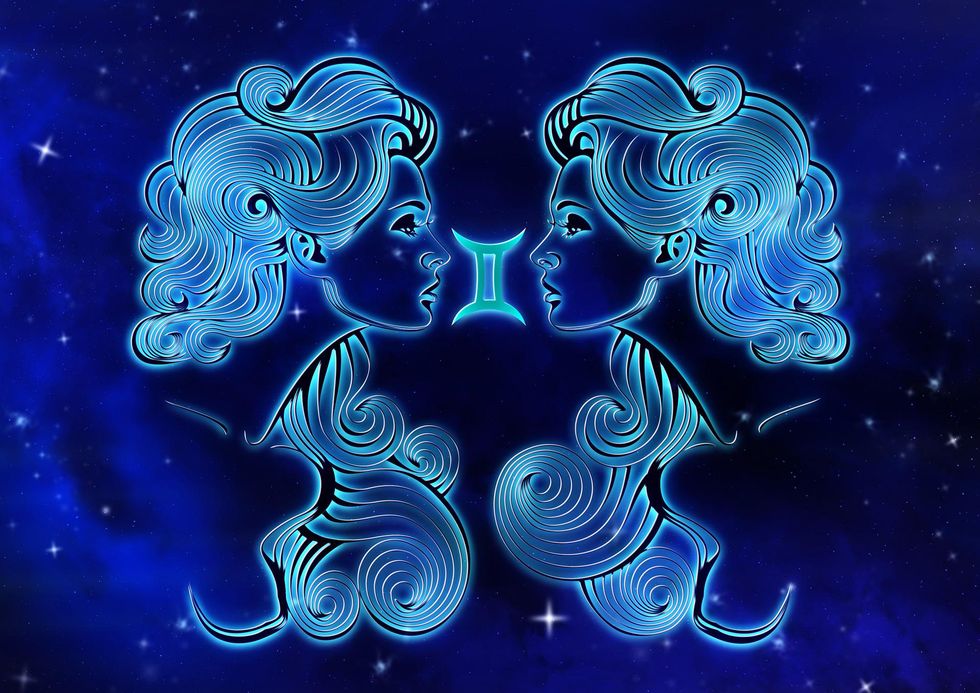 Gemini: May 21-June 20
This Cancer season highlights the development of your soul's senses, Gemini. Although there might be lots of action taking place in your community, as well as semi-urgent feeling material realities to attend to, we don't want you to get twirled around in a fiery haze. Rather, if you can listen for the hidden, subtle aspects of all of this motion, you'll find a clearer way through—and feel more lively and capable to boot. Although time in quiet or with loved ones can nourish these intuitive faculties, consider that the natural world itself wants to disclose its mysteries and help you along your journey.