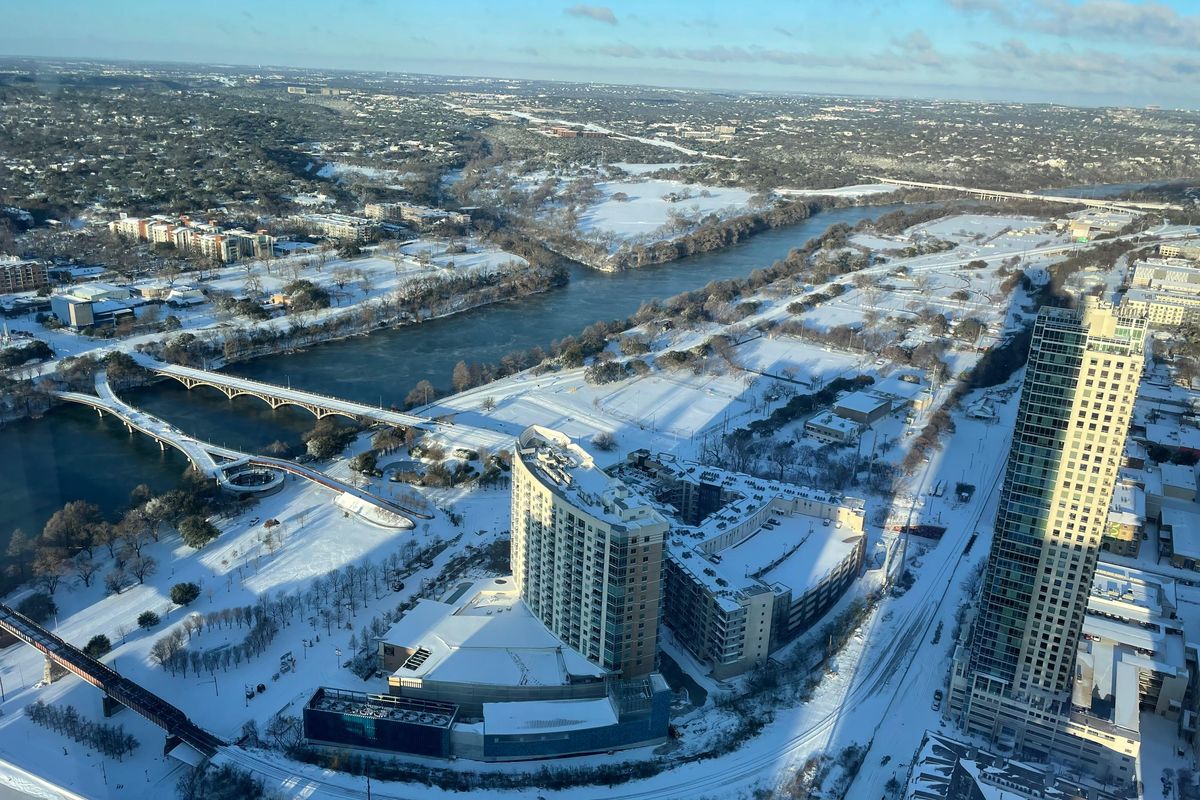 (Kyndel Bennett)
Austin Energy estimates it earned $54 million in net revenue during the winter weather event last month, according to a voluntary event notice filed by the city of Austin with the Municipal Securities Rulemaking Board on Monday.
---
Last month's historic winter storm left more than 40% of Austinites without power for days. Although the Electric Reliability Council of Texas, which maintains around 90% of the state's electric grid, initially intended these blackouts to be rolling, the increased demand for energy combined with widespread generator failures threatened a total grid collapse; to avoid this, ERCOT officials instructed utilities such as Austin Energy to continue to "shed load"—or maintain blackouts—until supply improved.
Austin Energy both purchases power from ERCOT to provide to its customers and generates energy, which it is required under state law to sell back to ERCOT.
Austin Energy produces energy through a combination of sources:
Its generation assets "largely stayed online'," according to the notice. As a result, the utility was able to continue generating power. Combined with the ERCOT-mandated blackouts, Austin Energy ultimately sold more energy into the ERCOT grid than its customers used at the time.
The utility estimates that—once load and fuel costs are accounted for—it will have made $54 million in net revenue. Because Austin Energy generated more energy than it used during the winter storm, the utility stands to make money off of the event.
This figure could change if ERCOT passes market defaults along to Austin Energy or the Texas Public Utility Commission, which oversees ERCOT, retroactively repricing market transactions during the winter weather event. "Significant uncertainty in the overall outcome remains, and Austin Energy estimates that final net revenue results could be realized in a range between positive $104 million to negative $16 million," according to the filing.
Austin Energy General Manager Jackie Sargent said any surplus revenue would benefit customers, who would see it reflected in lower fixed price rates, which are reviewed by Austin City Council annually and typically take effect in November. Council has directed the utility to lower its rates in recent years as part of its regular review process.
"We continued to provide generation, and the market needed generation," she told Texas House members during a Feb. 26 public hearing about the winter storm event. "But Austin Energy is a not-for-profit utility, and anything that we do in the marketplace with the investment of the generation that we have is a benefit to our customers and flows back to those customers."
Austin Energy relies on a diverse mix of generation assets, including its partial ownership of the Fayette Power Project coal plant in La Grange and the nuclear-powered South Texas Project in Bay City. Around 58% of its energy production comes from renewable sources such as solar and wind farms, according to its website. The utility aims to cease operation of its portion of the Fayette Power Project by 2022 as part of an ongoing effort to eliminate carbon and other pollutant emissions from its generation portfolio.