Austonia AM
100% Austin news, info, and entertainment, straight to your inbox at 6 a.m. every morning.
In five minutes, you're fully informed and ready to start another great day in our city.
Get connected with our daily update
(Laura Figi)
The City of Austin recently disclosed that it realized an estimated net profit of $54 million on the resale of its energy during Texas's great freeze last month.
What the city did not say publicly was whether the windfall was possible because of Austin's reliance on a steady flow of coal and nuclear power. That power comes from Austin's one-third interest in the Fayette Power Plant (FPP), which burns coal, and its 16% interest in the South Texas Project (STP), a Bay City nuclear power plant.
---
"When we need energy during these extreme events, we can't always rely on the sun or the wind, but we can rely on things that are on site—that would be uranium at nuclear plants, that would be coal at coal plants," said Philip White, a graduate research assistant at the University of Texas at Austin's Webber Energy Group.
The Electric Reliability Council of Texas, which maintains around 90% of the state's grid, projected that the bulk of the grid's winter capacity would come from natural gas, coal and some nuclear power, as reported by the Texas Tribune. Because many of these generators failed due to the weather, ERCOT mandated days-long blackouts to avoid a total grid collapse.
These mandates left more than 40% of Austinites without power amid subfreezing temperatures. But Austin Energy's power supply outperformed many of the state's other providers.
In a recent Municipal Securities Rulemaking Board filing, which detailed Austin Energy's successful generation experience during the four days of the big freeze, the City of Austin did not include any reference to coal or nuclear power. "Austin Energy generation largely stayed online during the 2021 Weather Event," according to the filing.
Austin City Council Member Alison Alter and State Rep. Donna Howard, D-Austin, defended the city's current mix of generation sources as well as its financial strategy, which have left the utility in good financial standing despite the havoc wreaked by the storm. Austin Mayor Steve Adler and Council Member Greg Casar, who have also supported Austin Energy's ongoing shift toward more renewables, declined interviews.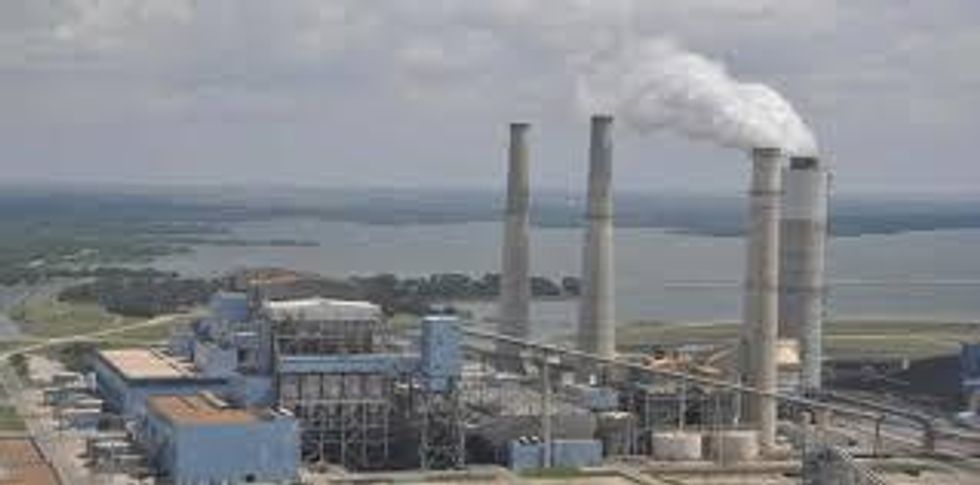 The Fayette Power Project in La Grange, Texas, is co-owned by Austin Energy and the Lower Colorado River Authority. (City of Austin)
Austin City Council voted in 2017 to retire the city's interest in FPP by 2022 and to commit to long-term plans to get out of nuclear power as well. Both are key components of the city's determination to go green—eliminating carbon-based power in the future and depending only on renewables like wind and solar.

As a result, some question whether it is prudent for Austin Energy to put all of its eggs into the renewables basket. Others, however, say it is just as risky to rely on fossil fuels given their failures last month.
A cautionary tale
Robert Cullick, who was the utility's communications director from 2014 to 2019, worries that a fully renewable portfolio would leave Austin Energy, and the city by extension, open to future losses.
"Across the state, what we saw was that all resources were somewhat hindered by the deep freeze," he said. "No power source was perfect. The question, I think, is, 'What if we go to just two power sources: just solar and just wind.' I think we would be far worse off financially."
Cullick pointed to the city of Georgetown, which reached its goal of 100% renewable energy in 2018 after purchasing excess power at fixed rates in 2015. The city's decision to buy a surplus amount of power when rates were high, in the hopes of selling it back to the ERCOT grid, backfired, leaving its own utility customers with higher bills. The winter storm exacerbated its already precarious financial situation: the city plans to take out a $47.8 million loan, to be paid from electric revenue over 10 years, to cover its wholesale power bill from the storm.
Like its counterpart in Georgetown, Austin Energy is a municipally-owned utility that both distributes power to customers and generates it. Because of a 1999 state law that deregulated the state energy grid, Austin Energy must purchase energy to distribute to its customers from ERCOT and sell the energy it generates back into the same grid.
Because its generation assets—a mix of natural gas, coal, nuclear, wind and solar—largely stayed online during the storms and because of ERCOT-mandated blackouts that lowered customer usage, Austin Energy generated more power than it bought. Although this made little difference to the 40% of Austin Energy customers who went without power, it led the nonprofit to an estimated net revenue of $54 million—which will benefit customers in the form of lower fixed rates.
"If citizens of Austin understood how much prior decisions to have a diverse power portfolio protected them during this freeze, they would not let the city of Austin divest without serious, serious consideration," Cullick said.
Austin Energy declined an interview request. In an email to Austonia, a spokesperson wrote that it would be impossible to speculate how an entirely renewable portfolio would have performed during the recent storms and what financial impact it may have had on the utility.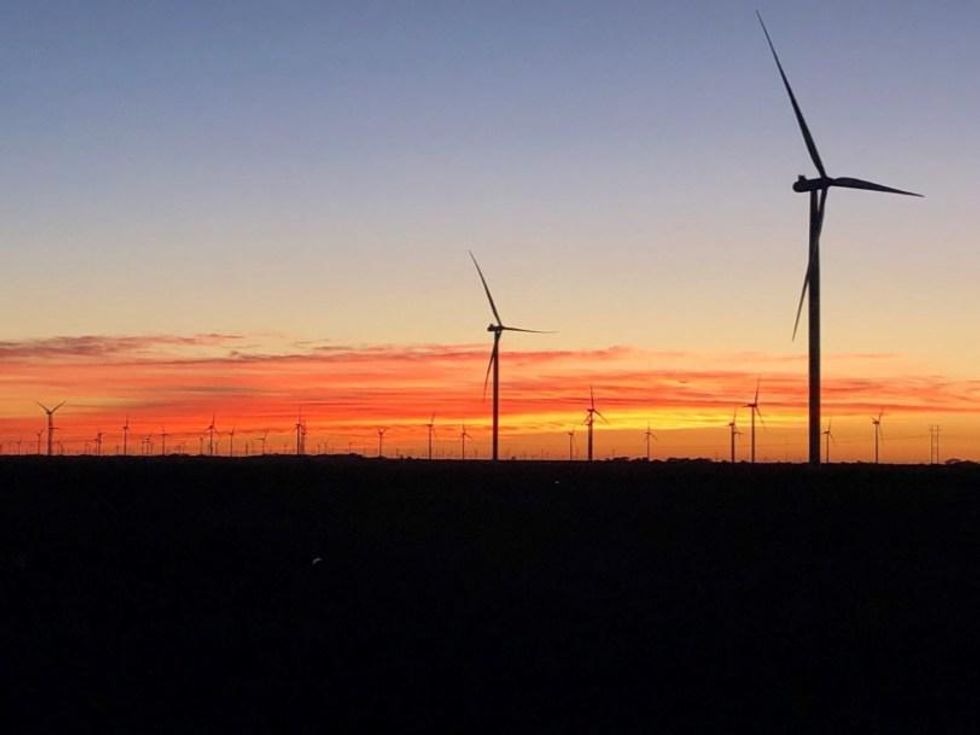 Austin Energy purchases energy from the East Raymond Wind Facility near the South Texas coast. (Austin Energy/Facebook)
The fight for renewables

District 9 Council Member Alison Alter, who led the city's declaration of a climate emergency in 2019, supported a plan, passed in 2017 and updated last March, which includes a stated goal to achieve zero carbon emissions by 2035 and plans to retire the FPP and natural gas-powered Decker Power Plant by 2022.
Austin Energy currently sources around 58% of its annual power supply from renewable sources, according to its website. Around 23% comes from natural gas plants, and the remainder is a mix of coal and nuclear sources.
Alter agrees that it is important for Austin Energy to have a diverse portfolio of generation sources to ensure affordability for its customers and safeguard its own financial health, but she disputes the notion that the city's plan to achieve a carbon-free future is at odds with this goal.
"One of the things that we're doing is we are shifting over time, and we're not doing it all at once," she told Austonia. "The technology is not there to go 100% renewable and have the reliability because we don't have the battery storage capacity that would be necessary to maintain reliability."
State Rep. Donna Howard, D-Austin, agrees. "A diversified load, like the one AE has and deployed during the storm, is essential for the current state of technology," she said in a statement to Austonia. "Most scientists would also say it's those very fossil fuels that are contributing to the climate change leading to events like this winter storm."
Alter also argues that the same financial planning that helped Austin Energy earn surplus revenue due the winter storm is being used as the utility navigates the path to a carbon-free future.
"We do that in many different ways, but we do it also with a very sophisticated financial model that hedges things and does precisely all the things that led us to be in this very difficult situation in a position where our ratepayers are not going to be on the hook for huge amounts of dollars like you see even in other types of municipal utility situations," she said.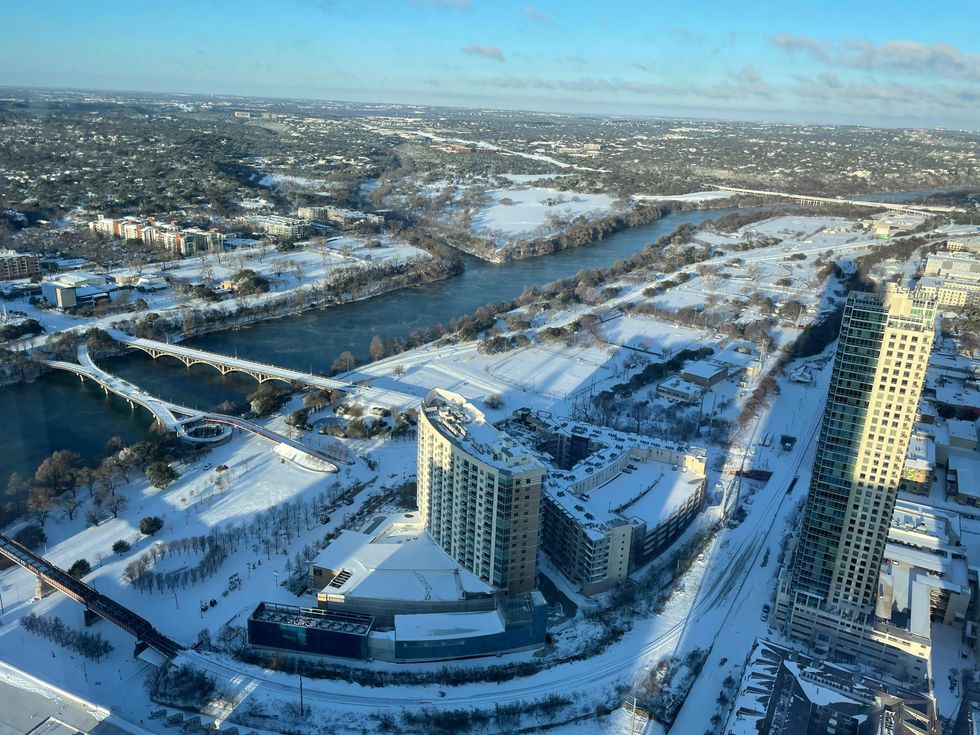 (Kyndel Bennett)
This is not to say that the storm has had no impact on how council and Austin Energy plan to move forward.

"I think the storm raises questions about the reliability of our energy network and means that we need to pay extra attention to what we're doing when we purchase generation to make sure that it's reliable, no matter the type of energy," Alter said. "It was our natural gas and our nuclear and our coal that failed on a spectacular level, but not necessarily the ones that were under Austin Energy's auspices because we had done some of the weatherization and we managed those resources because we have a goal of reliability, not just making money."
Blame game
Although Austin Energy's decision to invest in renewable energy sources and divest of carbon-emitting ones may have financial implications during the next winter storm, experts say the utility's responsibility is to ensure it can produce about as much energy as its customers consume on a year-to-year basis. (Renewables might also prove lucrative during the peak usage on hot summer days, which are more common.)
"During something like the sustained cold snap we had for about a week, it's not Austin Energy's job to balance the grid," White said. "That's ERCOT's job."
ERCOT didn't plan to rely on wind or solar during the storm; instead, it projected the state would lean heavily on natural gas. So when natural gas wells froze up and icy roads made it impossible to transport natural gas, the grid nearly collapsed.
"I think the moral of the story is, rather than pointing a finger a certain fuel type or renewables, it's thinking, 'What do we value on our grid?'" White asked, setting up two options: a grid that is reliable 99% of the time with lower rates or a grid that is reliable 99.9% of the time that has been weatherized at a significant cost.
Cary Ferchill, chairperson of the working group that drafted the 2030 plan, said Austin Energy invested in its legacy generators—FPP, STP and its natural gas plants—when it made economic sense to do so. "All of the new investments that we're making now in renewable energy are all being made with the idea that they will pay off over the long term that we have invested in them," he told Austonia.
Ferchill questions the motives of those who oppose Austin's investment in a carbon-free future in the wake of last month's storms. "A lot of people look at it and take any crisis as an opportunity to argue for their political position or their economic position," he said. "It wasn't the renewable plants that caused most of the problem. Most of the problem was caused by the things that were the lion's share of the market that didn't show up."
After Austin voters passed Proposition B, reinstating a ban on public camping, City Council directed staff to look into possible sanctioned campsites where homeless residents could live legally. Now two members are asking to shelve discussion on the controversial topic.
Staff presented dozens of possible sanctioned campsites across each fo the 10 council districts in late May, following the election. But members mostly pushed back on the proposed locations, citing cost, wildfire risk and lack of transparency as concerns.
With updated criteria, staff recommended two sites—one in District 1 and the other in District 8—for further review last week. After being briefed on the options during Tuesday's work session, Mayor Pro Tem Natasha Harper-Madison, who represents District 1, and Council Member Paige Ellis, who represents District 8, issued a joint statement proposing "a pause" on further discussion of temporary sanctioned encampments.
"We are not convinced that these sites would be a cost-effective solution, but rather a band-aid tactic when we need to be supporting the long-term strategy to get folks off the street permanent," they said. "It is our responsibility to look at the situation holistically and objectively, and to spend out city's limited resources on solutions we know can work."
Homeless Strategy Officer Dianna Grey noted that the two locations were imperfect and would require a lot of time and money to outfit as sanctioned campsites during the briefing.
City staff and homeless experts have previously raised concerns about sanctioned encampments, saying they are expensive to maintain, challenging to manage and hard to close, even when intended to to be temporary.
In 2019, staff declined to make recommendations for such sites despite being directed by council to do so, citing 2018 guidance from the U.S. Interagency Council on Homelessness. "Neither authorized encampments nor parking areas provide housing for people experiencing homelessness," staff wrote in a memo. "Rather, each option detracts from the staff resources assigned to addressing this moral imperative."

But with Prop B being enforced and too few shelter beds and affordable units for the estimate unsheltered homeless population in Austin, the city is facing the same predicament that prompted District 9 Council Member Kathie Tovo to pursue possible sanctioned campsites in the first place: "When individuals in encampments ask where they should go, we need to have places to suggest," she said at a May 6 council meeting.
Don't lose your mask just yet—the Centers for Disease Control and Prevention announced it is now recommending masks in areas that are surging as cases rise nationwide and the Delta variant looms.
The CDC announced Tuesday that even fully vaccinated individuals should mask up indoors if their community is experiencing substantial transmission—defined as areas with more than 50 cases per 100,000 people. Travis County is sitting at an average of 94.59 cases per 100,000 over the past seven days, falling into the highest risk category, according to the CDC.
#DeltaVariant surging in U.S. New data show Delta much more contagious than previous versions of #COVID19. Unvaccinated people: get vaccinated & mask until you do. Everyone in areas of substantial/high transmission should wear a mask, even if vaccinated. https://t.co/tt49zOEC8N
— CDC (@CDCgov) July 27, 2021
After two COVID-19 recommendation stage jumps in the last two weeks, from Stage 2 to Stage 4, Austin-area cases are the highest they have been since February. The seven-day average for cases is on an upward trend, reaching 226 on Tuesday.
The CDC is also recommending that all students K-12 wear masks indoors, regardless of vaccination status. A May executive order by Gov. Greg Abbott prohibits schools from requiring masks, regardless of vaccination status. Austin ISD is "strongly" encouraging students to wear masks.
Although vaccinated individuals are still protected against the most severe symptoms of the variant, infections are spreading rapidly and now make up 83% of confirmed cases in the U.S. At least a dozen cases of the delta variant have been confirmed in the Austin area, though there are likely more since testing for it is limited.
CDC Director Dr. Rochelle Walensky said that hospital admissions are "almost exclusively" coming from people who are unvaccinated but those who are vaccinated can still catch and spread the virus.
"Unlike the alpha variant that we had back in May, where we didn't believe that if you were vaccinated you could transmit further, this is different now with the Delta variant," Walensky said. "That leads us to believe that the breakthrough infections, rare that they are, have the potential to pool and transmit at the same with the same capacity as an unvaccinated person."
Research suggests those who become infected carry 1,000 times more of the virus than other variants and could stay contagious for longer.
The announcement comes on the heels of the Biden administration ramping up cautionary measures in the face of the Delta variant. Just last week, the CDC said it had no plans to change its May guidance of vaccinated not having to wear masks unless there was a significant change in the data. Officials met on Sunday night to review new evidence,
according to reports.

The Moody Center, a $338 million, 530,000-square-foot multipurpose arena at the University of Texas at Austin, celebrated its topping out on Tuesday.
With the final beam placed, the arena's steel-frame structural phase—which involved more than 5.3 million pounds of steel—is complete.

"This past year has been full of unprecedented events, not to mention weather challenges, and yet the women and men working on this project continue to deliver," Moody Center General Manager and Senior Vice President Jeff Nickler said in a press release.
To celebrate the topping out Oak View Group, the development and investment firm behind the Moody Center will affix a tree to the final beam in keeping with the time-honored tradition.

The practice dates back to ancient Scandinavian religious rites, which involved placing a tree atop new buildings to appease tree-dwelling spirits displaced during the construction process, according to the International Association of Bridge, Structural and Ornamental Ironworkers in Washington D.C.
After the steel-frame structure phase, the development will move on to enclosing and finishing the interior of the Moody Center.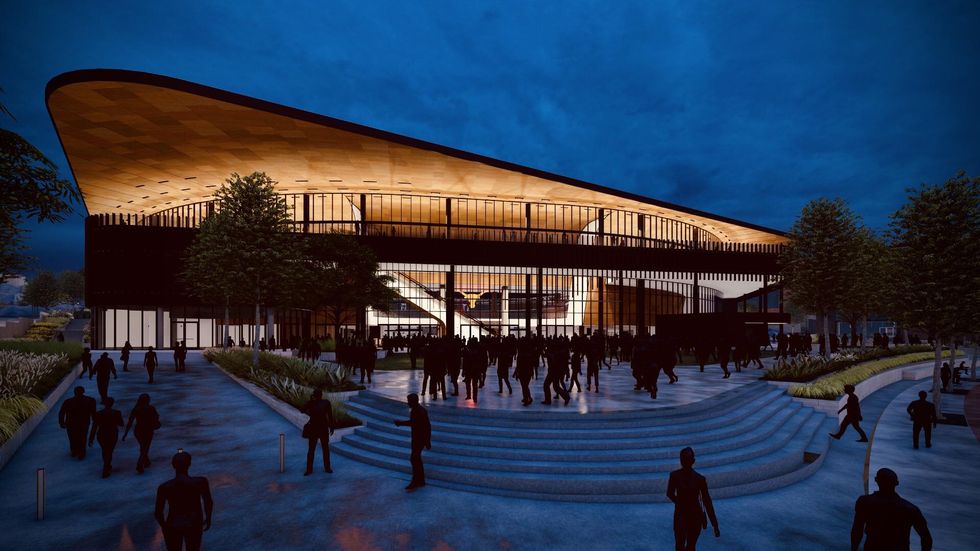 Rendering of the Moody Center. (Moody Center)
The arena is set to open next April and already has some major acts scheduled for its inaugural year, including The Weeknd, Justin Bieber, John Mayer and The Killers. It will replace the 43-year-old Frank C. Erwin Jr. Center and serve as the home of UT's men's and women's basketball games, among other sports and community events.