Get connected with our daily update
Location is everything and that's especially true for Austinites, who are paying more in everyday household bills than any other city in Texas according to a recent study.
---
The study, conducted by bill management company Doxo, found that the average Austinite spends $2,300 per month on the "10 most common household bills," while the average Texan pays $1,888 monthly. The average American spends $1,889 per month on necessities.
Austin topped Breham, where residents spend $2,182, Dallas, where residents spend $2,103, and Houston, where residents spend $2,080. Last on the list in Zapata, in the Rio Grande Valley, where monthly bills amount to $1,247.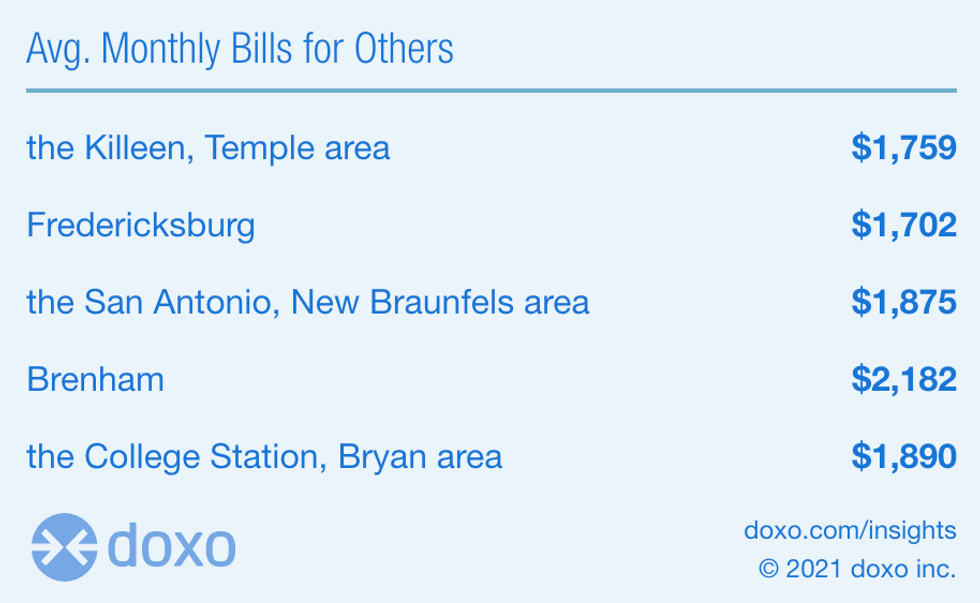 (Doxo)
Doxo broke spending down into the following categories: mortgage, rent, auto loans, utilities, cell phone, cable and satellite, security systems, and auto, health and life insurances.
Austin is famous for its skyrocketing real estate prices, so it should come as no surprise that the average homeowner spends almost $700 more on their mortgage per month than other Texans. At an average $1,903 per month spent on mortgage payments, where Texans average $1,279, the majority of Austin residents' funds go to housing.
The situation is a bit better when it comes to renters, who spend about $1,298 per month in Austin. The average Texan renter spends about $1,062 per month, comparatively.
As for auto loans and insurance, locals are about par for the course. Austinites may spend $457 on loans, compared to $411 statewide, but residents are actually saving money on auto insurance. The average Texan pays about $185 for their car insurance while Austin pays about $173.
Life insurance follows the same track, with nearly identical price points at $86 monthly in Austin and $88 across the state. However, Austinites pay $160 on average for health insurance, almost 50% more than the average of $113.
Say what you will about Austin's tree-hugging roots but residents spend much less money on utilities than the rest of the state. Where Texans spend $316 per month in our incredibly hot state, Austinites pay $170 monthly.
Satellite and phone bills fall near the average, $125 and $96 per month, respectively in Austin, whereas Texans pay $115 for satellite and $102 for cell phone service. Finally, Austin pays just a touch more on security, $108, than Texans, who pay around $87.
While spending in some categories falls below other Texas cities, Austin pays about 22% more than the national average. That's the price you pay to live in the capital city!
Enjoying Austonia? Signup for our newsletter to get daily Austin news, straight to your morning inbox!
When Texas and the NCAA passed a bill allowing college athletes to profit off their names and likenesses this summer, Longhorn athletes joined professional teams and athletes by stepping into the growing NFT scene.
NFTs, which are essentially unhackable codes used as one-of-a-kind "certificates of authenticity" paid for with cryptocurrency Ethereum, have been cropping up in the Austin art scene and worldwide—and they're quickly evolving into a sports fans' paradise as a new way to snag some bragging rights through digital trading cards, tickets and highlight reels.

Here are five Austin-based athletes and sports venues now involved in NFTs:
In this season of gifts, giving, and gratitude, Tito's is making it easy to shop for your friends and loved ones while helping our community.
The beloved Austin company's Love, Tito's retail space, downtown at 215 Lavaca Street, is fully stocked with great gear. 100% of net proceeds of whatever you purchase—a new collar for your four-legged friend, a Tito's tee, some branded barware—go to the nonprofits they support. From the environment to animal rescue, you can choose your cause while choosing a new copper cocktail kit… or old school cap… or golf polo.
The store is stocked with stuff that the online experience just can't offer: never-before-seen swag, doggy photo booths (to say it's a dog-friendly space is an understatement), a record player to spin some tunes, and a bar finder listing local spots serving mean Tito's cocktails. Locals and out-of-town visitors alike can enjoy wonderful distractions while kicking back in an environment designed to cater to Tito's fans.

While you can't enjoy a cocktail there due to Texas liquor laws, the store offers unique experiences for any and all fans of the brand, and gives folks a chance to find what resonates with them while taking home a piece of the Tito's story.
*At our Love, Tito's store in Austin, net proceeds constitute an average margin of at least 25% of the retail price of a product, excluding the cost of tax on the purchase. We are not deducting cost of our people, the store rent or other operating costs.
This Black Friday, T-Pain and Normani want you to shop at Black Pearl Books on Burnet Road.
A mini-film showing Atlanta-based singer Tanerélle taking an elevator to "Black-owned shops near me," highlights dozens of stores all over the country, and Austin shop Black Pearl Books made the list. The film came about through a partnership between Google and the U.S. Black Chambers, Inc. to reimagine Black Friday as "Black-owned Friday," a day to search, shop and support Black-owned businesses. And what better way to send the message than with a new upbeat track by T-Pain featuring Normani.
Google presents the #BlackOwnedFriday film feat. T-Pain and Normani youtu.be
Black Pearl Books, which celebrated its one-year store anniversary just last week, is offering deals through Monday. For in-store shopping, purchases are buy-one get-one 50% and free shipping on all purchases over $30 for online orders.
Black Pearl mentions that the meaning behind the name is in reference to a mysterious rare gemstone symbolizing independence, strength, wisdom, wealth, prosperity, love and hope. The store offers physical books as well as audiobooks, eBooks, and merchandise like t-shirts and stickers. And if you like a signed copy of a book, they may have that as well.
Holiday gift guides currently feature everything from a Lizzo coloring book to puzzles and games.