Never miss a story
Sign up for our free daily morning email...
...and afternoon text update
Get connected with our daily update
(Laura Figi)
Ben Hasan is the market manager for the Sustainable Food Center, a local nonprofit that operates two area farmers' markets—one in downtown Austin and the other in Sunset Valley.
---
Even though foot traffic at both markets is down by as much as 70% and pandemic precautions continue to be necessary, Hasan is optimistic.
"Come on down, shop the markets," he said. "We are open, we have been open. We used to say 'rain or shine' and now we've got to add 'global pandemic' but we are here for y'all."
'Better than zero'
Since the onset of COVID-19, the SFC markets have had to make large-scale changes to accommodate customers in a safe way.
Regulations include capping capacity at 150 for the downtown market and 90 for the Sunset Valley market and requiring customers to wash their hands before entering and wearing a face mask while at the market. Vendors are also no longer permitted to offer food samples, must keep hand sanitizer at their station and are encouraged to minimize interactions.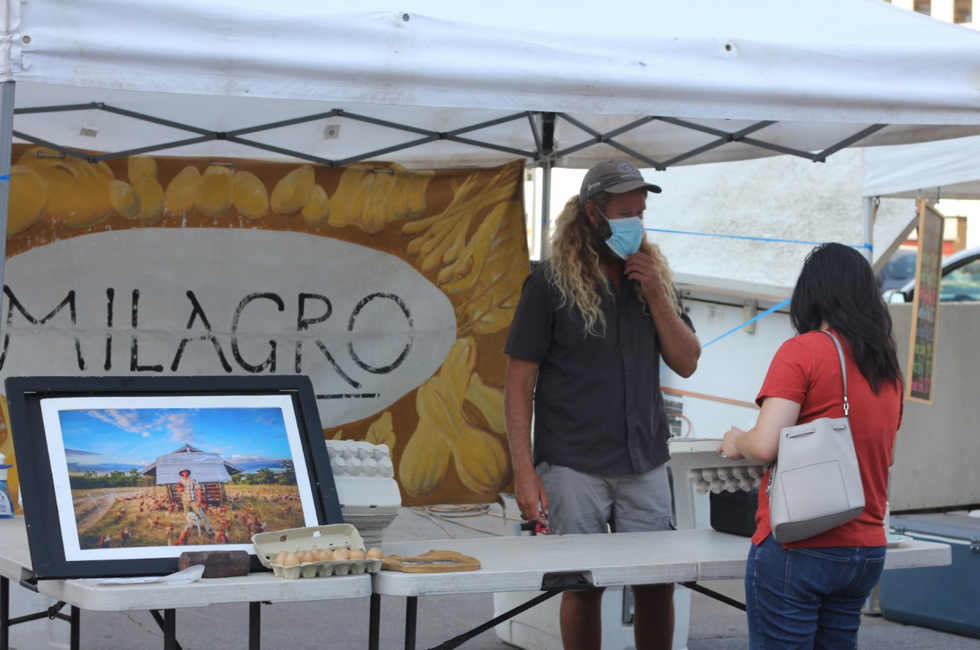 Kris Olsen, owner of Milagro Family Farm, has been doing the downtown SFC market for 12 years and always looks forward to seeing his customers.(Laura Figi)
This is rough for some vendors, like Milagro Farms owner Kris Olsen, who said he misses being able to interact with his regular customers. "Before [COVID-19], I was hugging and kissing my customers," he said. "That's not going on now."
Olsen's sales are down 40% to 50% and he has lost over half of his contracts due to restaurant closures, some of which are permanent. "Before [COVID-19], it was pretty much I could sell eggs, many eggs, to whoever I wanted," he said. "Now I've got to work to make sure I sell them all."
But Olsen has been working at the market for 12 years and said he doesn't plan to stop anytime soon. "It's better than zero," he said. "The demand for eggs is still there so I'm selling my eggs. I'm thankful for that."
'Shifting to change'
SFC is a nonprofit and relies on weekly booth fees from vendors to pay staff and cover market costs. With a decrease in the number of vendors and customers, there is less money to go around.
The organization has also had to expand the monthly budget by thousands of dollars to accommodate COVID-19 precautions.
"There's a huge amount of uncertainty across the board," Hasan said. "There's a lot of shifting we're going to have to do to keep our market model sustainable and, yeah, that's nervous-making, but we've still got customer numbers and vendor numbers that are at a new, stable normal for COVID. In that sense, it's about shifting to change."
Not all farmers and ranchers have seen their sales decrease, however, especially if they offer products that were hard to come by at the beginning of the pandemic.
"At the beginning of the pandemic, we saw across the board our markets were stocked," Hasan said. "We had food at a time in which you could not get things like eggs, bread and produce. We had that here because of the resiliency of local producers."
Long game
The boom at the beginning of the pandemic was short-lived for most vendors.
As customers are no longer permitted to eat in the market, prepared food vendors have seen better days.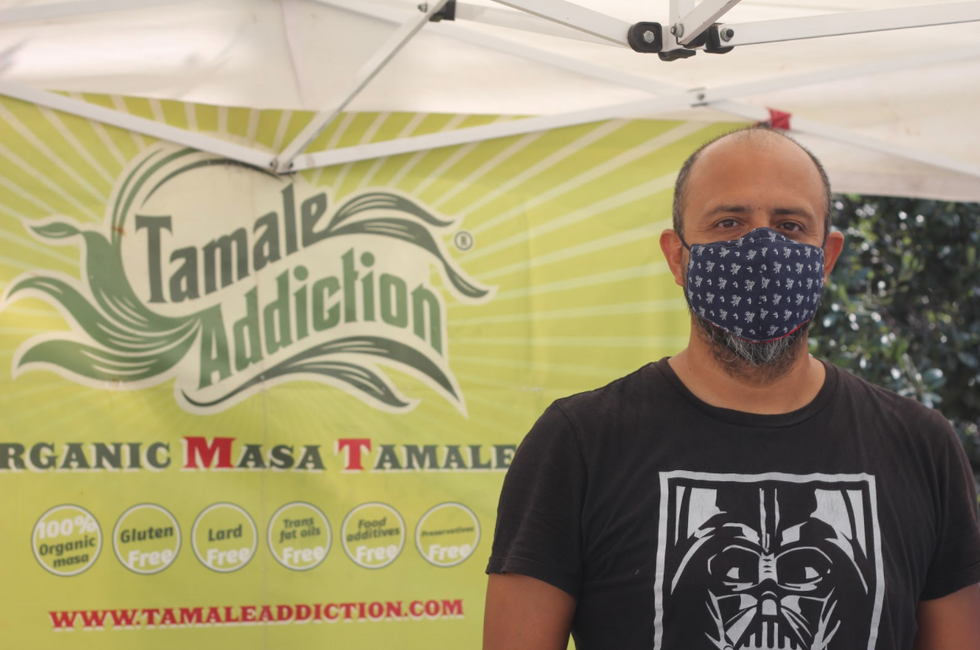 Tamale Addiction manager Julio Toledano sells tamales both hot and frozen at the market.(Laura Figi)
But Julio Toldano, manager of Tamale Addiction, said he has been able to sell more frozen tamales to make up for the loss of catering opportunities and decrease in sales.
"I think [the farmer's market] is a very secure way to invest your money because if they do not stop in this situation, they will never stop for anything," he said.
Although the market is still adjusting to the new normal, many vendors are just happy to be there.
Cake and Spoon owner Melissa Brinckmann has been working at the market for 11 years. For now, her sales are consistent.
"We've been very fortunate," Brinckmann said. "Our customers have been very supportive and people seem to keep coming back."
Want to read more stories like this one? Start every day with a quick look at what's happening in Austin. Sign up for Austonia.com's free daily morning email.
(Austin Police Department/Twitter)
Austin police lifted the shelter in place order after searching the area around 9600 block of Great Hills Trail near the Arboretum for a 41-year-old man named Stephen Broderick, who they believe is responsible for shooting and ultimately killing three people in Northwest Austin
As of 5 p.m., the suspect is still at large and considered to be armed and dangerous, though police do not believe he is actively targeting anyone else. During a press briefing at 4:45 on Sunday, APD Interim police Chief Joseph Chacon said they are switching the search from the immediate area to a fugitive search as they have exhausted all the leads they currently have.
Chacon confirmed during the briefing that Broderick was a former Travis County Sheriff's Office deputy. Chacon said they will remain on the scene for "several hours" and there were 75 FBI agents on the scene as of the briefing.
Police believe the victims, who have been identified as two Hispanic women and one Black man, knew their assailant. Chacon said a child was involved but is now safely in police custody. Broderick was described as 5 foot, 7 inches with a medium build and was last seen wearing a gray hoodie, sunglasses and a baseball cap.
"We're very sorry that obviously that this has happened and we continue to try and locate this individual, we are transitioning from a search in this area to a fugitive search and those efforts will continue until this person is located," Chacon said. "I don't want anyone to think that we're packing up and going home. We're going to continue to look for this individual because he continues to pose a threat to this community."
At a 2:30 p.m. press briefing, Chacon said APD responded to a "shoot, stab, hot shot" call on Great Hills Trail and Rain Creek Parkway at 11:46 a.m. to find the three victims with gunshot wounds. APD was joined by the Austin Fire Department. ATCEMS, the local chapter of the FBI, the U.S. Marshals, Department of Public Safety, and the Round Rock Police Department for support.
Though Austin Travis-County EMS originally reported it as an active shooter situation, police now believe the incident was an isolated domestic event.
"This is still an ongoing and active investigation and we do not have this individual in custody yet," Chacon said during the first press briefing. "We would ask if you have your neighbors, phone numbers, call or text them check on them and make sure that they're okay. We are concerned that he might possibly take a hostage and be himself sheltered somewhere waiting for us to leave."
Three helicopters and SWAT teams were sent to the area, as well as 18 ATCEMS response assets. According to Austin Police, the incident occurred at an apartment complex near Great Hills Trail and Rain Creek Parkway.

APD announced at 1:02 p.m. that Loop 360 will be shut down in both directions from Spicewood Springs to 183 due to the incident. The roads will remain closed until law enforcement is able to wrap up the crime scene and units demobilize.
This is a developing story.

(Hard Rock Stadium)
Formula 1 is returning to Florida for the first time since 1959, announcing that the brand-new Miami Grand Prix will join the calendar in 2022 and Austin will no longer be the only F1 race in the U.S.
Held at the Hard Rock Stadium complex in Miami Gardens, this will be the first race in the Sunshine State in 62 years. With a new track setup, F1 will loop the stadium, home of the NFL's Miami Dolphins.
The new 3.36 mile circuit has 19 corners, three straights and potential for three DRS zones, with expected top speeds of 198 mph.

Now with two races in the U.S., F1 President Stefano Domenicali said they will avoid having back-to-back events by keeping the Miami Grand Prix separate from the U.S. Grand Prix, which is held at Austin's Circuit of the Americas.
The date of the race has yet to be confirmed, though Domenicali said he expects the first race in a 10-year deal to take place in the second quarter of 2022. Austin's race will take place on Oct. 24 this year.
"The USA is a key growth market for us, and we are greatly encouraged by our growing reach in the U.S. which will be further supported by this exciting second race," Domenicali said.
Miami will mark the 11th race location in the U.S. since the Championship began in 1950: Circuit of The Americas in Austin; Dallas, Texas; Indianapolis, Indiana; Sebring, Florida; Riverside, California; Watkins Glen, New York; Long Beach, California; Las Vegas, Nevada; Detroit, Michigan and Phoenix, Arizona. COTA was first opened in 2012.
Domenicali said F1 will be working with the FIA and the Hard Rock Stadium to leave a lasting impact on the community: discounted tickets for residents, a program to support local businesses and a STEM education program through F1 in schools.