Austonia AM
100% Austin news, info, and entertainment, straight to your inbox at 6 a.m. every morning.
In five minutes, you're fully informed and ready to start another great day in our city.
Get connected with our daily update
(Laura Figi)
Ben Hasan is the market manager for the Sustainable Food Center, a local nonprofit that operates two area farmers' markets—one in downtown Austin and the other in Sunset Valley.
---
Even though foot traffic at both markets is down by as much as 70% and pandemic precautions continue to be necessary, Hasan is optimistic.
"Come on down, shop the markets," he said. "We are open, we have been open. We used to say 'rain or shine' and now we've got to add 'global pandemic' but we are here for y'all."
'Better than zero'
Since the onset of COVID-19, the SFC markets have had to make large-scale changes to accommodate customers in a safe way.
Regulations include capping capacity at 150 for the downtown market and 90 for the Sunset Valley market and requiring customers to wash their hands before entering and wearing a face mask while at the market. Vendors are also no longer permitted to offer food samples, must keep hand sanitizer at their station and are encouraged to minimize interactions.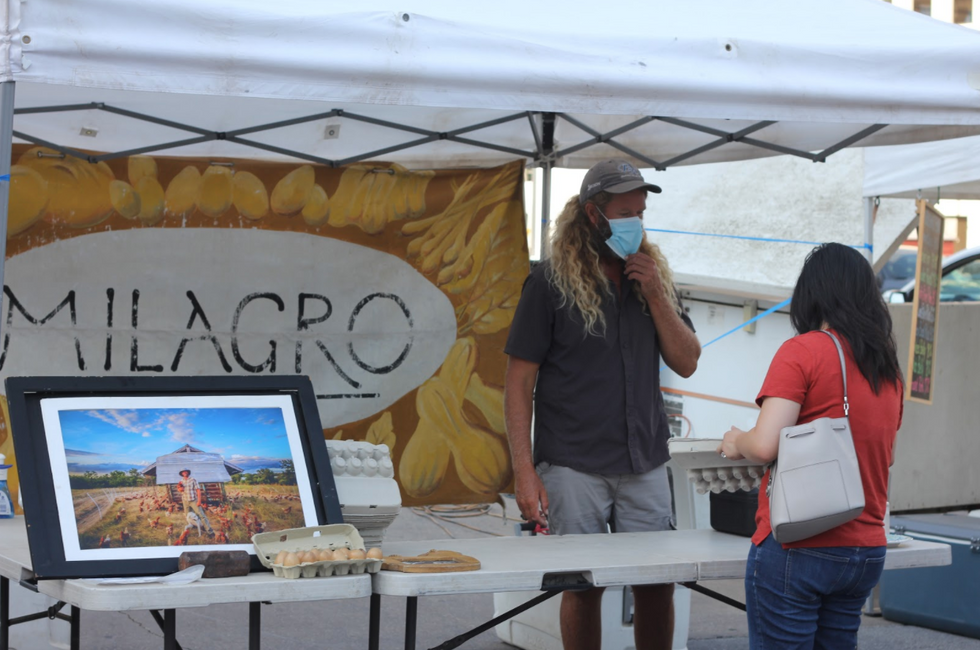 Kris Olsen, owner of Milagro Family Farm, has been doing the downtown SFC market for 12 years and always looks forward to seeing his customers.(Laura Figi)
This is rough for some vendors, like Milagro Farms owner Kris Olsen, who said he misses being able to interact with his regular customers. "Before [COVID-19], I was hugging and kissing my customers," he said. "That's not going on now."
Olsen's sales are down 40% to 50% and he has lost over half of his contracts due to restaurant closures, some of which are permanent. "Before [COVID-19], it was pretty much I could sell eggs, many eggs, to whoever I wanted," he said. "Now I've got to work to make sure I sell them all."
But Olsen has been working at the market for 12 years and said he doesn't plan to stop anytime soon. "It's better than zero," he said. "The demand for eggs is still there so I'm selling my eggs. I'm thankful for that."
'Shifting to change'
SFC is a nonprofit and relies on weekly booth fees from vendors to pay staff and cover market costs. With a decrease in the number of vendors and customers, there is less money to go around.
The organization has also had to expand the monthly budget by thousands of dollars to accommodate COVID-19 precautions.
"There's a huge amount of uncertainty across the board," Hasan said. "There's a lot of shifting we're going to have to do to keep our market model sustainable and, yeah, that's nervous-making, but we've still got customer numbers and vendor numbers that are at a new, stable normal for COVID. In that sense, it's about shifting to change."
Not all farmers and ranchers have seen their sales decrease, however, especially if they offer products that were hard to come by at the beginning of the pandemic.
"At the beginning of the pandemic, we saw across the board our markets were stocked," Hasan said. "We had food at a time in which you could not get things like eggs, bread and produce. We had that here because of the resiliency of local producers."
Long game
The boom at the beginning of the pandemic was short-lived for most vendors.
As customers are no longer permitted to eat in the market, prepared food vendors have seen better days.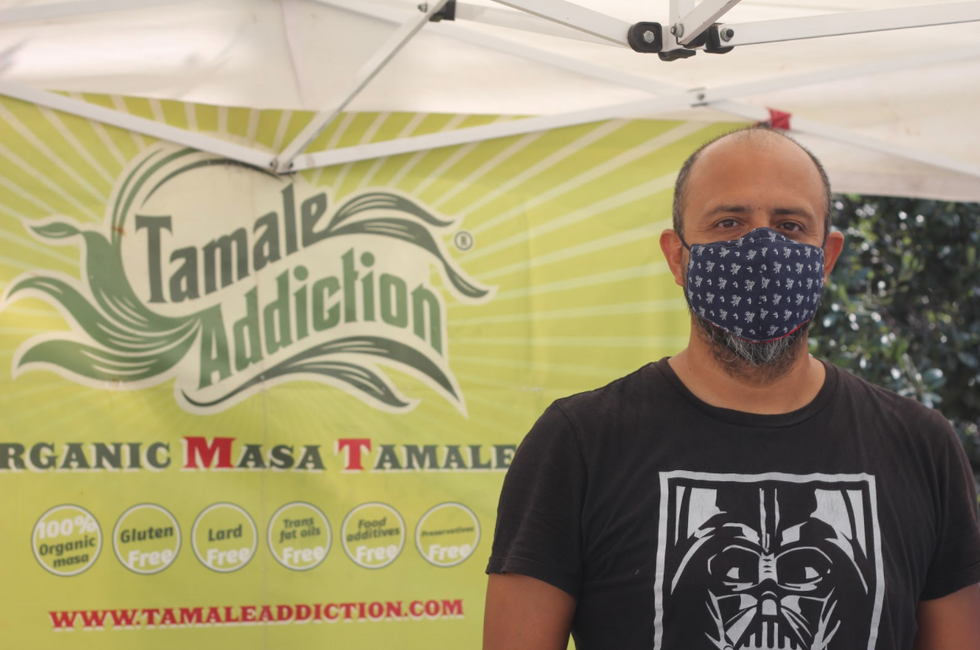 Tamale Addiction manager Julio Toledano sells tamales both hot and frozen at the market.(Laura Figi)
But Julio Toldano, manager of Tamale Addiction, said he has been able to sell more frozen tamales to make up for the loss of catering opportunities and decrease in sales.
"I think [the farmer's market] is a very secure way to invest your money because if they do not stop in this situation, they will never stop for anything," he said.
Although the market is still adjusting to the new normal, many vendors are just happy to be there.
Cake and Spoon owner Melissa Brinckmann has been working at the market for 11 years. For now, her sales are consistent.
"We've been very fortunate," Brinckmann said. "Our customers have been very supportive and people seem to keep coming back."
Want to read more stories like this one? Start every day with a quick look at what's happening in Austin. Sign up for Austonia.com's free daily morning email.
Summertime sure does fly by, doesn't it? It's time to jam-pack as many summer activities as you can while there is still about a month left before school starts up again and the grind gets going. Luckily, Austin is full of places to visit that will fill your season full of memories.
To get you started, check out some of these seasonably-fit museums, galleries and snacks.
Soak up the rest of summer while you can!
Ingredients:
1 1/12 oz sweet pepper-infused Tito's Handmade Vodka
3 oz soda water
1 oz grapefruit juice
1/2 oz lime juice
1/4 oz simple syrup
Directions: Add all ingredients, except soda water, to a shaker with ice. Shake and strain into a glass over fresh ice. Top with soda water and garnish with a mint sprig.
The Biden administration is asking cities and states to use pandemic relief funds to pay residents $100 to get vaccinated. Meanwhile, Texas Gov. Greg Abbott reaffirmed prohibitions on pandemic protocols in a new executive order issued on Thursday.
The order emphasizes that "the path forward relies on personal responsibility rather than government mandates," according to a press release. It outlaws government entities from requiring employees to be vaccinated or individuals to provide proof of vaccination and upholds previous orders restricting government entities' ability to impose pandemic protocols.
Local public health and elected officials have asked all Austinites to wear masks indoors, regardless of vaccination status, and unvaccinated individuals to avoid nonessential trips last week given the rising number of local confirmed cases and related hospitalizations in recent weeks. But it is not enforceable under Abbott's order.
The seven-day moving average of new hospital admissions in the five-county Austin metro has more than quintupled since the beginning of July and is now 47.4. The threshold for Stage 5 is 50, according to Austin Public Health's risk-based guidelines.
Despite these trends, Abbott stands firm in his commitment to avoid new statewide mandates and to prohibit local government entities from issuing any of their own.

"Texans have mastered the safe practices that help to prevent and avoid the spread of COVID-19," he said in a statement. "They have the individual right and responsibility to decide for themselves and their children whether they will wear masks, open their businesses and engage in leisure activities."
Public health officials have attributed the current spike to the more contagious Delta variant and unmitigated spread among unvaccinated individuals. Abbott encouraged Texans to get vaccinated if they haven't already but affirmed that it would never be required by the state in his statement.
An increasing number of Austin-area employers—including Ascension Seton, Baylor Scott & White Health, Facebook and the Department of Veterans Affairs—have announced new vaccine requirements in recent days. Austin Mayor Steve Adler asked the city manager to enact a similar requirement on Wednesday, but the city is unable to do so due to an executive order issued by Abbott in April.