Get connected with our daily update
(Austin Water)
Add "fatberg" to the list of 2020 plagues to avoid.
---
The unsavory term, first coined in the U.S. in 2008, refers to a large mass of fat and solid waste that has collected in a sewer system.
When people pour turkey grease down their disposal, put a dirty dish in the dishwasher or flush a baby wipe, the substances gather underground in sewer lines, explained Dr. Joel Ducoste, a professor of environmental engineering at North Carolina State University.
Calcium present in background wastewater reacts with the fats and wipes to form a solid mass that can cause sewer backup or snapped pipes.
"It's basically the same structure as when soap is formed," he said.
Since the pandemic began in March—and disinfectant wipes flew off area shelves—the Austin Water utility has seen an increase of such materials in their system, said Environmental Conservation Division Manager Jay Porter.
Recently, a buildup of wipes clogged the Dessau treatment plant in North Austin. Repairs cost $750,000.
"It comes to a significant cost to repair these things, which ultimately can affect the public financially," he said, adding that many wipes are marketed as flushable even though they do not disintegrate in water.
In addition to threatening the utility's sewer pipes and treatment plants, such waste can also cause trouble for homeowners, depending on where the clog occurs.
"If the damage was on the private side of the sewer system, you're looking at anywhere between $3,000 and $10,000 in repairs that the resident would be responsible for," Porter said.
Unlike restaurants, which are required to maintain grease traps and observe other city regulations, residential properties don't have such safeguards.

With Thanksgiving approaching, Austin Water launched its annual messaging campaign this week, which asked residents not to pour cooking grease and other fats down their drains.
Instead, Austinites can store it in a coffee canister or other container and put it in the trash. Alternatively, they can take it to the Recycle & Reuse Drop-Off Center, which will send it off to make biodiesel and prevent it from ending up in a landfill.
Porter is optimistic that Austinites will heed the utility's warnings.
"My experience with the Austin community is the majority of people take their responsibility to the environment pretty seriously," he said.
From Your Site Articles
Related Articles Around the Web
The Texas French Bread Bakery, located on 2900 Rio Grande Street, has been completely destroyed after a fire erupted on Monday night.
The Austin Fire Department responded to the fire just before 11 p.m., where they arrived to see flames coming from the roof of the bakery. Firefighters fought the fire for about an hour before the roof collapsed.
While no one was injured in the fire, firefighters say the iconic building was completely totaled.
It is still not known what caused the fire at this time, though AFD said arson investigators have been brought in to check every angle. Due to the amount of damage, fire crews said it may not be possible to find the exact cause.

This year, Texas French Bread will celebrate 40 years of business. Before the bakery occupied the building, it was the Rome Inn, a music venue that hosted 1970s artists like Stevie Ray Vaughan.
Austin's first major league team is ready to extend its reach with a new collaborative sports complex The Pitch, an Austin FC destination packed with local food, beverages and Verde fervor is set to open in Northeast Austin in February.
The Pitch, a collaboration between Austin FC and Karlin Real Estate, among other entities, will be located in the 50-acre Parmer Pond District, which already hosts the club's practice facility St. David's Performance Center.
Dubbed a "true destination" for both soccer fans and the community, The Pitch will consist of multilevel shipping containers designed by Mark Odom Studio that will carve out into a 1,200-seat stadium complete with a soccer pitch made of turf, food and beverage options and a five-acre "Parmer Pond" featuring jogging trails.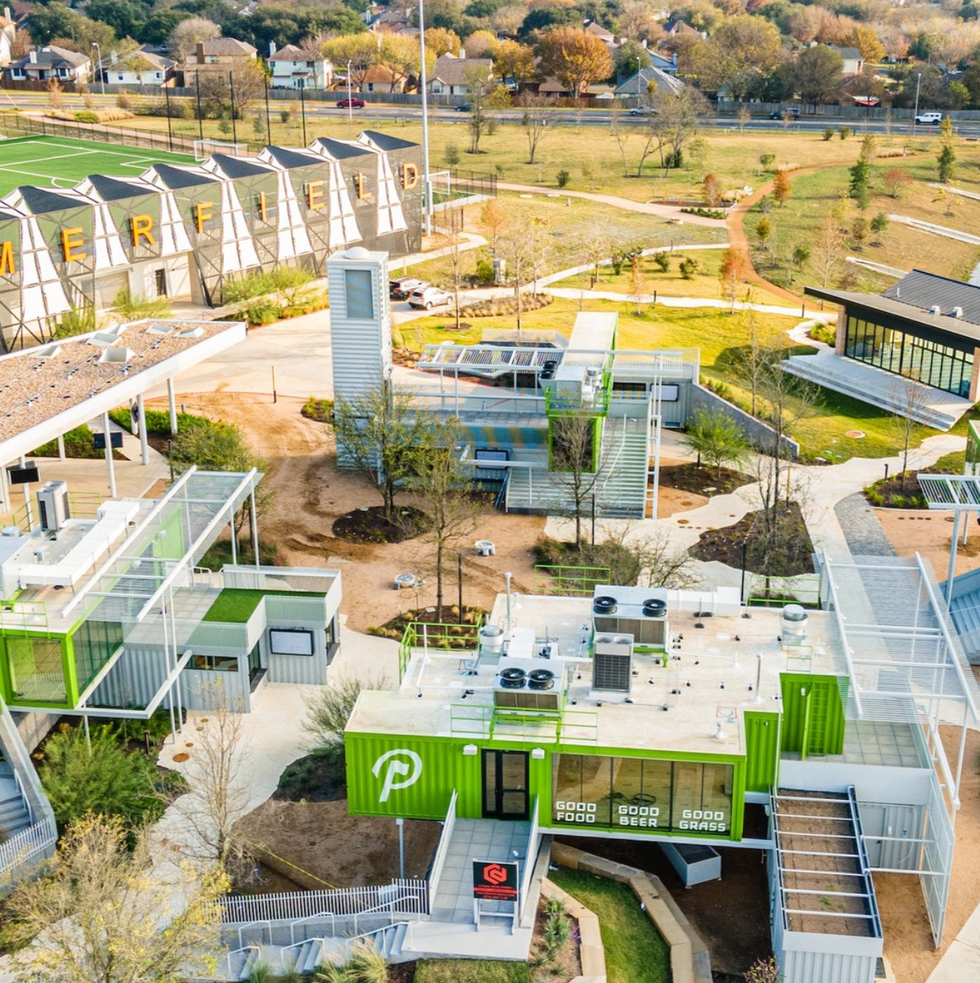 Made from multilevel shipping containers, The Pitch will include food and a 1,200-seat soccer pitch made from artificial turf. (The Pitch)
"The launch of Karlin's new food and entertainment experience will greatly enhance the Parmer development while perfectly complimenting St. David's Performance Center," Austin FC founder Anthony Precourt said. "The Pitch... will offer a strong variety of food options and gathering spaces for guests who will utilize St. David's Performance Center and Parmer Field for a variety of events."
The Pitch project lead Dave Greeley, who helped come up with the concept, is a former president of Austin FC parent company, Two Oak Ventures.
"The vision behind The Pitch at the Parmer Pond District is to be a first-of-its-kind sports, dining and entertainment destination," said Dave Greeley, The Pitch project lead and Team Orbis president. "This will be an unmatched experience for Parmer Austin tenants, Austin FC and club supporters, and the community."
With its proximity to the practice center, the venture hopes to contribute to the growing "soccer city" of Austin during Austin FC matches and youth games with the Austin FC Academy hosted at the St. David's Performance Center.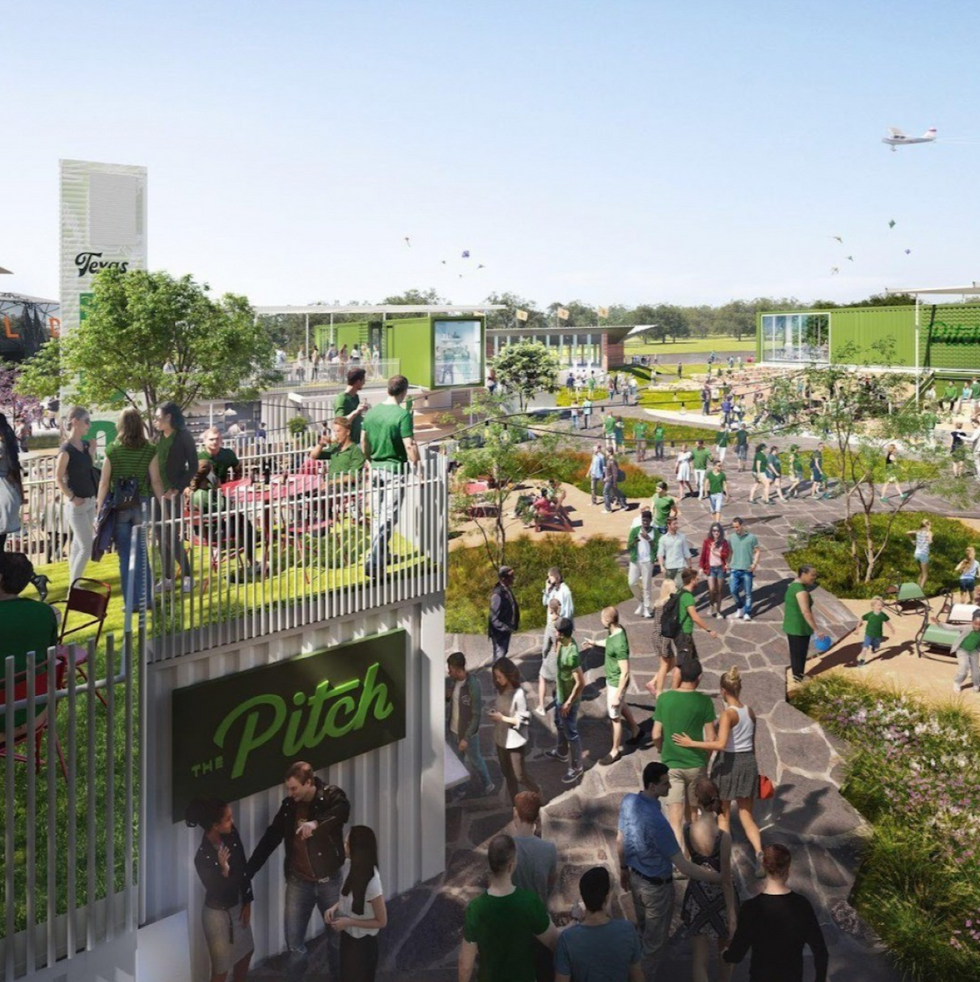 The Pitch hopes to converge both community and club interests with Austin FC. (The Pitch)
In addition to the soccer pitch, stadium and pond, The Pitch will provide a foody experience made by the creative team behind Austin staples like Fareground and Easy Tiger. The complex will offer local bites including:
Ranger Burger, which offers beers and burgers made from highly-coveted Wagyu beef direct from Ranger Cattle in East Austin
Ga Roti, which merges flavors from Northern Vietnam with the culinary techniques of France to create a unique rotisserie chicken joint
Taco Flats, a local taco chain serving Mexico City-style tacos, micheladas and more
Sand Bar, which fulfills its namesake with beauty cocktails, local beers and a sand volleyball court
Coffee Club, a coffee shop and bakery
Corner Kick Bar, the soccer-focused main bar of The Pitch complete with "tunes, TVs and (a) beer garden"
The Pitch will squeeze between St. David's Performance Center and Parmer Pond alongside the southern edge of Parmer Austin, a Karlin Real Estate venture that will eventually include multifamily housing, corporate office space and an aerospace and defense center.