Get connected with our daily update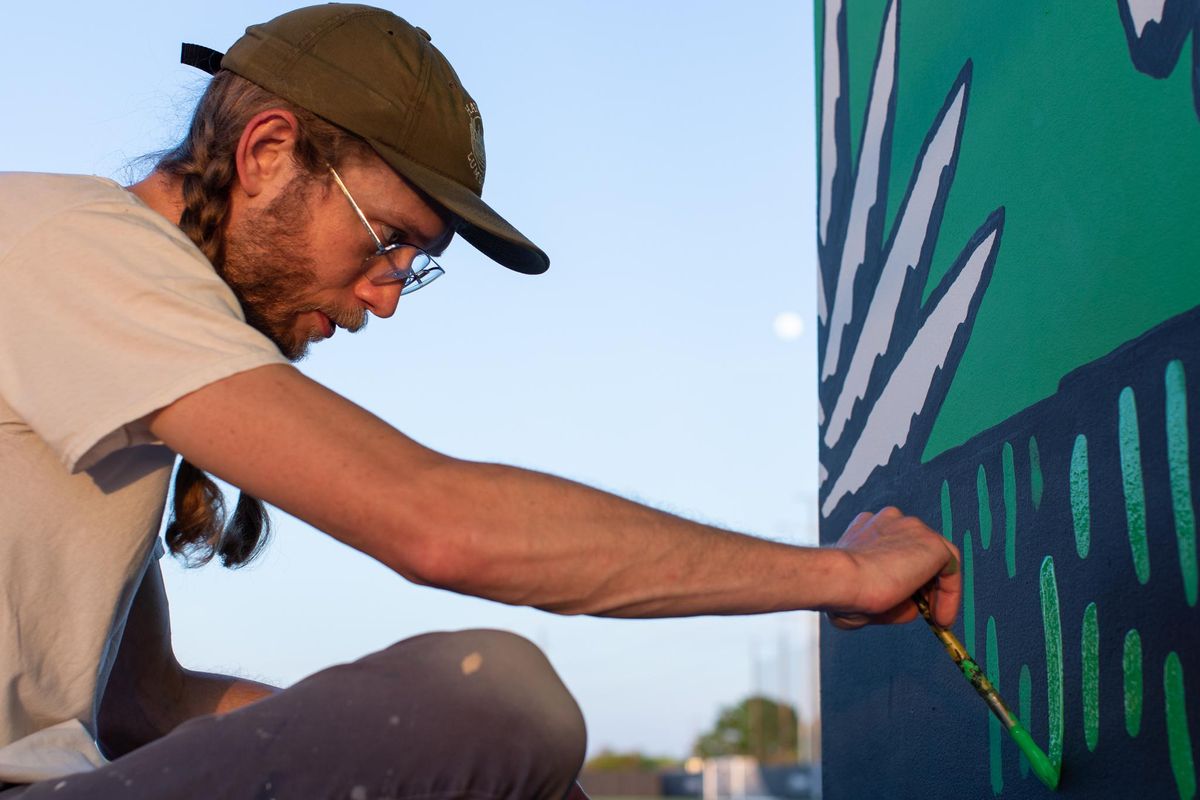 Austin muralist Will Hatch Crosby grew up watching his dad play in the Austin City League's "Legends" soccer game every year at Zilker Park. Decades later, he painted a mural for the city's first major league soccer team—and as if by fate itself, painted across the bottom was Austin FC's motto, "Grow the Legend."
---
Crosby was one of over a dozen Austin artists included in the ATXFC Artist Initiative for Austin FC's first season, where both well-known and up-and-coming Austin artists were given a huge platform as they designed 15 matchday posters, painted three rotating murals at Austin's Q2 Stadium, and contributed to other art installations for the club.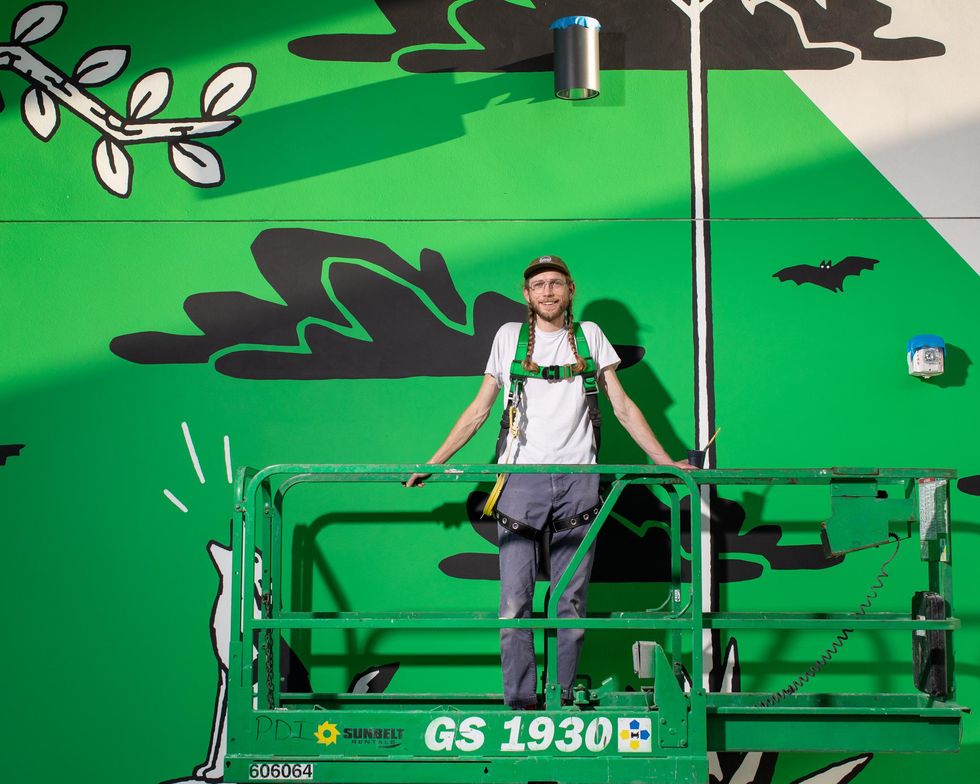 Will Hatch Crosby completed a 1,100-square foot mural at Austin FCs practice facility. (Marshall Tidrick)
Crosby, who said he still has some of his dad's "Legends" shirts from decades ago, said things just fell into place when he found out Austin FC's "Legends" theme.
"I felt like I was kind of fulfilling this family prophecy that I didn't know existed, but it was really cool," Crosby said.
Crosby's 1,100-square foot mural drapes proudly across the team's practice facility St. David's Performance Center walls, accentuated by an oak tree in honor of the club logo. It's loaded with Easter eggs that represent Austin culture, from coyotes and yuccas to bats.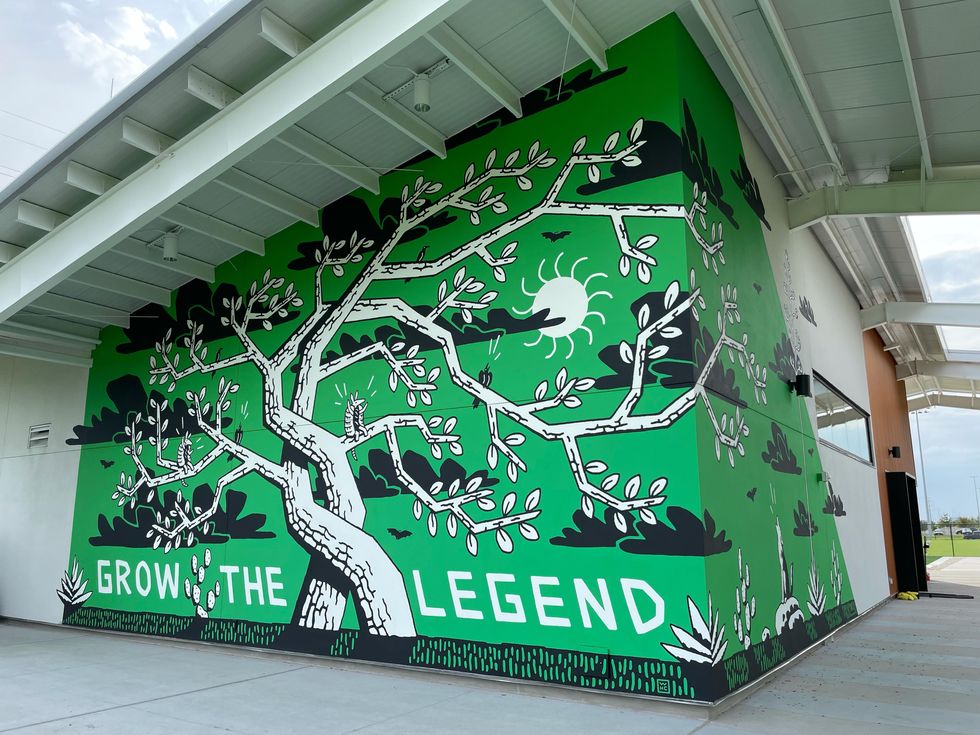 Will Hatch Crosby's work features an oak tree and iconic Austin creatures. (Will Hatch Crosby)
Each creature symbolizes a different generation in Austin's ever-changing cultural landscape—armadillos for the iconic Armadillo World Headquarters music venue that thrived in Austin from 1970-80, bats for the city's Congress Avenue bridge bats and Austin's unofficial mascot, grackles (Austin FC fan club Austin Anthem has also incorporated the parking lot-loving birds into its logo).
A muralist who has been recognized for his fantastical creatures around town, including the "Hola Friend" mural in East Austin, Crosby made sure to bring out his creative side when making a matchday mural for the club's Oct. 24 match against Houston Dynamo.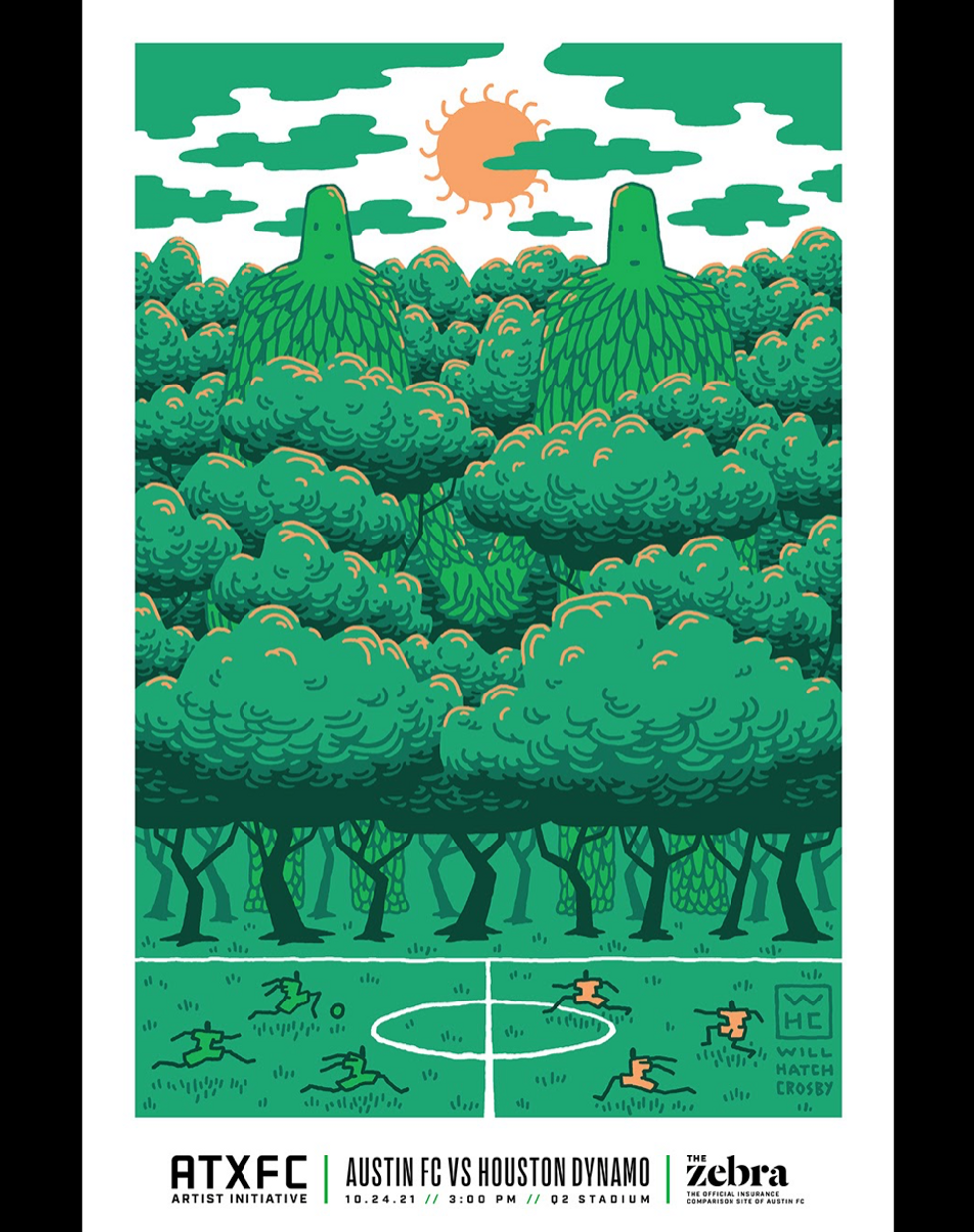 "Two verde giants hold hands amongst the oak trees as they watch the match below" on Will Hatch Crosby's matchday poster for Austin FC. (Will Hatch Crosby)
Crosby said he's always been drawn to using mythical creatures and that the two friendly giants represent Austin FC fans.
"Our imagination is a powerful muscle that needs to be stretched in order to see the potential for a better future," Crosby said. "So populating our world with inventive creatures will help build a society that is better equipped to imagine new, more equitable ways of relating to each other."

Like Crosby, Austin-based muralist Chris Rogers said he was looking to bridge Austin FC's signature symbols while embracing the spirit of Austin when he painted his "Whispers of the Heart" mural at Austin's Q2 Stadium.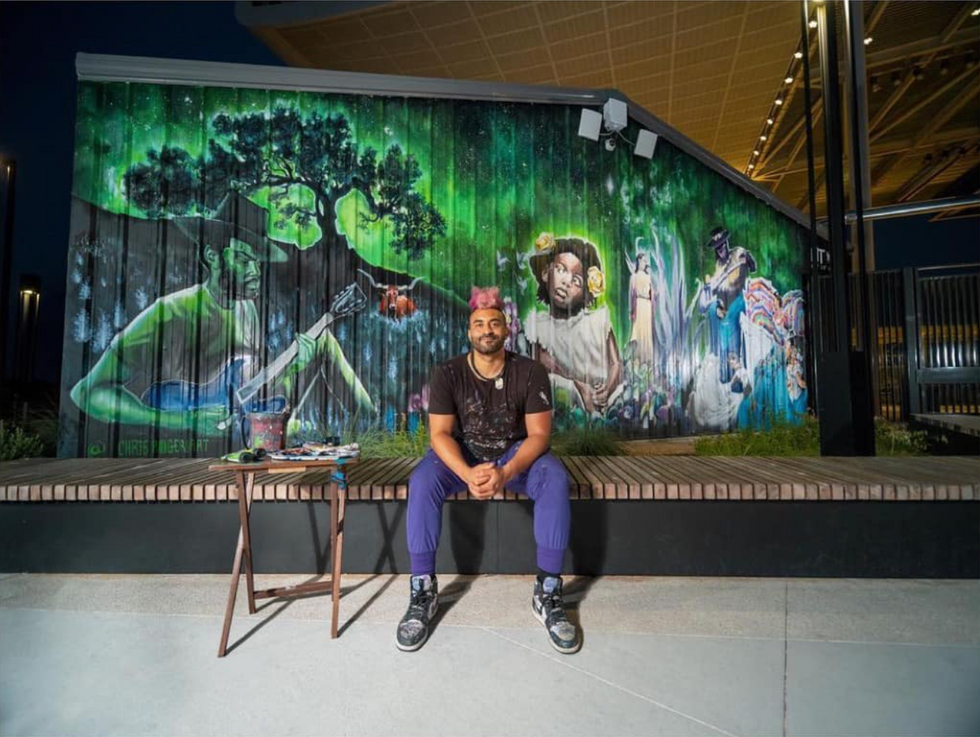 Austin artist Chris Rogers channels both his mature and childlike side when representing the Austin community with his murals. (Chris Rogers/Facebook)
Rogers' painting served as a welcome sign for many fans as they walked through Q2 Stadium's entrance for the first time. Featuring a Verde and Black oak tree, Austin musician Gary Clark Jr. strumming a guitar and colorful splashes of flowers and a cascade women dancing, the mural captures Austin from a child's point of view.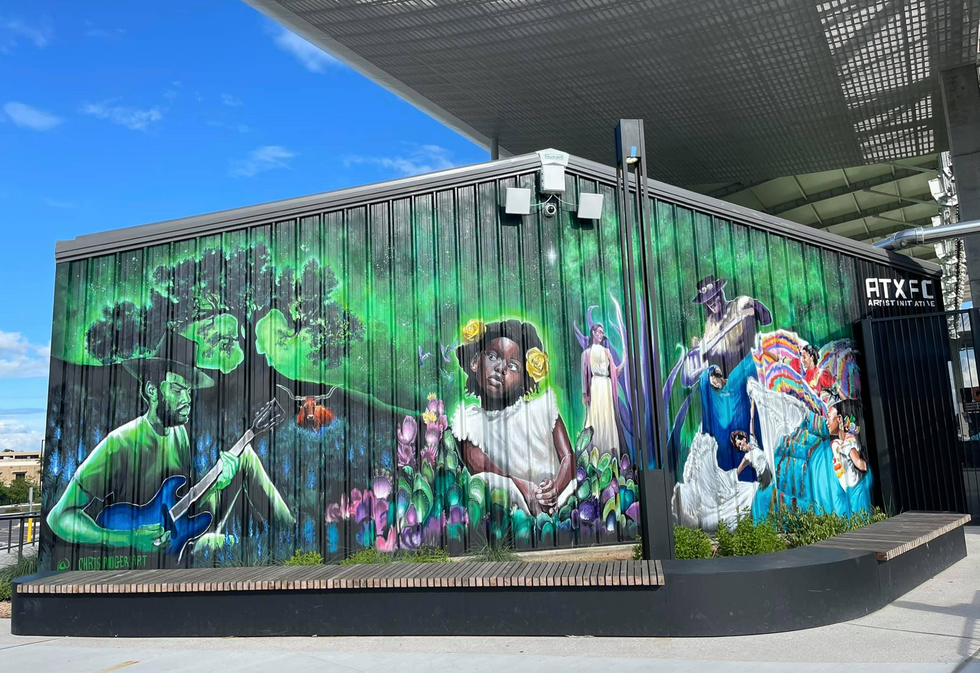 Rogers' mural welcomed fans to Q2 Stadium for the club's first match. (David Gottlieb/Facebook)
"I try to marry the experience and wisdom of growing up with the courage to express myself as honestly as I possibly can like a child," Rogers said.
Rogers, who has gained local fame for painting iconic murals such as the George Floyd painting downtown, said art has been more important than ever at a time when many residents couldn't embrace their community due to the pandemic.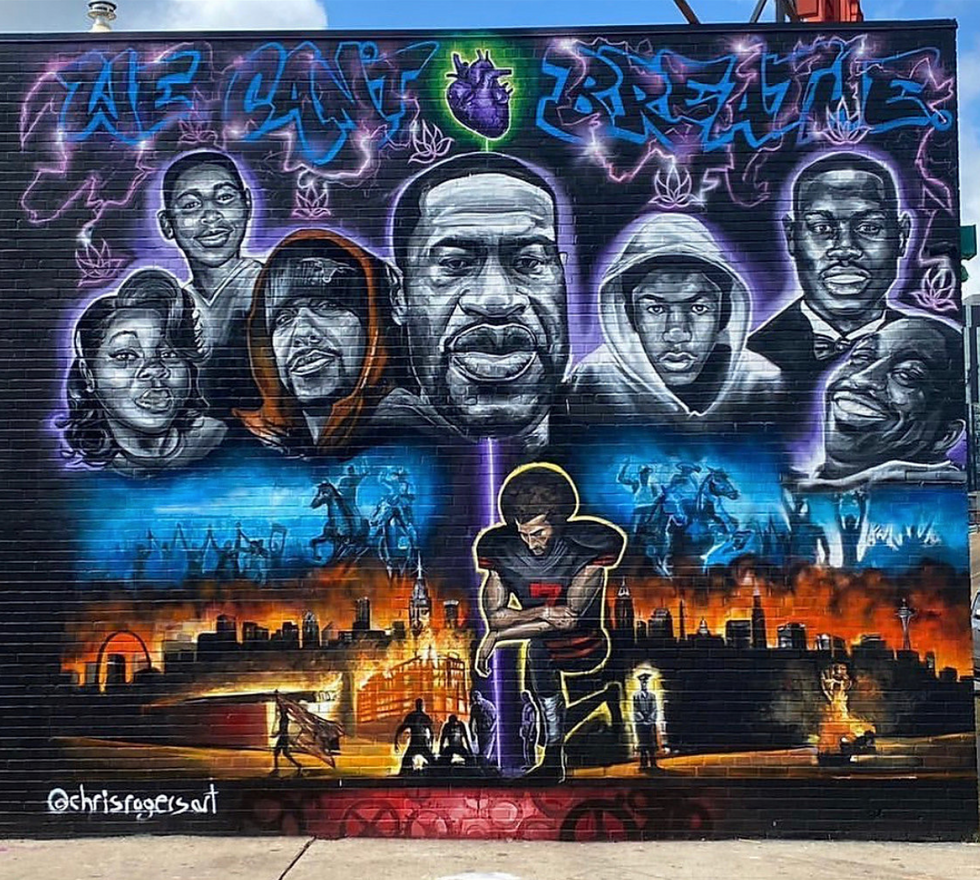 Rogers is known for painting many impactful murals including an "I Can't Breathe" mural in honor of George Floyd and Black Lives Matter protests. (Chris Rogers)
"What is it that connects us? Those things that make us human," Rogers said. "It's something that comes from without not within, something that is absorbed and experienced, just like sunshine and something that children are just naturally attuned to... Passion is contagious, and we need each other to create whatever that thing is."
Both muralists were avid Austin FC fans before the team had even become reality. Crosby has been waiting for a professional team in his hometown for as long as he can remember, while Rogers has been seen banging Austin FC fan band La Murga de Austin drums in the supporters' section.
And both Rogers and Crosby are hoping that their relationship with the club continues into new projects and opportunities.
"I love that they're doing the (ATXFC Artist Initiative) and made this commitment to creating projects and engaging with the creators in Austin," Crosby said. "It's given so many different local illustrators a chance to get their work seen."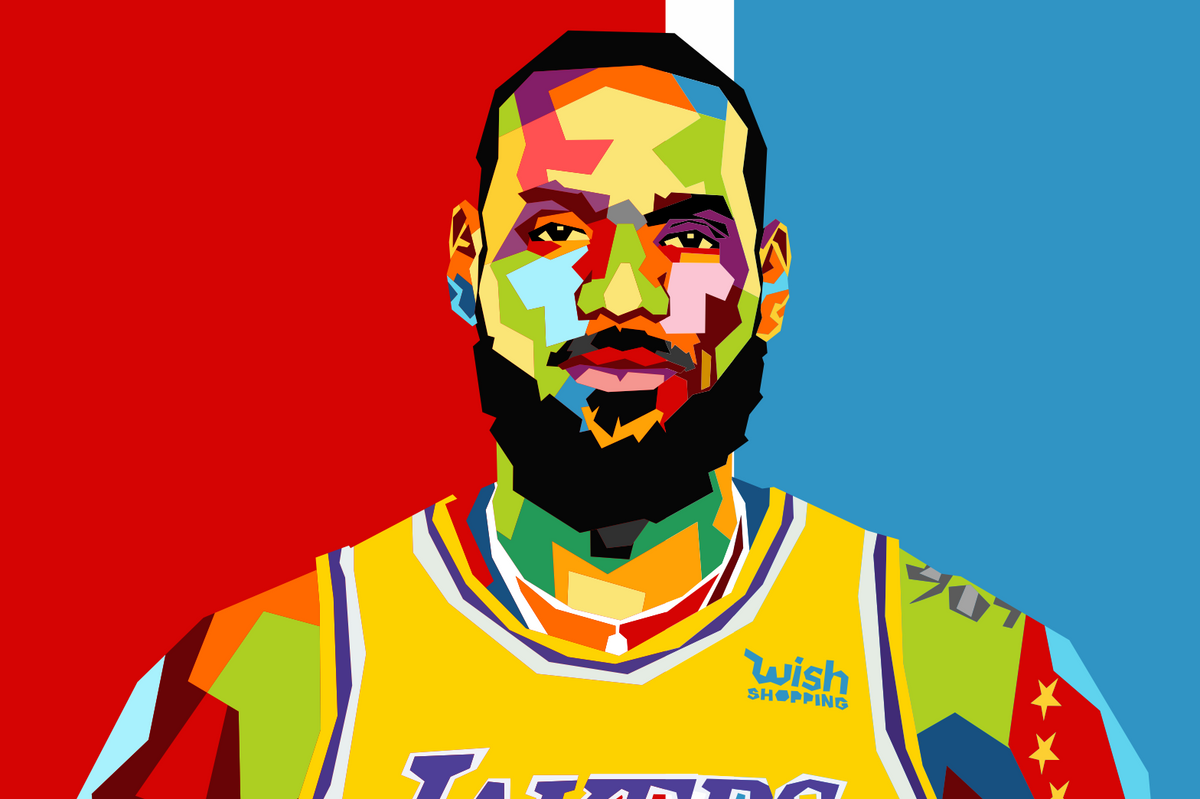 Shutterstock
It's not on the level of LeBron signing with the Spurs, but who knows, maybe you'll see him at Guero's one day, having a Rob's Especial marg and a No. 1 dinner?
LeBron James, Draymond Green, Kevin Love, LeBron's business partner Maverick Carter, and a bunch of other sports-related investors are buying a Major League Pickleball expansion franchise.
Oddly, MLP teams aren't associated with places, so at this point it's just "an expansion team."
But Major League Pickelball is based in Austin, created, according to the Austin Business Journal, by Dreamland and Richard's Rainwater owner Steve Kuhn.
League investors include familiar Austin names like C3 Presents founders Charles Attal and Charlie Walker, Parsley Energy founder and partial Austin FC owner Brian Sheffield, Silicon Labs Chairman Nav Sooch, and pickleball enthusiast Brené Brown.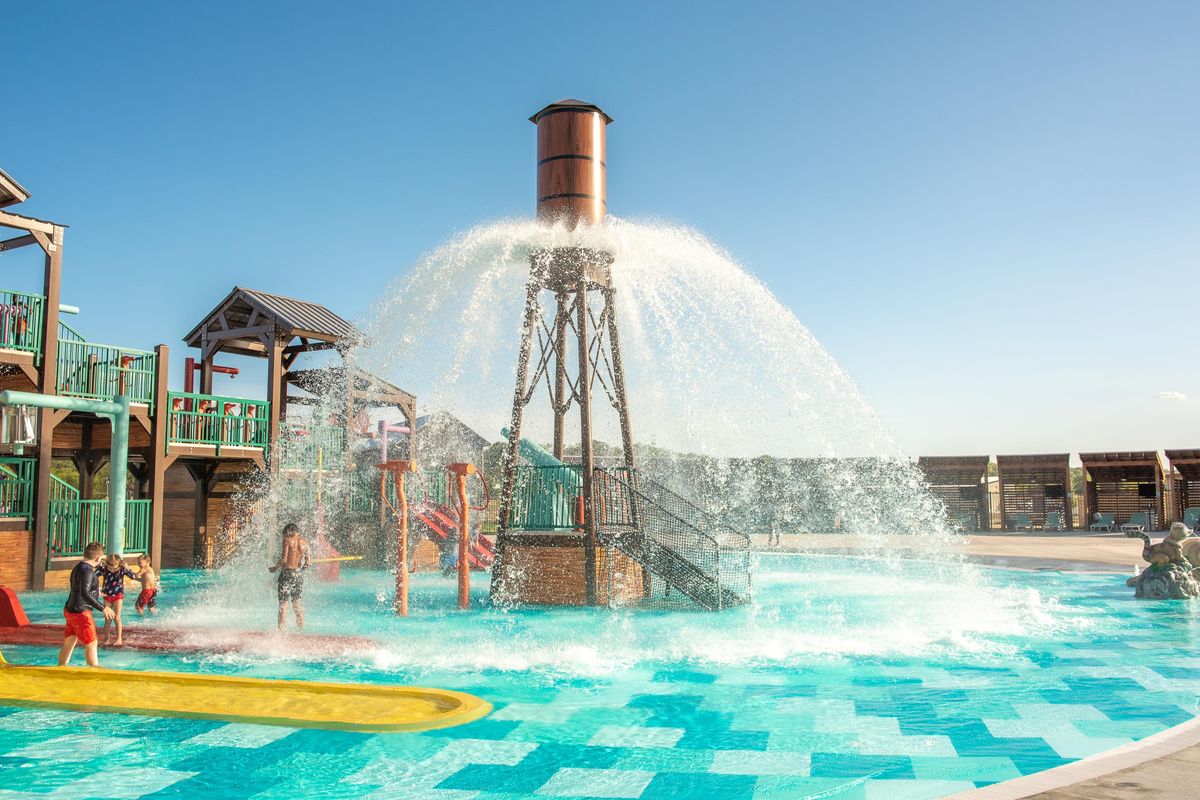 Camp Fimfo Waco
Camp Fimfo Waco, a brand new camping resort, is kicking off football and fall camping season in style! With top-notch amenities, premium accommodations, and 10 weekends of fall fun, there's no better place to have a fall camping getaway, especially if you're a Baylor football fan!
Fall promises to be a one-of-a-kind camping experience. From Sept. 16 to Nov. 24, weekends will be packed with fall-themed activities, including special Halloween weekends in October. Campers can enjoy activities like fall crafts, campground trick-or-treating, costume contests, site decorating, outdoor movie nights, and more!