Get connected with our daily update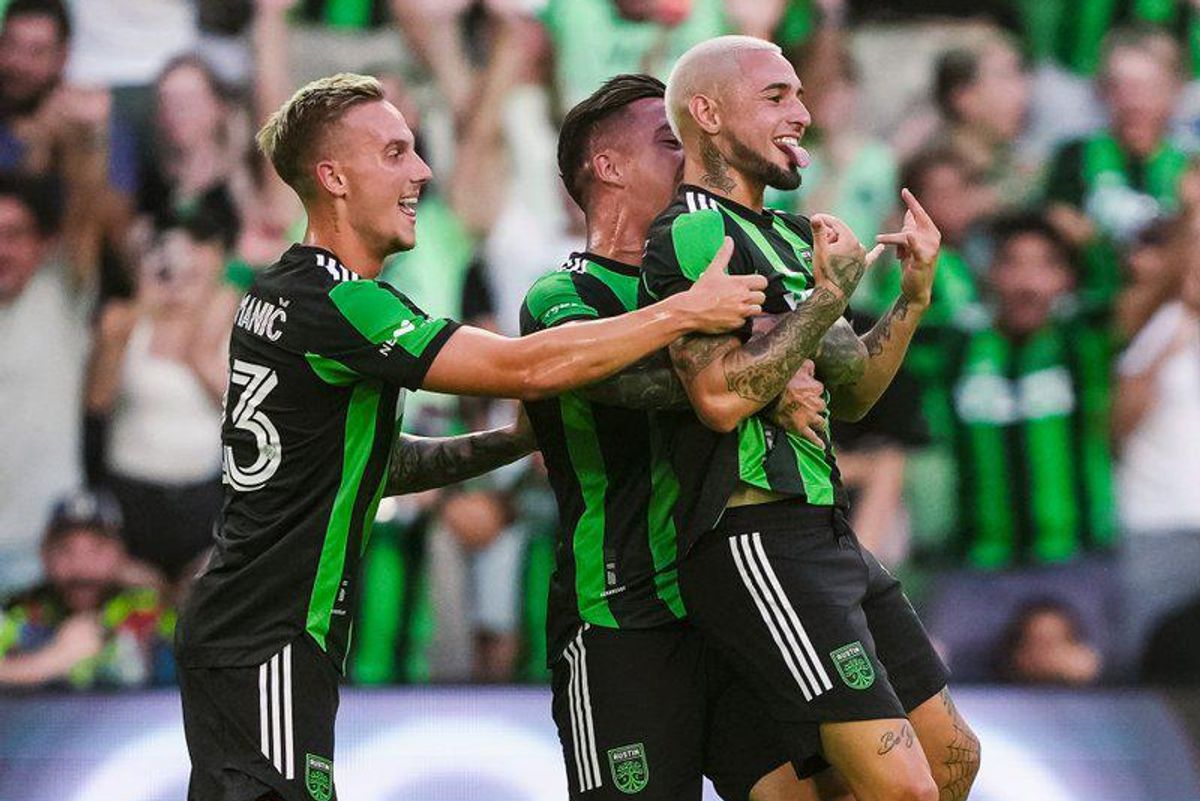 Austin FC took down the Houston Dynamo—including newly-minted Atletico Madrid star Hector Herrera—in a decisive 3-1 win at Q2 Stadium Tuesday night.
---
The club has secured four wins in a row, including three on the road, and leads the league with 41 goals. The Verde and Black once again sit at the top of the MLS West and will look to sweep their Texas Derby week with a win against FC Dallas Saturday.
Here's a look at the best moments of the match: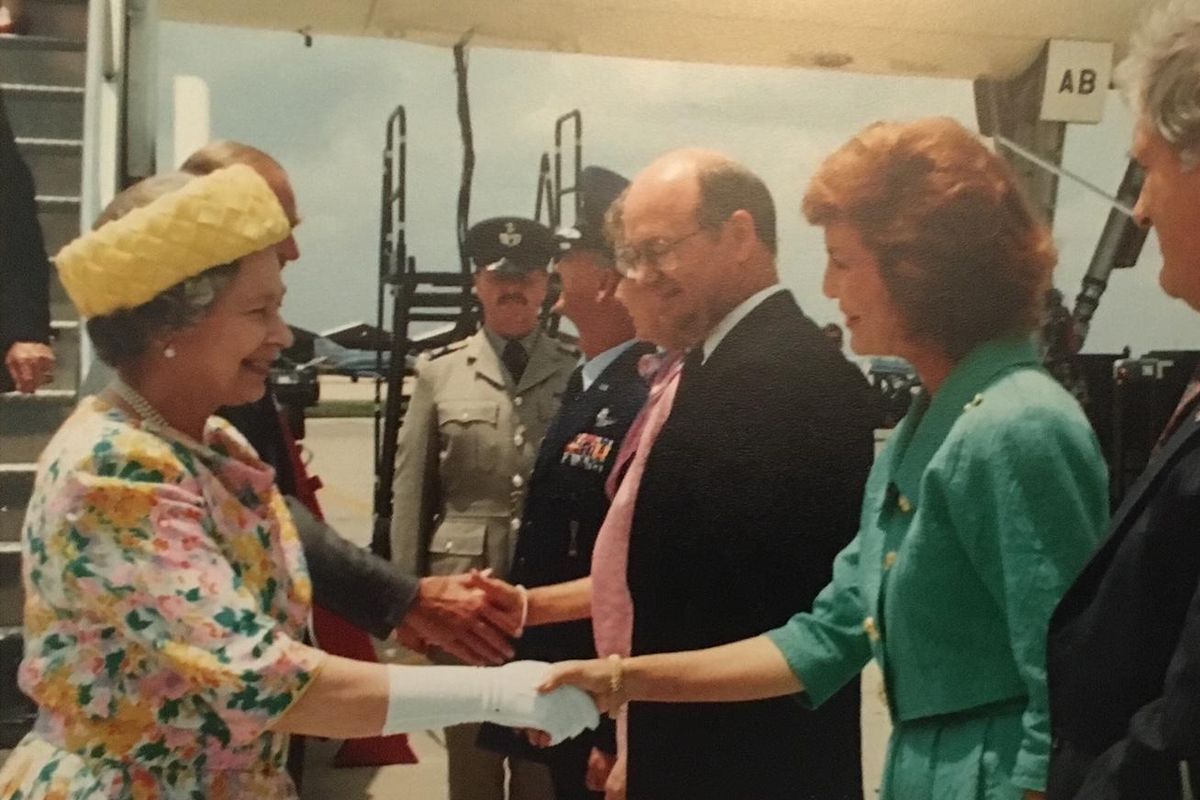 photo courtesy Lee Cooke
After the death of Queen Elizabeth II Thursday, many Austinites are treasuring their personal memories of her from a May 1991 visit to Austin with her husband, Prince Philip, the Duke of Edinburgh.
"I remember it well," then Mayor Lee Cooke told Austonia in a Thursday phone call. "It was her first trip to Texas. I welcomed her, with my wife Barbara Cooke, when she got off the plane at Bergstrom Air Force Base (now ABIA). We went to the Capitol where I presented her with the key to the city" while Governor Ann Richards and Lt. Gov. Bob Bullock looked on.
"We hosted a dinner for the Queen that night at the LBJ Library, with Lady Bird Johnson," Cooke said, noting that the Queen was "congenial and easy to talk to," while her husband, who Mayor Cooke took on a tour of electronics manufacturing plants, "was not one for small talk."
The next day, the royal party visited San Antonio and Dallas before finishing their Texas swing in Houston.
Her Royal Highness was known for her love of fine racehorses. Mayor Cooke says that he was seated at her table in Houston at the farewell dinner, when she spoke mostly of racehorses and her excitement about flying on to Kentucky to visit horse farms.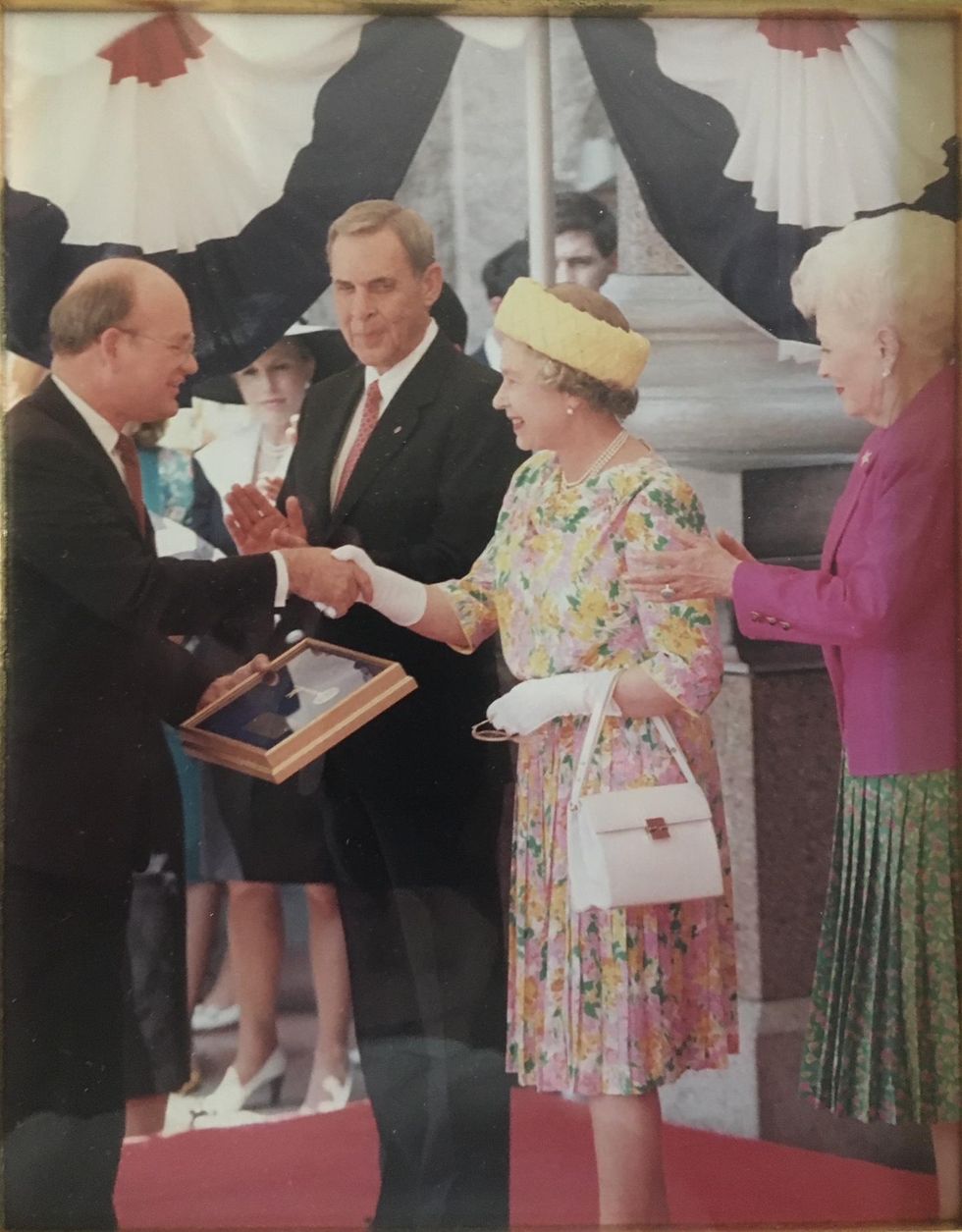 Austin Mayor Lee Cooke presents the key to the city to Queen Elizabeth II, while Governor Ann Richards and Lt. Gov. Bob Bullock look on.Photo courtesy Lee Cooke
A May 21, 1991 article in the Fort Worth Star-Telegram noted some extra details from the Austin visit:
At the state Capitol, she told the crowd of 5,000 that "lesser mortals are pitied for their misfortune in not being born Texans."
Prince Philip, while touring a microchip factory, noted that "I've been doing [this] professionally for the last, roughly, 40 years…I can claim to have patted the first microchip on the head."
Texas House Speaker Gib Lewis gave Queen Elizabeth six pairs of Justin Roper boots, to take home to her six grandchildren.
The Longhorn band played The Eyes of Texas and then God Save the Queen.
Prince Philip, known for his dry sense of humor, said "these are two of the things I've been longing for," after being given a commemorative t-shirt and a silicon wafer.
British journalists supposedly spent the evening at the Broken Spoke.
Other Austin activities were a speech to a joint session of the legislature and a reception at the Governor's Mansion.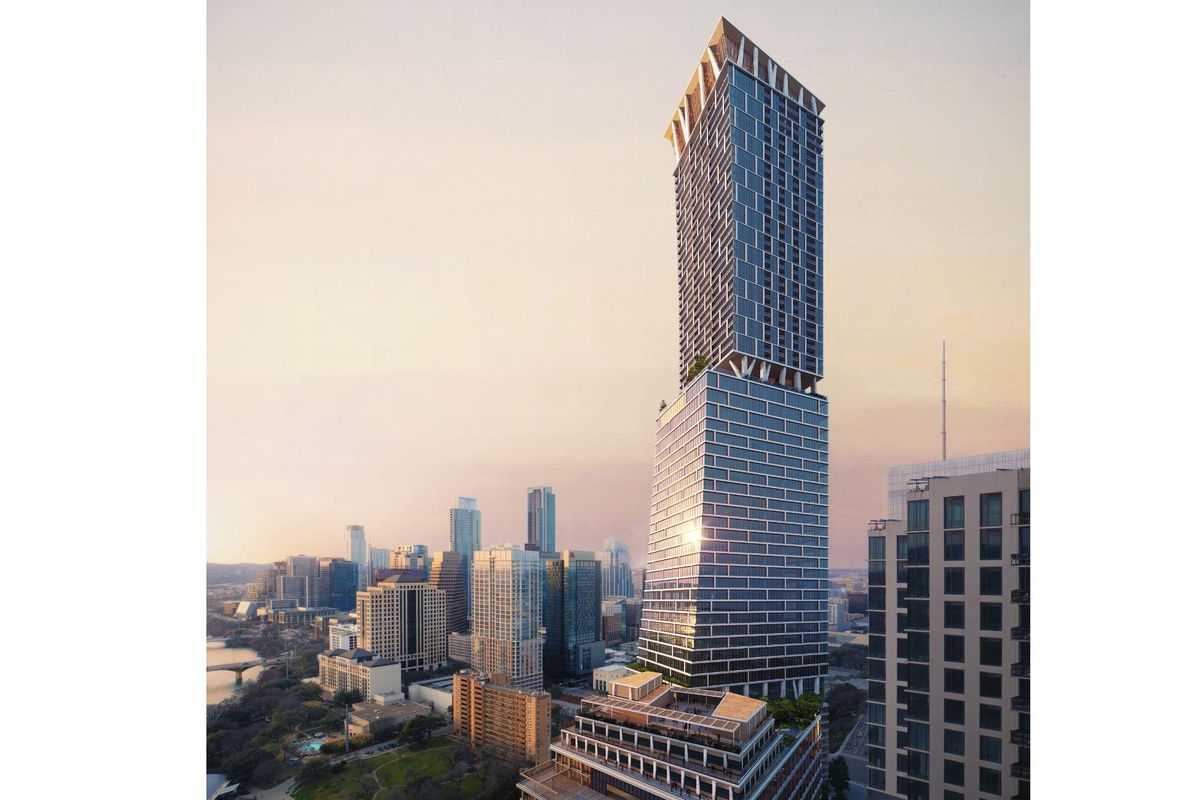 Standing at 1,022 feet near the intersection of Waller Creek and Lady Bird Lake, a mixed-use high rise called Waterline is set to open in late 2026.
The 74-story building will be more than 300 feet taller than the Independent, Austin's tallest, and 20 feet taller than the state's current champ, the JPMorgan Chase Tower in downtown Houston.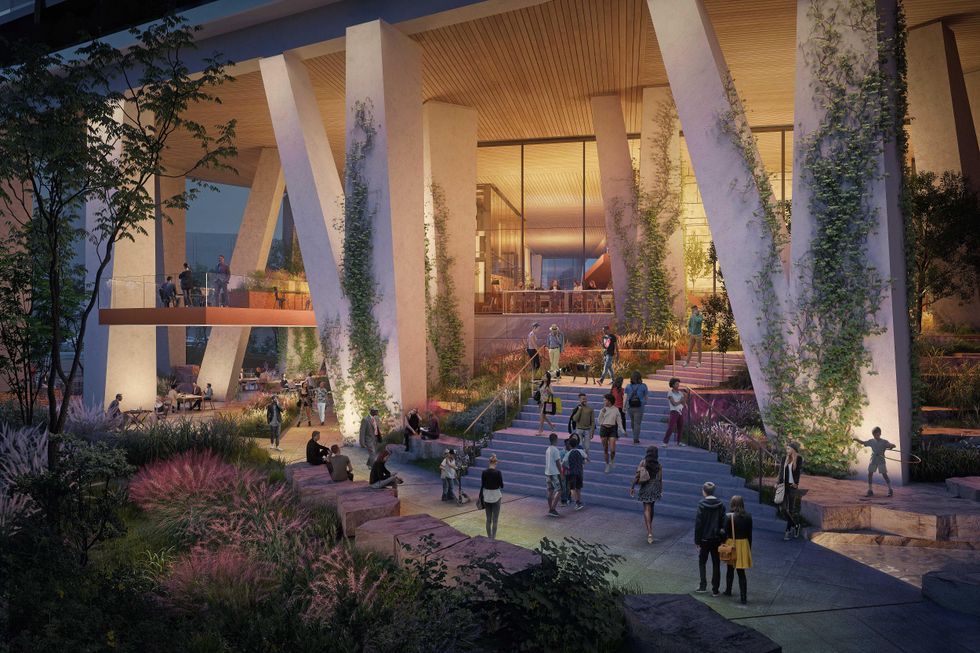 Features:
3.3 acres at 98 Red River St.
A 251 room hotel, Hotel Austin
352 luxury apartment homes
700,000 square feet of office space
The developers, Lincoln Property Company and Kairoi Residential, said Waterline will serve as a new gateway from the Central Business District to the Rainey Street district.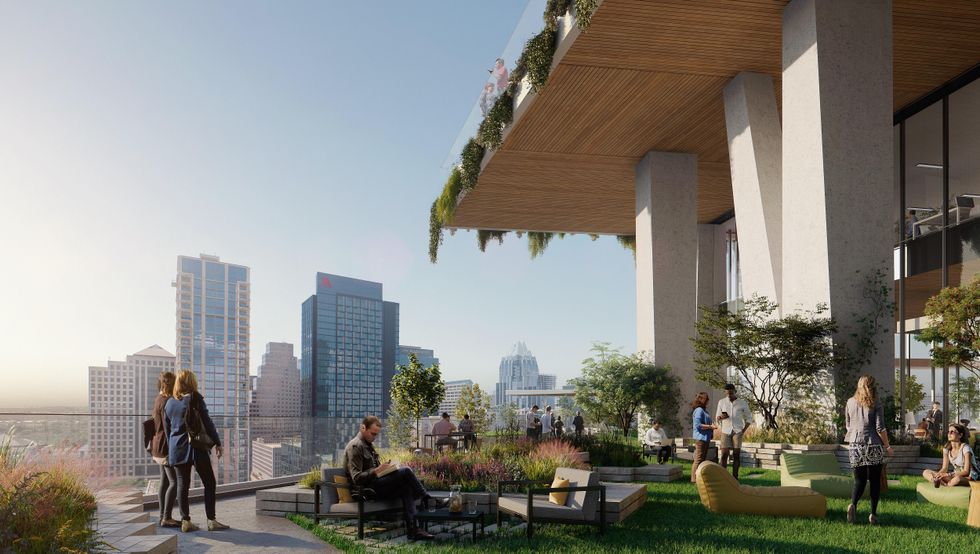 "Waterline marks a new milestone for downtown not only because of its height but also because of the positive impact this project will have on improving connectivity, enhancing public amenities, and attracting more people to this beautiful area of downtown," Seth Johnston of Lincoln said.
A Canadian pension fund manager is the project's primary owner.