Get connected with our daily update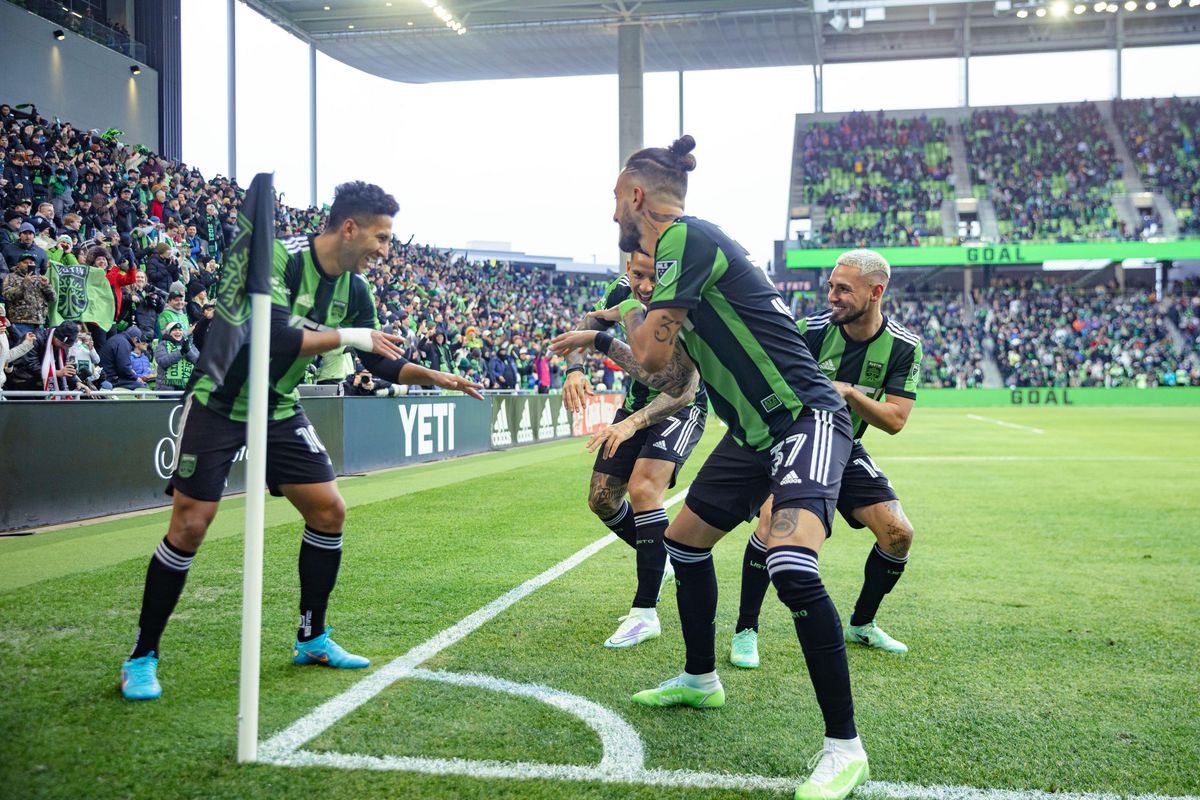 Austin FC kicked off its second season in style Saturday night with its biggest win to date, slamming FC Cincinnati in a 5-0 shutout iin front of thousands of faithful fans at Q2 Stadium.
---
The win broke records across the board —the club scored five goals in a match for the first time ever and made history with the biggest win margin of any MLS opening match to date. And even in dreary 40 degree weather, over 20,000 Verde fans showed their passion with yet another sold-out match, marking the longest streak of sold-out games in MLS history.
After a pregame that saw part-owner Matthew McConaughey cheer on the crowd as the stands slowly filled with fans, the club sprinted out of the gate with a goal from Cecilio Dominguez less than two minutes in to kick off the match.
Four more Austin goals and plenty of beer showers followed as Captain Alex Ring, big-money forward Sebastian Driussi and Dominguez each got points on the board.
The club was relentless as it cruised into the win—with just two minutes left in the match, Austin's Moussa Djitte rubbed the win in as he forced an own goal on the FC Cincinnati keeper to seal the 5-0 match.
Here are the top three takeaways from the first match of the season:
No longer the new kids  
Team performance. 😤

🗣 @brad_stuverpic.twitter.com/vqdAlbJUq9

— Austin FC (@AustinFC) February 27, 2022
Austin FC's first win of the season did more than make the history books.
Emerging from a first season full of growing pains, the team's message was clear: the Verde and Black are no longer the new kids on the MLS block, and the club is making sure it won't get overlooked again on its home turf.
After months of head coach Josh Wolff and Austin players saying they want to make Q2 Stadium a "home fortress," it looks like the club is putting its money where its mouth is.
A sunny confidence was reflected on each player's face as goal after goal was scored on a stumbling Cincinnati. It's a stark contrast from this time last season, when the team struggled to get a single point on the board, let alone five, in its first home matches.
The mental game of scoring can be nearly as tough as the physical act, and Wolff said the win will help boost confidence and morale for players, like Dominguez, who couldn't find their footing early last season.
Wolff's birthday wish comes true
Wolff's birthday gift may not have come with a gift box or bow this year, but the head coach, who celebrated his birthday Friday, might have gotten something even better.
Any win to start a season was a must for Wolff and the team after a nine-win first season, and the record-smashing 5-0 shutout only makes it more triumphant. Add into that a sold-out crowd of passionate supporters and you've got a recipe sweeter than birthday cake.
But the real win for Wolff comes into the way the team played together Saturday night. Wolff's complex style of play was hated and discredited by some last season as the team often failed to look like a cohesive group.
Even with newcomers like Ruben Gabrielsen, who arrived just a week ago, and young players like Kipp Keller at starting center back, the club played as smoothly as ever. Austin kept Wolff's possession-heavy style, holding the ball 56.7% of the match, as each player expertly bounced passes around Cincinnati defenders and into the net
Almost every goal was the result of seamless teamwork—from Ring's tricky passbacks to Diego Fagundez's tricky assist that gave Driussi a wide-open goal.
Wolff has promised a playoff-level team this season. And while it's too soon to tell, this match hinted that patience may have been the key to his vision.
Austin FC good or Cincinnati bad?
These #VERDE nights. 💚🖤 pic.twitter.com/V3QMLa1XDl

— Austin FC (@AustinFC) February 27, 2022
Austin FC undisputably earned its 5-0 win Saturday night, but it's tough to say whether FC Cincinnati helped them reach such a lofty win.
FC Cincinnati looked flustered from the start in the match, especially as they tried to bounce back from a goal just two minutes in. The team mustered just four wins to finish last in the MLS' Eastern Conference last season, giving up at least five goals in four matches in the process.
Would the game have looked any different if Austin had played a higher-ranked team.
While Cincinnati's own errors led to at least one goal in the game, Austin fought to keep its net clean, blocking seven shots and saving two to get the shutout win. And the team looked nearly evenly matched when comparing last season's stats—Austin was second to last in the West last season.
It's too soon to tell whether Austin FC has drastically improved. But even if Cincinnati falls to the bottom of the pack once more, the 5-0 win will armor Austin with both clout and confidence as it delves deeper into its second season.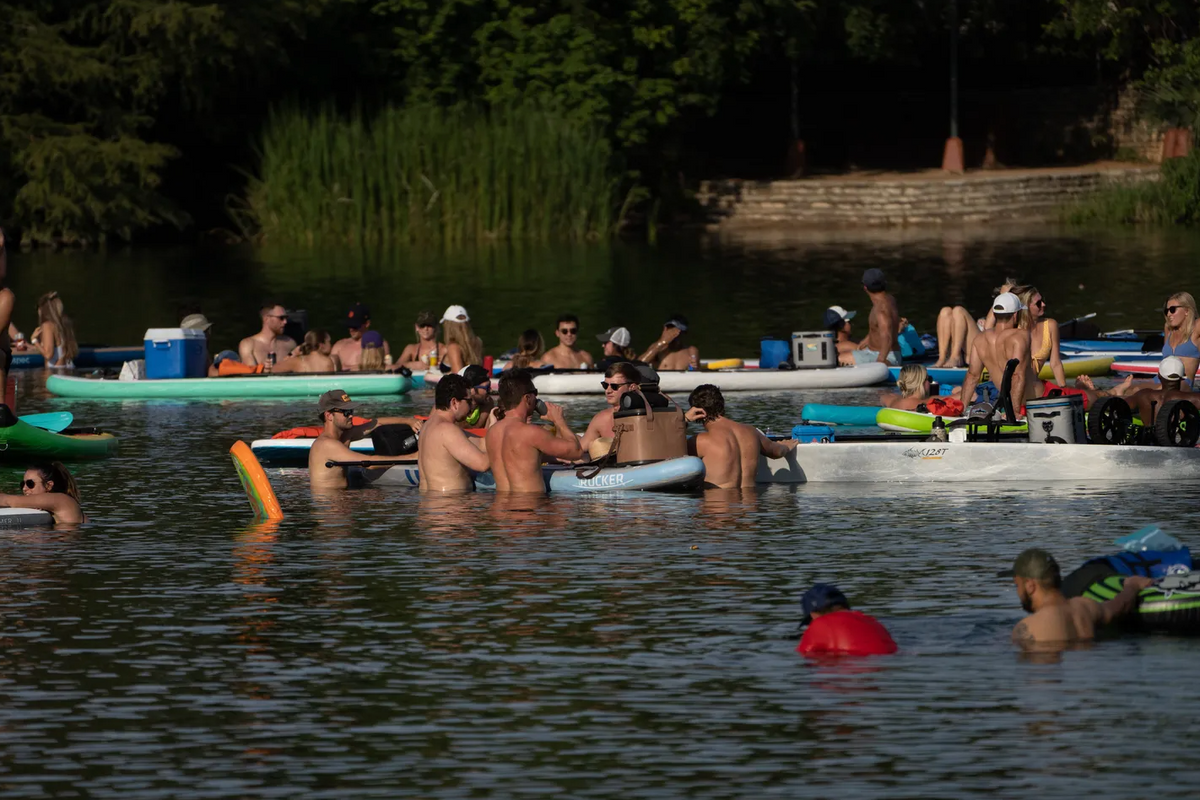 When Mark Coffey moved to Austin in 1986, it was the land of Stevie Ray Vaughan shows, MTV and new opportunities.
Now, it may be the land of limited housing, property tax hikes and California license plates—but many are still choosing to stay for remnants of that old-school charm.
Austinites love to lament the loss of "Old Austin"—they've been saying it since 1884. And with one-bedroom rents up 112%, home appraisal rates up 56% and the cost of living on a seemingly endless upward trend, it's hard not to see Austin's past through rose-tinted lenses.
But even in money-stretching times like these, some Austinites are taking a break from their usual complaints to remind themselves why they choose to stay.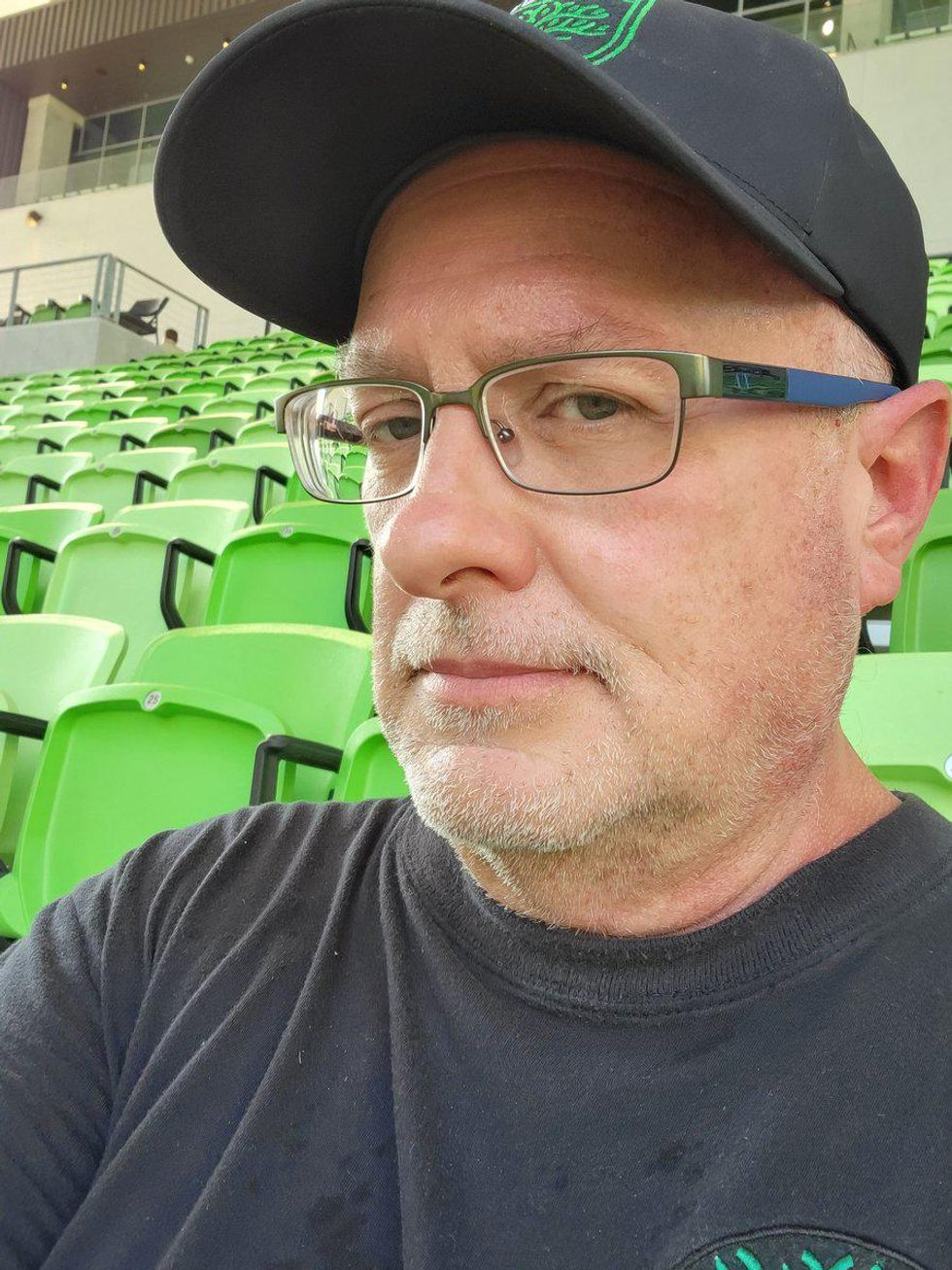 Mark Coffey has stayed in Austin for decades due to its uniqueness, inclusivity and community. (Mark Coffey)
As a near-original Austinite, Mark Coffey didn't have too much trouble buying a house or finding a job with pension benefits at a local utility service decades ago. Still, he said he's stayed in Austin for more than financial security.
"Despite the cost of living, the brutal heat and traffic... I think the trade-off is that Austin has always kind of had that sense of possibility," Coffey told Austonia. "Of all the cities in Texas, it's been the most open to change and future possibilities and I don't think that's ever completely lost."
Austin's unique spirit has attracted like-minded small-town Texas kids looking for community. Gabriel Rodriguez, who grew up in the Rio Grande Valley, moved to Austin a few years ago after graduating from Texas State University and still hasn't become bored with the vibrant live music scene.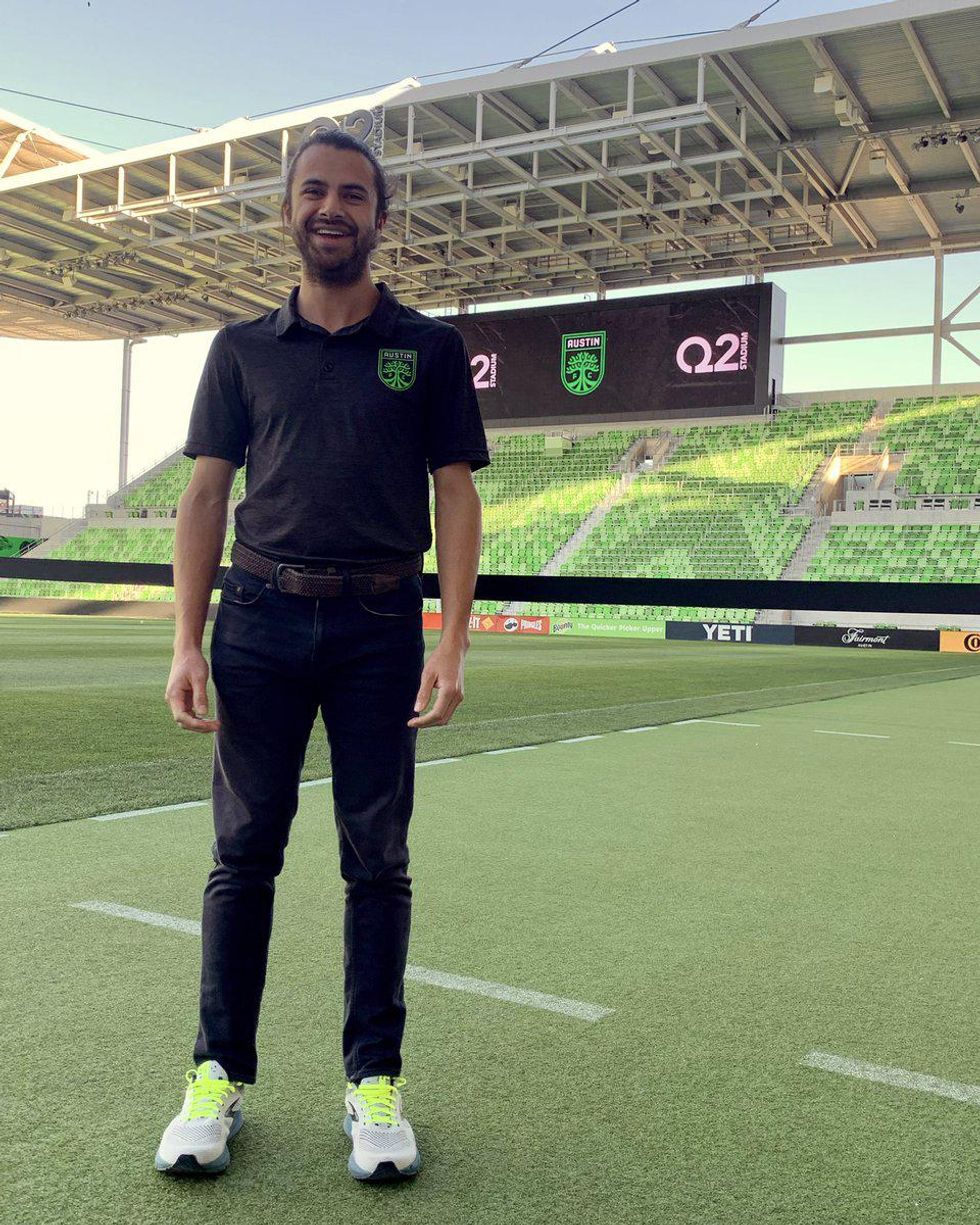 Gabriel Rodriguez, who has experience as a musician has found a home in Austin's live music scene and with Austin FC. (Gabriel Rodriguez)
"The big thing to me was the music," Rodriguez said. "That's what made me want to move to Austin in the first place... I grew up in a place that didn't have that."
Coffey, Rodriguez and many others have also found the Austin spirit with Austin FC, the city's first major league sports team, and its vibrant and community-minded fanbase.
"Austin FC has come around and it's caused both old and new Austinite to kind of rally around something that like, yeah, this is our club, but it's also a statement about the kind of community we want to be," Coffey said.
For others, like Michelle Sanchez, Austin is home for many reasons—namely, a famed food scene, family and plenty of outdoor activities.
In a Reddit post that saw nearly 800 comments, dozens of users pointed to outdoor activities—from Barton Creek's Greenbelt swimming holes to paddle boarding on Lady Bird Lake and trails dotting the city's outskirts. Others said that despite its flaws, they've never found anywhere better.
"Austin doesn't do anything spectacularly, but does more things adequately than most anywhere I can think of," user boyyhowdy said.
However, for some, those "adequacies" still aren't enough to stay.
Rodriguez said he's thought of leaving too. But whenever he thinks too long about the city's flaws, he finds solace in Austin's live music venues, including his favorite, Moody Theater. Coffey, meanwhile, recommends longtime spots like Continental Club, the Broken Spoke or even South Congress for a quick "old Austin" fix.
And with housing prices showing signs of slowing down and longtime haunts like Austin's longest-standing grocery store opening back up, there still may be time to reignite a romance with what "Keeps Austin Weird."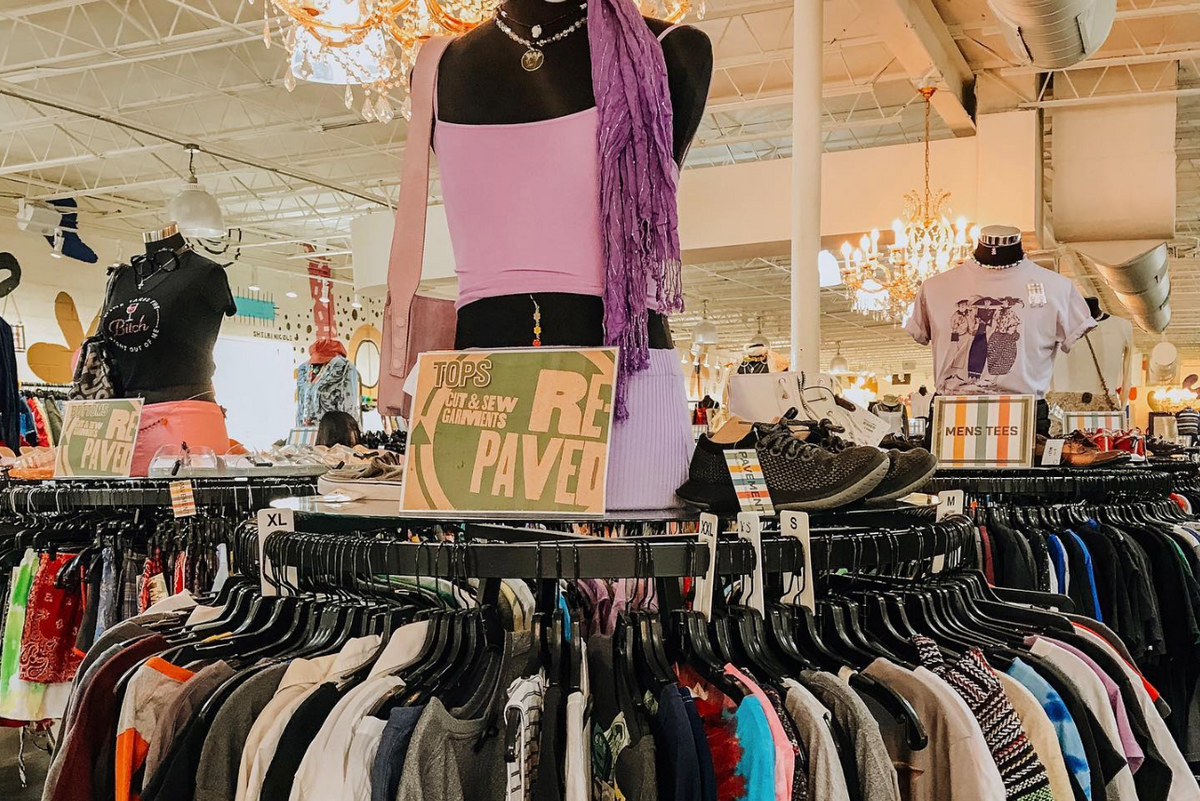 The cost of living in Austin may be on an upswing but just because you might have less money in your pockets doesn't mean you have to compromise your lifestyle.
With gas prices rising above $4 per gallon, rents rising 25-40% and reports showing that Austinites pay more in household bills than any other Texas city, you may find yourself with less cheddar than you're used to this time of year.
Aside from cutting back on spending, thrifting is a great way to stretch your dollar a little bit further. The average American spends $1,700 on clothes annually, of which 85% percent ends up in landfills, making secondhand shopping a greener, more affordable and nearly equally fashionable option.
These local secondhand emporiums sell most daily goods for a fraction of the price if you don't mind a little wear.