Get connected with our daily update
Claire Partain interviews Josh Wolff about the upcoming season. (Laura Figi/Austonia)
With just a week until the team's first public match and a few weeks before the 2022 season, Austonia's Claire Partain sat down with Austin FC Head Coach Josh Wolff to discuss last year's highs and lows and what to expect for Round Two of MLS soccer in Austin.
---
Here's a look at what's changed and what's to come from the Verde chief himself.
Lessons from last season
Wolff had a lot to learn as he made the ambitious leap to accept his first head coaching job for a brand-new team in the summer of 2019. In Austin FC's first season, he had a lot of expected—and unexpected—challenges, from COVID keeping players from building camaraderie to a slew of injuries that left spots uncomfortably open in the club's first few months of play.
"What you quickly learn is that you can't control everything, you can't prepare for everything," Wolff said. "You just try to be as prepared as possible. Big changes cause bigger ripple effects than you probably think in the moment."
With growing pains and the pressures of a new program, the team earned just nine wins to end up second-to-last in the Western Conference. Many frustrated fans began pegging all of the club's issues on Wolff himself.
But Wolff said he knows what he signed up for, and he won't bow to criticisms anytime soon.
"We understand we're in a fishbowl, we're quite exposed," Wolff said. "I'm not in control of what people say and do on social media... I understand the benefits that we all need to have proper expectations, and keep in mind that the majority of our attention is extremely good."
Even with just a handful of wins, the season was marked with joyful firsts—from first goals to first wins, to first games at the sold-out Q2 Stadium.
Wolff said that excitement isn't going away anytime soon.
"I think momentum will absolutely continue," Wolff said. " "It's incredible, really. I've been in this league a long, long time, and these people are passionate, they're genuine and authentic... these players adore their fans and fans have adored them."
Coming into their own
Austin's enjoyed just three weeks of offseason so far, and COVID has once again limited certain opportunities for players to build camaraderie. But Wolff said things are different this year—on and off the pitch.
This season, the team has already united its new players with last year's crew through in-team dinners and golf trips that would have been inconceivable last season due to COVID.
That's translated to better communication and a more comfortable team spirit.
"We have values and a foundation that are there to live and die by for us as players and as coaches. They're non-negotiables," Wolff said. "And I think we're seeing an investment in the emotional side and the communication side."
With the trial-and-error of last year under their belt and what seems to be a well-stocked roster, Wolff said it's also been easier to comfortably build on their identity in preseason.
"I think we've layered in some balance that didn't exist last year, structural things," Wolff said. "We want to entertain, we want to score goals and want to win, and I think there's a more responsible way for us to go about that... that's what we've been focusing on these first three weeks."
Wolff credits the leadership of Verde vets, like Captain Alex Ring, as well as a lineup of newcomers from around the world in the team's newfound balance.
New signees including midfielders Ethan Finlay and Felipe Martins and striker Maxi Urruti, who scored in the team's preseason match Wednesday, add 10+ years each of MLS experience and leadership.
"(They) command respect, they also come in really understanding who they are," Wolff said. "The level of intensity and the level of quality that's already been enhanced and grown is quite clear.
And while the team still needs to iron out some kinks, including finding a balance in possession and better positional play, Wolff has high hopes for this season.
"We know what's at stake this year," Wolff said. "We're going to make the playoffs and we're going to be competing. That's exactly what my expectations are."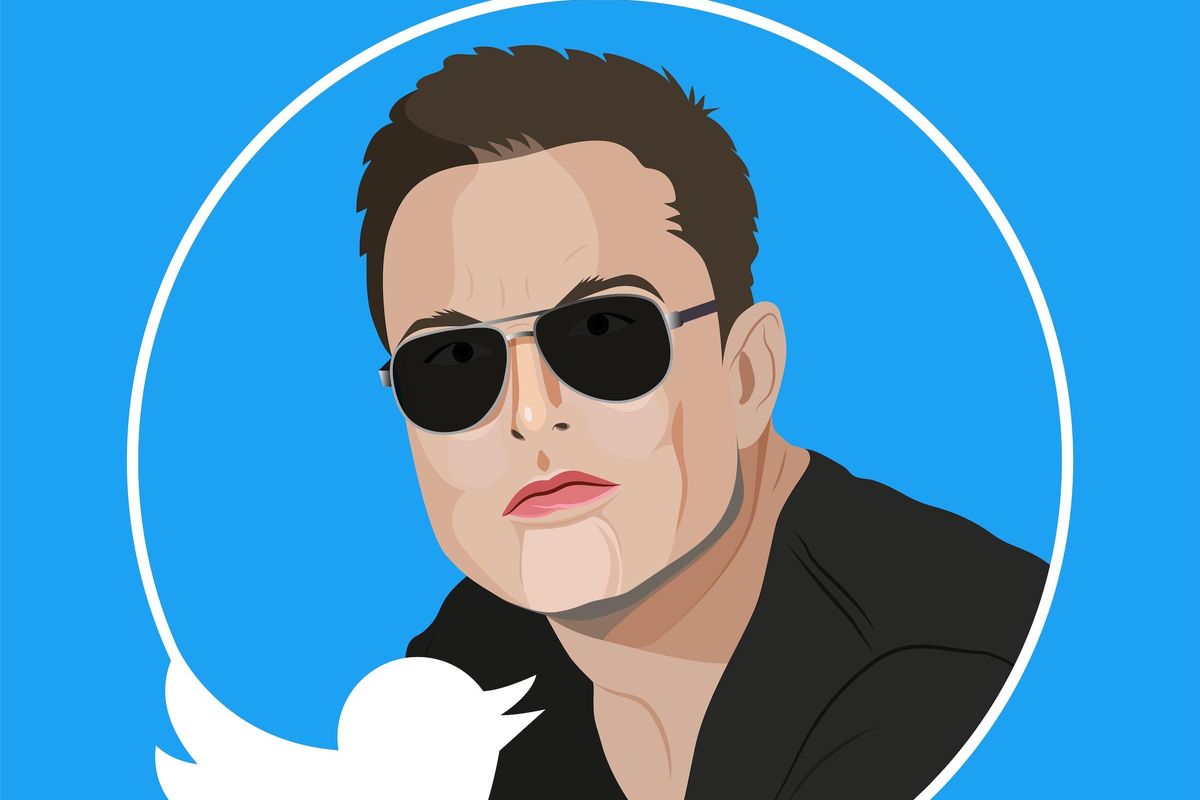 Shutterstock
Elon Musk has proposed once again to buy Twitter for $54.20 a share.
The news that Musk is offering to carry on with the $44 billion buyout was first reported by Bloomberg. Now, a filing with the Securities and Exchange Commission shows Musk made the proposal in a letter to the tech giant on Monday.
The New York Stock Exchange temporarily halted trading in Twitter stock twice Tuesday, first because of a big price move and the second time for a news event, presumably the announcement of Musk's renewed offer.
While the per share offer price on this latest proposal remains the same as the original offer, it's unclear if Musk has made other term changes or if Twitter would reject it. According to other reports, a deal could be reached this week.
The stock closed at $52.00/share Tuesday, indicating market uncertainty around the $54.20 offer.
After Musk informed Twitter of plans to terminate the original agreement in July, Twitter sued. A trial has been expected in Delaware Chancery Court on Oct. 17.
With the proposition of a buyout on the table again, it revives the question of whether Musk might move Twitter from San Francisco to Central Texas.
He's done so with some of his other companies. Tesla's headquarters in southeast Travis County had its grand opening earlier this year and tunneling business The Boring Company moved to Pflugerville. At least two other Musk companies, SpaceX and Neuralink, have a Central Texas presence without being headquartered here.
Technology journalist Nilay Patel this afternoon voiced concerns that owning Twitter and Tesla together could be problematic for Musk, as his Tesla manufacturing facilities in Germany and China are both in countries that have disputes with Twitter over content moderation and censorship.
Telsa shares fell after the Twitter news became public, before rallying to close up, at $249.44.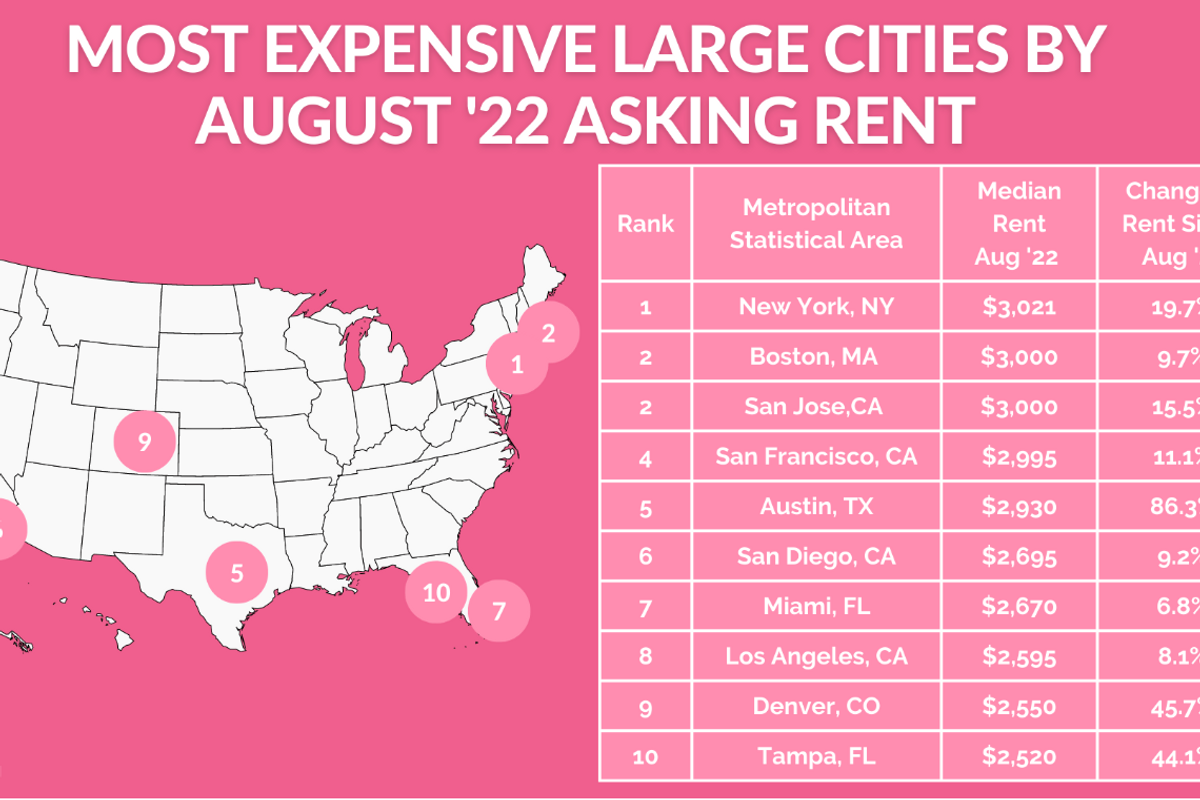 Dwellsy
While searching for a place to live, Austin renters will face monthly rates of nearly $3,000, a recent guide from rental marketplace Dwellsy shows.
The median rent in August this year was $2,930, a more than 86% increase since August 2021. That's $820 more than the nationwide median asking rent in August and puts Austin just below the Bay Area, Boston and New York for large cities with the most expensive asking rent.
"Within this group, Austin, TX stands out for the highest increases in asking rent, which has nearly doubled since this time last year," the study notes.
Outside of those large cities, however, others are seeing even higher rent spikes. Metro areas that ranked above Austin in one-year increases include those like Kansas City, MO with a 112% change in rent since last August and Tucson, AZ with a 124% change.
The data reflects large apartment communities, single-family homes and 2-6 unit buildings.