Get connected with our daily update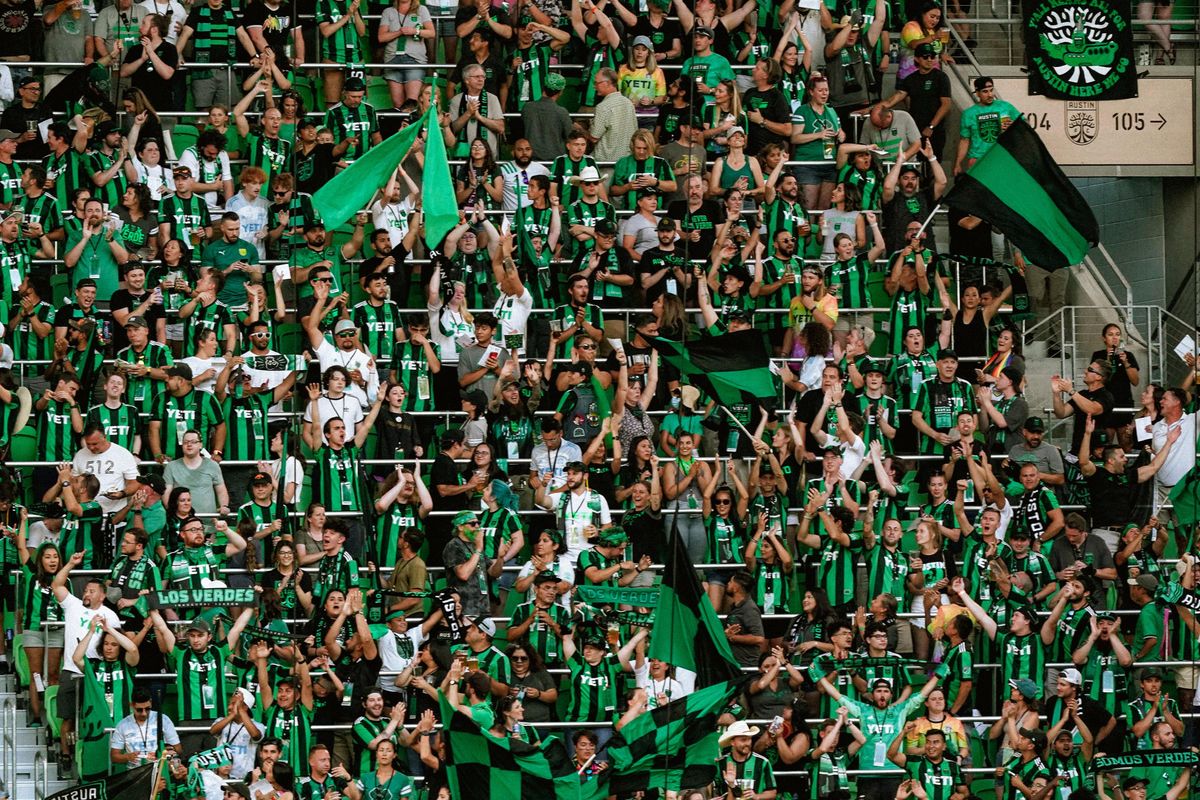 Austin FC was hated by many soccer fans long before ground broke at McKalla Place, and that resentment persists for many Columbus Crew fans as their club heads to Austin's Q2 Stadium on Sunday.
As 20,500 Verde fans filed into their first home match last Saturday, a small plane flew overhead with the slogan "PRECOURT IS A SNAKE" trailing behind it in the wind. Columbus had taken the first jab at Austin FC and, more specifically, Austin FC owner (and previous Columbus Crew SC owner) Anthony Precourt.
---
Precourt meets his former team once again on Sunday, and the Columbus fanbase is less than happy to see him on his brand-new stadium's soil.
Meanwhile, Austin FC fans are thrilled that Precourt brought the city its long-awaited first major league sports franchise. Austin FC fans Hernan Gonzalez and Bryan Saldana, who also run fan reaction YouTube channel WeAreAustinTV, said they are prepared to defend the owner who brought an MLS team to their city and sow a rivalry on their home field. "We're not going to take it," Gonzalez said.
Here's some backstory on how tensions began and continue before it all boils over at Q2 Stadium.
The history
Columbus Crew SC was one of the first 10 teams to be awarded when MLS formed in 1996, and by 1999 the Home Field at Ohio Stadium was transformed to Crew Stadium.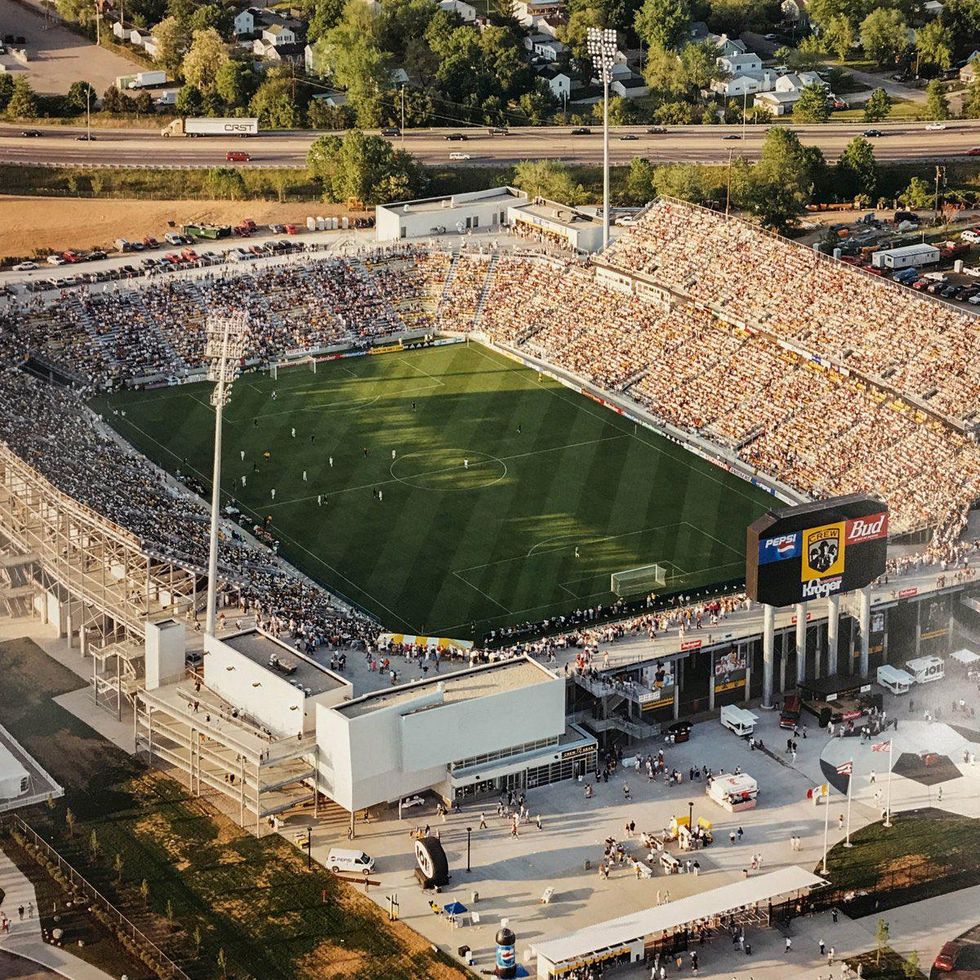 Columbus Crew's opening match at Crew Stadium on May 15, 1999. (Crew Stadium/Twitter)
"(It's a) historic stadium, historic club," Gonzalez said. "The fans have been there for years... People (can say) their grandpa was a Crew fan."

Precourt, meanwhile, came onto the scene when Precourt Sports Ventures purchased the club in 2013. Under his leadership, the franchise hired captain Gregg Berhalter and found their footing.
The hostility all boils down to an infamous exit clause tucked neatly away in Precourt's contract with Columbus. Precourt had apparently been thinking of Austin since his earliest days with the club. According to the clause, Precourt could not move the MLS' original team to any other city—except for Austin, Texas.

Precourt didn't make a move until 2017. As the club struggled with an older stadium and falling attendance, Precourt asked Columbus for a new publicly-funded stadium. When the city disagreed, Precourt began to revisit the exit clause, which remained unknown to die-hard fans. The idea emerged to relocate the Crew to Austin. Columbus fans were outraged, and a retaliatory "Save the Crew" movement was born.
Precourt didn't move the historic club; after a lawsuit, he was granted a new club in Austin by MLS Commissioner Don Garber. The fledgling Austin FC was born, and Saldana said it was a win-win situation for both clubs.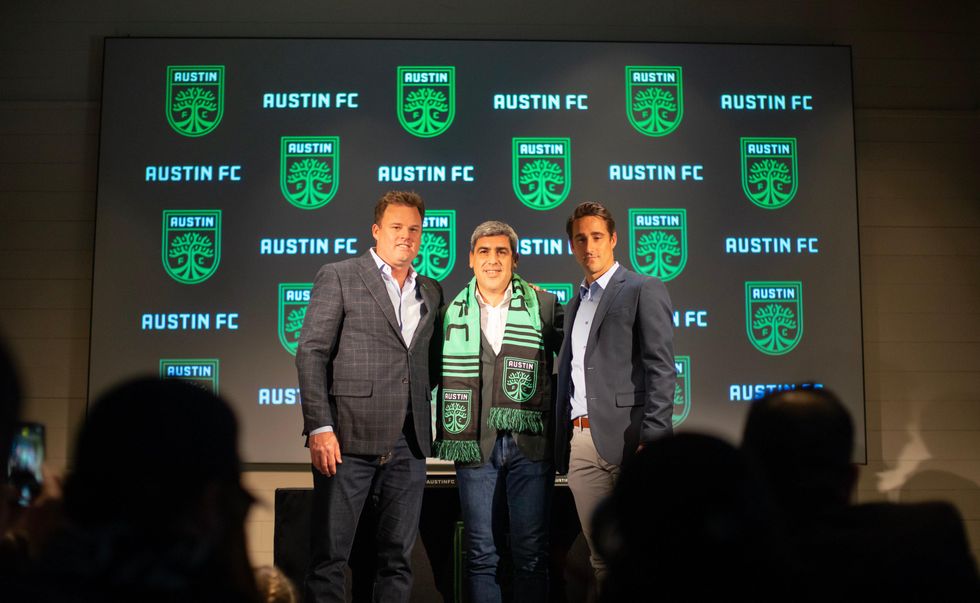 Anthony Precourt, sporting director Claudio Reyna and head coach Josh Wolff at an Austin FC event in 2019. (Austin FC/Twitter)
"People can say whatever they want to say, but I feel like everybody ended up winning ," Saldana said. "They kept their team, they got a new stadium, (and) we got our team."

Columbus didn't see it that way. Save The Crew members signed petitions, pleaded with Austin residents to curb progress and continued to speak out against the perceived betrayal.
The sentiment clearly lingers today. When asked to comment on the rivalry and upcoming match, Columbus Crew supporters' group Murderers' Row had just one thing to say: "There is no rivalry, just hatred to Anthony Precourt."
Austin FC vs. Columbus Crew
Austin FC's enemies aren't just in Columbus. Who doesn't want a shiny new stadium, a sense of camaraderie and a new professional team to cheer for at a local bar?
Other contenders for the new MLS expansion, including San Antonio, aren't quite cheering for Austin FC. However, thousands of fans, from part-owner Matthew McConaughey to the loud-and-proud supporters' section, are undeterred by the hate.
Gonzalez said he understands where Crew fans are coming from, but it's unfair to be angry at the city and team that were just happy to get a major league team in the first place. "We never asked for this," Gonzalez said. "Precourt brought something that we've always wanted to have."
Instead of bowing down, both Gonzalez and Saldana say they embrace the rivalry. "As far as leaning into this rivalry, we absolutely will not accept the banner that was flown and the hatred that we get from Columbus fans. We want to give that energy back to them."
Austin fans are already gaining a reputation as an enthusiastic, peace-loving community in alignment with general Austin culture, but Gonzalez and Saldana are repping "Screw the Crew" shirts come Sunday. "We do not want to be the pushovers of the MLS," Gonzalez said.
The match is high-stakes both on and off the pitch: Austin FC is still scoreless at Q2 Stadium, and Columbus fans will remember forever if they win the first goal at Q2 Stadium. "It would be a huge blow to the fan base," Gonzalez said. "If they score that first goal, they're going to have that against Austin FC forever."
The Yellow and Verde will meet—not mingle—at Q2 Stadium at 7 p.m. on Sunday as Austin FC takes on the Columbus Crew for their second home match.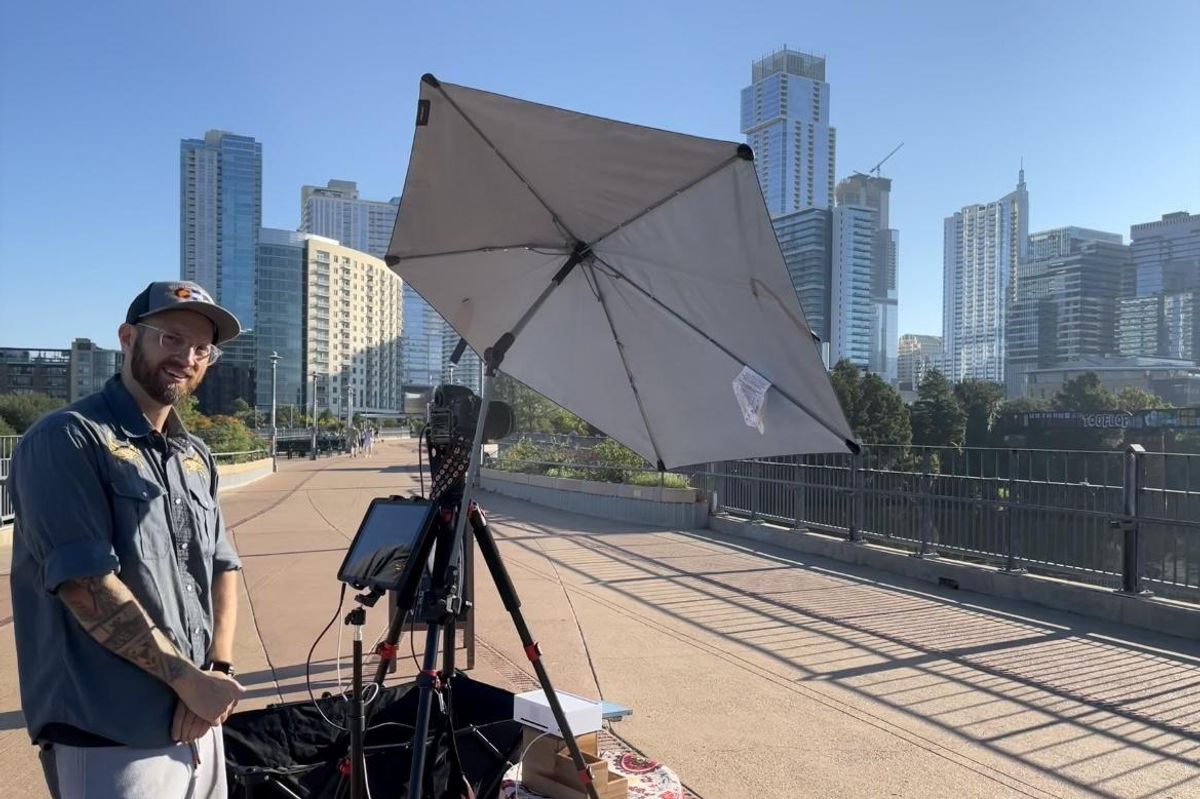 Nicklaus Pereksta says he loves photographing enthusiastic people, and it's why his latest gig offering pictures to people out on Lady Bird Lake's hike and bike trail is going smoothly. He sets up his gear on the Pfluger pedestrian bridge and puts out a sign: Photos, $10.
"Overwhelmingly, this has been a really positive experience," Pereksta said. "I get excited when I wake up in the morning and I can't wait to go to work."
Bikers and joggers are excited about it too. On the pedestrian bridge leading to downtown Thursday morning, a man on an e-bike rode up and posed, wanting more photos.
"I posted the last pictures on Instagram and people loved it. They asked, 'where is this guy?'" the biker told Pereksta. Bashfully, Pereksta, who also photographs landscapes and at weddings and other events, said he was happy to hear that.
Pereksta started these photos about a month ago, after the strenuous runs required in his valet job started causing pain in his legs. And though he has a passion for photography, he wasn't so sure when he started working independently if it would work out.
He felt uncertain about the demand for it and was also worried about having lots of expensive equipment out in the open.
"Then like the first day was nothing but high praise and people are like, this is so awesome. This is great. I've never seen anything like this before. I was like, Wow, this was really good, like positive turnout. So I got encouraged."
Now, he wants to expand and is thinking of contacting the Mueller Farmers Market about how to become a vendor. Still, he'll carry a connection to photographing on the bridge since the word bridge is related to his last name.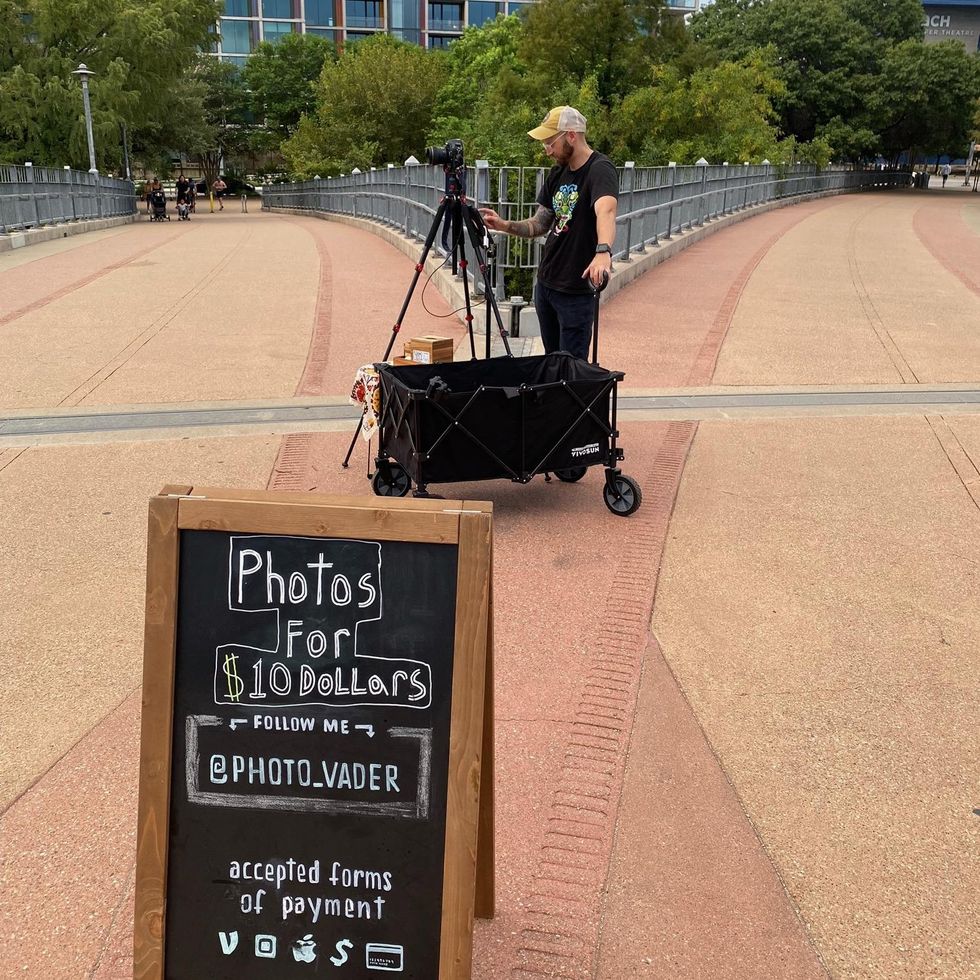 (Dewey C.)
"It's a name my great, great, great grandfather came up with when he was marrying somebody. It's actually quite a romantic name. It means a joining of two bridges," Pereksta said. "So, I thought it was ironic that I'm set up on a bridge. I'm kind of representing my last name right now."
Austonia talked to Pereksta about life in Austin, where he's lived for eight years after living in Boston doing band photography.
What was your first experience with Austin?
I came here to visit some friends and they took me to Barbarella. So we went to Barbarella and I was like, 'wow, this place is great.' And then the restaurants and the food and going to Barton Springs. I was like, 'this is amazing.' Because there's nothing like that in Boston. If you want to go to a natural spring, you got to go to New Hampshire. There's no pools in the city at all. So there's lots of swimming out here.
What do you like best about Austin?
You go to any little quiet bar and there's a band playing that should be like onstage for a sold out show. Yeah, they're playing to 10 people, right? Like, one of the best bands ever and they're playing for 10 people, right? And just little magic moments like that are pretty fun. You just run into little random weird things.
What do you think makes Austin different from other places?
There's no fall.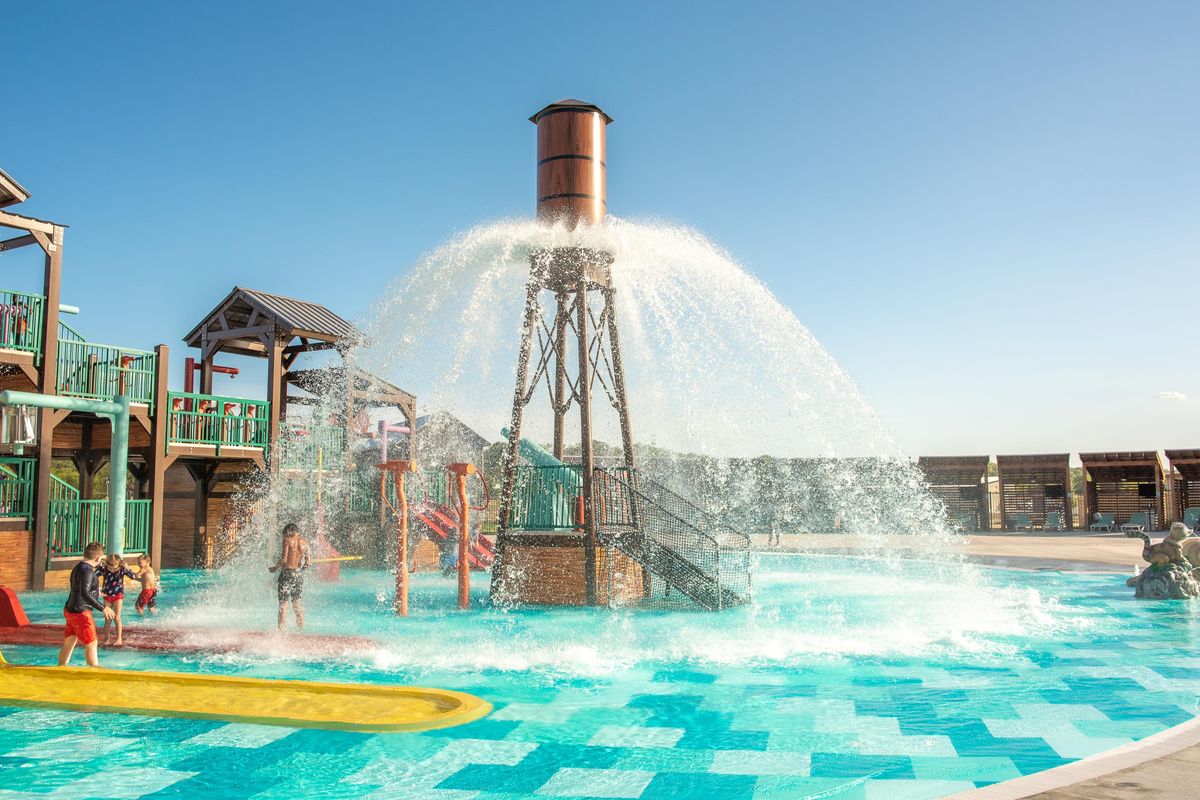 Camp Fimfo Waco
Camp Fimfo Waco, a brand new camping resort, is kicking off football and fall camping season in style! With top-notch amenities, premium accommodations, and 10 weekends of fall fun, there's no better place to have a fall camping getaway, especially if you're a Baylor football fan!
Fall promises to be a one-of-a-kind camping experience. From Sept. 16 to Nov. 24, weekends will be packed with fall-themed activities, including special Halloween weekends in October. Campers can enjoy activities like fall crafts, campground trick-or-treating, costume contests, site decorating, outdoor movie nights, and more!