Get connected with our daily update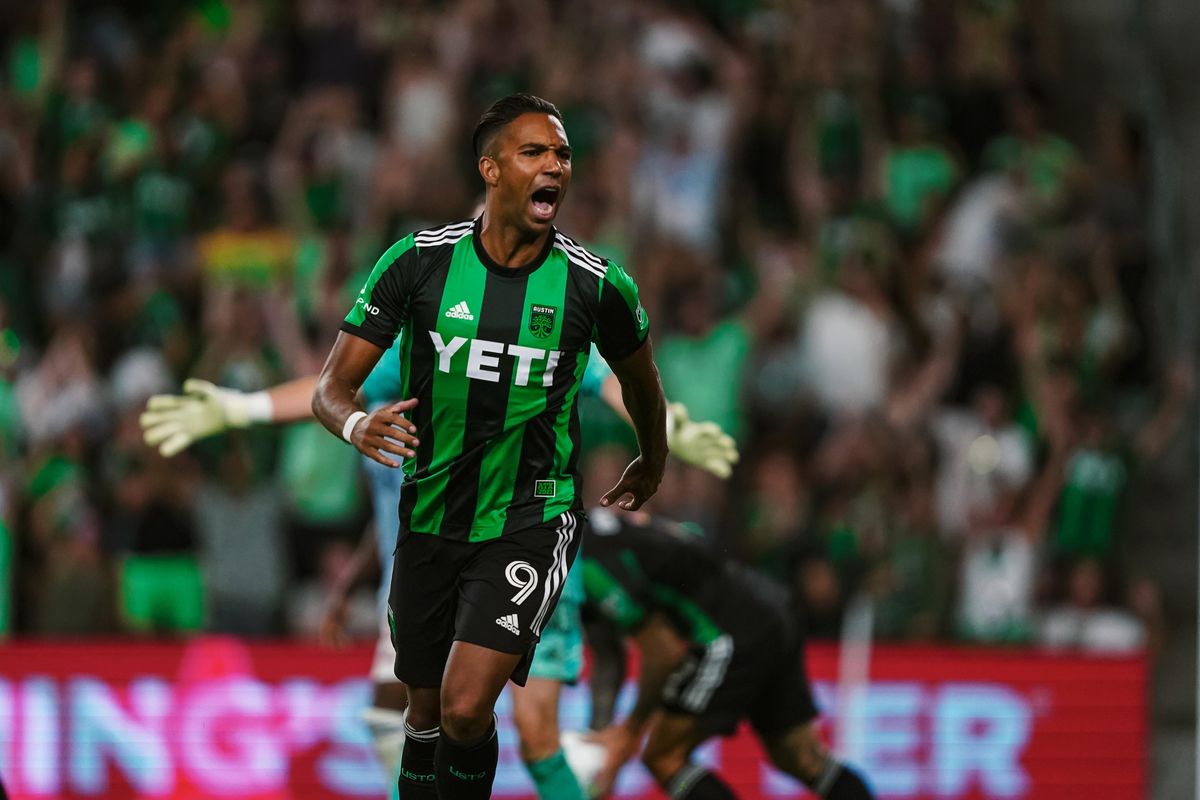 Despite a 2-0 deficit, there was a pot of gold for Austin FC after all as it celebrated its annual Pride Night with rainbows and a 2-2 comeback draw to FC Dallas Saturday night.
---
After three FC Dallas losses last season, the Dallas derby draw marks the first time Austin FC has tied against its Copa Texas rival. Austin continues to edge over FC Dallas as it sits at 3rd in the MLS West.
Here are the biggest takeaways from the match:
A somber start
¡Ya Basta! Enough! End Gun Violence. #uvaldestrong

📷 @arubiophotospic.twitter.com/3PiVdTPtik

— Los Verdes (@LosVerdesATX) June 26, 2022
Decked out in colorful hues for LBGTQ+ Pride, Verde fans started the match on a somber note as they held up banners to take a stand against gun violence before the match.
As the national anthem began, fans held up banners with the names of each child that was killed in the Uvalde school shooting and a plea to "end gun violence."
The supporters' section was also dotted with Pride flags and a "Bans off Our Bodies" banner in protest of the Supreme Court's decision to overturn Roe v. Wade.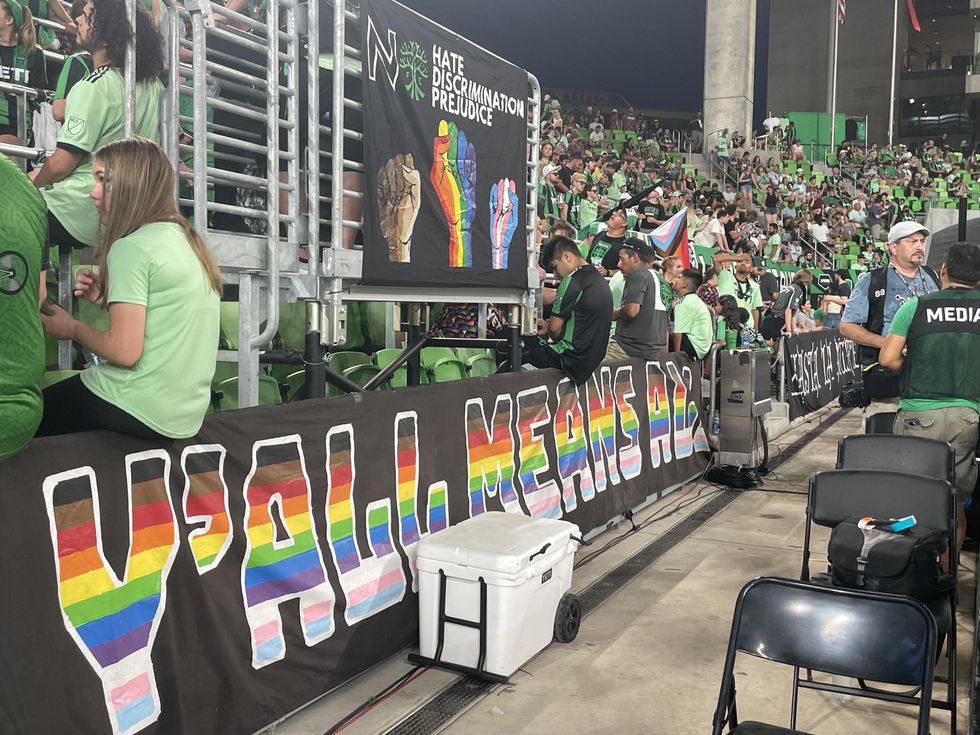 (Claire Partain/Austonia)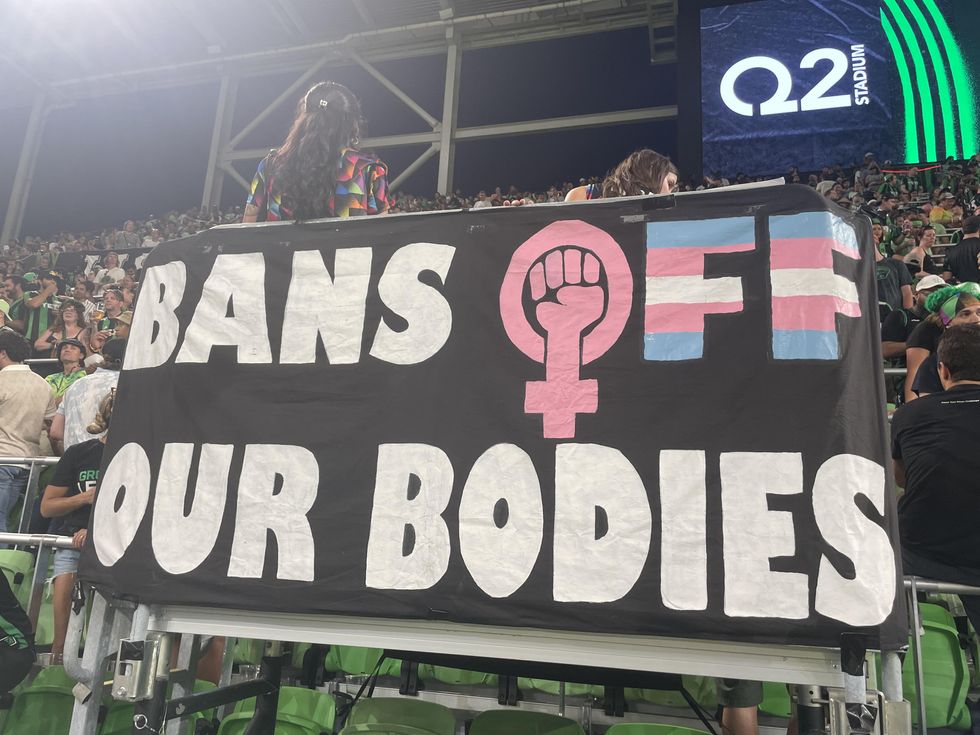 (Claire Partain/Austonia)
FC Dallas earns a 2-0 lead
Paul Arriola is there to put it away and put @FCDallas ahead! pic.twitter.com/Z4AMmM6lp3

— Major League Soccer (@MLS) June 26, 2022
That sober tone continued onto the pitch. With midfielder Daniel Pereira's absence due to a red card, the Verde and Black lost two goals to FC Dallas by the 70th minute of play.
FC Dallas played it sneaky for the first half of the match, giving Austin FC plenty of room to hold possession as it waited to strike on a Verde error. That mentality proved dangerous for Austin as Dallas' Paul Arriola took advantage of Brad Stuver's deflection to score the first goal of the night in the 57th minute of play.
Dallas struck once more as Brandon Servant pushed past the Verde line to score the second goal of the match.
Austin FC strikes back
Sebastián Driussi pulls one back!#AustinFC are still in this one. 👀 pic.twitter.com/Yoi0x768jb

— Major League Soccer (@MLS) June 26, 2022
But energy quickly returned to Austin's favor thanks to Designated Player Sebastian Driussi, who scooted past several FC Dallas defenders alongside Moussa Djitte to snag an unlikely first goal for Austin.
A full Verde comeback
Late drama in this Texas Derby!@AustinFC ties it up, Danny Hoesen with the diving header. 😱 pic.twitter.com/Jk2f4fIEXG

— Major League Soccer (@MLS) June 26, 2022
Austin's subs proved deadly as momentum returned to the home team toward the end of the match. A well-placed cross from Nick Lima—and a diving header from a fresh-legged Danny Hoesen—helped the team secure the draw with a second Verde goal in the 84th minute of play.
Hoesen, who was Austin's first starting striker last season, has now scored two goals with the team after a yearlong injury stuck him on the bench.
The murder suspect of rising star biker Moriah Wilson is now behind bars in the Travis County Jail. On Thursday, law enforcement officials recounted the details leading up to the arrest of Kaitlin Armstrong, an Austin yoga instructor.
Armstrong was on the run for 43 days after investigators obtained an arrest warrant for the alleged murder of Wilson. The murder is believed to be a crime of passion due to a love triangle situation with Armstrong's ex-boyfriend, who was with Wilson the day she was killed.
Since being on the run, Armstrong fled the country to Costa Rica, where she traveled from San Jose, to Jaco Beach and then to Santa Theresa.
The U.S. Marshals learned of her using several different aliases—Beth, Liz and Ari Martin—she was using at different yoga studios in the area. She also changed her appearance by cutting and coloring her hair to a dark brown and wearing a bandage over her nose, officials said.
Investigators used "old-fashioned" police techniques to locate Armstrong, such as going door to door for information. They were able to find her trail by visiting and interviewing people at local yoga studios and places she had stayed at.
"It was more than a handful (of yoga studios she visited)," Deputy U.S. Marshall Brandon Filla said Thursday. "She was really trying to build something, where she could instruct yoga in Costa Rica."
She was located and detained at the Don Jon Hostel at Santa Theresa beach for fraudulent use of a passport on June 29. Officials said she was noticeably exhausted when caught.
She was transported back to San Jose, where she confessed to her true identity. She was sent to Houston on July 2 before being booked in the Travis County Jail on Tuesday. Armstrong is being held on $3.5 million bond.
Here's a recap of events since the night of Wilson's murder.
On May 11, Wilson met with Armstrong's ex-boyfriend Colin Strickland, a fellow pro cyclist. According to an affidavit, the pair went swimming, then to dinner, before he dropped Wilson off at her friend's home where she was staying in East Austin at around 8:30 p.m.
While Wilson and Stickland had previously had a romantic relationship, Stickland said the two were friends. The affidavit says Strickland lied to Armstrong about his whereabouts that evening.
Video footage shows Armstrong's Jeep pulled up nearby the home within a minute of Wilson arriving home.
At around 10 p.m., Wilson's friend called Austin police after finding her in a pool of blood. Wilson had been staying with the friend ahead of the upcoming bike race in nearby Hico, Texas.
Armstrong was brought in for questioning the day after the murder and released after appearing "very still and guarded" when confronted with video evidence.
The Lone Star Fugitive Task Force said her black Jeep Cherokee was sold to a South Austin CarMax dealership on May 13 for $12,200.
She left from the Austin airport on May 14, with a connecting flight Houston before landing in New York.
Shell casings found on the scene matched a gun belonging to Armstrong.
Austin police obtained an arrest warrant for Armstrong on May 17.
She took a flight from Newark Liberty International Airport to San Jose, Costa Rica on May 18 using a fraudulent passport, according to the Marshals.
On May 25, another warrant was obtained for unlawful flight to avoid prosecution.
On June 29, she was captured by the U.S. Marshals in Costa Rica.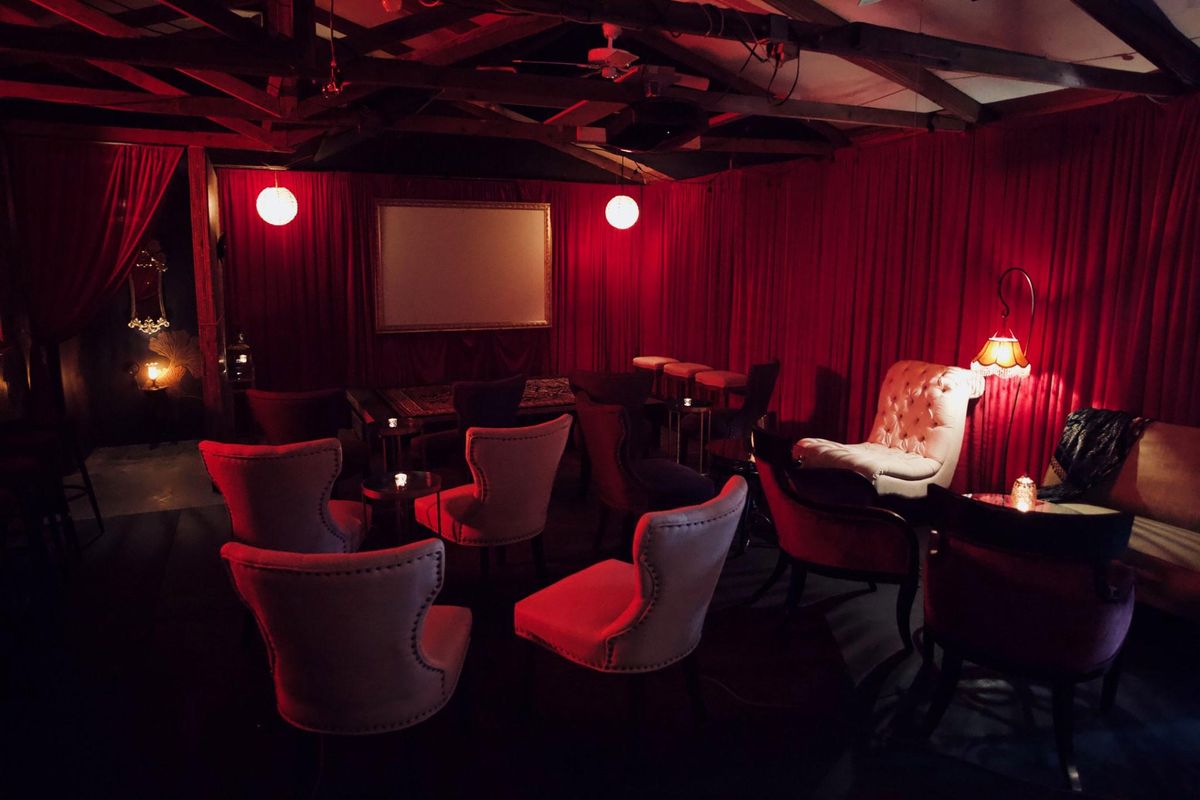 Austin has a velvety, itty-bitty, intimate new comedy club coming to town.
Founded by comedians Raza Jafri and Andre Ricks, The East Austin Comedy Club will open inside multi-purpose art house Tiger Den, 1303 E. 4th St., with a grand opening weekend July 21-23. The club will be open on weekends going forward.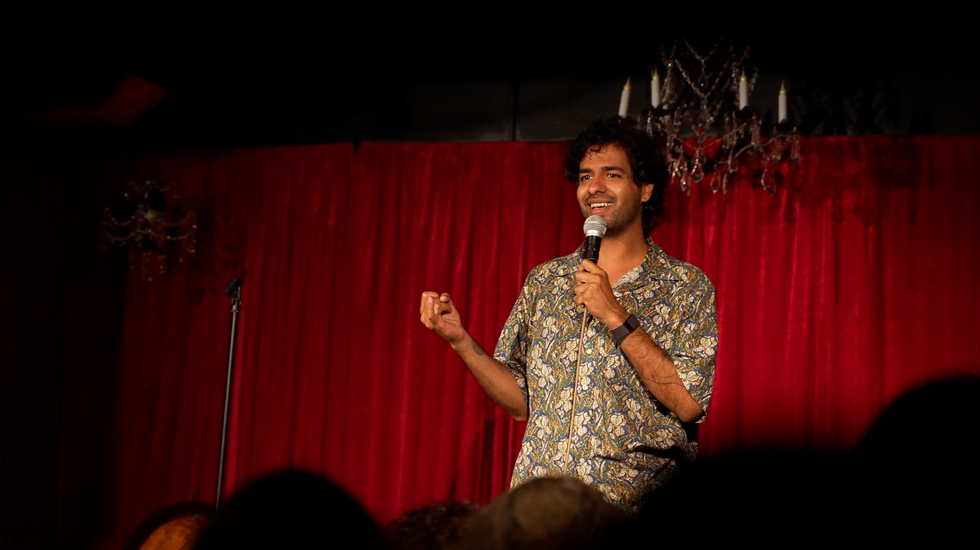 (Raza Jafri)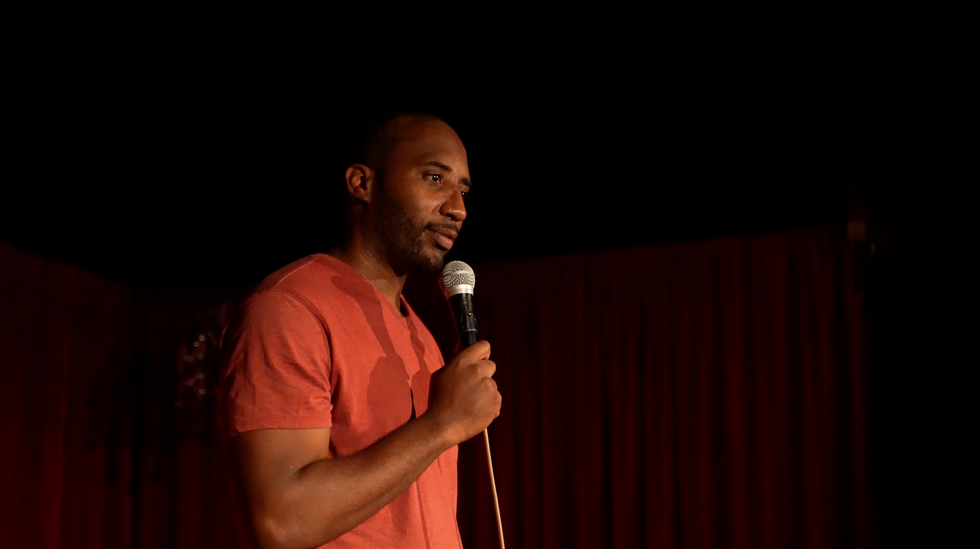 (Andre Ricks)
Jafri told Austonia he had already been doing stand-up for five years before he moved to Austin from Chicago in January 2021. He has been working to produce shows for Congress club Speakeasy since.
Though he never planned to move to Austin, clubs in all the major comedy cities had closed down due to the pandemic. Jafri said he felt it was his "only available option," but has found his place in Austin's comedy scene.
"Since I've been here, there's this feeling in the air that something special is happening in the stand-up comedy world," Jafri said. "Austin's comedy scene, although it's not nearly as big as New York or L.A., (it) definitely has a lot of high-quality people up top and a lot of independent shows that allow people to be able to level up quickly."
With a foot in the door in Austin's flourishing comedy world—brought in part by Joe Rogan's push for comedians to migrate here—Jafri told Austonia he and Ricks have been anxiously waiting to open their own establishment.
The club will showcase local, national and international talent in one-off shows and a residency program, which Jafri said has already been selected and will be ready to announce soon. Jafri said he hopes the club will help elevate local performers with paid spots, meaningful stage time and new connections.
"That kind of entrepreneurial attitude is quite prevalent in the Austin community right now with stand-up," Jafri said. "Everyone's producing shows and it's because such a mix of people have come from all over. Austin's making a name for itself on the national scale when it comes to stand up."
With only 40 available tickets per show, the venue is dark, mysterious and intimate with its eclectic courtyard and lounge furniture. Each ticket costs $20 for a two-hour show, comes with access to the open wine bar and is BYOB.
Jafri said he hopes holding the club at a historic venue will evoke a sense of "Old East Austin," though he wasn't here to see it.
"All these people who wanted to do stand up and had no outlet to do it in their hometowns migrated out here, so many of them have stayed and it's continued to grow," Jafri said. "If you're in the stand-up world, you can feel that there's a buzz happening here. East Austin Comedy Club is creating another kind of unique venue where performers can tighten their routine and have an intimate space just for stand-up."