Get connected with our daily update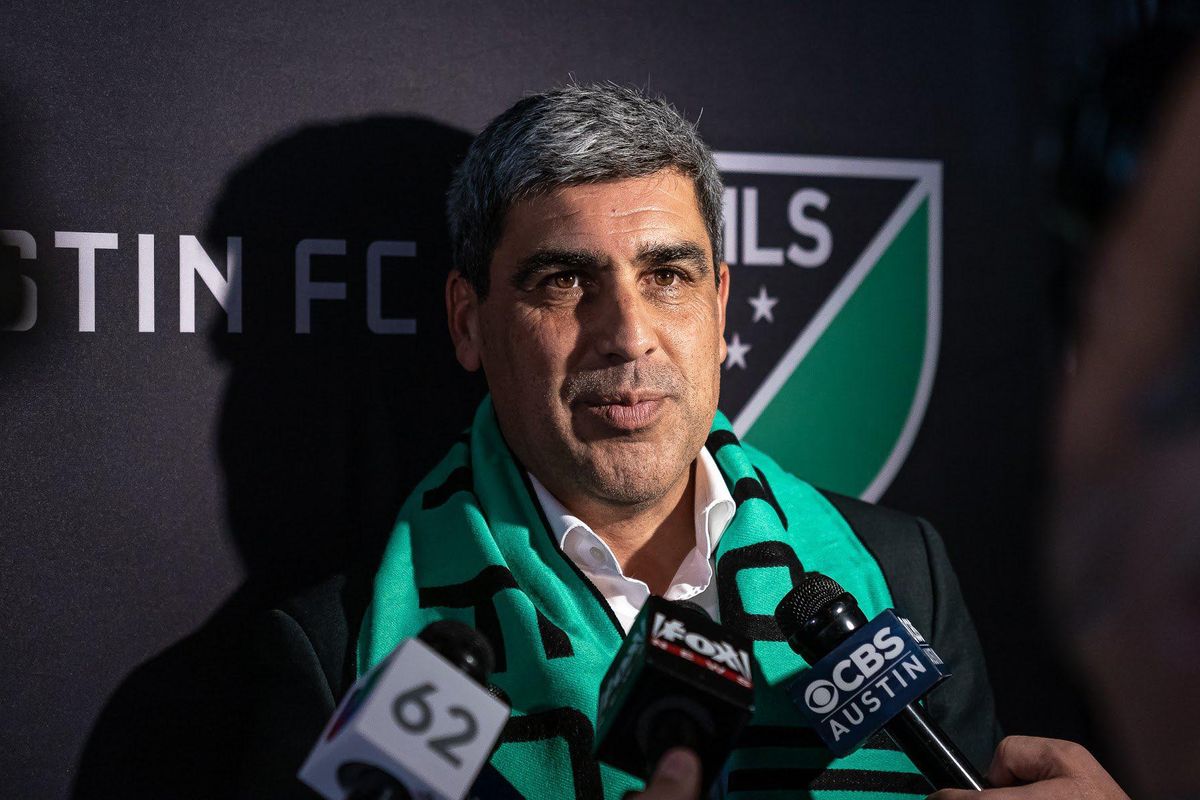 When Austin FC Sporting Director Claudio Reyna calmly took to the Q2 Stadium pitch to discuss Austin FC's second season Friday morning, he didn't look like someone scrambling to explain a new club's lackluster first season performance.

---
Perhaps it's because he's been here before. In 2015, the former international soccer superstar was faced with a similar burden: like his time with Austin FC, Reyna's first administrative gig as Sporting Director for NYCFC saw the new club struggle with up-and-down performances, including an 11-match losing streak, to finish third to last in the MLS East.
The club later reached the conference semifinals for Reyna's final four seasons with the team, and the lingering fruits of Reyna's labor were felt as NYCFC took home its first MLS Championship title in 2021.
With a second-to-last finish in the MLS West for its first season, it's hard not to see the parallels between Austin and Reyna's first team. For Reyna, the signs are everywhere as he looks to build a legacy of success for the club.
"So much of it really is just being able to learn from year one," Reyna said. "It's evolving similar to how it was at NYCFC... now it's about really ramping up the winning mentality."
A tale of two expansion teams
Austin's first season wasn't for the weak. One minute, the club was celebrating its first goal and first win all at once with a surprise 3-1 road victory over the Colorado Rapids; the next, the club was struggling through a streak of scoreless games at its home venue.
Similarly, NYCFC took its fans for a ride in its first season, dominating its first exhibition match and beating the New England Revolution in front of a packed stadium for its home opener before suffering a brutal 11-match losing streak later in the season.
Like Austin FC head coach Josh Wolff, NYCFC head coach Jason Kreis often bore the biggest burden for the team's misfortune. But while Kreis was let go just one season in, Reyna has applied a Zen-like patience to Wolff's first season as a head coach, and he's even more satisfied with Wolff's work in the offseason.
"He's always been a very good coach and good at running practices, but now it's beyond that," Reyna said. "He's much more comfortable, and you see him really be at ease with it... he'd be the first to admit that he's learned so much from his experience last year and he's looking full steam ahead for this season."
Comfort and competition
Unlike NYCFC, which spent the most of any expansion team in the past 10 years, Austin FC was frugal with its first roster.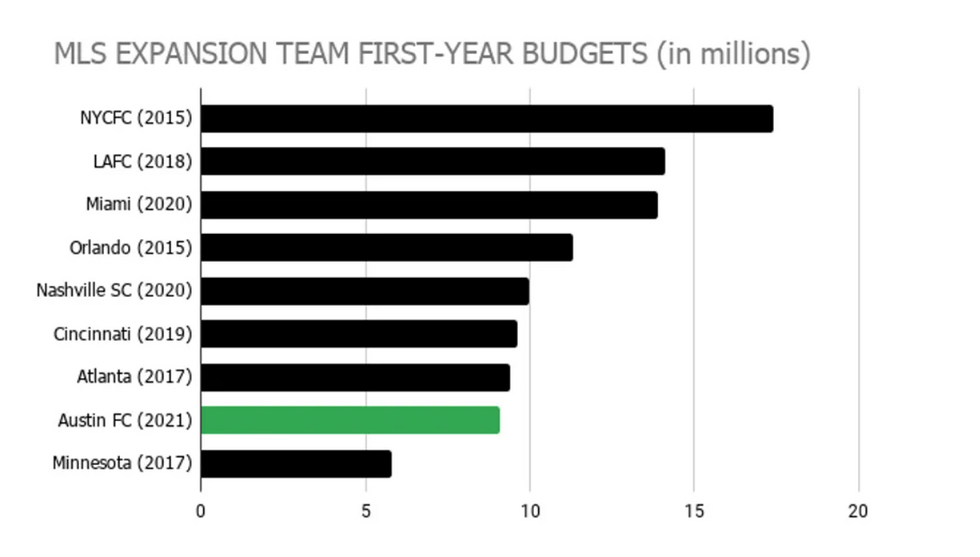 That decision soured as a series of injuries left Austin stretched thin just weeks into its season. But Austin FC has taken it in stride, patching the wound with two big-money recruits in Moussa Djitte and Sebastian Driussi midseason before making a string of recruitments in its first offseason.
While New York chose to pick a few former European league greats to carry its first lineups, Reyna said he looked to MLS vets, including renowned winger Ethan Finlay, Houston Dynamo striker Maxi Urruti and longtime MLS midfielder Felipe Martins to build leadership and stability in the club.
And aside from outlier Driussi's $2.7 million, Austin FC stuck to its guns, spreading its salaries more evenly among its crop of up-and-comers and under-the-radar players alike.
It's a recipe that has led to plenty of competition in each position, something Reyna said is a welcome sight after a year of injuries.
"That's something that was a priority for us," Reyna said. "Throughout the squad, we want to make sure that in every position, there are players fighting for their spots, and that's something we weren't able to do last year."
Both Reyna and Wolff's self-assurance in preseason interviews appears to be infectious. In addition to joining a new team and building a new identity from scratch (in the middle of a pandemic to boot), eight of Austin's 2021 roster flew straight in from countries on four different continents.
The adjustment can be tough: Reyna said former Designated Player Tomas Pochettino returned to Argentina on loan partially due to wanting to play back in his home country. But Reyna said Austin's remaining international players have grown more comfortable and cohesive ahead of season two.
Looking ahead
Antsy Austin fans can wait no longer for promises from the club. Wolff himself told Austonia he expects the team to reach the playoffs this season, and the club has shown new vigor in its 4-0 preseason win to Houston Dynamo and 1-1 draw to Mexican league champs Atlas FC in an exhibition match.
If Reyna's track record has merit, the club will be looking at more than just playoffs in its second season of existence. But as the Austin FC architect, he said he's "expecting success" that lingers for longer than just a winning season.
"It's not just for one year but really every year that's the goal," Reyna said. "It's (about) always being one of the best teams in the league."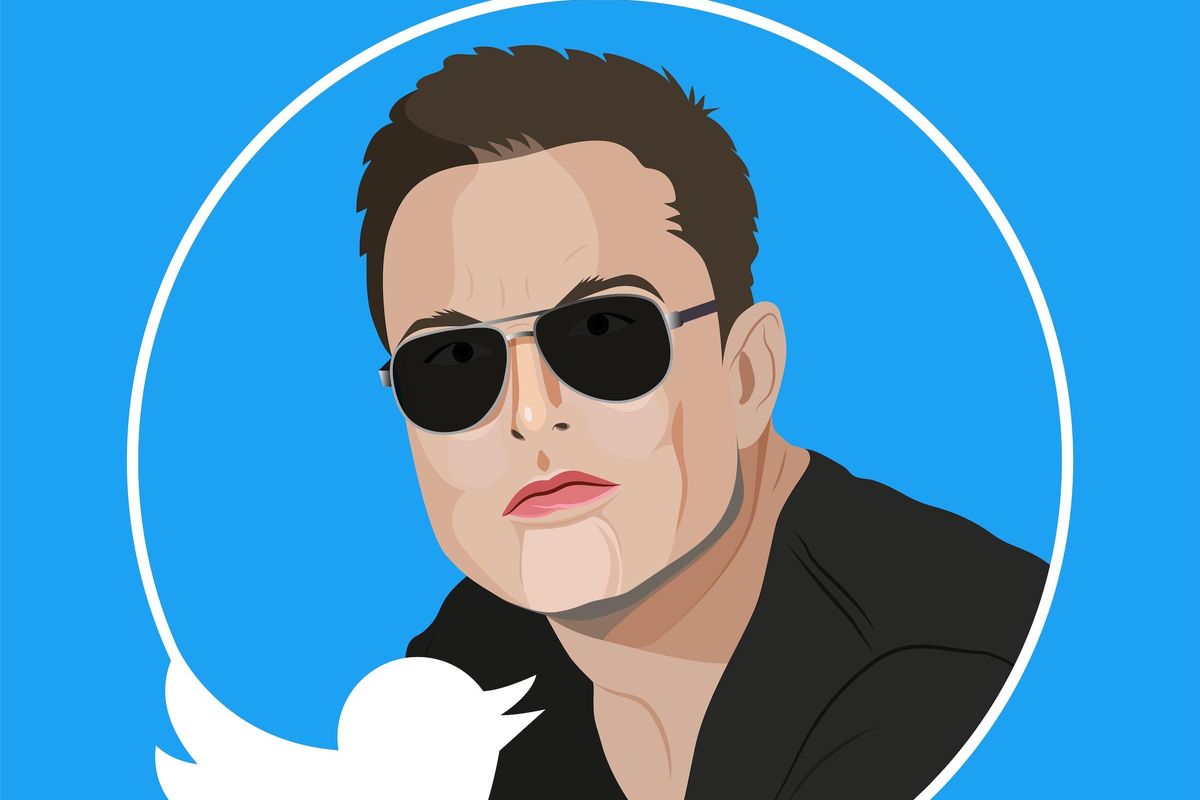 Shutterstock
Elon Musk has proposed once again to buy Twitter for $54.20 a share.
The news that Musk is offering to carry on with the $44 billion buyout was first reported by Bloomberg. Now, a filing with the Securities and Exchange Commission shows Musk made the proposal in a letter to the tech giant on Monday.
The New York Stock Exchange temporarily halted trading in Twitter stock twice Tuesday, first because of a big price move and the second time for a news event, presumably the announcement of Musk's renewed offer.
While the per share offer price on this latest proposal remains the same as the original offer, it's unclear if Musk has made other term changes or if Twitter would reject it. According to other reports, a deal could be reached this week.
The stock closed at $52.00/share Tuesday, indicating market uncertainty around the $54.20 offer.
After Musk informed Twitter of plans to terminate the original agreement in July, Twitter sued. A trial has been expected in Delaware Chancery Court on Oct. 17.
With the proposition of a buyout on the table again, it revives the question of whether Musk might move Twitter from San Francisco to Central Texas.
He's done so with some of his other companies. Tesla's headquarters in southeast Travis County had its grand opening earlier this year and tunneling business The Boring Company moved to Pflugerville. At least two other Musk companies, SpaceX and Neuralink, have a Central Texas presence without being headquartered here.
Technology journalist Nilay Patel this afternoon voiced concerns that owning Twitter and Tesla together could be problematic for Musk, as his Tesla manufacturing facilities in Germany and China are both in countries that have disputes with Twitter over content moderation and censorship.
Telsa shares fell after the Twitter news became public, before rallying to close up, at $249.44.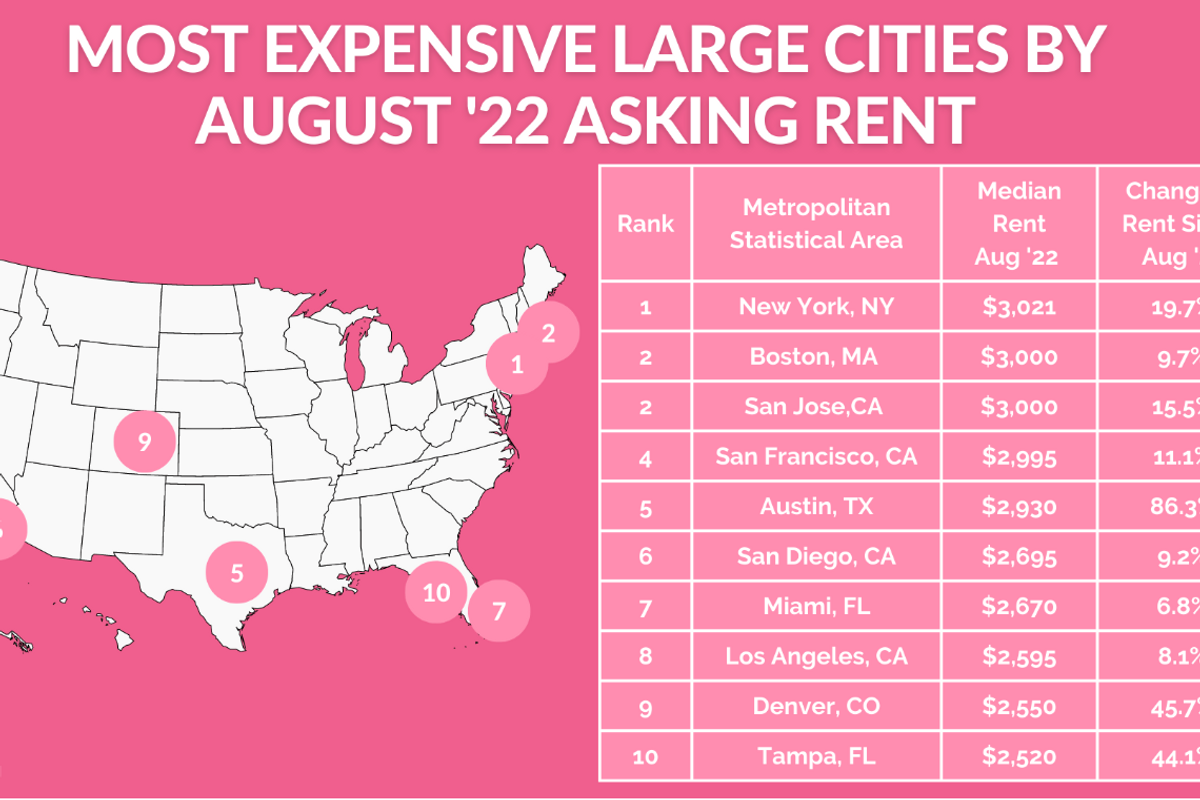 Dwellsy
While searching for a place to live, Austin renters will face monthly rates of nearly $3,000, a recent guide from rental marketplace Dwellsy shows.
The median rent in August this year was $2,930, a more than 86% increase since August 2021. That's $820 more than the nationwide median asking rent in August and puts Austin just below the Bay Area, Boston and New York for large cities with the most expensive asking rent.
"Within this group, Austin, TX stands out for the highest increases in asking rent, which has nearly doubled since this time last year," the study notes.
Outside of those large cities, however, others are seeing even higher rent spikes. Metro areas that ranked above Austin in one-year increases include those like Kansas City, MO with a 112% change in rent since last August and Tucson, AZ with a 124% change.
The data reflects large apartment communities, single-family homes and 2-6 unit buildings.