Get connected with our daily update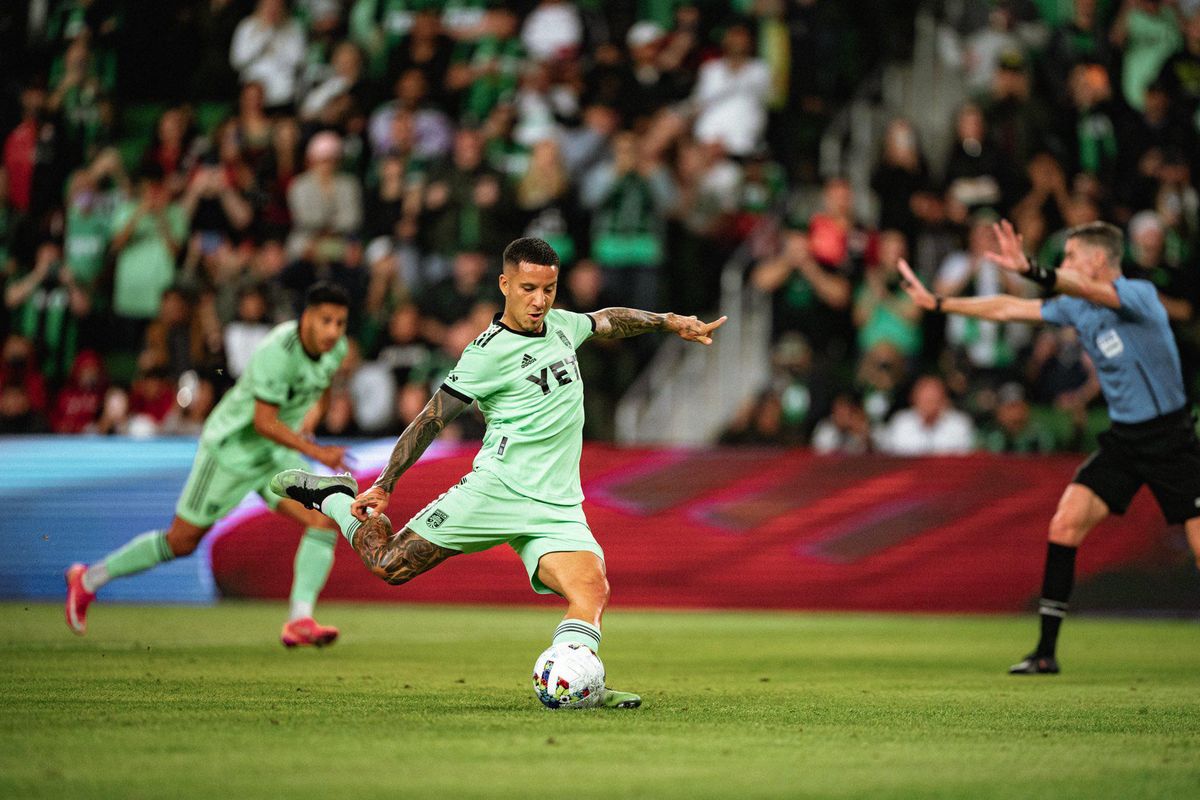 It may have just been an exhibition match, but Q2 Stadium was nearly packed to its regular season glory as Austin FC took a 1-1 draw to Liga MX champions Atlas FC on Wednesday.
---
The club was back in action with its first public match since November as hordes of fans in both Austin's signature Verde and Atlas' red flocked to the match.
While the game didn't count for anything in either league, it came as a welcome relief for many diehard Austin FC fans who were itching to once again put on their Verde gear. With an ever-rotating lineup, it was also chance for head coach Josh Wolff to iron out any kinks in the lineup and gain some momentum (and bragging rights) as the team preps for its season opener against FC Cincinnati on Saturday, Feb. 26.
From Verde fans to forward Sebastian Driussi's penalty kick goal, here are the biggest moments of the match:
Fans celebrate as Austin FC draws 1-1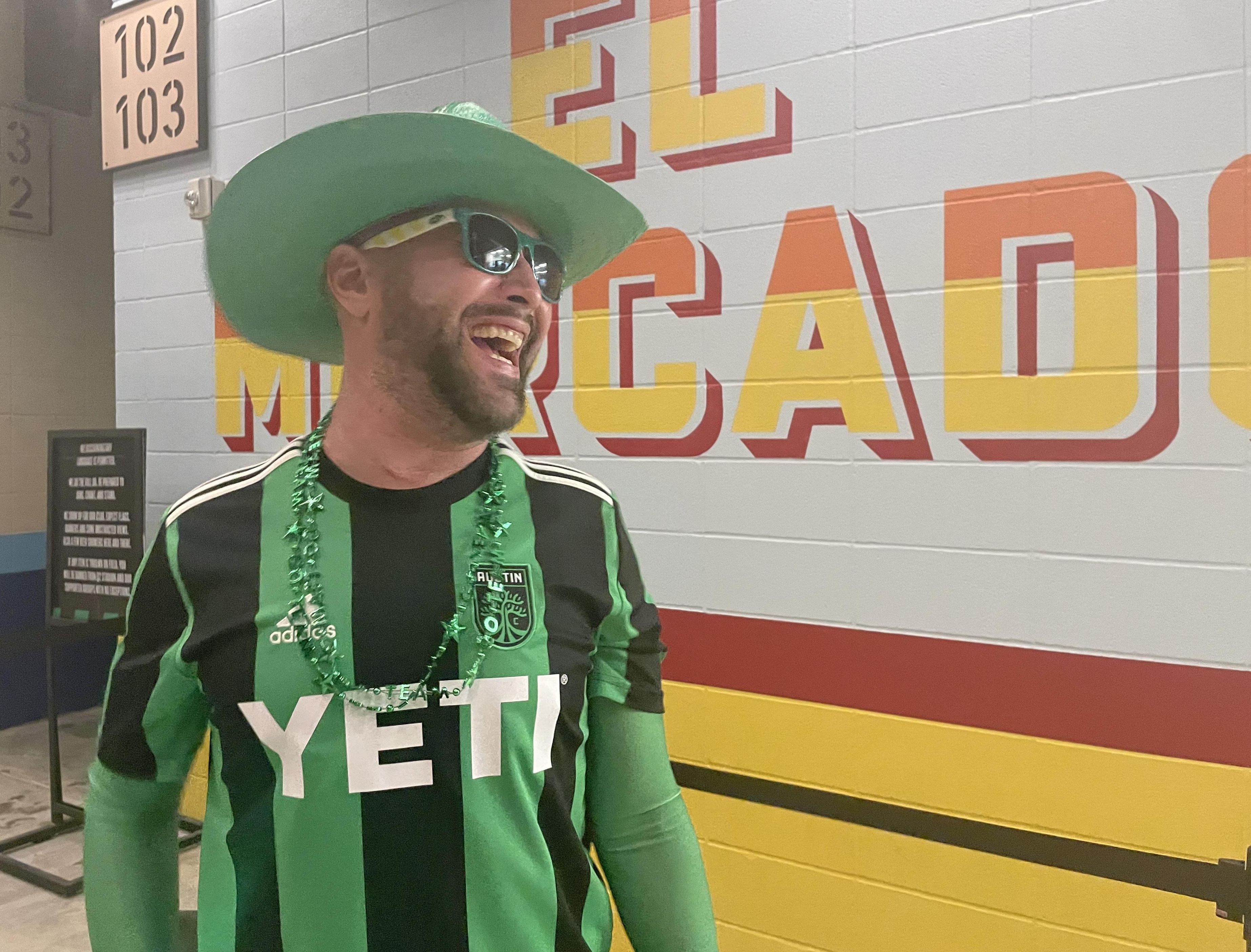 Austin FC fan Brad was happy to return to Q2 after attending every home match last season. (Claire Partain/Austonia)
Driussi's PK goal proved enough to keep Atlas at bay as Austin FC ends its first match on Q2 soil with a 1-1 draw to Atlas FC.
The Liga MX champions were successfully stymied by an ever-rotating cast of new and old Austin FC players.
Similarly, old and new fans alike flocked to watch the exhibition match. Some brought their babies for their first-ever match, while other "Day 1" supporters were happy to be back at the "biggest party in Austin."
Austin FC fan Brad, who chose not to disclose his full name, was decked out in light-up Verde getup as he cheered on his team from the supporters' section.
"I miss coming to the soccer games and sometimes forgetting that I'm at the game because I'm having such a good time," Brad said. "That's the best part about it."
Many fans were already decked out in the team's new "Sentimiento" mint green jerseys just a day after it dropped, including season ticket holder Brandon Ojeda. Ojeda and his girlfriend Victoria Zeman (who gifted him the jersey) are hopeful for this season after a 1-1 draw to the Liga MX champs.
"They're showing a lot more energy (and are) a lot more faster paced," Ojeda said. "So hopefully this year will be a little better."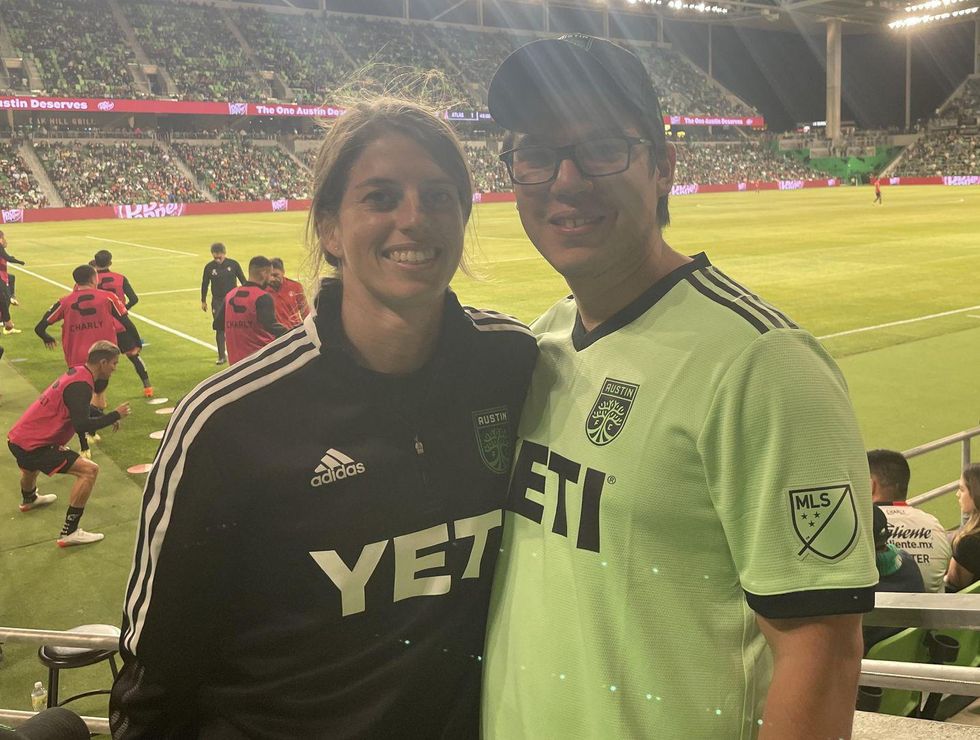 Already decked out in the new mint green jersey, fans Brandon Ojeda and Victoria Zeman are hoping for improvements this season. (Claire Partain/Austonia)
85' Austin FC scores!
85' | @SebadriussiOk slams it home from the PK spot!

Atlas 1 - 1 Austin FC pic.twitter.com/lkpxBzHwlv

— Austin FC (@AustinFC) February 17, 2022
With just minutes left in the match, star forward Sebastian Driussi managed to even the score as he won a penalty kick with five minutes to spare.
Austin's first Q2 goal of '22 came as a clever shot to the bottom left corner just in front of the supporters' section, which immediately erupted into cheers. Even though it's just an exhibition match, the goal was a welcome relief for fans who watched two straight scoreless home games at the start of last season.
46' Austin subs in its starters
63' | Several more #AustinFC substitutions.

In:
Jared Stroud
Alex Ring
Dani Pereira
Nick Lima
Julio Cascante
Žan Kolmanič
Danny Hoesen
Sebastián Driussi

Out: Everyone but Tarbell, Keller and Fagundez. 😅 pic.twitter.com/6NjFfCgvJx

— Austin FC (@AustinFC) February 17, 2022
Even in an exhibition match, Wolff isn't looking to disappoint the Verde horde. With a 1-0 deficit to start the second half, Wolff cranked it up with some vital subs including hustler Diego Fagundez and new standout center back Kipp Keller.
By the 63rd minute, the pitch was full of fresh faces. Taking right and left back were last season's starters Nick Lima and Zan Kolmanic alongside center Julio Cascante. Former No.1 SuperDraft pick Danny Pereira and Captain Alex Ring joined the midfield, while Jared Stroud, Sebastian Driussi and striker Danny Hoesen filled out the front. This is Hoesen's first-ever appearance at Q2 after a devastating injury left him out for the season just three matches into last season.
Atlas fans show their pride
Some groups show a mix-and-match of colors, but a small, vocal section in the top right is showing its allegiance to Atlas.
Fans like Rosales and Enrique Hernandez are showing their pride for the Liga MX champions with flags, face paint and more.
But Hernandez, who showed up with a group in Verde and red, is still an Austin fan through and through. He's hoping to see the team advance to the playoffs after being disappointed this season.
"We can't be any worse," Hernandez joked. "I think we have the team to make it to the playoffs (this season)."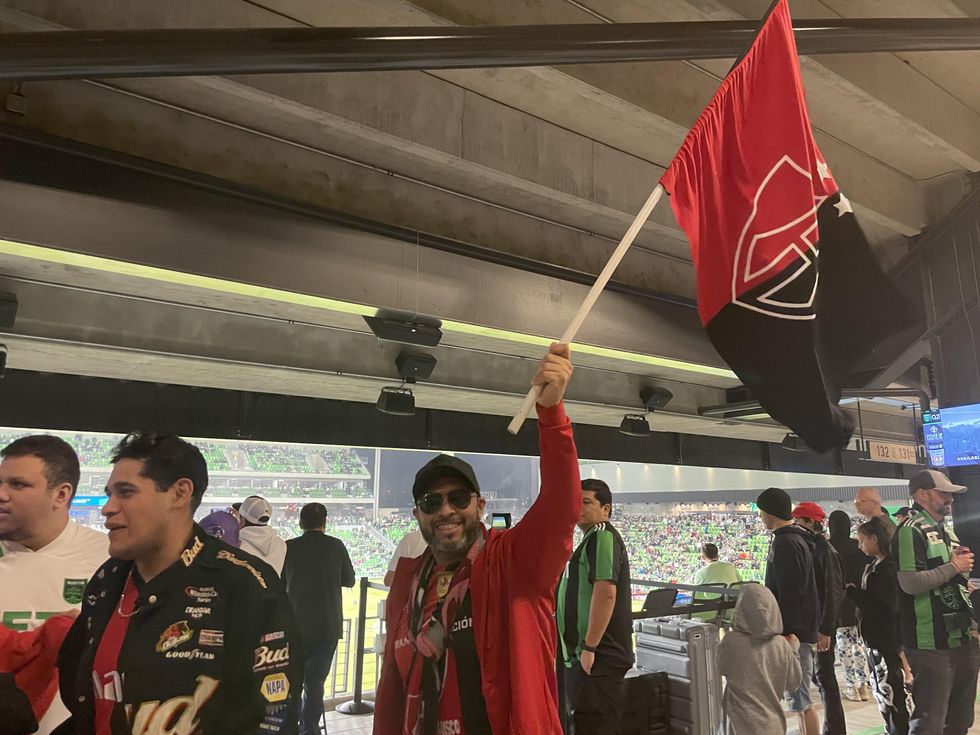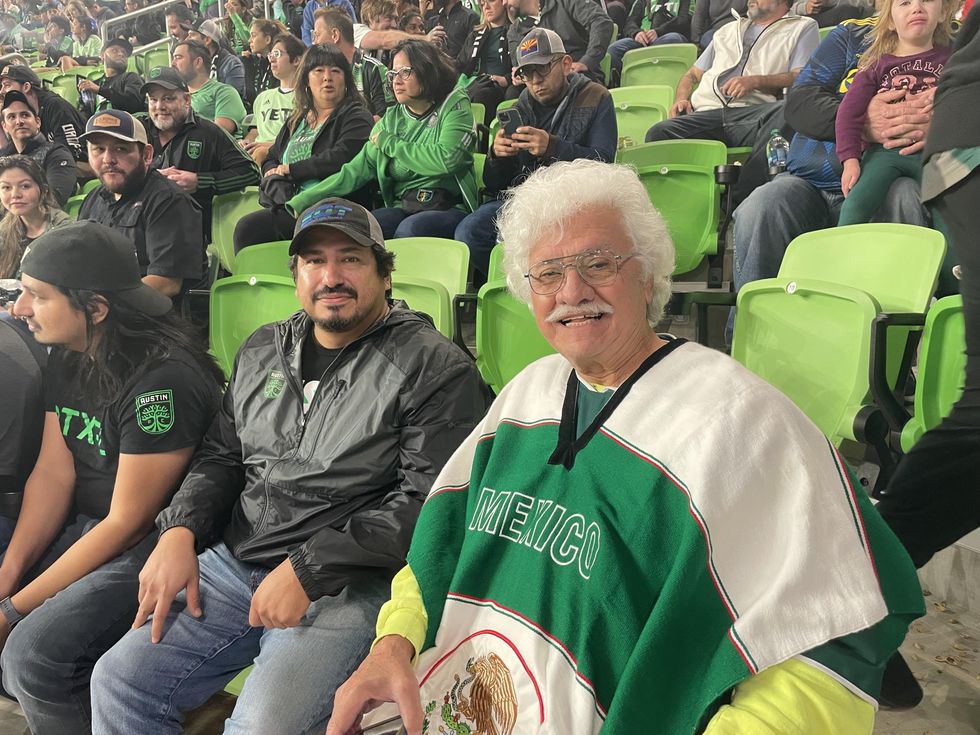 39' Atlas scores
El campeón Brayan Trejo anotando por primera vez en el Q2 Stadium!!! ⚽️❤️🖤 pic.twitter.com/TO839tydEJ

— ⭑ Atlas FC ⭑ (@AtlasFC) February 17, 2022
After almost a full half of back-and-forth play, it was Atlas' Brayan Trejo who broke the silence with a well-aimed shot past diving Austin FC defenders to score in the 39th minute of the match.
With plenty of red dotted in the mix, Austin FC fans look like the colors of Mexico's flag from afar, and many fans are bridging their allegiance to both teams.
Austin FC Jose Rosales has lived in Austin for over 20 years. But for just this match, Rosales' Verde-and-white poncho is a nod to his home country of Mexico.
"Today, it's Mexico," Rosales said.
29' Back-to-back saves keep it scoreless
Despite some close calls on either side and a yellow card to Atlas that gave Austin a free kick near the box, both goals remain clean into the 30th minute of play.
Austin's Andrew Tarbell plugged a possible Atlas score with an outstretched hand to keep it scoreless after an Atlas breakaway left him nearly defenseless. Less than a minute later, Atlas' keeper was tested as well, but neither offense managed to score the first of the match.
Despite some good chances from the Austin offense, home team's defense has seen some minor errors and speed issues that may reflect lingering weak spots from last season.
Starting lineup
Taking the pitch tonight against @AtlasFC. #AustinFC x @YETICoolers pic.twitter.com/2ry8PxhFMi

— Austin FC (@AustinFC) February 17, 2022
Austin's giving less seasoned Verde players the chance to get exposure tonight. Subbing in for starting keeper Brad Stuver is Andrew Tarbell, while Jon Gallagher is using his Swiss Army knife versatility to sharpen his skills at right back.
Filling out the back is Freddy Kleeman and first season starter Jhohan Romana at center back and Hector Jimenez at left back.
Newcomers Jhojan Valencia and Felipe will join Wolff's son, Owen Wolff, at midfield, while Rodney Redes and veteran Ethan Finlay will fill out the wing positions for striker Moussa Djitte.
What to expect
This is Austin FC's first public match since the lackluster end to its first season in November. Since then, the club has bolstered its lineup with new players while thinning out a few of its original members.
If you picked Tomas Pochettino or McKinze Gaines for your Verde jersey last season, you might be disappointed: both left the club in the offseason. In Pochettino's stead at midfield are newcomers including Colombian midfielder Jhojan Valencia and 10+ year MLS vet Felipe Martins, while the front end has been strengthened with new recruits including former Houston Dynamo scorer Maxi Urruti and winger Ethan Finlay.
New center back Ruben Gabrielsen likely won't get a chance to play tonight—he arrived from his native Finland Tuesday night. But No. 5 MLS SuperDraft pick Kipp Keller likely will, and he's proven himself in the two preseason matches so far.
Austin FC is coming off a 4-0 win in an exhibition match against Texan foe Houston Dynamo on Saturday, but they face much steeper competition in Atlas FC: the team is the current champion in the highly competitive Mexican professional league, Liga MX, after winning the winter league (Apertura) championship in December.
Expect neither team to stick to its starting 11. Atlas has already started its spring season, so the club won't be looking to hurt any of its top players. Austin FC, meanwhile, will look to dust off its cleats and use the match as a dress rehearsal for the team's home opener against FC Cincinnati on Saturday, Feb. 26 at Q2 Stadium.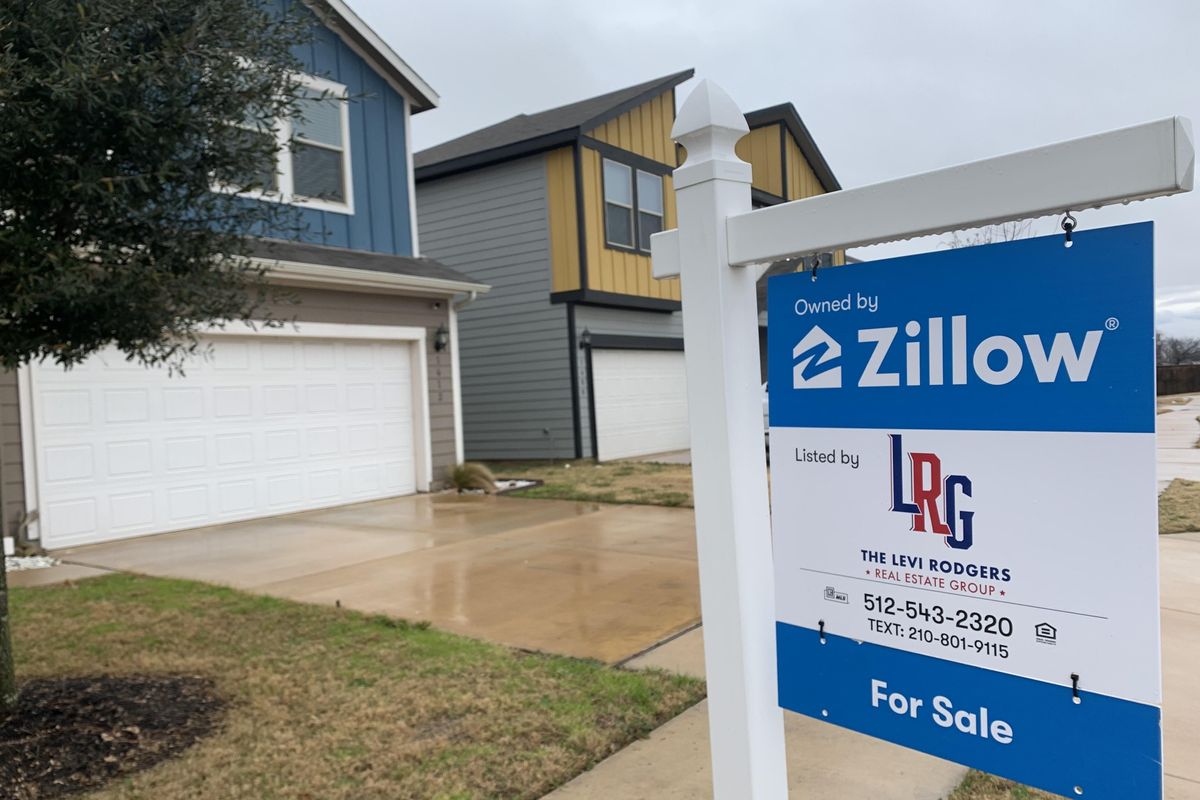 Austin is one of the top metro areas where homebuyer income saw the greatest surge during the pandemic and it came at a cost to locals.
A new analysis by real estate services firm Redfin reports that affluent out-of-towers have contributed to surging home prices in metros like Austin. Due to this trend, Redfin notes, many local buyers with lower incomes have been priced out.
"For white-collar workers earning high salaries, remote work is a huge financial boon," said Sheharyar Bokhari, Redfin senior economist. Jobs with that flexibility, Bokhari says, enable them to move from a tech hub like San Francisco to a more affordable part of the country where they can get more home for their money and even put some toward a rainy day fund.
"It can have the opposite effect on locals in those destinations–especially renters–who are watching from the sidelines as home prices skyrocket while their income stays mostly the same," Bokhari said.
In Austin, the median homebuyer income surged 19% from 2019 to 2021, ultimately reaching $137,000. In that time, the median home price growth was 48%, just behind Boise, Idaho which was more than 50%.
But the housing market is starting to slow. Redfin says high mortgage rates and unsustainable price growth have driven demand down. In fact, Austin is among the 20 housing markets that have cooled the fastest in the first half of this year.
"People are still moving in from California and they still have enough money to buy nice homes in desirable neighborhoods, sometimes with all cash," said Austin Redfin agent Gabriel Recio. "But the days of homes selling for 25% over asking price with multiple offers are over. Buyers are no longer as eager now that mortgage rates are up and there's buzz in the air about the slowing housing market."
As a result, Recio says, local and out-of-town buyers have an opportunity to buy a home at the asking price or even under.
Redfin carried out its analysis using data from the home mortgage disclosure act to review median household incomes for homebuyers who took out a mortgage, though it doesn't include buyers who paid using all cash.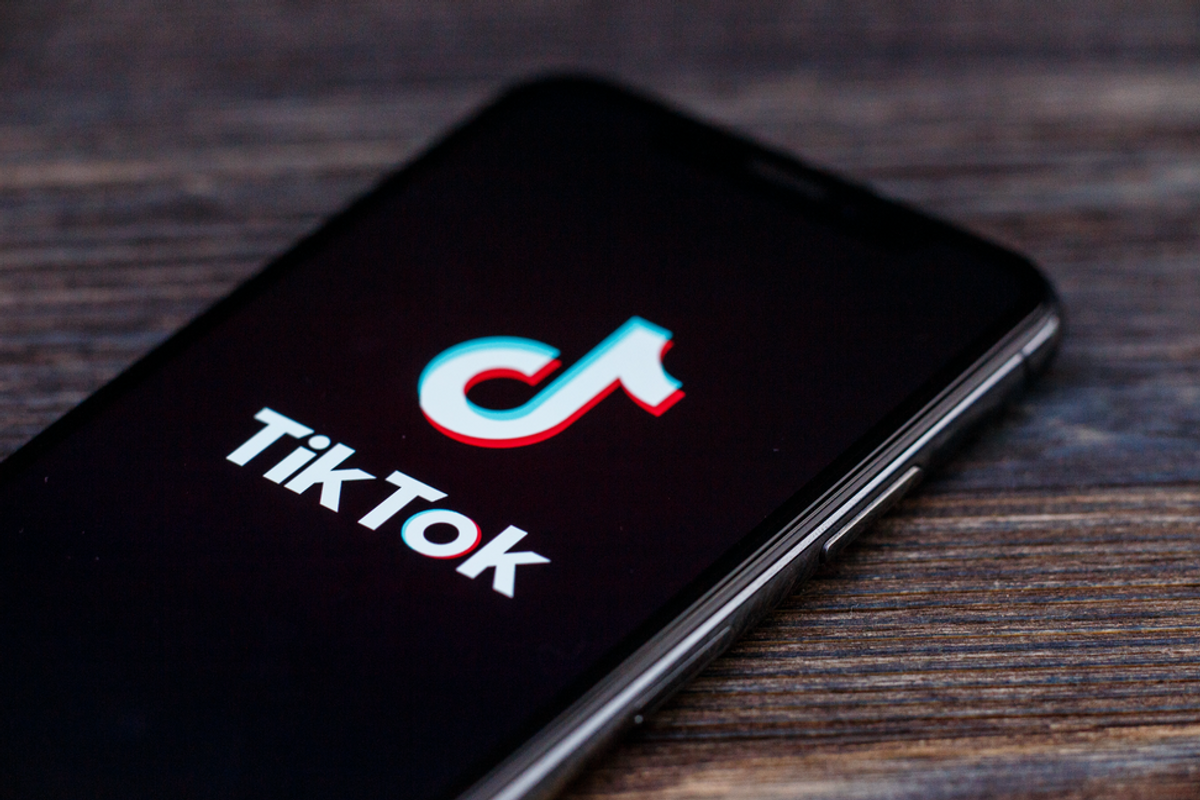 School is back in session—do you know the latest TikTok trends?
With Austin ISD resuming session on Monday, school officials are keeping tabs on the newest TikTok trends that could pose classroom disruptions and property damage.
TikTok trends swept through Austin-area schools last year with the "Devious Lick" challenge, which encouraged students to steal from school property and reportedly caused $15,000 in damages at Round Round ISD; and the "slap a staff member" challenge.
On the distraction end, a substitute teacher was dismissed from Bowie High School in December after bringing in a karaoke machine to class and singing Britney Spears' "Toxic" for the class on TikTok.
Officials told KXAN they are staying aware of the trends as they change during the 2022-2023 school year and the district will investigate perceived threats. Since TikTok trends vary in severity, they will also evaluate to see which trends could cause harm or not.
Finally, the school district said it does not tolerate violence or bullying and will focus its efforts on protecting students both physically and digitally.