Austonia AM
100% Austin news, info, and entertainment, straight to your inbox at 6 a.m. every morning.
In five minutes, you're fully informed and ready to start another great day in our city.
Get connected with our daily update
Austin FC may have been 'scoreless in Seattle,' but they'll still tack on a point in the rankings and a boost in confidence after forcing the Sounders to their first shutout of the season on Sunday.
---
With a dwindling roster due to injuries and two straight scoreless losses, Austin FC needed a pick-me-up as they headed to the West Coast. This match did not seem to be the cure: the Sounders are one of two undefeated clubs in the MLS, and the team sits atop the West.
Head coach Josh Wolff said Seattle is the best team in the league. "There's no doubt about it," Wolff said.
The clubs' infamy makes the scoreless draw that much sweeter for Wolff and Austin FC. "I think it gives our guys a bit of satisfaction that we could come here, roll up our sleeves a bit and compete."
Austin started slow in their David-and-Goliath match, losing in possession for the first time this season as Seattle latched onto the ball for 63% of the first half. They also faced the formidable Raul Ruidiaz, who is second in goals only to Chicharito in MLS, and an unconventional 3-5-2 lineup that threw Austin off at the start of the match.
Seattle has steamrolled competition in offense, while Austin lost defenders Jhohan Romana, Ben Sweat and Hector Jimenez to injuries on the road. Even with several men short on the bench, however, Austin's back line shone.
Center back Matt Besler, who saw his 300th regular season appearance this match, kept the holes plugged as he prevented Ruidiaz and Christian Roldan from sneaking one in goal.
Austin FC captain Alex Ring said that the club has adjusted to the rotating door on the back line and is working on recovery.
"No one's going to help us but ourselves," Ring said. "We have to dig ourselves out of the hole we put ourselves in. We know we can trust these guys even if they haven't had a couple of games to do their best and I think that was important for us today."
Both clubs had just a few shots on goal as they headed into the 77th minute of play, when Sounders players flooded the box that Austin FC keeper Brad Stuver had fought so hard to protect. Seattle's Fredy Montero pinballed one in, and the match looked to be 1-0 Sounders.
In a twist of fate much like last week's match, when Austin's Jared Stroud lost a chance at his first goal with the team to an offsides call, Ruidiaz was ruled offsides.
Austin would leave the match 0-0, losing an opportunity to win but earning a point in MLS rankings.
The club takes on Sporting Kansas City for a rematch in their final road test before their home opener on Saturday, June 12, three weeks after Austin lost 2-1 to the club.
The match saw Ring receive his first career red card and many blamed the captain for the loss. In a rare stroke of vulnerability, Ring apologized for the red card and the events that unfolded after.
"I'm going to apologize because I always play my everything for the team," Ring said. "I take the responsibility for that. I know that the club supports me and they know I always give my best."
Ring said the club fell into a slump where they lost their identity, but they're back on track as they head into the rematch.
"When you play on our team, when you come to Austin, you run your ass off and you play with your heart on your sleeve," Ring said. "We play together."
Texas voters are split on whether Gov. Greg Abbott should run for a third term and whether Matthew McConaughey should run at all. But Democrats are clear: they want to see Beto O'Rourke on the ballot.
These are the findings of a Quinnipiac University poll of registered voters released this week.
Abbott and McConaughey received the highest favorability ratings of the elected officials, candidates and potential candidates, according to the Quinnipiac poll.
Abbott: 49%
McConaughey: 42%
O'Rourke: 34%
Former Texas GOP Chair Allen West: 25%
Former Texas senator and Republican challenger Don Huffines: 8%
Overall, 48% say Abbott does not deserve to be reelected to a third term compared to 46% who say he does. "A Trump favorite in a state that is turning less red in recent election cycles, Abbott has a decent but in no way overwhelming grasp on reelection," Quinnipiac University Polling Analyst Tim Malloy said in a press release.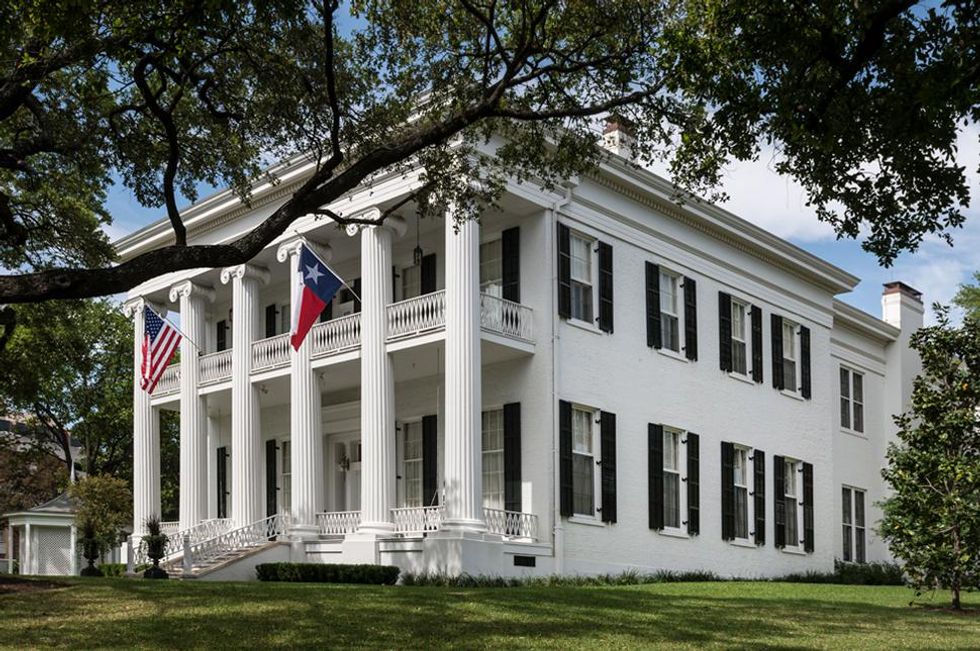 Abbott, McConaughey and Beto O'Rourke could vie for governor in 2022. (Office of the Texas Governor)
Voters are also divided on Matthew McConaughey, who is reportedly considering a gubernatorial run. Forty-one percent of voters say they would like to see him run, compared to 47% who say they wouldn't.

The poll found that Democrats and Independents favor the Oscar-winning Austinite, whose party affiliation is unclear. Forty-seven percent of Democrats would like to see him run, compared to 43% who wouldn't. Forty-four percent of Independents would, compared to 43% who wouldn't. Republicans, on the other hand, say 60%-29% they would not like to see him run.
Another possible candidate is former U.S. Representative and presidential hopeful Beto O'Rourke, who is also reportedly mulling a bid. Overall voters say 52%-41% they would not like to see him run for governor. But 77% of Democrats and 50% of Independents would, according to the poll.
"McConaughey and O'Rourke may still be on the fence, but their numbers suggest they have the attention of voters," Malloy said in the same release.
Austinites will soon be able to train like some of Hollywood's biggest stars as F45, a fitness franchise backed by major celebs, like Mark Wahlberg and David Beckham, is on its way to Austin.
F45 listed Austin as the location of its corporate headquarters in a June 21 federal filing—a big shift for the California company. The fitness franchise is preparing for its initial public offering, which will be as an Austin-based company.
F45 will be one of many California companies—Tesla, Oracle and Samsung—that have recently expanded in the Capital City. The company has several famous investors on its side—famed basketball player Earvin "Magic" Johnson and golfer Greg Norman in addition to Wahlberg and Beckham.
The fitness company is opening a 44,000-square-foot headquarters, located at Penn Field on 801 Barton Springs Road, with a lease running through 2029. F45 was one of the early adopters of Austin-based real estate-technology platform AnthemIQ, helping tenants find commercial real estate.
F45 focuses on one-on-one 45-minute workouts, which patrons watch on in-studio displays. With 2,247 franchise agreements spanning across 63 countries, F45 also has offices in Australia and England.
"We believe this flexibility will enable us to capitalize on our estimated long-term global opportunity of over 23,000 studios," the company said in its filing.
The greater Austin area already has 11 F45 locations, which take up 1,600 square feet of space each.
From Your Site Articles
Related Articles Around the Web