Get connected with our daily update
Austin FC officially tanked to the bottom of the MLS Western Conference after a lackluster performance against No. 1 Seattle Sounder's bench players last week, disappointing even the most hardcore fans who have been looking for another breakthrough for weeks.
But there could be light at the end of the tunnel.
---
Just as the club received scrutiny for their loss against the youngest MLS lineup ever and lack of scoring options, South American transfer expert Cesar Luis Merlo reported that Argentine Sebastian Driussi would be transferring to the club. The announcement comes after rumors of interest in Driussi, who plays in the Russian Premier League, swirled for weeks.
🚨🚨Sebastián Driussi jugará en el Austin FC 🇺🇲.
*️⃣El club de la MLS pagó la cláusula acordada para su salida y los abogados ya trabajan en la confección de su contrato.
*️⃣Su oficialización es cuestión de ⏳. #trarohecho pic.twitter.com/95qS6KJ1UH
— César Luis Merlo (@CLMerlo) July 26, 2021
Merlo, who broke the news on Twitter on Monday, last reported the signing of Austin FC's Tomas Pochettino from Argentina.
While Austin FC hasn't confirmed the move, Driussi's former club FC Zenit reported on the transfer on Monday afternoon.
Driussi joins new signee Moussa Djitte, another forward and true striker from Grenoble, as new intriguing answers to Austin's cry for help.
Scoring woes
It's no secret that Austin isn't putting the ball in the back of the net: the club has been shut out for eight of its last ten matches, just two of which have taken place within its stadium walls. Head Coach Josh Wolff has endured the brunt of explaining the team's scorelessness, admitting the team's lack of scoring every week with a slightly deeper frown etched on his face.
"From a goal-scoring standpoint... it's been lackluster and poor," Wolff said after the 1-0 Seattle loss. "The reality is that we haven't scored goals... you've got to score goals to win games."
While some criticism toward Wolff's strategy, a lack of urgency and poor decision-making on the pitch are warranted—and have been freely expressed by frustrated fans and haters—the team has been even worse off due to its constant slew of injuries.
The team has been without a solid striker at least since frontman Danny Hoesen was declared out for the season due to a hip injury. Even before his injury, Hoesen had failed to solidify himself as the team's offensive leader, while teammate Jon Gallagher showed spurts of greatness but couldn't find consistency.
Gallagher himself scored the first Q2 Stadium goal with an injured foot and was out for a few weeks, as have been Captain Alex Ring, midfielder Tomas Pochettino and center back Matt Besler. Starters including midfielder Daniel Pereira, left back Ben Sweat, right back Nick Lima are among the six still stuck on the bench.
With injuries and a learning curve to boot, Austin has scored just 10 goals this season—tied for the least in the conference. While Dominguez and surprise star Diego Fagundez have scored three goals apiece, the out-of-position players haven't been able to heal the holes in the lineup and beat veteran MLS opponents.
Even after a breakout 4-1 over Portland that injected new energy into the team, Austin has been subject to critics who fairly wonder when the club will right its sinking ship.
First summer signing: Moussa Djitte
DONDE ESTÁ DJITTE?!?!?

HAVE YOU SEEN DJITTE?!?! pic.twitter.com/ssMfTdby1v

— WeAreAustinTV (@WeAreAustinTV) July 23, 2021
Wolff and Sporting Director Claudio Reyna have long had plans to get a boost in the summer transfer window, and the need for scoring help became increasingly evident as the season progressed.
Djitte, a 21-year-old striker in the French Ligue 2, was announced as a U-22 signee with an undisclosed transfer salary on June 30.
Djitte comes from Grenoble in the French league, where he scored eight goals in 35 appearances last season. The striker also spent time with FC Sion in the Swiss Super League but is originally from Senegal, where he played for ASC Niarri Tally in Dakar. He also represented Senegal internationally, making his debut for the Senegal U-20 team and scoring the only goal in his first match with the U23 team in 2018.
Wolff and crew hoped for Djitte's arrival by the July 22 match, but to no avail. As the club once again failed to put points on the board, fans continue to impatiently await his arrival as Djitte's paperwork is sorted out.
The pressure's on for Djitte, who some have called the club's only hope. But that burden is put twofold on Driussi, who holds more experience and acclaim than his new younger teammate.
Second signing: Sebastian Driussi
Sebastian Driussi: "Thank you from me and from my family. St. Petersburg is an amazing city and Zenit is a fantastic club. Maybe one day we will meet again!"@SebadriussiOk has a farewell message to the club and the fans

📧 https://t.co/urgPQxvcVr pic.twitter.com/Yr1AbBsQvj

— FC Zenit in English✨ (@fczenit_en) July 26, 2021
Driussi has an even more decorated history under his belt. An Argentina native, the forward spent five seasons with Primera Division member River Plate, scoring 17 goals in his final season with the club before transferring to the Russian Premier League. While with FC Zenit, Driussi helped the club to the Russian Cup Championship in 2019 and scored 21 goals in four seasons with the team.
Driussi has already been lauded as a saving grace for Austin's stagnant offense, but it will be a minute before he steps onto the pitch in Verde. Djitte is expected to fly to Austin this week, but both players will need to quarantine before they can suit up onto the Q2 Stadium turf.
Time will tell whether or not the two turn the tables for Austin before it's too late, but the new faces are sure to bring back excitement as Austin reaches the halfway point of its first-ever season.
Officials are asking certain residents in Bastrop State Park to evacuate as crews work to put out a "very active fire" that is currently 0% contained.
The Texas A&M Forest Service has responded to help local fire departments with the Rolling Pines Fire at 100 Park Road 1A, which is consuming 300 acres. Residents of Pine Hill Drive, Pine Tree Loop, Linda Lane and Lisa Lane are being asked to evacuate.
Aviation resources have been called to assist.

According to the Bastrop County Office of Emergency Management, the wildfire sparked during a prescribed burn that took place today, despite wildfire warnings. Park Road 1C from Harmon Road to Park Road 1A had been closed for the prescribed burn.
The blaze is in the same location as the Bastrop Complex Fire of 2011, which burned for 55 days, killing two people, destroying 34,000 acres and around 1,700 homes and buildings. The fire, which started in 2011, became the most destructive wildfire in Texas at the time.
A hotbed for fires, the Hidden Pines Fire started at the same location in 2015, destroying 4,600 acres and 64 structures.
Some road closures have been put in place at State Highway 21 South Shore Lake Bastrop and East State Highway 21.
This is a developing story and will be updated as information becomes available.
After months of record-setting periods for Austin real estate, the Austin Board of Realtors announced Tuesday that the metro's housing market accounted for over $23 billion of economic activity in 2021, making it the biggest year yet for both home sales and median home prices in the metro.
The Austin-Round Rock MSA saw 41,316 homes sold in 2021, 2.5% more than a record-setting 2020. Median home prices skyrocketed as well, rising 30.8% from 2020 to $450,000. The housing market also saw unprecedented impact on Austin's economy, with sales dollar volume jumping to over $23.38 billion, and more homes hit the market in 2021 than any previous year, increasing by 5.9% to 46,449 total homes listed.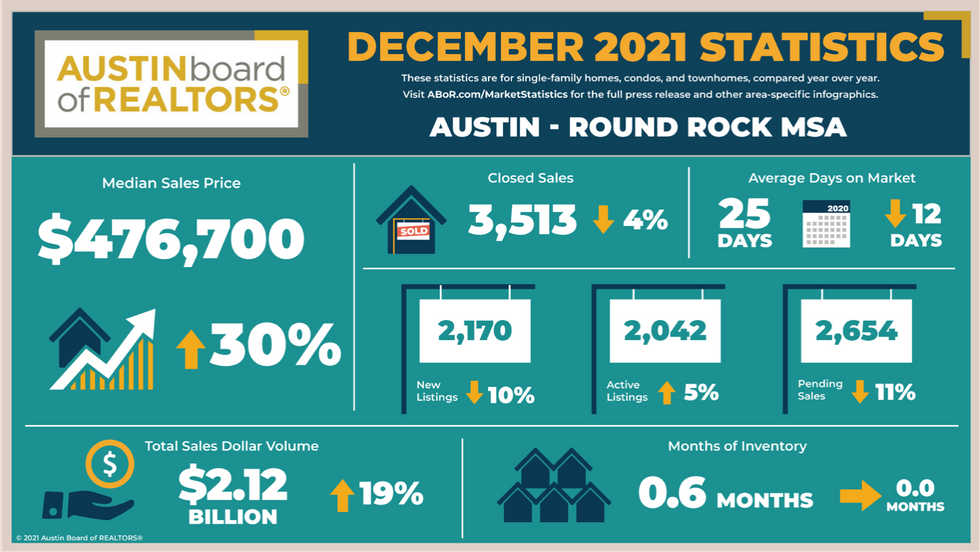 (Austin Board of Realtors)
As many recent Austin homebuyers have experienced firsthand, Austin Board of Realtors 2022 President Cord Shiflet said 2021 was the most "exciting, complicated, fast-paced and record-setting housing market" in Austin's history.
Shiflet dubbed the market as "complicated" for a reason—Austin became a case study on supply and demand in 2021, with demand far outpacing the number of active listings, which dropped by 48.2% to 2,348 homes in 2021.
The metro ended the year with 0.6 months of inventory, a far cry from a "healthy" six-month supply, and houses were snatched at breakneck speeds, spending 25 fewer days on the market when compared to 2020. The average home was on the market for 20 days.
But low inventory is more due to high demand than a stagnant homebuilding market, Mark Sprague, Independence Title's state director of information capital, said in the report.
"In 2021, the record number of homes sold were demand-driven transactions and that demand was influenced greatly by companies continuing to target the region for job creation and expansion," Sprague said. "Even though more homes are being built, listed and sold than ever before, our region is still nowhere close to having a comfortable amount of supply to meet the demand, which is why home prices continue to rise steadily."
Over 23,000 jobs have been promised by companies across the metro as of December 2021, breaking the 2020 record, according to Opportunity Austin, the economic development arm of the Greater Austin Chamber of Commerce. With an influx of major factories and offices, including Tesla's Giga Texas, Samsung's Taylor plant and a planned 33-floor Facebook office, Sprague said the region's booming market paired with a struggling inventory and supply chain issues could be a double-edged sword in 2022.
"In short, 2022 will see a robust market for home sales and property values, but the region must do more to address inventory, " Sprague said.
Shiflet recommended that potential homebuyers make a decision ahead of predicted increases in interest rates and home prices and said that he hopes local politicians will continue to prioritize affordable housing in the election year.
Still, Shiflet said a record-breaking housing market reflects Austin's growing reputation as a hub for talent, tech jobs and a good quality of life.
"With all the new jobs across the region from exciting companies like Tesla and Samsung, Austin was put on the world's stage and captured the hearts and attention of so many," Shiflet said. "We are lucky to call Austin our home when it has so much to offer from a great quality of life to a wonderful destination for innovation and opportunity."