Get connected with our daily update
Austin FC's roster is stocked with guys in all different stages of life, but nearly all stick to a similar mantra: "family comes first (and) soccer comes second." For nine Austin FC athletes, that means balancing hours of grueling work with fatherhood off the pitch.
---
That lifestyle became apparent when Matt Besler, the club's starting defender and one of the best center backs in MLS history, stayed home for Austin's second-ever match to witness the birth of his son Miller. Besler had already missed the birth of his first daughter and wasn't going to miss one again.
"It's in God's hands of when the baby's going to come, and you do your best to plan as much as possible, but in the end, it usually never works out that way," Besler said. "We just felt like it was better for me to just stay back and not travel because you don't want to regret missing that."
Besler's wife, Amanda, and two daughters joined him on his journey to Austin after 12 years with Sporting Kansas City. Balancing family and soccer isn't too bad, Besler said, and neither aspect of his life has suffered from the other. Still, he admits there isn't much time for Netflix binging or picking up hobbies.
"I feel like I've been able to balance those two things really well... but it really is just balancing my family and soccer," Besler said. "That's about all I have time for, but... I would rather have it this way than the other way where you feel like you're getting pulled in like a million different directions."
Besler's children haven't quite wrapped their head around their dad being a professional football player—he currently has them convinced he's an aspiring magician—but they do share a post-game ritual: playing Operation on Dad.
"They like to be the doctor (and) inspect all my bruises and scratches from the game," Besler said. "So they each have their medical kits and they do a physical exam on me, and they're always worried about daddy getting hurt or kicked. So that's probably as far as we get in terms of the soccer fandom."
While adjusting to Austin has been difficult—namely, the sweltering Texas summer heat—Besler said his family has adjusted with the help of an at-home swimming pool and the city's overwhelming support.
Fellow central defender Julio Cascante feels the same way. Cascante and his wife, Jessica, had their hands full when they moved to Austin from Portland with their then-four-month-old son Anto. Pair that with Austin FC's stagnant record, which has garnered plenty of criticism, and life on the Verde pitch can be pretty stressful.
Cascante said he's able to leave the pressures of the job thanks to his role as a husband and father.
"You get home and you see your baby, I think that's that's what gives you that relief," Cascante said. "He wants to be with you as soon as you get off, and so you forget about all the bad things that happened to you today (because) they only think about you as a father."
For Diego Fagundez, seeing pictures of his children with him on the pitch reminds him why he plays.
"It's something that I'll never forget, and I hope that they'll never forget, and they can tell their kids someday," Fagundez said. "That's why I do it. I might be having a bad day, but at the end of the day, they still bring my smile... It's the best feeling in the world."
Having built-in fans has its benefits. Fagundez's three-year-old daughter, Maria, has already been seen shouting his name in the supporter's section, and he hopes one day she'll be on the podium with fan band La Murga's "capos," or chant leaders.
"They're my number one fans," Fagundez said. "In that video of my daughter in the south end with all the fans, she's throwing her arms and singing and yelling. That's amazing to me."
Fagundez, whose father played professionally too, hopes to create the same memories he enjoyed as a kid for his own children. Fagundez, Besler and Cascante all hope to see their kids play soccer one day, but more importantly, they hope to pass on key aspects of the sport—passion, kindness, dedication and sacrifice.
While adjusting to a new city with a young family has been difficult for all, they're thankful for all the support from Austin fans that help the Texas capital feel like home. Fagundez has become great friends with members of Los Verdes, and some have even helped him watch his kids as he goes to training.
"Austin's amazing," Fagundez said. "From the first day they got here, the fan base just helped me so much. If I needed something, they would be the first ones there. It's like one big, happy family."
Capital Metro has been awarded $750,000 from the Federal Transit Administration to go toward Project Connect's Orange Line, documents show.
The FTA announced the funding round on Thursday, which dispersed $11 million across 12 states and 20 projects. The money is meant to connect communities to affordable transit and housing through the FTA Pilot Program for Transit-Oriented Development planning.
CapMetro said the funds will go toward projects at eight stations spanning 6.5 miles on the South end of the Orange Line, which has a total of 22 stations. The full project stretches across the 20 miles from Southpark Meadows to Tech Ridge.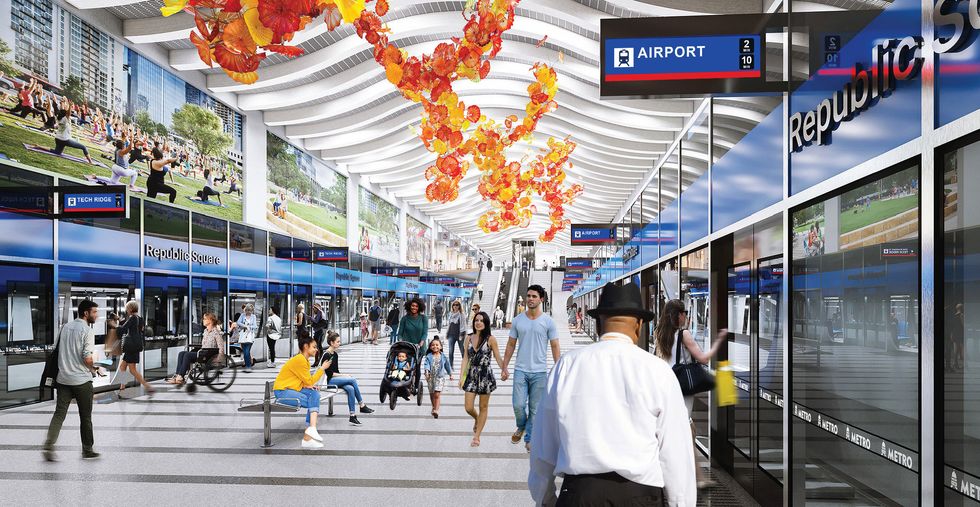 Republic Square station is along the Orange Line. (Project Connect rendering)
Once it's complete, which officials estimate will be in 2028, the Orange Line will reach the following stations:
Tech Ridge (Park & Ride)
North Lamar International District
Crestview
The Triangle
UT campus
Republic Square
Auditorium Shores
South Congress
Southpark Meadows (Park & Ride)
A $500 million mixed-use development spanning 1,400 acres is coming to Southeast Austin, near Tesla's headquarters at Giga Texas.
Plans for the development by Houston-based real estate firm Hines include 2,500 houses along with multi-family and townhomes, and commercial land. Hines is partnering with Trez Capital, Sumitomo Forestry and Texas-based Caravel Ventures.
The development, which is known as Mirador, will be located off the 130 Toll and Highway 71, which the developers say provides easy access to the Circuit of the Americas Formula 1 racetrack and other Austin attractions like restaurants, parks and live music venues.
Hines also boasts amenities like a 60-acre lake, over 600 acres of greenbelt, community parks, trails and a swimming pool.
"As Austin continues to grow into the tech epicenter of Texas, coupled with a supply-constrained market, the demand for new housing is at its highest," Dustin Davidson, managing director at Hines, said. "Mirador will be critical in providing more options for Austin's growing population and we are excited to work alongside our partners given they each provide a unique and valued perspective in single-family development."
The local housing market has been hot in recent years, with home sales accelerating earlier in the pandemic. In July 2021, the Austin metro area hit its pricing peak at $478,000. As Austonia previously reported, the area has been expected to see the Tesla effect, with the new workforce driving up demand for housing and other services.
The single-family houses are expected to be developed over the course of six years, in phases. Construction on the homes is expected to start this year and home sales will begin in 2023.