Get connected with our daily update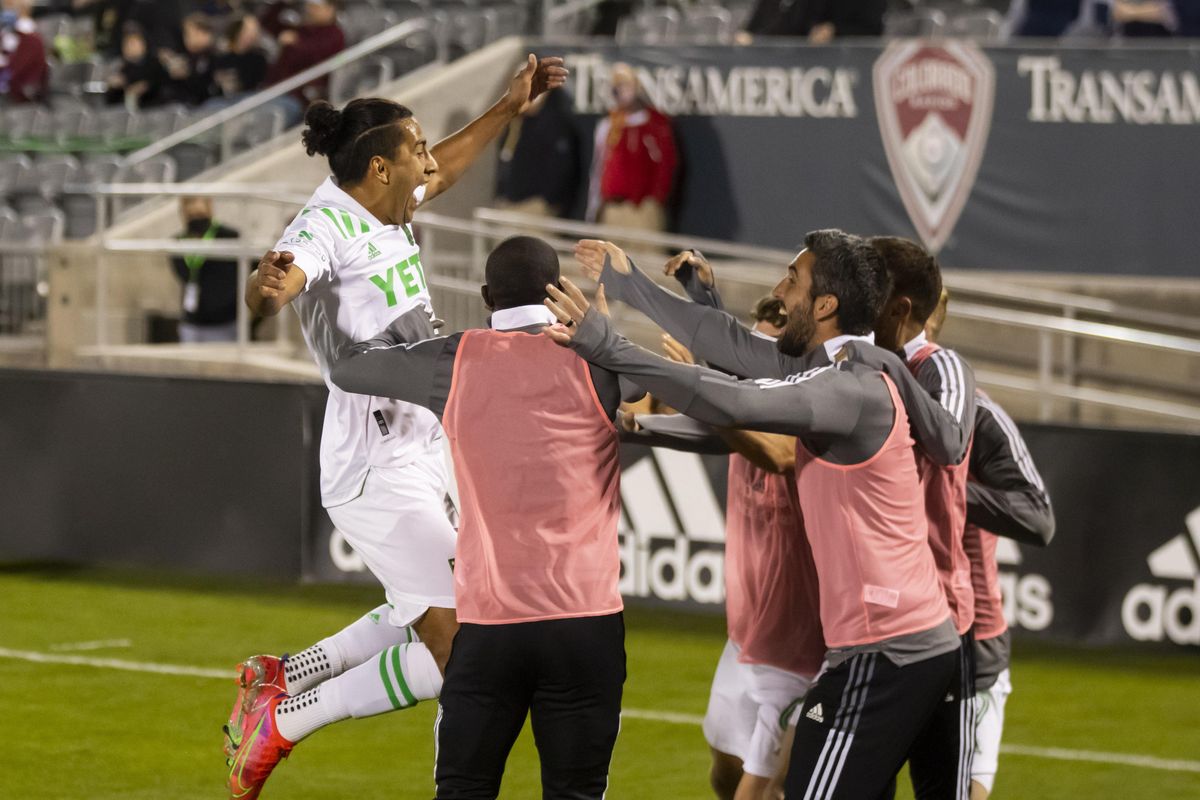 What did Josh Wolff say at halftime?
Whatever changes the Austin FC head coach made, it worked: Austin FC transformed a stumbling first half into an adrenaline-fueled 3-1 victory for their first-ever MLS win against the Colorado Rapids on Saturday night.
---
While Austin FC fans, many of whom were in Denver to see the match first-hand, were hoping for the club's first goal, they weren't expecting the explosive 10-minute stretch that saw Diego Fagundez make history and Cecilio Dominguez get a chance at a hat trick.
After a flat first half, it was Fagundez who realized the club's first-ever goal as he snuck one in behind Rapids GK William Yarborough to hit the bottom left corner. Newbie Daniel Pereira, who shone in his second professional appearance, brought an impressive drive up the pitch to log the club's first assist.
Before anyone could catch their breath, Dominguez showed the crowd why he wears the No. 10 jersey as he joined Fagundez with the game-winning goal. Dominguez confidently knocked one in in the 67th minute of play, sprinting off the pitch and jumping into the arms of his teammates on the bench. The club had secured its first lead in its short history. For once, La Murga's instruments were silent as they too joined into the celebratory roar.

Wolff said that Dominguez was a driving factor in the club's momentous win.
"I think that energy became contagious around the field," Wolff said. "And most of that was driven by Cecilio, he came in and really gave a good impact to kick off the second half and that bled into everything."
But one goal wasn't enough for Dominguez, who returned once again to the opposite corner to drive in another for the team four minutes later. He may have upped the score to 3-1, but more importantly, Dominguez and Fagundez had hit the gas and let the Rapids know that they weren't letting up.
The final whistle blew, and Austin FC took their first victory 3-1.
Wolff said it was satisfying to see the club reach their full potential.
"Once we had a bit of momentum, I think it was clear as to as to what we were capable of doing," Wolff said. "And a lot of credit goes to the players, they worked their butts off and got everything they deserve."
The #denVERDE crew may be leaving the Dick's Sporting Goods Stadium with smiles on their faces tonight, but it didn't seem like the match would go the Verde way in the first half.
In a last-minute lineup change, Austin FC's DP Tomas Pochettino was very suddenly benched due to a request by the MLS, with the league citing issues in registration as the reason for their request.
Defender Matt Besler, another starter, was out due to the birth of his son, and Rodney Redes was swapped for Jared Stroud as the club switched into a 4-4-2 format.
Despite the mysterious changes, Austin FC appeared to be off to a good start against the Rapids, who were also looking for their first goal of the season.
LB Ben Sweat was helping lead good charges at both wings, sending up crosses that threatened Rapids GK William Yarborough. However, after fending off an attack from forward Michael Barrios, Sweat suffered what appeared to be a knee injury. Twenty-one-year-old Zan Kolmanic took to the pitch and continued where Sweat left off, but his crosses weren't enough to aid a team that was lacking in communication and struggling to make plays in the final third.
Rapids forward Andre Shinyashiki capitalized on the club's discomfort and sent in a signature set piece to make Colorado's first goal of the season in the 36th minute of play.
Austin FC was unable to answer or even get a shot on target until the 45th minute of play, when Pereira made an attempt that gave the club just enough hope to formulate a rallying cry at halftime.
Three goals later, Austin FC left their second-ever match with a win—and the attention of the entire MLS. But the club still needs to work on cohesion and consistent attacks before its members can let in a collective sigh of relief.
"It's a momentous occasion for the city and for this organization," Wolff said. "Moments of the game were up and down, but they grinded. A lot of good feelings right now. A lot of firsts and we'll continue those throughout the year."
Now, it's time for celebration, but the club will need to keep that energy as they plan for another road match against Minnesota FC on Saturday, May 1.
As each summer day continues to get relentlessly hotter, so does Austin's "Party Island"—a hundreds-strong army of kayakers and paddle boarders who gather each weekend in the middle of Lady Bird Lake.
Born from the pandemic, the swarm of paddleboarding partiers has continued to grow each summer and can be seen from the nearby Lamar Boulevard Bridge. And while "Party Island" certainly lives up to one half of its name, it's not actually an island at all: instead, it's located at a shallow sandbar near Lou Neff Point.
With beers, burgers from portable grills and even DJ turntables in hand, more friends and strangers continue to beat the heat in new ways at the distinct Austin hangout.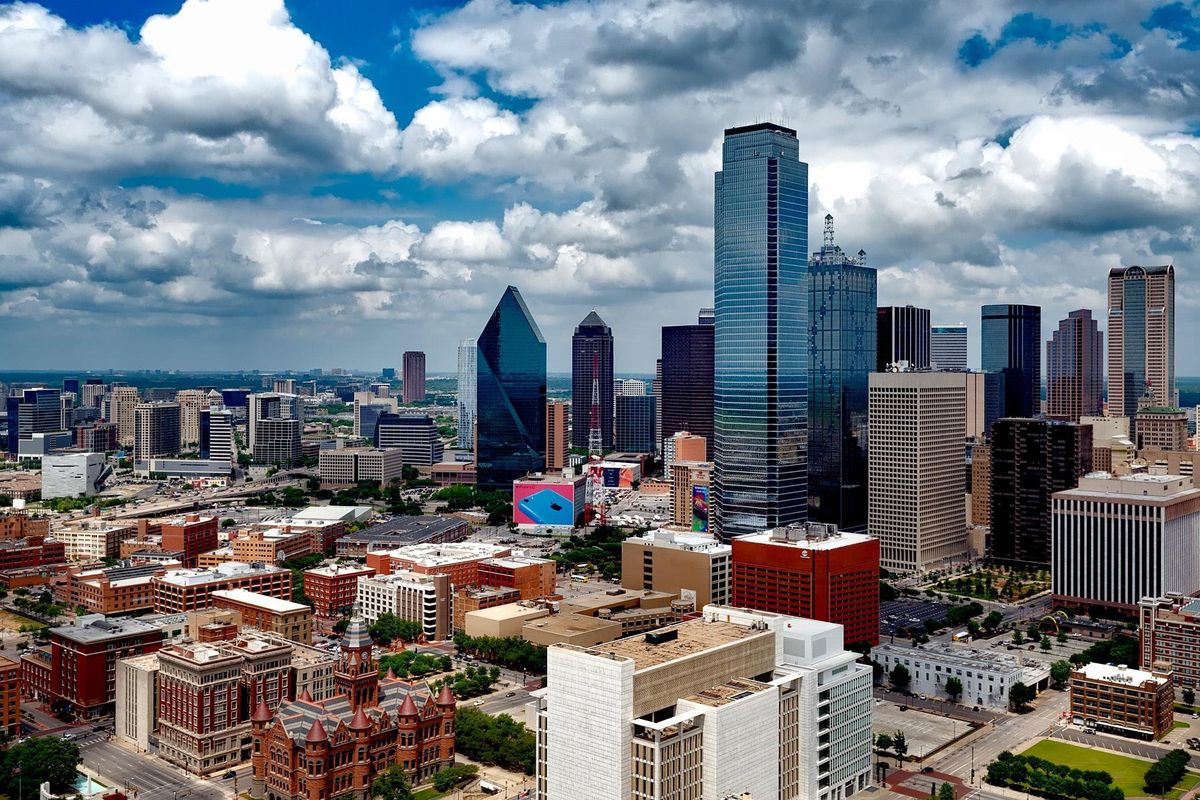 If you are a committed, grunge-wearing resident of the Pacific Northwest, it is easy–almost automatic–to look at Texas as an extraordinarily dry, hot and culturally oppressive place that is better to avoid, especially in the summer. Our two granddaughters live with their parents in Portland.
Recently we decided to take the older girl, who is 15, to Dallas. Setting aside the summer heat, a Portlander can adjust to the vibes of Austin without effort. So let's take Texas with all of its excesses straight up. Dallas, here we come.
Our 15-year-old granddaughter and her sister, 12, have spent summer weeks with us, usually separately so that we could better get to know each individually. In visits focused on Austin and Port Aransas, the girls seemed to be developing an affection for Texas.
Houston and Dallas are two great American cities, the 4th and 9th largest, each loaded with cultural treasures, each standing in glittering and starchy contrast to Austin's more louche, T-shirts and shorts ways.
Three hours up I-35, Dallas loomed before us as a set of gray skyscrapers in a filmy haze, accessed only through a concrete mixmaster of freeways, ramps and exits. I drove with false confidence. Be calm, I said to myself, it will all end in 10 minutes under the hotel entrance canopy. And it did.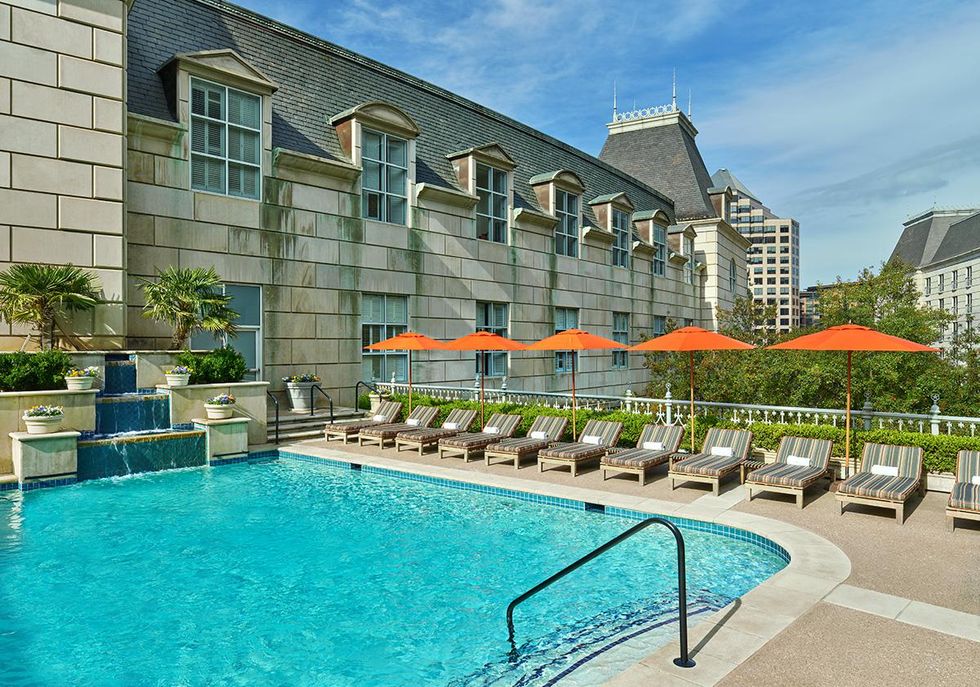 The pool at the Crescent Court Hotel in Dallas. (Crescent Court Hotel)
We stayed three nights at the Crescent Court Hotel ($622 a night for two queens), a high-end hotel in Uptown, patronized by women in white blazers, business people in suits, and tall, lean professional athletes, their shiny Escalades and Corvettes darting in and out, and other celebrities like Bill Barr, the former attorney general who shoe-horned his ample self into a Toyota.
Each morning as I walked to Whole Foods for a cappuccino, a fellow identified by a bellman as Billy the Oilman arrived in his Rolls Royce Phantom. Where does he park? "Wherever he wants to. He likes the Starbucks here."
We garaged our more modest set of wheels for the visit. We were chauffeured for tips by Matt Cooney and Alfonza "The Rev" Scott in the hotel's black Audi sedan. They drove us to museums, restaurants and past the enclaves of the rich and famous. In Highland Park, The Rev pointed out the homes of the Dallas Cowboys' Jerry Jones and Troy Aikman along with the family compound of the Hunts, oil and gas tycoons.
The Dallas Museum of Art's "Cartier and Islam" exhibit (until Sept. 18) attracted an older crowd; the nearby Perot Museum of Nature and Science was a powerful whirlpool of kids' groups ricocheting from the Tyrannosaurus Rex to the oil fracking exhibit. Watch your shins.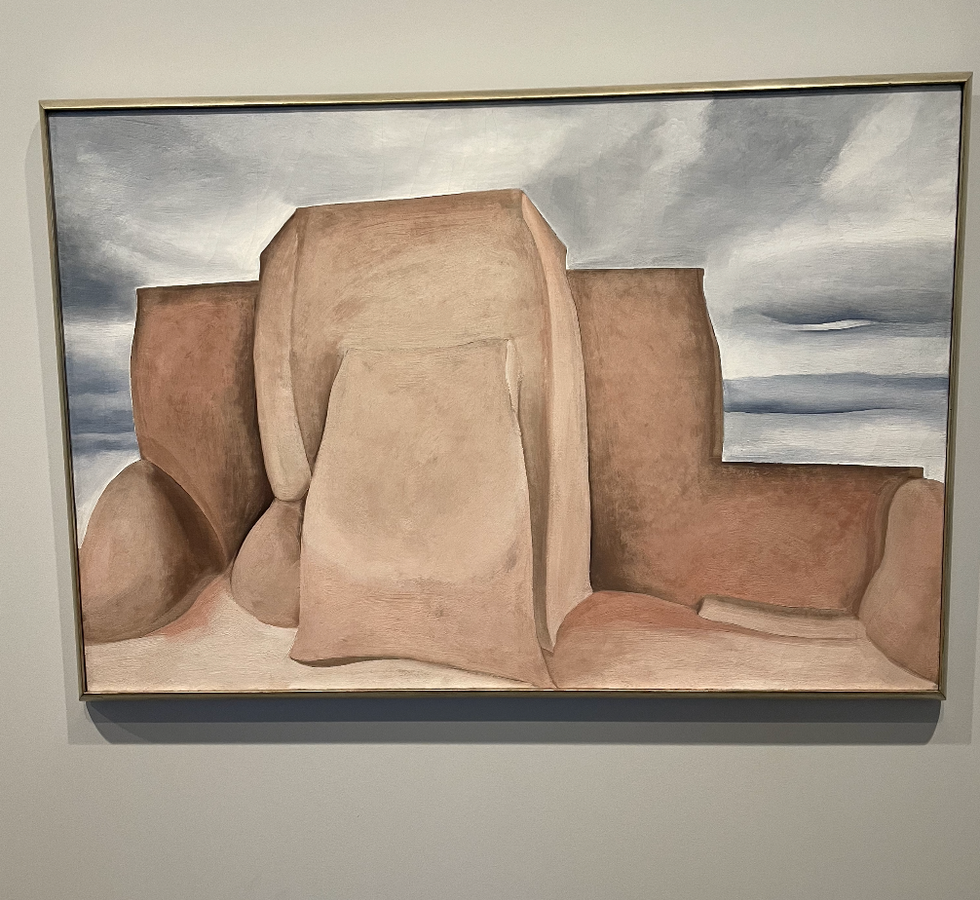 A Geogia O'Keeffe oil painting called "Ranchos Church, New Mexico" at the Amon Carter Museum of Modern Art. (Rich Oppel)
For us, the best museum was the Amon Carter Museum of Modern Art in Fort Worth, a 50-minute, madcap drive away via a 75 mph toll lane along I-30. Don't try it during rush hour. The Carter has an exquisite collection of Remington paintings and sculptures and an excellent array of 19th and 20th-century paintings as well. Pick one museum? The Amon Carter. Peaceful, beautiful, uncrowded, free admission and small enough to manage in two hours.
The Fort Worth Stockyards, a place of history (with a dab of schmaltz), fun and good shopping, filled one of our mornings. The 98 acres brand the city as Cowboy Town, with a rodeo and a twice-daily (11:30 a.m. and 4 p.m.) cattle drive. We shopped for boots, drank coffee and watched the "herd" of 18 longhorns. So languid was their progress that if this were a real market drive the beef would have been very tough and leathery before it hit the steakhouse dinner plate.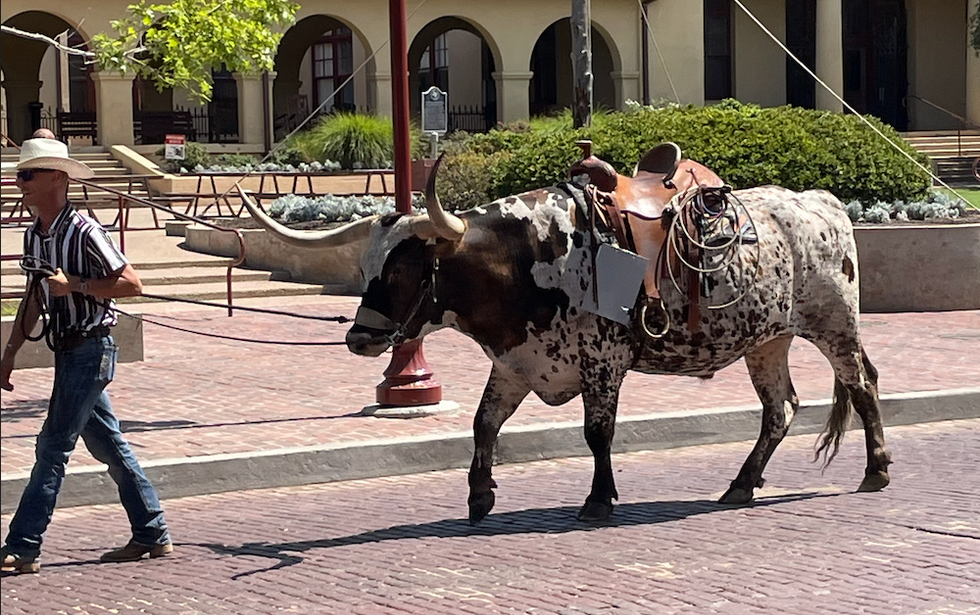 The cattle drive at the Fort Worth Stockyards. (Rich Oppel)
But we could identify: the temperature was 97. "I saw a dog chasing a cat today," said the emcee, deploying a very old joke. "It was so hot that both were walking."
With limited time, we chose three very different restaurants:
Nobu, in the Crescent Court Hotel; Jia, a modern Chinese restaurant in Highland Park; and Joe T. Garcia's in Fort Worth. Nobu's exotic Japanese menu set us back $480, with tip, for four (we had a guest), but it was worth it.
Jia was an ordinary suburban strip mall restaurant, but with good food and a reasonable tab of $110 for four.
Joe T.'s is an 85-year-old Fort Worth institution (think Matt's El Rancho but larger), a fine Mexican restaurant where a meal with two drinks was $115.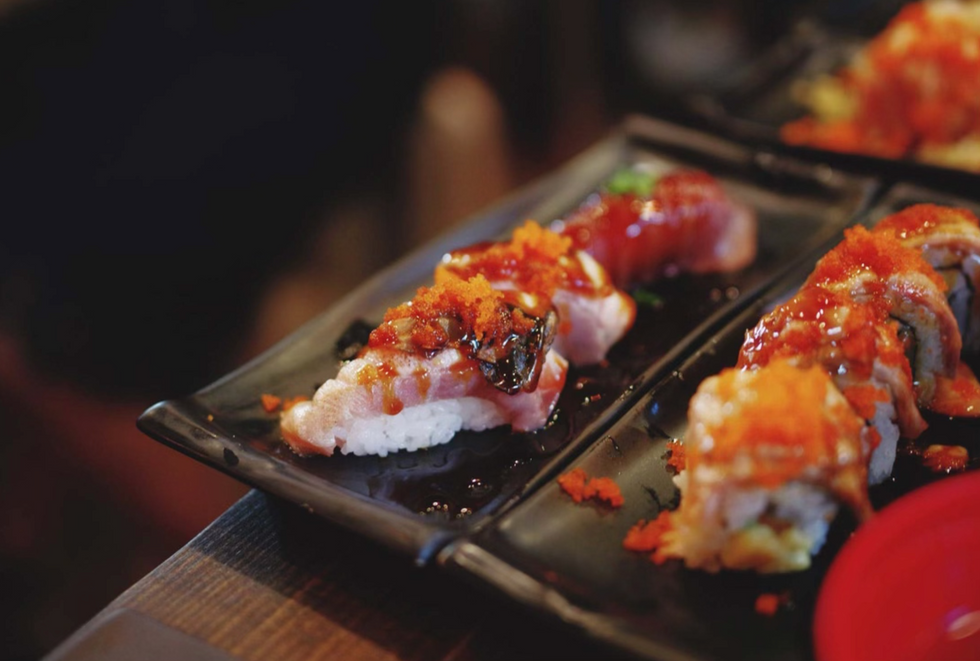 Sushi at high-end restaurant Nobu. (Crescent Hotel)
It was all a splurge for a grandchild's visit. Now we will get back to our ordinary road trips of Hampton Inns, where a room rate is closer to the Crescent Court's overnight parking rate of $52. And to corner cafes in small towns.
Did Dallas change our 15-year-old's view of Texas? "Yes. I think it's a lot cooler than I did. The fashion, the food." So, not only Austin is cool. Take Texas as a whole. It's a big, complex, diverse and wonderful state.