Get connected with our daily update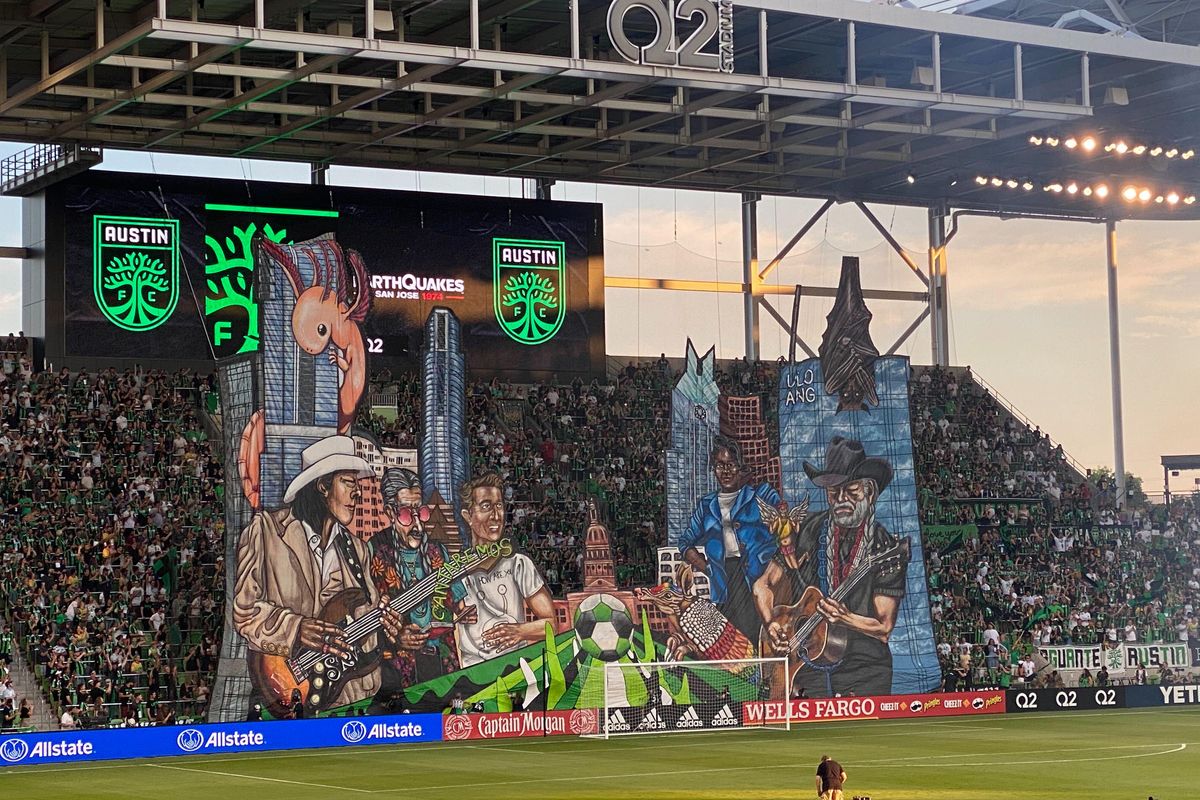 Austin FC couldn't quite start their home matches with a splash as they pulled a scoreless draw against San Jose on Saturday, but they still kept a near-sold out crowd captivated as they celebrated all things Austin.
Thousands of fans have been watching Austin FC get built from the ground up since 2017, and they weren't disappointed as Austin FC commemorated their city with music, McConaughey and plenty of matchday excitement.
---
Despite the empty scoreboard, this was one of the most energized and focused Austin FC performances to date. Held together by back-to-back-to back saves by keeper Brad Stuver and spurred on by the "oohs" and "ahhs" of the crowd, Austin kept a clean sheet in their first match on the Q2 Stadium pitch.
Austin FC strikers Jon Gallagher, Diego Fagundez and Cecilio Dominguez were energized from the sea of Verde as they nearly brought shot after shot to goal. Stuver tied his career-best with nine saves and continued to add to his ever-growing highlight reel
Thousands in the stadium responded to every shot, save and breakaway with equally-deafening roars, something that Fagundez said the club's been waiting for a long time after nine weeks on the road.
"When I stepped out right before the game started, I got the chills," Fagundez said. It was something special."
As the final whistle blew, thousands chanted Stuver's name to commemorate the fan favorite's shutout performance. Austin FC gained a point towards their standings as they logged their third consecutive draw.
While the scoreboard may have appeared otherwise, Austin FC and its fanbase more than made up for their scorelessness with an all-day extravaganza that highlighted the spirit of the city.
To celebrate the long-awaited occasion, watch parties began well before the afternoon and hundreds marched to the stadium a few hours before the match.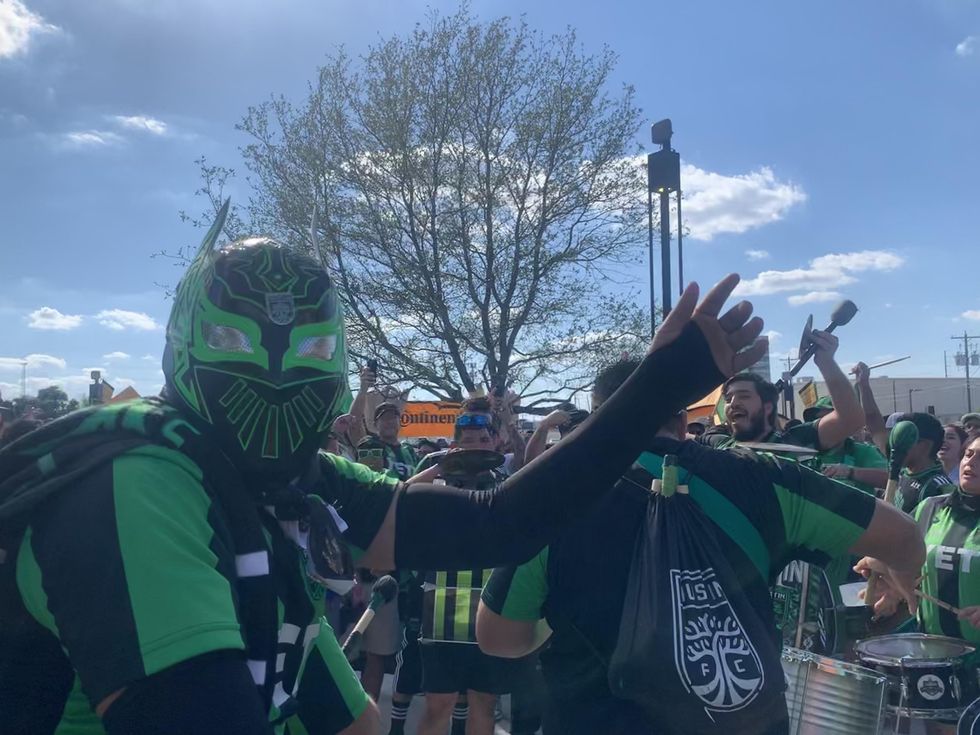 Masked dancers kept the hype going as hundreds filed around Q2 Stadium. (Claire Partain/Austonia)
Perhaps the crowning jewel of the day was a massive "tifo," or banner, that combined all of the city's iconic symbols into one massive artwork. More than 200 people contributed to the work, according to Rigo Rodriguez, who was part of the Los Verdes crew that created the project.
"The meaning and the message of it isn't just about soccer," Rodriguez said. "It's about our city and about our community, right? We want people to feel proud, and not just about them, but about the person next to them (too)."
Spanning dozens of feet long and held up by gigantic ropes, the tifo brought together music, art and famous Austin landmarks and featured both Willie Nelson and Matthew McConaughey.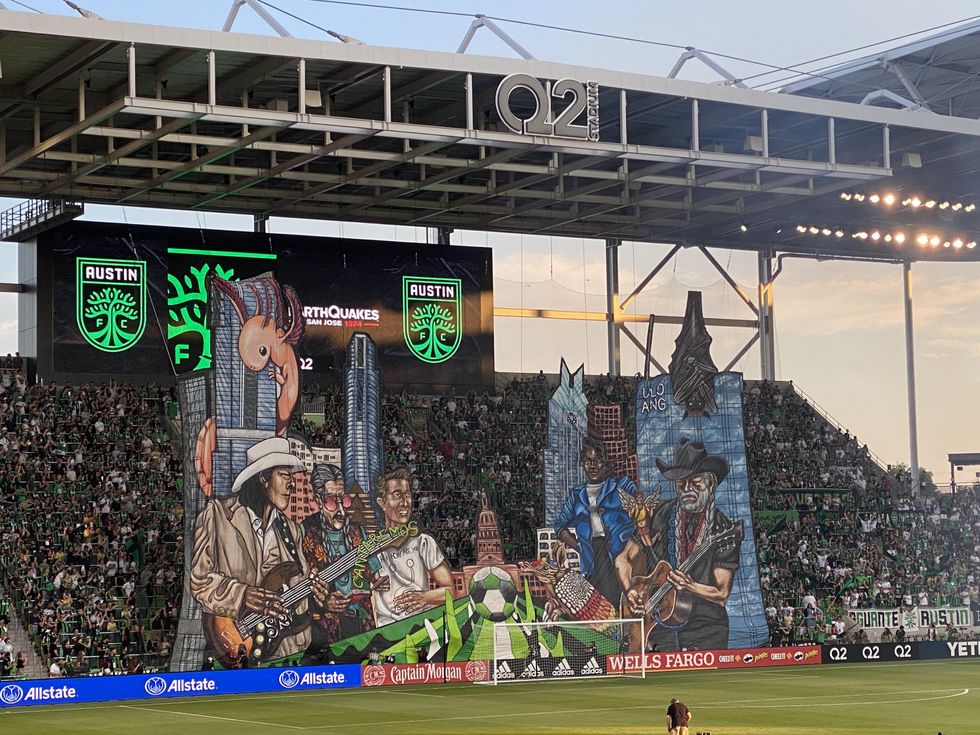 A gigantic tifo celebrating what makes Austin unique was raised by Los Verdes in the supporters' section before the match.
After the tifo was successfully raised, another surprise unfolded on the Q2 Stadium pitch. McConaughey, who is part owner of the club, had already been spotted in a bright Verde suit before he hit the field once again- this time with a bongo drum. McConaughey faced the thousands-strong supporters' section and banged on his bongo, chanting "Verde" and "Listos" to an ecstatic crowd.
June 19th may have been Austin FC's home opener, but it also represents Juneteenth, a national holiday that commemorates the emancipation of slaves in Texas and has know become a day about Black Lives Matter and other Civil Rights movements. To honor the holiday, Austin musician Jackie Venson brought a grand piano onto the pitch and sand a rendition of "Lift Every Voice and Sing," a song that has been called the "Black national anthem." Just after the performance, Texas-raised artist Aaron Stephens, who played the official national anthem on a twangy, soulful guitar.
Verde fireworks were set off as the watch party began, and the party that began as early as 11 a.m. at some watch parties continued within the stadium.
"McConau-who?" said Evan Weaver and Gary Vail, who were unfazed by McConaughey's Verde suit and wore giant green suits of their own. The two have been fans of Austin FC since it was just an abstract concept, a theme that was echoed by many Austin fans come matchday.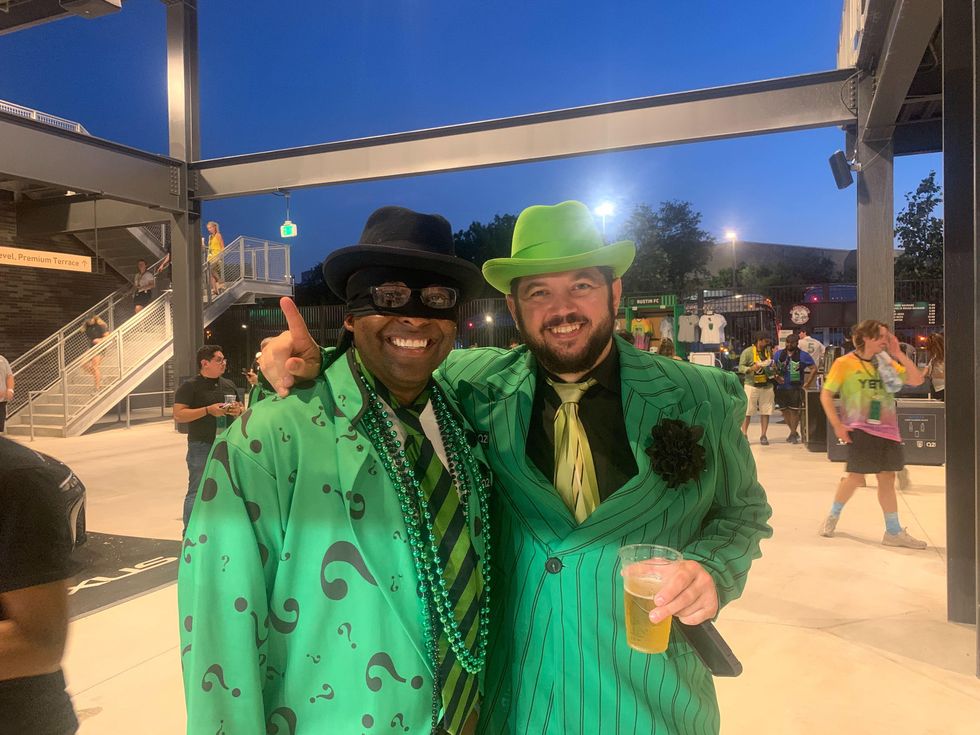 McConaughey has nothing on Evan WEaver and Gary Vail, two longtime fans who wore plenty of green for matchday. (Claire Partain/Austonia)
The echoes of Austin FC's first home match are still ringing in Q2 Stadium walls, and Fagundez said there's more where that came from.
"I think we have the best fan base all around," Fagundez said. "We want to bring Austin to the world. We're going to make this a fortress (and) we're going to make this a place where no one wants to play."
Austin FC fans will have to wait a little longer for another home match as the club hits the road once again to take on Minnesota United on Wednesday, June 23rd.
Until then, here's what you missed on matchday:
8:10 p.m. Kickoff!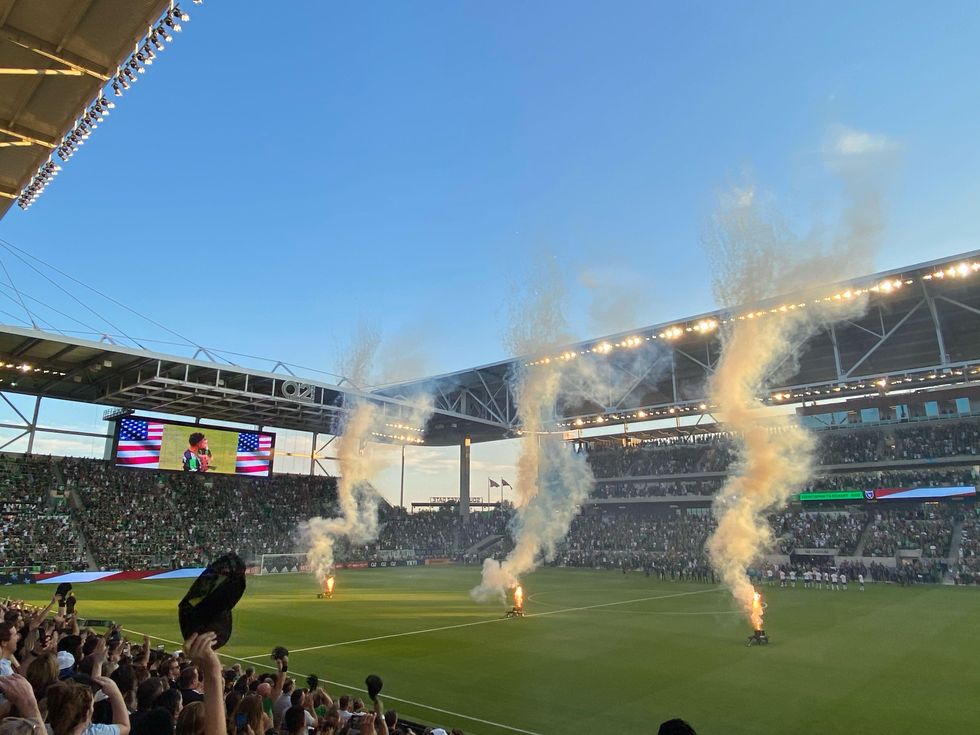 Austin FC's first match at Q2 is underway, and the club is off to a hot start. Dominguez already showed off to the crowd with a cutback, and Diego Fagundez very nearly pushed past the San Jose keeper.
8 p.m: McConaughey brings out a bongo
Matthew McConaughey + his bongo = Perfect Austin FC home opener pic.twitter.com/2x7PXK8I7R

— KXAN News (@KXAN_News) June 20, 2021
Austin FC part-owner Matthew McConaughey arrived early to a pitch in a bright Verde suit, and he didn't hesitate to rile up fans with a premade video just before kickoff. "Come as you are, Austin, it's time to mix and match..." McConaughey said. "Listos!"
McConaughey could later be seen bringing out a bongo drum to the center of the pitch as the crowd rose to give him a standing ovation.
Facing the supporters' section, McConaughey banged his bongo and led the crowd in a chant. The stadium echoed with cries of "Verde" and "Listos" as bright green fireworks lit up the pitch.
7:15 p.m: Austin FC's first starting XI at home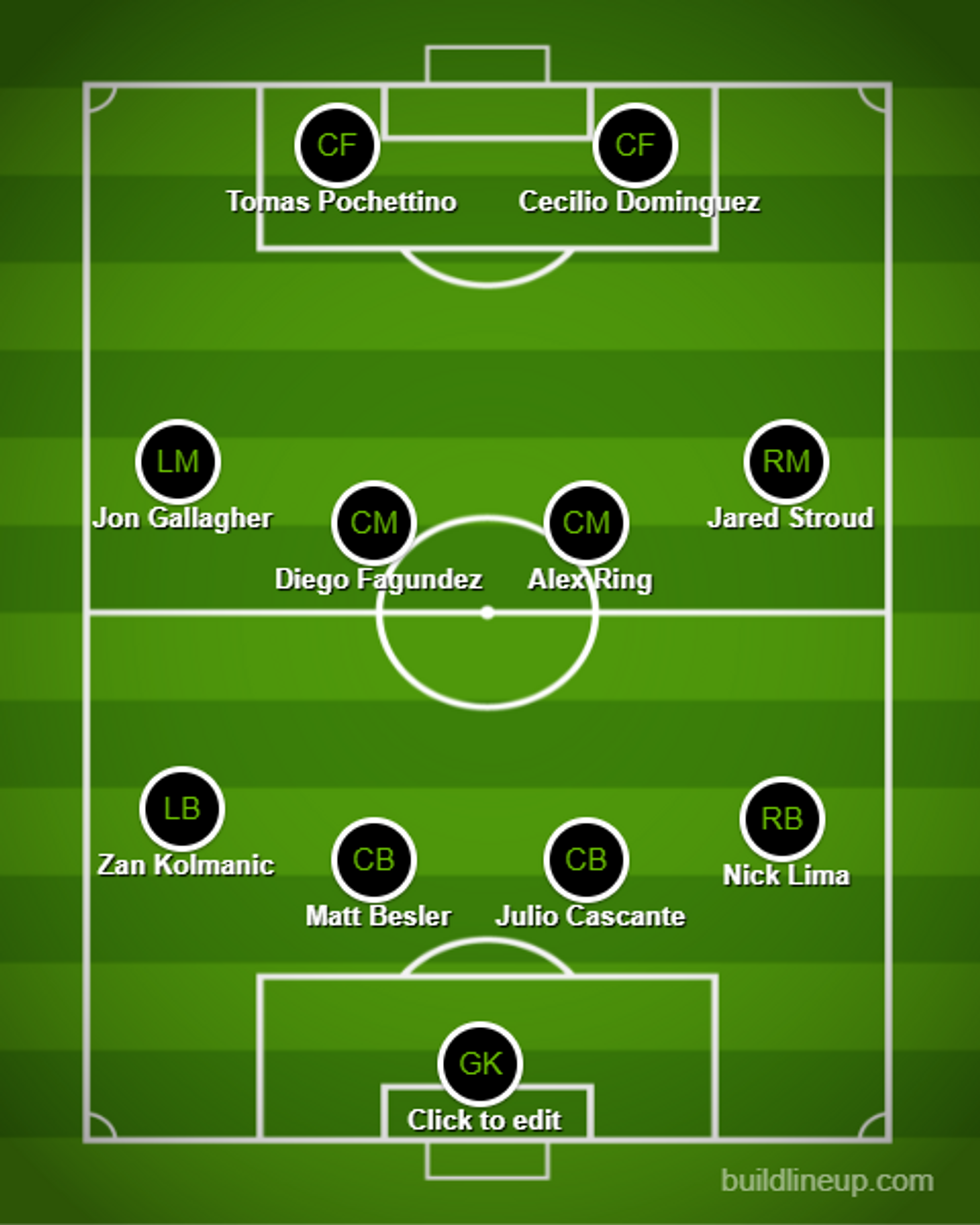 Austin FC's first starting lineup at Q2 Stadium was released just over 30 minutes before kickoff. Head coach Josh Wolff is stacking the front end with Designated Players Cecilio Dominguez and Tomas Pochettino, while usual frontmen Jon Gallagher and Jared Stroud are flanking either side of the midfield.
Julio Cascante is still in for Jhohan Romana, and Brad Stuver is, as per usual, holding it down in goal.
7 p.m: Stands are filling and banners are flying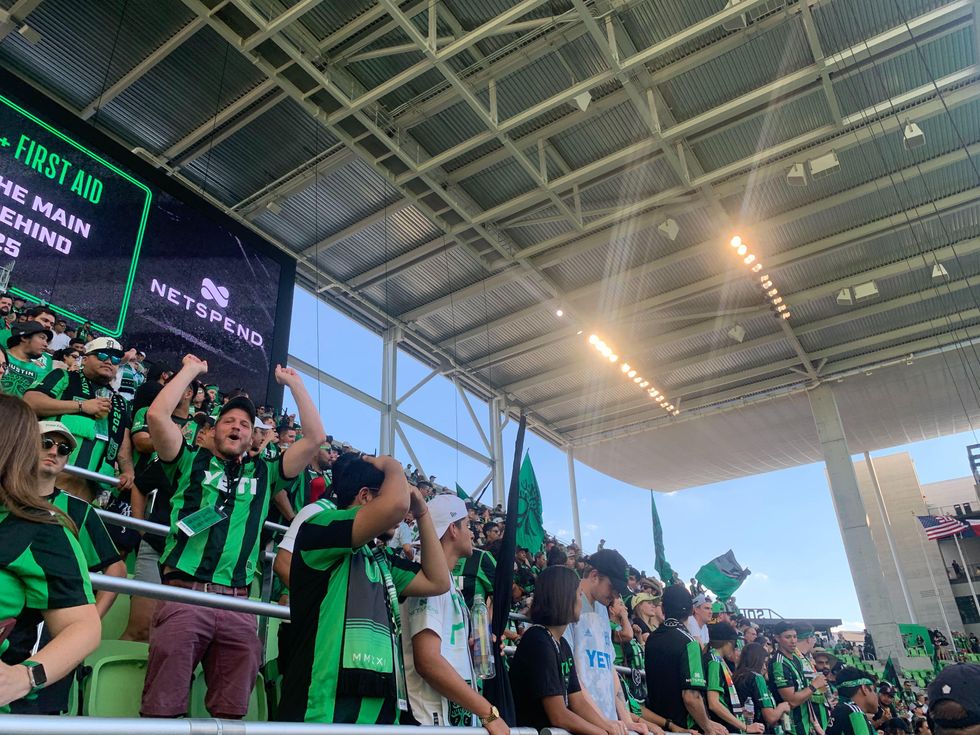 The supporters' section has already nearly filled over an hour before kickoff. (Claire Partain/Austonia)
Q2 Stadium opened its doors around two hours before kickoff, and supporters did not hesitate to fill up the stands. The standing-only supporters' section is flowing with flags, banners and signs depicting Austin classics like the late Daniel Johnston's "Hi, how are you?" design.
As fans grab the stadium's local food and drink for the first time, Los Verdes is beginning to place a structure for a massive "tifo," or banner, that will be hanging across the entire South end at the start of the match. Around 200 fans contributed to the art piece, which was directed by Austin artist Luis Angulo (known professionally as ULOANG.)
5:15 p.m: A sea of Verde marches to Q2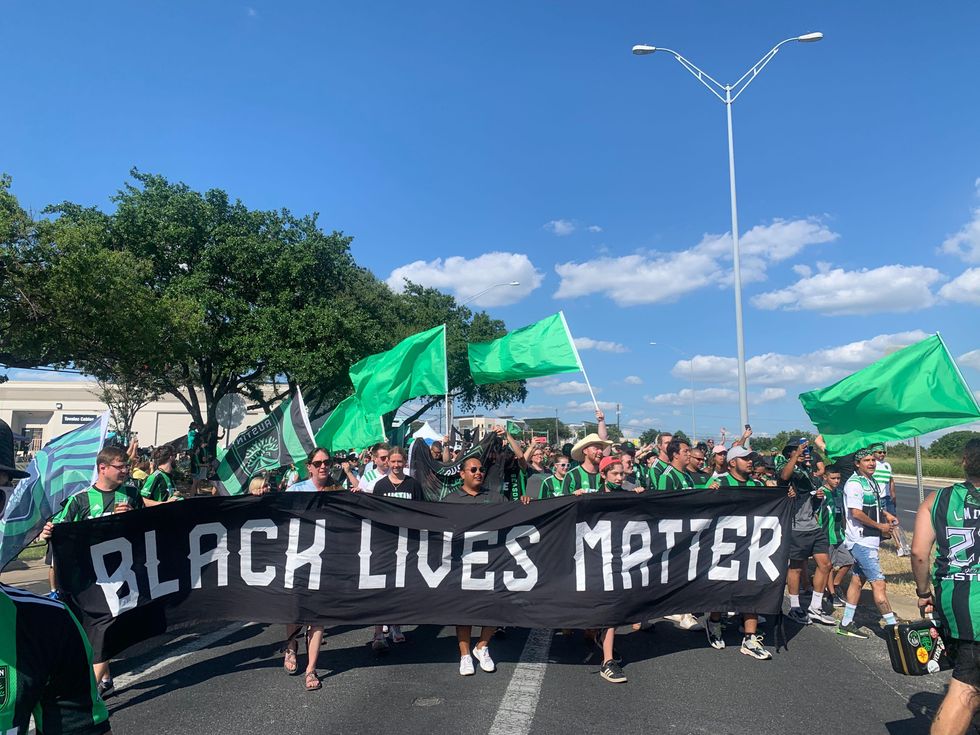 Austin FC fans marched to Q2 Stadium to commemorate the home opener. (Claire Partain/Austonia)
Starting just under three hours before kickoff, hundreds of supporters downed their BBQ and beers at Hopsquad and Circle Brewing and took to the streets. Anyone with out a few square miles was sure to hear the deafening cheers and drumbeats as fans marched to Q2 Stadium.
Onlookers joined in from above, men in Verde and Black superhero masks riled up the crowd. Led by a Black Lives Matter banner, the group chanted McConaughey-inspired classics ("Alright, alright, alright, alright Austin FC") as they paraded through the streets.
Once at their destination, the crowd parked in front of Q2 and belted out more tunes as hundreds jumped and cheered.
3 p.m: "It's been a long time coming"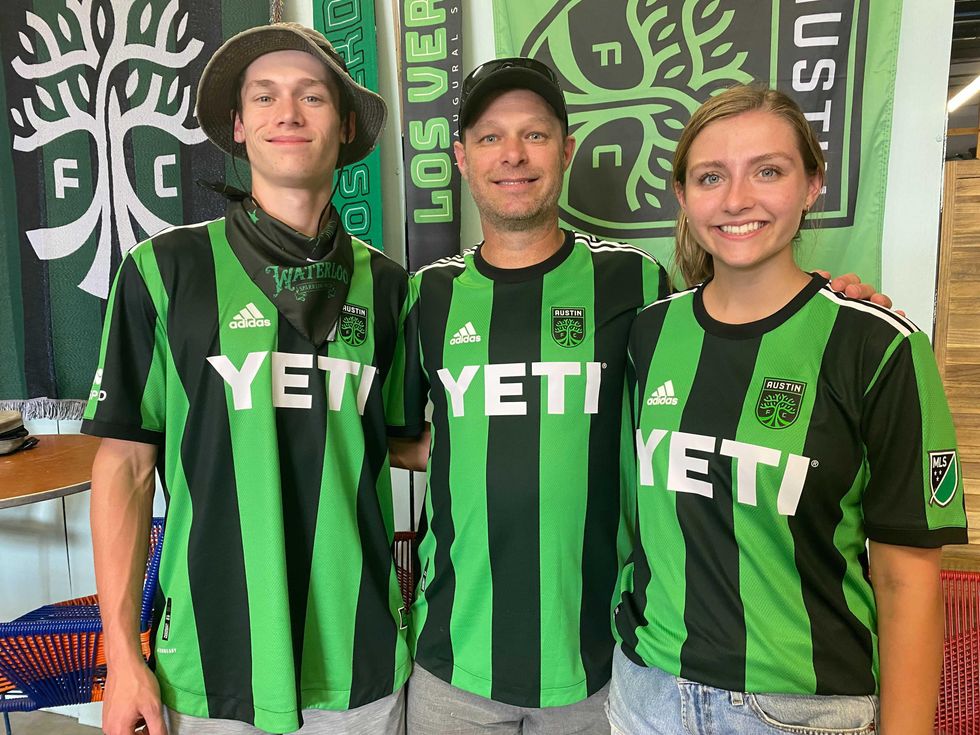 As the hours go by, fans reflect on the long journey it took to get here.
Brandon Olds is a longtime supporter of Austin FC, before it even was Austin FC. He remembers the long nights standing outside City Hall for Austin City Council to approve Austin's very own professional team. Now, he sits at Hopsquad Brewing with his two kids, awaiting the parade to Q2 Stadium. "This is huge, this is Austin's center stage," Olds said.
While he recently moved to Florida, he plans to use his season tickets any chance he gets. It brings his family closer together, he says.
"It's been a long time coming," his son Bailey added.
Noon: It's never too early to start pregaming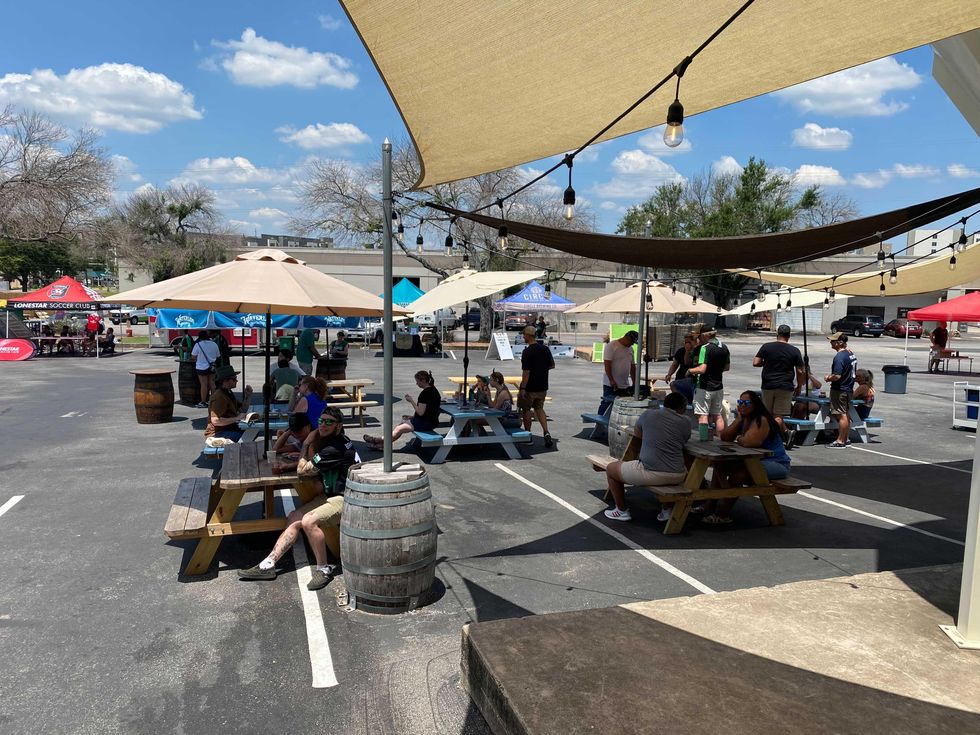 Circle Brewing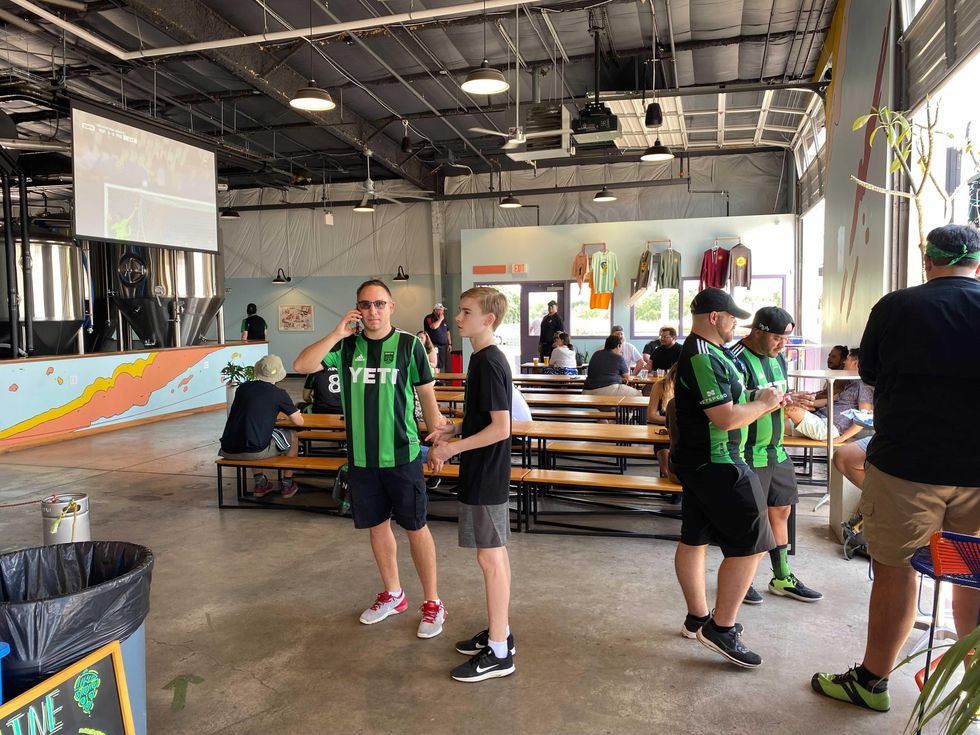 Hopsquad Brewing
By noon, Austin FC supporter group members and fans were already sitting with a cold beer in their hand at Circle Brewing and Hopsquad Brewing, among other pubs around town. And because there can never be enough soccer, playing on the screens are different soccer games. View watch parties happening around the city here. No rush, you have all day to head to one!
11 a.m: Verde Store is packed as fans look for last-minute merch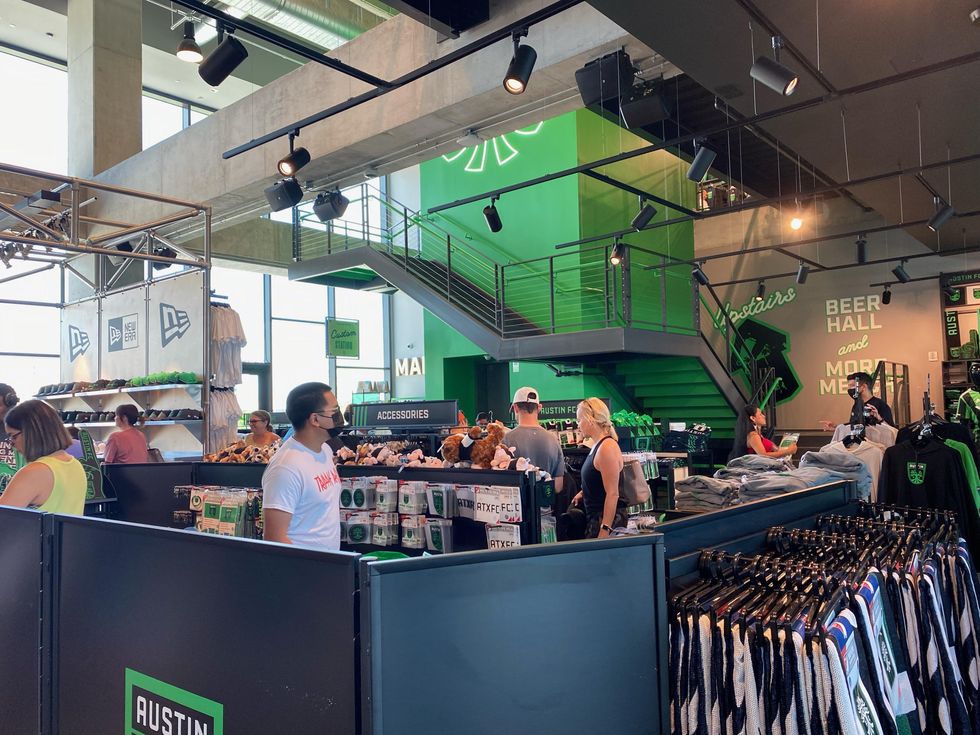 Austin FC fans are scrambling to get last-minute merch before the match. (Sonia Garcia/Austonia)
Austonia visited Austin FC's Verde Store around 11 a.m., and it was about as full as it was the day it opened. Fans perused the two-story store at Q2 Stadium looking to sport some Verde merch before the big game. The store is open until 2 p.m. today.
Jackie Venson announces performance before the match
Today is the day! Before I take the stage tonight at @Antones, I'll be taking the field at @Q2Stadium to perform before @AustinFC's first match. Feelings are off the charts, these are my dreams coming true and it's happening in my home town ❤️ pic.twitter.com/qx07e5hNXv

— Jackie Venson (@jackievenson) June 19, 2021
Austin musician Jackie Venson went Verde as she announced her upcoming performance this morning. Venson will be the first performer at Q2 Stadium as she belts out some tunes just before the match.
El Arroyo and others show their Verde support
LET'S GO, Y'ALL!!!! 💚⚽ It's finally game day in sunny ATX and we couldn't be more excited! This wide load couldn't fit in a stadium seat… So we asked for a jersey to rep our friends @AustinFC from here in downtown! #VERDE#LISTOSpic.twitter.com/iXhuisonry

— El Arroyo (@ElArroyo_ATX) June 19, 2021
All of Austin is going green this Saturday, including several local businesses eager to show their support. El Arroyo's iconic sign is draped in a giant Austin FC jersey for the occasion and dozens of Pub Club members and other bars are hosting watch parties and dressing up in Verde in honor of the club.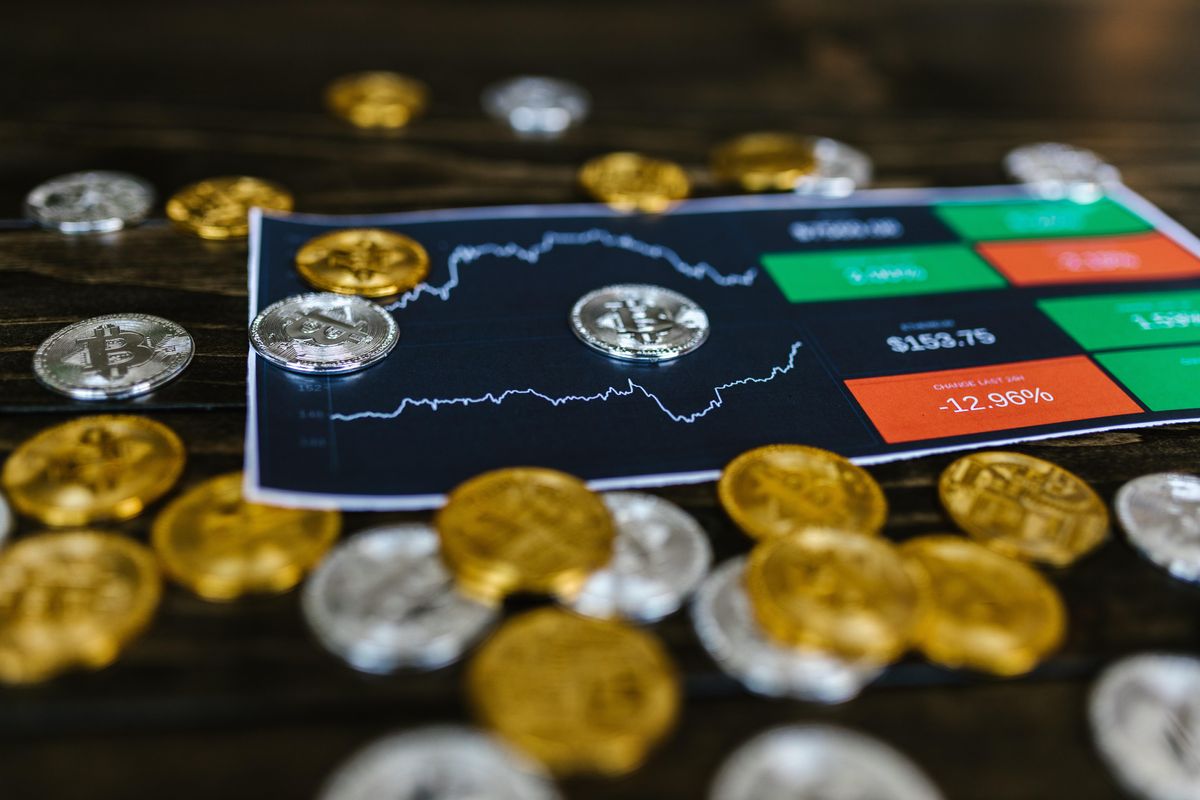 Lately, the crypto market is looking shaky.
The price of bitcoin fell by more than half from its high, the digital currency luna crashed to $0 and a type of so-called stablecoin TerraUSD has been described as dead.
Reporting from the LA Times notes that experts seeing a correlation between traditional markets and the cryptocurrency market is high right now, with plunges in one being followed by a plunge in the other. On Wednesday, stocks had their worst day in more than two years with the Dow Jones Industrial Average falling 1,164 points.
Crypto's volatility has long been questioned, especially after SXSW this year was filled with Web3 enthusiasts and displays.
With 8% of Texans owning Bitcoin and many others involved in the local crypto and Web3 scene, what are they feeling amid the crash?
In a written comment to Austonia, ATX DAO said a positive with the downturn is that "most of the speculative moneygrab type projects get washed out of the market, and the quality projects that deliver real value remain and gather more attention."
The group went on to say it could work to their advantage as they carry out their latest project: a mural at Native Hostel that will have an NFT version. They'll use sales toward donations to HOPE Outdoor Gallery, a local nonprofit that supports artists and creatives.
Meanwhile, Yagub Rahimov, a founder of an Austin-based Web3 company explains that they aren't really impacted by the crash.
Since the company known as Tested Web functions as a Web3 online reputation marketplace, it is utilizing blockchain technology without tokenizing.
"We are a share to earn marketplace. That means that any activity that users have on tested web.com, we will be rewarding," Rahimov said. "Those rewards are coming in the form of rewards points. And every quarter they can opt in to receive either a gift card or a check. We are not issuing any cryptocurrency. That's one of the important elements that I believe we got it right that way."
With recent developments at Tested Web, Rahimov says he "couldn't be happier." After struggling to find tech talent in early spring, he's had a hiring spree in the last 10 days and received a $1 million grant and partnership with Silent Notary, a blockchain-powered validation provider.
But his recent business success aside, Rahimov is noticing what's happening in the markets and predicts that the correlation between the crypto market and traditional one will be broken.
"The way Bitcoin was introduced back in 2009, it was as a reply or response to the 2008 market crash," Rahimov said. "And it really feels like we are in 2007, 2008, actually, early, early days of the market crash. And if it becomes that way, very likely that the winner is going to be those of decentralized parties."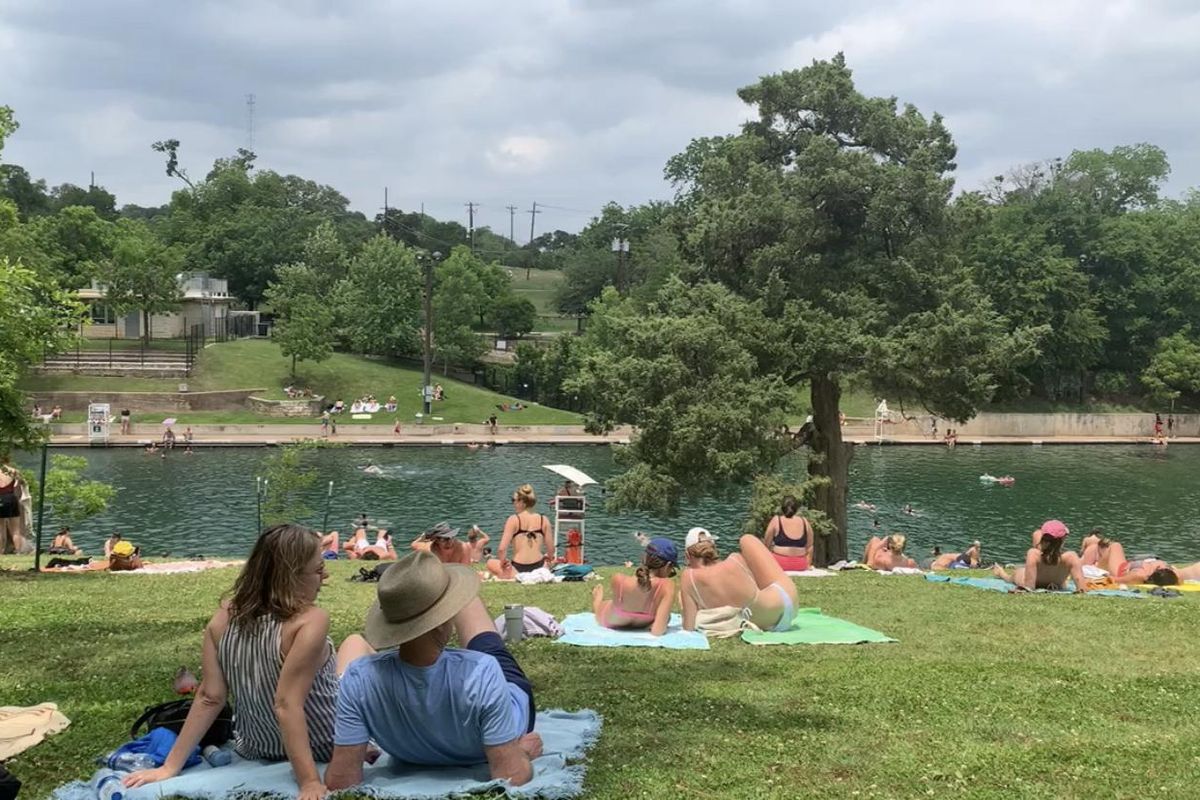 Barton Springs Pool is on a condensed schedule while the city tries to fill out its lifeguard roster.
The popular pool is currently closed on Mondays, Wednesdays and Thursdays while it navigates a lifeguard shortage. The city is offering bonuses to new applicants who can start by early June.
Austin Parks and Recreation Assistant Director Jodi Jay said there are 207 lifeguards ready to work and 100 incoming but the department needs 750 to be fully staffed.
Zoom out: The pandemic has had a lasting impact on hiring—in 2019, the city was able to hire 850 lifeguards. The Aquatic Department has been unable to match those numbers since it reopened training classes in spring of 2021.
Why it matters: The city needs at least 400 lifeguards, plus 30 with open water certification, to open pools on a modified schedule by June 4. Without hitting that mark, some facilities could limit hours or close.
The job pays between $16-19 an hour, anyone over 15 can get certified and there are bonuses on the table:
$500 bonus if you get certified and start working by June 6.
$500 bonus if you work through August 14.
$250 bonus if you get advanced certification.
Austin Parks and Rec's Aquatic Division serves 45 public aquatic facilities—including Barton Springs pool and a number of regional pools.
Find the full list here.