Get connected with our daily update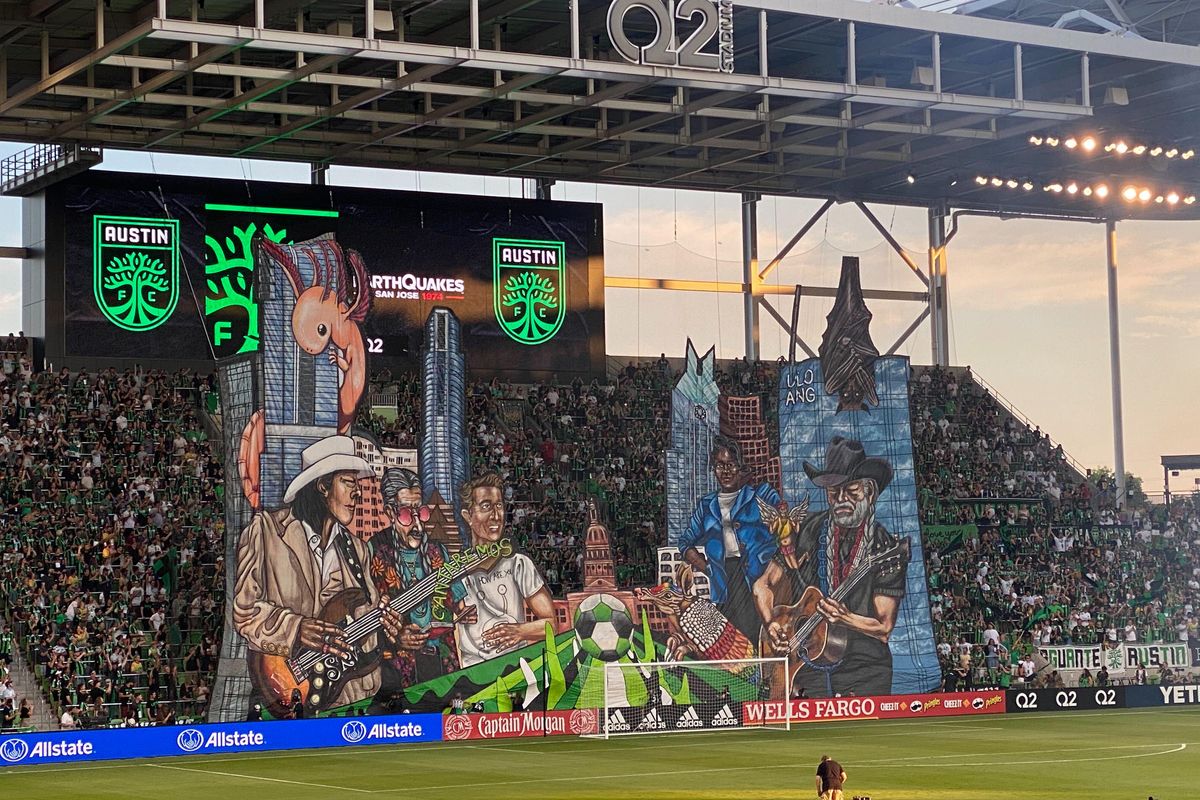 Austin FC couldn't quite start their home matches with a splash as they pulled a scoreless draw against San Jose on Saturday, but they still kept a near-sold out crowd captivated as they celebrated all things Austin.
Thousands of fans have been watching Austin FC get built from the ground up since 2017, and they weren't disappointed as Austin FC commemorated their city with music, McConaughey and plenty of matchday excitement.
---
Despite the empty scoreboard, this was one of the most energized and focused Austin FC performances to date. Held together by back-to-back-to back saves by keeper Brad Stuver and spurred on by the "oohs" and "ahhs" of the crowd, Austin kept a clean sheet in their first match on the Q2 Stadium pitch.
Austin FC strikers Jon Gallagher, Diego Fagundez and Cecilio Dominguez were energized from the sea of Verde as they nearly brought shot after shot to goal. Stuver tied his career-best with nine saves and continued to add to his ever-growing highlight reel
Thousands in the stadium responded to every shot, save and breakaway with equally-deafening roars, something that Fagundez said the club's been waiting for a long time after nine weeks on the road.
"When I stepped out right before the game started, I got the chills," Fagundez said. It was something special."
As the final whistle blew, thousands chanted Stuver's name to commemorate the fan favorite's shutout performance. Austin FC gained a point towards their standings as they logged their third consecutive draw.
While the scoreboard may have appeared otherwise, Austin FC and its fanbase more than made up for their scorelessness with an all-day extravaganza that highlighted the spirit of the city.
To celebrate the long-awaited occasion, watch parties began well before the afternoon and hundreds marched to the stadium a few hours before the match.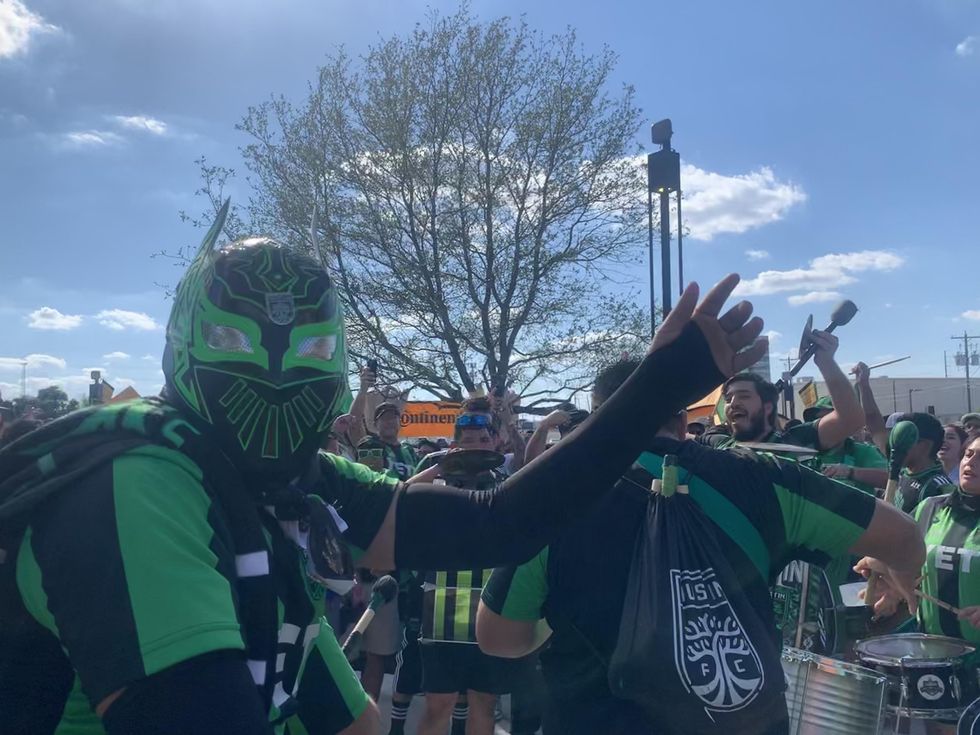 Masked dancers kept the hype going as hundreds filed around Q2 Stadium. (Claire Partain/Austonia)
Perhaps the crowning jewel of the day was a massive "tifo," or banner, that combined all of the city's iconic symbols into one massive artwork. More than 200 people contributed to the work, according to Rigo Rodriguez, who was part of the Los Verdes crew that created the project.
"The meaning and the message of it isn't just about soccer," Rodriguez said. "It's about our city and about our community, right? We want people to feel proud, and not just about them, but about the person next to them (too)."
Spanning dozens of feet long and held up by gigantic ropes, the tifo brought together music, art and famous Austin landmarks and featured both Willie Nelson and Matthew McConaughey.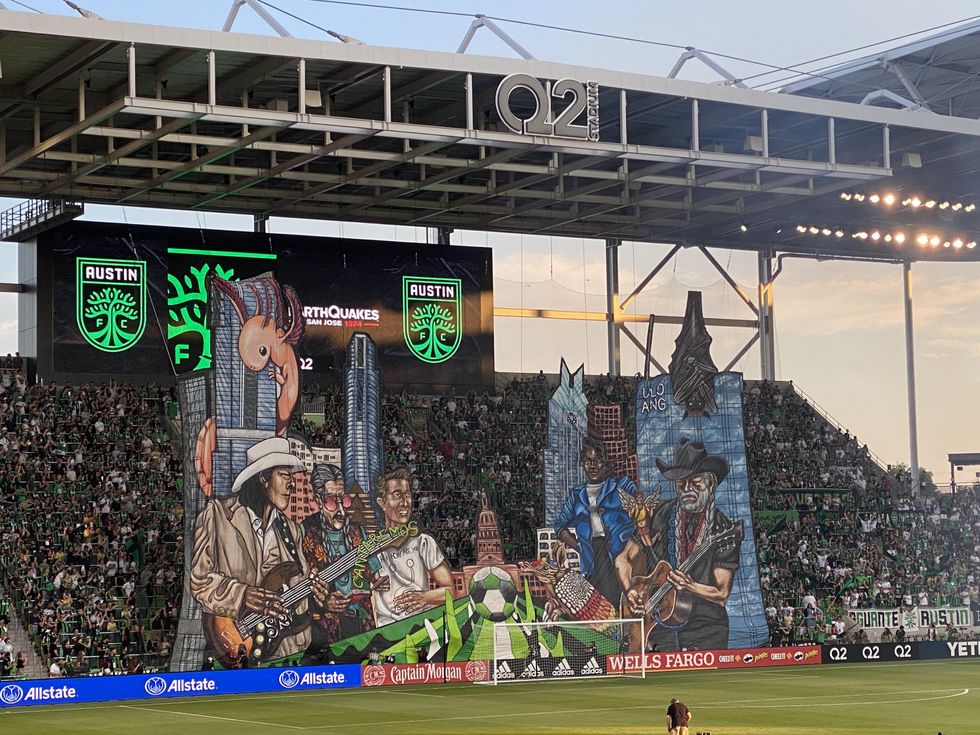 A gigantic tifo celebrating what makes Austin unique was raised by Los Verdes in the supporters' section before the match.
After the tifo was successfully raised, another surprise unfolded on the Q2 Stadium pitch. McConaughey, who is part owner of the club, had already been spotted in a bright Verde suit before he hit the field once again- this time with a bongo drum. McConaughey faced the thousands-strong supporters' section and banged on his bongo, chanting "Verde" and "Listos" to an ecstatic crowd.
June 19th may have been Austin FC's home opener, but it also represents Juneteenth, a national holiday that commemorates the emancipation of slaves in Texas and has know become a day about Black Lives Matter and other Civil Rights movements. To honor the holiday, Austin musician Jackie Venson brought a grand piano onto the pitch and sand a rendition of "Lift Every Voice and Sing," a song that has been called the "Black national anthem." Just after the performance, Texas-raised artist Aaron Stephens, who played the official national anthem on a twangy, soulful guitar.
Verde fireworks were set off as the watch party began, and the party that began as early as 11 a.m. at some watch parties continued within the stadium.
"McConau-who?" said Evan Weaver and Gary Vail, who were unfazed by McConaughey's Verde suit and wore giant green suits of their own. The two have been fans of Austin FC since it was just an abstract concept, a theme that was echoed by many Austin fans come matchday.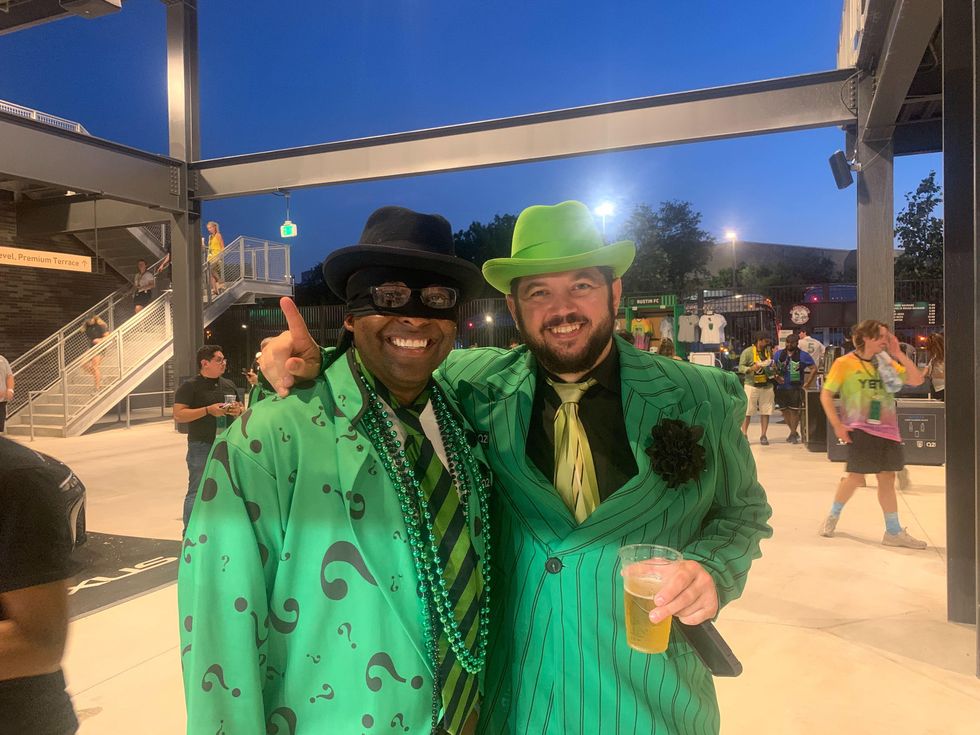 McConaughey has nothing on Evan WEaver and Gary Vail, two longtime fans who wore plenty of green for matchday. (Claire Partain/Austonia)
The echoes of Austin FC's first home match are still ringing in Q2 Stadium walls, and Fagundez said there's more where that came from.
"I think we have the best fan base all around," Fagundez said. "We want to bring Austin to the world. We're going to make this a fortress (and) we're going to make this a place where no one wants to play."
Austin FC fans will have to wait a little longer for another home match as the club hits the road once again to take on Minnesota United on Wednesday, June 23rd.
Until then, here's what you missed on matchday:
8:10 p.m. Kickoff!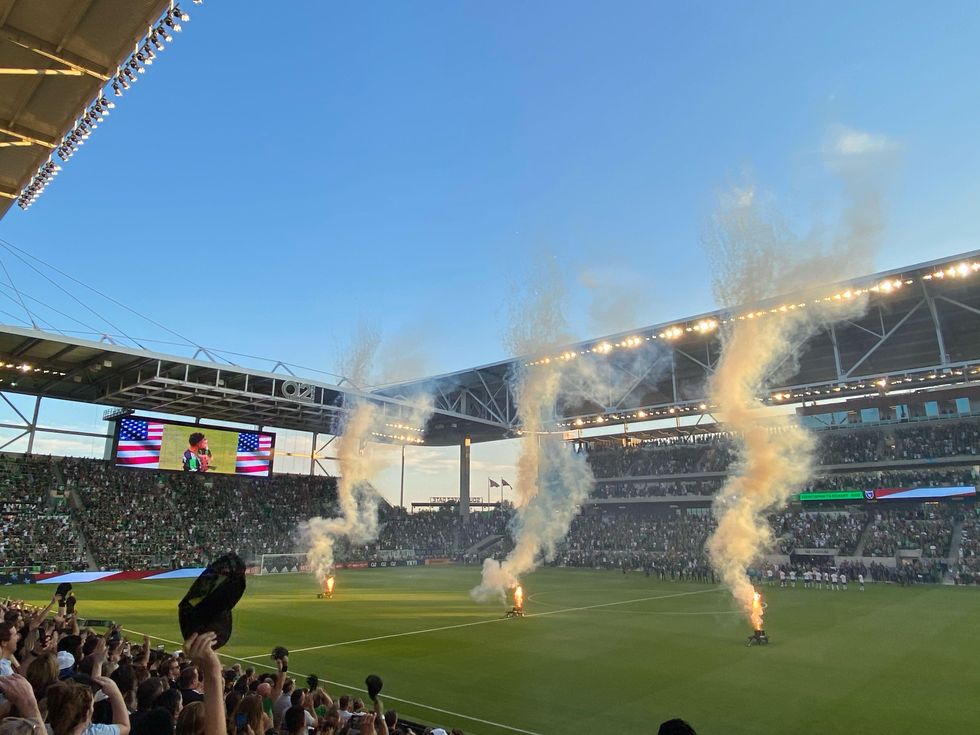 Austin FC's first match at Q2 is underway, and the club is off to a hot start. Dominguez already showed off to the crowd with a cutback, and Diego Fagundez very nearly pushed past the San Jose keeper.
8 p.m: McConaughey brings out a bongo
Matthew McConaughey + his bongo = Perfect Austin FC home opener pic.twitter.com/2x7PXK8I7R

— KXAN News (@KXAN_News) June 20, 2021
Austin FC part-owner Matthew McConaughey arrived early to a pitch in a bright Verde suit, and he didn't hesitate to rile up fans with a premade video just before kickoff. "Come as you are, Austin, it's time to mix and match..." McConaughey said. "Listos!"
McConaughey could later be seen bringing out a bongo drum to the center of the pitch as the crowd rose to give him a standing ovation.
Facing the supporters' section, McConaughey banged his bongo and led the crowd in a chant. The stadium echoed with cries of "Verde" and "Listos" as bright green fireworks lit up the pitch.
7:15 p.m: Austin FC's first starting XI at home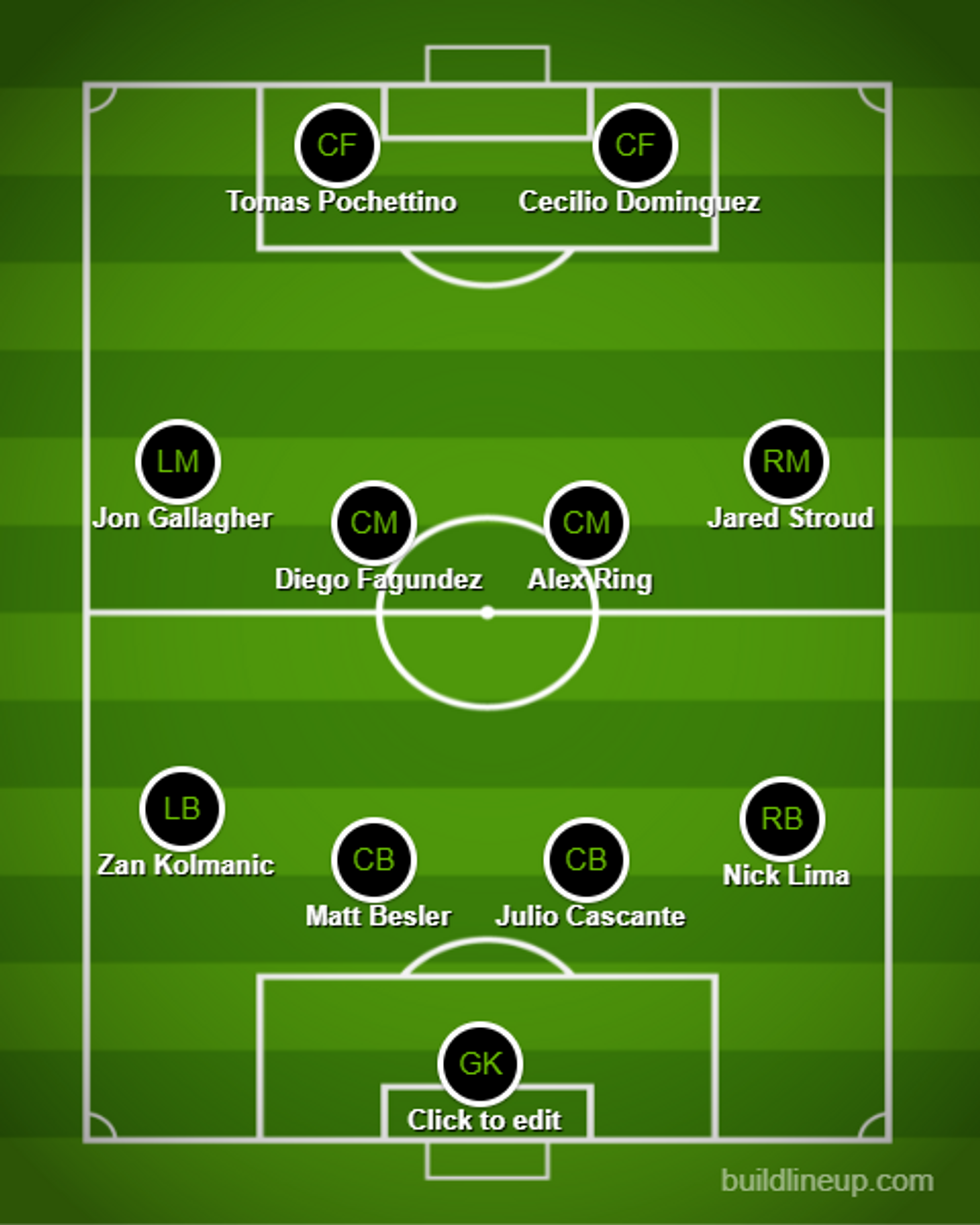 Austin FC's first starting lineup at Q2 Stadium was released just over 30 minutes before kickoff. Head coach Josh Wolff is stacking the front end with Designated Players Cecilio Dominguez and Tomas Pochettino, while usual frontmen Jon Gallagher and Jared Stroud are flanking either side of the midfield.
Julio Cascante is still in for Jhohan Romana, and Brad Stuver is, as per usual, holding it down in goal.
7 p.m: Stands are filling and banners are flying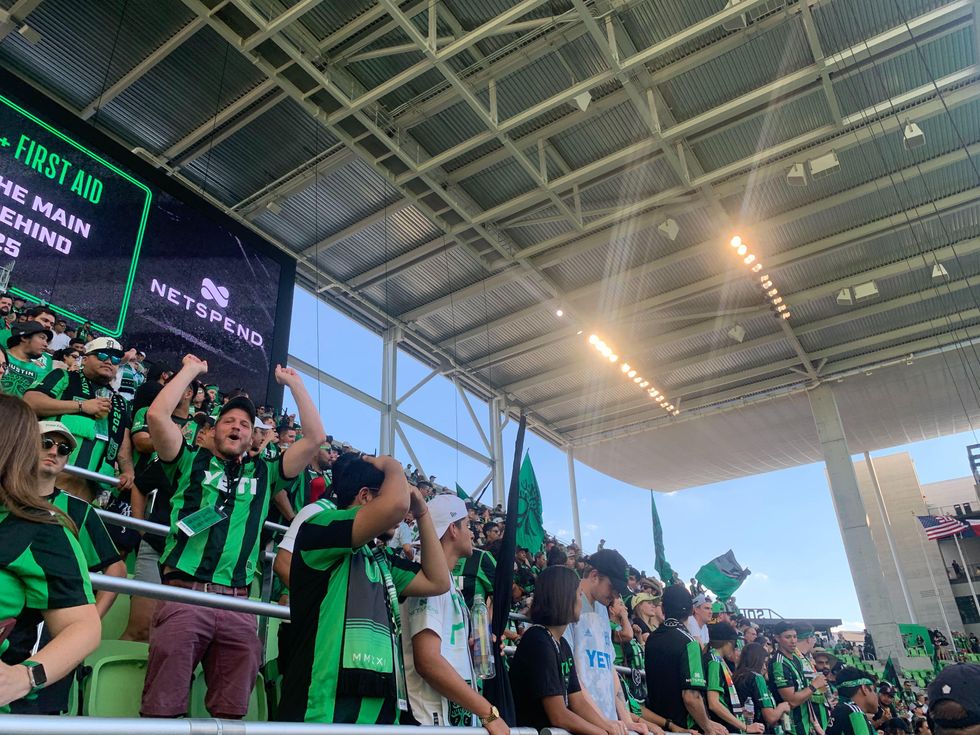 The supporters' section has already nearly filled over an hour before kickoff. (Claire Partain/Austonia)
Q2 Stadium opened its doors around two hours before kickoff, and supporters did not hesitate to fill up the stands. The standing-only supporters' section is flowing with flags, banners and signs depicting Austin classics like the late Daniel Johnston's "Hi, how are you?" design.
As fans grab the stadium's local food and drink for the first time, Los Verdes is beginning to place a structure for a massive "tifo," or banner, that will be hanging across the entire South end at the start of the match. Around 200 fans contributed to the art piece, which was directed by Austin artist Luis Angulo (known professionally as ULOANG.)
5:15 p.m: A sea of Verde marches to Q2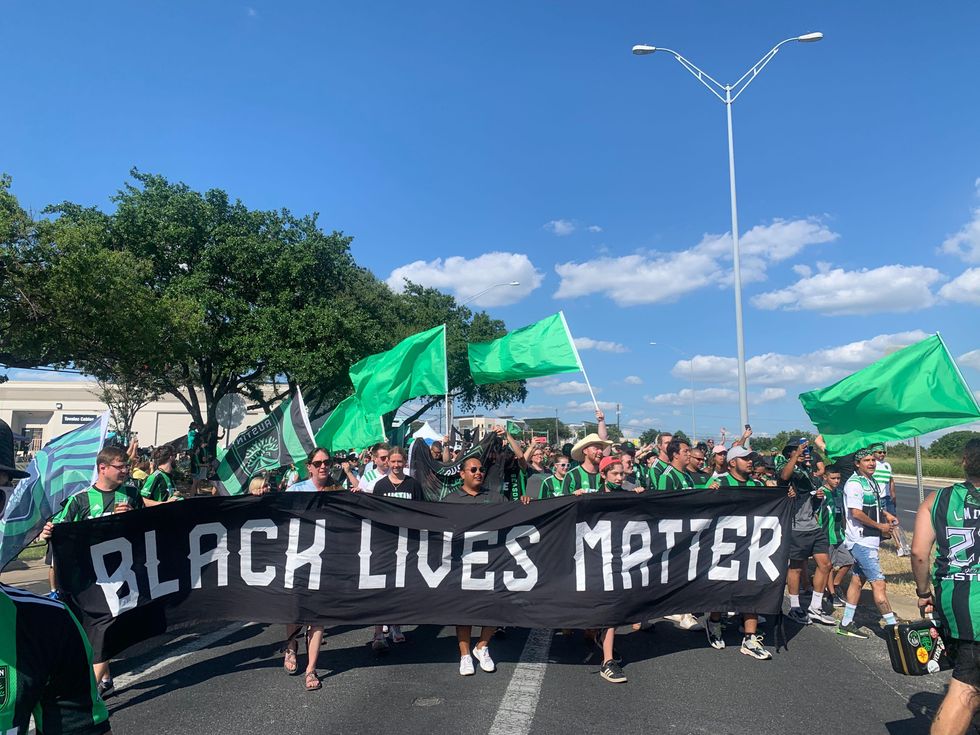 Austin FC fans marched to Q2 Stadium to commemorate the home opener. (Claire Partain/Austonia)
Starting just under three hours before kickoff, hundreds of supporters downed their BBQ and beers at Hopsquad and Circle Brewing and took to the streets. Anyone with out a few square miles was sure to hear the deafening cheers and drumbeats as fans marched to Q2 Stadium.
Onlookers joined in from above, men in Verde and Black superhero masks riled up the crowd. Led by a Black Lives Matter banner, the group chanted McConaughey-inspired classics ("Alright, alright, alright, alright Austin FC") as they paraded through the streets.
Once at their destination, the crowd parked in front of Q2 and belted out more tunes as hundreds jumped and cheered.
3 p.m: "It's been a long time coming"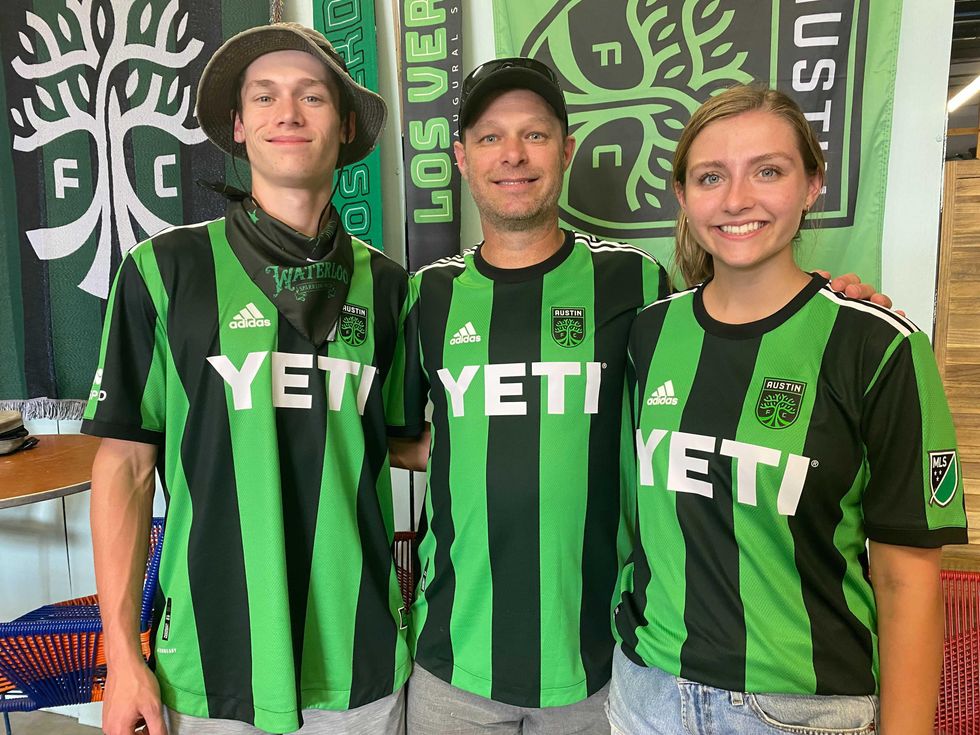 As the hours go by, fans reflect on the long journey it took to get here.
Brandon Olds is a longtime supporter of Austin FC, before it even was Austin FC. He remembers the long nights standing outside City Hall for Austin City Council to approve Austin's very own professional team. Now, he sits at Hopsquad Brewing with his two kids, awaiting the parade to Q2 Stadium. "This is huge, this is Austin's center stage," Olds said.
While he recently moved to Florida, he plans to use his season tickets any chance he gets. It brings his family closer together, he says.
"It's been a long time coming," his son Bailey added.
Noon: It's never too early to start pregaming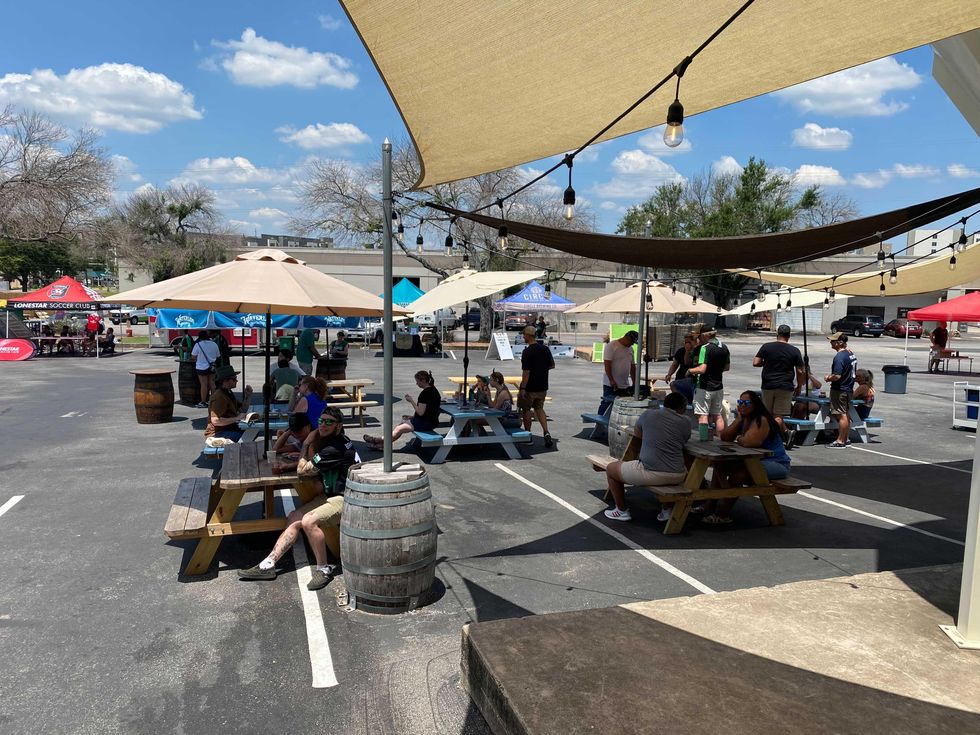 Circle Brewing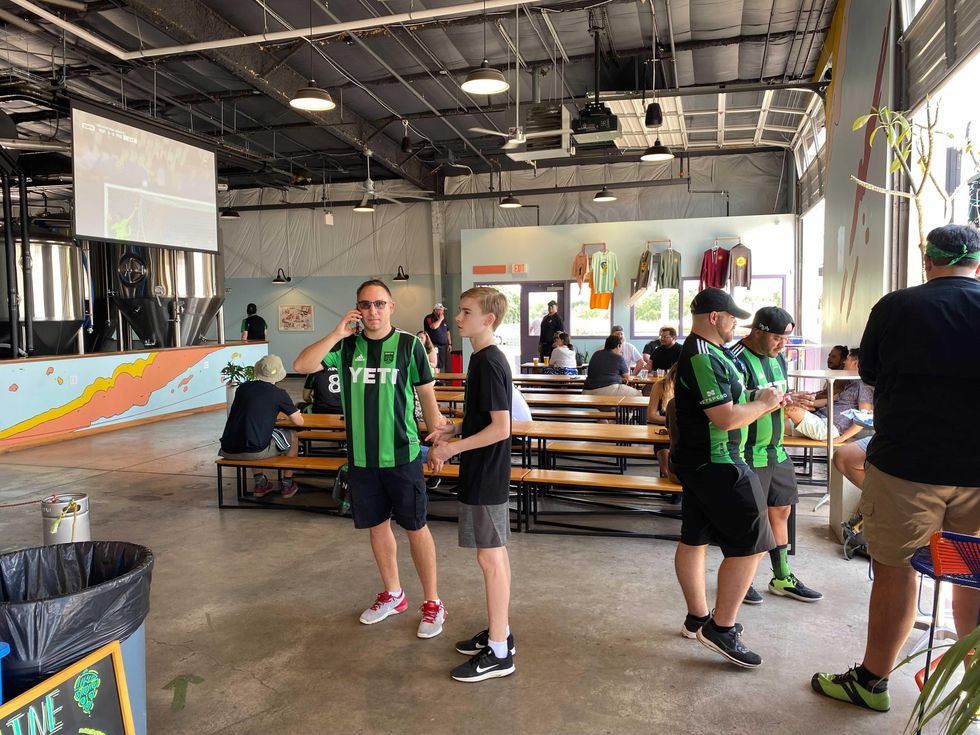 Hopsquad Brewing
By noon, Austin FC supporter group members and fans were already sitting with a cold beer in their hand at Circle Brewing and Hopsquad Brewing, among other pubs around town. And because there can never be enough soccer, playing on the screens are different soccer games. View watch parties happening around the city here. No rush, you have all day to head to one!
11 a.m: Verde Store is packed as fans look for last-minute merch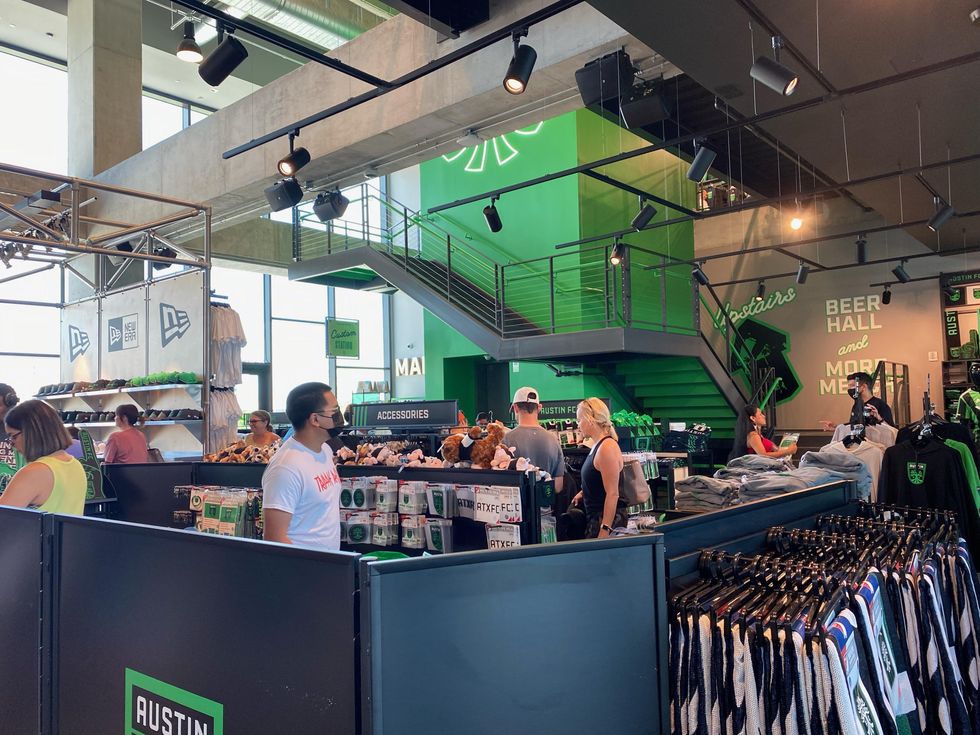 Austin FC fans are scrambling to get last-minute merch before the match. (Sonia Garcia/Austonia)
Austonia visited Austin FC's Verde Store around 11 a.m., and it was about as full as it was the day it opened. Fans perused the two-story store at Q2 Stadium looking to sport some Verde merch before the big game. The store is open until 2 p.m. today.
Jackie Venson announces performance before the match
Today is the day! Before I take the stage tonight at @Antones, I'll be taking the field at @Q2Stadium to perform before @AustinFC's first match. Feelings are off the charts, these are my dreams coming true and it's happening in my home town ❤️ pic.twitter.com/qx07e5hNXv

— Jackie Venson (@jackievenson) June 19, 2021
Austin musician Jackie Venson went Verde as she announced her upcoming performance this morning. Venson will be the first performer at Q2 Stadium as she belts out some tunes just before the match.
El Arroyo and others show their Verde support
LET'S GO, Y'ALL!!!! 💚⚽ It's finally game day in sunny ATX and we couldn't be more excited! This wide load couldn't fit in a stadium seat… So we asked for a jersey to rep our friends @AustinFC from here in downtown! #VERDE#LISTOSpic.twitter.com/iXhuisonry

— El Arroyo (@ElArroyo_ATX) June 19, 2021
All of Austin is going green this Saturday, including several local businesses eager to show their support. El Arroyo's iconic sign is draped in a giant Austin FC jersey for the occasion and dozens of Pub Club members and other bars are hosting watch parties and dressing up in Verde in honor of the club.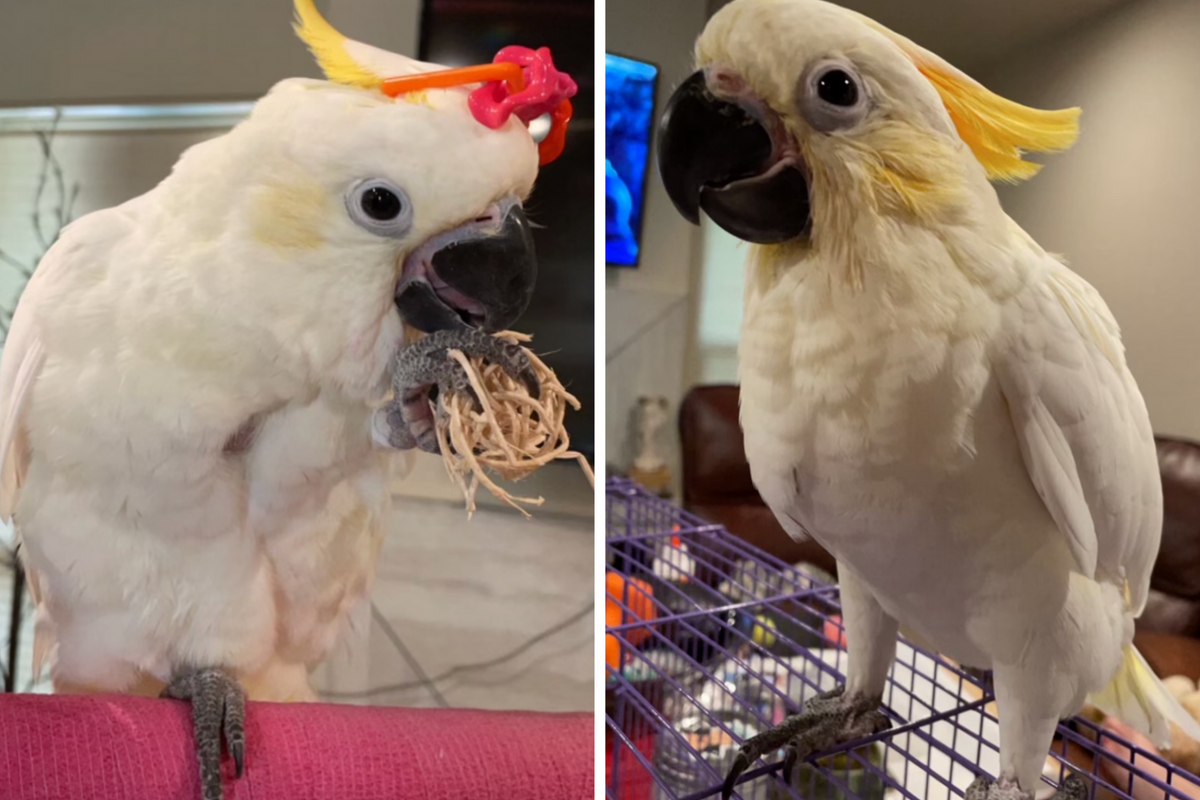 A big-money bird has been stolen from a northwest Austin pet store.
Kelsey Fernandez, the owner of a $6,000 sulphur and citron-crested cockatoo named Lemon Grab, said the emotional support animal was taken from the Gallery of Pets store, around closing time on Sunday.
"I've struggled with mental illness my entire life, and ever since I got him I've been doing so much better," Fernandez told Austonia.
The $6k cockatoo is young and will starve unless he is fed by hand, Fernandez said.
In a surveillance video, a man appears to have something under his shirt as he and two others exit the business around the same time the store believes that Lemon Grab was stolen.
Fernandez said a report has been filed with the Austin Police Department with an $1,000 reward for his return.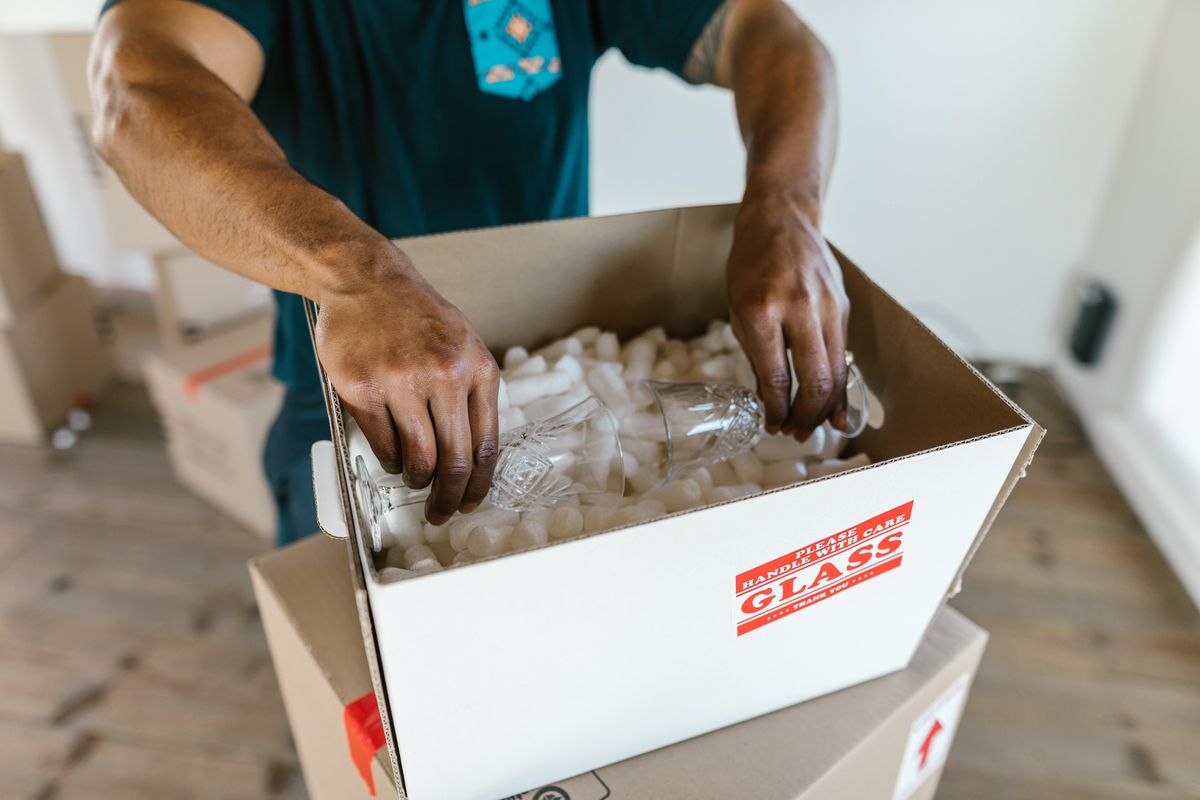 Introverts and personal space lovers may not want to make the move to Austin anytime soon: The Texas capital saw a bigger increase in one-bedroom rent prices than almost any other U.S. city in April, according to a Rent.com report.
Austin's one-bedroom rent has more than doubled—a 112% increase—from April 2021 to 2022, the report said. Only Oklahoma City saw a higher year-over-year increase with a 133% jump.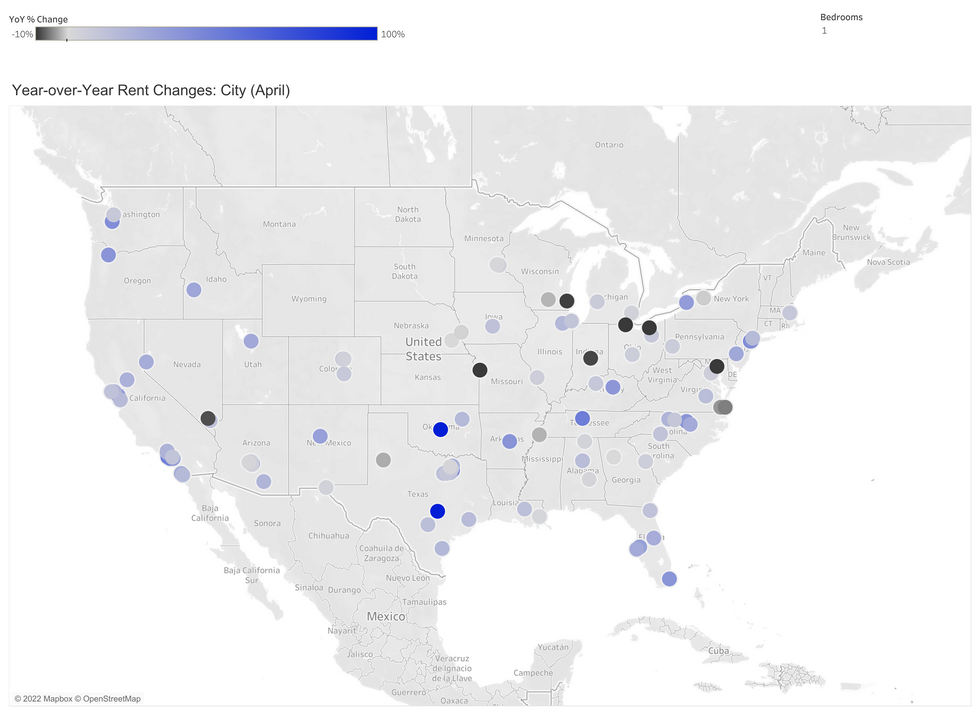 Austin also had the fourth-highest increase in two-bedroom rent, with a 50% increase in the past year. The city joined a nationwide trend where rents were up 8.3% year-over-year across the U.S, a trend exacerbated by a 6.2% increase in inflation in the same time period.
But "not everyone is experiencing inflation the same way," Redfin Deputy Chief Economist Taylor Marr said in the report, and a brunt of the load has gone to cities with more move-ins. While over 90% of state rental markets increased in the last year, that jump was seen most in Sun Belt states, including Texas, Arizona and Florida.
Even with breakneck increases in rent, however, Austin's rent prices still haven't cracked the top 10: the city's one-bedroom apartments are the 12th most expensive in the nation with an average price of $2,918. Meanwhile, its two-bedrooms fall behind Texas cities Frisco, Dallas and Plano and come out 34th on the list with a $2,302 average monthly rent.