Get connected with our daily update
Austin FC Head Coach Josh Wolff has run out of ways to say it: the team needs to score goals.
---
Austin is now scoreless for four of five of its home matches and has been shut out for nine of its last 11 games. Instead of trending upward after their grueling seven-match road stretch, the team has tanked to the bottom of the West as they head to a home match against Houston Dynamo at 8 p.m. on Wednesday.
For everything, you need to know about attending the game, click here.
What to expect
Coming to Austin was an easy decision for @SebadriussiOk. Our supporters and culture make our guys feel right at home. pic.twitter.com/siMblqHfP0

— Austin FC (@AustinFC) July 30, 2021
They say all good things come in threes, and for Austin those come in the names of Sebastian Driussi, Moussa Djitte and McKinze Gaines. Driussi, who is Austin FC's most expensive signee yet and could solve Austin's scoring woes, can stop quarantining Tuesday. He likely won't play Wednesday since he will have had only one minute of training but will probably debut in a road match against FC Dallas on Saturday. Meanwhile, Djitte is still missing and hasn't made it to the U.S. at the confusion of Austin FC fans and staff and there's no news of Gaines playing on Wednesday after signing on Saturday.
Austin's injured roster is finally drying up: right back Nick Lima subbed in for a few minutes for the first time in weeks on Saturday against Colorado, and just four others are still off the pitch. Dani Pereira is still out, however, and he's proven to be the secret ingredient for many of Austin's best matches in the past.
Houston was Austin FC's first-ever MLS opponent as they beat the club 3-2 for a preseason La Copita match. Since then, the club has stayed out of the limelight and is ninth in the Western Conference off of a nine-match winless streak. Like Austin, the Dynamo are skimpy on scoring, but their solid defense has led them to three straight draws.
On Saturday, Houston made a big move by signing LAFC winger Corey Baird. Baird scored against Austin in the teams' first matchup on April 17 and has scored two more goals since, but it's unclear whether the experienced winger will be wearing orange come Wednesday.
Though unlikely, it could be a signee vs. signee situation as Austin and Houston head into their first official Texas Derby match.
Projected starting lineup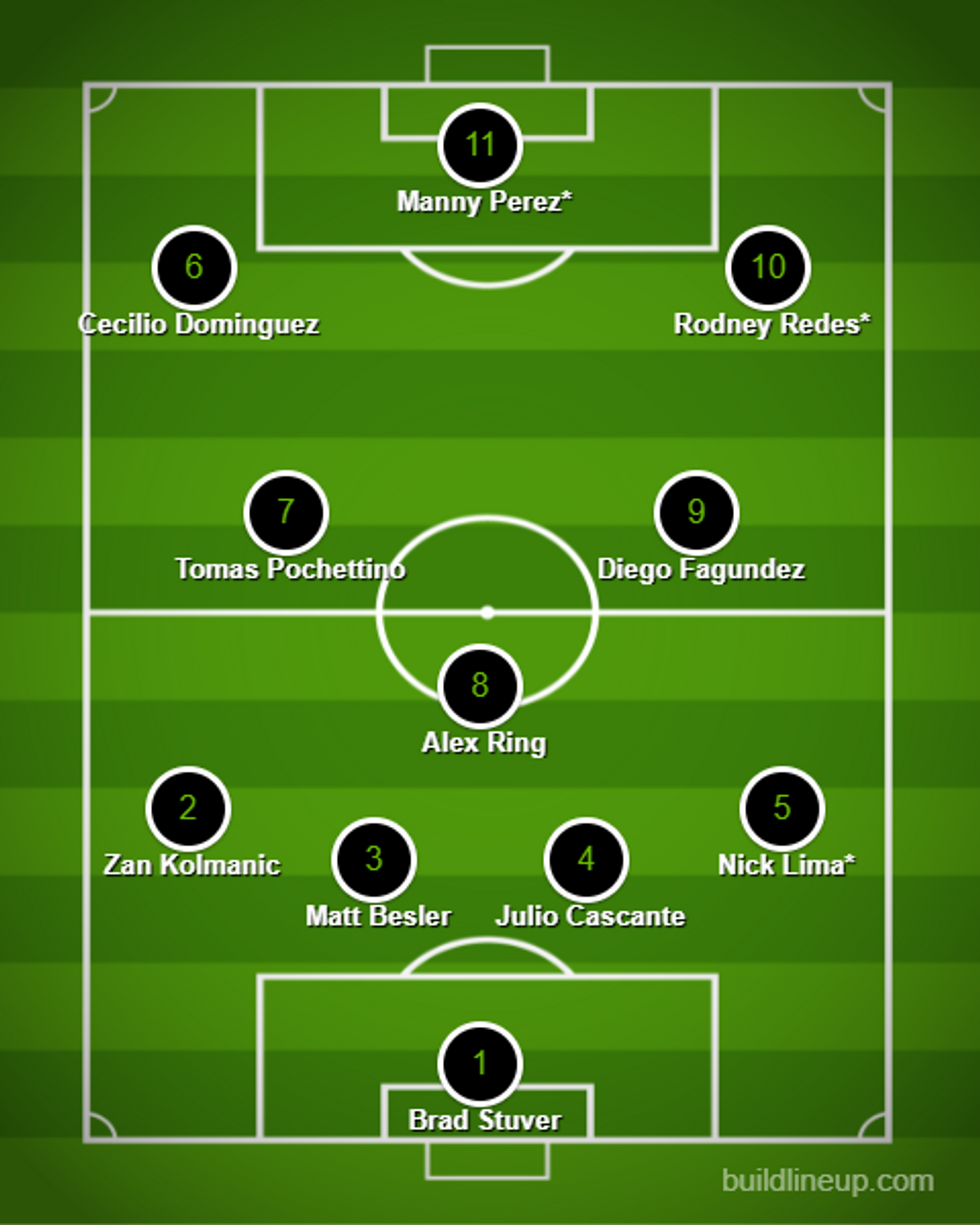 Sans Driussi, Austin will still be hard-pressed to find their perfect fit as striker up top. A young Manny Perez took the starting spot for the first time on Saturday and could crown the offense again. Meanwhile, Rodney Redes is as likely as any other to take the winger position as he looks to finally nab that first official goal with the team. Jon Gallagher, who scored Austin's first home goal, and winger Jared Stroud are also options to play on the right flank.
Nick Lima saw limited playing time on Saturday, and he could be back to take his starting spot this week—this time sporting a mohawk. His replacement, 32-year-old Hector Jimenez, has still been playing well and could hold onto the spot for longer.
Cecilio Dominguez could permanently be back in his left winger position, or he could sit up top and adopt his most comfortable "false-9" status as the club waits for Driussi to take the striker spot.
Meanwhile, Brad Stuver continues to save the team from catastrophe in the keeper position. Stuver once again pulled off two nail-biting saves in the 1-0 loss to Colorado on Saturday and is quickly gaining acclaim as a potential MLS All-Star roster member.
After months of speculation, a new report says political personality Beto O'Rourke is mulling a run for Texas governor that he will announce later this year.
Sources tell Axios the former congressman is preparing his campaign for the 2022 election, where he will likely vie for the position against incumbent Gov. Greg Abbott. The only other candidate that has announced he will take on Abbott for governor is former Texas GOP Chairman Allen West—no Democrats have announced they are running as of yet.
"No decision has been made," Axios reports David Wysong, O'Rourke's former House chief of staff and a longtime adviser, said. "He has been making and receiving calls with people from all over the state."
A new poll from The Dallas Morning News and University of Texas at Tyler shows O'Rourke is narrowing the gap between himself and Abbott's prospects for governor. In the poll, 37% said they'd vote for O'Rourke over Abbott, while 42% said they'd vote for Abbott.
Abbott has been in the hot seat due to his handling of COVID-19 and the signing of landmark legislation into law, including new abortion and voting rights laws; 54% of poll respondents voted they think the state is headed in the "wrong direction." Still, Texas hasn't had a Democrat as governor since the 90s.
O'Rourke's people-focused approach to the 2018 Senator race, which he lost to Sen. Ted Cruz, gave him a widespread following and many hoped he'd throw his hat into the ring since he said he was considering it earlier this year.
"We hope that he's going to run," Gilberto Hinojosa, the state chair of the Democratic Party, told Axios. "We think he'll be our strongest candidate. We think he can beat Abbott because he's vulnerable."
Austin rapper Jordi Esparza may not have won the 2021 Red Bull Batalla, the world's largest Spanish freestyle rap competition, but for a spirited two rounds, the 22-year old Mexican native looked like he had every right to.
On Saturday evening in Los Angeles, the event itself looked like Cobra Kai meets Star Search with graphics adding a very Batman Beyond aesthetic. Over a dozen rappers hoping to represent the U.S. in the international round of the competition took to the stage with in-your-face jabs at accents, sexual orientation and odors, among other things.
This was Esparza's second rodeo; he had placed third at the 2020 National Finals, automatically securing him a spot this year.
However, things were different this year. He was not nervous about the contest. Unlike in 2020, when he made his Red Bull Batalla debut, the anxiety of the event led him to "feeling so bad."
Affecting a casual calm, the locally-based landscaper said he just felt "so relaxed, so happy" and primarily wanted to "enjoy everything."
Choosing his first-round opponent, Esparza, whose stage name is Jordi, elected to go against LA-based Boss.
Esparza freestyled an attack on his opponent's weight and cholo style of dress.
Boss—bracketing his Latin freestyle with English appeals to the crowd—mocked Jordi's lack of education, made fun of how clean Jordi's shoes looked and suggested that Jordi just came back from a Footlocker.
That first round went to Jordi.
But his next opponent Eckonn would prove to be his undoing.
Eckonn compared Jordi to Hannah Montana, while Jordi soulfully explained that he had learned from the best.
Esparza's verbal dexterity is matched by a rattling rhythm and a game face that is as mawkish as it is mockish. The overall effect is that of an underdog with bite.
Eckonn beat Esparza in that round with the overall championship going to Palm Beach-based rapper Reverse.
However, Esparza was just happy to be there. He recently told Austonia going to the finals again was a dream come true—a pinnacle that he said he won't know how to top.
With his nimble jabs and sneaky prowess, honed from pop culture and the swagger of a young working man hungry to be more, Jordi Esparza is just getting started.