Get connected with our daily update
Austin FC Head Coach Josh Wolff has run out of ways to say it: the team needs to score goals.
---
Austin is now scoreless for four of five of its home matches and has been shut out for nine of its last 11 games. Instead of trending upward after their grueling seven-match road stretch, the team has tanked to the bottom of the West as they head to a home match against Houston Dynamo at 8 p.m. on Wednesday.
For everything, you need to know about attending the game, click here.
What to expect
Coming to Austin was an easy decision for @SebadriussiOk. Our supporters and culture make our guys feel right at home. pic.twitter.com/siMblqHfP0

— Austin FC (@AustinFC) July 30, 2021
They say all good things come in threes, and for Austin those come in the names of Sebastian Driussi, Moussa Djitte and McKinze Gaines. Driussi, who is Austin FC's most expensive signee yet and could solve Austin's scoring woes, can stop quarantining Tuesday. He likely won't play Wednesday since he will have had only one minute of training but will probably debut in a road match against FC Dallas on Saturday. Meanwhile, Djitte is still missing and hasn't made it to the U.S. at the confusion of Austin FC fans and staff and there's no news of Gaines playing on Wednesday after signing on Saturday.
Austin's injured roster is finally drying up: right back Nick Lima subbed in for a few minutes for the first time in weeks on Saturday against Colorado, and just four others are still off the pitch. Dani Pereira is still out, however, and he's proven to be the secret ingredient for many of Austin's best matches in the past.
Houston was Austin FC's first-ever MLS opponent as they beat the club 3-2 for a preseason La Copita match. Since then, the club has stayed out of the limelight and is ninth in the Western Conference off of a nine-match winless streak. Like Austin, the Dynamo are skimpy on scoring, but their solid defense has led them to three straight draws.
On Saturday, Houston made a big move by signing LAFC winger Corey Baird. Baird scored against Austin in the teams' first matchup on April 17 and has scored two more goals since, but it's unclear whether the experienced winger will be wearing orange come Wednesday.
Though unlikely, it could be a signee vs. signee situation as Austin and Houston head into their first official Texas Derby match.
Projected starting lineup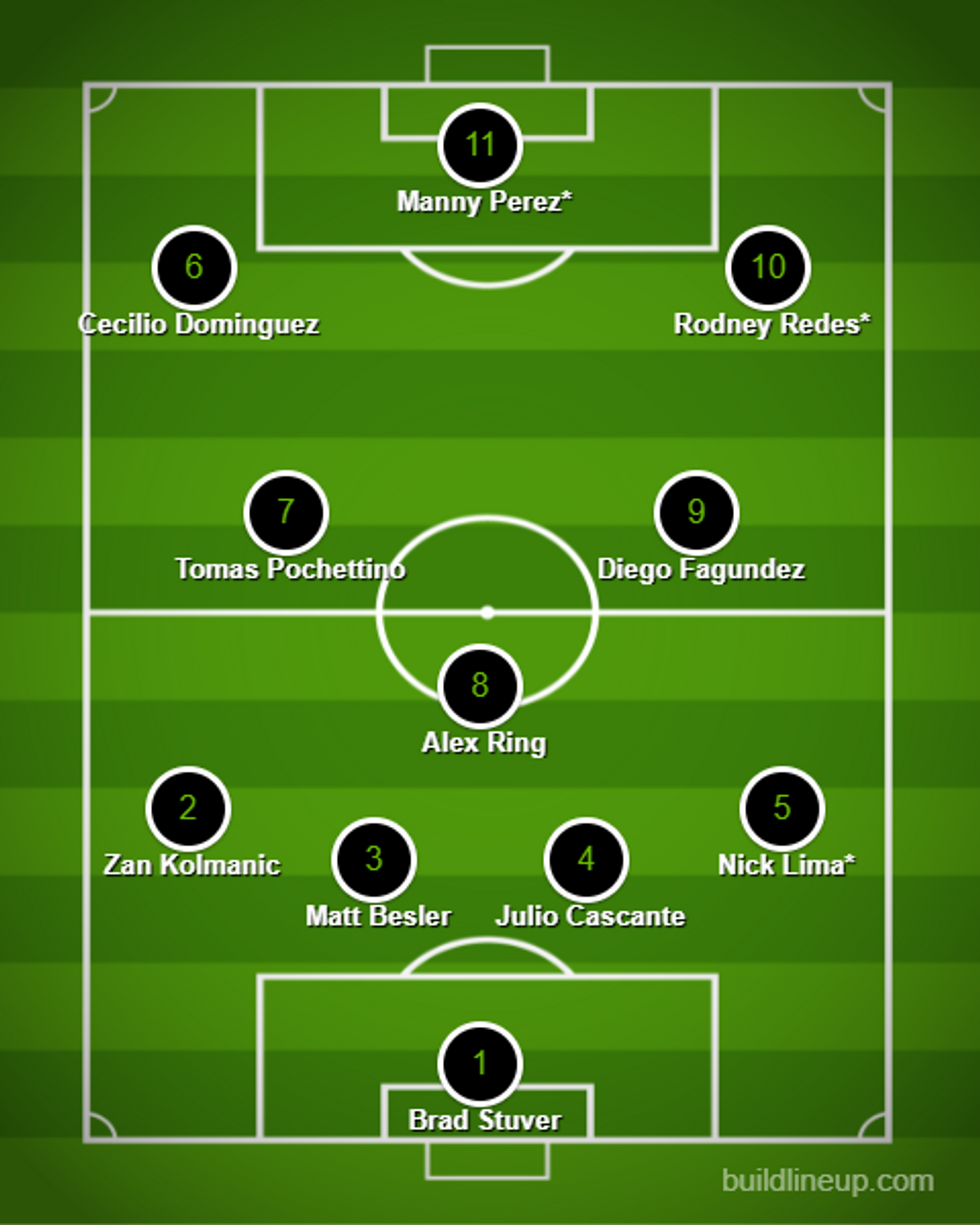 Sans Driussi, Austin will still be hard-pressed to find their perfect fit as striker up top. A young Manny Perez took the starting spot for the first time on Saturday and could crown the offense again. Meanwhile, Rodney Redes is as likely as any other to take the winger position as he looks to finally nab that first official goal with the team. Jon Gallagher, who scored Austin's first home goal, and winger Jared Stroud are also options to play on the right flank.
Nick Lima saw limited playing time on Saturday, and he could be back to take his starting spot this week—this time sporting a mohawk. His replacement, 32-year-old Hector Jimenez, has still been playing well and could hold onto the spot for longer.
Cecilio Dominguez could permanently be back in his left winger position, or he could sit up top and adopt his most comfortable "false-9" status as the club waits for Driussi to take the striker spot.
Meanwhile, Brad Stuver continues to save the team from catastrophe in the keeper position. Stuver once again pulled off two nail-biting saves in the 1-0 loss to Colorado on Saturday and is quickly gaining acclaim as a potential MLS All-Star roster member.
Five Austin companies joined Google's second Startups Black Founders Fund on Wednesday, earning $100,000 each as part of the $10 million initiative geared toward giving Black entrepreneurs access to funding for their startups.
The fund gave $100,000 to 50 founders nationwide, including Austin companies CustomerX.i, Journey Foods, Sandbox Commerce, The Mentor Method and Tadeblock.
The founders will receive the funding without giving up any ownership of their startups and will gain access to Google technical support including up to $120,000 in donated search Ads from Google.org and up to $100,000 in Google Cloud credits. The Austin companies will also join a select few—the fund is only two years old and last year rewarded 76 Black-led startups with up to $100,000 as well.
Google's Startup funds can be used to boost Black founders' companies into success—last year, founders raised up to $50 million in capital after recieving the funds, and 80% of the companies used their funds to create jobs.
Founders from last year's batch then paid it forward by nominating new companies and announcing the winners via Zoom.
Here's a look at those 5 founders in Austin:
Austinites will once again be able to take a nonstop flight to London as Austin-Bergstrom International Airport resumes transatlantic travel this fall.
Starting Oct. 13, British Airways will offer its direct flight from ABIA to London-Heathrow Airport three times a week on Wednesday, Friday and Sunday. The airline, which has been operating in Austin since 2013, had halted service at the start of the pandemic over a year ago.
"We can't wait to welcome our customers back on board our Austin flights and we are honored to be playing our part in reuniting families and friends with their loved ones after such a long time apart," said Marie Hilditch, British Airways' head of North America sales.
Safety protocols the airline is taking include:
social distancing measures
wearing of facemasks
providing hand sanitizer stations
cleaning all surfaces after every flight
fully recycling the air once every two to three minutes through HEPA filters, which remove microscopic bacteria and virus clusters with over 99.9% efficiency
The announcement comes as COVID-19 testing requirements to enter the UK are scheduled to stop on Oct. 4. for vaccinated Americans.
Additionally, a Monday White House announcement allows fully vaccinated international travelers to enter the U.S. starting in early November with proof of a negative COVID-19 test. The ban, which was implemented in 2020, restricted travelers from a number of European countries, Iran and China throughout the pandemic.
With a goal of making healthy goodies available to the masses, HumanCo LLC has caught the attention of famous Austinites.
The Austin-based investment firm and holding company that incubates, acquires and scales consumer packaged health foods just closed a $35 million bridge funding round that included some well-known backers from the capital city and beyond according to co-founder and CEO Jason Karp.
Even since the beginning of its launch in May 2020, HumanCo had gained a new board of advisers member and an undisclosed investment from professional tennis superstar Venus Williams.
This most recent round welcomed a vetted round of investors who share a love of healthy food: co-founder of Austin-based private equity firm Vista Equity Partners Brian Sheth, Austin-based venture capital firm 8VC general partner Joe Lonsdale, actress Scarlett Johansson, Whole Foods Market Inc. co-CEO Walter Robb, model Cindy Crawford, Thrive Market co-founder and CEO Nick Green, San Francisco venture capital firm Jazz Venture Partners, former PepsiCo CEO and chairwoman Indra Nooyi, U.S. Open winner and former Austinite Andy Roddick, model and actress Brooklyn Decker, and Vital Proteins founder and CEO Kurt Seidensticker.
Founded in 2019, the company secured a $15 million Series A funding round in January 2020. Come late 2022, the company is planning "a much bigger" round of funding. According to HumanCo officials, targeting well-known influencers and celebrities was a deliberate choice—they have the influence money can't buy.
Some of the brands under the company's umbrella include organic, grain-free and gluten-free Snow Days Pizza bites, which feature Johansson as the creative director; wholesale gluten-free baked goods manufacturer Against the Grain Gourmet Foods and organic and plant-based ice cream brand Coconut Bliss.
The company employs 22 people, nine of which work in Austin at 98 San Jacinto Center. The rest of the employees are spread across at least four cities, including Chicago and Los Angeles, for the time being.
HumanCo plans to hire around 10 more in the next year, according to Karp, and go public in "a few years." The company currently has
two jobs open in Austin
.