Get connected with our daily update
Austin FC has been through the ringer for their first season: a seven-week stretch on the road to kick off, one goal in seven games, and a slew of injuries that left half of the club's starters off the pitch at one point.
---
Here's a quick look at who's on, who's off and who's been injured on the Austin FC roster to date.

Jon Gallagher, forward: unknown foot injury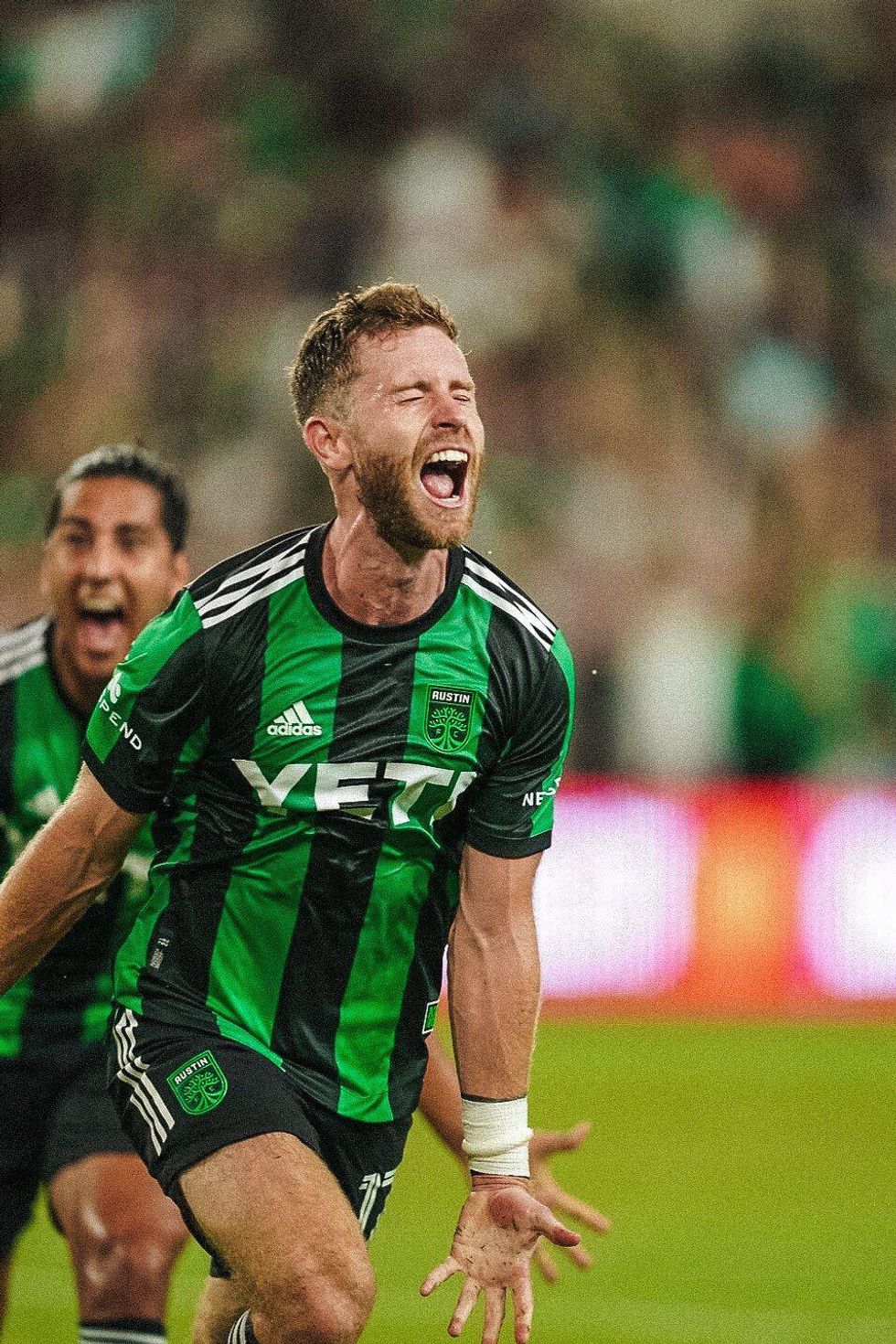 The same foot that kicked in Austin FC's first home goal could keep forward Jon Gallagher out of the next few practices or matches.
Gallagher said he downed some Ibuprofen just before he scored the first goal at Q2 Stadium. By the end of the first half, Gallagher said he was "pretty useless," and he was seen on crutches around halftime, though he was walking regularly as time went on.
Gallagher said he's unsure on the verdict of the injury.
"I don't know the extent of it. Hopefully it's not too bad," Gallagher said after the match. "Mentally, it's a bittersweet night because I don't know how bad it is."
Danny Hoesen, striker: out indefinitely on hip injury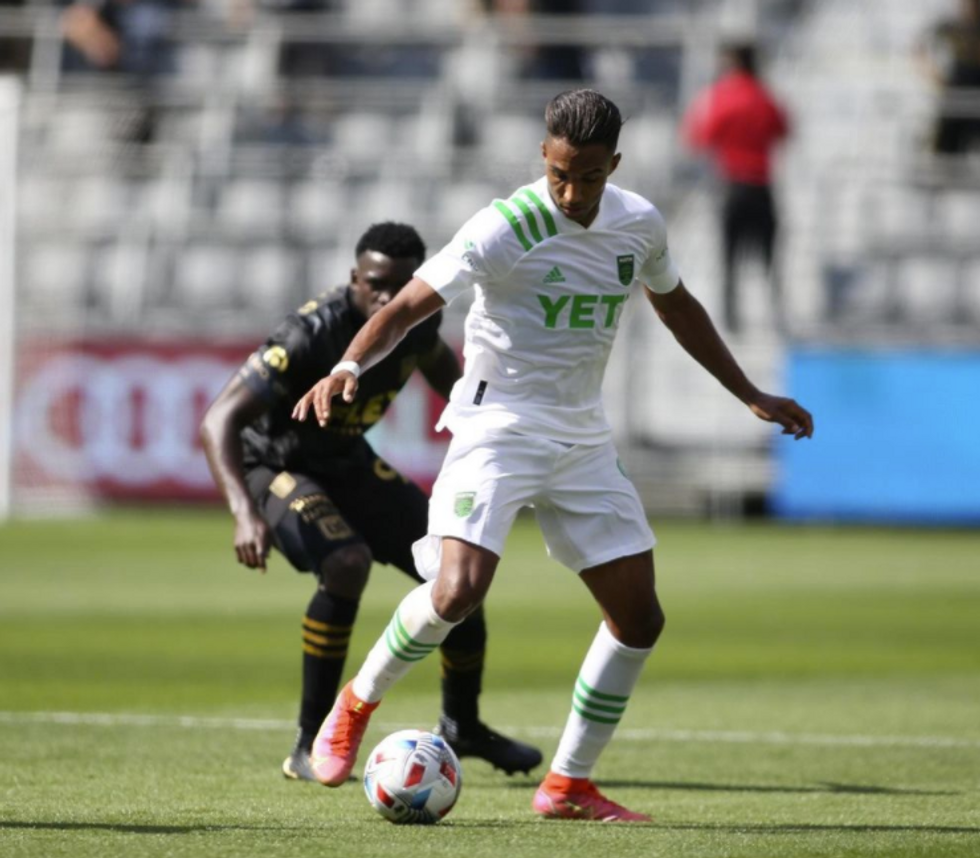 Hoesen has been out for several matches in a row but may recover by the end of the season. (Danny Hoesen/Instagram)
Fans were dismayed when Head Coach Josh Wolff announced that Hoesen, who had been the offensive frontman at the beginning of the season, would be out for the season on a hip injury.
Luckily, Sporting Director Claudio Reyna clarified a day later and said Hoesen is progressing well after surgery and could be back sooner. "We're still hopeful that he could recover in time for the later games in the year," Reyna said.
The club has made a few moves to help out the striker position, though Reyna said they were looking to sign new forwards during the summer transfer window regardless. The club signed 21-year-old Moussa Djitté from Grenoble in the French Ligue 2 on Monday, and Reyna said their third Designated Player slot is still open.
Nick Lima, right back: pulled hamstring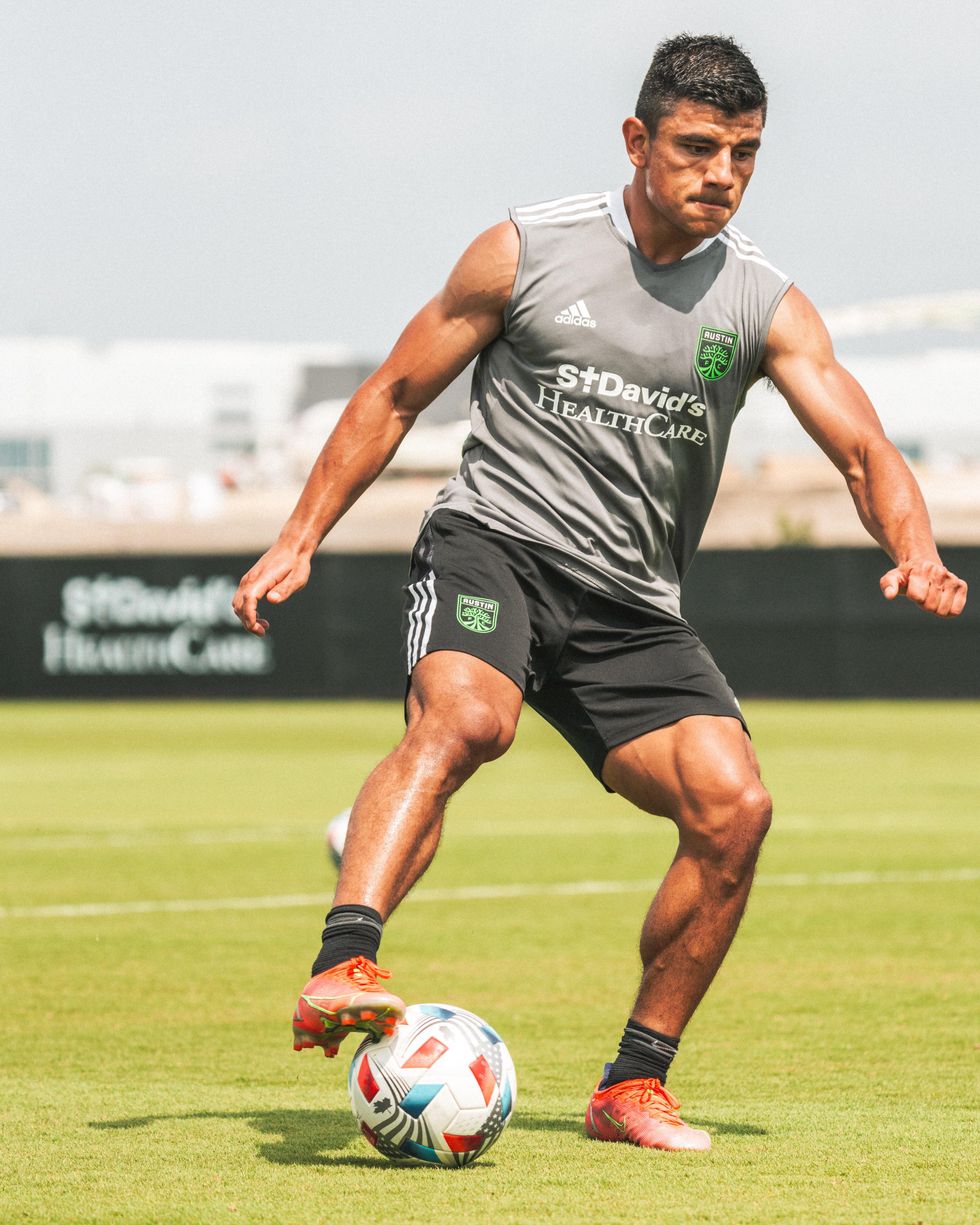 Nick Lima is out indefinitely after pulling a hamstring against Minnesota United. (Austin FC/Twitter)
Nick Lima was the last of a string of last-minute injuries that saw three starters—Lima, Captain Alex Ring and center back Matt Besler—out in a 2-0 loss against Minnesota United on June 23.
While Ring (right ankle) and Besler (right foot) recovered just in time to help shut out the Columbus Crew on Sunday, Wolff said Lima will be out "for a little while" as his pulled hamstring heals.
In his stead is Hector Jimenez, who Wolff said is the only true right back they have left in a press conference after the Minnesota match. Jimenez, who suffered an injury himself in his first start of the season in May, has helped the club to their second shutout at Q2.
Aaron Schoenfield, forward: left knee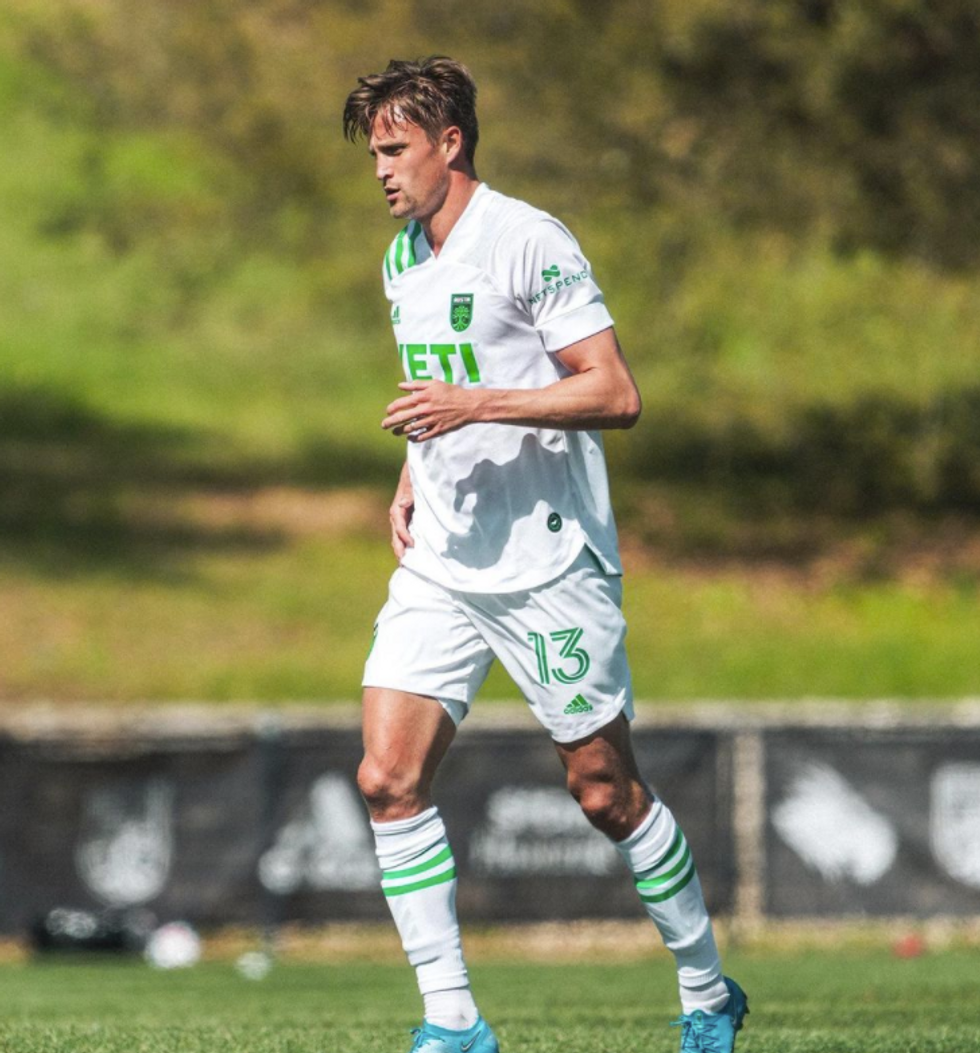 Aaron Schoenfield has yet to debut with the club due to injuries. (Aaron Schoenfield/Instagram)
Aaron Schoenfield, another scoring option for the club has yet to make his debut with Austin FC after a "setback" with his left knee. Wolff said that "it'll still be a good ways" before Schoenfield can hit the pitch for the first time, furthering a need for new signees up top.
Ulises Segura, midfielder: left knee
#GirlDad

💚🖤 @USeguraCR pic.twitter.com/WWB4wOB8ha

— Austin FC (@AustinFC) June 28, 2021
Segura's debut has yet to be determined this season as well after the midfielder underwent knee surgery near the start of the season. Both he and Schoenfield have been out for the entire season to date on left knee injuries.
Ben Sweat, left back: ACL tear
Ben Sweat is now back on a daily basis at @StDavidsPC doing exercises on his surgically repaired knee. pic.twitter.com/ldSAUkBs2L

— Eric Goodman (@Goodman) June 29, 2021
Starting left back Ben Sweat suffered one of the first matchday injuries with the club, and the verdict was an athlete's worst nightmare. With an ACL tear, Sweat is looking at a long path to recovery, though he's already undergone surgery and has been spotted doing exercises on his injured knee.
Sweat's injury propelled new signee Žan Kolmanič into the starting XI just after flying in from his former team NK Maribor in Slovenia. Wolff has praised the 21-year-old Kolmanič for his fitness and eagerness on the ball, but Sweat will still be welcomed with open arms the next time he hits the pitch.
While a five-man injury list may not be ideal, Austin has seen some quick recoveries so far: Besler and Ring are back in tip-top shape, No. 1 SuperDraft pick Daniel Pereira has returned after a stint on the bench, Jhohan Romana is once again available at center back, and Rodney Redes, who suffered a "ding" to his knee, has seemingly fully recovered.
The club will need all hands on deck as they attempt to combat the scoreless "curse" (we're the only ones calling it that) at Q2 Stadium.
Austin may end up staying above freezing through mid-December, a departure from typical temperatures this time of year.
The average first freeze in Austin and San Antonio usually happens around now, as the National Weather Service pointed out Monday.
The average first freeze in Austin and San Antonio is typically right about now. No freezes for the foreseeable future. There have been some years where the first freeze didn't happen until January!

— NWS Austin/San Antonio (@NWS Austin/San Antonio) 1638210545
Still, Austin's Mediterranean-style climate has a wider range of first freezes than many other places and we're subject to cyclical influence, says Monte Oaks, a meteorologist with the NWS.
One influence is La Niña, a climate pattern that happens in the Pacific Ocean every few years. This is the second La Niña winter in a row, an occasion known as a "double-dip." While its impacts are far-reaching and can impact weather around the world, the U.S., in particular, is expected to experience an impact on temperature and precipitation from La Niña. The National Oceanic and Atmospheric Administration said earlier this month that La Niña conditions have already developed, and in Austin, its effects have been on the mild side. As a result, Austin could have a delayed first freeze and an earlier last freeze than typical.
Many are on edge heading into winter after witnessing Winter Storm Uri hit Texas in February. The power outages caused by a failure to winterize the grid led to the death of hundreds, and in the imminent possibility of another hard-hitting weather event, Texans are still at risk.
Experts told The Texas Tribune that the state hasn't done enough to prevent another winter blackout. Plus, recent analysis by the Electric Reliability Council of Texas revealed the grid is still vulnerable and many power plants could be forced offline under extreme conditions. As KXAN reported, the cold blast last winter came about through a stratospheric warming event—unrelated to La Niña—that brought the intrusion of Arctic air from the North Pole. This year, winter is expected to bring fewer freezes and less snowfall.
Locally, Austinites dealt with conditions of broken water pipes, a boil water notice after water treatment plants shut off, and an outage that left thousands without water. On top of that, many also lacked gas and heat and opted to warm up in their cars.
The city has completed prep work in case of another extreme weather event. Austin Energy increased vegetation management, further sectionalizing circuits and developing processes to reduce power in the downtown network. And Austin Water carried out repairs at most of its water treatment plants, dispatched heaters, sand, and more winter equipment, and plans to have all exposed pipes insulated by the end of 2021.
The Texas sun is an encouraging sign in the face of cold conditions. Oaks says more sunshine allows temperatures to warm up. For now, the National Weather Service has only found one recent freeze at the sites they track in Austin, which happened at the airport on Nov. 23.
Just as the world takes a breath from the Delta variant-induced third COVID surge that pushed hospitals past capacity this summer, a new variant—the omicron—is forcing countries around the world to once again consider shutting their doors.
It's too early to tell whether the variant will have the devastating effects of the Delta variant, the Mu variant—which accounted for 3% of U.S. cases before dropping off almost entirely by October—or somewhere in between. But as omicron continues to rise sharply in all provinces of South Africa, the Biden administration is reintroducing some travel restrictions that went into effect Monday.
As the variant spreads to countries around the world, including Canada, the Netherlands and Hong Kong, the World Health Organization declared omicron a "variant of concern"—though some are calling the move premature.
What is omicron?
The omicron variant, B.1.1.529, is now under strict watch from the WHO after quickly spreading throughout Southern Africa.
It's genetically different from the Alpha and Delta variants and has up to 30 mutations in its genetic code, leading some to worry that the risk of retransmission from those who have already had COVID could be high. The strain's mutations could also aid omicron in beating out other strains and spreading more quickly to hosts.
Omicron is the latest version of the coronavirus to cause concern. Here's what we know about where it's spread so far and what makes it different than other variants that came before. https://t.co/ncciXnIuw9
— The New York Times (@nytimes) November 29, 2021
It appears to be doing the trick. While an Associated Press report found that case numbers in South Africa are still well below other pandemic peaks—3,220 new cases were reported in South Africa on Saturday— up to 90% of new cases in the South African province of Gauteng are omicron.
The strain's effects seem to be mild so far, and hospitals haven't been overburdened yet, though hospitalizations are rising.
And doctors worry that the full extent of the variant hasn't been realized. Vaccine hesitancy is strong among South Africa's youngest population—22% of those aged 18 to 34 are vaccinated—and most of those infected with COVID have been in those younger age groups. Doctors worry that older age groups will be more adversely affected.
And while experts in the country expected a fourth surge and possible variant, the omicron still came as a "shock" as it quickly spread to all nine South African provinces and other continents. It's now the first strain labeled as a "variant of concern" since the Delta variant.
It's unclear if the variant is more immune to vaccines, although some signs indicate that it's a possibility.
Where has it been detected?
The omicron strain still hasn't been detected in dozens of countries, and it's far from the first strain to make a mark since Delta. But it's coincided with a quick uptick in cases in South Africa, where it was originally found, and became the dominant strain in Pretoria, a city of around 750,000, in just a few weeks.
Omicron is now present in nearby Botswana and has jumped on board flights to Europe, Asia, Australia and North America. Hong Kong has detected three cases, while 10 European nations including the Netherlands, the United Kingdom, Portugal and Germany have found a total of 45 cases. Canada has detected three cases, and none have yet been found in the United States.
What has been done?
Against the wishes of both South Africa and the WHO, several countries have decided to once again shut their doors.
After detecting an omicron case, Israel decided to bar entry to foreigners, while Morocco suspended incoming international air travel for two weeks. Dozens of countries are restricting travel from Southern Africa to South Africa's chagrin—the government said travel restrictions are "akin to punishing South Africa for its advanced genomic sequencing and the ability to detect new variants quicker."
The WHO also called for borders to remain open as closing borders appears to have a limited effect on the spread of variants, and many countries are hesitant to clamp down on restrictions that have limited its citizens for so long.
The United States said in a statement Friday that it would restrict travel from eight southern African countries except for citizens and permanent U.S. residents who test negative for the virus.
White House Chief Medical Adviser Dr. Anthony Fauci said Sunday that it's "too early to say" whether tightened COVID restrictions will be needed to combat omicron but that citizens must be ready to do "anything and everything" to prevent its spread.
When will we know more?
The WHO said it will take around two weeks to gauge the full effects of omicron, from its ability to evade vaccines to its contagiousness.
For now, countries have once again urged their citizens to get vaccinated. Some vaccine companies have already spoken about the strain, including Moderna, which said Sunday that a new vaccine that protects against the variant could be released in early 2022 if needed.
For now, Fauci said that the country must "prepare for the worst" just in case omicron becomes the culprit of yet another surge.
"Inevitably, it will be here. The question is will we be prepared for it? If and when, and it's going to be when, it comes here hopefully we will be ready for it," Fauci said.
Homeowners in Windcrest, Texas don't take Christmas lightly. Decking out their home in thousands of lights, one Windcrest couple even won ABC's Texas episode of "Great Christmas Light Fight" that aired Sunday.
Known as "Christmas sweethearts," John and Brenda Wilson were awarded $50,000 after going up against fellow Texans, including a family in Amarillo and two families in Corpus Christi, in the ninth season premiere of the lights show.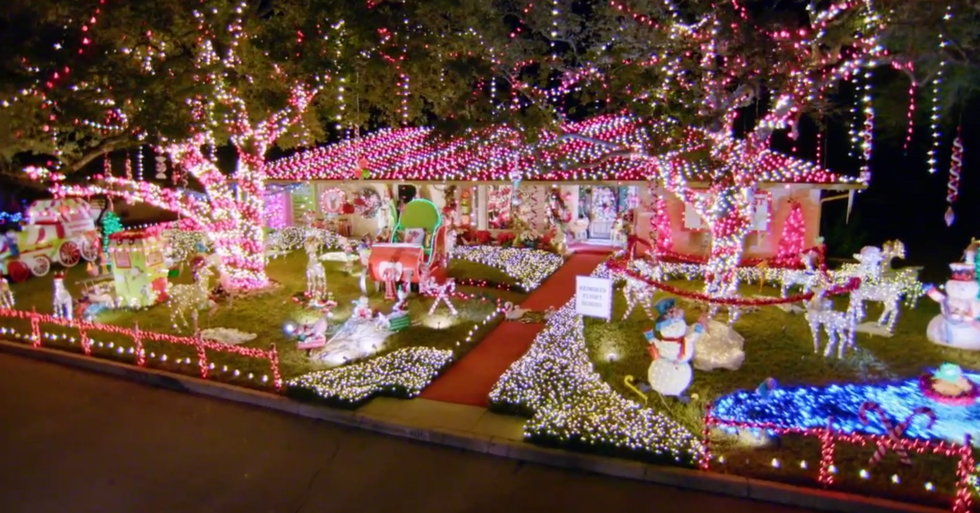 (Great Christmas Light Fight)
Their holiday display featured a hand-built sled, a train called the Peppermint Expressway with actual peppermint smoke coming out of it and Santa's reindeer "in training." Designer and judge Taniya Nayak noted the linework of the lights displayed on the roof and the positioning of the red and lime green color palette.
"Right off the bat when the lights turned on, I couldn't believe how beautiful these peppermint lights were... it's just such a fun, happy, yummy, delicious vibe to it," Nayak said when she announced the Wilsons were the winners. "It really made a smile go from one ear to the other on my face."
Judge Nayak said she also enjoyed that their display had different stories behind each section.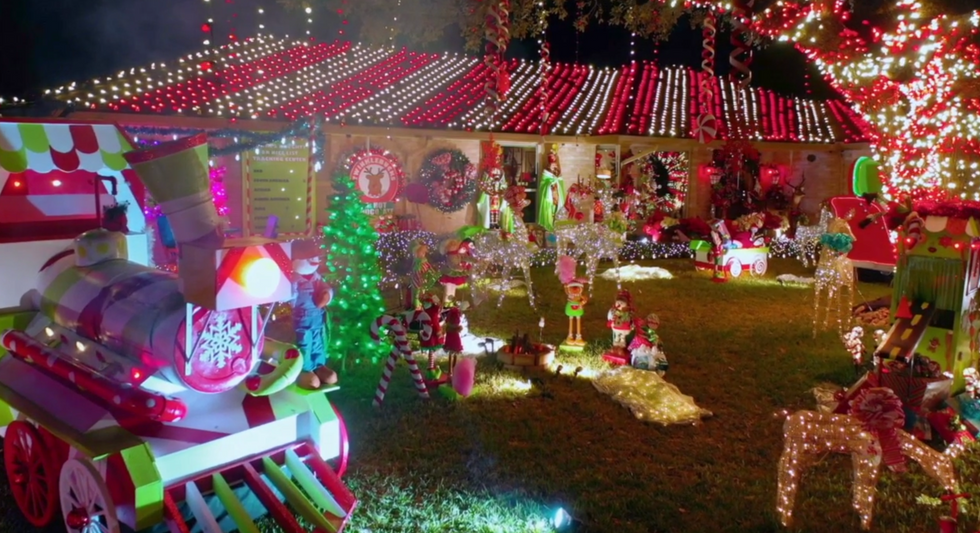 (Great Christmas Light Fight)
John, or "Mr. Christmas" as Brenda called him, said he has been putting on a Christmas lights display for over 20 years—and it's only got better since he met his Mrs. Clause 12 years ago. The two said they met online and were 98% compatible.
"Brenda and I grew up back in the 50s when things were very simple, so we wanted to create something from when we were growing up," John said on the show.
And their efforts paid off: along with their monetary prize, the couple earned a light-bulb-shaped trophy.
KSAT reports the home got the attention of the show's casting directors last year, who encouraged them to apply to be on the show. The show was then shot last year, but the couple didn't learn they won until this year.
While being on the show is their intro to stardom, locals are familiar with the Wilsons' yearly display in the light-centric Windcrest. Each year their home is part of the Windcrest Light Up, a decades-old tradition where residents go all-out with their holiday light displays. They've won at least three grand prizes in the Windcrest contest and several other category first-place prizes.
The Windcrest Light Up kicks off Dec. 4.