Get connected with our daily update
Austin sports fans are in the clear this weekend as Austin FC heads to Vancouver and Texas football plays at home, but this month they'll face a moral dilemma as they're forced to choose between Verde and burnt orange for the first time.
---
Austin FC, the newcomer that has quickly incited one of the most passionate fanbases in MLS, will play at home at the same time as tried-and-true Texas football for the first time at 7 p.m. on Saturday, Sept 18.
Some fans, like Austin FC season ticket holder Rod Mercado, will resort to desperate measures to catch a glimpse of both their favorite teams.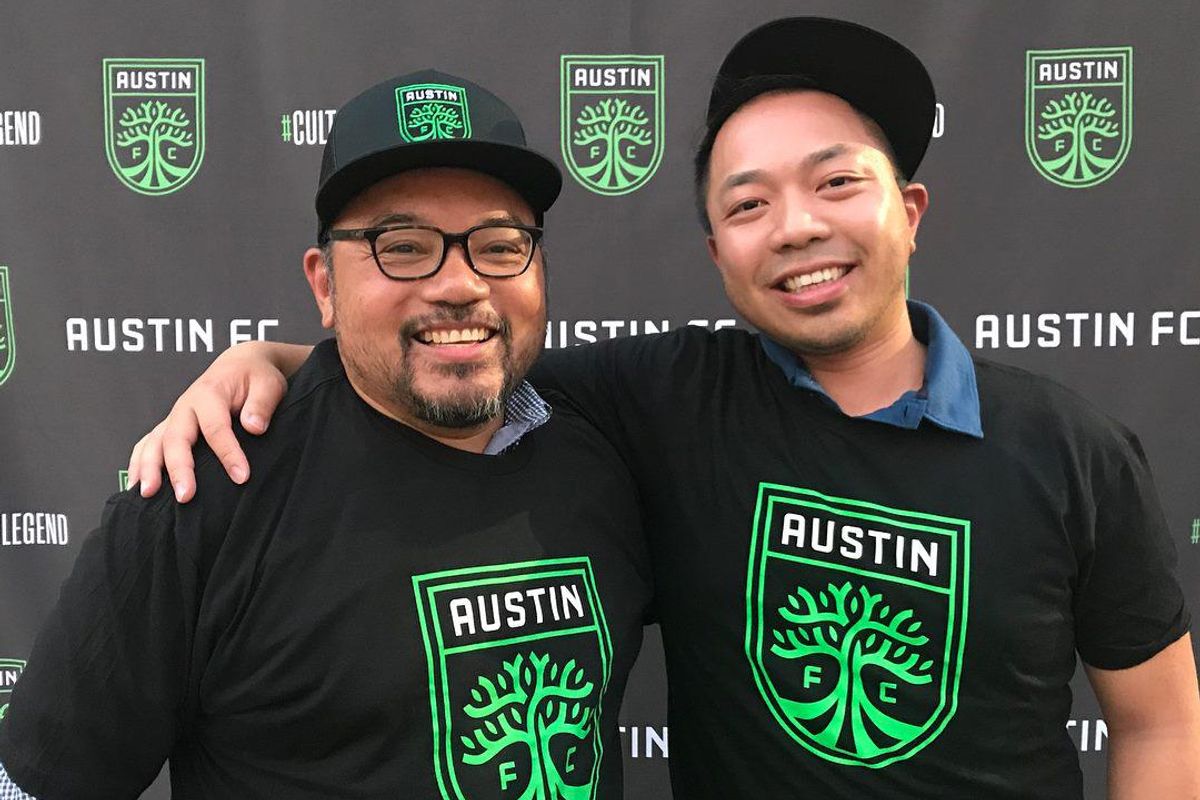 Rod Mercado (left) is a longtime Texas and Austin FC fan. (Rod Mercado/Twitter)
"Maybe I'll watch the Longhorn game on my phone while I'm sitting in my seats (at Q2)," Mercado said.
Others say conflicting times are no problem for the two different sports.
Easy—you watch the entire Austin FC match and afterwards catch the last 2 1/2 hours of the UT game on TV.
— shane (@_millimeter) August 25, 2021
But the fateful Sept. 18 time conflict is just one of the run-ins between the two teams that have never played in the same season. Austin FC has had the undivided attention of Austinites all summer as their first season rides into a time usually dedicated to all things Longhorns. Some wonder whether one team will suffer in the presence of the other, especially as Austin FC struggles to move up in the standings.
But Mercado, a Longhorn fan since graduating in 1995 and longtime Austin Anthem and Los Verdes member since its "MLS to Austin" days in 2017, said he and other dual fans are embracing a new favorite color combo: Verde and burnt orange. Just like Longhorn and Austin FC part-owner Matthew McConaughey, they say "the more, the merrier" when it comes to Austin sports culture.
"Texas athletics is the original game in town, but now we're no longer a little hip government, university town, man," McConaughey said at an Austin FC press conference in April. "We're a corporate town. We're a tech town. We're an international destination."
Dr. Matt Bowers, an associate professor for sports management at UT that has been following both teams, tends to agree.
"There's long been this assumption that the Longhorns have such a kind of stranglehold on the sports fan market in a place like Austin that it's too much to compete with," Bowers said. "I think Austin FC is showing that's absolutely not true."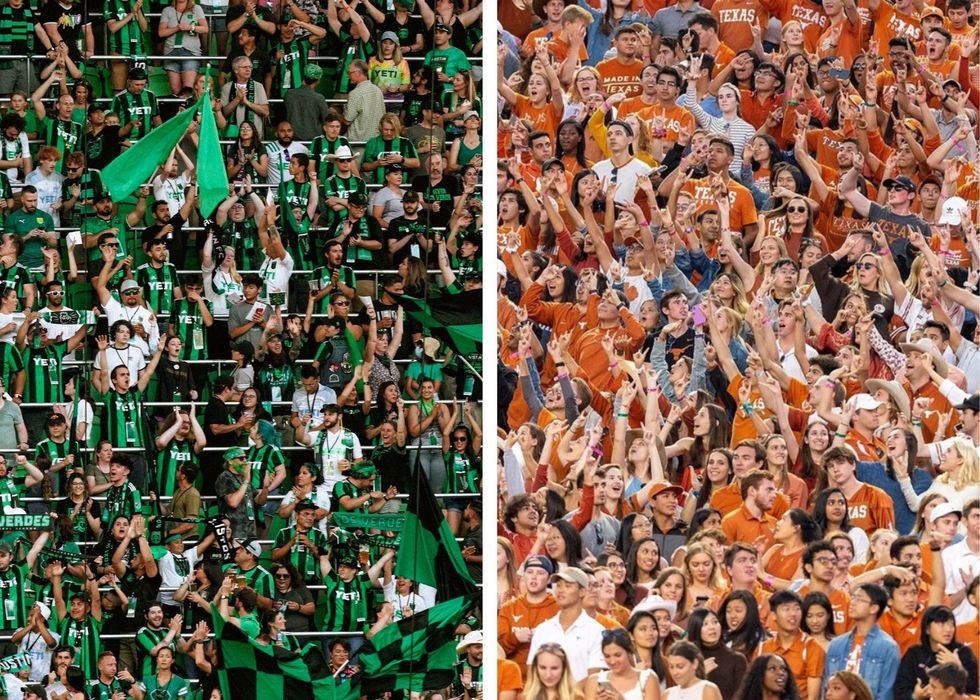 (Q2/Twitter) (Bob Daemmrich)
He said that the Venn Diagram of Longhorns and Austin FC fans isn't a perfect circle. With Longhorns supported by alumni and longtime Austinites and Austin FC representing transplants and a younger audience, each serve different purposes to Austin sport goers.
Austin's sporting market is as "weird" as the rest of the city, according to Bowers, and the two might actually help boost each other as they appeal to slightly different audiences. But the teams still likely won't be collaborating anytime soon. Texas has successfully ingrained itself into what was once the largest market without a professional team, and Bowers said they're probably not looking to team up with smaller competitors.
Fans like Mercado hope to see their two teams work together in some way, from a "Longhorns Night" at Q2 Stadium to Verde and burnt orange merch. Many fans are looking forward to an all-day party when Texas plays OSU at home at noon on Oct. 16 and Austin FC follows at 8 p.m. that night, or when UT plays Baylor at noon in Waco before Austin FC heads to FC Dallas at 7 p.m Oct. 20.
If I were still in town, I have a Austin Fc season ticket so I'd go to that game bc Texas 🏈 is much more expensive. Yes I'd like to see a Longhorn night at Q2 and vice verse at DKR. On 10/20 I'd just make a marathon day out of it and try to get to both games 🐂 🧡🤍+ ⚽️💚 🖤
— Biden-Harris Won (@ATXChristina) August 25, 2021
But some Austin FC fans like Bryce Cathcart side with Texas in saying they don't want the two to mix.
"Not a UT fan but more than that I just think it would be in bad taste," Cathcart said. "Honestly I think the majority of the Austin FC fan base couldn't care less about UT. Let the two teams do their own thing."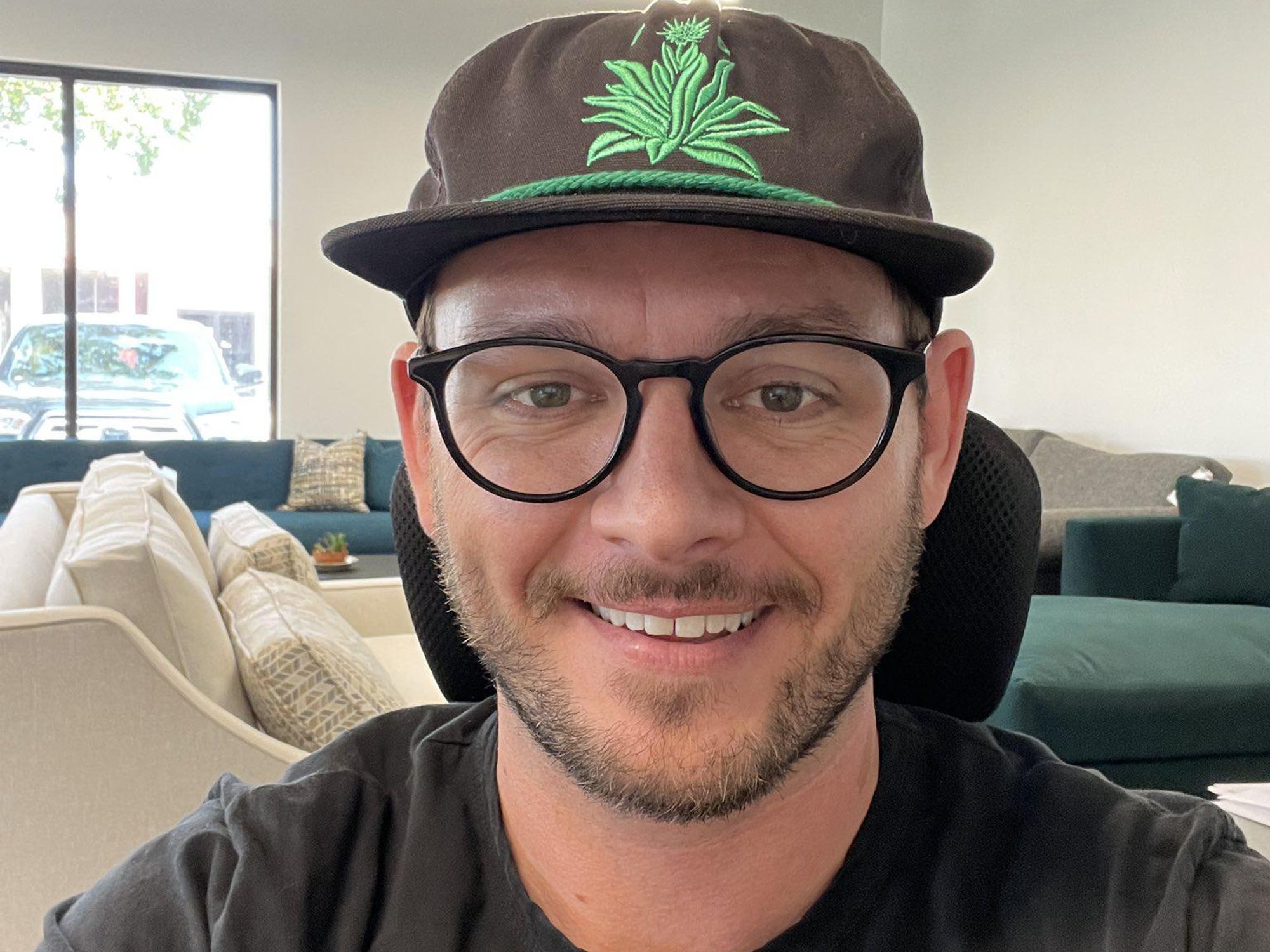 Austin FC fan Bryce Cathcart said most Austin FC fans aren't interested in UT. (Bryce Cathcart)
While Bowers says fan attendance should be mostly unaffected as long as Austin FC stays in their honeymoon phase and the Longhorns maintain their grip on Austin, he's most curious about which team will win TV rights at sports bars across the city. Still, he says that both teams should come out pretty unscathed as their seasons come to an end.
"I don't think we'll leave this fall with anything other than optimism about what our sports fan market can support," Bowers said.
Whether you became a home chef when the pandemic began or have always enjoyed crafting delicious meals, it's undeniable that no home is complete without a cozy kitchen.
Not only do these luxurious homes have enviable amenities like natural light, sky-high ceilings and land to grow into, they also boast extraordinary kitchens. These are not your mom's kitchens—we're talking wine fridges, Miele appliances and wet bars.
Take a peek at these five gems on the market now.
In the South Austin Parten community, this castle-like four-bedroom, three-and-a-half bathroom stunner puts you just minutes from Austin, Dripping Springs and other nearby communities. Stark white and black contrasting features give the interiors a clean look, while a large curving staircase serves as a centerpiece for the ground floor. The chef's kitchen is spacious, facing the living room and multiple windows, and immediately draws the eye. Upstairs you'll find a spa-style bathroom, game room with a wet bar and Hill Country Views.
This listing is held by
Adam Zell and Lexie Zell.
This hyper-modern, 3,300-square-foot Scandinavian-styled home is a paradise for natural light in Hyde Park. With four bedrooms and three-and-a-half bathrooms spread across one story, the home rests on concrete columns to protect from extreme climate conditions. Inside, you'll find crisp, clean trim in the open-plan kitchen with built-in luxury appliances and a walk-in pantry. Lofty 12-foot ceilings and gigantic windows set the tone, with a wet bar and second living room for entertaining. When you retire to the master bedroom, enjoy a warm bath in the soaking tub or enjoy the multi-output shower.
This listing is held by Austin Stowell.
In the heart of Westlake, this stacked three-story new build is a sprawling 4,483 square feet with five bedrooms and four-and-a-half bathrooms. The home is centrally located and full of natural light, especially on the open concept first floor, which includes the kitchen, casual dining space and living area. The third floor has a bedroom and loft, perfect for the at-home worker.
This listing is held by Jen Templeton and Cheryl Albanese.
This 3,539 square foot, three-bedroom, three-and-a-half bathroom Tarrytown townhouse is newly remodeled but still holds on to its vintage charm. Bright white cabinets, a green accented island and quartzite countertops in the kitchen give the space a cheery feeling. Entering on the second floor, you'll have to walk downstairs to get to the bedrooms, which include ensuite baths and walk-in showers. The third level bonus room is the perfect place for an at-home office.
This listing is held by
Cindy Fowler
.
​Just outside Austin in the sleepy town of Wimberley, the Backbone Ridge Ranch is one of the city's most "iconic and pristine" properties. On nearly 50 acres of land, the house takes you into nature without getting too far from nearby cities. With 4,369 square feet, six bedrooms and six-and-a-half bathrooms, floor-to-ceiling windows effortlessly light the entire space. You'll feel like a celebrity chef while cooking in the kitchen, even more so entertaining from the outdoor kitchen and living space. The 33,000-gallon quarried limestone pool is perfect for those hot Hill Country summers!
This listing is held by
Nicole Kessler.
Sample some spirits
When: 11:30 a.m. Friday, Saturday and Sunday
Where: Desert Door, 211 Darden Hill Rd. Driftwood
What: Attend Desert Door Distillery's first Explorer Series of 2022. Guests will be able to sample Caliber on its own or in a delicious cocktail.

Eat some chili
When: 12 p.m. Saturday
Where: Sagebrush, 5500 S. Congress Ave.
What: Enjoy great chili and great music at the 14th Annual Chili Cold Blood Chili Cook-Off. All proceeds will be donated to Health Alliance for Austin Musicians in memory of Nick Curran.

Enjoy some local art
When: 4 p.m. Saturday
Where: Neill-Cochran House Museum, 2310 San Gabriel St.
What: The Neil-Cochran House Museum will host a multi-media art exhibition by Austin artist Nell Gottlieb, titled "Land as Persona: An Artist's Journey." Gottlieb works in multiple media to reexamine her coming of age, white and female in the Jim Crow South.

Catch some improv comedy
When: 7 p.m. Sunday
Where: GameOn! ATX, 1515 Dungan Ln.
What: ColdTowne ThrowDowne is an improv comedy tournament between troupes that will take place in front of a live studio audience and streamed live to the world on Twitch.

Catch a Johnny Cash-style show
When: 7:30 p.m. Sunday
Where: Georgetown Palace Theatre, 810 S. Austin Ave.
What: Experience music history with a unique musical about love and faith, struggle and success, rowdiness and redemption, and the healing power of home and family set to the tune of the legendary Johnny Cash.