Get connected with our daily update
Austin sports fans are in the clear this weekend as Austin FC heads to Vancouver and Texas football plays at home, but this month they'll face a moral dilemma as they're forced to choose between Verde and burnt orange for the first time.
---
Austin FC, the newcomer that has quickly incited one of the most passionate fanbases in MLS, will play at home at the same time as tried-and-true Texas football for the first time at 7 p.m. on Saturday, Sept 18.
Some fans, like Austin FC season ticket holder Rod Mercado, will resort to desperate measures to catch a glimpse of both their favorite teams.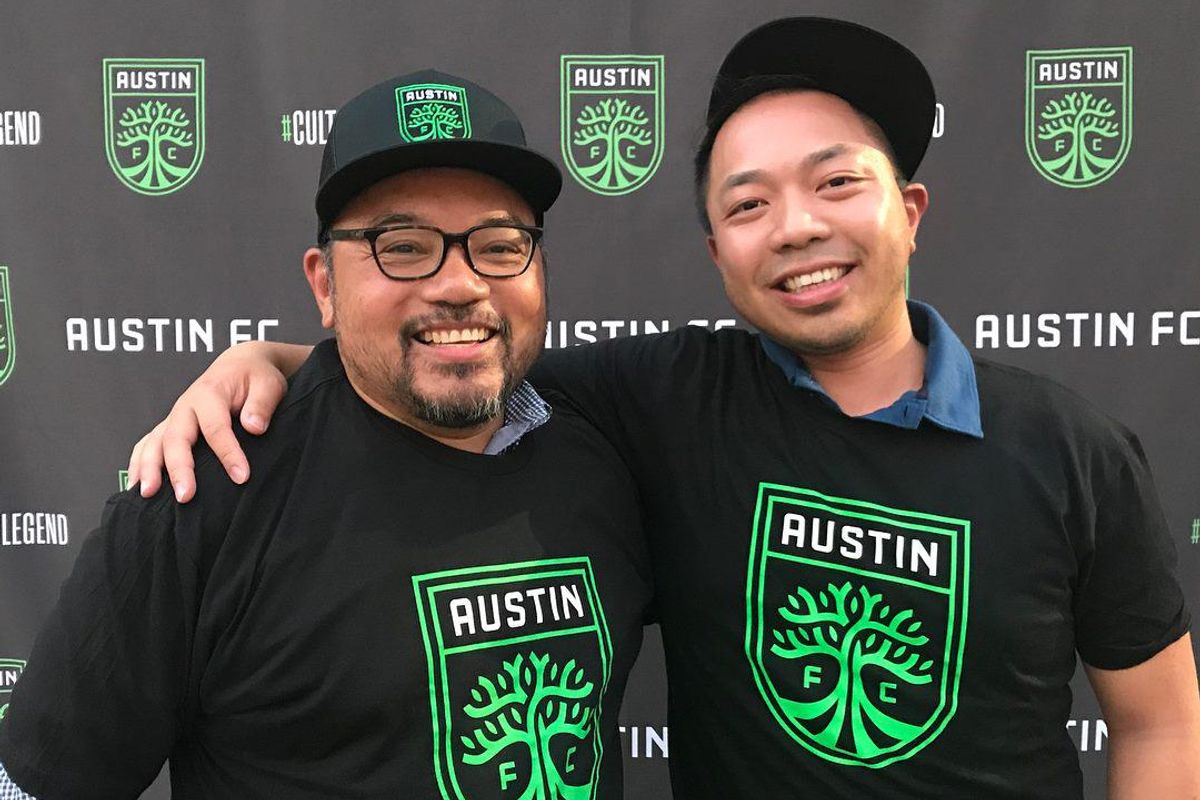 Rod Mercado (left) is a longtime Texas and Austin FC fan. (Rod Mercado/Twitter)
"Maybe I'll watch the Longhorn game on my phone while I'm sitting in my seats (at Q2)," Mercado said.
Others say conflicting times are no problem for the two different sports.
Easy—you watch the entire Austin FC match and afterwards catch the last 2 1/2 hours of the UT game on TV.
— shane (@_millimeter) August 25, 2021
But the fateful Sept. 18 time conflict is just one of the run-ins between the two teams that have never played in the same season. Austin FC has had the undivided attention of Austinites all summer as their first season rides into a time usually dedicated to all things Longhorns. Some wonder whether one team will suffer in the presence of the other, especially as Austin FC struggles to move up in the standings.
But Mercado, a Longhorn fan since graduating in 1995 and longtime Austin Anthem and Los Verdes member since its "MLS to Austin" days in 2017, said he and other dual fans are embracing a new favorite color combo: Verde and burnt orange. Just like Longhorn and Austin FC part-owner Matthew McConaughey, they say "the more, the merrier" when it comes to Austin sports culture.
"Texas athletics is the original game in town, but now we're no longer a little hip government, university town, man," McConaughey said at an Austin FC press conference in April. "We're a corporate town. We're a tech town. We're an international destination."
Dr. Matt Bowers, an associate professor for sports management at UT that has been following both teams, tends to agree.
"There's long been this assumption that the Longhorns have such a kind of stranglehold on the sports fan market in a place like Austin that it's too much to compete with," Bowers said. "I think Austin FC is showing that's absolutely not true."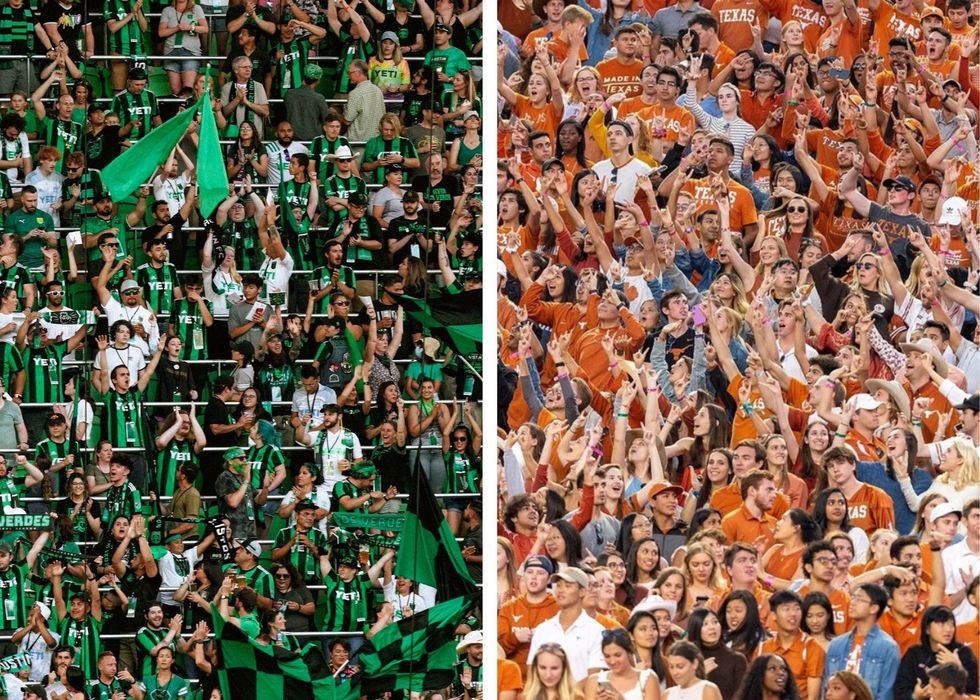 (Q2/Twitter) (Bob Daemmrich)
He said that the Venn Diagram of Longhorns and Austin FC fans isn't a perfect circle. With Longhorns supported by alumni and longtime Austinites and Austin FC representing transplants and a younger audience, each serve different purposes to Austin sport goers.
Austin's sporting market is as "weird" as the rest of the city, according to Bowers, and the two might actually help boost each other as they appeal to slightly different audiences. But the teams still likely won't be collaborating anytime soon. Texas has successfully ingrained itself into what was once the largest market without a professional team, and Bowers said they're probably not looking to team up with smaller competitors.
Fans like Mercado hope to see their two teams work together in some way, from a "Longhorns Night" at Q2 Stadium to Verde and burnt orange merch. Many fans are looking forward to an all-day party when Texas plays OSU at home at noon on Oct. 16 and Austin FC follows at 8 p.m. that night, or when UT plays Baylor at noon in Waco before Austin FC heads to FC Dallas at 7 p.m Oct. 20.
If I were still in town, I have a Austin Fc season ticket so I'd go to that game bc Texas 🏈 is much more expensive. Yes I'd like to see a Longhorn night at Q2 and vice verse at DKR. On 10/20 I'd just make a marathon day out of it and try to get to both games 🐂 🧡🤍+ ⚽️💚 🖤
— Biden-Harris Won (@ATXChristina) August 25, 2021
But some Austin FC fans like Bryce Cathcart side with Texas in saying they don't want the two to mix.
"Not a UT fan but more than that I just think it would be in bad taste," Cathcart said. "Honestly I think the majority of the Austin FC fan base couldn't care less about UT. Let the two teams do their own thing."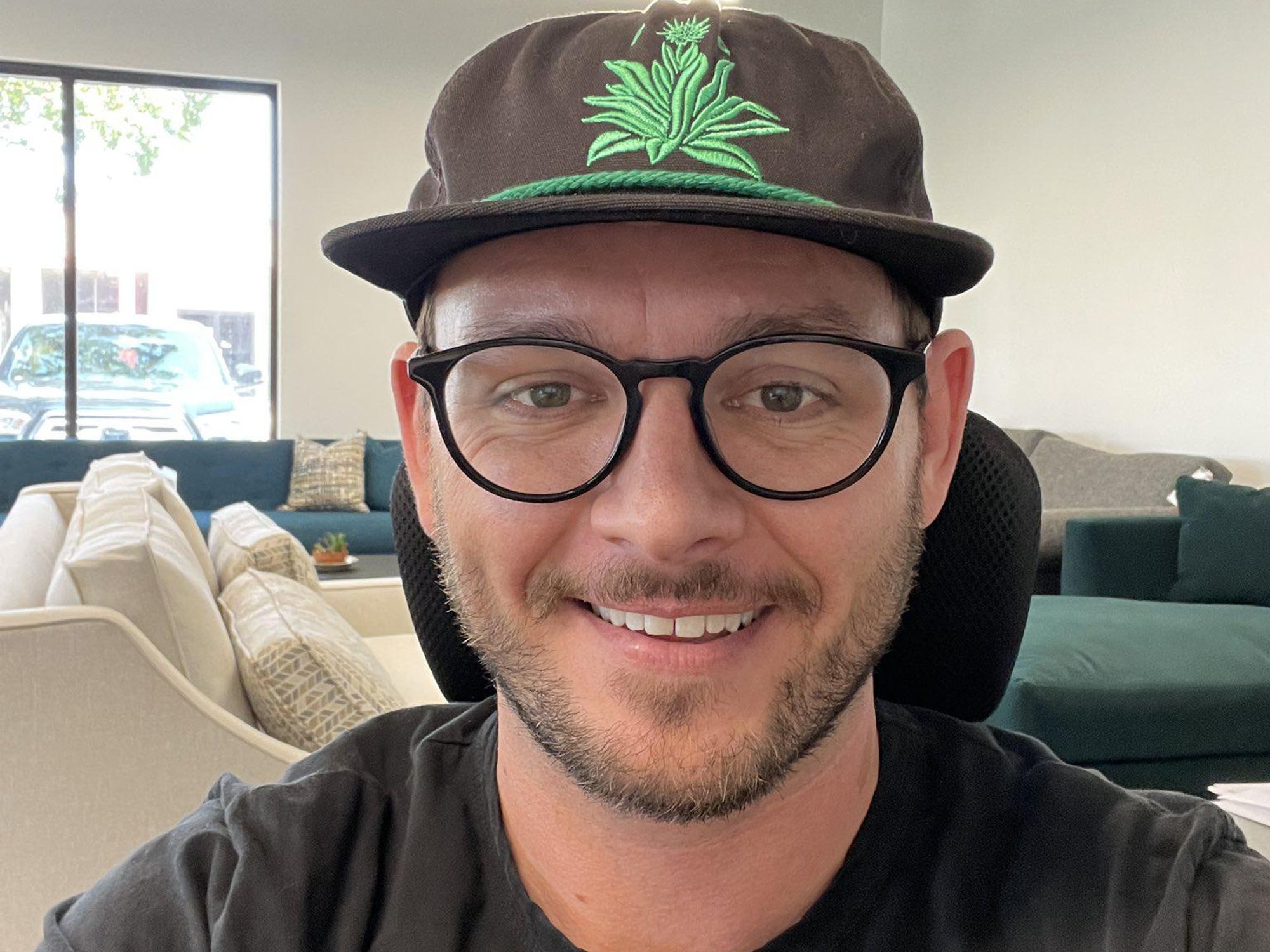 Austin FC fan Bryce Cathcart said most Austin FC fans aren't interested in UT. (Bryce Cathcart)
While Bowers says fan attendance should be mostly unaffected as long as Austin FC stays in their honeymoon phase and the Longhorns maintain their grip on Austin, he's most curious about which team will win TV rights at sports bars across the city. Still, he says that both teams should come out pretty unscathed as their seasons come to an end.
"I don't think we'll leave this fall with anything other than optimism about what our sports fan market can support," Bowers said.
After months of speculation, a new report says political personality Beto O'Rourke is mulling a run for Texas governor that he will announce later this year.
Sources tell Axios the former congressman is preparing his campaign for the 2022 election, where he will likely vie for the position against incumbent Gov. Greg Abbott. The only other candidate that has announced he will take on Abbott for governor is former Texas GOP Chairman Allen West—no Democrats have announced they are running as of yet.
"No decision has been made," Axios reports David Wysong, O'Rourke's former House chief of staff and a longtime adviser, said. "He has been making and receiving calls with people from all over the state."
A new poll from The Dallas Morning News and University of Texas at Tyler shows O'Rourke is narrowing the gap between himself and Abbott's prospects for governor. In the poll, 37% said they'd vote for O'Rourke over Abbott, while 42% said they'd vote for Abbott.
Abbott has been in the hot seat due to his handling of COVID-19 and the signing of landmark legislation into law, including new abortion and voting rights laws; 54% of poll respondents voted they think the state is headed in the "wrong direction." Still, Texas hasn't had a Democrat as governor since the 90s.
O'Rourke's people-focused approach to the 2018 Senator race, which he lost to Sen. Ted Cruz, gave him a widespread following and many hoped he'd throw his hat into the ring since he said he was considering it earlier this year.
"We hope that he's going to run," Gilberto Hinojosa, the state chair of the Democratic Party, told Axios. "We think he'll be our strongest candidate. We think he can beat Abbott because he's vulnerable."
Austin rapper Jordi Esparza may not have won the 2021 Red Bull Batalla, the world's largest Spanish freestyle rap competition, but for a spirited two rounds, the 22-year old Mexican native looked like he had every right to.
On Saturday evening in Los Angeles, the event itself looked like Cobra Kai meets Star Search with graphics adding a very Batman Beyond aesthetic. Over a dozen rappers hoping to represent the U.S. in the international round of the competition took to the stage with in-your-face jabs at accents, sexual orientation and odors, among other things.
This was Esparza's second rodeo; he had placed third at the 2020 National Finals, automatically securing him a spot this year.
However, things were different this year. He was not nervous about the contest. Unlike in 2020, when he made his Red Bull Batalla debut, the anxiety of the event led him to "feeling so bad."
Affecting a casual calm, the locally-based landscaper said he just felt "so relaxed, so happy" and primarily wanted to "enjoy everything."
Choosing his first-round opponent, Esparza, whose stage name is Jordi, elected to go against LA-based Boss.
Esparza freestyled an attack on his opponent's weight and cholo style of dress.
Boss—bracketing his Latin freestyle with English appeals to the crowd—mocked Jordi's lack of education, made fun of how clean Jordi's shoes looked and suggested that Jordi just came back from a Footlocker.
That first round went to Jordi.
But his next opponent Eckonn would prove to be his undoing.
Eckonn compared Jordi to Hannah Montana, while Jordi soulfully explained that he had learned from the best.
Esparza's verbal dexterity is matched by a rattling rhythm and a game face that is as mawkish as it is mockish. The overall effect is that of an underdog with bite.
Eckonn beat Esparza in that round with the overall championship going to Palm Beach-based rapper Reverse.
However, Esparza was just happy to be there. He recently told Austonia going to the finals again was a dream come true—a pinnacle that he said he won't know how to top.
With his nimble jabs and sneaky prowess, honed from pop culture and the swagger of a young working man hungry to be more, Jordi Esparza is just getting started.