Get connected with our daily update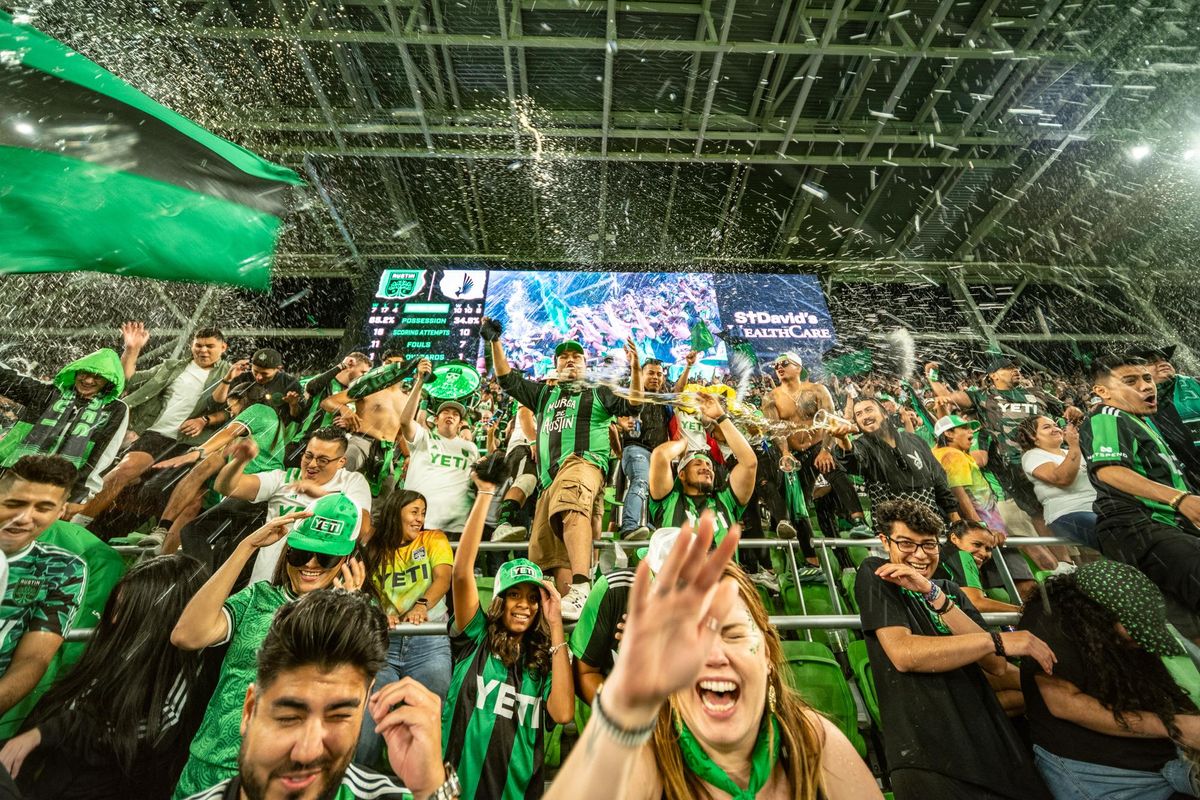 Austin FC's last hopes for nabbing an award in their inaugural season were dashed as in-state rival FC Dallas took home the "Copa Tejas" trophy with a 2-1 win on Saturday.
---
After a Sunday win over Texas foe Houston Dynamo, Austin FC seemed to dominate in the first half of the match. But the "fright night turned fight night," as coined by Austin FC commentator Michael Lahoud, soon turned sour after a Dallas goal and Hector Jimenez red card left the team tied 2-2 with 10 men to close the last half.
With the loss, Austin kept their six points in Copa Tejas, a supporters' award which gives MLS teams in Texas a chance to earn bragging rights and a massive silver trophy if they prove their "Best in Texas" status. The trophy, which was fittingly brought to Dallas for the final Copa Tejas match, will stay there in the hands of FC Dallas.
After losing a shot at last-minute playoff contention Austin FC head coach Josh Wolff said the team was striving for the award for both their fans and themselves.
"Our guys put a lot into it, we talked about it," Wolff said. "It's the one that got away."
And Austin looked like they might have it in the bag in the first half of the match. After 30 minutes of scorelessness, fan favorite Diego Fagundez juked out an FC Dallas defense and sliced a curveball past traffic in the box to give Austin the lead in the match.
The triumph was short-lived, however, as Dallas star Jesus Ferreira tapped one in two minutes later off a close up cross from teammate Jader Obrien. As the "fight night" turned frightful for Austin, Ferreira put up some "Thriller" moves just after scoring his goal.
With both Texas teams tied at the half, it seemed either could win the Lone Star showdown. But an ill-fated red card after Austin FC defender Hector Jimenez pulled down an FC Dallas player in the 57th minute would haunt the Verde and Black as they were forced to play with 10 men for the remainder of the match.
Austin's Sebastian Driussi spooked the Dallas side with a near-miss on a bounced shot in the 73rd minute, but it was ultimately Dallas' Franco Jara who would put the nail in the coffin for the Texas championship match. In his first touch of the game, Jara found the back of the net in the 80th minute to give the home team their first lead of the match.
Twenty minutes after the fateful red card call, FC Dallas secured the MLS' first Copa Tejas title and plenty of bragging rights with a 2-1 win over the Verde and Black.
Austin is out of playoff contention, but they still have two key matches left to wrap up their first season as they take on Sporting Kansas City for their last home match on at 8 p.m. on Wednesday, November 3. The team's final match will be away against the Portland Timbers at 5 p.m. on Sunday, November 7.
Here's how FC Dallas nabbed that Copa Tejas trophy:
80' Austin falls back with 2-1 deficit
Immediate impact!

Franco Jara gives @FCDallas the lead! pic.twitter.com/ys6Y2si4fi

— Major League Soccer (@MLS) October 31, 2021
In his first touch of the match, FC Dallas' Franco Jara slots one into the top left corner of goal to give the home team their first lead in the 80th minute of play.
Twenty minutes after the fateful red card call, the match might once again become a "Fright Night" for Austin if their chance at Copa Tejas slips out of their grasps. The Verde and Black have 10 minutes—and 10 men—to make two goals and take home the silver cup.
73' Driussi's dribble almost gives Austin the lead
66' | Another #AustinFC substitution.

➡️ Tomás Pochettino
⬅️ Cecilio Domínguez pic.twitter.com/Z8RTiVWwyH

— Austin FC (@AustinFC) October 31, 2021
Despite being down a man, Austin FC has held the home team to a 1-1 tie for this Copa Tejas championship match and have come agonizingly close to grabbing another lead.
Sebastian Driussi is the latest Verde and Black player to take a crack at goal as Zan Kolmanic's cross puts him in prime position, but his shot bounces a bit too high to give Austin their second goal. Every missed shot is increasingly infuriating for each Texas team as they look to make the most of their opportunities.
Austin makes another substitution call and swaps Cecilio Dominguez for Tomas Pochettino.
57' Austin to play with 10 men after red card
Austin's fight for Copa Tejas just got that much harder as left back Hector Jimenez pulls down an FC Dallas defender and is issued a disastrous red card.
It could be a death sentence for Austin, and they'll have to play the final 30 minutes of the match with just 10 men. Forward Moussa Djitte is pulled off the pitch after an unusually quiet match and is replaced by defender Zan Kolmanic as head coach Josh Wolff recalibrate the team's strategy.
If Austin pulls this off, the Copa Tejas win will be even sweeter, but they haven't yet won a match with 10 men before
46' Dallas nearly gets a goal seconds in to 2nd half
46' | Ready for more of this. 😉#DALvATX 1-1 pic.twitter.com/pdAhOTkGK1

— Austin FC (@AustinFC) October 31, 2021
Dallas nearly scores on their first second-half drive less than 20 seconds into the half. Jesus Ferreira is clearly hungry for more than just one goal tonight and finds himself unguarded a few feet away from Austin's keeper Brad Stuver, but Stuv is able to keep his wits and block the ball from becoming the home team's second goal of the night.
38' FC Dallas' Ferreira makes it even
Ferreira with the quick response for @FCDallas! pic.twitter.com/A8KyeqSI6T

— Major League Soccer (@MLS) October 31, 2021
Not even two minutes after Austin celebrated its first goal, Dallas midfielder Jesus Ferreira once again looks to strike back—and this time he succeeds.
A pass to FC Dallas' Jader Obrien slips past a dive from Austin's Sebastian Driussi. Obrien jets past Verde defense and gets next to Austin's left goalpost before passing to Ferreira, who taps it in to tie the match.
It's "Fright night turned fight night" at this October cup match, and Ferreira pulls a "Thriller" move as he ties it up before the half.
36' Austin scores first!
A beauty of a goal, @DiegolFagundez. 🤩 pic.twitter.com/Dff6junds5

— Austin FC (@AustinFC) October 31, 2021
FC Dallas' pressure has shown some cracks in the match, and Austin's Diego Fagundez takes advantage of a slip up as he breezes away from a defender and shoots a curveball past plenty of traffic straight into the net just outside of the box. It's 1-0 Austin FC as the fight for Copa Tejas intensifies.
The goal is a 26-year-old Fagundez's 60th career MLS goal and his seventh with Austin FC as he once again ties as the Verde and Black's top scorer.
31' Ring nearly gives Austin the lead
Same, Alex. pic.twitter.com/GWnvakiOVM

— Austin FC (@AustinFC) October 31, 2021
With half an hour of scorelessness, Austin FC's Alex Ring attempts to give his team the lead. Forward Cecilio Dominguez nabs the ball in the box but pulls off a sneaky pass back to a wide-open Ring, who shoots one just inches wide of the bottom left corner of goal.
Just a minute later, Dallas scoring machine Jesus Ferreira makes an attempt of his own with a close up shot that sails above goal.
Starting lineup
Taking the pitch for #DALvATX. #AustinFC x @YETICoolerspic.twitter.com/T6uw9zx8k0

— Austin FC (@AustinFC) October 30, 2021
Austin FC head coach Josh Wolff is once again holding down the gas with one of the team's best lineups hitting the field. Sunday's MLS Team of the Week player Captain Alex Ring once again holds down the midfield, with successful attacking options Sebastian Driussi, Moussa Djitte and Cecilia Dominguez taking the top.
Daniel Pereira is in for DP Tomas Pochettino alongside Diego Fagundez.
Streaming woes
Hey @AustinFC and @APrecourt

What the heck… the stream says it's starting in an hour… help us out! pic.twitter.com/VOv3ggKMmI

— Tyler Reed (@FriarTuckDeluxe) October 31, 2021
As the match kicked off just after 7 p.m., thousands of fans back in Austin are stuck with Twitter and website updates as Austin FC's streaming service says it is scheduled to begin an hour behind schedule.
The club quickly fixed this issue just two minutes after kickoff.
The battle for Copa Tejas
Here is the Copa Tejas trophy @FCDallas and @AustinFC are playing for tonight. And its a good looking piece of hardware!
Kick at 7 on TXA21 with me and
that other fella (@MFollowill ). pic.twitter.com/sXq8JqY1iR

— Steve Davis (@SteveDavis90) October 30, 2021
Everything's bigger in Texas, including supporters' cup trophies. Copa Tejas, a gigantic silver cup made for the best MLS club in the Lone Star State.
Originally a battle between United Soccer League clubs, this year will be the first time an MLS duel will happen—and it could be Austin's for the taking.
Will Austin FC earn crucial bragging rights over rivals FC Dallas and Houston Dynamo this week?
If they win tonight, they'll take home the cup with nine points to the other teams' eight. If they draw or lose, it'll be FC Dallas who takes home the precious metal.
Fans have redirected their passions toward this cup after losing hopes at a last-second playoff run, and this cup could bring back some pride to the fledgling Verde team.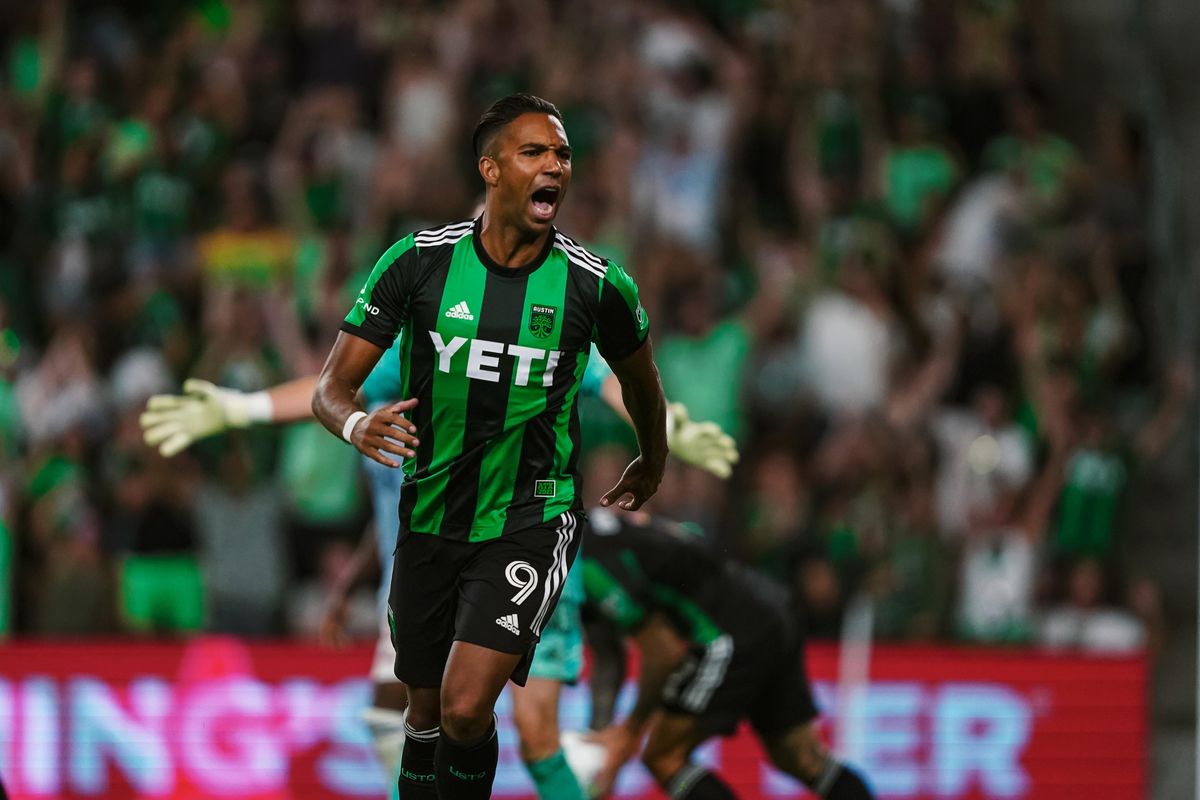 Despite a 2-0 deficit, there was a pot of gold for Austin FC after all as it celebrated its annual Pride Night with rainbows and a 2-2 comeback draw to FC Dallas Saturday night.
After three FC Dallas losses last season, the Dallas derby draw marks the first time Austin FC has tied against its Copa Texas rival. Austin continues to edge over FC Dallas as it sits at 3rd in the MLS West.
Here are the biggest takeaways from the match:
A somber start
¡Ya Basta! Enough! End Gun Violence. #uvaldestrong

📷 @arubiophotospic.twitter.com/3PiVdTPtik

— Los Verdes (@LosVerdesATX) June 26, 2022
Decked out in colorful hues for LBGTQ+ Pride, Verde fans started the match on a somber note as they held up banners to take a stand against gun violence before the match.
As the national anthem began, fans held up banners with the names of each child that was killed in the Uvalde school shooting and a plea to "end gun violence."
The supporters' section was also dotted with Pride flags and a "Bans off Our Bodies" banner in protest of the Supreme Court's decision to overturn Roe v. Wade.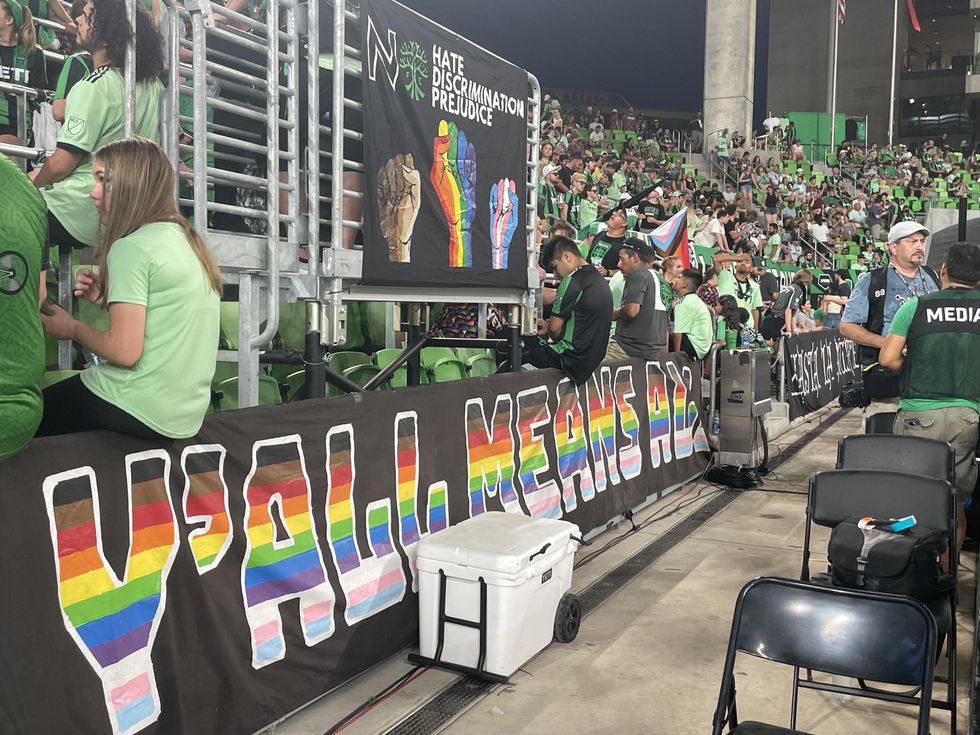 (Claire Partain/Austonia)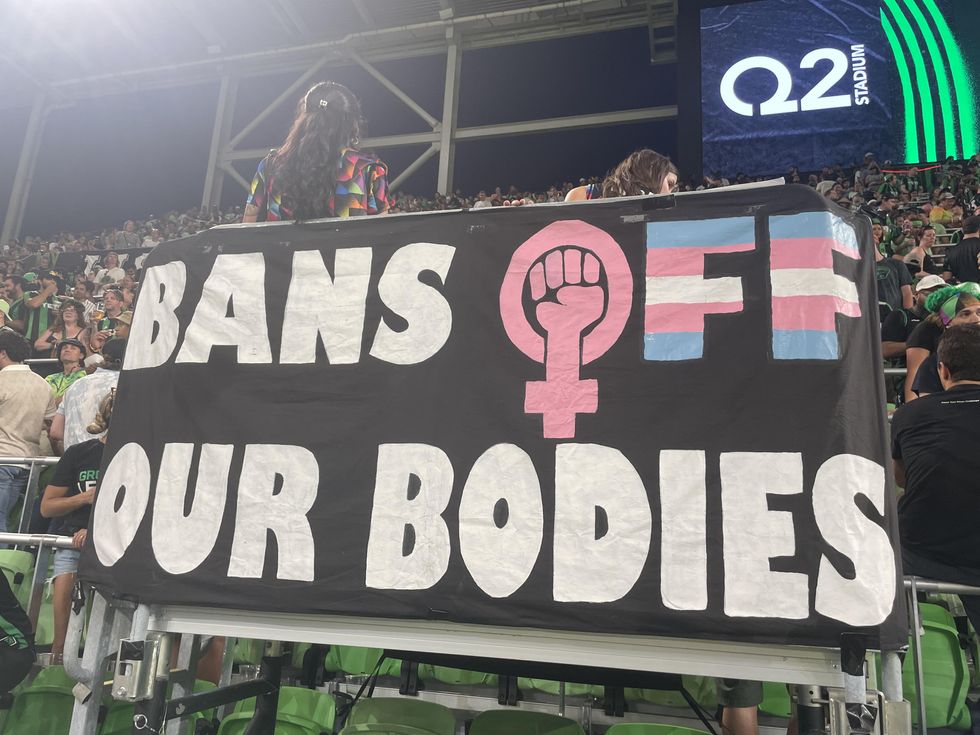 (Claire Partain/Austonia)
FC Dallas earns a 2-0 lead
Paul Arriola is there to put it away and put @FCDallas ahead! pic.twitter.com/Z4AMmM6lp3

— Major League Soccer (@MLS) June 26, 2022
That sober tone continued onto the pitch. With midfielder Daniel Pereira's absence due to a red card, the Verde and Black lost two goals to FC Dallas by the 70th minute of play.
FC Dallas played it sneaky for the first half of the match, giving Austin FC plenty of room to hold possession as it waited to strike on a Verde error. That mentality proved dangerous for Austin as Dallas' Paul Arriola took advantage of Brad Stuver's deflection to score the first goal of the night in the 57th minute of play.
Dallas struck once more as Brandon Servant pushed past the Verde line to score the second goal of the match.
Austin FC strikes back
Sebastián Driussi pulls one back!#AustinFC are still in this one. 👀 pic.twitter.com/Yoi0x768jb

— Major League Soccer (@MLS) June 26, 2022
But energy quickly returned to Austin's favor thanks to Designated Player Sebastian Driussi, who scooted past several FC Dallas defenders alongside Moussa Djitte to snag an unlikely first goal for Austin.
A full Verde comeback
Late drama in this Texas Derby!@AustinFC ties it up, Danny Hoesen with the diving header. 😱 pic.twitter.com/Jk2f4fIEXG

— Major League Soccer (@MLS) June 26, 2022
Austin's subs proved deadly as momentum returned to the home team toward the end of the match. A well-placed cross from Nick Lima—and a diving header from a fresh-legged Danny Hoesen—helped the team secure the draw with a second Verde goal in the 84th minute of play.
Hoesen, who was Austin's first starting striker last season, has now scored two goals with the team after a yearlong injury stuck him on the bench.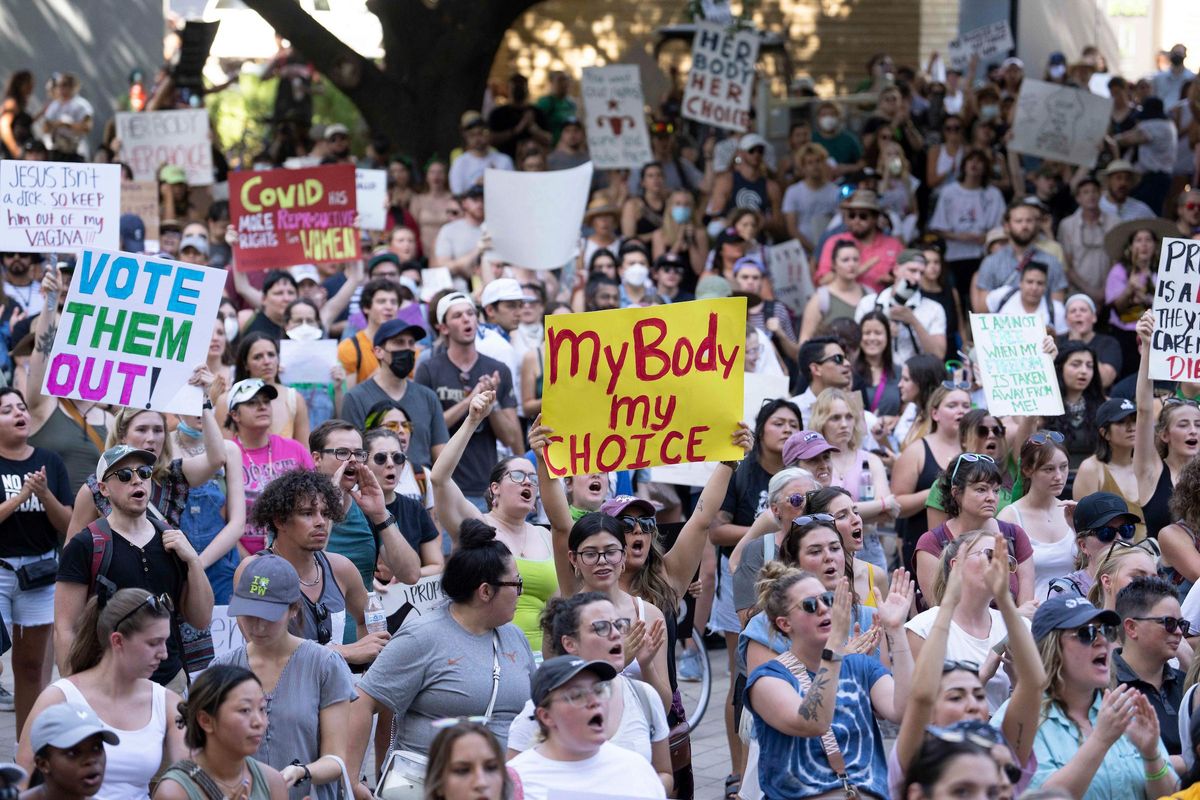 Hours following the U.S. Supreme Court's ruling to overturn Roe v. Wade, the landmark ruling that guaranteed a constitutional right to an abortion, on Friday, about 1,000 people gathered in Republic Square with signs calling for change.
The rally, organized by the group Rise Up 4 Abortion Rights Texas, started at the federal courthouse on Republic Square on Friday at 5 p.m. before the crowd marched to the Texas Capitol. More protests are expected to ensue over the weekend.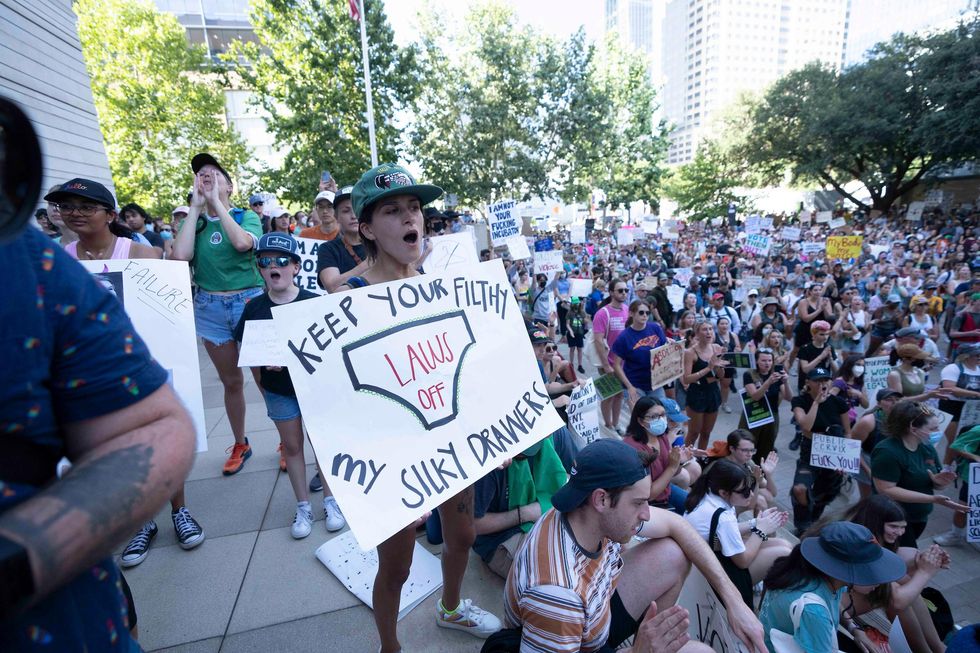 People showed up with all types of signs like Mindy Moffa holding up, "Keep your filthy laws off my silky drawers."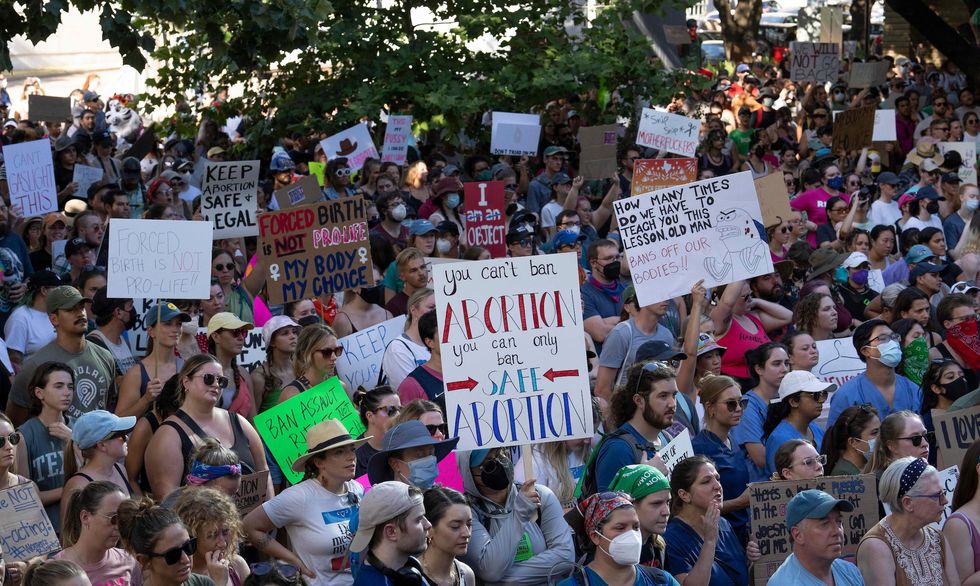 Austin joined cities across the country that saw protests for a women's right to an abortion after the ruling.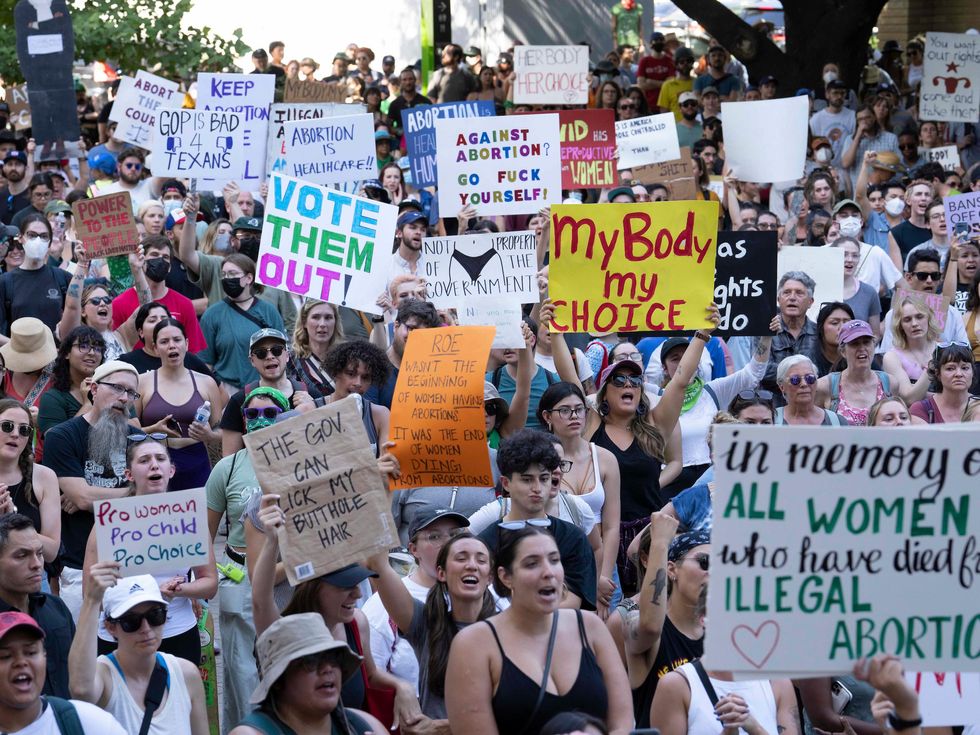 According to a recent UT poll, 78% of Texas voters support abortion access in most cases.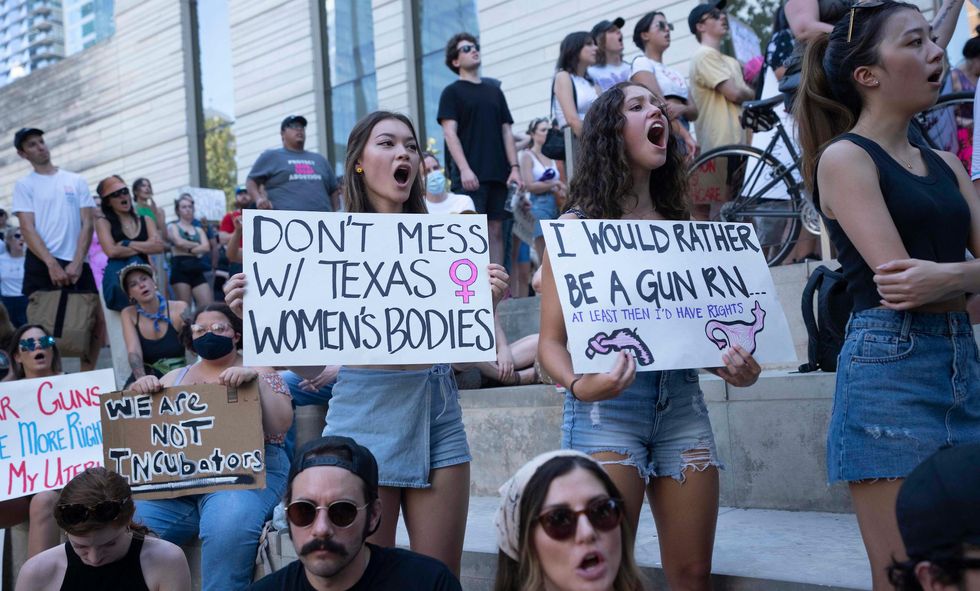 Sabrina Talghade and Sofia Pellegrini held up signs directed at Texas laws. A Texas trigger law will ban all abortions from the moment of fertilization, starting 30 days after the ruling. When state legislators passed the trigger law last summer, it also passed laws for more protection of firearms, including the right to open carry without a permit.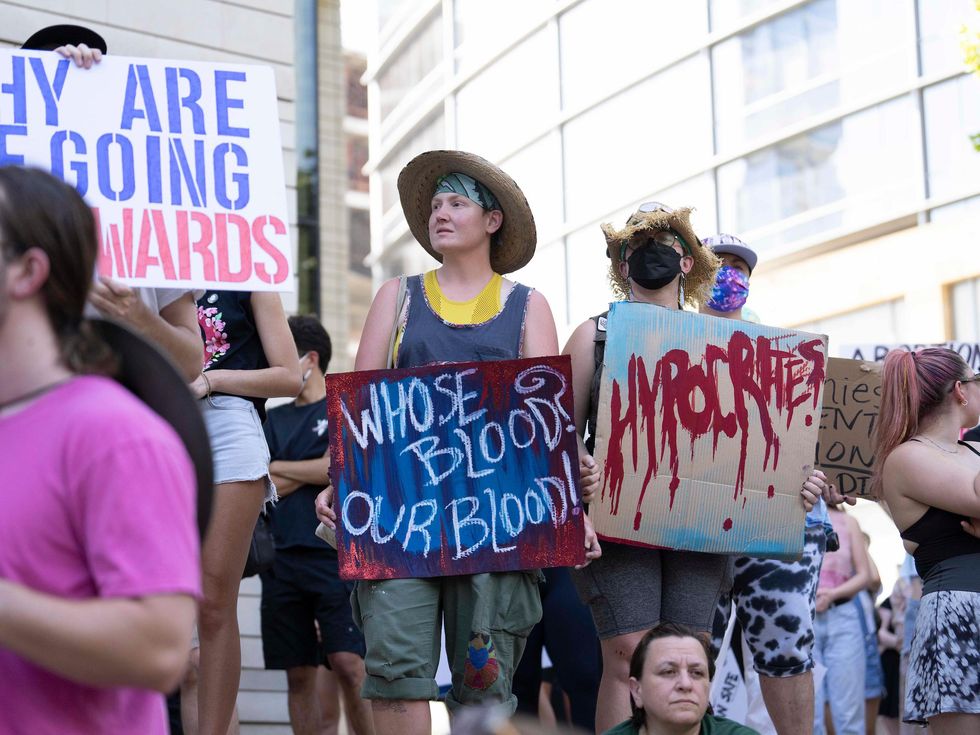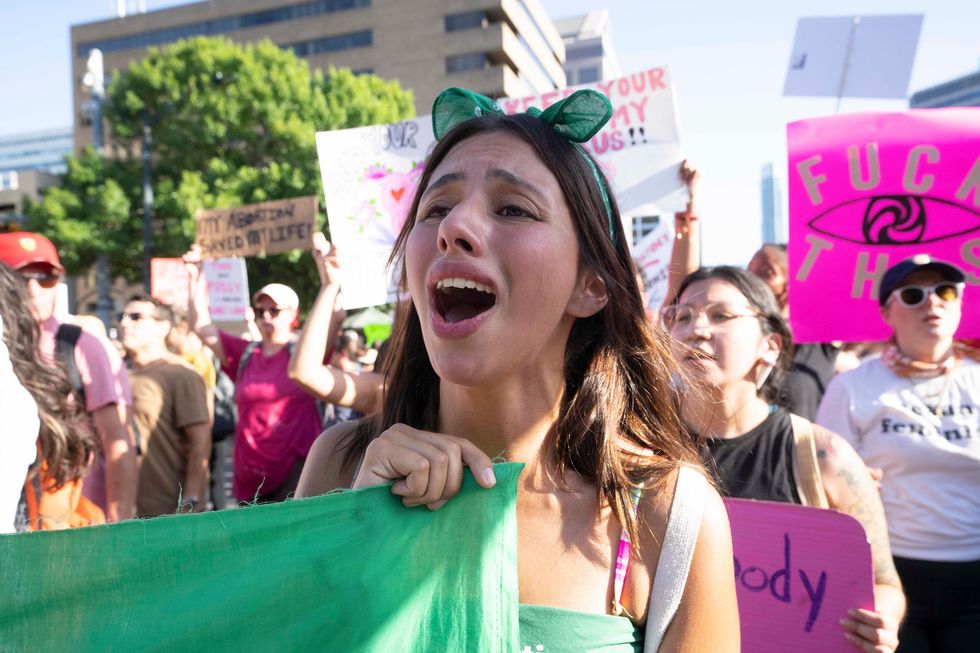 Lili Enthal of Austin yells as around 1,000 Texans marched to the Texas Capitol.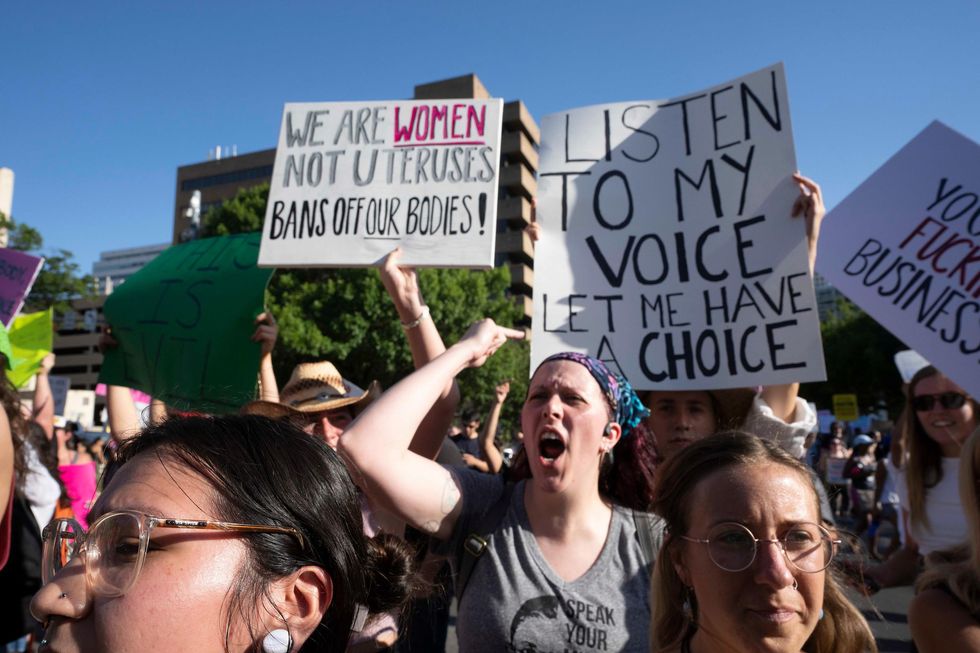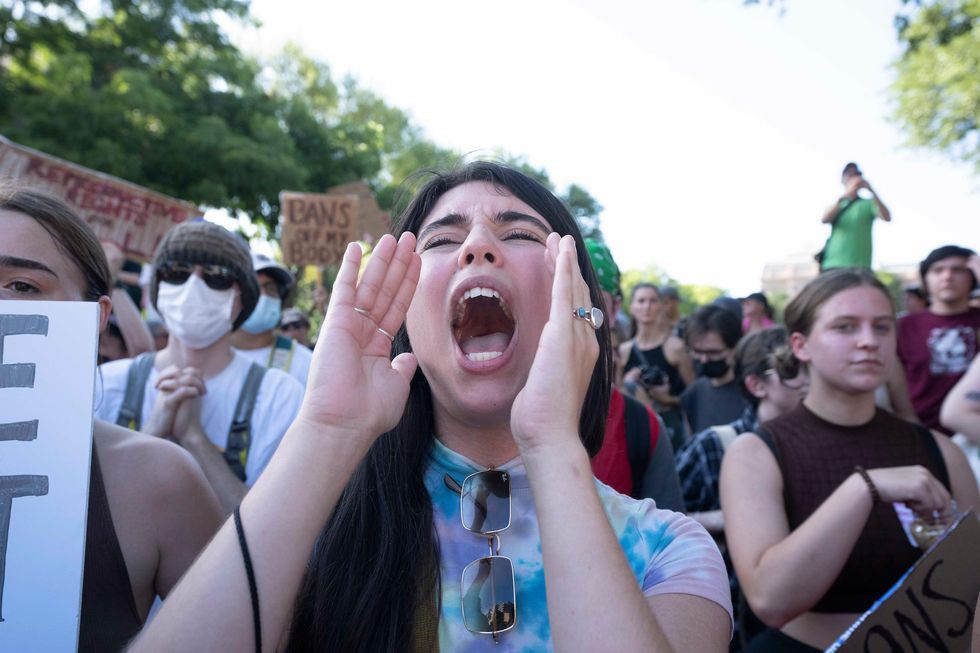 From the Texas Capitol, Zoe Webb lets her voice be heard against the Supreme Court ruling.