Get connected with our daily update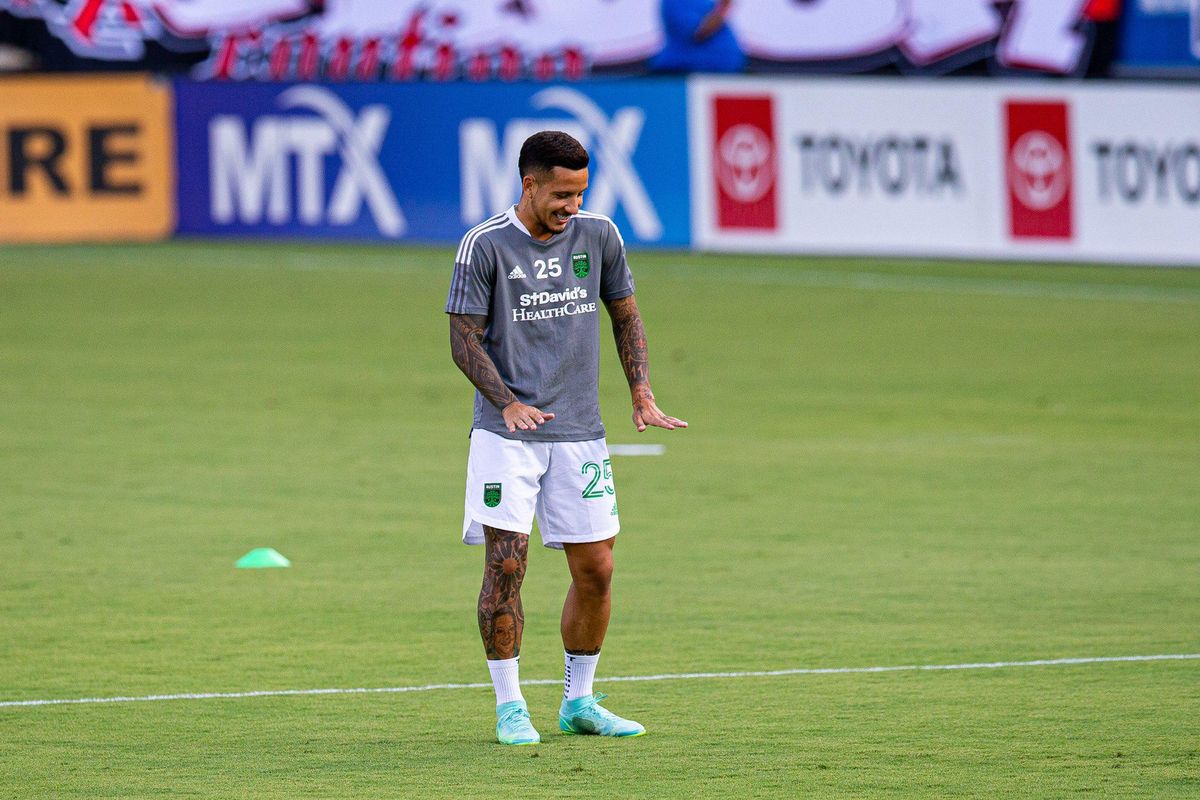 Hundreds of Austin FC fans took their first Texas trip to FC Dallas on Saturday, hoping for another Lone Star rivalry win and a successful debut from new star signee Sebastian Driussi. Instead, a mysterious starting lineup switch from Josh Wolff and "play from the back mindset left Austin scoreless again as they lost 2-0 to the home team.
---
Austin is now 1-1 for matches in the Texas Derby, which tallies MLS wins between Texan teams, after a 3-2 victory over Houston Dynamo on Wednesday.
Wolff's new lineup saw all three Designated Players on the bench for the first time this season. Even Tomas Pochettino, who scored two of Austin's three goals on Wednesday and was voted Austin FC's first MLS Player of the Week honors, joined DP Cecilio Dominguez and Driussi on the sidelines as Austin's younger players took the stage. The move garnered plenty of criticism from even diehard Austin FC fans.
I respect your infinite wisdom and I get the devil's advocate perspective here, but this is inexcusable. It's a rivalry. He talks every press conference about how great the fans are and then shows no respect for a game that means so much to us. We could win and I'd still be mad.
— Chris Welhausen (@chriswelhausen) August 8, 2021
The club developed a "play from the back" mindset as veterans Matt Besler, Hector Jimenez and Julio Cascante were met with rare starters Jhohan Romana and Aedan Stanley. Diego Fagundez was left without much backup in the front of the pitch alongside newbie Manny Perez, while midfield leader Alex Ring was met with Daniel Pereira in midfield for the first time since a weekslong injury hiatus.
While Austin appeared to maintain control and possession in the first half despite Wolff's head-scratching lineup, the flaws of Wolff's mysterious plan were made evident immediately as the second half whistle blew.
Austin FC quickly lost control as the second half began, conceding a goal from Dallas' Ryan Hollingshead in the 50th minute. Immediately after, starters Nick Lima, Dominguez, Pochettino and Gallagher moved to the end line to get subbed in alongside Driussi.
The dream team entered the pitch ten minutes later, but Dallas capitalized on the transition as the new subs fought to find their footing. In the 63rd minute, Dallas' Ferreira doubled the lead for the home team.
The team once again returned to scorelessness after their streak was unbroken Wednesday and have been shut out for nine of their last 12 matches.
Wolff attributed health reasons to the benching of Pochettino and Dominguez. Pochettino has played some of the most minutes for the team, Wolff said, while Dominguez has been "off" for the past few weeks.
Despite the loss, Austin FC fans flooded Toyota Stadium with the ferocity of a home match, sticking out like a sore thumb in Verde as they sang, danced and banged their drums over the home crowd.
To the hundreds of fans who came to Frisco with the hopes of seeing starters on the pitch for the rivalry match, Wolff said he and the team will "take the criticism" for the rivalry loss.
"We also have to make decisions based on the health of our players (and) the long term goals," Wolff said. "Obviously a different score would have been better...but we gave up a goal, it was a careless mistake, and we were punished for it."
Next up, the team will hit the road once again to face Real Salt Lake for the first time at 9 p.m. on Saturday at Rio Tinto Stadium.
63' Dallas doubles the lead
Ferreira slots it home! That's 2-0 for @FCDallas! #DALvATXpic.twitter.com/Ej8hAR8a57

— Major League Soccer (@MLS) August 8, 2021
Before Driussi and crew begin to get their footing, Dallas' Ferreira capitalizes on the transition and doubles the lead for the home team. Austin, normally a possession-heavy team, has split possession half-and-half and is losing in shots (11-7) and shots on goal (5-2).

Austin gave too many opportunities and fast breaks to FC Dallas, and the repercussions of Wolff's mysterious plan have finally revealed themselves on the pitch. Th club will look to use their newfound confidence in Driussi, Pochettino and Dominguez and inject some energy if they hope to close out the second half with three back-to-back goals.
62' Driussi makes his debut
62' | Several #AustinFC substitutions.

➡️ Tomás Pochettino
⬅️ Sebastian Berhalter

➡️ Nick Lima
⬅️ Hector Jimenez

➡️ Cecilio Domínguez
⬅️ Matt Besler

➡️ Sebastián Driussi
⬅️ Dani Pereira pic.twitter.com/5KtI9ds4Ml

— Austin FC (@AustinFC) August 8, 2021
Austin brings out their three DPs in a powerful substitution in the 62nd minute. Dominguez and Pochettino join Driussi, who is getting his first minutes with his new team. Nick Lima joins the hopeful dream team.
50' Show's over: Austin FC concedes first goal
He made it look easy. 😎

Ryan Hollingshead gives @FCDallas the lead! #DALvATXpic.twitter.com/KOrinhcPF2

— Major League Soccer (@MLS) August 8, 2021
It's time to bring out the big guns.
Austin FC quickly lost control as the second half begins, conceding a goal from Dallas' Ryan Hollingshead in the 50th minute. Immediately after, starters Nick Lima, Dominguez Pochettino and Gallagher moved to the end line to get subbed in. Driussi is also nearing his first start with the team.
At the half: Austin looks comfortable, but comfortable isn't enough
Regardless of the result, I hope all my friends in the press question Wolff heavily on this lineup. Feels disrespectful to the fans in a game this important. @ChrisBils@LWOSMarkTurner@CravenMike@partain_claire

— Chris Welhausen (@chriswelhausen) August 8, 2021
Wolff's first-half lineup drew plenty of criticism from fans as they geared up to play FC Dallas, With star Driussi finally in the lineup, it just seemed cruel to keep fans waiting even longer.
Almost all of the stars were out of the lineup as well: for the first time this season, both Designated Players Tomas Pochettino and Cecilio Dominguez were off the pitch in the first half. In their stead was the capable Fagundez, but with just a young Manny Perez to back him up, the team wasn't able to convert their high possession rate into goals.
The back line looked comfortable despite the new faces, but Stuver was still left defenderless a few times as Dallas' Pepi made moves on goal.
Many fans are wondering why the club would keep out their all-stars in a rivalry match. Wolff may be playing the long game: he could be preparing for an all gas, no brakes moment as he stacks the second half with Driussi's debut and his fellow DP's.
Wolff proved to be either lucky or a mad genius as the first half worked in his favor. Now, the club will look to trample their Texan rivals on their own home turf as they head into the second half.
43' Dallas is saved by the post
Same, @DiegolFagundez, same. 😅 pic.twitter.com/aW6noaAkB6

— Austin FC (@AustinFC) August 8, 2021
Fagundez was stymied by both posts as his free kick hits the top right corner. Fagundez has been the main cog in the team's attacking team thus far, but he's expected to be joined by Dominguez, Driussi and Pochettino after the half.
33' Besler grabs a header
Ok then, @MattBesler! 👏 pic.twitter.com/aeWnGkyXpx

— Austin FC (@AustinFC) August 8, 2021
Brad Stuver has had plenty of one-on-one run-ins with FC Dallas attackers, specifically Ricardo Pepi, and he's stayed alive so far. In the 33rd minute, center back Matt Besler ensures it stays that way as he dives for a header to keep the ball out of goal. This game has seen a calmer defense and balanced midfield with the help of Pereira so far.
8' Perez tries for his first Austin goal
We're not backing down. pic.twitter.com/uSSseBYmIl

— Austin FC (@AustinFC) August 8, 2021
Austin FC's Manny Perez breaks away early from the home team and makes a tight shot on goal, but Dallas' Jimmy Maurer is able to save the close-up shot from the center of goal.
The Verde wave drowns out Dallas noise
Austin fans stick out like a sore thumb, I love it😂 pic.twitter.com/vpE8rc9III

— Claire (@partain_claire) August 8, 2021
Armed with drums, banners and their own voices, hundreds of Austin FC fans could clearly be heard over home team supporters as they chanted for their team. FC Dallas was worried enough to stage a Dallas Stars night—encouraging fans to wear the city's green-and-black hockey team jerseys—so the invasion wouldn't be as obvious.
It seems the club either retracted their statement or fans didn't get the memo: very few Dallas fans are donned in Stars regalia tonight, and Verde fans stick out from the red of the crowd.
Austin FC starting lineup
Taking the pitch tonight against Dallas. #AustinFC x @YETICoolerspic.twitter.com/ihNTI8DvGg

— Austin FC (@AustinFC) August 8, 2021
Wolff has a vision for tonight's match, and no one else seems to quite understand it. Pochettino, who scored two of three goals Wednesday night, is on the bench to start, while rare starters Manny Perez, Jhohan Romana, and Aedan Stanley are back in. Daniel Pereira is in the starting lineup after several weeks' absence and a short appearance on Wednesday; he's been part of the starting XI for every Austin FC win this season.
Meanwhile, the long-awaited Driussi is still on the bench after finishing quarantine this week. Fans will have to wait just a bit longer for the star striker's debut on the pitch.
Bucee's goes Verde
ITS A BUCEE'S INVASION #verdepic.twitter.com/sHE76WPLvV

— WeAreAustinTV (@WeAreAustinTV) August 7, 2021
After a long stretch at home, Austin FC fans did what they knew best prior to the Dallas match. After piling into buses and caravans on the way up I-35, the crew invaded a Bucee's, marched on Frisco near Toyota Stadium and took up plenty of real estate in a corner of the stadium.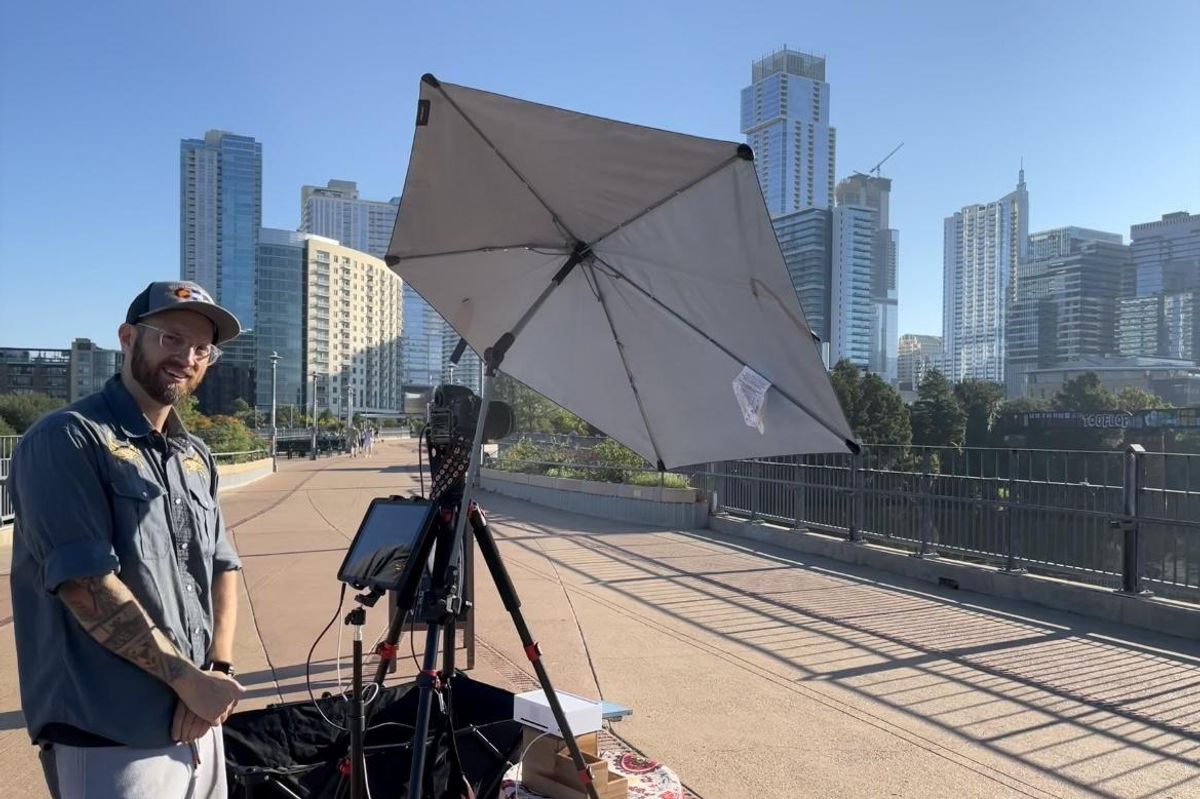 Nicklaus Pereksta says he loves photographing enthusiastic people, and it's why his latest gig offering pictures to people out on Lady Bird Lake's hike and bike trail is going smoothly. He sets up his gear on the Pfluger pedestrian bridge and puts out a sign: Photos, $10.
"Overwhelmingly, this has been a really positive experience," Pereksta said. "I get excited when I wake up in the morning and I can't wait to go to work."
Bikers and joggers are excited about it too. On the pedestrian bridge leading to downtown Thursday morning, a man on an e-bike rode up and posed, wanting more photos.
"I posted the last pictures on Instagram and people loved it. They asked, 'where is this guy?'" the biker told Pereksta. Bashfully, Pereksta, who also photographs landscapes and at weddings and other events, said he was happy to hear that.
Pereksta started these photos about a month ago, after the strenuous runs required in his valet job started causing pain in his legs. And though he has a passion for photography, he wasn't so sure when he started working independently if it would work out.
He felt uncertain about the demand for it and was also worried about having lots of expensive equipment out in the open.
"Then like the first day was nothing but high praise and people are like, this is so awesome. This is great. I've never seen anything like this before. I was like, Wow, this was really good, like positive turnout. So I got encouraged."
Now, he wants to expand and is thinking of contacting the Mueller Farmers Market about how to become a vendor. Still, he'll carry a connection to photographing on the bridge since the word bridge is related to his last name.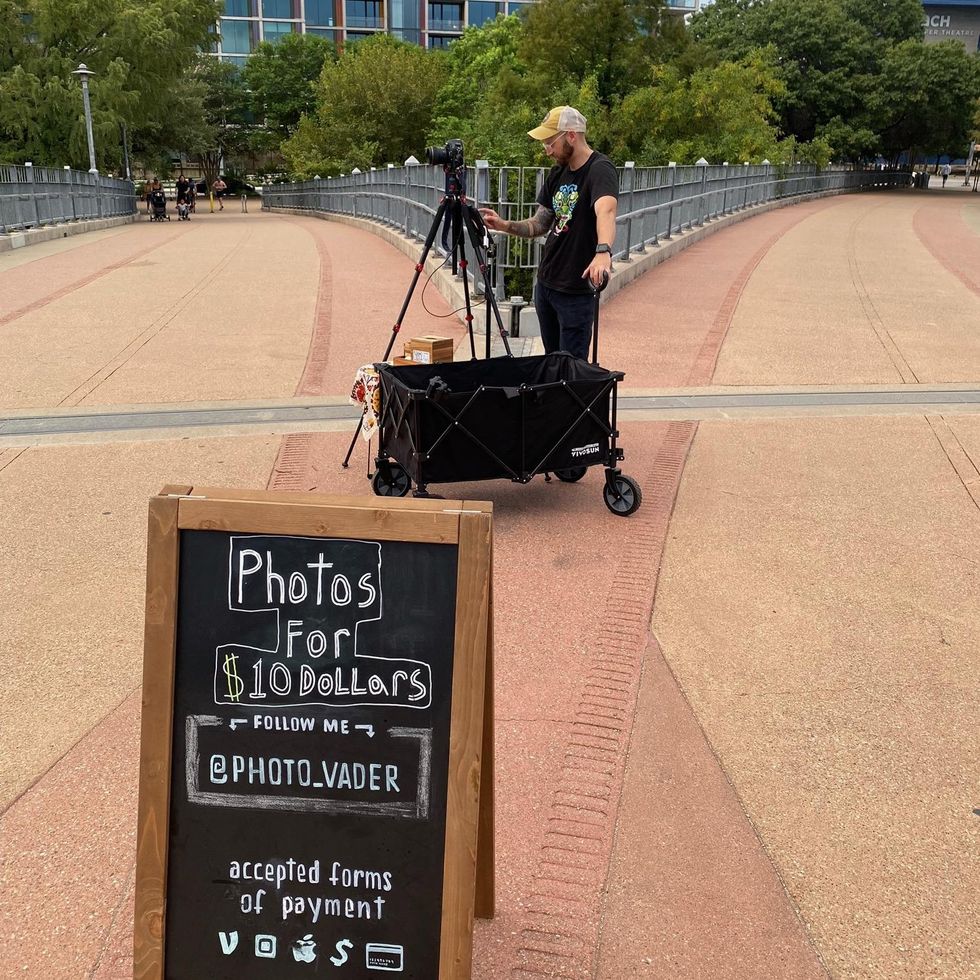 (Dewey C.)
"It's a name my great, great, great grandfather came up with when he was marrying somebody. It's actually quite a romantic name. It means a joining of two bridges," Pereksta said. "So, I thought it was ironic that I'm set up on a bridge. I'm kind of representing my last name right now."
Austonia talked to Pereksta about life in Austin, where he's lived for eight years after living in Boston doing band photography.
What was your first experience with Austin?
I came here to visit some friends and they took me to Barbarella. So we went to Barbarella and I was like, 'wow, this place is great.' And then the restaurants and the food and going to Barton Springs. I was like, 'this is amazing.' Because there's nothing like that in Boston. If you want to go to a natural spring, you got to go to New Hampshire. There's no pools in the city at all. So there's lots of swimming out here.
What do you like best about Austin?
You go to any little quiet bar and there's a band playing that should be like onstage for a sold out show. Yeah, they're playing to 10 people, right? Like, one of the best bands ever and they're playing for 10 people, right? And just little magic moments like that are pretty fun. You just run into little random weird things.
What do you think makes Austin different from other places?
There's no fall.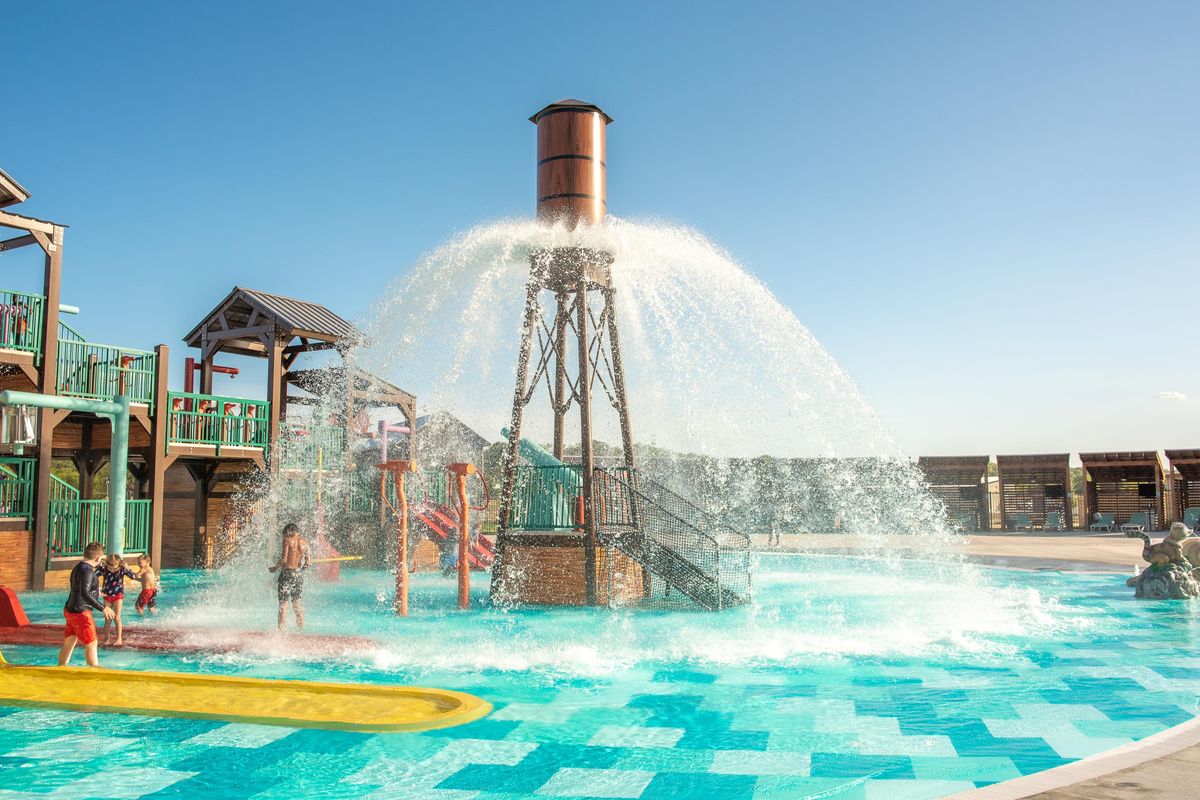 Camp Fimfo Waco
Camp Fimfo Waco, a brand new camping resort, is kicking off football and fall camping season in style! With top-notch amenities, premium accommodations, and 10 weekends of fall fun, there's no better place to have a fall camping getaway, especially if you're a Baylor football fan!
Fall promises to be a one-of-a-kind camping experience. From Sept. 16 to Nov. 24, weekends will be packed with fall-themed activities, including special Halloween weekends in October. Campers can enjoy activities like fall crafts, campground trick-or-treating, costume contests, site decorating, outdoor movie nights, and more!