Get connected with our daily update
Austin FC may have scored big Sunday night, but they suffered even bigger losses as they gave up three back-to-back goals in a tumultuous 5-3 loss to rivals FC Dallas.
---
Despite scoring a near-record three times for the second match in a row, the club saw massive defensive woes as they gave up three goals in just seven minutes to end the first half.
"For about seven or eight minutes, for whatever reason, the focus and the intensity and the the willingness to compete evaporated," head coach Josh Wolff said. "It proved fatal."
Dallas frontmen Jesus Ferreira and Ricardo Pepi, both under 21, each scored a brace in the match as they brought their team to 2-0 over Austin.
Ferreira struck first in the match after capitalizing off a block from Austin keeper Brad Stuver. The lead was short-lived, however, as Austin's Julio Cascante scored his first goal with Austin FC with a header to tie the match 1-1 less than 15 minutes into play.
FC Dallas soon broke Austin FC's system, however, as they dismantled the home team's possession-heavy gameplay and broke their back line. Pepi struck next as he shot one in the bottom left corner to score his tenth goal of the season. Austin's defense quickly crumbled as both Ferreira and Pepi scored again in less than 10 minutes to bring the lead to 4-1 at the half.
With pressure mounting and a stadium in shock, Austin FC's Josh Wolff was given a near-impossible task to recover from the disastrous first half. Wolff attempted to pull off some damage control as he swapped defenders Julio Cascante and Zan Kolmanic for Jhohan Romana and Hector Jimenez to start the second half, but the red, white and blue would score once more in 53rd minute to bring the lead to 5-1.
Wolff said he was disappointed in the unprofessional performances from some of Austin's players as they failed to brush off their mistakes.
"The intensity was gone and (there was) a little bit of feeling sorry for ourselves, but you've got to get right back up and compete," Wolff said. "It's a professional game...and we have to match that. We didn't react the right way and we got punished. There were some really poor reactions on the field and that'll be addressed. We can't have players on the field react in that way."
Austin wasn't finished yet, however. Fan favorite Diego Fagundez narrowed the lead to 5-2 in the 57th minute with help from Designated Player Sebastian Driussi as he muscled past the FC Dallas keeper to score for the home team. With the goal, Fagundez is now tied with Cecilio Dominguez as the team's top goal-scorer.
Captain Alex Ring soon followed with a tricky header to make it 5-3, once again earning the support of the ever-present Verde fanbase.
Wolff said he was still impressed with Fagundez' and Ring's attempts at a comeback.
"It's going to tough to find positives in that," Wolff said. "But obviously it's good to see them put it together and compete."
Wolff also provided a rare highlight for the match as transfer Moussa Djitte made his debut in the final minutes of play after months of preparation.
But despite Djitte's debut and attempts at a comeback, their efforts proved too little, too late in the rivalry match.
This marks Austin's biggest loss in club history as they gave up more goals than in any other match as the club once again sits tied at the bottom of the Western Conference.
Here's all the ups and downs of the match:
81' Djitte makes his debut
82' | Another #AustinFC substitution.

➡️ Moussa Djitté
⬅️ Cecilio Domínguez pic.twitter.com/TA2LXvxcDf

— Austin FC (@AustinFC) August 30, 2021
Austin FC may be down 5-3, but there's at least one highlight to take away from the match: Moussa Djitte, a striker who transferred from the French Ligue back in June, subbed in for Cecilio Dominguez in the 81st minute to make his debut with the team.
Djitte is expected to help alleviate Austin's scoring woes alongside fellow newcomer Sebastian Driussi. Perhaps he'll make even more of a mark on this game tonight.
68' Alex Ring heads it in! 
We can always count on our Captain. This team doesn't stop fighting. pic.twitter.com/ZCNuXcf5ZK

— Austin FC (@AustinFC) August 30, 2021
I think we can objectively agree that 5-3 isn't so bad, right?
While it may or may not be enough for a comeback win, a goal headed in by Captain Alex Ring serves as a huge morale booster for the team. Fans that already sent beer showers flying with a 5-2 score are spraying even more now as the stadium erupts into cheers. Austin FC is more than halfway to a comeback, and it's evident as momentum very slowly drifts back their way.
57' Goal No. 2 for Austin!
.@SebadriussiOk 🤝 @DiegolFagundez. pic.twitter.com/4ceCrTySjU

— Austin FC (@AustinFC) August 30, 2021
Looks like there's still some steam in Austin's sputtering tank. Fan favorite Diego Fagundez muscles past the FC Dallas keeper and injects some much-needed energy onto the pitch. Fagundez's goal is more of a morale boost than anything else, but it propels Fagundez to tie with Cecilio Dominguez as the team's top goal-scorer.
53' Dallas makes it 5-1
a fifth goal? sure, why not.

— FC Dallas (@FCDallas) August 30, 2021
Looks like Austin's woes won't be left behind in the second half. This time, it's Dallas' Jáder Obrian who goes one-on-one with Stuver and comes out victorious as he gets one smoothly in the top left corner of goal. It's now 5-1 in Austin for the team's worst deficit to date.
46' Wolff swaps out the back line
46' | A few #AustinFC substitutions to start the second half.

➡️ Hector Jimenez
⬅️ Žan Kolmanič

➡️ Tomás Pochettino
⬅️ Jon Gallagher

➡️ Jhohan Romaña
⬅️ Julio Cascante pic.twitter.com/JmGFgSinV4

— Austin FC (@AustinFC) August 30, 2021
After a messy first half, it's up to head coach Josh Wolff to clean up.
To start the second half, Wolff swaps defenders Julio Cascante and Zan Kolmanic for Jhohan Romana and Hector Jimenez in an attempt to bolster the failing back line. Wolff also brings Designated Player Tomas Pochettino in for Jon Gallagher as the team swaps to a more defensive mindset.
Three goals in four minutes is enough to have any team rattled. It's also enough for some fans to leave the stadium: there are a few more greeen seats than before to start the second half, though the majority have stayed put and are continuing to chant for their team.
Despite being at the bottom of the Western Conference, Austin's pride has never been shaken this severely. It will be interesting to see whether they can recover with the comeback of the century or leave their home pitch 0-2 against their rivals.
38' FC Dallas scores back-to-back goals
Jesús Ferreira's goal makes it a 3-1 lead pic.twitter.com/QulcsZNQAR

— FC Dallas (@FCDallas) August 30, 2021
In the blink of an eye, Austin loses their momentum of the match as both Pepi and Ferreira score back-to-back goals at breakneck speed to make it 4-1 Dallas in the first half.
Austin once again lets the club build its way to the front of the pitch and invade the box. Despite deflections by Stuver and team, Dallas is able to take control in the match and up their lead by two more.
36' Dallas strikes back, gains 2-1 lead
HYPE TRAIN DON'T STOP 🚂@Ricardo_Pepi9 with his 10th goal on the year!#ATXvDAL // Heineken #RivalryWeek pic.twitter.com/ia3Q2AzylM

— Major League Soccer (@MLS) August 30, 2021
Just as Austin seemed to gain some semblance of control, FC Dallas once again swung the pendulum their way as Dallas' Ricardo Pepi scores the club's second goal of the night and his tenth goal this season.
25' Pair of yellow cards as Austin continues to threaten goal
Putting on the pressure. pic.twitter.com/zU2uaTqLbX

— Austin FC (@AustinFC) August 30, 2021
As per usual, Austin is holding on to the ball with 61% possession in the match. The control is starting to pay off: Austin's Alex Ring very nearly puts in a rare far-out shot to give the home team their first lead of the match.
While the team continues to work for another goal, two yellow cards are issued for each team. while Dallas' Szabolcs Schön is issued in the 17th minute, while Austin's Nick Lima is awarded a card in the 25th minute of play.
Cascante finds the equalizer!
What a ball! We're level in Austin.#ATXvDAL // Heineken #RivalryWeek pic.twitter.com/kMt0Z9LhW2

— Major League Soccer (@MLS) August 30, 2021
Less than 15 minutes into the match, Austin FC has found the equalizer after defender Julio Cascante's header sails smoothly into goal. Zan Kolmanic's cross was perfectly put into play by Cascante, who tied up the match with his first goal of the season.
Dallas strikes first
FERREIRA STRIKES FIRST!! pic.twitter.com/ya6DptO4l9

— FC Dallas (@FCDallas) August 30, 2021
Austin FC may have the upper hand in their home fortress, but it's FC Dallas who strikes first. Keeper Brad Stuver is able to block a first attempt, but Dallas' Jesus Ferreira gets it in on the rebound. It's FC Dallas up one once again.
Starting lineup
Always feels good to be at @Q2Stadium. 🙌#AustinFC x @YETICoolers pic.twitter.com/s2P8vPJWIj

— Austin FC (@AustinFC) August 29, 2021
Austin FC is sticking to what they know this week: the team's starting XI is the same as it was in their Timbers victory.
As always, keeper Brad Stuver will hold it down in goal, supplemented by defenders Matt Besler, Julio Cascante, Zan Kolmanic and Nick Lima.
Captain Alex Ring will keep the middle together alongside Diego Fagundez and Daniel Pereira, while newcomer Sebastian Driussi will go for goal alongside fellow Designated Player Cecilio Dominguez and forward Jon Gallagher.
Transfer Moussa Djitte has yet to get playing time despite being listed on the bench last week, but he may make his first appearance in the rivalry match.
Actor, director and screenwriter Justin Theroux isn't the only famous member of his family. His canine companion Kuma made waves online this past weekend supporting Austin Pets Alive!—and Jennifer Aniston is a fan.
Theroux launched Kuma's own Instagram account on Saturday with a link to Austin Pets Alive!'s website in her bio. And the grey pitbull mix is already garnering the kind of attention worthy of her movie star dad: As of Monday night, she has over 55,000 followers.
Chief among them is Jennifer Aniston, who posted a photo of Theroux and his newly online dog on her Instagram story yesterday with fond words for the Austin shelter.
"Love what these two are doing to help people who help pups who help people," the 'Friends' star, and Theroux's ex-wife, wrote. "They helped save 60 pups at Austin Pets Alive! yesterday."
Theroux began volunteering at the shelter while filming 'The Leftovers' in Austin when he fell in love with the shelter's pitbulls, according to Dr. Ellen Jefferson, Austin Pets Alive! president and CEO.
"We are thrilled that he and Kuma are spreading the word about the work APA! is doing and the need to keep Austin no-kill," she said, referring to the shelter's commitment to save animals most at risk for euthenasia.
Theroux adopted his mut in 2018 after Kuma was rescued—dirty and injured—from the aftermath of Hurricane Harvey by A Chance to Bloom Dog Rescue, based in Conroe, Texas.
While Kuma is not from APA!, Theroux connected with the Conroe-based non-profit while visiting the Austin shelter, and he has remained "an enthusiastic supporter" ever since, Jefferson said.
Read more on celebrity dogs: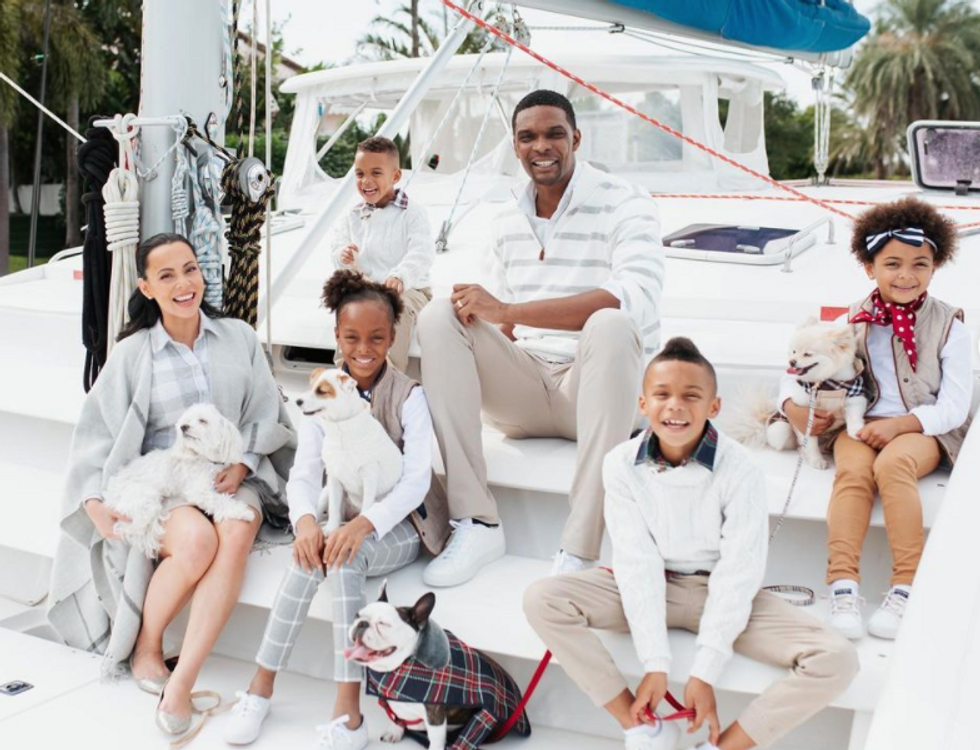 Star power gets furry: Meet the dogs of Austin's celebs
Six days a week, thousands of onlookers tune in to live streams to watch the pros rake it all in at high-stakes poker tournaments. The big-name poker players aren't in Las Vegas or even Oklahoma's finest casinos—instead, they're where Texas Hold 'Em gets its name.

Gambling may be illegal in Texas, but over a hundred poker houses are using a loophole to open up shop across the state, especially in Austin and Dallas.
The classic poker game is finally getting played for real cash around the Lone Star State thanks to an exception in Texas' gambling ban that allows poker games to be played in private residences. Instead of taking a cut from the pot like traditional gambling ventures, private poker houses don't make money from the results of a game; instead, they get their revenue from membership and hourly fees.
It's a business strategy that's gone (mostly) unchallenged by Texas politicians, especially as the industry begins to heat up.
Austin may now have around 20 poker houses around town, but it wasn't long ago that one stood alone like a small town saloon. The city's premiere poker house, Texas Card House, was founded in 2015 and has since grown to include a YouTube channel with over 30,000 subscribers, a wide range of gameplay and regular visits from big-name poker gurus like Brad Owen and Doug Pope.
David Lagana, a content creator who has worked in college sports and Hollywood, was brought into the scene in May as the house's live streams began to blow up. He said the live streaming battleground is only beginning.
"The space is ever-growing," Lagana said. "It's been interesting to try and find a lane that everybody can succeed. It's all about finding something that people want to watch on a nightly basis."
Carolyn Hapgood, who has worked for Texas Card House for three years, has made a name for herself as a live stream producer, dealer and player herself with the company. She's seen Texas Card House grow from a two-room card house to the most well-known poker venue in Austin with another branch in Dallas.
"It was a teeny tiny little house with five tables, and that was the first legal card house in the state," Hapgood said. "And since then it's blown up."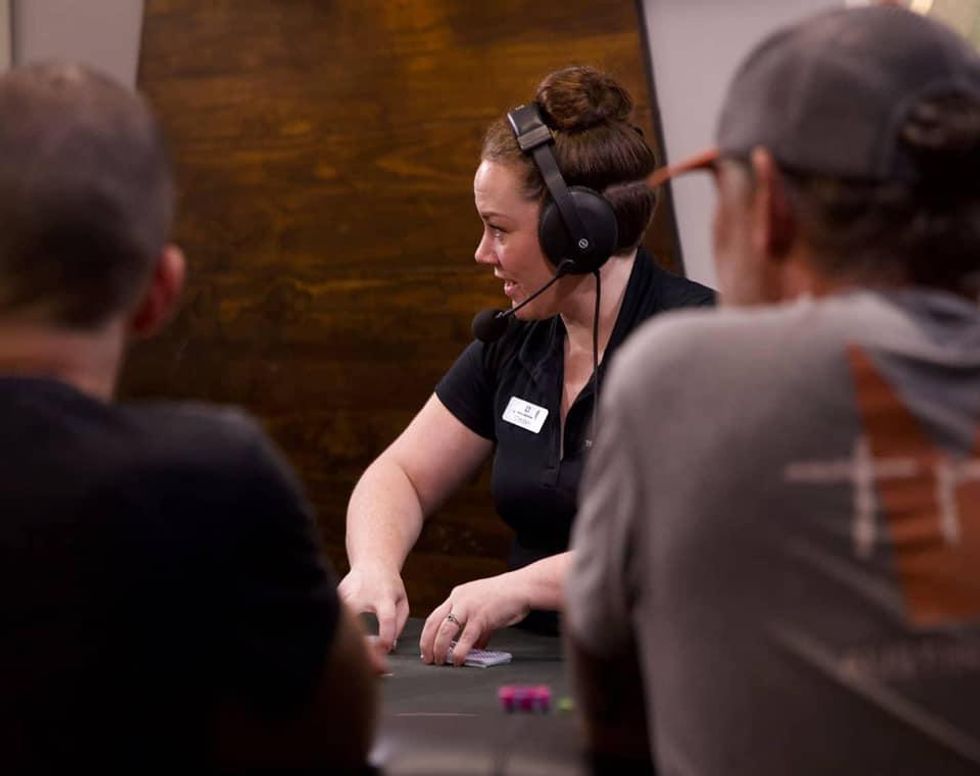 Texas Card House dealer Carolyn Hapgood has been working with Austin's premier poker house since 2018. (Texas Poker House Austin/Facebook)
From $100 pots to buy-ins of $15,000 or more, Texas Card House has it all, especially as in-state players learn more about the game. Hapgood said there isn't really a typical poker player at the house—instead, the poker table forms an "interesting little ecosystem" that includes college students, a 93-year old Vietnam War veteran, online gamblers, old-school players and everyone in between. The diversity at the table has been enhanced even further by COVID as people clamor to return to in-person events.
But Texas Card House no longer holds a "royal flush" in Austin's poker culture. The Lodge, based in Round Rock, is now expanding to over 60 tables, the largest in Texas, while Palms Social Club, owned by Texas Card Houses' original owner Sam Von Kennel, brought service staff and a refined atmosphere to the Austin scene.
Hapgood said the base of poker players is very large and continues to grow, forming a community as players form friendships on and off the table.
"My favorite part of the poker community is how much fun we have," Hapgood said. "You sit at a table with eight of your friends, everyone's kind of just having a good time. There's a lot of players who will, you know, call or text each other after they're done playing, and they end up inviting each other barbecues, and going out to dinner with their families and stuff like that... those are my favorite people to hang out with."
Getting involved in the poker scene is as easy as tuning into a live stream, and Lagana hopes to see more outsiders like himself get inspired by poker in the future.
"It's kind of like life," Lagana said. "Life isn't just one hand to play... you're only in control of sort of what's in your hand (and) you can't play the card that you weren't dealt with. So it's really been a fascinating life lesson for me."
From four-time Grammy-nominee turned big-screen actor, Black Pumas frontman Eric Burton will debut in the sci-fi short film "Devexity," which is written, directed by and stars Austinites.
The film, brought to life by Austin-based filmmaker Luke Lidell, will premiere on Oct. 7 at the Native Hostel while Burton is in town for Austin City Limits Fest. Then, "Devexity" will head off to film festival screenings, according to a report by The Austin Chronicle.
Following Burton as the film's protagonist, named Jean, "Devexity" takes place across several different settings and surfaces an existential response from the watcher. Burton stars alongside fellow Austinites Ali Pentecost, Dominique Pitts and New Yorker Madison Murrah in the partially black-and-white film.
The film was shot over the course of four days in October 2020, which Lidell said was a challenge of "focus" and "trust" to create. With a variety of scenes and intertwining narratives, the film dives into the topic of virtual reality.

A musician in addition to a filmmaker, Lidell previously directed the film "Telekinetic" in 2018. The script for "Devexity" was written by Lidell with Burton in mind for the lead after meeting him during a music video project in 2017—Lidell said Burton helped him shape the characters along the way.
Now that the door has been opened for work between Burton and Lidell, you're likely to see the pair collaborate again—a Black Pumas documentary is being rumored.