Get connected with our daily update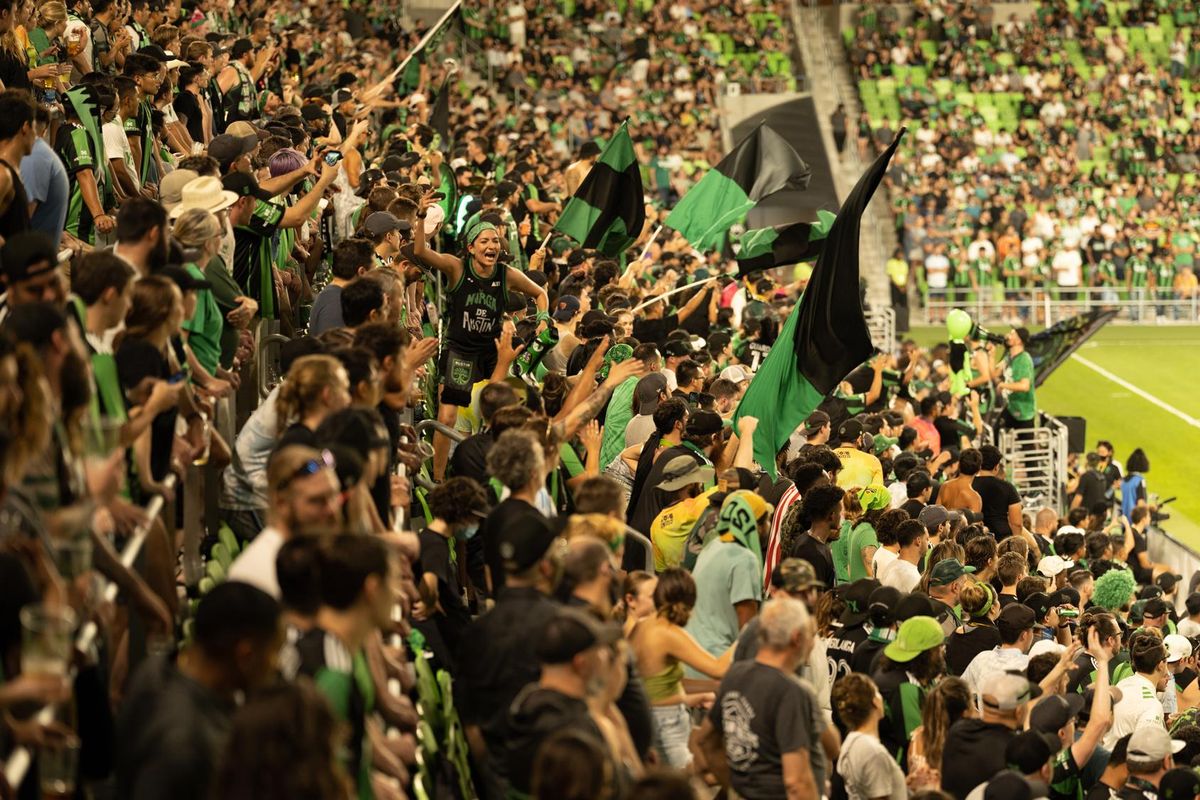 Austin FC may have scored big Sunday night, but they suffered even bigger losses as they gave up three back-to-back goals in a tumultuous 5-3 loss to rivals FC Dallas.
---
Despite scoring a near-record three times for the second match in a row, the club saw massive defensive woes as they gave up three goals in just seven minutes to end the first half.
"For about seven or eight minutes, for whatever reason, the focus and the intensity and the the willingness to compete evaporated," head coach Josh Wolff said. "It proved fatal."
Dallas frontmen Jesus Ferreira and Ricardo Pepi, both under 21, each scored a brace in the match as they brought their team to 2-0 over Austin.
Ferreira struck first in the match after capitalizing off a block from Austin keeper Brad Stuver. The lead was short-lived, however, as Austin's Julio Cascante scored his first goal with Austin FC with a header to tie the match 1-1 less than 15 minutes into play.
FC Dallas soon broke Austin FC's system, however, as they dismantled the home team's possession-heavy gameplay and broke their back line. Pepi struck next as he shot one in the bottom left corner to score his tenth goal of the season. Austin's defense quickly crumbled as both Ferreira and Pepi scored again in less than 10 minutes to bring the lead to 4-1 at the half.
With pressure mounting and a stadium in shock, Austin FC's Josh Wolff was given a near-impossible task to recover from the disastrous first half. Wolff attempted to pull off some damage control as he swapped defenders Julio Cascante and Zan Kolmanic for Jhohan Romana and Hector Jimenez to start the second half, but the red, white and blue would score once more in 53rd minute to bring the lead to 5-1.
Wolff said he was disappointed in the unprofessional performances from some of Austin's players as they failed to brush off their mistakes.
"The intensity was gone and (there was) a little bit of feeling sorry for ourselves, but you've got to get right back up and compete," Wolff said. "It's a professional game...and we have to match that. We didn't react the right way and we got punished. There were some really poor reactions on the field and that'll be addressed. We can't have players on the field react in that way."
Austin wasn't finished yet, however. Fan favorite Diego Fagundez narrowed the lead to 5-2 in the 57th minute with help from Designated Player Sebastian Driussi as he muscled past the FC Dallas keeper to score for the home team. With the goal, Fagundez is now tied with Cecilio Dominguez as the team's top goal-scorer.
Captain Alex Ring soon followed with a tricky header to make it 5-3, once again earning the support of the ever-present Verde fanbase.
Wolff said he was still impressed with Fagundez' and Ring's attempts at a comeback.
"It's going to tough to find positives in that," Wolff said. "But obviously it's good to see them put it together and compete."
Wolff also provided a rare highlight for the match as transfer Moussa Djitte made his debut in the final minutes of play after months of preparation.
But despite Djitte's debut and attempts at a comeback, their efforts proved too little, too late in the rivalry match.
This marks Austin's biggest loss in club history as they gave up more goals than in any other match as the club once again sits tied at the bottom of the Western Conference.
Here's all the ups and downs of the match:
81' Djitte makes his debut
82' | Another #AustinFC substitution.

➡️ Moussa Djitté
⬅️ Cecilio Domínguez pic.twitter.com/TA2LXvxcDf

— Austin FC (@AustinFC) August 30, 2021
Austin FC may be down 5-3, but there's at least one highlight to take away from the match: Moussa Djitte, a striker who transferred from the French Ligue back in June, subbed in for Cecilio Dominguez in the 81st minute to make his debut with the team.
Djitte is expected to help alleviate Austin's scoring woes alongside fellow newcomer Sebastian Driussi. Perhaps he'll make even more of a mark on this game tonight.
68' Alex Ring heads it in! 
We can always count on our Captain. This team doesn't stop fighting. pic.twitter.com/ZCNuXcf5ZK

— Austin FC (@AustinFC) August 30, 2021
I think we can objectively agree that 5-3 isn't so bad, right?
While it may or may not be enough for a comeback win, a goal headed in by Captain Alex Ring serves as a huge morale booster for the team. Fans that already sent beer showers flying with a 5-2 score are spraying even more now as the stadium erupts into cheers. Austin FC is more than halfway to a comeback, and it's evident as momentum very slowly drifts back their way.
57' Goal No. 2 for Austin!
.@SebadriussiOk 🤝 @DiegolFagundez. pic.twitter.com/4ceCrTySjU

— Austin FC (@AustinFC) August 30, 2021
Looks like there's still some steam in Austin's sputtering tank. Fan favorite Diego Fagundez muscles past the FC Dallas keeper and injects some much-needed energy onto the pitch. Fagundez's goal is more of a morale boost than anything else, but it propels Fagundez to tie with Cecilio Dominguez as the team's top goal-scorer.
53' Dallas makes it 5-1
a fifth goal? sure, why not.

— FC Dallas (@FCDallas) August 30, 2021
Looks like Austin's woes won't be left behind in the second half. This time, it's Dallas' Jáder Obrian who goes one-on-one with Stuver and comes out victorious as he gets one smoothly in the top left corner of goal. It's now 5-1 in Austin for the team's worst deficit to date.
46' Wolff swaps out the back line
46' | A few #AustinFC substitutions to start the second half.

➡️ Hector Jimenez
⬅️ Žan Kolmanič

➡️ Tomás Pochettino
⬅️ Jon Gallagher

➡️ Jhohan Romaña
⬅️ Julio Cascante pic.twitter.com/JmGFgSinV4

— Austin FC (@AustinFC) August 30, 2021
After a messy first half, it's up to head coach Josh Wolff to clean up.
To start the second half, Wolff swaps defenders Julio Cascante and Zan Kolmanic for Jhohan Romana and Hector Jimenez in an attempt to bolster the failing back line. Wolff also brings Designated Player Tomas Pochettino in for Jon Gallagher as the team swaps to a more defensive mindset.
Three goals in four minutes is enough to have any team rattled. It's also enough for some fans to leave the stadium: there are a few more greeen seats than before to start the second half, though the majority have stayed put and are continuing to chant for their team.
Despite being at the bottom of the Western Conference, Austin's pride has never been shaken this severely. It will be interesting to see whether they can recover with the comeback of the century or leave their home pitch 0-2 against their rivals.
38' FC Dallas scores back-to-back goals
Jesús Ferreira's goal makes it a 3-1 lead pic.twitter.com/QulcsZNQAR

— FC Dallas (@FCDallas) August 30, 2021
In the blink of an eye, Austin loses their momentum of the match as both Pepi and Ferreira score back-to-back goals at breakneck speed to make it 4-1 Dallas in the first half.
Austin once again lets the club build its way to the front of the pitch and invade the box. Despite deflections by Stuver and team, Dallas is able to take control in the match and up their lead by two more.
36' Dallas strikes back, gains 2-1 lead
HYPE TRAIN DON'T STOP 🚂@Ricardo_Pepi9 with his 10th goal on the year!#ATXvDAL // Heineken #RivalryWeekpic.twitter.com/ia3Q2AzylM

— Major League Soccer (@MLS) August 30, 2021
Just as Austin seemed to gain some semblance of control, FC Dallas once again swung the pendulum their way as Dallas' Ricardo Pepi scores the club's second goal of the night and his tenth goal this season.
25' Pair of yellow cards as Austin continues to threaten goal
Putting on the pressure. pic.twitter.com/zU2uaTqLbX

— Austin FC (@AustinFC) August 30, 2021
As per usual, Austin is holding on to the ball with 61% possession in the match. The control is starting to pay off: Austin's Alex Ring very nearly puts in a rare far-out shot to give the home team their first lead of the match.
While the team continues to work for another goal, two yellow cards are issued for each team. while Dallas' Szabolcs Schön is issued in the 17th minute, while Austin's Nick Lima is awarded a card in the 25th minute of play.
Cascante finds the equalizer!
What a ball! We're level in Austin.#ATXvDAL // Heineken #RivalryWeekpic.twitter.com/kMt0Z9LhW2

— Major League Soccer (@MLS) August 30, 2021
Less than 15 minutes into the match, Austin FC has found the equalizer after defender Julio Cascante's header sails smoothly into goal. Zan Kolmanic's cross was perfectly put into play by Cascante, who tied up the match with his first goal of the season.
Dallas strikes first
FERREIRA STRIKES FIRST!! pic.twitter.com/ya6DptO4l9

— FC Dallas (@FCDallas) August 30, 2021
Austin FC may have the upper hand in their home fortress, but it's FC Dallas who strikes first. Keeper Brad Stuver is able to block a first attempt, but Dallas' Jesus Ferreira gets it in on the rebound. It's FC Dallas up one once again.
Starting lineup
Always feels good to be at @Q2Stadium. 🙌#AustinFC x @YETICoolerspic.twitter.com/s2P8vPJWIj

— Austin FC (@AustinFC) August 29, 2021
Austin FC is sticking to what they know this week: the team's starting XI is the same as it was in their Timbers victory.
As always, keeper Brad Stuver will hold it down in goal, supplemented by defenders Matt Besler, Julio Cascante, Zan Kolmanic and Nick Lima.
Captain Alex Ring will keep the middle together alongside Diego Fagundez and Daniel Pereira, while newcomer Sebastian Driussi will go for goal alongside fellow Designated Player Cecilio Dominguez and forward Jon Gallagher.
Transfer Moussa Djitte has yet to get playing time despite being listed on the bench last week, but he may make his first appearance in the rivalry match.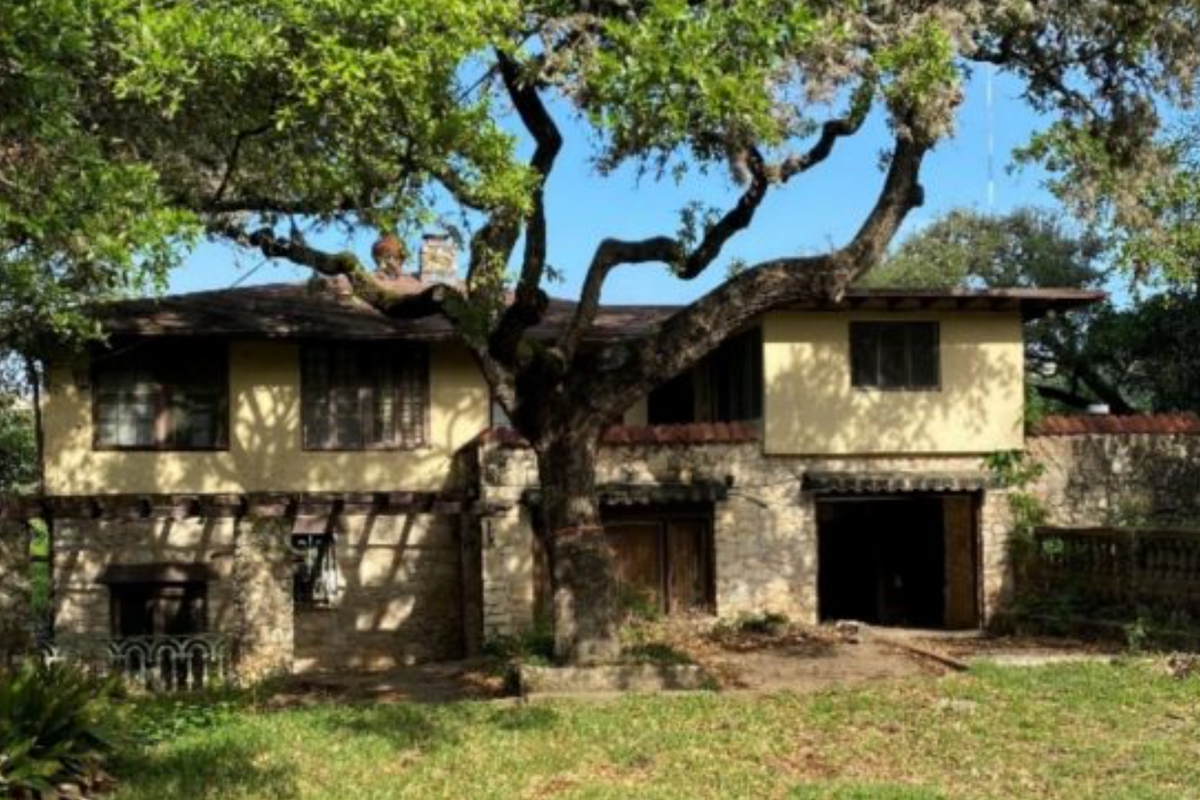 Austin Monitor
By Jonathan Lee
The Planning Commission was split Tuesday on whether to help save an eclectic lakefront estate from demolition by zoning it historic amid concerns over tax breaks and the likelihood that a previous owner participated in segregation as a business owner.
The property in question, known as the Delisle House, is located at 2002 Scenic Drive in Tarrytown. The main house, with Spanish and Modern influences, was built in 1923 by Raymond Delisle, an optician. A Gothic Revival accessory apartment was built in 1946. The current owner applied to demolish the structures in order to build a new home.'
Historic preservationists, for their part, overwhelmingly support historic zoning, which would preserve the buildings in perpetuity. The Historic Landmark Commission unanimously voted to initiate historic zoning in July, citing architectural significance, landscape features and association to historic figures. City staffers recommend historic zoning, calling both structures one-of-a-kind examples of vernacular architecture.
Tarrytown neighbors have also banded together to stop the demolition. Many have written letters, and a few spoke at the meeting. "How could anyone buy this property with the intent of destroying it?" Ila Falvey said. "I think it's an architectural treasure."
Michael Whellan, an attorney representing the property owner, said that the claims made by preservationists are shaky. The buildings are run down, he said, and have had substantial renovations. A structural engineer hired by the owner said any attempt at preservation would involve tearing down and rebuilding – an undertaking Whellan said would likely cost millions.
Whellan also argued that any historical significance derived from the property's association with Delisle and longtime owner C.H. Slator is dubious. "These men are not noted for any civic, philanthropic or historic impact," he said.
What's more, according to Whellan, Slator likely participated in segregation as the owner of the Tavern on North Lamar Boulevard between 1953 and 1960.
A city staffer, however, said she found no evidence to support the claim. "We would never landmark a property where a segregationist lived, or there was a racist person," Kimberly Collins with the Historic Preservation Office said.
Commissioner Awais Azhar couldn't support historic zoning in part due to lingering uncertainty about Slator. "Focusing on that factor is not here to disparage an individual or family. It is not about playing the race card. This is an important assertion for us to consider as Planning commissioners," Azhar said.
Commissioner Carmen Llanes Pulido said that allegations of racism should come as no surprise. "We're talking about white male property owners in the 1950s, in Austin, on the west side – and of course they were racist," she said. But she argued that allowing the house to be demolished based on these grounds does nothing to help people of color who have been harmed by racism and segregation.
The question of tax breaks was also controversial. Michael Gaudini, representing the property owner, said that the tax breaks associated with historic zoning would exacerbate inequality by shifting property tax burdens to less affluent communities. City staffers estimate that the property, appraised at $3.5 million, would get either a $8,500 or $16,107 property tax break annually, depending on whether a homestead exemption is applied.
Commissioner Grayson Cox preferred the commission focus not on tax breaks but on whether the structures merit preservation. "To me, nothing in the historic preservation criteria lists, is this person deserving of a tax break or not?"
Azhar, on the other hand, said he plans to propose a code amendment getting rid of city property tax breaks for historic properties.
The commission fell one vote short of recommending historic zoning, with six commissioners in support and three opposed. Azhar and commissioners Claire Hempel and Greg Anderson voted against.
The odds of City Council zoning over an owner's wishes are slim. Nine out of 11 members must vote in favor, and there have only been a handful of such cases over the past several decades.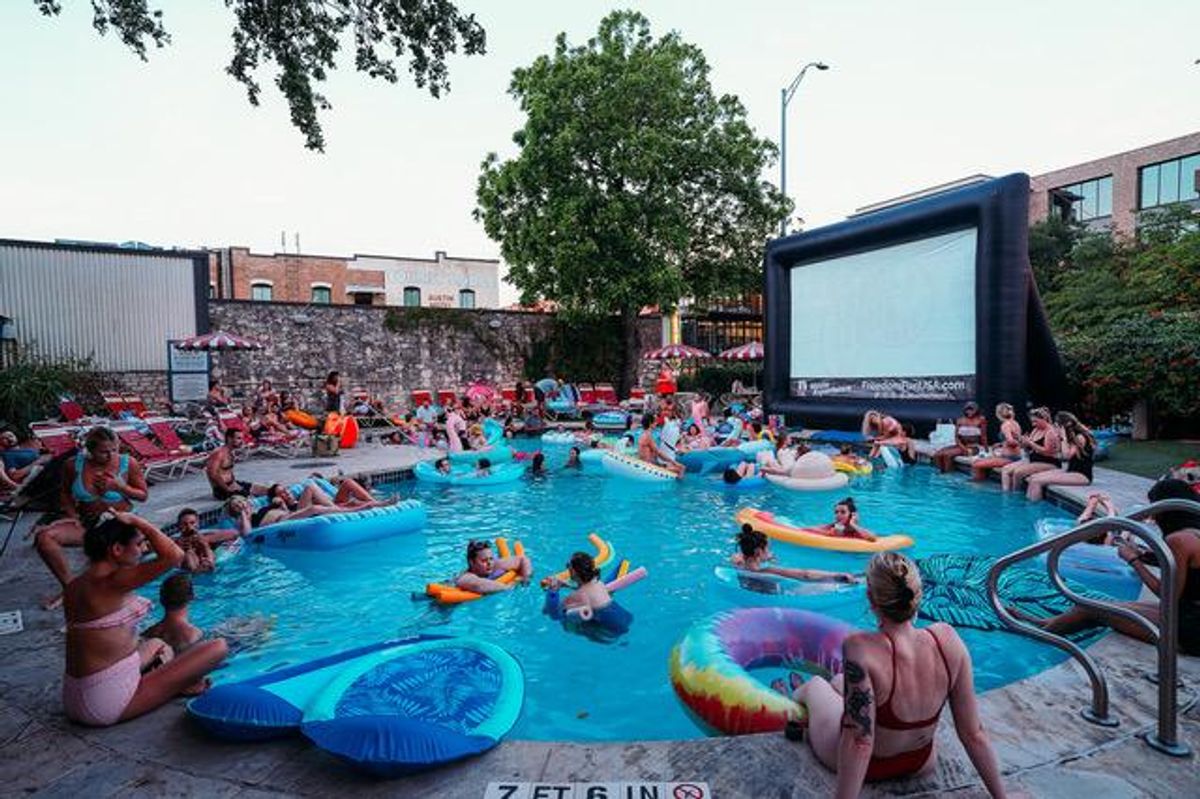 Austin Motel
What's new in Austin food & drink this week:
Nau's Enfield Drug closing after losing their lease. Did McGuire Moorman Lambert buy the building, with its vintage soda fountain?
Nixta Taqueria Chef Edgar Rico named to Time Magazine's Time 100 Next influencer list, after winning a James Beard Award earlier this year.
Question: From what BBQ joint did pescatarian Harry Styles order food this week?
Austin Motel is opening the pool and pool bar Wednesday nights in October for Freaky Floats.
Vincent's on the Lake closing due to "economic conditions and low water levels [at Lake Travis]."
Cenote has closed its Windsor Park location. The East Cesar Chavez location remains open.
The Steeping Room on N. Lamar has closed.
Local startup It's Skinnyscored new financing for its gluten-free pasta business.
P. Terry's opened a new location in Kyle, at 18940 IH-35.