Get connected with our daily update
Despite spurts of greatness that surpassed their recent losses, Austin FC was unable to tab their first win against LAFC in a 2-1 defeat on Wednesday night.
---
Austin's first loss in the post-Houston era, in which they secured their spot at last in the West with a 3-0 loss to the Houston Dynamo on Saturday, was blissfully less eventful than the high-scoring losses of the last few weeks. The team seemed to flip the switch as Austin's Sebastian Driussi appeared to score in just the fourth minute of play, but the shot served only to rile up the crowd as the goal was called offsides.
Despite the scoreboard, Austin FC head coach Josh Wolff said the team brought character and passion to the pitch that wasn't seen in Saturday's match.
"We talked candidly about (the Houston match)," Wolff said. "I think there was a little bit of that edginess that we needed and the energy and intensity that's required to play...winning isn't coming easy right now, and we've got to continue to grind and continue to push."
LAFC, which beat Austin FC for the club's first-ever regular season match in April, once again came out on top. The West Coast giants found their groove in the 58th minute with the first goal of the match. Austin keeper Brad Stuver saw himself one-on-one with LAFC's Christian Arango in a rare penalty kick after a handball was called on Diego Fagundez in the box, and he was unable to pull off another trademark save as the ball gently sunk into the net.
From the VAR offsides call to the penalty kick, Wolff said the match's refereeing decisions were jarring but served to light a fire under the team.
"It's frustrating, but there's a lot to be proud of from the effort and our ability to to compete," Wolff said. "We grabbed the equalizer, grabbed momentum...I think the guys' reactions, intensity and attitude was pretty good."
The match was not all losses for Stuver, however: the star keeper notched his 100th save with a crowd-pleasing dive in the 24th minute of play.
Right back Nick Lima said the numbers reflect Stuver's contributions to the team.
"He's a leader on and off the field," Lima said. "He was a strength for us in the beginning of the year and continues to be, so it would be nice if we could give him back what he's done and get the results that we deserve...all the kudos that he gets he deserves, and it doesn't go unnoticed in the locker room."
Fagundez, too, found redemption in the match shortly after the fateful handball as he scored his sixth goal for the team, tying the game off a rebound in the 67th minute of play. The fan-favorite is once again Austin FC's top scorer.
But LAFC wasn't done in Austin. The away team's Danny Musovski snuck past the Verde defense in the 81st minute of play to score the club's second goal and clinch the match.
Austin FC is now 0-3 against LAFC but managed to score for the first time against the West Coasters in the Wednesday match. The team has now lost fie of their last six matches as they sunk further into last place and lose hope at a first-season playoff run.
The Verde and Black will gear up once again on Saturday as they take on the San Jose Earthquakes on Saturday. The teams last matched up on June 19 in a scoreless draw for Austin FC's energetic home opener.
82' LAFC retakes the lead
In a play that Cheatsheet's Kyle Dalton said symbolizes Austin FC's entire season, a fast break by Austin FC makes it past the goalies keeper, rallies up the crowd and sees Austin crowd the box, but the shot slowly rolls just out of bounds.
Minutes later, LAFC's Danny Musovski utilizes his speed to break past the Austin FC defense, and this attempt proves true as LAFC regainst the lead. Despite a VAR offsides review, the goal is given to LAFC and the away team goes up 2-1.
Austin scores on a rebound!
That post assist, and @DiegolFagundez slams it in. 🔥 pic.twitter.com/jtBSrt0If7

— Austin FC (@AustinFC) September 16, 2021
Just after LAFC's Kim Moon-Hwan fails to capitalize on a direct free kick, Austin FC bounced back with a goal of their own to tie up the match. While it was Cecilio Dominguez who made the first shot on goal, teammate Diego Fagundez was able to sink it into goal off a rebound to tie it 1-1. It's a great redemption for Fagundez after his handball and a new point of pride for Austin as they score against their first-match opponents for the first time.
58' LAFC scores on a PK
Arango from the spot! #LAFC have the opener in Austin! pic.twitter.com/TVBXCYyoJ3

— Major League Soccer (@MLS) September 16, 2021
Looks like VAR is not on Austin FC's side tonight. In the 58th minute, a handball is called on Diego Fagundez in the penalty box as the ball hits his right arm. Stuck one-on-one for a rare penalty kick vs. Cristian Arango, keeper Brad Stuver can't predict the shot as it gently sinks into the bottom left corner. It's 1-0 LAFC with most of the second half to go.
46' Redes in for Stroud
It's been a blissfully uneventful first half for Austin FC after weeks of high-scoring losses, but the home team is still behind in scoring attempts. After Driussi's quick almost-goal was ruled offsides, Austin has made four shots to LAFC's 9, though both haven't had any shots on goal.
To add some spark to the offense, Wolff put winger Rodney Redes in for Stroud to kick off the second half. Redes will be looking for his long-awaited first MLS goal as Austin fights for their inaugural win against LAFC.
24' Stuv gets 100 saves!
Protecting his house. @brad_stuver's 1️⃣0️⃣0️⃣th save for #AustinFC. pic.twitter.com/c1jJjGzKSk

— Austin FC (@AustinFC) September 16, 2021
Austin keeper Brad Stuver's trademark save in the 24th minute of play didn't just crank up cheers from the crowd and keep the score 0-0: he also reached 100 saves. Looks like his highlight-worthy saves this season continue to pay off.
4' Driussi tries to turn the tides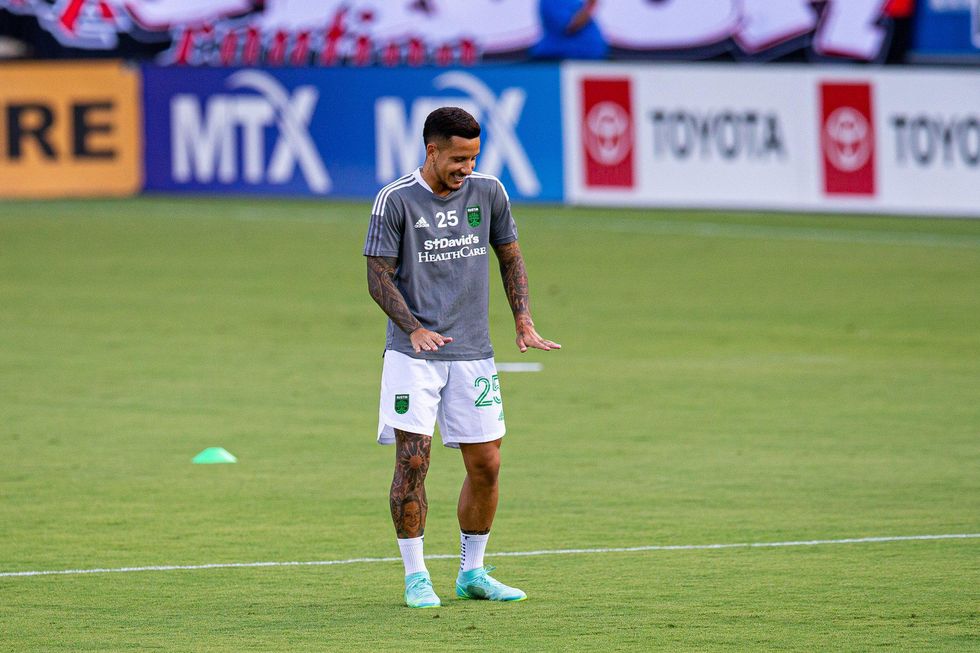 (Austin FC/Twitter)
After Austin gave up a first minute goal on Saturday against the Dynamo, it seemed like ATXFC's Sebastian Driussi had flipped a switch with a goal of his own in the fourth minute of play. But the team's triumphant return to Q2 was short-lived: a VAR review ruled that Austin FC was offside. Still, that crowd-awakening shot may be what Austin needs to see intensity and drive return to the pitch.
Starting lineup released
Taking the pitch tonight against LAFC.#AustinFC x @YETICoolers pic.twitter.com/jsp4im9lQt

— Austin FC (@AustinFC) September 16, 2021
No Poch, no problem? Head coach Josh Wolff has taken DP Tomas Pochettino off of both the starting lineup and bench tonight. No word has been had on a possible injury.
Meanwhile, winger Jared Stroud and defensive midfielder Sebastian Berhalter have made a rare appearance in the starting XI. Berhalter will likely serve to clean up a back line that has given up more goals in the past few weeks, while Stroud will look to shake up an offense that doesn't always make a crack into goal.
Republic Square Park has turned into a Ford-themed fiesta for its Built to Connect pop-up experience, complete with test drives, off-roading and an inside look at the Tesla-rivaling electric vehicles that the motor vehicle company is planning to integrate over the next decade.
The outdoor driving event is free, open to the public and will stay in the park from now until Oct. 24, offering rides on Bronco Mountain, a 0-40 mph zip in the 2022 all-electric Ford F-150 Lightning and a chance to win an original Ford Bronco.
The event kicked off with a panel of speakers, including Austin Director of Transportation Rob Spillar, Ford General Manager Darren Palmer and engineering specialists discussing Ford's goals to make it so that 50% of the vehicles on the road are electric by 2030.
As an eco-conscious city, Spillar said that around 4,000 vehicles, or 22% of the Texas electric vehicle market, as well as over 15,000 plugins lie in Austin, meaning driving electric just got accessible.
"Austin, as you know, is a fast-growing modern city that is committed to protecting the long term health and viability of our communities and strategies that reduce greenhouse gases, mitigate the effects of climate change and improve the drone quality of life here in Central Texas for all of our residents," Spillar said.
And Ford's electric vehicles are putting up some steep competition for newly-Austin-based company Tesla. The new electric Mustang Mach-E and F-150 Lighting offer amenities that used to be exclusive to Musk's brand, such as the BlueCruise self-driving network. The cars also boast a 300-mile range on a single charge, assisted reverse technology and access to the biggest charging network outside of the home.
Plus, Ford's got affordability on its side. The F-150 Lightning starts at $39,974 and the Mustang Mach-E starts at $42,895, while the cheapest Tesla model, the Model 3, starts at $41,990 and averages 262 miles on a single charge.
Speaking of price, the numbers on the electric vehicles may look like a little more than you'd like to pay for your transport, but Palmer promises it will pay off. In addition to a $7,500 tax credit you can earn for your sustainability, you'll never have to buy a pricey tank of gas again.
"Personally, I have not found one customer ever, who would go back to gas so that says something," Palmer said. "I realized, at $51,000, that car outruns every childhood hero car I ever had."
Texas buyers: take note. The Ford Lightning can power your house for three to 10 days, just in case the statewide power grid fails. You can take it glamping with you, so you don't have to leave the comfort of modern life behind, and in a pinch, Palmer said he's even seen a wedding party powered by the truck.
Ford is investing $30 billion into the U.S. market to meet demand by 2025 and the new electric truck already has over 150,000 reservations.
"I think they're going to take off much faster than you expect—they're going to be extremely, extremely popular next year," Palmer said. "With the incentives that are available today, this is starting to become more mainstream and viable for more and more families. We couldn't have done that before, we didn't have the technology, or the technology at that price."
The event is ongoing through next weekend from 12-9 p.m. Monday-Friday and 9 a.m.- 8 p.m. Saturday and Sunday.
The Austin Police Department is searching for a man who is believed to be behind a series of robberies that is "sexual in nature and is escalating."
Three robbery cases that took place in North Austin within a 30-day period are being investigated by police, who report the victims all had similar descriptions for suspects in the case. The suspect is described as a 20-25-year-old Spanish-speaking Hispanic man, approximately 5'3, thin build, recently shaved with black hair. Police say he is known to typically wear athletic clothing and used a knife on each of the victims.
Here's a breakdown of the cases:
1. At 7:56 a.m. on Sept. 22 at the 1600 block of Rutland Drive, a woman was walking alone and returning from her child's school when a suspect walking by inappropriately touched her. The suspect then grabbed her by the arm, threatened her with a knife and demanded "her property."
2. At 8:10 a.m. on Oct. 11 at 1700 block of Colony Creek Drive, a woman was walking to her child's school when a man approached her with a knife and then demanded her personal items. The suspect then said he would return the items in return for sex.
3. At 11:03 a.m. on Oct. 13 at the 9300 block of Northgate Boulevard, a woman was with her child in the laundry room of an apartment complex when a man walked in performing a sexual act. The suspect demanded personal items from the victim, threatening to hurt the victim and take her child.
Police cautioned the public to walk without earbuds, stay alert and report suspicious activity to the police.