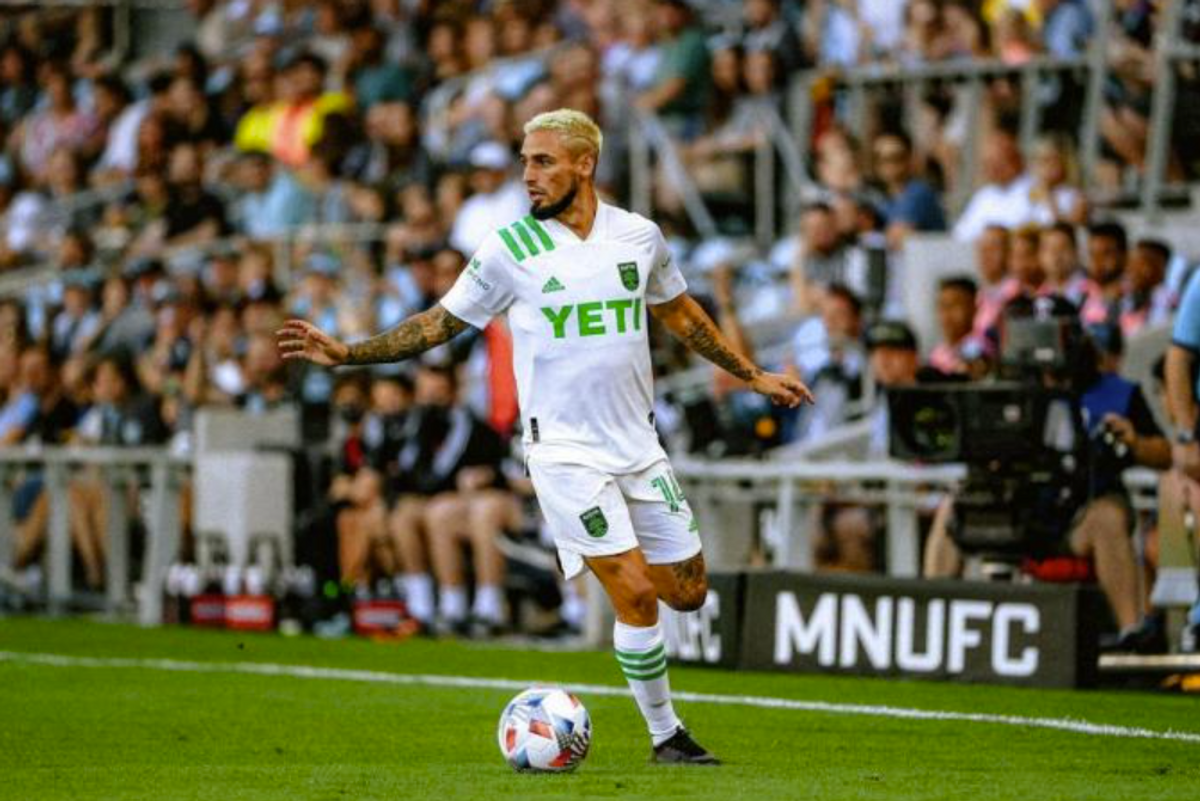 Austin FC's loss in Minnesota was a far cry from their joyous first match at Q2 Stadium.
The club was looking for a 2-0 record at the Loon's stadium after beating Minnesota 1-0 earlier in the year. Instead, they were bogged down with even more injuries and a roster that never clicked as they took a 2-0 loss at Allianz Field.
---
Even with the loss, thousands of fans kept chanting their club's name when the match ended at watch parties around the city.
Members of the supporters' groups Los Verdes and Austin Anthem scattered around town to watch the match, even making it as far south as Sean Patrick's in San Marcos. They were all hoping for the same thing—a goal and a win after a series of scoreless draws.
Unfortunately, Austin FC was hit with a spell of bad luck as the match began.
Captain Alex Ring, out. Nick Lima, out. The club already had just 17 healthy players on the roster prior to the match, and no Ring usually means no dice for the club. Wolff paired some tough decisions with some questionable ones. Sebastian Berhalter, Manny Perez and Aedan Stanley saw their first starts for the club, while center back Jhohan Romana subbed in for veteran Matt Besler and Rodney Redes was once again placed back in the starting 11.
Minnesota used Austin's uncertainty from the jump. Energized by newcomer Franco Fragapane, who had already tallied a goal in his first match with the club, the Loons struck first as Fragapane scored in the 11th minute.
The Loons managed two goals in ten minutes after Fragapane was once again put in a threatening position, sailing a set piece over the Austin FC defense that was expertly headed in by Adrien Hunou.
Eighteen minutes in, Austin FC's backs were already against the wall.
Still, Austin had more shots on goal than Minnesota for most of the game. Tomas Pochettino, who is eagerly awaiting his first MLS goal, made more threats than usual in the final third. Fagundez hustled in his usual fashion and nearly scored for his second straight appearance at Allianz Field.
By the half, however, it was clear that Austin's rotating door of substitutions weren't clicking on the pitch. Austin FC fans were heating up on Twitter. Supporters everywhere were in rare agreement about the club's performance.
Almost as the second half whistle blew, Wolff seemed to put up the white flag as he subbed out star striker Cecilio Dominguez. Twenty minutes later, Fagundez was swapped out as well. At one point, five of the 11 players on the pitch were under 22 years old.
Wolff said the moves were made both to bring energy onto the pitch and plan for their next match. Some positions have no depth left—for example, Wolff said Hector Jimenez is the club's only remaining right back.
"In the second half, there was injection of some energy... we're also trying to be just responsible with our players," Wolff said. "Health becomes an issue real quick."
As players came on and off the field, the captain's armband was passed around, eventually landing on the well-deserving Brad Stuver, who quickly proved his worth with a showstopping save that impressed even Minnesota's Twitter account.
Still, the save wasn't enough for the series of mishaps that led Austin to their first loss in St. Paul.
The club has no time to wallow, however. On Sunday, the club will play their third match in eight days as they take on the Columbus Crew in a much-awaited match at home.
Defender Julio Cascante said he loves the quick turnaround of the sport and can't wait to get back to Q2.
"I think that's the beautiful thing about this game. We play today and right away we have to change our mentality to play the next game," Cascante said. "I think we have to show our fans what they are expecting from us... we have to stand up and keep working on the season."
Austin FC will take on Columbus—the club that won the MLS Cup last year and is the former home of Austin FC owner Anthony Precourt and other club players—at Q2 Stadium on Sunday, June 27.