Get connected with our daily update
Austin FC ended their season on a disappointing note as they fell 3-0 to the Portland Timbers Sunday night to wrap up their first year of play.
---
The Verde and Black left their inaugural season with an unassuming 9-4-21 record, narrowly missing a chance to be crowned the Best in Texas and end in 11th place in the Western Conference over FC Dallas. Instead, the club edged past the Houston Dynamo to earn a 12th place slot in the West, beating out the Dynamo and the East's Cincinnati and Toronto in overall points to close out the season.
And although they saw moments of greatness—including two dominating wins over Portland in the past—the challenges of a new team, inconsistency on the pitch and injuries kept the club from making a solid playoff run.
But that didn't stop fans from pouring into Q2 Stadium every week or traveling to see their team, including over 100 Verde attendees at the final Portland match.
The club was unable to bring the energy from their David-and-Goliath win over No. 2 Sporting Kansas City for their final home match on Wednesday, however, as the Timbers successfully pulled off a revenge victory.
Austin nearly got an early lead as they had Wednesday as Diego Fagundez maneuvered past the Portland defense to get one in goal just three minutes into the match, but a handball call just prior kept the goal from counting.
Just a few minutes later, the Timbers found themselves alone against Austin keeper Brad Stuver in the Verde box—a pattern that would repeat itself in the poorly-defended match.
By the 17th minute, Austin FC was punished for their leniency as a blunder in the back led to Portland's first goal. The 1-0 Timbers would keep control for the rest of the match, scoring once more just before the halftime whistle as Portland's Yimmi Chara beat out Austin defender Zan Kolmanic to set his teammate Jaroslaw Niezgoda up for a close-range header.
The second half proved just as dismal for Austin as they seemed to hang their heads for the rest of the match. A few bright spots—including winger Jared Stroud's well-placed crosses and some playing time for young players like Freddy Kleeman and Owen Wolff—shone through, but Portland still scored again in the 53rd minute to clinch the match.
After seven months of weekly matches and over three years of anticipation, Austin FC's first ride has come to a close. And though they've lost plenty of matches—and garnered plenty of criticism—support from thousands of Verde fans has never wavered.
Those fans will see their team once again after a few months of regrouping in late February as the 2022 MLS season begins.
Here were the biggest plays of Austin's final match:
53' Portland makes it 3-0
Sebastian Blanco makes it 3-0 in favor of @TimbersFC!#PORvATX // #DecisionDay pic.twitter.com/zSL872EaY6

— Major League Soccer (@MLS) November 8, 2021
Despite a valiant parry from Austin keeper Brad Stuver, Austin FC concedes their third goal of the night as Portland's Sebastián Blanco gets it in off a deflection from just a few feet out.
It seems as though the Verde and Black have already checked out of their final match, and it will be very hard to gain some dignity with a goal or two by the end of the match.
46' Dominguez subs in for Djitte
Senegalese striker Moussa Djitte has subbed out for Designated Player Cecilio Dominguez, who will play up front for Austin's final half of the season. Dominguez is tied with Diego Fagundez for the most goals this season.
A minute into the second half, Sebastian Berhalter receives a yellow card for a shirt grab that he can't quite conceal.
And just a few minutes in, Portland has once again found no one between themselves and Austin FC's goal a few too many times. If the Verde and Black don't plug their holes, it's only a matter of time before another goal is scored against them in their last match.
45+' Austin concedes second goal at the half
Niezgoda uses his chest to double the lead for @TimbersFC! #PORvATX // #DecisionDay pic.twitter.com/P8MdUIT0Xb

— Major League Soccer (@MLS) November 8, 2021
Less than a minute before the end of the half, Austin FC was once again punished for haphazard defending as Portland's Yimmi Chara beat out Austin FC defender Zan Kolmanic to set up Timbers teammate Jaroslaw Niezgoda with a close range header and double the lead.
Austin FC has been consistently outplayed by the Timbers, a stark contrast from their other Portland matchups, as they head into the half with a 2-0 deficit.
17' Portland scores as Austin loses momentum
Paredes taps it home and @TimbersFC take the lead! #PORvATX // #DecisionDay pic.twitter.com/OJgVQ5r4oR

— Major League Soccer (@MLS) November 7, 2021
Portland has finally broken through Austin's sluggish defense as the club capitalizes on a Verde misstep and scores from just a few feet away in the 17th minute of play.
It's the first time Austin has conceded first in a Portland matchup and was bound to happen sooner or later as blunders in the back keep leaving Portland alone in the box. If the club looks to have a season shutout for their final match, they'll need to close some gaps and welcome new urgency across the pitch.
3' Austin—and Portland—nearly score early
Austin FC almost started this match much like their Wednesday victory—just three minutes into play, the club did some maneuvering near the box before Diego Fagundez beat out the Portland defense and put the ball into the back of the net. But just before the would-be goal, a handball call was called on Fagundez off a bounce.
Just a minute later, Portland found themselves nearly alone and quicker than Stuver in a worrying play in the box, but a last-second touch from center back Julio Cascante kept the Timbers out of goal.
Final starting lineup
Almost that time.#AustinFC x @YETICoolers pic.twitter.com/a1Hbb0XRbj

— Austin FC (@AustinFC) November 7, 2021
Jared Stroud, a rare starter who saw a goal in his first start in months on Wednesday, is back in the starting XI as he looks for his second MLS goal. DP Cecilio Dominguez is on the bench tonight, with star transfers Moussa Djitte and Sebastian Driussi up front alongside Stroud.
With center back Jhohan Romana still out, it looks like Captain Alex Ring will once again take his place instead of his regular spot in the middle. Although untraditional, it's a trick that worked last match, and a young Sebastian Berhalter looks to be taking his place. Tomas Pochettino is back in midfield alongside Berhalter and Diego Fagundez, who is tied with Dominguez as the team's top scorer.
In the back, Hoctor Jimenez is back in for right back, with Julio Cascante taking center back alongside Ring and Zan Kolmanic flanking the left hand side. As always, Brad Stuver is taking the keeper position for the final match.
Capital Metro has been awarded $750,000 from the Federal Transit Administration to go toward Project Connect's Orange Line, documents show.
The FTA announced the funding round on Thursday, which dispersed $11 million across 12 states and 20 projects. The money is meant to connect communities to affordable transit and housing through the FTA Pilot Program for Transit-Oriented Development planning.
CapMetro said the funds will go toward projects at eight stations spanning 6.5 miles on the South end of the Orange Line, which has a total of 22 stations. The full project stretches across the 20 miles from Southpark Meadows to Tech Ridge.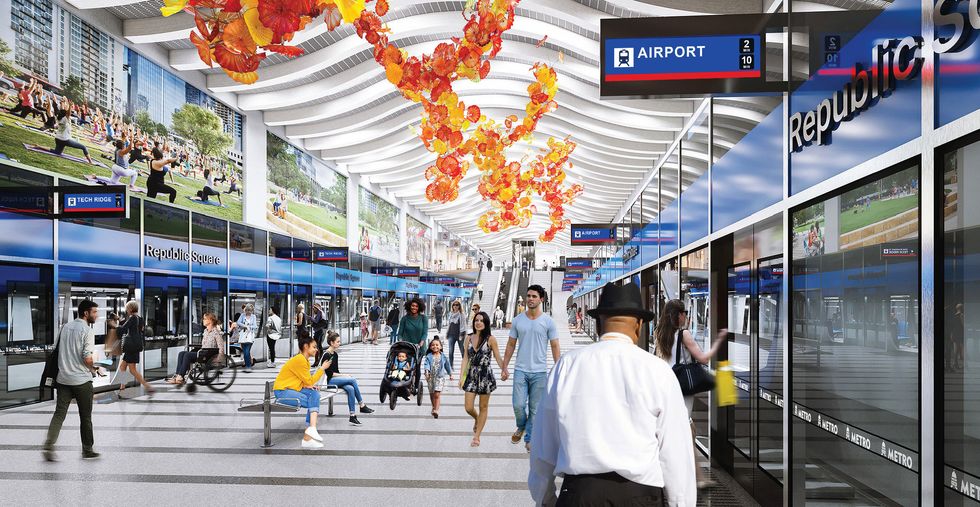 Republic Square station is along the Orange Line. (Project Connect rendering)
Once it's complete, which officials estimate will be in 2028, the Orange Line will reach the following stations:
Tech Ridge (Park & Ride)
North Lamar International District
Crestview
The Triangle
UT campus
Republic Square
Auditorium Shores
South Congress
Southpark Meadows (Park & Ride)
A $500 million mixed-use development spanning 1,400 acres is coming to Southeast Austin, near Tesla's headquarters at Giga Texas.
Plans for the development by Houston-based real estate firm Hines include 2,500 houses along with multi-family and townhomes, and commercial land. Hines is partnering with Trez Capital, Sumitomo Forestry and Texas-based Caravel Ventures.
The development, which is known as Mirador, will be located off the 130 Toll and Highway 71, which the developers say provides easy access to the Circuit of the Americas Formula 1 racetrack and other Austin attractions like restaurants, parks and live music venues.
Hines also boasts amenities like a 60-acre lake, over 600 acres of greenbelt, community parks, trails and a swimming pool.
"As Austin continues to grow into the tech epicenter of Texas, coupled with a supply-constrained market, the demand for new housing is at its highest," Dustin Davidson, managing director at Hines, said. "Mirador will be critical in providing more options for Austin's growing population and we are excited to work alongside our partners given they each provide a unique and valued perspective in single-family development."
The local housing market has been hot in recent years, with home sales accelerating earlier in the pandemic. In July 2021, the Austin metro area hit its pricing peak at $478,000. As Austonia previously reported, the area has been expected to see the Tesla effect, with the new workforce driving up demand for housing and other services.
The single-family houses are expected to be developed over the course of six years, in phases. Construction on the homes is expected to start this year and home sales will begin in 2023.