Get connected with our daily update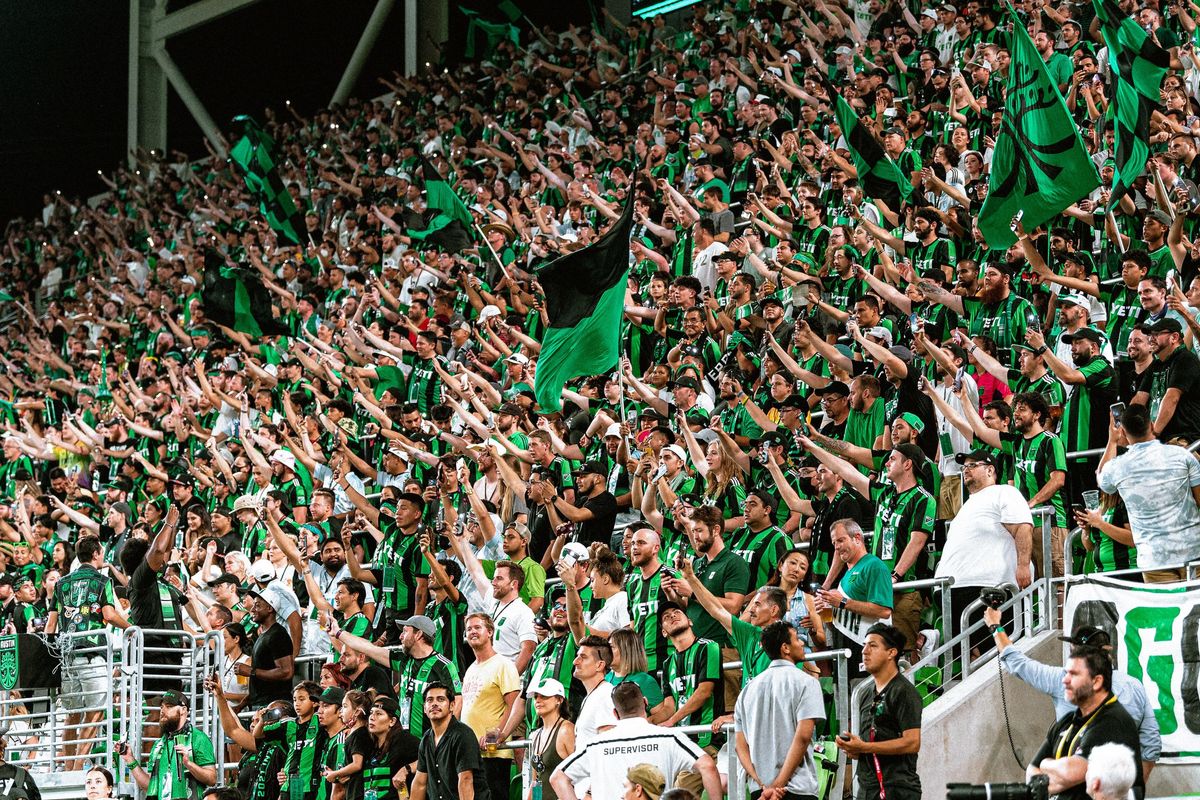 Turns out patience was not a virtue for Austin FC fans.
After a two-week MLS break, the club still couldn't find its footing in goal as they fell 1-0 to No. 1 Seattle Sounders at Q2 Stadium.
---
Even as player wounds were patched and Seattle sent the youngest starting lineup in MLS history onto the Verde pitch, Austin's front line couldn't capitalize on their chances given and suffered their fifth scoreless match in six games.
Head coach Josh Wolff said he was feeling a number of emotions, most of which weren't positive, after the match.
"Frustration and disappointment...Seattle's a very good team, regardless of what players they put out there, so it's always going to be a challenge," Wolff said. "More disappointing was just the lack of structure. What we'd worked on the last 5-6 days, that was not on display in the first half."
Seattle put five teenagers on the pitch to start the match, including Obed Vargas, who, at 15, is the third-youngest player in the MLS record books to appear in a match. Meanwhile, Austin saw the return of starters Tomas Pochettino and Captain Alex Ring but were still missing starters Danny Pereira and Nick Lima.
Austin kept a slight advantage over the young Seattle team in the first half, maintaining 74% possession and solid passing game. When Raul Ruidiaz came onto the pitch, however, the tables turned for the home team.
No crystal ball was needed to predict a Ruidiaz goal, but no fortuneteller could've predicted a goal like that. After an Austin FC deflection, Ruidiaz showed off his stellar soccer IQ far behind the box and chipped it over Stuver's head. Ruidiaz is now the top scorer in MLS.
Austin saw one reach goal for defender Julio Cascante, who dove into goal with his ball after a successful diving header. After a review, however, the goal was disallowed. Ruidiaz appeared to score yet another goal but was called offsides just seconds later.
The near-undefeated Seattle has now lost just one match in their 15-match season as they continue to top the MLS. Meanwhile, Austin's scorelessness could put the club in the hot seat as they continue to struggle to get the ball in the net.
Even with a decent defensive effort thus far this season, Wolff said that not scoring goals just won't cut it.
"From a goal-scoring standpoint...it's been lackluster and poor," Wolff said. "The reality is that we haven't scored goals, and defensively we've been fairly solid, but you've got to score goals to win games... tonight, it wasn't good enough, in any regard."
Here's a look at exactly what happened in Austin's second home loss:
Injury report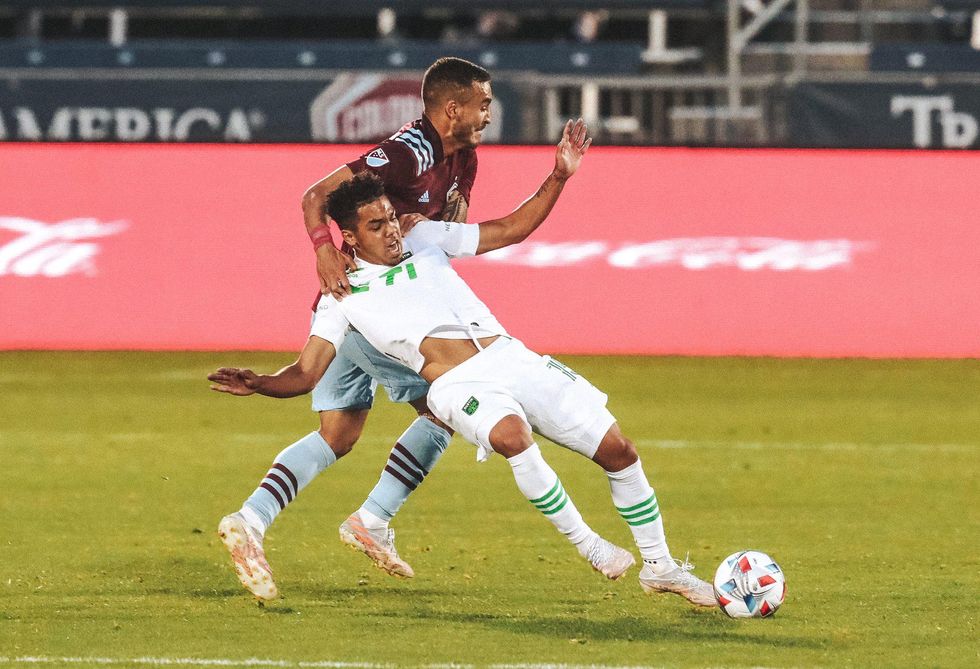 Danny Pereira is one of six Austin FC players still out on injury tonight. (Austin FC/Twitter)
Austin FC has seen some much needed starters make a quick recovery over the break, including winger Jon Gallagher, but they've still got five players out on injury as they face the Sounders.
Here's who's still out of the mix:
Nick Lima- right back
Danny Pereira- midfield
Danny Hoesen- striker
Ben Sweat- left back
Aaron Schoenfield- defense
Austin FC starting lineup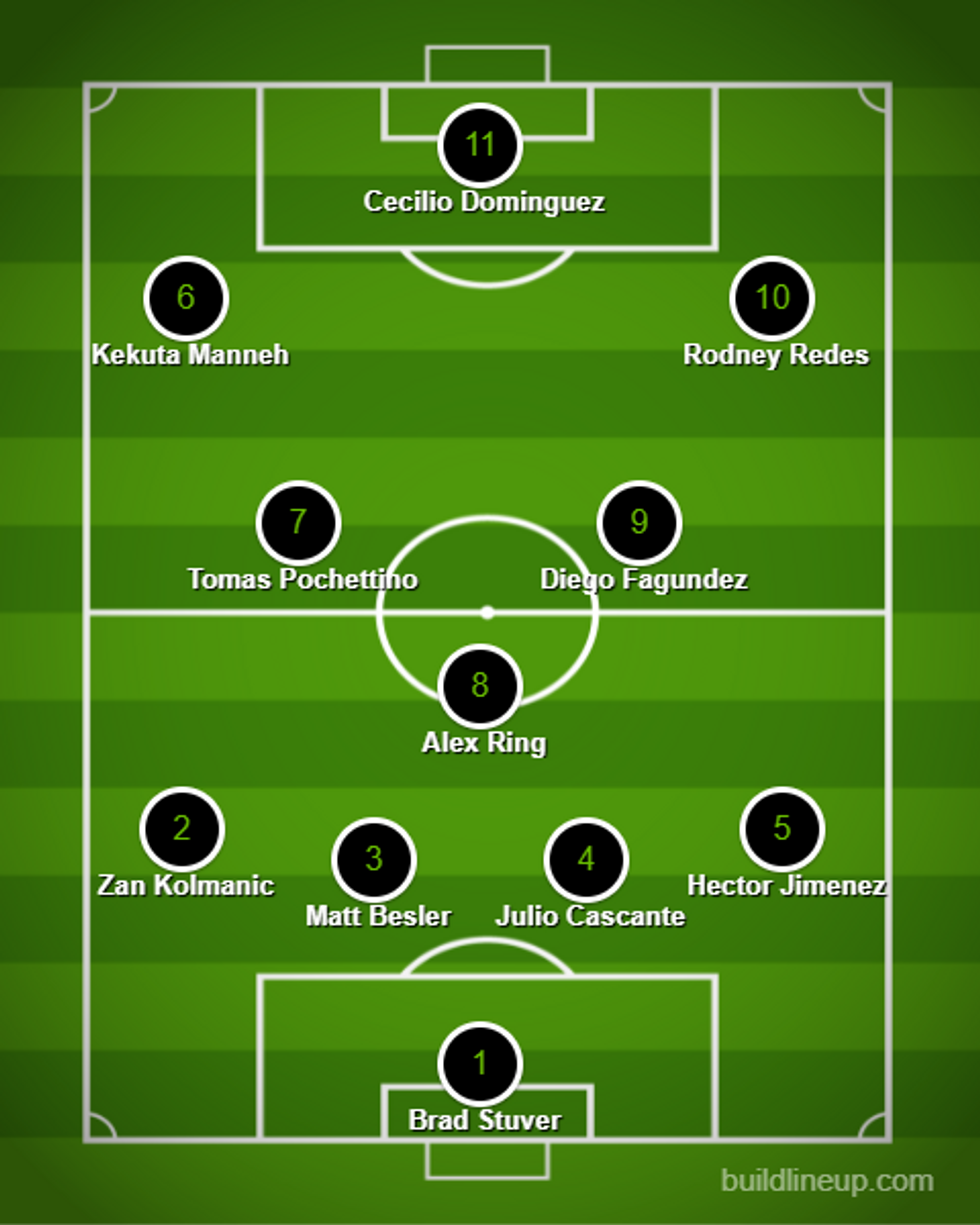 For the first time in a long time, Rodney Redes is starting back as right winger after scoring the lone goal against the Tigres last week. He and Kekuta Manneh will flank Cecilio Dominguez at striker.
Pochettino and Captain Alex Ring have once again brought some solidity to midfield. Pochettino edges closer to his first MLS goal every match, while Fagundez completes the trio with a fiery desire to score.
Austin's defense looks much the same, with Hector Jimenez still in at right back for an injured Nick Lima.
Seattle makes history with youngest-ever starting squad
1. Freddy Adu
2. Alphonso Davies
3. Obed Vargas

At 15 years and 351 days, Obed Vargas becomes the third-youngest player in @MLS history to appear in a match. #SoundersMatchday | #ATXvSEApic.twitter.com/gb73w61XNz

— Seattle Sounders FC (@SoundersFC) July 23, 2021
The future of MLS is on the field.
Is this a slap in the face to Austin, a chance to get some young players some experience or just the result of injuries and international call-ups? Either way, Seattle is making history tonight as five teenagers hit the pitch for the first time in a regular season MLS match.
Among the youngest- ever- is Obed Vargas, a 15-year-old mifielder who is the third-youngest player in MLS history to appear in a match. Not far off is Austin FC's Diego Fagundez, who started as a 16-year-old himself.
They're holding up well against Austin, who has held on to possession and found a few very close chances but is once again fumbling in the final third. The Sounders have some of the lowest possession in the league but are also one of the most efficient, scoring second-most in the league per game.
Homegrown Manneh makes the first crack at goal
Oh man, @kekuta16! 😅 pic.twitter.com/whWmRp0OUx

— Austin FC (@AustinFC) July 23, 2021
Winger Kekuta Manneh, the only player with roots in Austin, pulls an optical illusion as he expertly twists a header near goal off of a penalty kick. It's close enough to get the crowd riled up but not close enough to change the scoreboard.
At the half: few highlights, no goals against Sounders scrubs
Peep #AustinFC's supporters' section singing 'Colors' with none other than @BlackPumasMusicpic.twitter.com/HoOxsLSuhG

— Claire (@partain_claire) July 23, 2021
Is Austin FC being outplayed by five teenagers and more Sounders scrubs? Not quite- the club holds 73% possession and has better passing accuracy- but it's definitely closer than players and head coach Josh Wolff would like.
Austin has had just four goals in five matches, and they were all in the same match. Wolff is likely feeling the pressure of a team that can't quite close near goal. On the bright side, the club is once again holding the No. 1 team in the league scoreless, even if it is their scrubs.
As Austin fought through the extra minute of halftime, fans in the supporters section sang Austin band Black Pumas' song "Colors" with none other than the band itself. They're still loud as ever as Austin fights to turn it around and take their second home win.
56' Gallagher makes a comeback
57' | First #AustinFC substitution of the night.

➡️ Jon Gallagher
⬅️ Rodney Redes pic.twitter.com/lqHNA8bwBf

— Austin FC (@AustinFC) July 23, 2021
Austin subs in winger Jon Gallagher for the first time since he used his injured foot to score the club's first home goal. Gallagher could provide some much-needed juice to the Austin offense as both clubs fight for the first goal.
Meanwhile, Seattle is bringing in the big guns with striker Raul Ruidiaz, who is tied for the most goals in MLS this season. Austin will have a much harder time keeping the dam closed with Ruidiaz at the stead.
66' Ruidiaz scores for Seattle
OH MY WORD

RAUL RUIDIAZ SEES THE KEEPER OFF THE LINE AND..... 😱😱😱 pic.twitter.com/J42xDEyZE4

— Major League Soccer (@MLS) July 23, 2021
No crystal ball was needed to predict a Ruidiaz goal, but no fortuneteller could've predicted a goal like that. After an Austin FC deflection, Ruidiaz shows off his stellar soccer IQ far behind the box and chips it over Stuver's head. Ruidiaz is now the top scorer in MLS, and Austin is down 1-0 to Seattle for the first time.
76' Austin FC goal disallowed, Ruidiaz nearly makes it two
2 minutes, 2 goals disallowed. 😐

Score remains 0-1.

— Austin FC (@AustinFC) July 23, 2021
It's not often that a player rolls in goal after the ball they score, but Austin FC defender Julio Cascante pulled it off perfectly. Cascante's diving header was enough to put the ball in the net, but his first Austin FC goal was disallowed.
The dominoes seemed to be tumbling down just minutes later when Ruidiaz appeared to get in yet another goal less than two minutes later, but his attempt was also called offsides.
A lot of excitement, but the score remains 1-0 Seattle.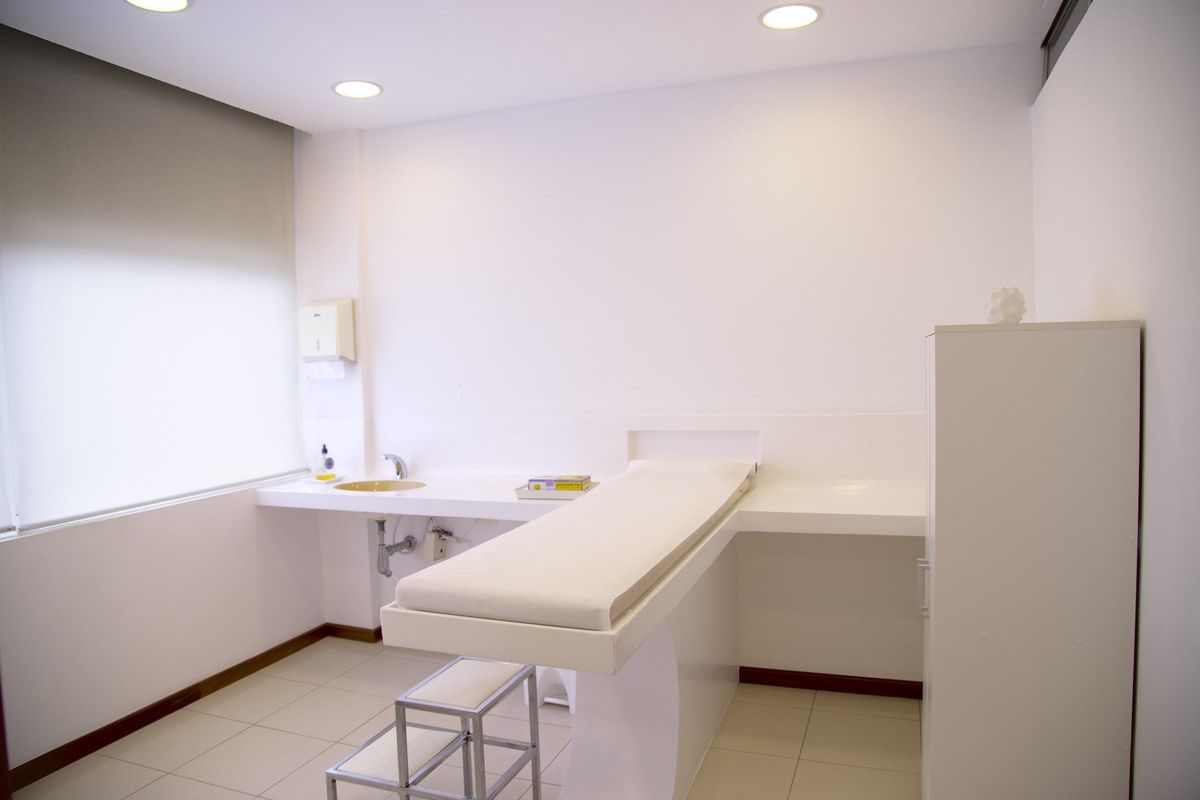 Austin Nicholson was ahead of the curve when he got his vasectomy in September 2021, saving himself a long line as Austin-area doctors say the demand for sterilization has seen a "significant" spike since Roe v. Wade was overturned on Friday.
Nicholson, 25, said he would prefer to adopt children, had felt the Supreme Court decision coming for a while, and, wary of the consequences, he decided to pull the trigger and make an appointment.
"A big part of it was the political climate. We could both potentially face consequences and she would definitely face more consequences, which I also personally would not want," Nicholson said. "I didn't want to be stuck in Texas and have a potential abortion on the mind when it's illegal."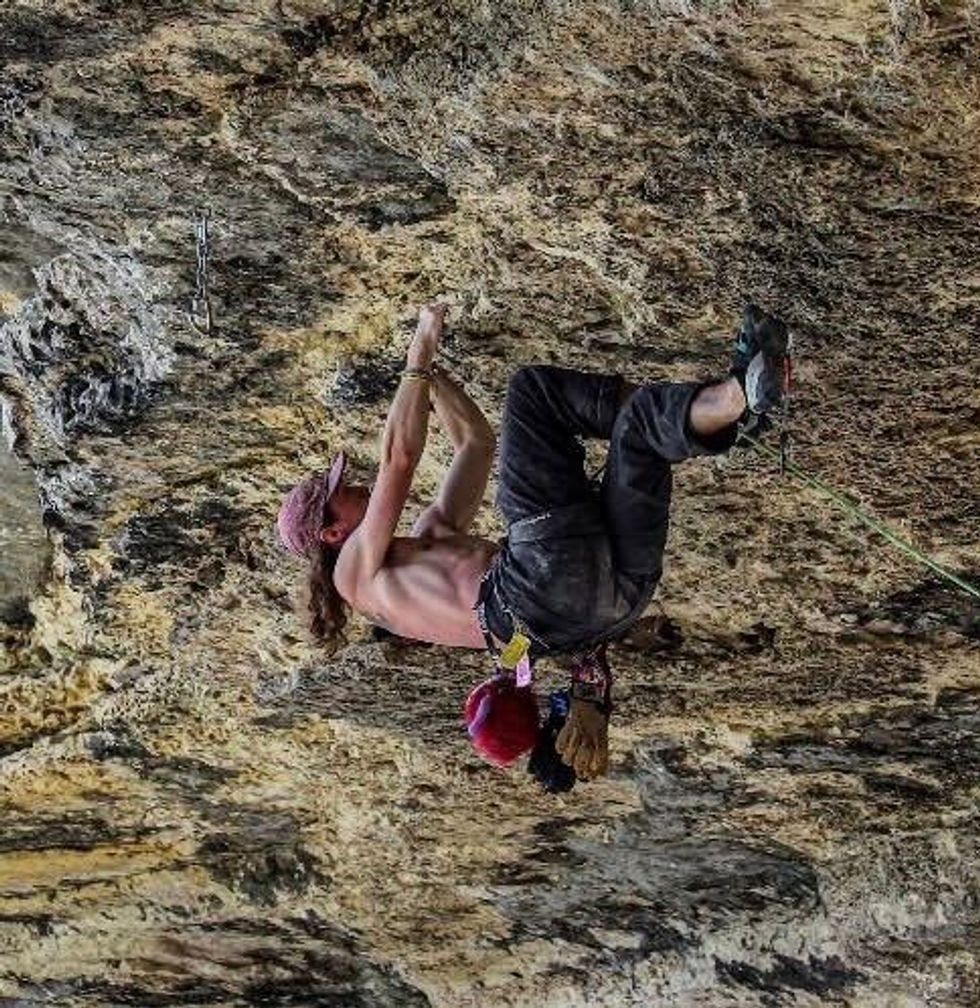 (Austin Nicholson)
According to vasectomy specialist Dr. Luke Machen of Austin Fertility and Reproductive Medicine, the clinic received over 150 vasectomy appointment requests combined on Friday and Monday following the ruling. Typically, the clinic performs 45-50 vasectomies per month.
The Austin Urology Institute reported that they received about 70 calls in the first hour after the ruling was released. OBYN at Women's Health Domain reported receiving over 100 requests from women interested in getting their tubes tied.
"I would say a significant number of patients who scheduled recently have mentioned the Supreme Court case," Machen said. "A lot of guys have said they were thinking about having a vasectomy over the last year or so, and the ruling was the final push to get it done."
The average patient at Austin Fertility who receives a vasectomy is about 37, though Machen said he has started to see an increased number of patients with zero children choosing to get a vasectomy. While they put together a study, Machen expects demand for the procedure to plateau but stay higher than before the ruling.
Machen said vasectomy is the most effective form of permanent birth control, requires only about a week of recovery time, is reversible with success rates of up to 95% and has no effects on sexual function or testosterone.
Nicholson said the procedure was less than $700, he was never in any pain, had very little recovery time and has never regretted the decision—in fact, he has happily recommended the procedure to friends.
"It helps me feel better knowing that I won't put a woman in that situation where she'd have to be faced with a potentially life-altering decision, or consequence even," Nicholson said. "I actually have had three of my friends ask me questions about it and tell me that they were considering it."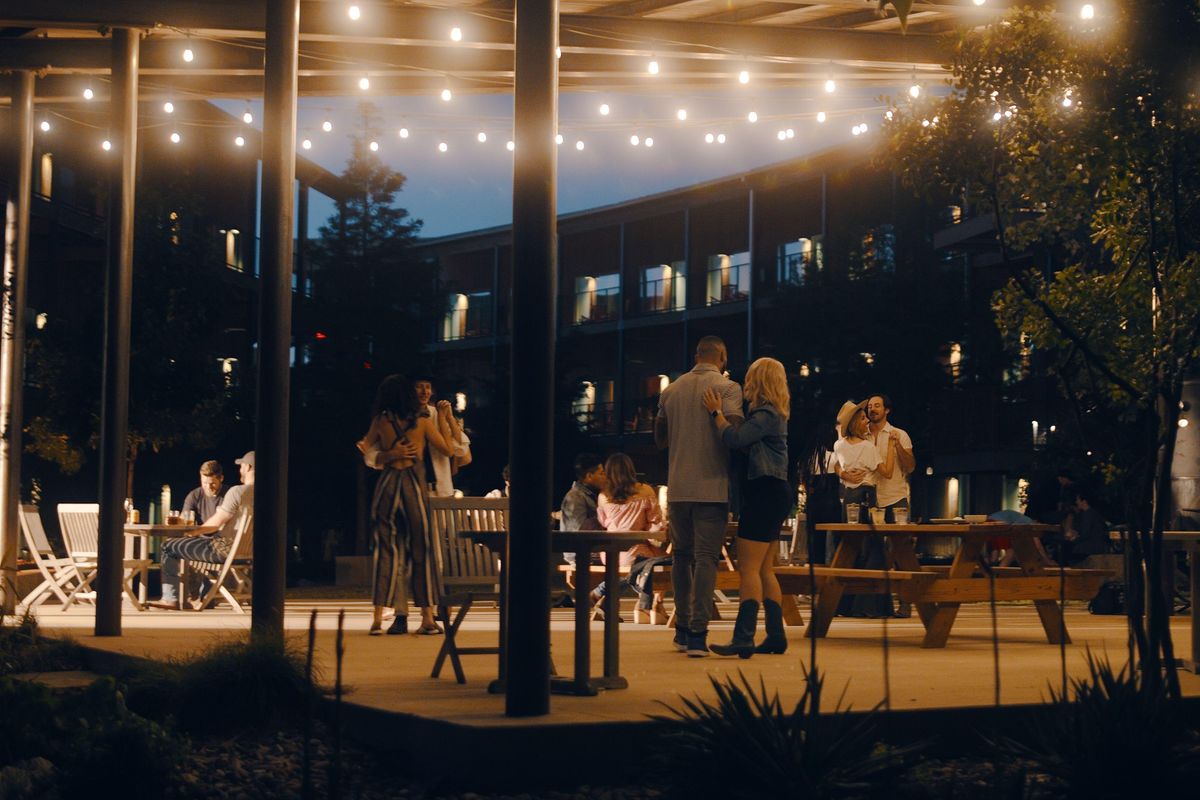 Live music and beer? Say no more. With a location in Austin, and others throughout Texas, the court hotels by the Valencia Hotel Group have a new offering for weekend stays: Live Music & Longnecks.
Enjoy live music all weekend long and check out the hotels' state-of-the-art amenities between sets. Make a splash in the pool, enjoy outdoor fire pits, or challenge your friends in a yard game while enjoying a weekend full of live music! Did we mention the package includes deluxe accommodations and a bucket of beer? Oh, and if you needed more convincing, this pet-friendly hotel means the whole family can join in on the fun.
The hotels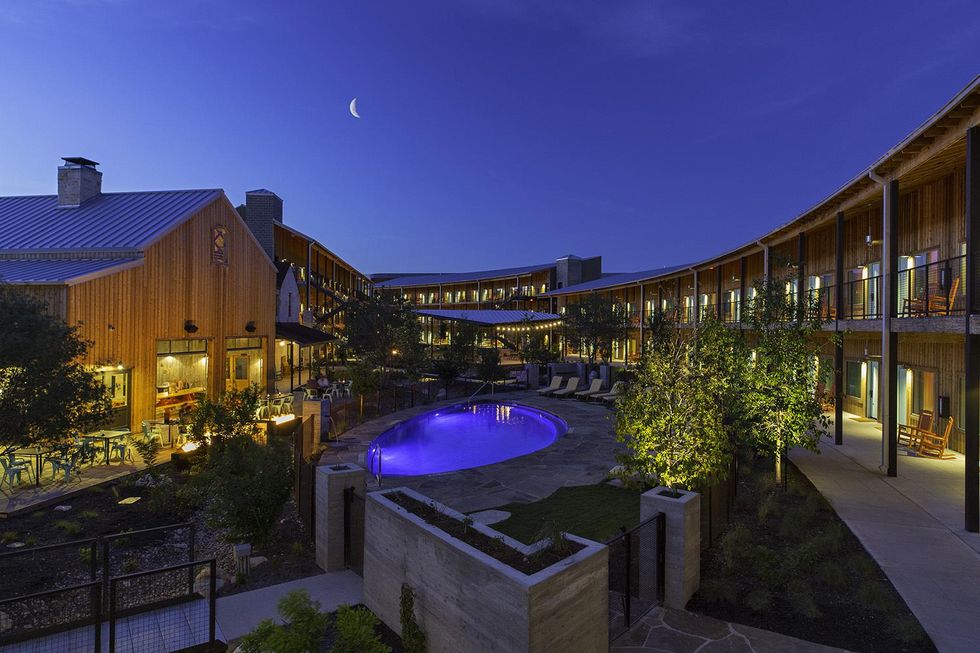 Explore any of the Court Hotels by Valencia Hotel Group for a memorable escape. Each property offers a unique experience remnant of yesteryear but with all of the modern amenities that make for a fun and comfortable stay. With acres of landscaped courtyards, relax and unwind in an outdoor environment perfect for doing everything or absolutely nothing at all. With locations in Austin, College Station, Irving, and Lubbock your urban retreat has never been so close.
The music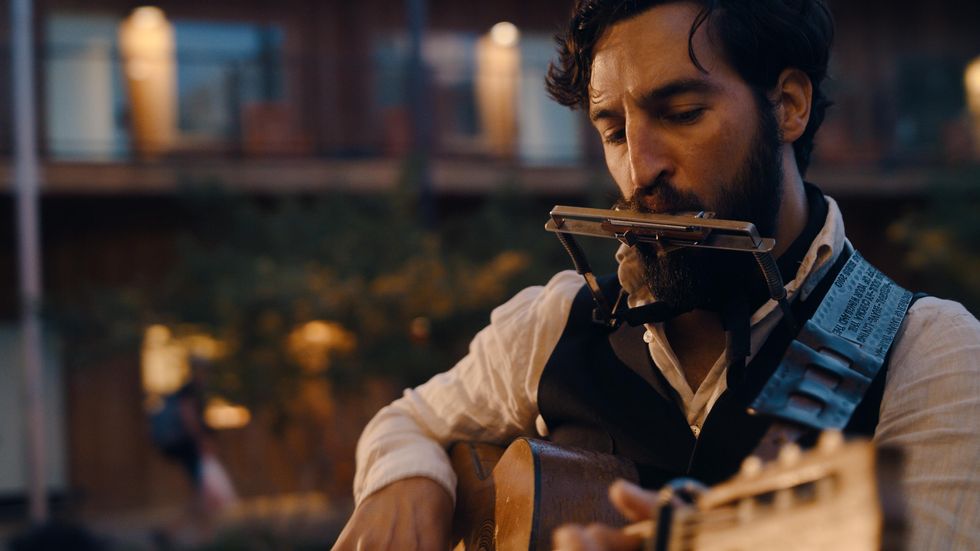 Locals and travelers alike are invited to enjoy the deep roots of Texas music all summer long with a robust lineup of live performances. From the banks of the San Antonio Riverwalk to Irving's manicured streets, Valencia's hotels are a place to gather and reconnect, offering uniquely Texan settings for the weekly performances.
"We're proud of the community we've fostered among Texas musicians and the many rising stars who perform at our properties," says Amy Trench, corporate director of brand marketing & PR for Valencia Hotel Group.
In Austin, you can catch good ol' fashioned Texas country by Drew Moreland and Clayton Gardner, bluegrass by Reagan Quinn, and much, much more.
With unique programming at each of Valencia's properties, there's something for everyone to enjoy all summer long.
The perks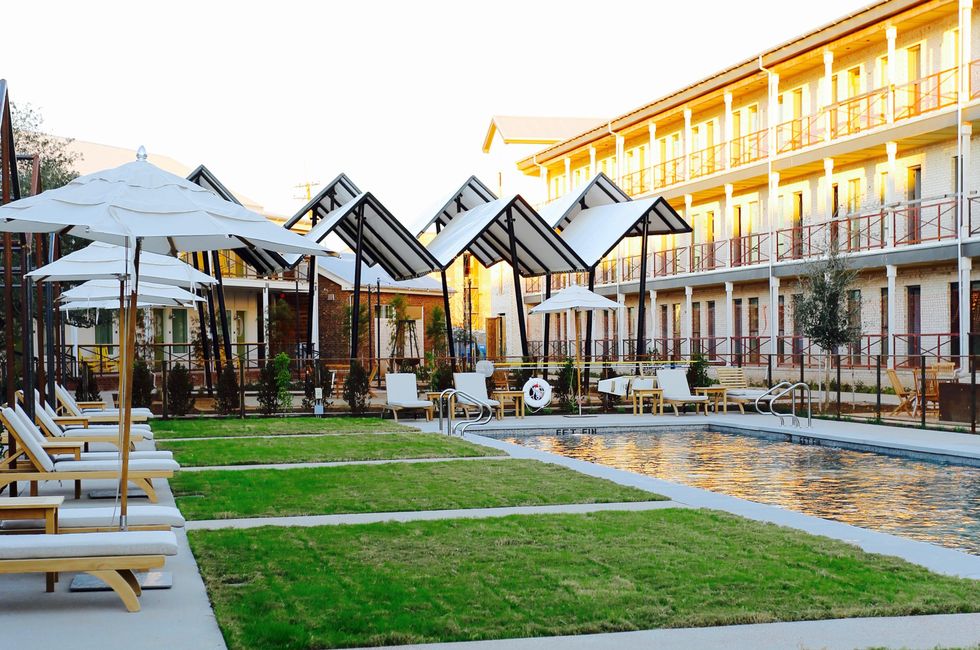 If you're a Valencia Hotel Group Rewards member, the perks are plentiful. Enjoy up to 10% off the Best Available Rate, and for a limited time, members can save up to 15% off a stay of 2 nights or more, for select stays in 2022.
But that's really just the beginning. At select locations, you can enjoy discounts on weeknight stays, a complimentary third night, or curated packages for a romantic getaway or a night of watching the Verde at Q2 Stadium. You'll also find special rates for AAA and AARP Members, educators, and front-line heroes including military, law enforcement, fire, and rescue workers.