Get connected with our daily update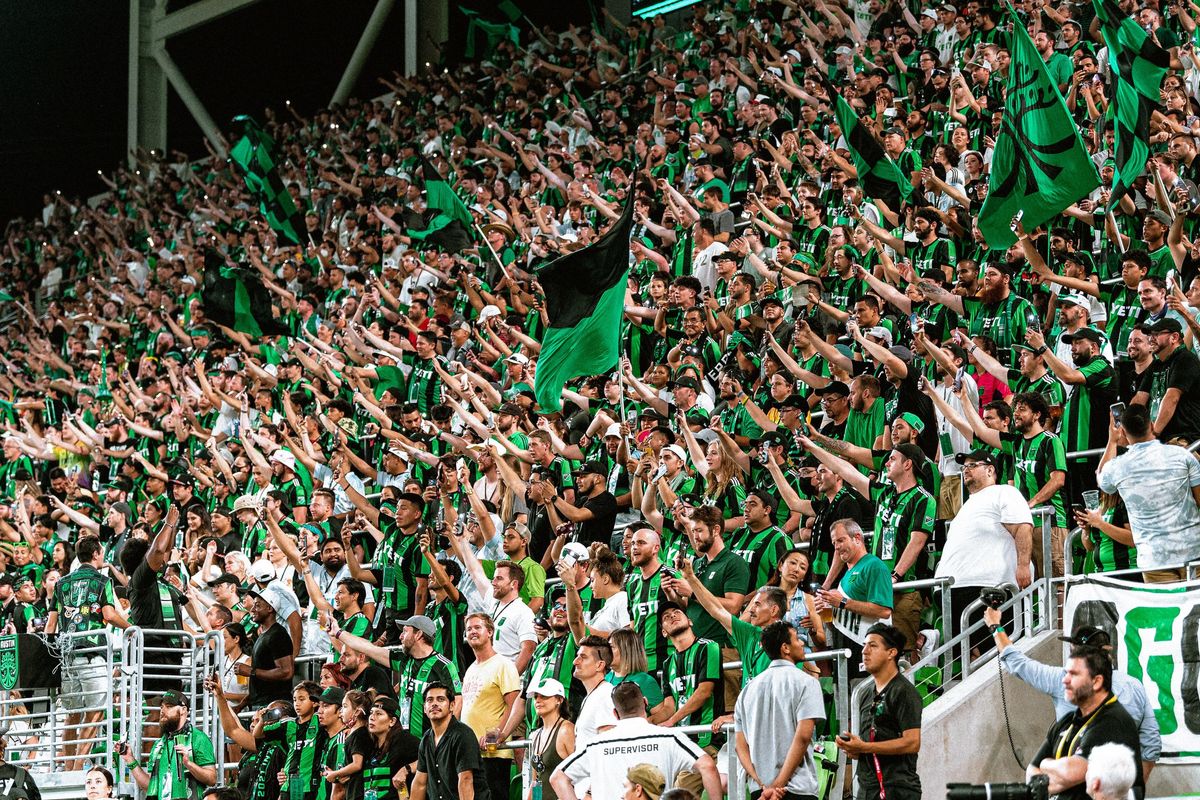 Turns out patience was not a virtue for Austin FC fans.
After a two-week MLS break, the club still couldn't find its footing in goal as they fell 1-0 to No. 1 Seattle Sounders at Q2 Stadium.
---
Even as player wounds were patched and Seattle sent the youngest starting lineup in MLS history onto the Verde pitch, Austin's front line couldn't capitalize on their chances given and suffered their fifth scoreless match in six games.
Head coach Josh Wolff said he was feeling a number of emotions, most of which weren't positive, after the match.
"Frustration and disappointment...Seattle's a very good team, regardless of what players they put out there, so it's always going to be a challenge," Wolff said. "More disappointing was just the lack of structure. What we'd worked on the last 5-6 days, that was not on display in the first half."
Seattle put five teenagers on the pitch to start the match, including Obed Vargas, who, at 15, is the third-youngest player in the MLS record books to appear in a match. Meanwhile, Austin saw the return of starters Tomas Pochettino and Captain Alex Ring but were still missing starters Danny Pereira and Nick Lima.
Austin kept a slight advantage over the young Seattle team in the first half, maintaining 74% possession and solid passing game. When Raul Ruidiaz came onto the pitch, however, the tables turned for the home team.
No crystal ball was needed to predict a Ruidiaz goal, but no fortuneteller could've predicted a goal like that. After an Austin FC deflection, Ruidiaz showed off his stellar soccer IQ far behind the box and chipped it over Stuver's head. Ruidiaz is now the top scorer in MLS.
Austin saw one reach goal for defender Julio Cascante, who dove into goal with his ball after a successful diving header. After a review, however, the goal was disallowed. Ruidiaz appeared to score yet another goal but was called offsides just seconds later.
The near-undefeated Seattle has now lost just one match in their 15-match season as they continue to top the MLS. Meanwhile, Austin's scorelessness could put the club in the hot seat as they continue to struggle to get the ball in the net.
Even with a decent defensive effort thus far this season, Wolff said that not scoring goals just won't cut it.
"From a goal-scoring standpoint...it's been lackluster and poor," Wolff said. "The reality is that we haven't scored goals, and defensively we've been fairly solid, but you've got to score goals to win games... tonight, it wasn't good enough, in any regard."
Here's a look at exactly what happened in Austin's second home loss:
Injury report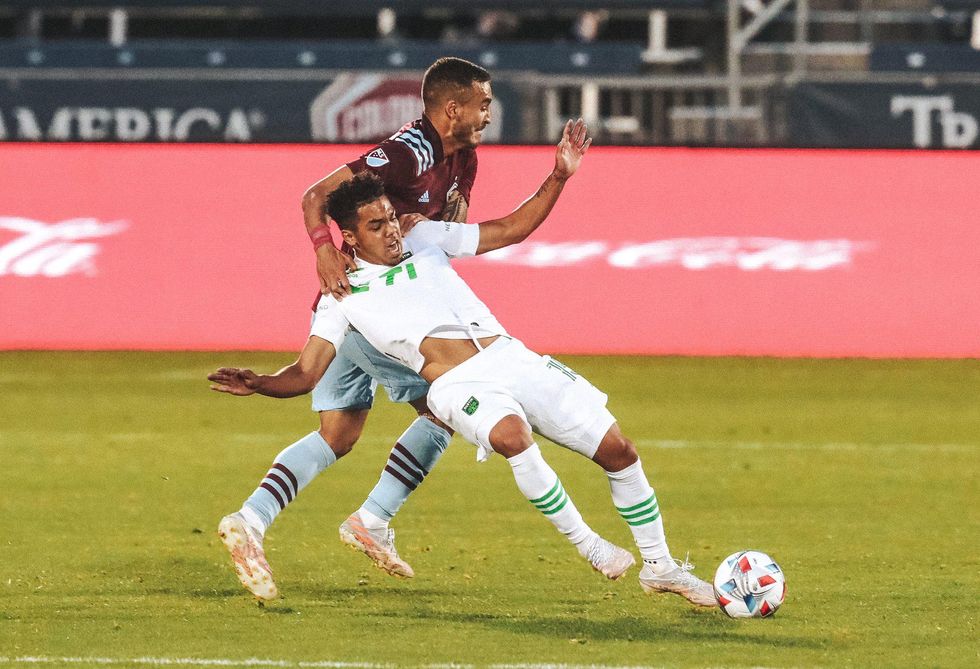 Danny Pereira is one of six Austin FC players still out on injury tonight. (Austin FC/Twitter)
Austin FC has seen some much needed starters make a quick recovery over the break, including winger Jon Gallagher, but they've still got five players out on injury as they face the Sounders.
Here's who's still out of the mix:
Nick Lima- right back
Danny Pereira- midfield
Danny Hoesen- striker
Ben Sweat- left back
Aaron Schoenfield- defense
Austin FC starting lineup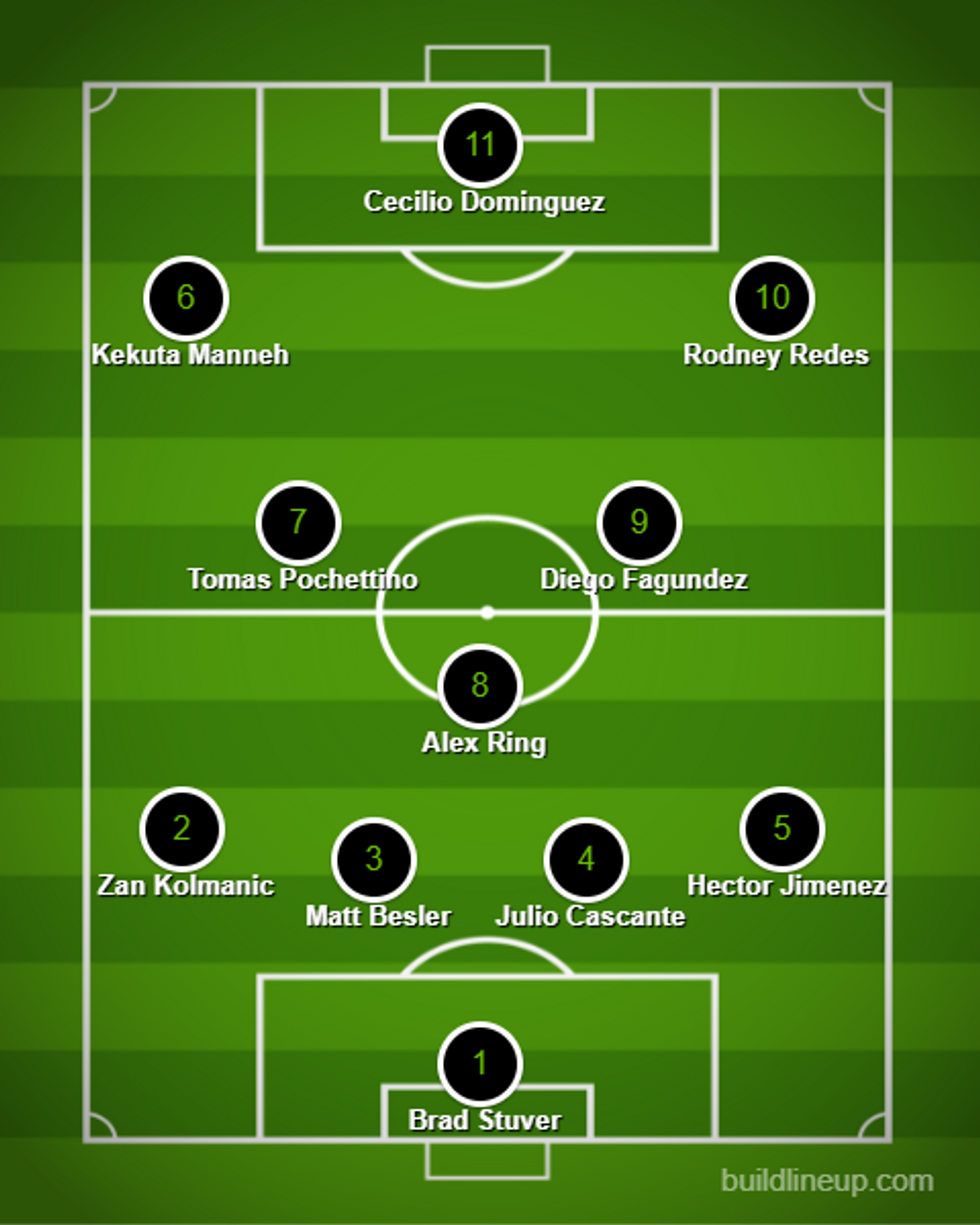 For the first time in a long time, Rodney Redes is starting back as right winger after scoring the lone goal against the Tigres last week. He and Kekuta Manneh will flank Cecilio Dominguez at striker.
Pochettino and Captain Alex Ring have once again brought some solidity to midfield. Pochettino edges closer to his first MLS goal every match, while Fagundez completes the trio with a fiery desire to score.
Austin's defense looks much the same, with Hector Jimenez still in at right back for an injured Nick Lima.
Seattle makes history with youngest-ever starting squad
1. Freddy Adu
2. Alphonso Davies
3. Obed Vargas

At 15 years and 351 days, Obed Vargas becomes the third-youngest player in @MLS history to appear in a match. #SoundersMatchday | #ATXvSEApic.twitter.com/gb73w61XNz

— Seattle Sounders FC (@SoundersFC) July 23, 2021
The future of MLS is on the field.
Is this a slap in the face to Austin, a chance to get some young players some experience or just the result of injuries and international call-ups? Either way, Seattle is making history tonight as five teenagers hit the pitch for the first time in a regular season MLS match.
Among the youngest- ever- is Obed Vargas, a 15-year-old mifielder who is the third-youngest player in MLS history to appear in a match. Not far off is Austin FC's Diego Fagundez, who started as a 16-year-old himself.
They're holding up well against Austin, who has held on to possession and found a few very close chances but is once again fumbling in the final third. The Sounders have some of the lowest possession in the league but are also one of the most efficient, scoring second-most in the league per game.
Homegrown Manneh makes the first crack at goal
Oh man, @kekuta16! 😅 pic.twitter.com/whWmRp0OUx

— Austin FC (@AustinFC) July 23, 2021
Winger Kekuta Manneh, the only player with roots in Austin, pulls an optical illusion as he expertly twists a header near goal off of a penalty kick. It's close enough to get the crowd riled up but not close enough to change the scoreboard.
At the half: few highlights, no goals against Sounders scrubs
Peep #AustinFC's supporters' section singing 'Colors' with none other than @BlackPumasMusicpic.twitter.com/HoOxsLSuhG

— Claire (@partain_claire) July 23, 2021
Is Austin FC being outplayed by five teenagers and more Sounders scrubs? Not quite- the club holds 73% possession and has better passing accuracy- but it's definitely closer than players and head coach Josh Wolff would like.
Austin has had just four goals in five matches, and they were all in the same match. Wolff is likely feeling the pressure of a team that can't quite close near goal. On the bright side, the club is once again holding the No. 1 team in the league scoreless, even if it is their scrubs.
As Austin fought through the extra minute of halftime, fans in the supporters section sang Austin band Black Pumas' song "Colors" with none other than the band itself. They're still loud as ever as Austin fights to turn it around and take their second home win.
56' Gallagher makes a comeback
57' | First #AustinFC substitution of the night.

➡️ Jon Gallagher
⬅️ Rodney Redes pic.twitter.com/lqHNA8bwBf

— Austin FC (@AustinFC) July 23, 2021
Austin subs in winger Jon Gallagher for the first time since he used his injured foot to score the club's first home goal. Gallagher could provide some much-needed juice to the Austin offense as both clubs fight for the first goal.
Meanwhile, Seattle is bringing in the big guns with striker Raul Ruidiaz, who is tied for the most goals in MLS this season. Austin will have a much harder time keeping the dam closed with Ruidiaz at the stead.
66' Ruidiaz scores for Seattle
OH MY WORD

RAUL RUIDIAZ SEES THE KEEPER OFF THE LINE AND..... 😱😱😱 pic.twitter.com/J42xDEyZE4

— Major League Soccer (@MLS) July 23, 2021
No crystal ball was needed to predict a Ruidiaz goal, but no fortuneteller could've predicted a goal like that. After an Austin FC deflection, Ruidiaz shows off his stellar soccer IQ far behind the box and chips it over Stuver's head. Ruidiaz is now the top scorer in MLS, and Austin is down 1-0 to Seattle for the first time.
76' Austin FC goal disallowed, Ruidiaz nearly makes it two
2 minutes, 2 goals disallowed. 😐

Score remains 0-1.

— Austin FC (@AustinFC) July 23, 2021
It's not often that a player rolls in goal after the ball they score, but Austin FC defender Julio Cascante pulled it off perfectly. Cascante's diving header was enough to put the ball in the net, but his first Austin FC goal was disallowed.
The dominoes seemed to be tumbling down just minutes later when Ruidiaz appeared to get in yet another goal less than two minutes later, but his attempt was also called offsides.
A lot of excitement, but the score remains 1-0 Seattle.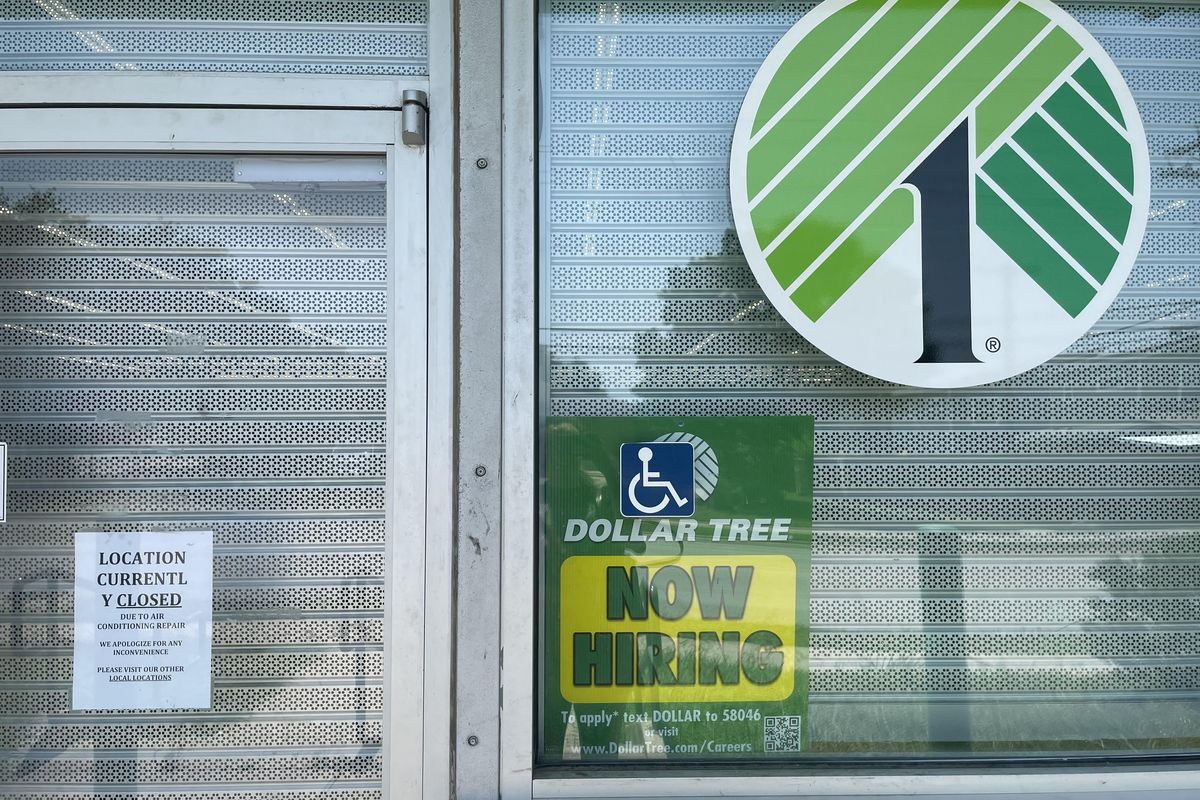 It's been a few weeks since a viral TikTok revealed poor working conditions at the Montopolis Dollar Tree in southeast Austin, and employee Maggie Lopez is still feeling its effects.
Lopez was filmed working alone at the location May 1 in a since-deleted video that saw 2.9 million views and over 450,000 likes.
In the video, stacked boxes littered the floor, shelves were left unstocked and a leaky, broken air conditioning unit welcomed customers into the understaffed storefront.
Lopez, who now works at the dollar store's Springdale location, says she was left with the aftermath of a 90-hour workweek, lost wages and a mystery illness after the store closed a few days later.
"Nobody ever told me... that there was no air conditioning. They didn't tell me there was danger of getting robbed," Lopez told Austonia. "Nobody said anything... they didn't care."
The location didn't shut its doors because of the TikTok exposure: instead, an AC unit specialist doing routine maintenance found employees working in extreme heat and said it was too hot for employees to continue working.
"To operate a business, you have to have your temperature within a certain parameter," Ikaika, the specialist who didn't disclose his full name to protect his job, told Austonia. "As soon as you walk in, you start sweating... it's not good at all."
Lopez said working in 90+ degree heat became the norm in her two months at the location as air conditioning units remained broken for months before the closure. She added some employees, including her former manager and several customers, passed out in the store due to the heat. But she said company leadership remained unresponsive.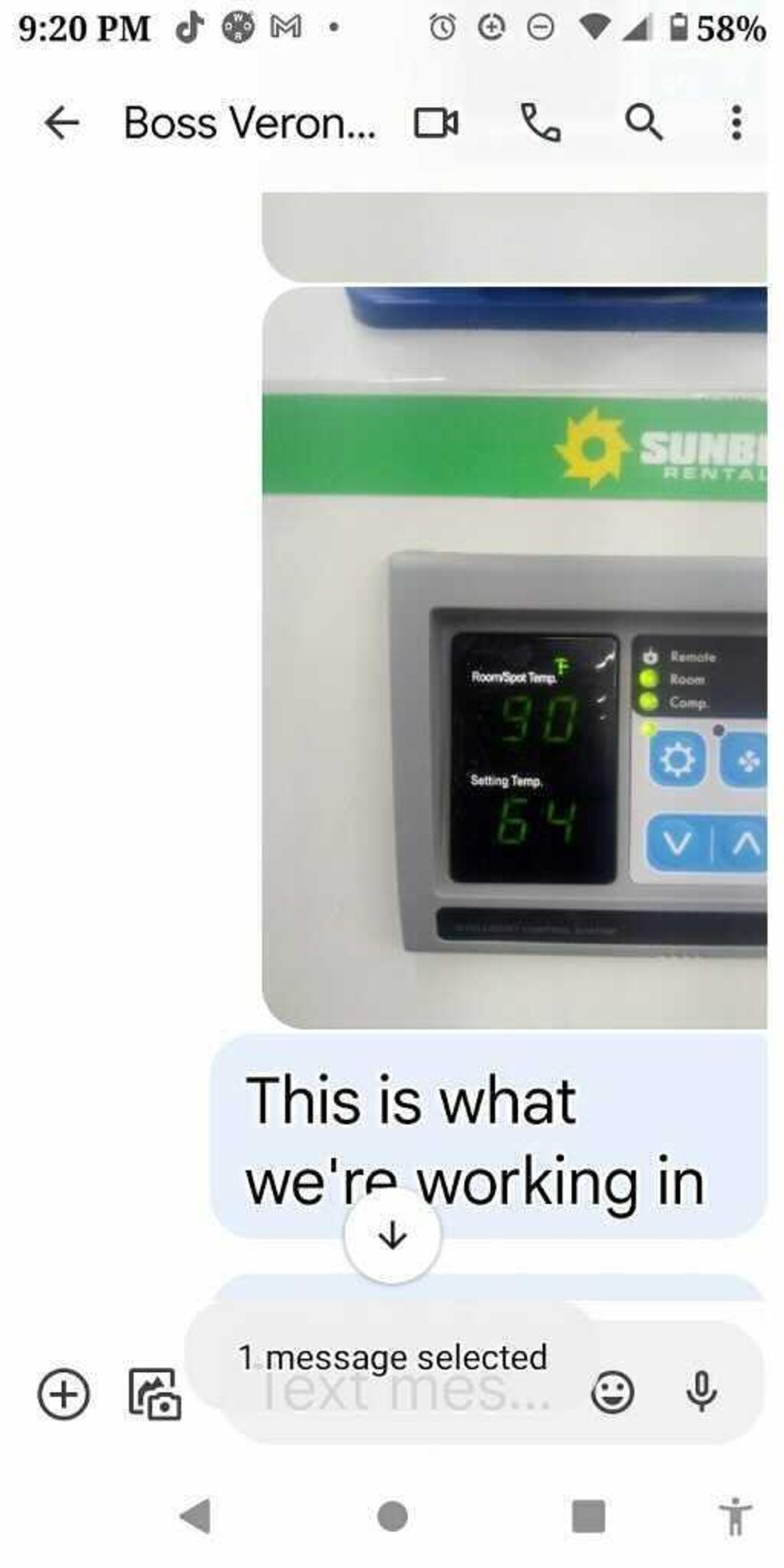 Lopez said she sent her district manager, Veronica Oyervides, screenshots of 90+ degree temperatures inside the store. (Maggie Lopez)
Four days after the air conditioning repairman told employees they should no longer keep working at the store, Lopez said her district manager, Veronica Oyervides, was asking her to come back in to prep the location for reopening. Lopez worked May 8 in the shuttered store prepping it for a reopening, which has yet to happen. Oyervides has declined to comment.
Ever since she started working in the deteriorating Dollar Tree, Lopez said she often wakes up with nosebleeds. She said she's constantly thirsty, her hands shake, and she's experiencing headaches and mood swings—symptoms she believes are due to long-term exposure to mold.
Former assistant manager Linnea Bradley told Austonia she has been hospitalized with symptoms linked to heat and stress after working at the store.
"We are sick and corporate does not give a shit," Lopez said. "What kind of damage did these stupid units do to our bodies?"
Lopez hasn't sought care for her symptoms. She says she makes $13.50 an hour and doesn't have health insurance.
Former employees have more complaints than just the heat: Lopez said that personal safety became a concern in the understaffed store. Catherine, a former employee who wished to only reveal her first name, said she's witnessed large-scale theft and instances of mismanagement in her months as a stocker at the location.

"They have no security, no cameras... they don't want you to have anything in writing," Catherine told Austonia. "It's just complete chaos."
Catherine said that she and other hourly employees were given zero hours for weeks on end as managers, who work on salary, were left to run the store alone from 5 a.m. to 10 p.m. each day. She said some managers became so desperate they were hiring homeless people to help stock shelves in exchange for a drink and a bite to eat.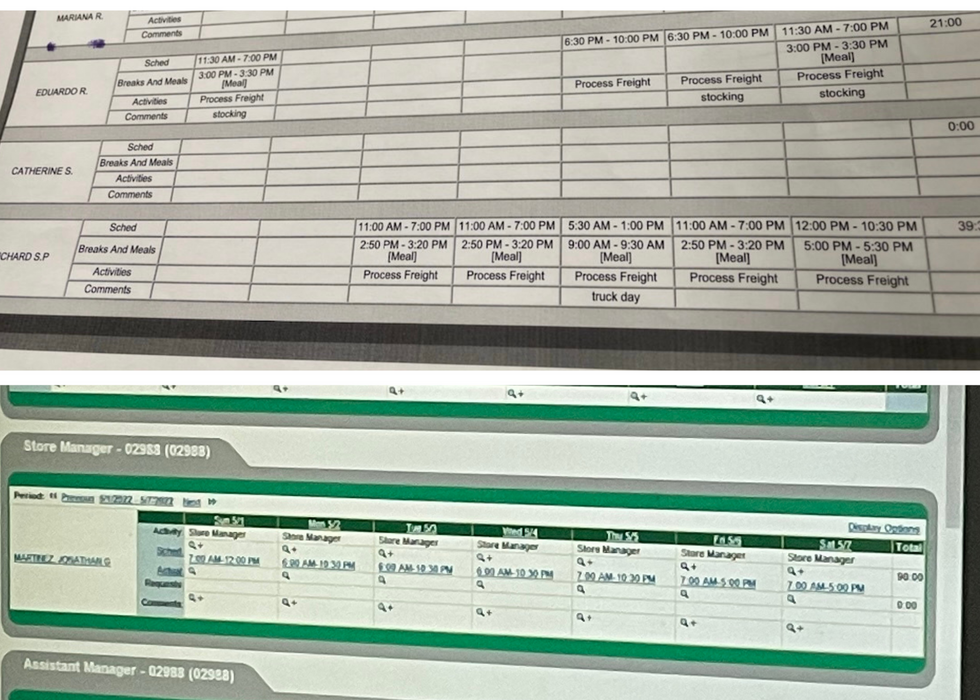 While Catherine (top, middle) often had zero-hour weekly schedules, Martinez, who was paid on salary, worked back-to-back 90-hour workweeks. (Catherine) (Claire Partain)
"They actually did have people willing to work, they just refused to give them hours," Catherine said. "I'm not understanding whether Dollar Tree wants to go under... are they doing this as a tax break?"
Other Austin Dollar Tree locations have reported similar issues. Former manager Jonathan Martinez, who says he was supposed to work 45 hours a week, says he was racking up 90+ hour workweeks and sleeping in the store as he shouldered both the Montopolis and William Cannon locations while his newborn baby was in the ICU in March.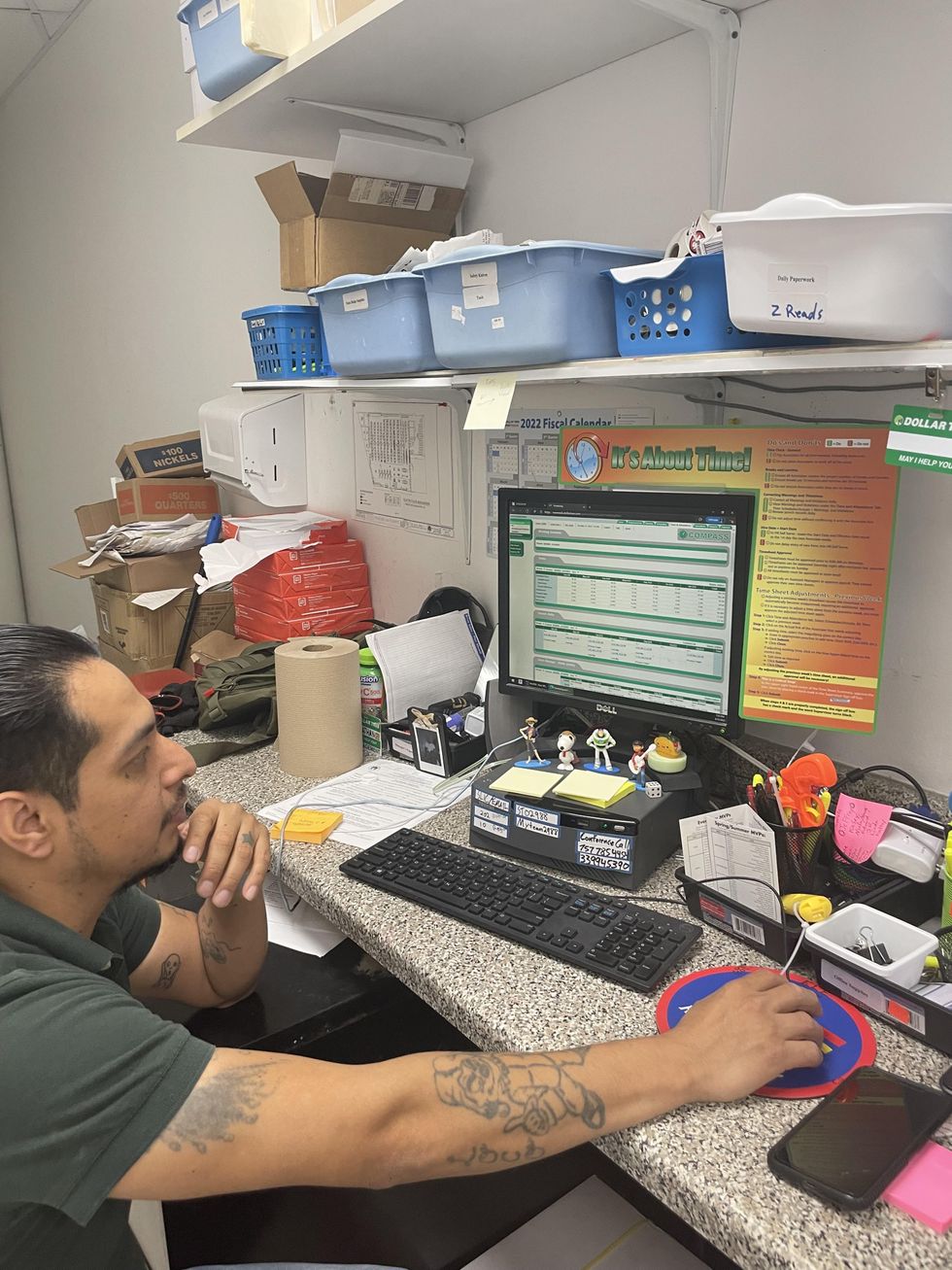 Martinez kept extra clothes in this office after working seven-day weeks at two Dollar Tree locations. (Claire Partain)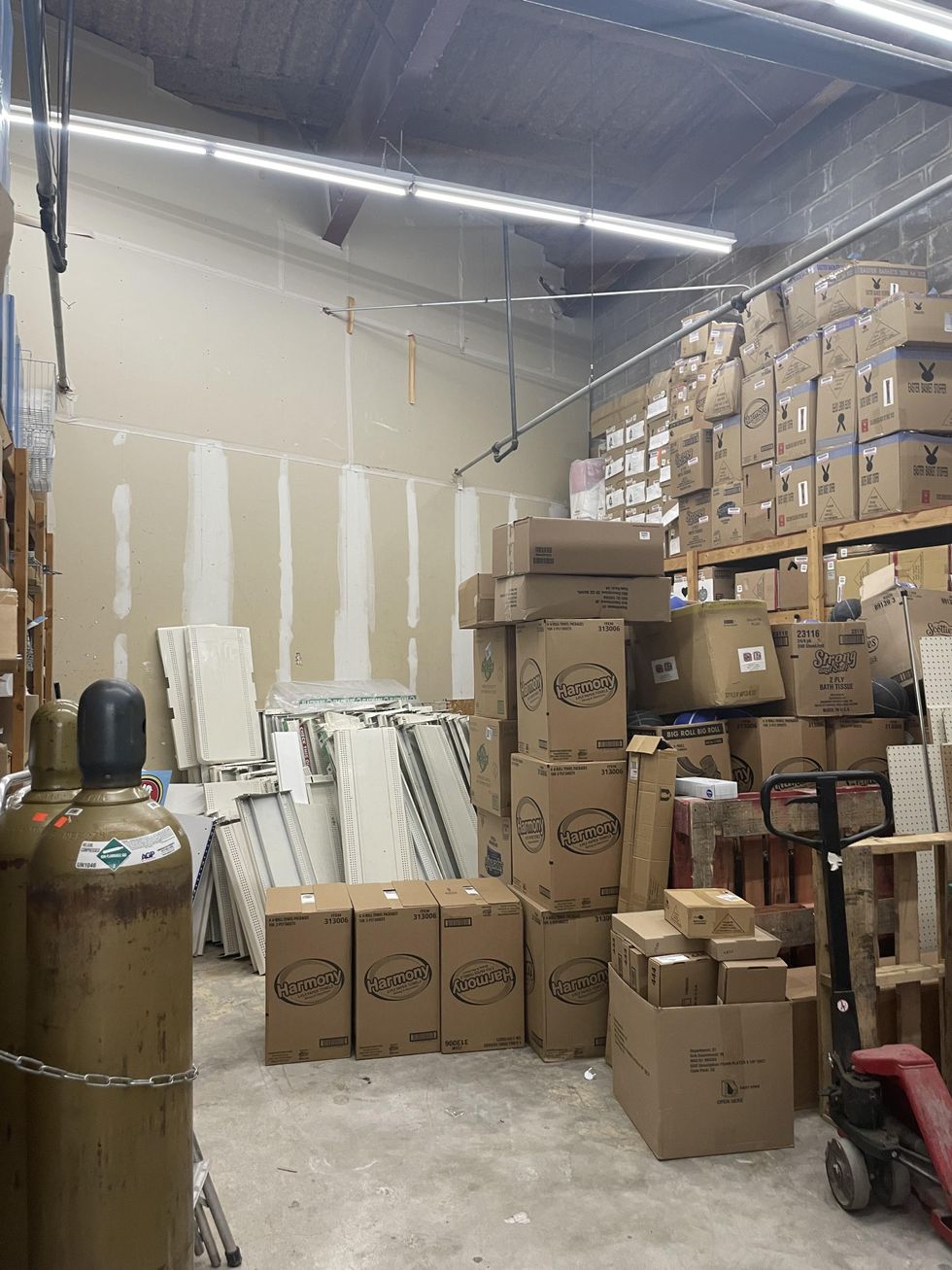 Martinez said he slept on boxes as he juggled the job and visiting his newborn in the ICU. (Claire Partain)
Martinez said he slept on boxes as he juggled the job and visiting his newborn in the ICU. (Claire Partain)
"As long as the store stays open, there are corporate people getting bonuses," Martinez, who quit last week after receiving a $100 annual bonus, told Austonia. "Six months ago, when corporate people had a shitload of bonuses, that's when they upped the price (of everything in the store from $1 to $1.25)."
In the six months since Dollar Tree hiked its prices to $1.25, it's gained plenty of mostly negative national attention. In February, the Food and Drug Administration shut down an Arkansas distribution plant due to a massive rodent infestation, and several lawsuits have ensued. The company has also come under fire for selling allegedly expired over-the-counter medicine and its worker shortage at locations across the country.
One employee, who still works for Dollar Tree and wished to remain anonymous, said that they've seen or heard that many area locations are near their breaking point.
"I've seen the good, the bad, the bad to worse," they said. "And it's always a rinse repeat kind of thing... How many more (stores) will go? And what about the employees?"
"Every time I would tell (Oyervides) 'I'm just going to close, I can't stand it anymore,' she would say, 'No, no, no,'" Lopez said. "And I'd be so upset because why? They have my paycheck. It's just been mortifying... the most horrible year of my life."
Dollar Tree's regional director did not respond to requests for comment from Austonia.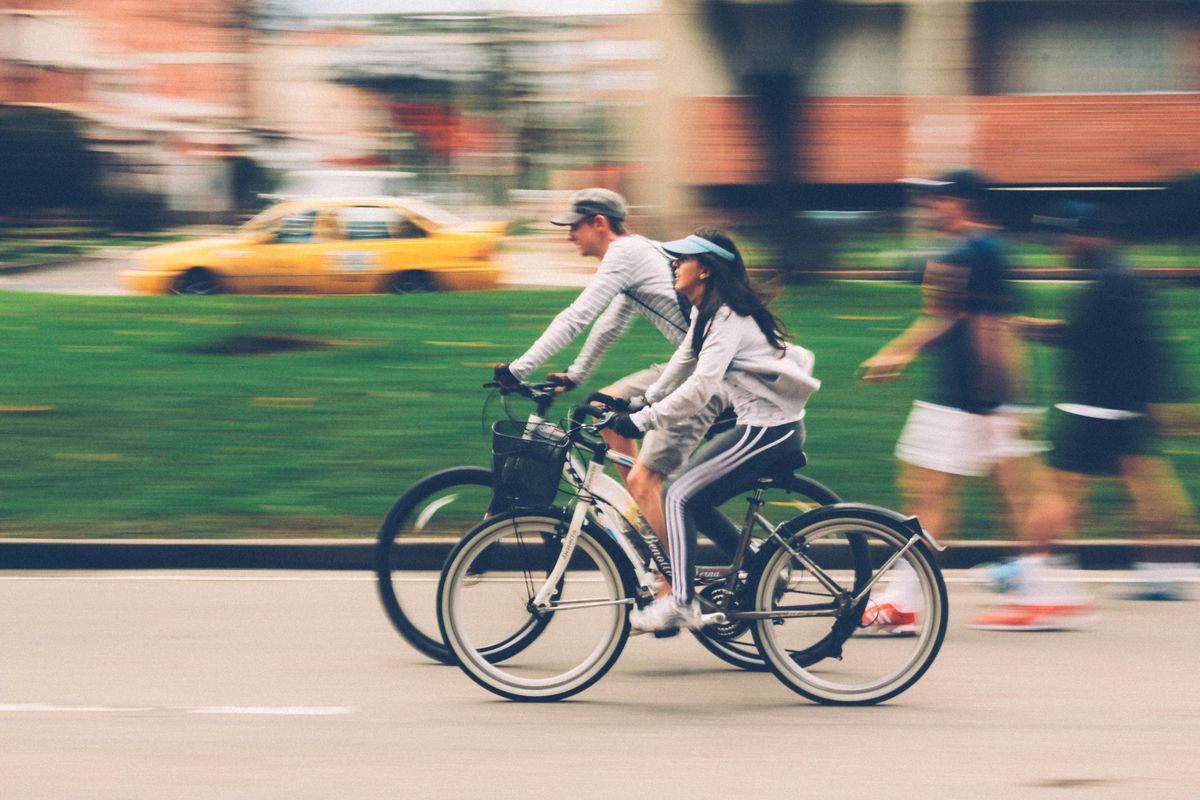 Grab a helmet and get active this morning by celebrating Bike to Work Day alongside the city.
The community will gather for a celebration at Austin City Hall starting at 8 a.m. with free tacos, coffee and giveaways.
A few things to remember around bikes:
Over 80% of bicycle crashes happen at intersections
It's important to wear reflective clothing during dark hours
Drivers should keep a distance—take at least three feet of space when passing.
Residents can find the most comfortable, safe bike routes via the 2022 Austin Bike Map, or rent a MetroBike with the code B2WD2022.