Get connected with our daily update
When Q2 Stadium head chef Sam Boisjoly began choosing what food would be offered at Austin FC matches, he said he hoped to create a microcosm of Austin within the stadium walls.
"If I had a friend that had a layover for three hours at Austin... if he came here, he would be able to see Austin," Boisjoly said.
---
Just a month after opening its doors, Boisjoly's wishes have come true. Sold out crowds continue to pack 20,500 Verde seats as they celebrate Austin's first major league team with pride and a party spirit.
Before home team Austin FC ever stepped foot on the pitch to play, Q2 Stadium was christened by the world champion U.S. Women's National Team as they played Nigeria in front of a sold-out crowd on June 16. Thousands of fans decked out in red, white and blue flocked to the stadium, proudly sang the national anthem and threw up a "tifo," or gigantic banner, to commemorate the match.
They did much of the same at Austin FC's first home match on June 19 in a celebration that was clearly about more than the team. With Minister of Culture Matthew McConaughey banding a conga drum, a massive art piece depicting iconic Austin figures, and Austin musician Jackie Venson giving a prematch performance, the game was clearly a tribute to city of Austin itself.
Rigo Rodriguez, a leader in fan club Los Verdes who helped create the tifo, said it all adds up to create an unforgettable experience at Q2.
"It's not just about the tifo, it's not just about the music, it comes all together... (and) becomes the heartbeat of Austin," Rodriguez said. "Every little bit helps to create something special for the city."
The matchday experience has become an all-day affair. As early as 11 a.m., a Verde army flocks to dozens of local bars and breweries, including nearby fan club headquarters Hopsquad and Circle Brewing, to get the party started. Sometimes, thousands can be seen marching on the stadium with the fan band La Murga, and supporters wearing anything from kilts to bright green wrestling masks lead chants outside Q2 before the stadium opens.
Once inside, fans can choose from dozens of local vendors, meet the mascot of the week—a rescue dog from Austin Pets Alive!—and hang out at Q2's giant Beer Hall, which features dozens of local beers on draft. Nearly every match, fan club members prepare a special presentation—from Pride art to Austin-centric chants—just before the national anthem is sung by a well-known local artist.
The supporters' section becomes nearly as entertaining as the match itself as they keep chants going all match long, release Verde smoke and toss their beers high into the air. Around the stadium, diehard fans and first-timers mingle as the club plays down below.
There's a reason that Austin FC's fan base has attracted both supporters with no prior soccer knowledge as and futbol fanatics. Many had been fighting to bring a team to Austin for years, and supporters recognize the importance of the club every single matchday.
Jay Torres, a "capo," or band leader for La Murga, was one of the first to get his "home"—the Austin FC crest—tattooed on his arm. Torres was part of the movement to bring a team to Austin as far back as 2018.
"It pulls the city together... it's beautiful," Torres said. "Lake Travis, Del Valle, and everything in between, we're all hanging out and pulling in the same direction. It brings people together."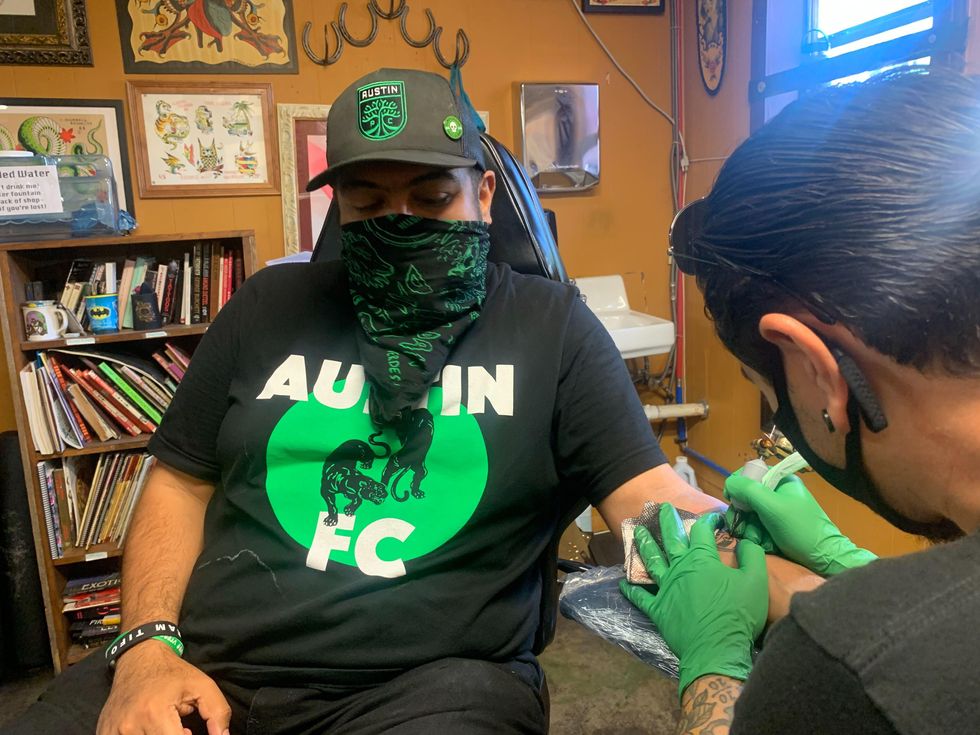 Even when Austin FC was scoreless for the first three matches within their home fortress, Austin fans continued to sing for their team as they kept a steady drum beat with glow-in-the-dark bass drums. Three weeks later, when Austin broke the floodgates with four goals in a match, the already-loud crowd was deafening. Lights were dimmed to a deep Verde as over 20,000 cheered in Austin.
Austin FC player Jon Gallagher broke the ice with the first goal at Q2 Stadium in front of a roaring crowd. (Austin FC/Twitter)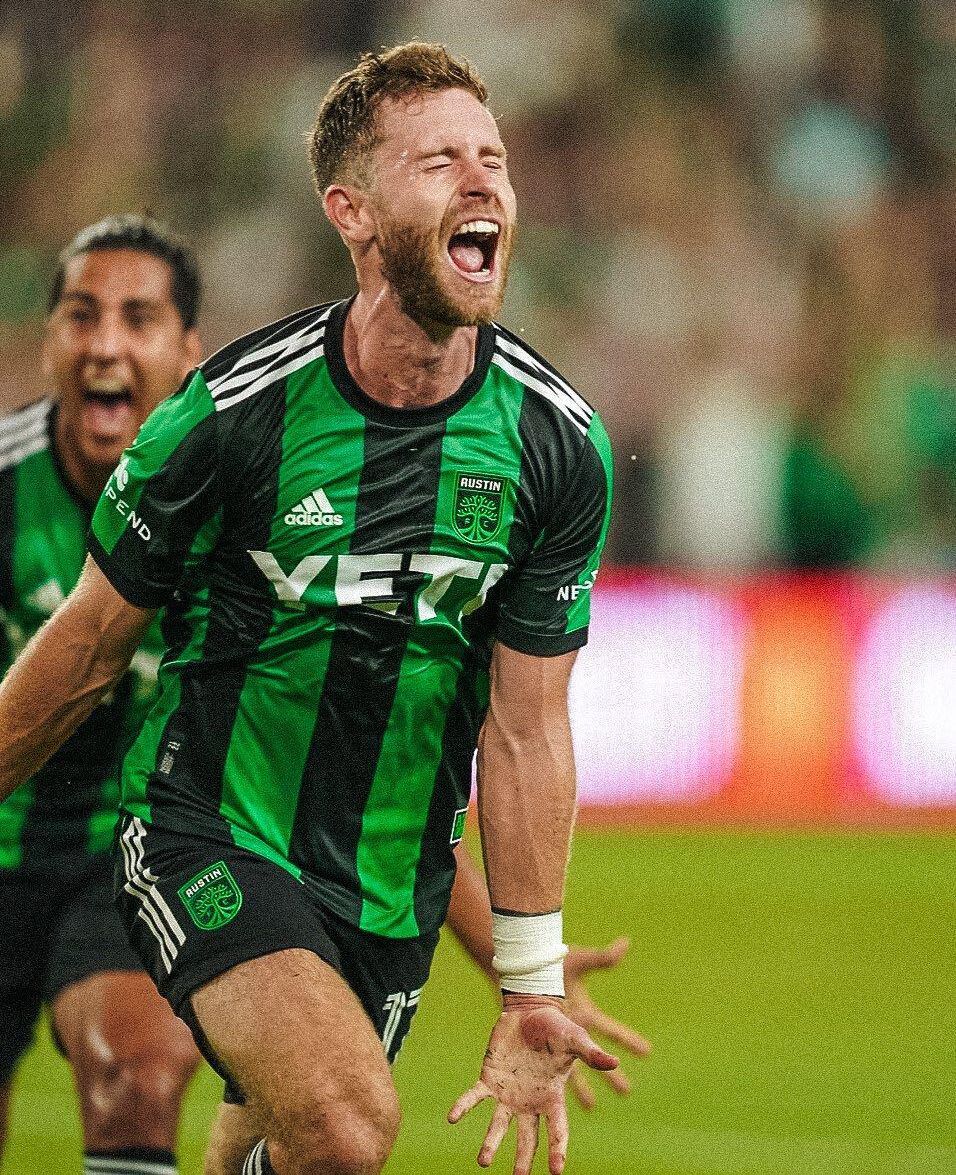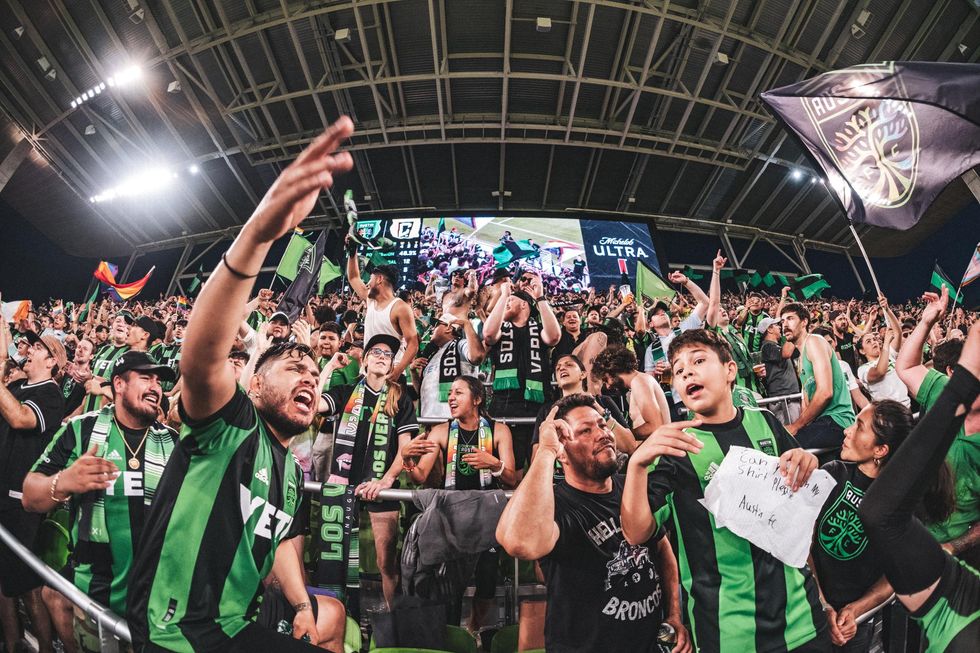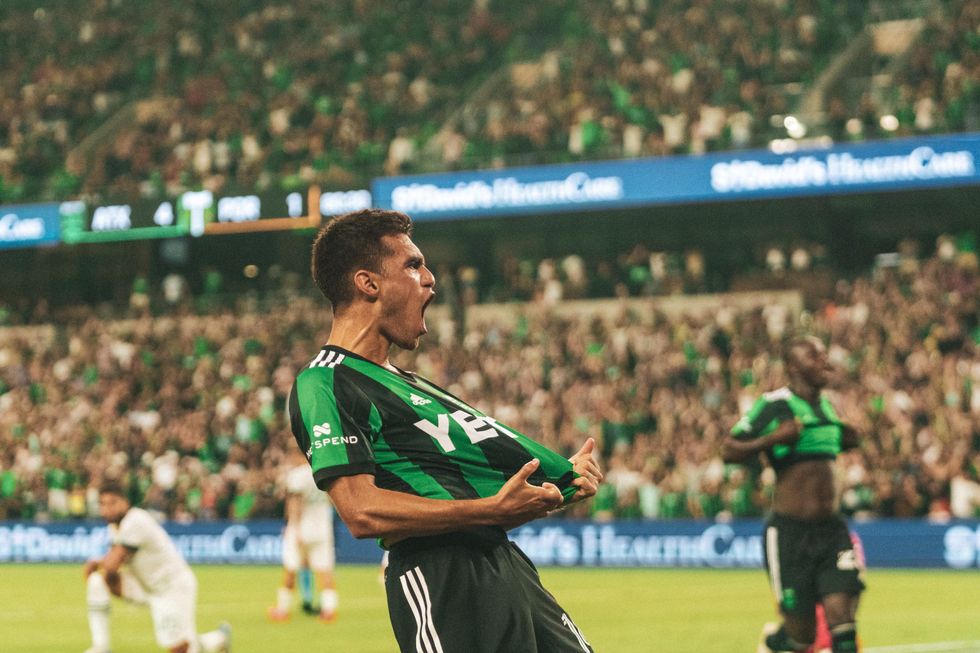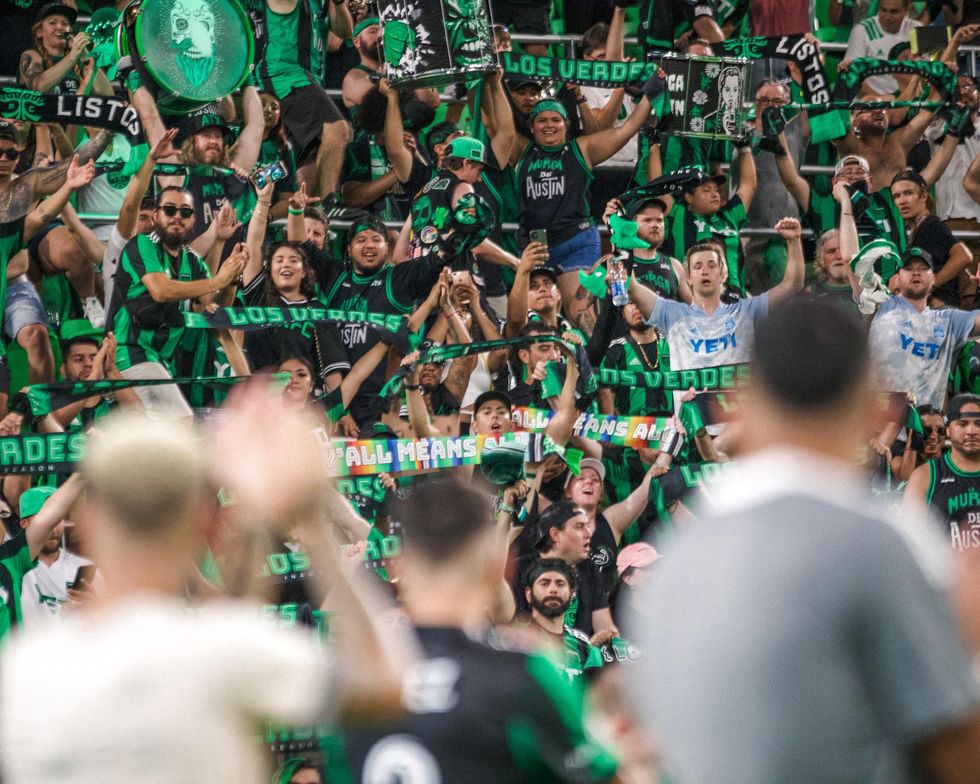 At the Austin FC friendly match vs. all-star Mexican team Tigres UANL on Tuesday, Della W., who was decked out head to toe with the club's Verde colors, said the match was more about Austin than anything else.
"It's about supporting Austin and the city and showing people our culture... what we're about," Della said.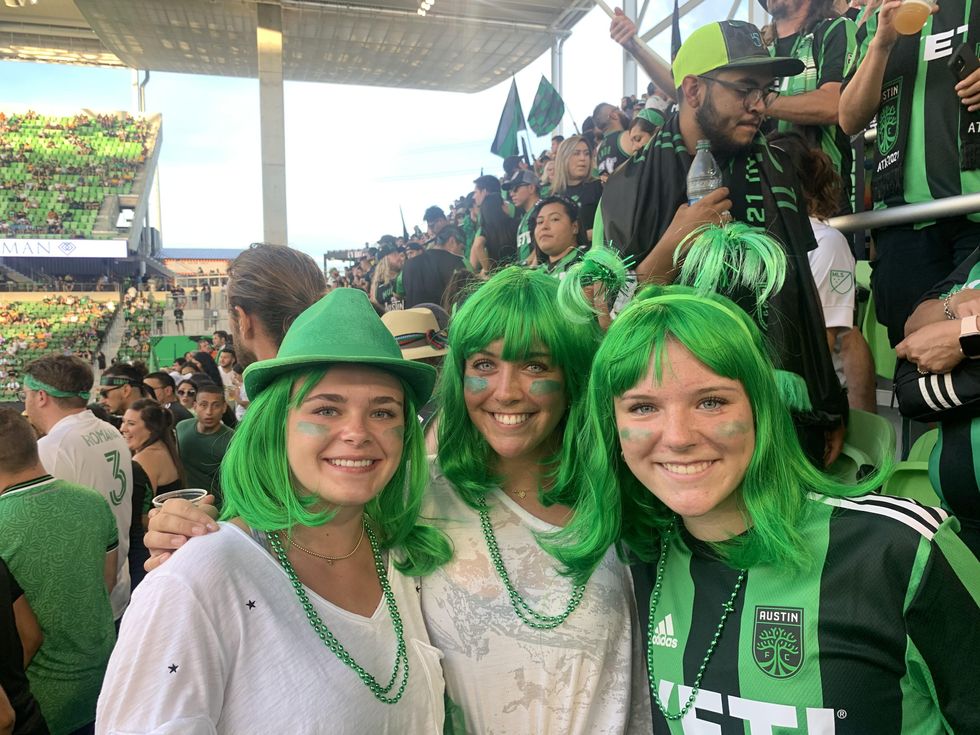 Della W., pictured left, said Austin FC matches are about more than just soccer- they're also an exhibition of Austin pride. (Claire Partain/Austonia)
All things Austin—from tacos to live music to a diverse soccer-loving community—are always on full display at Q2 Stadium, Austin's biggest party.
Republic Square Park has turned into a Ford-themed fiesta for its Built to Connect pop-up experience, complete with test drives, off-roading and an inside look at the Tesla-rivaling electric vehicles that the motor vehicle company is planning to integrate over the next decade.
The outdoor driving event is free, open to the public and will stay in the park from now until Oct. 24, offering rides on Bronco Mountain, a 0-40 mph zip in the 2022 all-electric Ford F-150 Lightning and a chance to win an original Ford Bronco.
The event kicked off with a panel of speakers, including Austin Director of Transportation Rob Spillar, Ford General Manager Darren Palmer and engineering specialists discussing Ford's goals to make it so that 50% of the vehicles on the road are electric by 2030.
As an eco-conscious city, Spillar said that around 4,000 vehicles, or 22% of the Texas electric vehicle market, as well as over 15,000 plugins lie in Austin, meaning driving electric just got accessible.
"Austin, as you know, is a fast-growing modern city that is committed to protecting the long term health and viability of our communities and strategies that reduce greenhouse gases, mitigate the effects of climate change and improve the drone quality of life here in Central Texas for all of our residents," Spillar said.
And Ford's electric vehicles are putting up some steep competition for newly-Austin-based company Tesla. The new electric Mustang Mach-E and F-150 Lighting offer amenities that used to be exclusive to Musk's brand, such as the BlueCruise self-driving network. The cars also boast a 300-mile range on a single charge, assisted reverse technology and access to the biggest charging network outside of the home.
Plus, Ford's got affordability on its side. The F-150 Lightning starts at $39,974 and the Mustang Mach-E starts at $42,895, while the cheapest Tesla model, the Model 3, starts at $41,990 and averages 262 miles on a single charge.
Speaking of price, the numbers on the electric vehicles may look like a little more than you'd like to pay for your transport, but Palmer promises it will pay off. In addition to a $7,500 tax credit you can earn for your sustainability, you'll never have to buy a pricey tank of gas again.
"Personally, I have not found one customer ever, who would go back to gas so that says something," Palmer said. "I realized, at $51,000, that car outruns every childhood hero car I ever had."
Texas buyers: take note. The Ford Lightning can power your house for three to 10 days, just in case the statewide power grid fails. You can take it glamping with you, so you don't have to leave the comfort of modern life behind, and in a pinch, Palmer said he's even seen a wedding party powered by the truck.
Ford is investing $30 billion into the U.S. market to meet demand by 2025 and the new electric truck already has over 150,000 reservations.
"I think they're going to take off much faster than you expect—they're going to be extremely, extremely popular next year," Palmer said. "With the incentives that are available today, this is starting to become more mainstream and viable for more and more families. We couldn't have done that before, we didn't have the technology, or the technology at that price."
The event is ongoing through next weekend from 12-9 p.m. Monday-Friday and 9 a.m.- 8 p.m. Saturday and Sunday.
The Austin Police Department is searching for a man who is believed to be behind a series of robberies that is "sexual in nature and is escalating."
Three robbery cases that took place in North Austin within a 30-day period are being investigated by police, who report the victims all had similar descriptions for suspects in the case. The suspect is described as a 20-25-year-old Spanish-speaking Hispanic man, approximately 5'3, thin build, recently shaved with black hair. Police say he is known to typically wear athletic clothing and used a knife on each of the victims.
Here's a breakdown of the cases:
1. At 7:56 a.m. on Sept. 22 at the 1600 block of Rutland Drive, a woman was walking alone and returning from her child's school when a suspect walking by inappropriately touched her. The suspect then grabbed her by the arm, threatened her with a knife and demanded "her property."
2. At 8:10 a.m. on Oct. 11 at 1700 block of Colony Creek Drive, a woman was walking to her child's school when a man approached her with a knife and then demanded her personal items. The suspect then said he would return the items in return for sex.
3. At 11:03 a.m. on Oct. 13 at the 9300 block of Northgate Boulevard, a woman was with her child in the laundry room of an apartment complex when a man walked in performing a sexual act. The suspect demanded personal items from the victim, threatening to hurt the victim and take her child.
Police cautioned the public to walk without earbuds, stay alert and report suspicious activity to the police.