Get connected with our daily update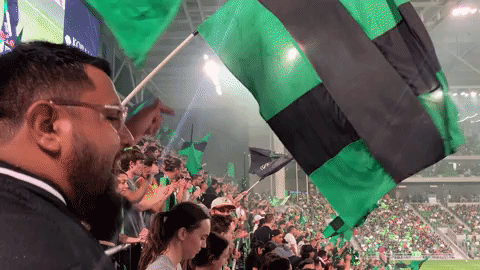 When Q2 Stadium head chef Sam Boisjoly began choosing what food would be offered at Austin FC matches, he said he hoped to create a microcosm of Austin within the stadium walls.
"If I had a friend that had a layover for three hours at Austin... if he came here, he would be able to see Austin," Boisjoly said.
---
Just a month after opening its doors, Boisjoly's wishes have come true. Sold out crowds continue to pack 20,500 Verde seats as they celebrate Austin's first major league team with pride and a party spirit.
Before home team Austin FC ever stepped foot on the pitch to play, Q2 Stadium was christened by the world champion U.S. Women's National Team as they played Nigeria in front of a sold-out crowd on June 16. Thousands of fans decked out in red, white and blue flocked to the stadium, proudly sang the national anthem and threw up a "tifo," or gigantic banner, to commemorate the match.
They did much of the same at Austin FC's first home match on June 19 in a celebration that was clearly about more than the team. With Minister of Culture Matthew McConaughey banding a conga drum, a massive art piece depicting iconic Austin figures, and Austin musician Jackie Venson giving a prematch performance, the game was clearly a tribute to city of Austin itself.
Rigo Rodriguez, a leader in fan club Los Verdes who helped create the tifo, said it all adds up to create an unforgettable experience at Q2.
"It's not just about the tifo, it's not just about the music, it comes all together... (and) becomes the heartbeat of Austin," Rodriguez said. "Every little bit helps to create something special for the city."
The matchday experience has become an all-day affair. As early as 11 a.m., a Verde army flocks to dozens of local bars and breweries, including nearby fan club headquarters Hopsquad and Circle Brewing, to get the party started. Sometimes, thousands can be seen marching on the stadium with the fan band La Murga, and supporters wearing anything from kilts to bright green wrestling masks lead chants outside Q2 before the stadium opens.
Once inside, fans can choose from dozens of local vendors, meet the mascot of the week—a rescue dog from Austin Pets Alive!—and hang out at Q2's giant Beer Hall, which features dozens of local beers on draft. Nearly every match, fan club members prepare a special presentation—from Pride art to Austin-centric chants—just before the national anthem is sung by a well-known local artist.
The supporters' section becomes nearly as entertaining as the match itself as they keep chants going all match long, release Verde smoke and toss their beers high into the air. Around the stadium, diehard fans and first-timers mingle as the club plays down below.
There's a reason that Austin FC's fan base has attracted both supporters with no prior soccer knowledge as and futbol fanatics. Many had been fighting to bring a team to Austin for years, and supporters recognize the importance of the club every single matchday.
Jay Torres, a "capo," or band leader for La Murga, was one of the first to get his "home"—the Austin FC crest—tattooed on his arm. Torres was part of the movement to bring a team to Austin as far back as 2018.
"It pulls the city together... it's beautiful," Torres said. "Lake Travis, Del Valle, and everything in between, we're all hanging out and pulling in the same direction. It brings people together."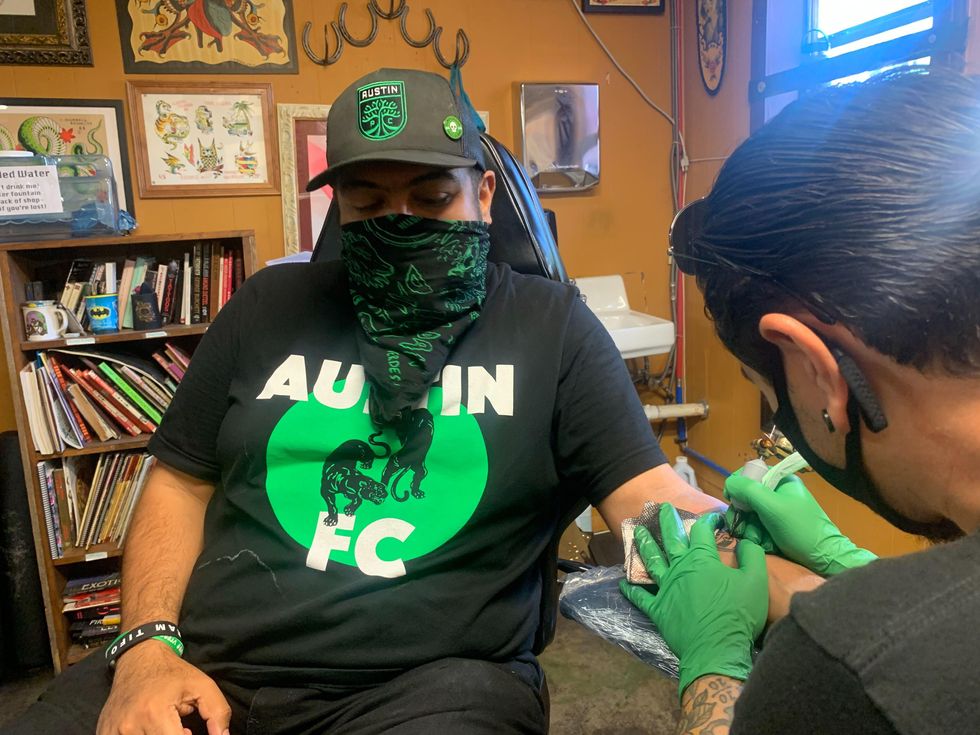 Even when Austin FC was scoreless for the first three matches within their home fortress, Austin fans continued to sing for their team as they kept a steady drum beat with glow-in-the-dark bass drums. Three weeks later, when Austin broke the floodgates with four goals in a match, the already-loud crowd was deafening. Lights were dimmed to a deep Verde as over 20,000 cheered in Austin.
Austin FC player Jon Gallagher broke the ice with the first goal at Q2 Stadium in front of a roaring crowd. (Austin FC/Twitter)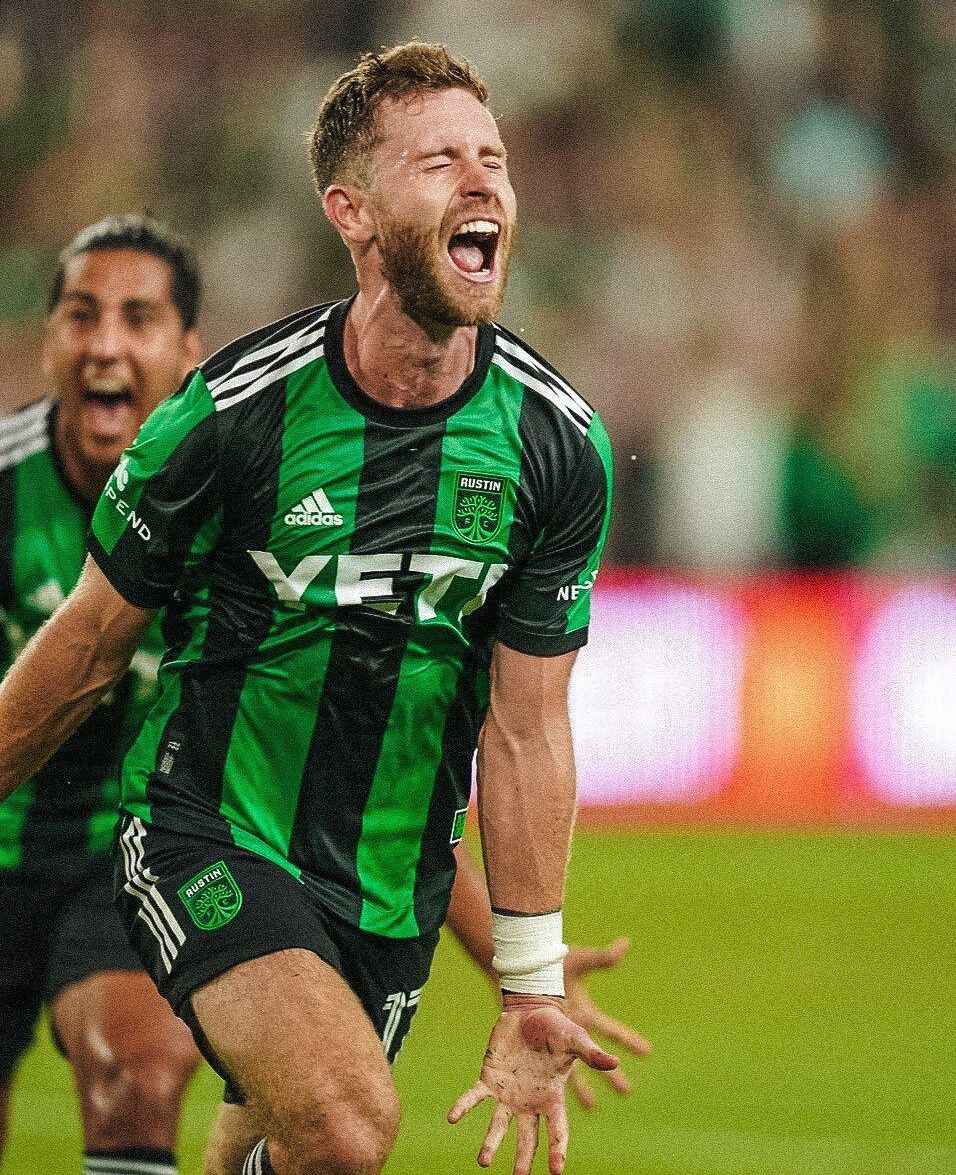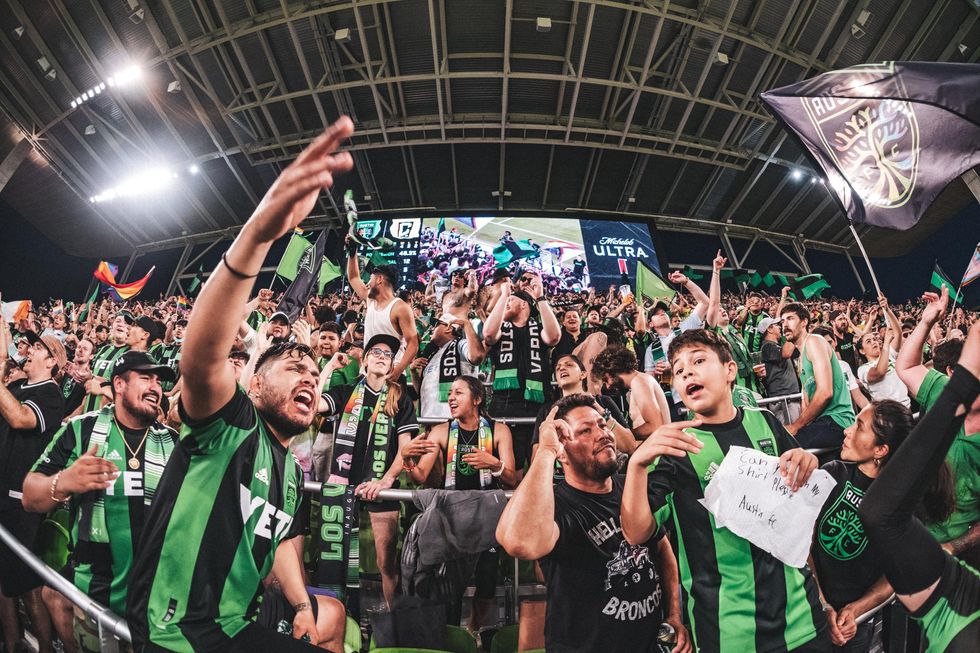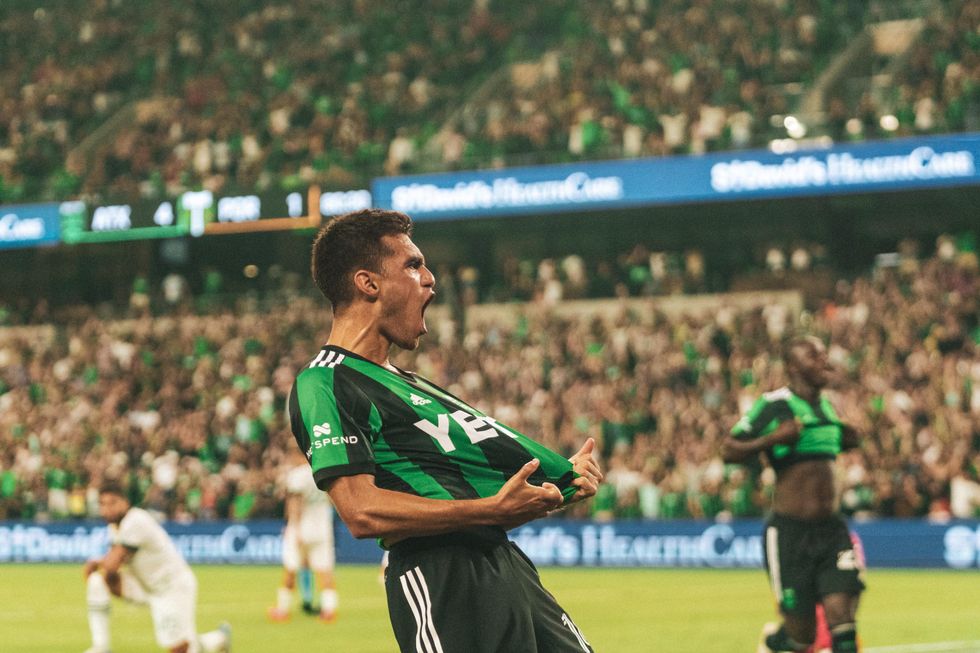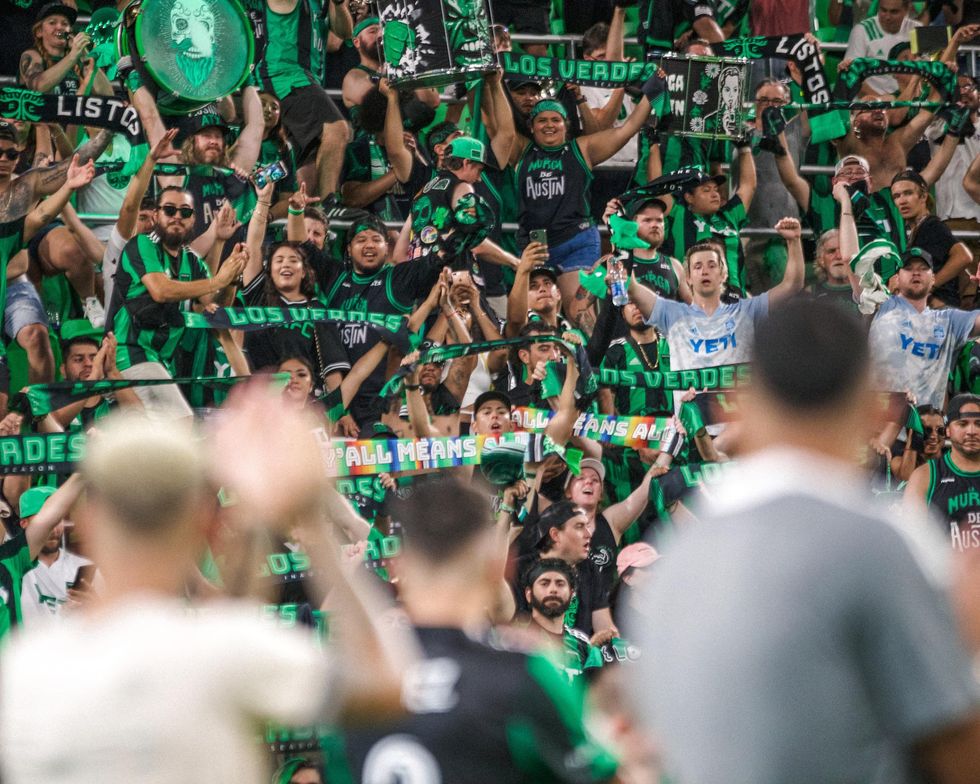 At the Austin FC friendly match vs. all-star Mexican team Tigres UANL on Tuesday, Della W., who was decked out head to toe with the club's Verde colors, said the match was more about Austin than anything else.
"It's about supporting Austin and the city and showing people our culture... what we're about," Della said.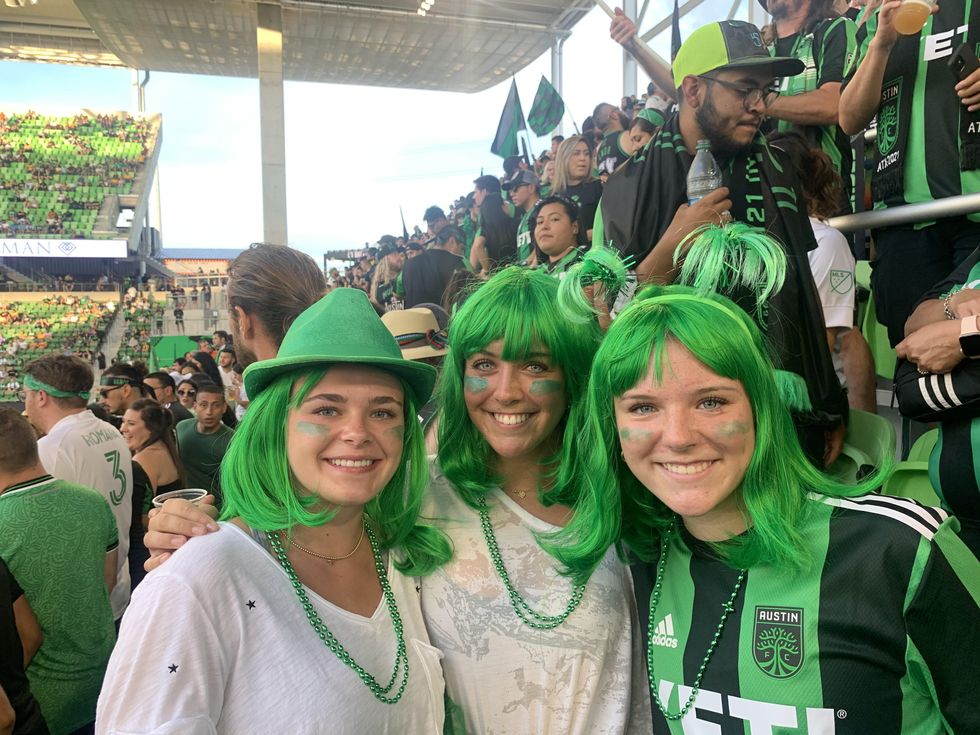 Della W., pictured left, said Austin FC matches are about more than just soccer- they're also an exhibition of Austin pride. (Claire Partain/Austonia)
All things Austin—from tacos to live music to a diverse soccer-loving community—are always on full display at Q2 Stadium, Austin's biggest party.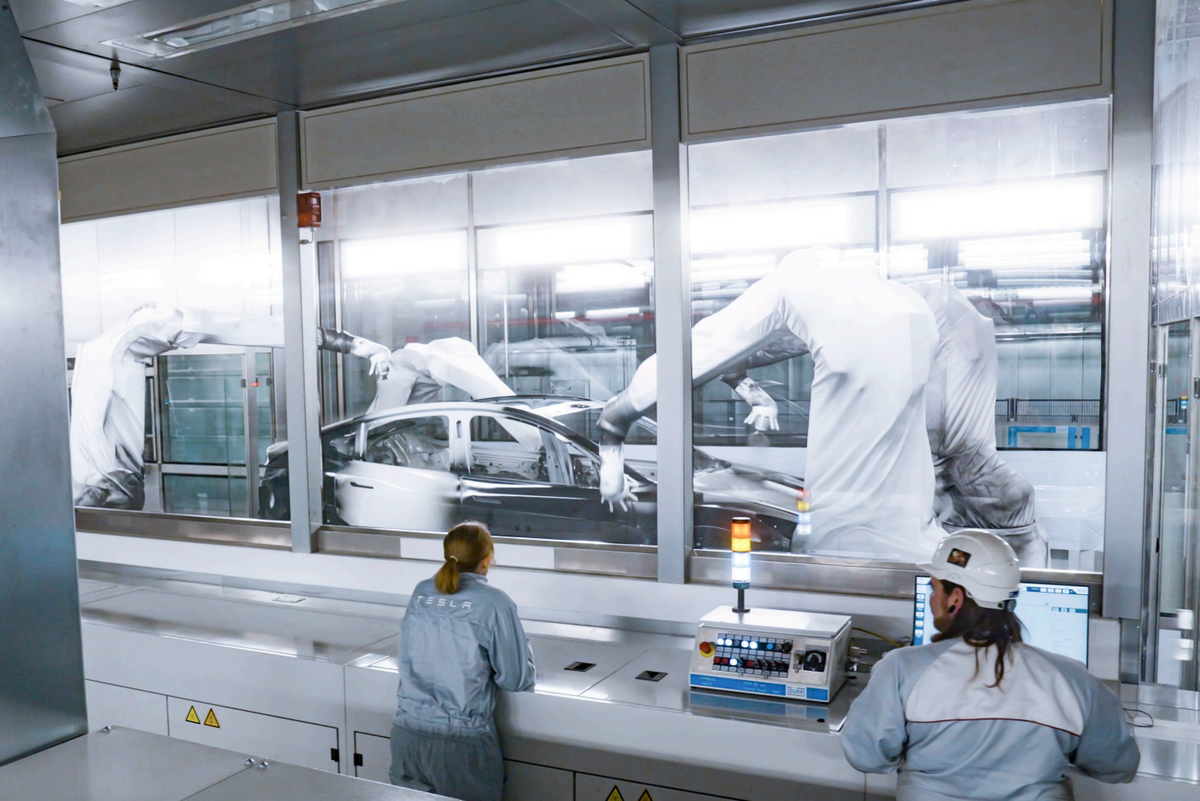 Someday, electric vehicles could go distances fit for road trips across Texas.
Researchers at the University of Texas at Austin, who have previously made strides in the lithium-ion battery industry, have developed a new electrode for such batteries that could draw greater power and allow faster charging.
So far, the research has looked at just a single type of battery electrode and is in its early stages. But it offers exciting potential as some buyers consider driving range an important factor when making the switch to an EV or picking one.
Tesla's Model Y being produced out of Giga Texas, for example, offers an estimated 330-mile range, which is lower than what many have become accustomed to in gas-powered vehicles.
So UT professor Guihua Yu, along with other researchers, had their findings on battery electrodes published in the Proceedings of the National Academy of Sciences.
"The unprecedented growth of electric vehicles during the past decade has played an indispensable role in paving the way for a carbon-neutral future," the researchers write.
That's why it's key to address a hitch with next-generation batteries, where restacking material can cause "significant bottlenecks" in charge transport, Yu says. Consequently, it can be difficult to achieve high energy and fast charging.
To tackle the sluggish reactions of electrodes, the team used thin two-dimensional materials as the building blocks and stacked them to create thickness. Then, they used a magnetic field to manipulate their orientations and put the materials in vertical alignment. In doing so, researchers essentially made a fast lane for ions to travel through the electrode.
They compared their results to a commercial electrode and a horizontally arranged one for experimental control purposes. In that comparison, they recharged the vertical thick electrode to 50% energy level in 30 minutes. The horizontal electrode took 2 hours and 30 minutes.
Zhengyu Ju, a graduate student in Yu's research group who is leading this project, said the team's electrode shows superior electrochemical performance.
In part, that's "thanks to the unique architecture we designed," Ju said. It ultimately allowed for high mechanical strength, high electrical conductivity and facilitated lithium-ion transport.
Going forward, the team aims to generalize their methodology of vertically organized electrode layers to apply it to different types of electrodes using other materials. They imagine if this technique becomes more widely adopted in industry, it may create future fast-charging, high-energy batteries to power EVs.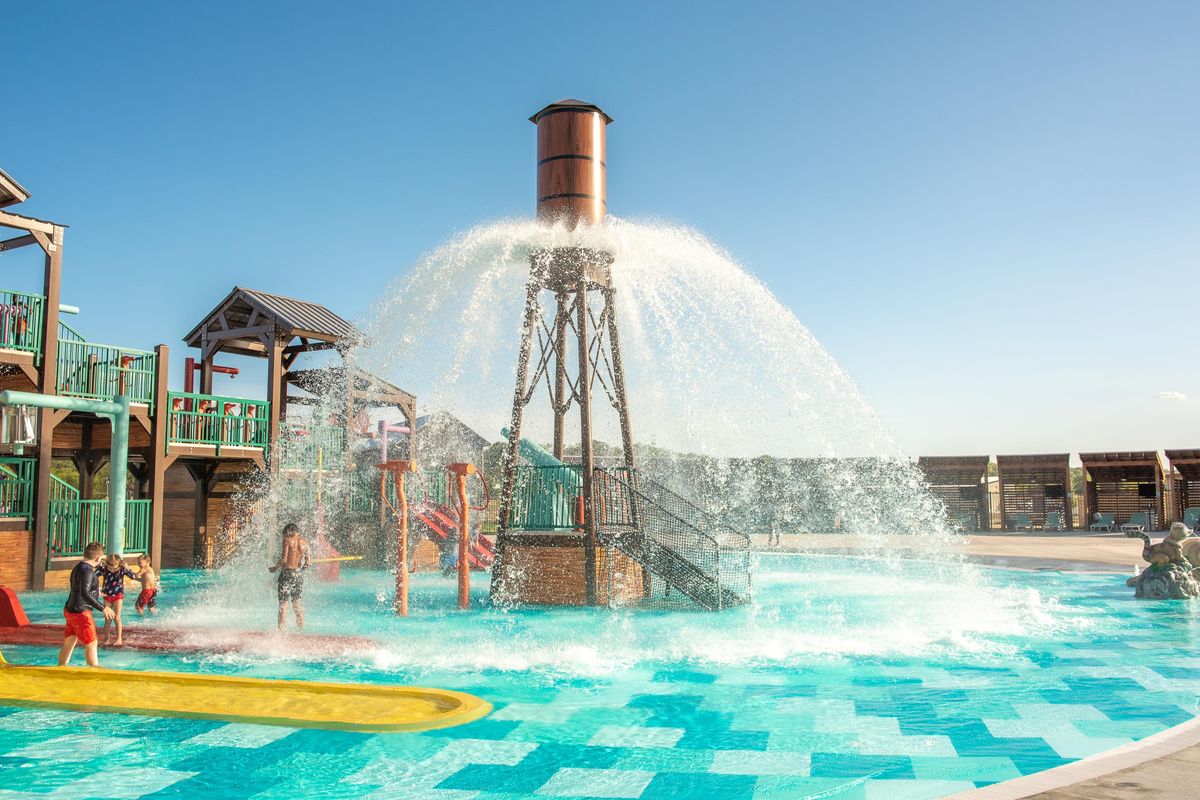 Camp Fimfo Waco
Camp Fimfo Waco, a brand new camping resort, is kicking off football and fall camping season in style! With top-notch amenities, premium accommodations, and 10 weekends of fall fun, there's no better place to have a fall camping getaway, especially if you're a Baylor football fan!
Fall promises to be a one-of-a-kind camping experience. From Sept. 16 to Nov. 24, weekends will be packed with fall-themed activities, including special Halloween weekends in October. Campers can enjoy activities like fall crafts, campground trick-or-treating, costume contests, site decorating, outdoor movie nights, and more!