Get connected with our daily update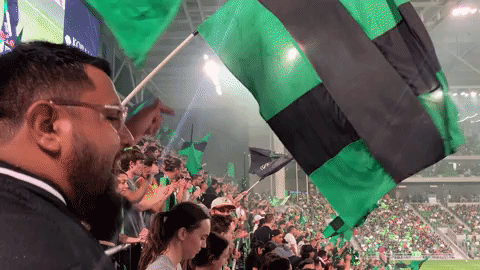 When Q2 Stadium head chef Sam Boisjoly began choosing what food would be offered at Austin FC matches, he said he hoped to create a microcosm of Austin within the stadium walls.
"If I had a friend that had a layover for three hours at Austin... if he came here, he would be able to see Austin," Boisjoly said.
---
Just a month after opening its doors, Boisjoly's wishes have come true. Sold out crowds continue to pack 20,500 Verde seats as they celebrate Austin's first major league team with pride and a party spirit.
Before home team Austin FC ever stepped foot on the pitch to play, Q2 Stadium was christened by the world champion U.S. Women's National Team as they played Nigeria in front of a sold-out crowd on June 16. Thousands of fans decked out in red, white and blue flocked to the stadium, proudly sang the national anthem and threw up a "tifo," or gigantic banner, to commemorate the match.
They did much of the same at Austin FC's first home match on June 19 in a celebration that was clearly about more than the team. With Minister of Culture Matthew McConaughey banding a conga drum, a massive art piece depicting iconic Austin figures, and Austin musician Jackie Venson giving a prematch performance, the game was clearly a tribute to city of Austin itself.
Rigo Rodriguez, a leader in fan club Los Verdes who helped create the tifo, said it all adds up to create an unforgettable experience at Q2.
"It's not just about the tifo, it's not just about the music, it comes all together... (and) becomes the heartbeat of Austin," Rodriguez said. "Every little bit helps to create something special for the city."
The matchday experience has become an all-day affair. As early as 11 a.m., a Verde army flocks to dozens of local bars and breweries, including nearby fan club headquarters Hopsquad and Circle Brewing, to get the party started. Sometimes, thousands can be seen marching on the stadium with the fan band La Murga, and supporters wearing anything from kilts to bright green wrestling masks lead chants outside Q2 before the stadium opens.
Once inside, fans can choose from dozens of local vendors, meet the mascot of the week—a rescue dog from Austin Pets Alive!—and hang out at Q2's giant Beer Hall, which features dozens of local beers on draft. Nearly every match, fan club members prepare a special presentation—from Pride art to Austin-centric chants—just before the national anthem is sung by a well-known local artist.
The supporters' section becomes nearly as entertaining as the match itself as they keep chants going all match long, release Verde smoke and toss their beers high into the air. Around the stadium, diehard fans and first-timers mingle as the club plays down below.
There's a reason that Austin FC's fan base has attracted both supporters with no prior soccer knowledge as and futbol fanatics. Many had been fighting to bring a team to Austin for years, and supporters recognize the importance of the club every single matchday.
Jay Torres, a "capo," or band leader for La Murga, was one of the first to get his "home"—the Austin FC crest—tattooed on his arm. Torres was part of the movement to bring a team to Austin as far back as 2018.
"It pulls the city together... it's beautiful," Torres said. "Lake Travis, Del Valle, and everything in between, we're all hanging out and pulling in the same direction. It brings people together."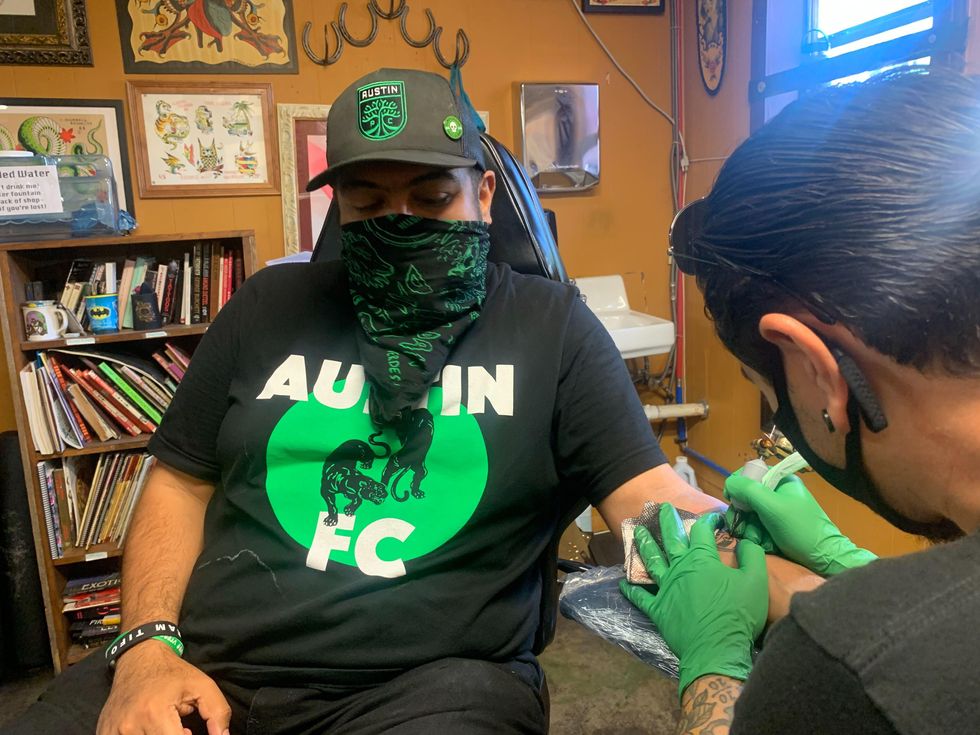 Even when Austin FC was scoreless for the first three matches within their home fortress, Austin fans continued to sing for their team as they kept a steady drum beat with glow-in-the-dark bass drums. Three weeks later, when Austin broke the floodgates with four goals in a match, the already-loud crowd was deafening. Lights were dimmed to a deep Verde as over 20,000 cheered in Austin.
Austin FC player Jon Gallagher broke the ice with the first goal at Q2 Stadium in front of a roaring crowd. (Austin FC/Twitter)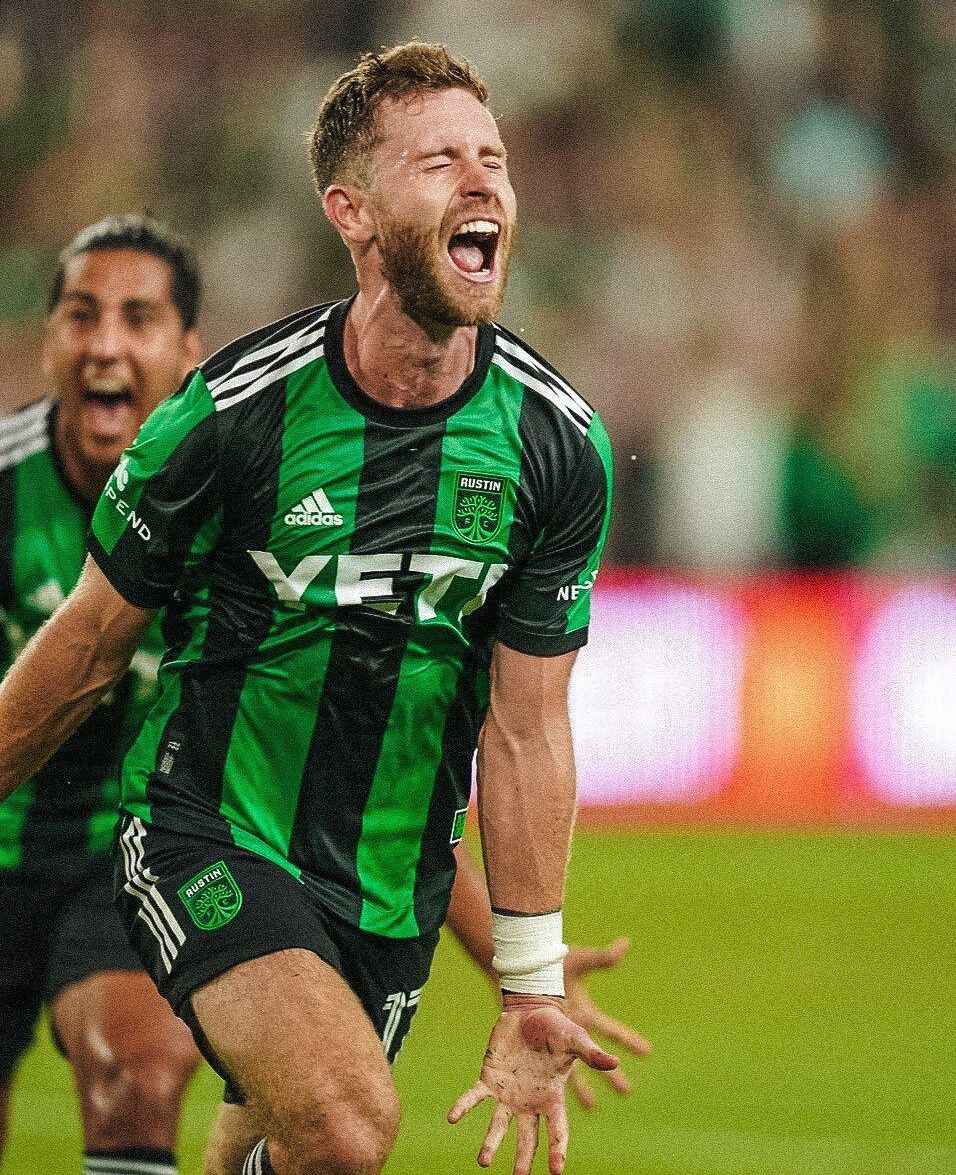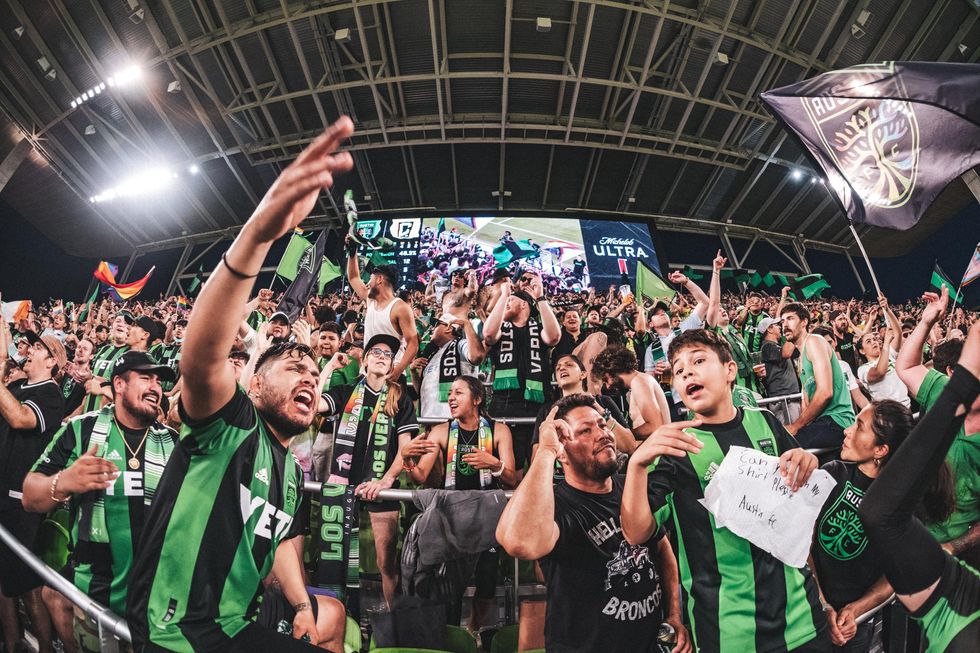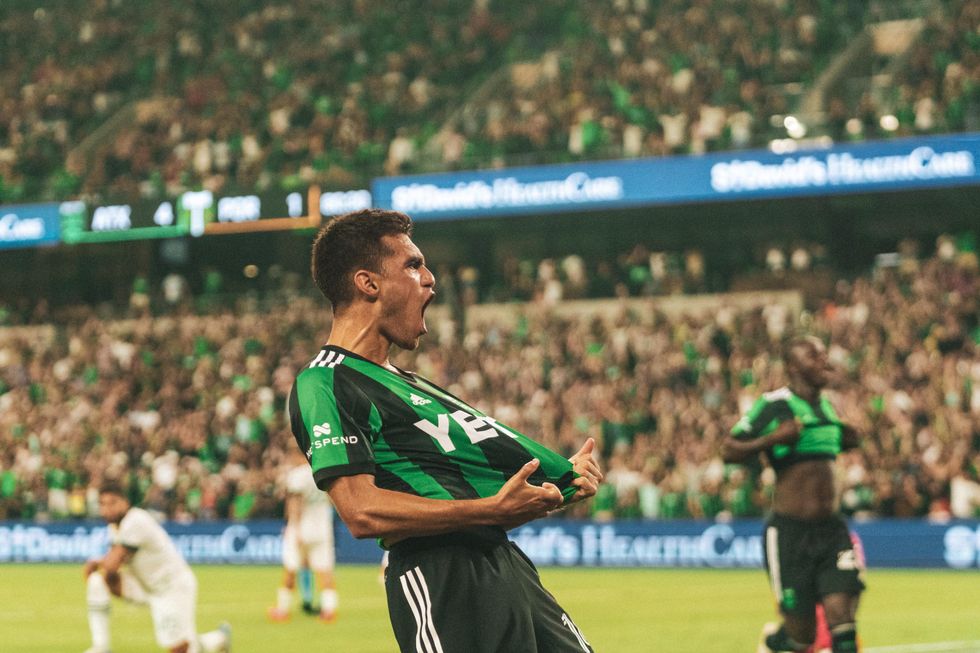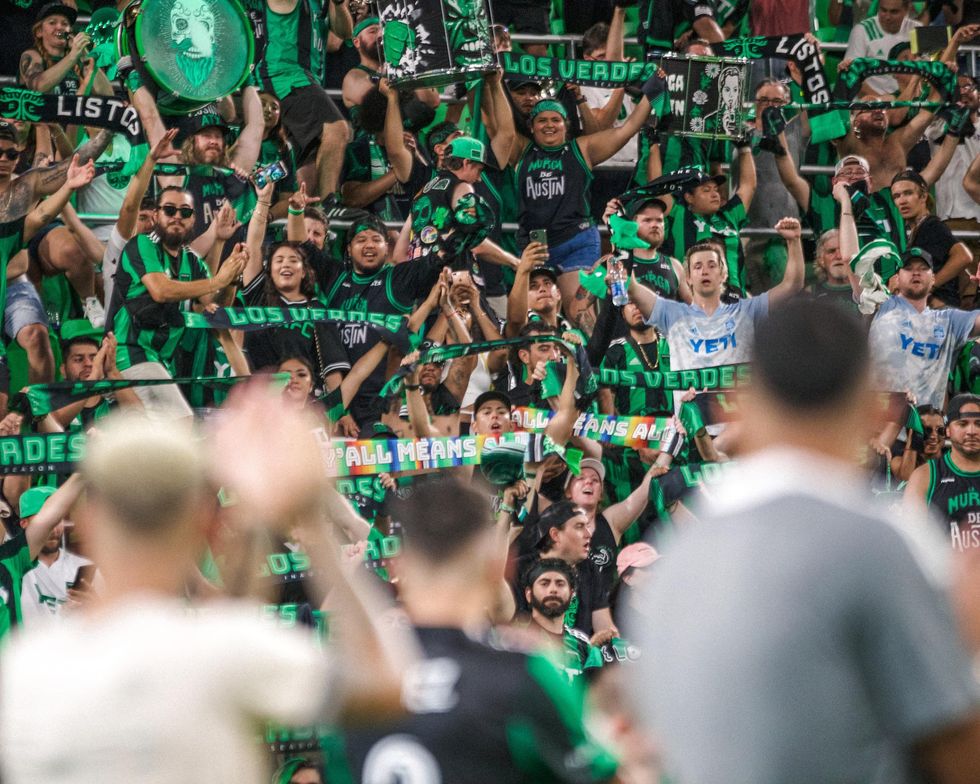 At the Austin FC friendly match vs. all-star Mexican team Tigres UANL on Tuesday, Della W., who was decked out head to toe with the club's Verde colors, said the match was more about Austin than anything else.
"It's about supporting Austin and the city and showing people our culture... what we're about," Della said.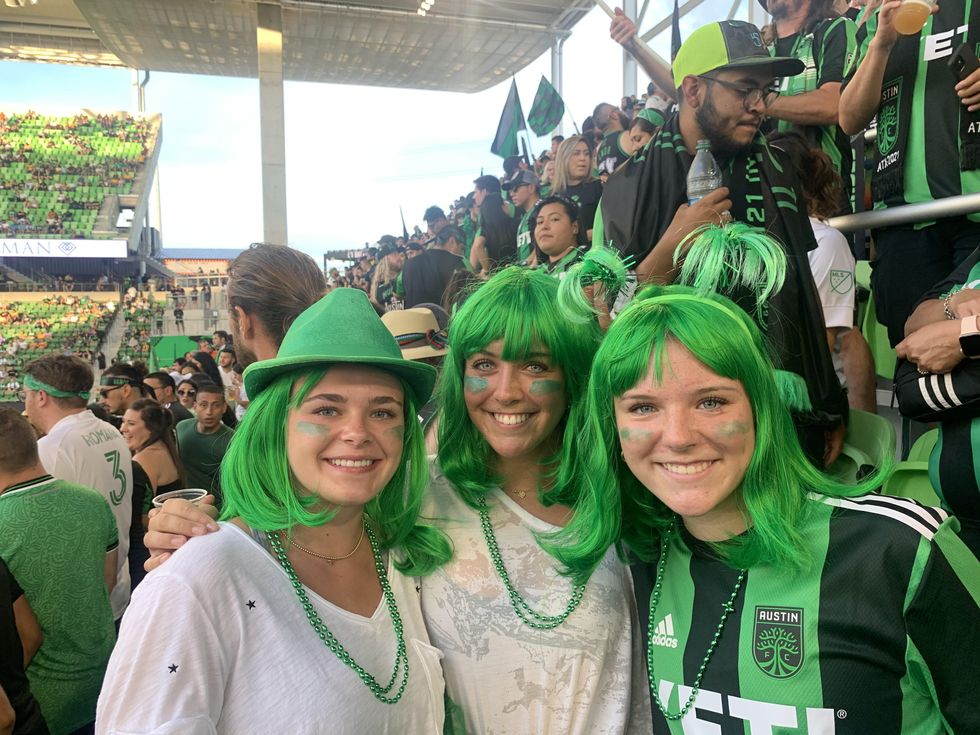 Della W., pictured left, said Austin FC matches are about more than just soccer- they're also an exhibition of Austin pride. (Claire Partain/Austonia)
All things Austin—from tacos to live music to a diverse soccer-loving community—are always on full display at Q2 Stadium, Austin's biggest party.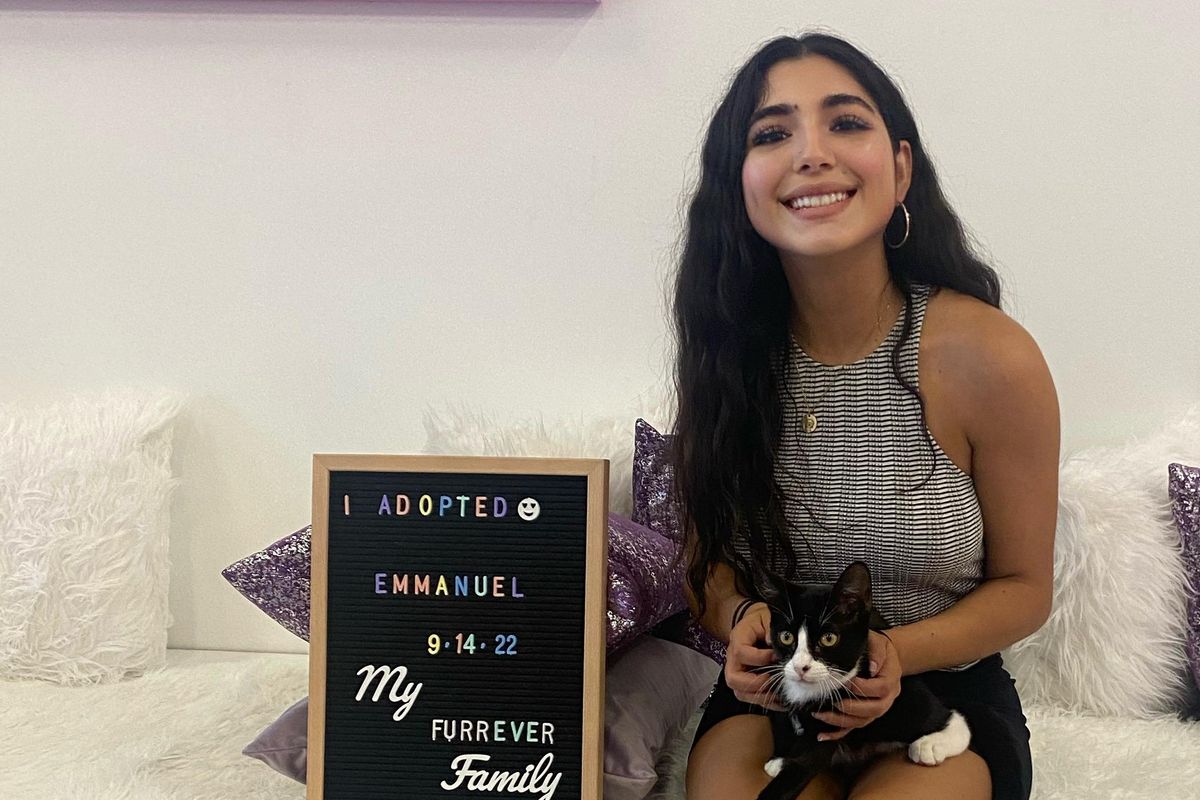 Purr-fecto Cat Lounge
Timmy and Tommy are ready to play.
As the 2-month-old white-and-tabby brothers swat feather wands, chase toys and generally hold court inside Purr-fecto Cat Lounge, a half-dozen potential adoptive parents look on lovingly, trying to get their attention.
"This is kind of like the speed dating of cats," said Lupita Foster, owner of Purr-fecto Cat Lounge. "I intentionally didn't put in any tables. That's why we call it a lounge instead of a cat café because we have these lounge areas where you can sit and relax and cuddle."
Foster, who has owned a cleaning company, Enviromaids, for 18 years, was inspired to open Purr-fecto Cat Lounge after adopting her own cat, Romeo, from a local shelter.
"When you want to adopt a cat, you have to spend a lot of time with them to get their personality," Foster said. "I wanted to do something to help the community and something that makes me feel good, that warms my heart. A business with a purpose. This was a perfect idea."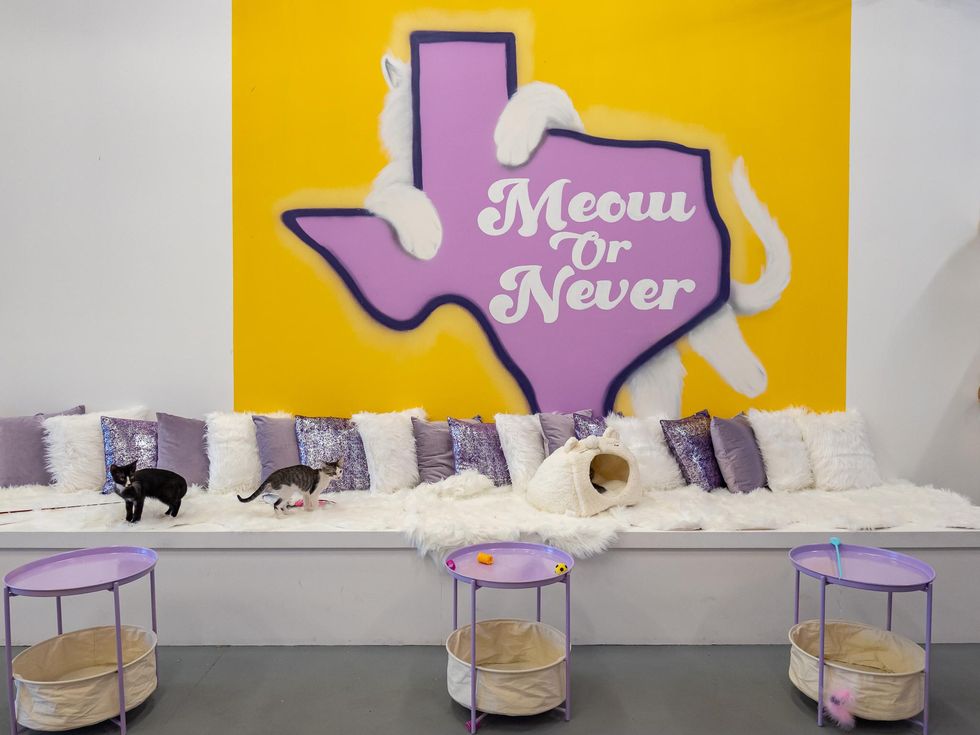 Actually, a purr-fect idea.
Inspired in part by a cat lounge she visited in Los Angeles, Foster began laying the groundwork for the business in late 2021 and officially opened the doors of Purr-fecto Cat Lounge, located at 2300 S. Lamar Blvd., in July 2022. Since then, she's worked with rescue organizations such as Fuzzy Texan Animal Rescue and Sunshine Fund Cat Rescue to facilitate nearly 100 cat adoptions.
At any given time, there are 10-15 cats living in the space, which features an ideal blend of calm, cool corners and adorably Instagrammable backdrops with phrases such as "I want to spend all my 9 lives with you."
Lina Martinez, 32, learned about Purr-fecto Cat Lounge from a friend's Instagram post and made an appointment to visit two days later.
"My first impression was, 'AWW!'" Martinez said. "The kittens were to die for. I felt happy and at peace – just what I needed."
Visitors to the cat lounge pay $15 for a 30-minute CATXperience session or $30 for a 70-minute session that is spent getting to know the personalities of each cat. Foster said the first thing she typically sees from visitors to the lounge is a smile.
"Everybody that enters the door is smiling," she said. "And we've seen people who have cried because they can't have kids and they decide to go and adopt a cat instead."
Foster said she loves bringing in cats who might not have a chance to be adopted at traditional shelters. She told the story of one cat named Izzy, who was partially blind, who was adopted by a family that had a deaf cat at home.
"Izzy was not going to get adopted anywhere else, but she's extremely beautiful," she said. "If she was in a cage in a rescue and you tell people she's blind, she was probably going to be overlooked. But visiting our space, she doesn't seem like she's blind. She knows her way around. She moves around perfectly."
Although Martinez, who had been casually looking for a pet to adopt since moving to Austin nearly four years ago, was interested in a cat named Ruby that she had seen on Purr-fecto's social media, at the lounge she instead found herself drawn to 5-month-old mixed breed Tuxedo cat.
"I thought he was a star," she said. "He worked the room and introduced himself to everyone. When I laid down to pet Ruby, he ran from the other side of the room and cuddled with me. It was game over. He got me."
And she, of course, got him, complete with a commemorative photo that read "My Furrever Family" the day she took him home. Although his original name was Emmanuel, she renamed him Sullivan after her favorite DJ.
"Purr-fecto is special because of the amount of effort and love they put into taking care of the cats," Martinez said, "and finding them good homes and making possible adopters feel at home."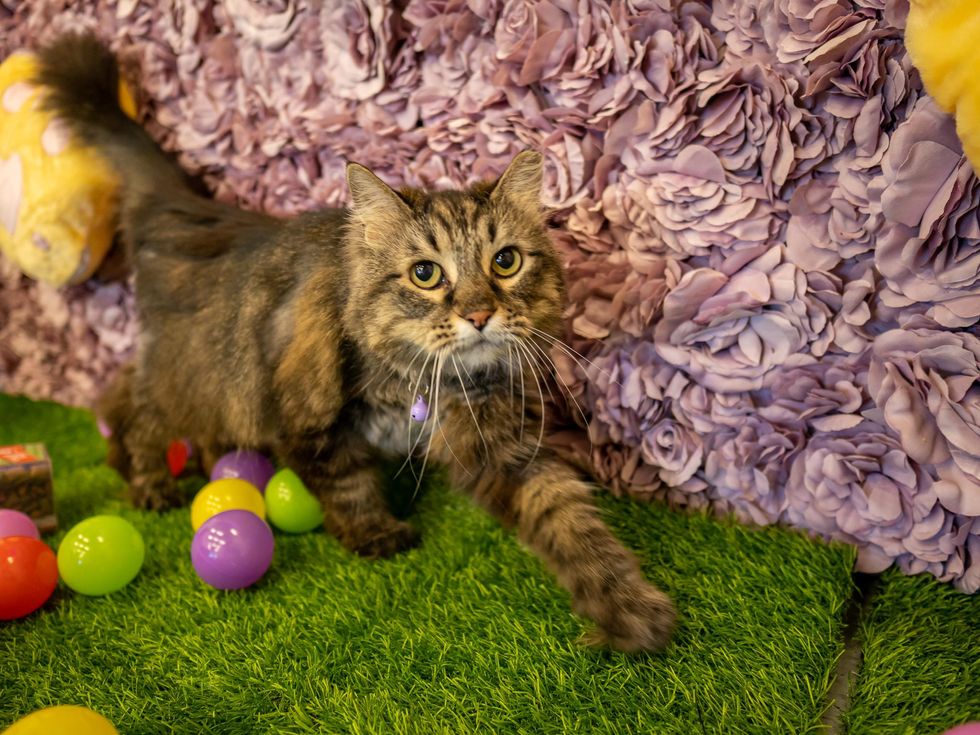 Foster, who spent a recent Thursday hosting a group of teenagers in foster care at the lounge, several of whom expressed interest in working there, said the best part about her new endeavor is that her heart is always full.
"I just feel complete," she said. "I always felt as an entrepreneur that I was missing something. I knew I accomplished a lot, but in my heart I was missing a little connection with the community. Now I'm creating connections between humans and pets and that's amazing. I'm creating family bonds. It's just about love, you know. And we need that."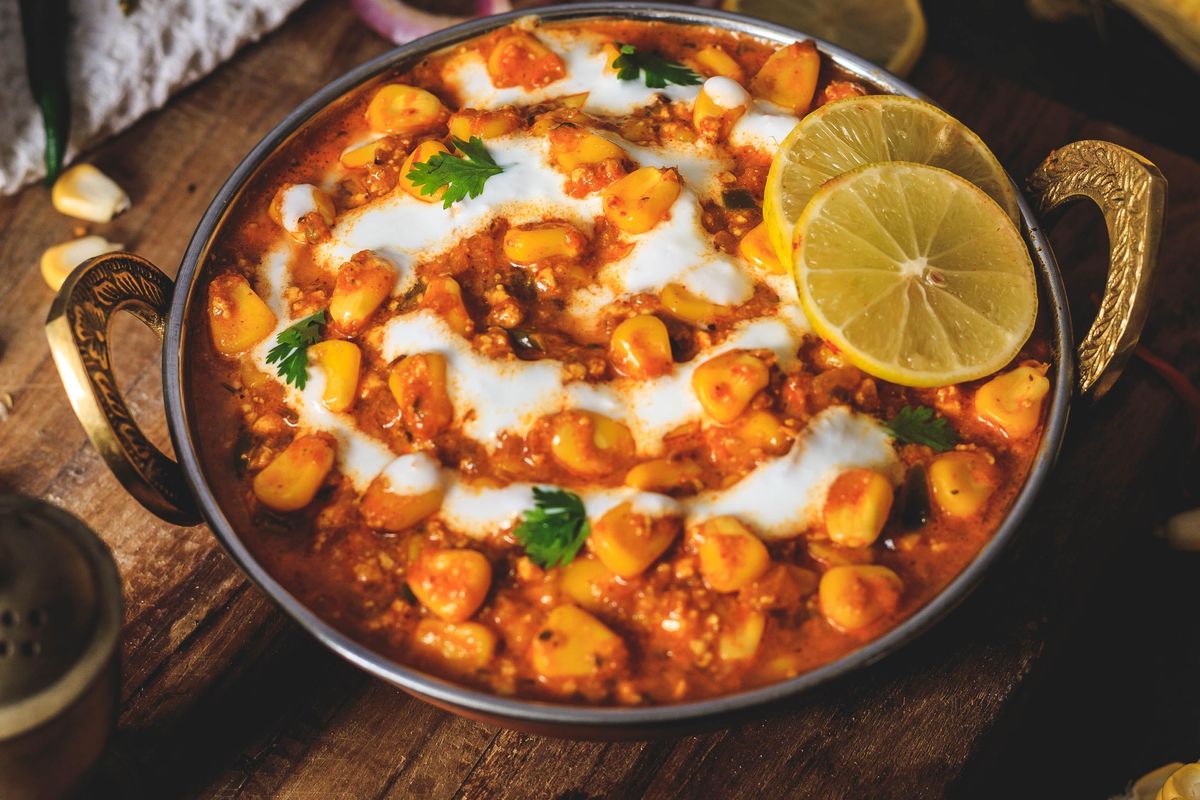 We all have those cravings for an amazing butter chicken or some authentic dosas with coconut chutney, but when I was thinking about where I wanted to go to satisfy my taste buds I realized that my list of great Indian food around Austin was surprisingly short. After doing some research and asking around, here is your list of the best Indian restaurants around town.
This restaurant claims to have the most authentic South Indian food, and from what I've heard, the claims might be true! Their menu features the traditional South Indian dishes of Idlis, Vadas, a variety of Dosas, and more.
If you're looking for an Indian and Tex-Mex fusion cozy restaurant, then look no further! Nasha on East 7th Street prides itself on its specialty margaritas, Tikka con Queso, Biryani, and more creative dishes!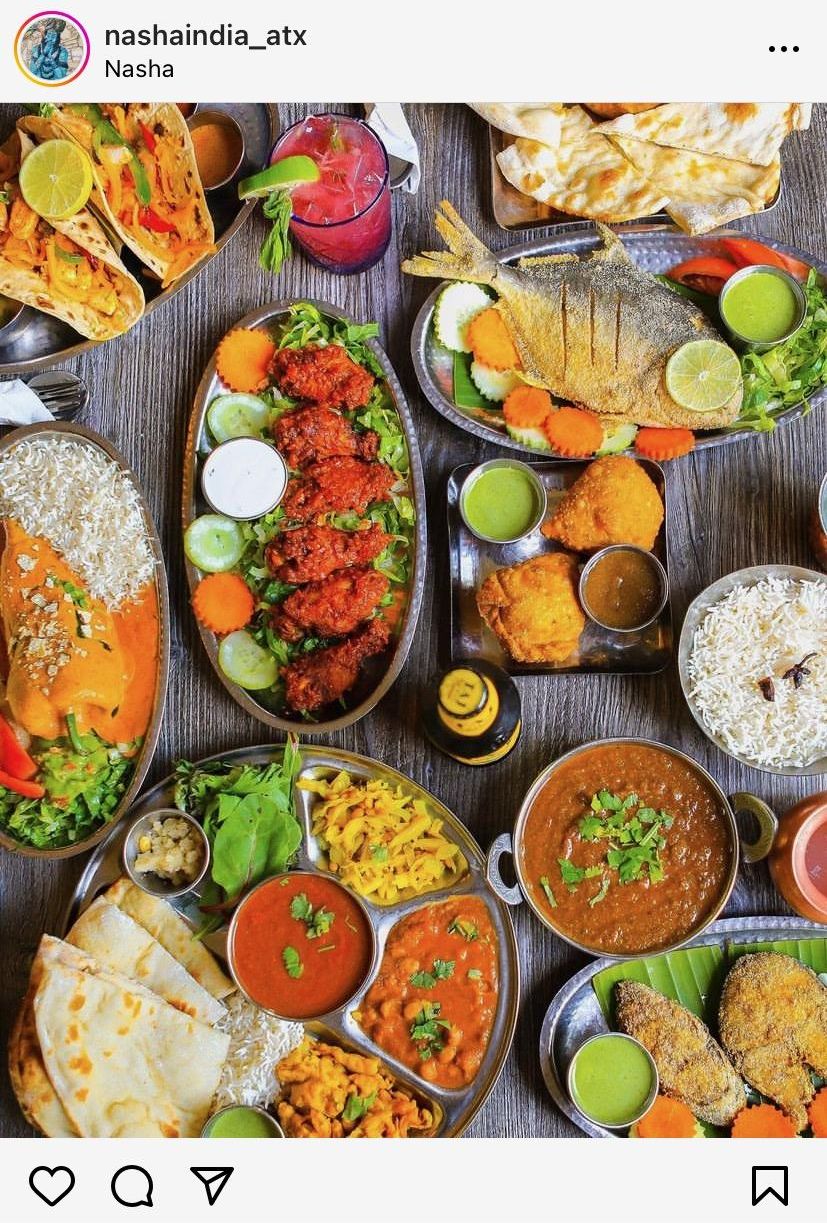 Austin Chai Wala is a personal favorite of mine, with the best masala chai I have ever had in Austin. The quaint truck in Rosedale Market features a unique blend of South Asian cuisine, including Masala Fries, Paratha Wraps, Samosas, and a delicious Mango Lassi.


This Round Rock Restaurant is known for its South Indian food, and its pakoras, a deep-fried North Indian street food filled with vegetables like potatoes or peas. Great stop for comfort food!
The best about this restaurant is its ambiance, and if you're a UT student then it is just a stone's throw away from campus. The Brick wall setting and extensive wine selection make it a great choice for a date night or a treat-yourself dinner.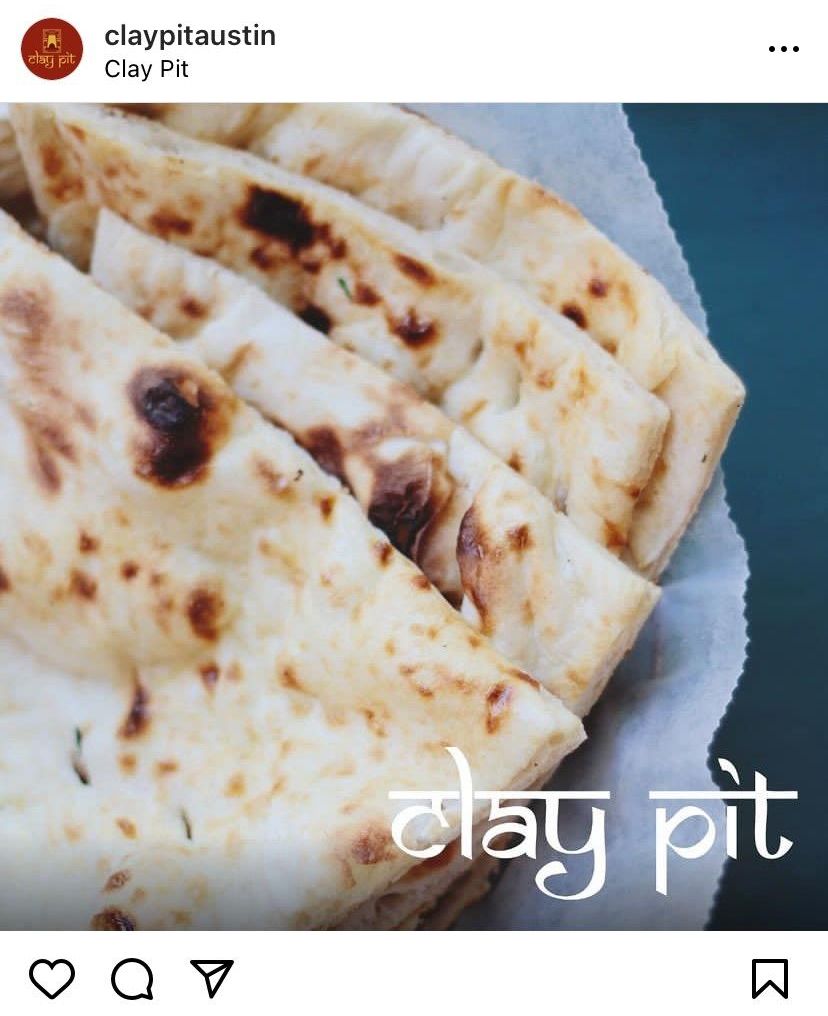 Named after one of the best spices used in Indian cooking, Saffron specializes in a fusion of Himalayan Nepali and Indian cooking. Stop by for some amazing Paneer Tikka, delicious Tandoori meat, or Nepalese fried rice dishes.
This little food truck on Burnet focuses on keeping the authentic South Indian Dosa recipe while embracing modern twists. Check out their menu offering signature dosas, street bites like Samosas, and their original "Doffles", dosa waffle sweet bites.