Austonia AM
100% Austin news, info, and entertainment, straight to your inbox at 6 a.m. every morning.
In five minutes, you're fully informed and ready to start another great day in our city.
Get connected with our daily update
After a flat first half against the Colorado Rapids on Saturday, it was Diego Fagundez who realized the club's first-ever goal in the second match of Austin FC history.
---
Fagundez was pounced on by his teammates as he looked toward the Verde-clad crowd, throwing up a signature LV in recognition of Austin FC fan club Los Verdes. Some cried, others cheered as the team went on to celebrate their first victory.
The club has a lot to live up to after their explosive 3-1 win on Saturday, which featured a nonstop 12-minute stretch of three unanswered Austin FC goals. Designated Player Cecilio Dominguez scored twice after Fagundez, helping to shut down the Rapids and keep a wave of energy through the end of the match.
With a decisive win in their rearview and the expectations of the entire league on their shoulders, Austin FC is looking to keep their momentum and secure their second win in history this weekend.
Austin FC vs. Minnesota United
Minnesota United is coming off of a 4th place finish in the Western Conference, but the Loons have only managed to score once in both matches played this season.
The club lost big (4-0) to the Seattle Sounders for their season opener, but that could've been more of a reflection of Seattle, an MLS Cup favorite, than themselves.
Minnesota's lone goal came from midfielder Robin Lod, who scored in the last five minutes of play against Real Salt Lake and was the closest to scoring against the Sounders. The Loons also like to keep possession, so ATXFC will need to capitalize on opportunities they get in the final third.
Austin FC has had its share of troubles too, including what looks to be lack of communication and some midfielding mishaps. With two starters like defender Matt Besler and midfielder Tomas Pochettino back, however, Austin FC is more poised than ever to live up to their potential, and they're definitely in higher spirits after Saturday's match.
Projected starting lineup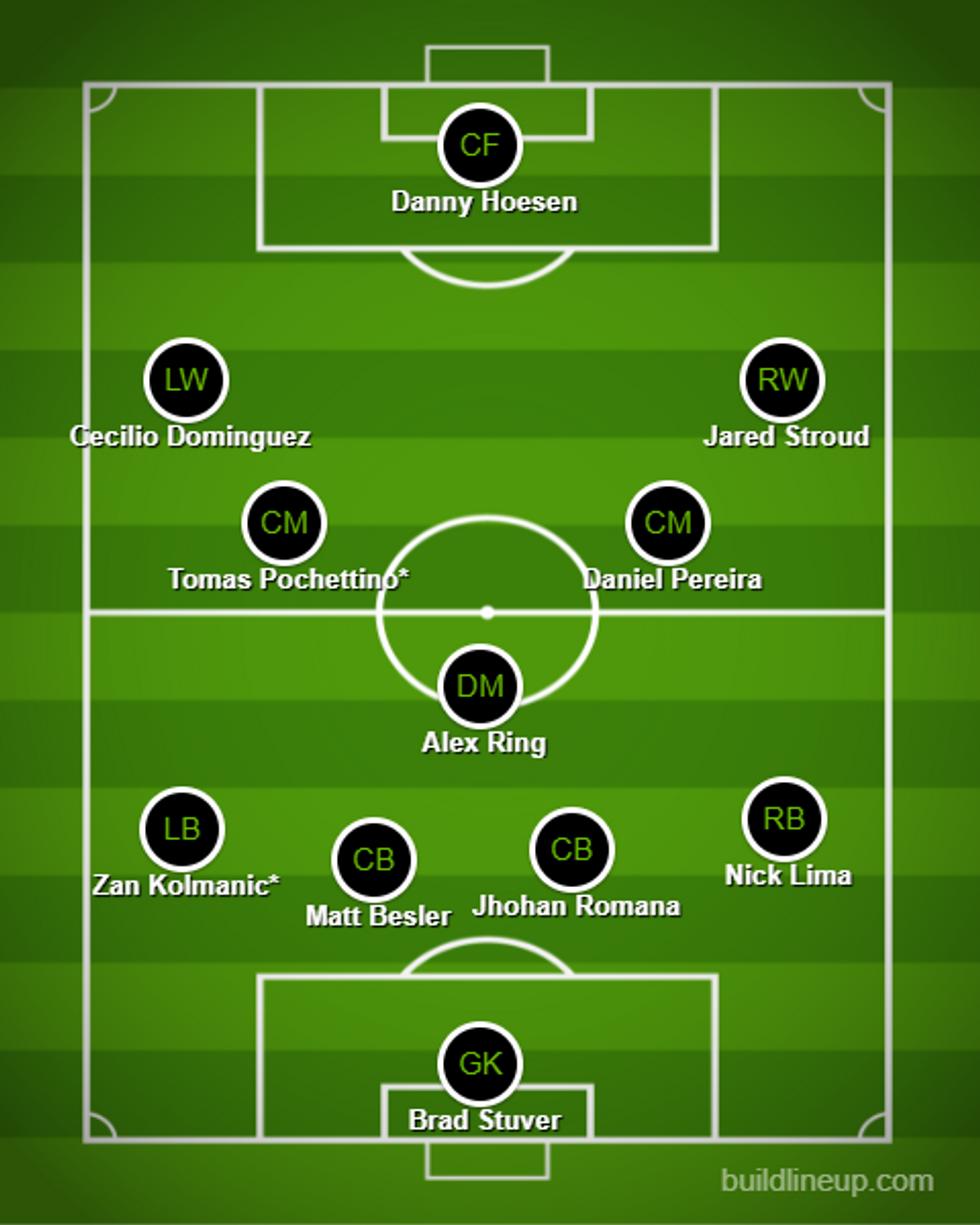 Last week's match saw several big changes to the lineup, several of which came out less than an hour before kickoff. With DP Tomas Pochettino out due to "registration issues" per a request by the MLS, Matt Besler out due to the birth of his third child and Rodney Redes swapped for Jared Stroud to resemble a 4-4-2 format, it took a while for Austin FC to get their footing.
They managed, however, and started that glorious 12-minute stretch that would secure the win with three back-to-back goals.
So, why change it up?
It wouldn't be a huge surprise if Redes made his way back onto the starting pitch, but Stroud gave no inclination that he was going to give it up easily. Redes did log the assist for Cecilio Dominguez's second goal, however, and he very nearly made the match 4-1 on his own toward the end of the second half. It's a bit of a toss-up.
Poche is back! Until Wednesday afternoon, we had only vague answers as to why he was mysteriously snatched out of the lineup at the MLS's request just before the Rapids match. In a brief announcement, Austin FC announced that Pochettino is available "for all future competitions."
Finally, Sweat was confirmed to have torn his ACL last week in the Rapids match. He'll be out for a while. Luckily, we've already seen potential in fellow left back Zan Kolmanic, the 20-year-old who recently joined the team after finishing out play in Slovenia. Wolff says he could be the fittest on the team since his season ended the latest, and he's positioned to get the most minutes in left back.
Austonia FC 
Ingredients:
1 1/2 oz of hibiscus-infused Tito's Handmade Vodka
2 oz sparkling water
1 oz fresh lime juice
3/4 oz simple syrup
1 tsp allspice dram
Directions: Add infused Tito's Handmade Vodka, lime juice, and simple syrup to a shaker with ice. Shake and strain into a glass over fresh ice. Top with sparkling water, and garnish with a lime slice. Enjoy!
A week after Texas added two congressional seats and California lost one, state officials reported a population decline in 2020 for the first time in the Golden State's history.
California fell by over 182,000 people from January 2020 to January 2021, dropping almost 0.5% to cap out at around 39.5 million people. It is still the nation's most populous state.
For over thirty years, California has seen more people leave than move in from other states, state officials said, with 6.1 million people moving out and 4.9 million coming in last year. Immigration and births kept California growing, but the state saw a shrink in international migration in 2020 due to COVID and the White House's hold on visas.
Of the steady flow of ex-Californians moving to other states, more are moving to Texas than any other state. Many are relocating to Austin, which has been labeled a "little California" by billionaire resident Elon Musk and continues to grow astronomically.
Meanwhile, California cities including Los Angeles, San Diego, San Jose and San Francisco saw a population decline.
With immigration and state migration on the decline, the Golden State was also hit with a spike in deaths- 51,000 people died from COVID in 2020, and all but seven of the state's counties saw death rates higher than the three-year average.
Still, the California Department of Finance said a "slightly positive annual growth" can be expected next year as the state recovers from COVID deaths and political repercussions.