Austonia AM
100% Austin news, info, and entertainment, straight to your inbox at 6 a.m. every morning.
In five minutes, you're fully informed and ready to start another great day in our city.
Get connected with our daily update
After a flat first half against the Colorado Rapids on Saturday, it was Diego Fagundez who realized the club's first-ever goal in the second match of Austin FC history.
---
Fagundez was pounced on by his teammates as he looked toward the Verde-clad crowd, throwing up a signature LV in recognition of Austin FC fan club Los Verdes. Some cried, others cheered as the team went on to celebrate their first victory.
The club has a lot to live up to after their explosive 3-1 win on Saturday, which featured a nonstop 12-minute stretch of three unanswered Austin FC goals. Designated Player Cecilio Dominguez scored twice after Fagundez, helping to shut down the Rapids and keep a wave of energy through the end of the match.
With a decisive win in their rearview and the expectations of the entire league on their shoulders, Austin FC is looking to keep their momentum and secure their second win in history this weekend.
Austin FC vs. Minnesota United
Minnesota United is coming off of a 4th place finish in the Western Conference, but the Loons have only managed to score once in both matches played this season.
The club lost big (4-0) to the Seattle Sounders for their season opener, but that could've been more of a reflection of Seattle, an MLS Cup favorite, than themselves.
Minnesota's lone goal came from midfielder Robin Lod, who scored in the last five minutes of play against Real Salt Lake and was the closest to scoring against the Sounders. The Loons also like to keep possession, so ATXFC will need to capitalize on opportunities they get in the final third.
Austin FC has had its share of troubles too, including what looks to be lack of communication and some midfielding mishaps. With two starters like defender Matt Besler and midfielder Tomas Pochettino back, however, Austin FC is more poised than ever to live up to their potential, and they're definitely in higher spirits after Saturday's match.
Projected starting lineup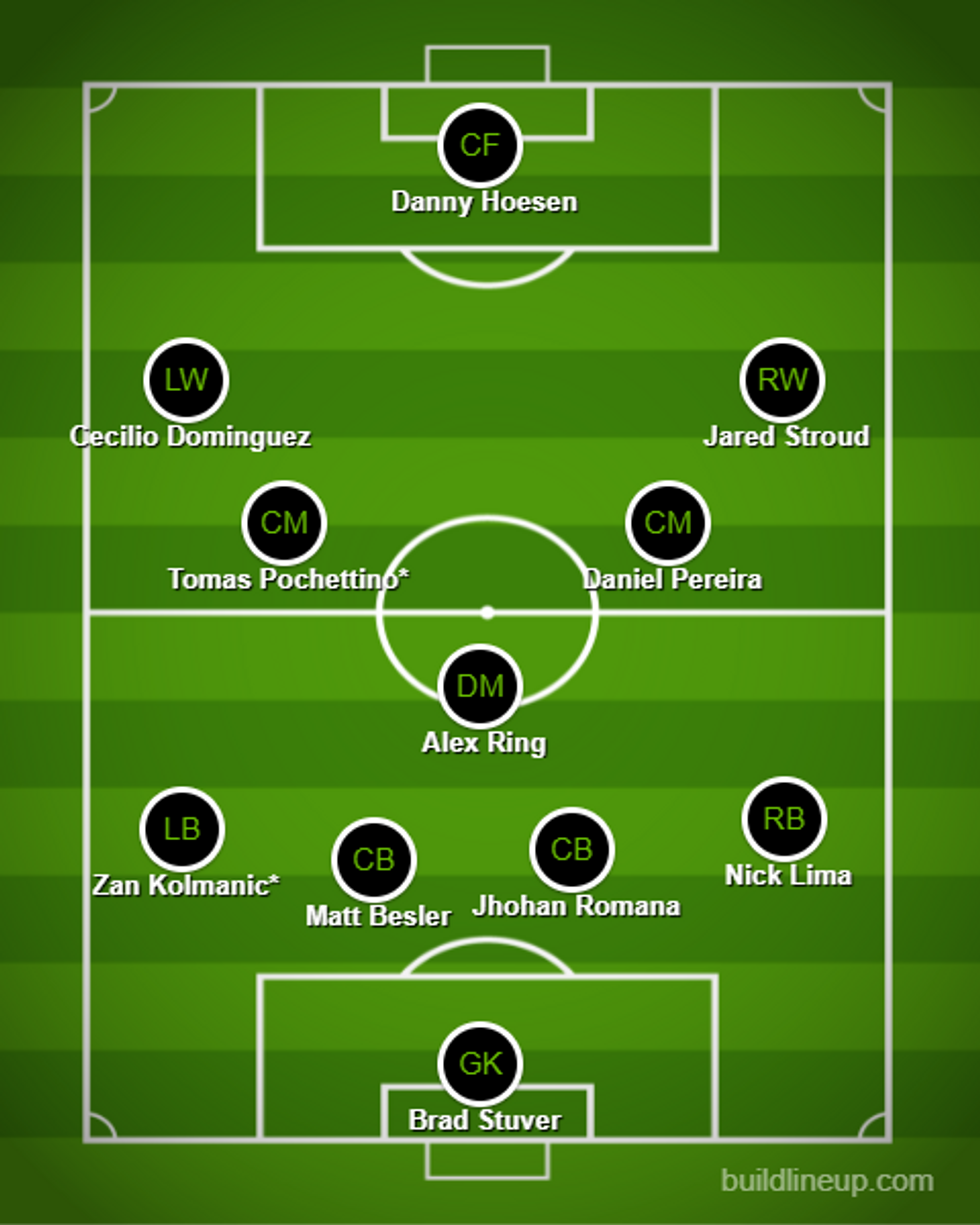 Last week's match saw several big changes to the lineup, several of which came out less than an hour before kickoff. With DP Tomas Pochettino out due to "registration issues" per a request by the MLS, Matt Besler out due to the birth of his third child and Rodney Redes swapped for Jared Stroud to resemble a 4-4-2 format, it took a while for Austin FC to get their footing.
They managed, however, and started that glorious 12-minute stretch that would secure the win with three back-to-back goals.
So, why change it up?
It wouldn't be a huge surprise if Redes made his way back onto the starting pitch, but Stroud gave no inclination that he was going to give it up easily. Redes did log the assist for Cecilio Dominguez's second goal, however, and he very nearly made the match 4-1 on his own toward the end of the second half. It's a bit of a toss-up.
Poche is back! Until Wednesday afternoon, we had only vague answers as to why he was mysteriously snatched out of the lineup at the MLS's request just before the Rapids match. In a brief announcement, Austin FC announced that Pochettino is available "for all future competitions."
Finally, Sweat was confirmed to have torn his ACL last week in the Rapids match. He'll be out for a while. Luckily, we've already seen potential in fellow left back Zan Kolmanic, the 20-year-old who recently joined the team after finishing out play in Slovenia. Wolff says he could be the fittest on the team since his season ended the latest, and he's positioned to get the most minutes in left back.
Austonia FC 
Everyone wants to be in Austin—tech, celebs and now sports. At least that's what it looks like.
In the midst of a first season for Austin FC, the city's first major league professional sports team, the Buffalo Bills are reportedly looking at a possible move to Austin.
The news comes from ESPN's Seth Wickersham, who reports the NFL team is saying it is considering a move from New York to Austin, possibly to push public funding of its new $1.5 million stadium.

An ownership source tells me that Austin is a possible destination—or threat—as one of the "other cities elsewhere that desire an NFL franchise and would pay handsomely for it." https://t.co/zMf1oChO8K
— Seth Wickersham (@SethWickersham) August 1, 2021
Austin was without a major pro team until Austin FC came to town. While all eyes have been on Austin's "boomtown" status, the city isn't exactly expected to get an NFL team with two other major teams in the state—the Dallas Cowboys and Houston Texans.

Nevertheless, the governor and mayor responded to the rumor.
Editor's note: Addie Broyles is a longtime food writer, who wrote for the Austin American-Statesman for 13 years. This piece was published in her weekly newsletter, "The Feminist Kitchen," where she shares stories about parenthood, grief, ancestry, self healing and creativity. Check it out here.
You know Bruce McCandless' most famous moment, but you probably don't know his name.
McCandless is the astronaut who, in 1984, became the first untethered astronaut in space. He's the guy on those posters, mugs, shirts and everything else NASA could sell with the image of his "leisurely waltz with eternity," as his son calls it in his new book, "Wonders All Around: The Incredible True Story of Astronaut Bruce McCandless II and the First Untethered Flight in Space."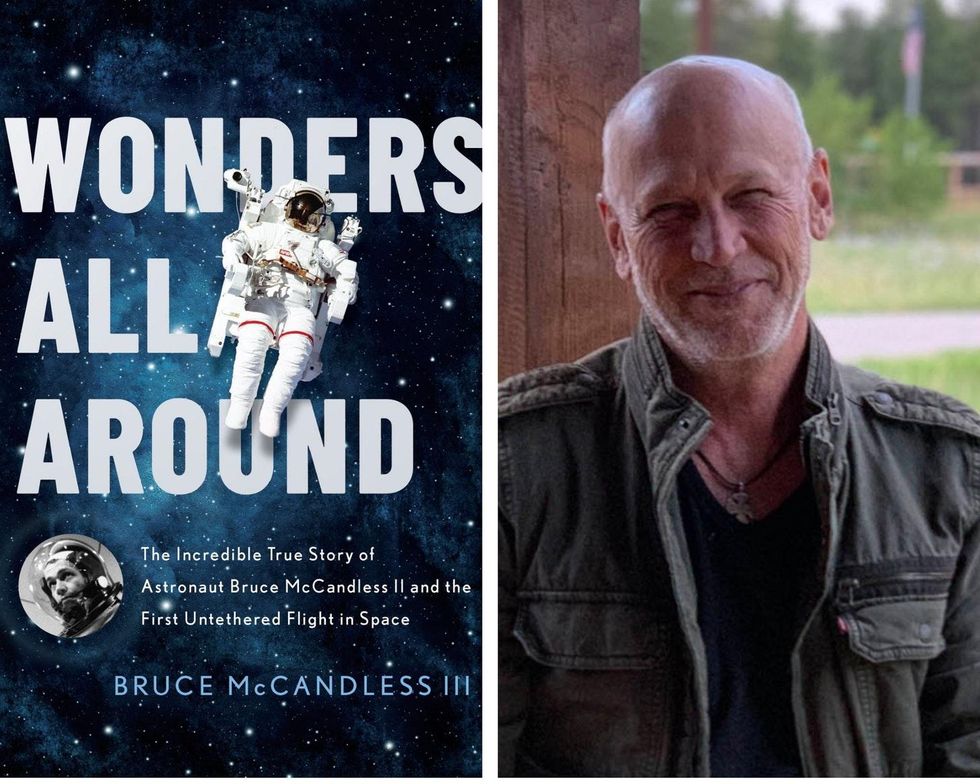 'Wonders All Around' is a new book by Austinite Bruce McCandless III about his dad, the astronaut Bruce McCandless II. (Bruce McCandless III)
I met McCandless III, who lives in Austin with his wife Pati, for a coffee a few months ago, thanks to the introduction from a mutual friend. As we talked about losing our dads, being writers and parents and living in Austin while still dealing with COVID, his dad's famous flight didn't come up, but the process of writing such an epic biography of a complex, only recently passed man was something worth unpacking over coffee.
I hadn't read the book yet, but over the next few weeks, I got to know the McCandless family in such a sweet way that I wanted to write a little about the book here to perhaps inspire you to seek out a copy of "Wonders All Around."
As much as this is a book about space, it's also a book about grief. And persistence. And stoicism. And masculinity and maternality.
The elder McCandless died in 2017, just a few years after losing his wife, Bernice, to cancer.
This passing of the torch from father to son left the younger McCandless inspired to take on this decades-long narrative. McCandless III sets the tone for the book with a memory of the family sitting around the dinner table at their home outside Johnson Space Center near Houston in the mid 1970s, when his dad, who joined NASA in 1966 at the age of 28, wasn't sure he'd ever actually make it to space.
"Our dinners were somber affairs. We ate around a rectangular Formica table in the breakfast nook. Tracy and I sat on benches padded with orange vinyl cushions. Mom and Dad occupied faux-Spanish style chairs with green felt upholstery. Despite the informal, Howard Johnson's-at-the-airport feel of the furnishings, there was a tension in the air that set in right around the time the frozen string beans started steaming. I had the feeling that my sister and I had forgotten to do something important, though I couldn't figure out what it was, or that judgment had been rendered on us and we'd been found guilty of … something — again, it was unclear what. Horseplay was prohibited. The TV and all sources of music or other frivolity were turned off, and singing was strictly forbidden. The only sound came from the aquarium pump. My father had a 100-gallon tank along the wall behind his chair. Sometimes the big plecostomus would attach itself by its mouth to the glass facing us, and I imagined it sucking all the oxygen out of the room."
Imagining what it must have been like to require oxygen to survive, not in outer space but in the living room with your family, sets up the story of the McCandless ancestors, including a guy who was killed by Wild Bill Hickok and the author's grandfather, who was an admiral in the U.S. Navy.
No pressure, Bruce.
It was fascinating to read about the 18 years that Bruce McCandless II worked for NASA before he finally had his first flight, which debuted the Manned Maneuvering Unit, a jet-fueled backpack that he and Ed Whitsett Jr. spent so many years developing. (That's the joystick-controlled machine he's wearing in that mind-bending poster that hung on millions of Americans' walls over the following decade.)
The author McCandless has the unenviable task of trying to put into words what that flight must have felt like. His dad flew 150 feet away from the shuttle Challenger, which would, of course, break into a million little pieces just a few years later.
When President Reagan called the shuttle to congratulate the astronauts that day in 1984, the command center set up a demonstration space walk to give the president a live view of McCandless through the shuttle window.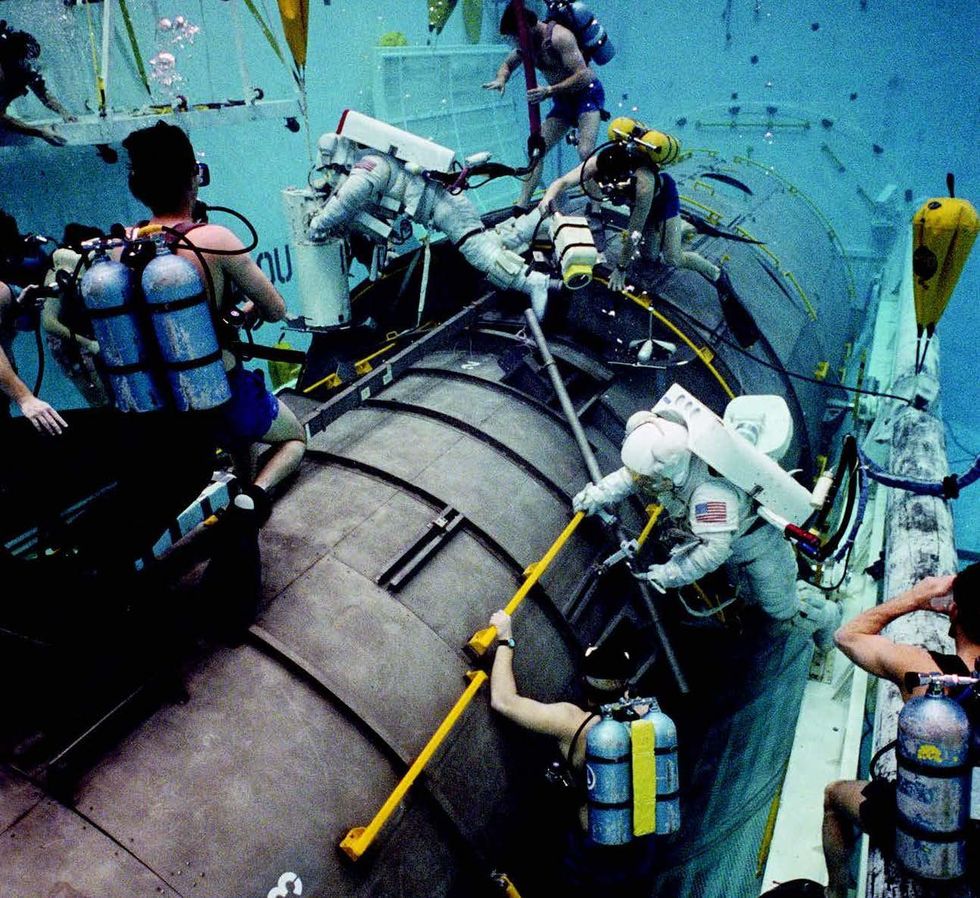 Bruce McCandless II, trains with Kathy Sullivan, right, in preparation to launch the Hubble Space Telescope. (NASA)
The only problem was, there wasn't much fuel left. McCandless went out anyway, trying to stay within 10-15 feet of the spacecraft. He got into position and turned off the unit to preserve propellant. After the president said a few words and the video switched off, McCandless turned on the unit and "looked for the closest piece of the orbiter, pointed at it, put the hand controller in +X (and) got a sort of sighing noise as it accelerated in that direction." He ran out of fuel just as he grabbed onto a rail on the orbiter. Hand over hand, he brought himself back to the donning station.
It's that kind of suspense that made this book so thrilling to read.
There's space tension like when McCandless is operating as CAPCOM, the only person talking to Neil Armstrong and Buzz Aldrin while they are walking on the surface of the moon, and his commander wants him to break protocol and call them back early, even though there are no signs of distress.
The book is also so touching. I cried while reading about the declining health of Bernice, who survived so many astronaut wife struggles over the years and at the end of her life remained a loving partner and mother.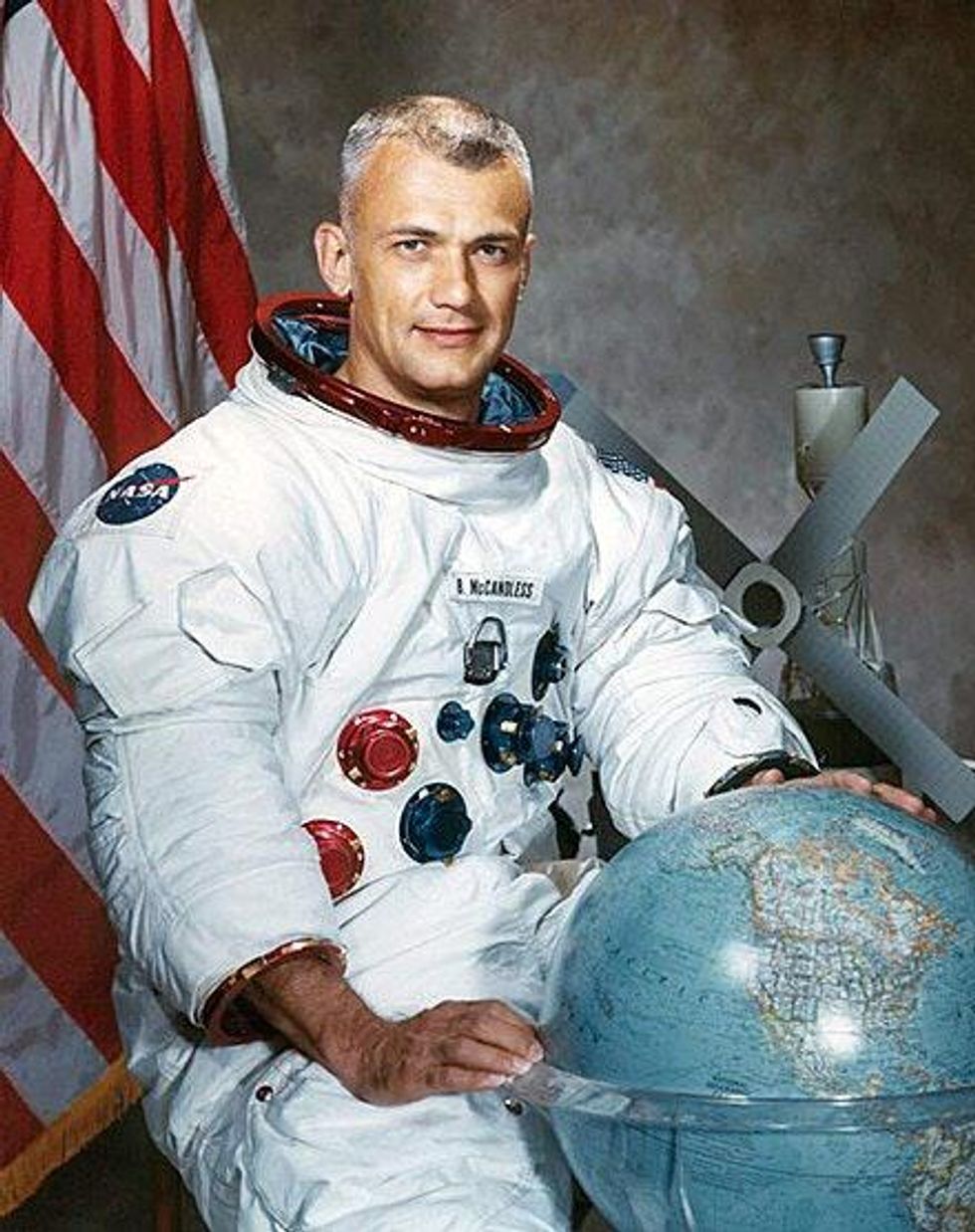 Bruce McCandless was a Navy pilot who was picked to join NASA in 1966. His first space flight wasn't until 1984. (NASA)
It's easy to forget that McCandless II had an entirely other memorable historic moment—launching the Hubble Space Telescope in 1990—and this one seems to have struck an even deeper chord with McCandless III.
The Hubble launch was McCandless' second and final flight. He was 52 and had worked at NASA for 24 years.
McCandless II spends the last chapters of the book making a compelling case that his dad's work to fix and update the Hubble are among the greatest achievements to science. He continued to work on Hubble for another two decades after retiring from NASA through his work at Lockheed Martin.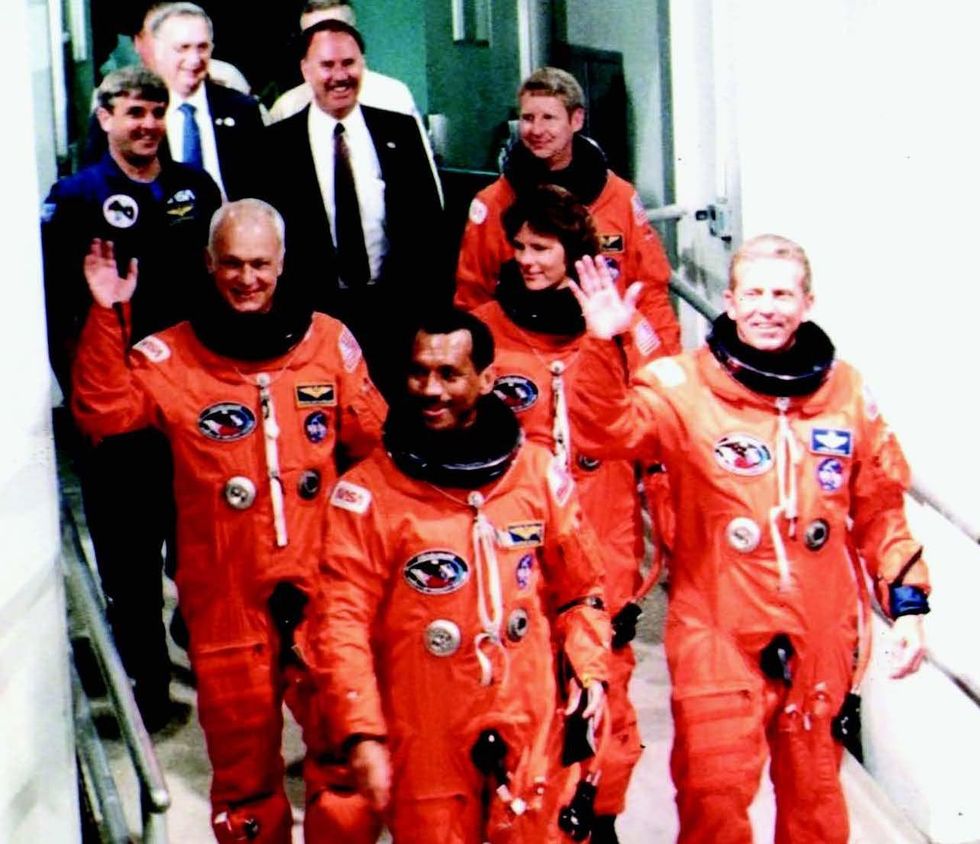 Bruce McCandless, left, and the flight crew that launched the Hubble Space Telescope in 1990. He was 52 years old. (NASA)
He was the "nuts, bolts, screws, and wires guy," the auto mechanic rather than the scientist, who kept the telescope going 340 miles above Earth for more than twice its life expectancy. The Hubble has been cited in more than 18,000 scientific papers and has revealed countless secrets and unsolved mysteries from around the universe and beyond.
"The size, shape, and sheer spectral weirdness of the images boggle the imagination and make prophets and dreamers of us all," McCandless writes toward the end of "Wonders All Around. "Some of us pay therapists to tell us we're important and unique. Then we check in with Hubble so the satellite can inform us just how galactically marginal we all are. The truth is somewhere in the middle."
What a beautiful reminder.