Austonia AM
100% Austin news, info, and entertainment, straight to your inbox at 6 a.m. every morning.
In five minutes, you're fully informed and ready to start another great day in our city.
Get connected with our daily update
Looks like you might want to get budgeting advice from Austin FC.
For its first season, Austin FC spent $9.1 million, the second least in the league,, according to the MLSPA's 2021 salary release.
---
That's less than the salary budgets of almost every expansion team's first season in the last six years. Clubs like LAFC, who spent $14.1 million in 2018, and NYCFC, who used $17.4 million in 2015 to build their first lineup, dished out millions more than Austin FC for their inaugural seasons.
The club's use of salary money—or lack thereof—is impressive considering the team they've built, and it also could mean a new addition is on the way. Austin FC has a Designated Player slot left, a title that allows clubs to spend more on a star player, and rumors have swirled that the club will pick a new gem to head their offense in the summer transfer window.
Here's a breakdown of how Austin FC's salary spending stacks up to other first-year expansion teams:
Austin FC keeps a low budget for first year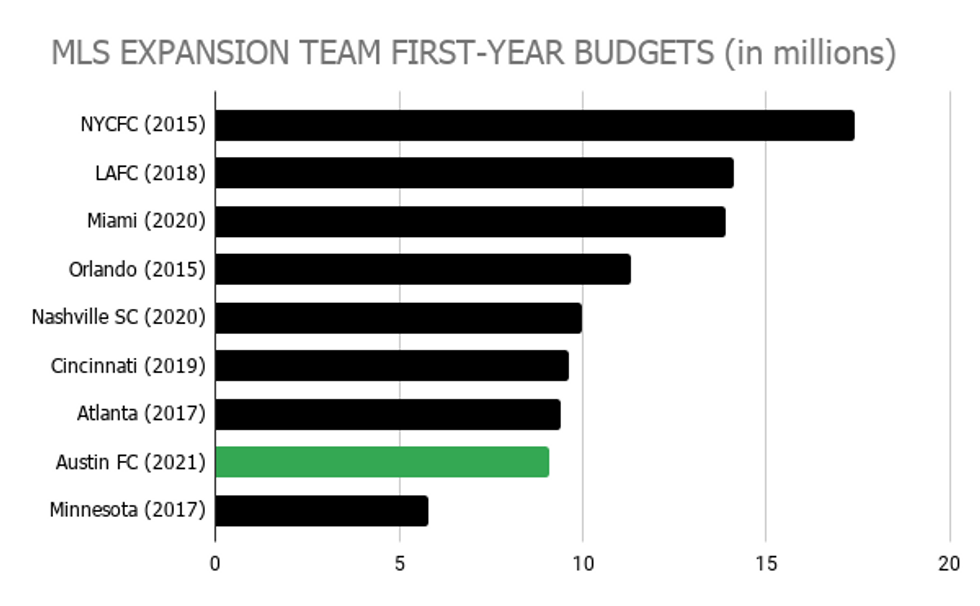 Austin FC has spent the second-least out of any first-year expansion team since 2015. (Claire Partain/Austonia)
Austin FC spent millions less than several breakout clubs, including one of the most successful expansion franchises ever, LAFC. The club spent less than most recent clubs Inter Miami and Nashville SC, both of which expanded in 2020, but spent nearly double that of Minnesota United, which spent just $5.8 million in 2017.
This is despite exponentially increasing salary averages in MLS in the past six years. The average base salary for non-Designated Players on the senior roster has more than doubled in that time frame, according to the MLSPA.
Austin FC spreads the wealth compared to other expansion clubs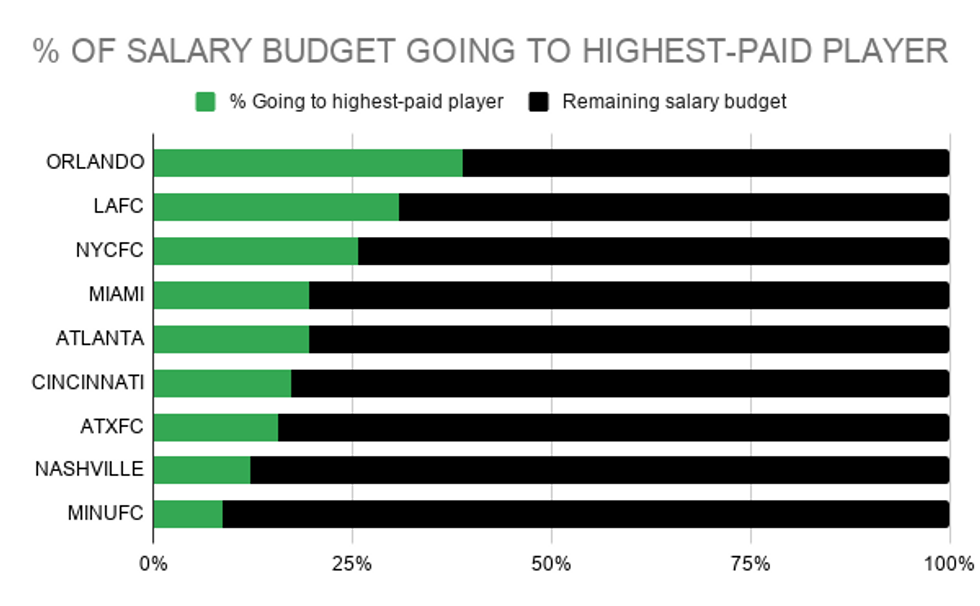 Austin FC spent less of their budget on their highest-paid player than most expansion teams did for their first year. (Claire Partain/Austonia)
Austin FC spent 18.6% percent of its salary on their highest-paid player, Cecilio Dominguez. That's a smaller percentage than six of the eight expansion teams since 2015.
Expansion clubs have a choice when they join the league: build up a roster of mid-range names and homegrown players or bank on a big-name star to build the team's reputation. For instance, Orlando City paid only one player over a million in their inaugural season, Kaka, and they spent a whopping $7 million, more than any other team on the list.
LAFC's successful 2018 campaign was headlined by DP Carlos Vela, who joined the club for a pretty penny ($6.3 million) and built a formidable identity behind him.
Nashville SC, who Austin FC is playing this weekend, was even more frugal than Austin in their first year and still beat their lavishly-spending expansion counterparts, Miami, in the 2020 playoffs. A recent article by The Tennessean recommends that Austin FC follow in the club's footsteps and build on a strong defense.
Austin FC is built not so much on star power but on a mix of young potential and veteran leadership. DP Tomas Pochettino isn't even the second-highest-paid player on the roster; instead, Captain Alex Ring is the second player behind Dominguez to have a $1 million-plus salary. Players that have proven to be key cogs in the Austin FC machine, including Daniel Pereira, Jon Gallagher and Jared Stroud, signed for less than $100,000 apiece. Meanwhile, longtime MLSers Matt Besler ($650,000) and Diego Fagundez ($400,000) balance out the list.
What could come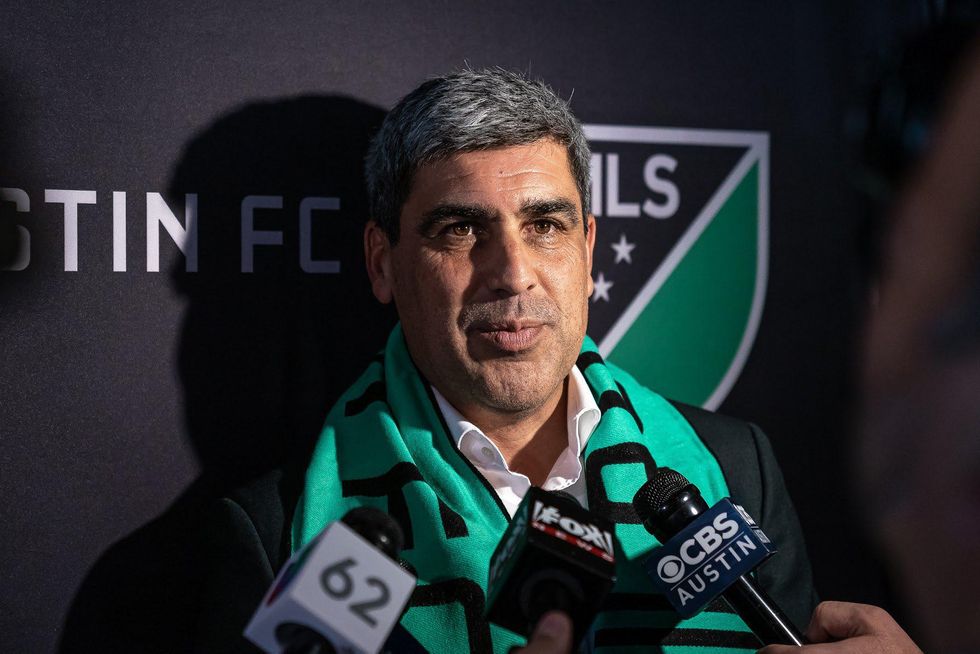 Austin FC Sporting Director Claudio Reyna has said that the club could pick up a third Designated Player in the summer's transfer window. (Austin Anthem/Twitter)
Austin FC clearly knew who to choose when finding players with potential rather than fame, but it could be time to switch gears.
The club is still without a definitive striker as Danny Hoesen and Gallagher attempt to solidify their place at the front of the pitch. Meanwhile, an injury-ridden defense could mean that the club would sign a rare defender as their next Designated Player.
Still, it's more likely that the club will look for a crowning jewel as they enter the summer transfer window, as Sporting Director Claudio Reyna has said. If the club doesn't find their groove again soon, that window will be more than welcome for the MLSs' newest team.
For a look at MLS club salaries from 2007-21, click here.
Texas voters are split on whether Gov. Greg Abbott should run for a third term and whether Matthew McConaughey should run at all. But Democrats are clear: they want to see Beto O'Rourke on the ballot.
These are the findings of a Quinnipiac University poll of registered voters released this week.
Abbott and McConaughey received the highest favorability ratings of the elected officials, candidates and potential candidates, according to the Quinnipiac poll.
Abbott: 49%
McConaughey: 42%
O'Rourke: 34%
Former Texas GOP Chair Allen West: 25%
Former Texas senator and Republican challenger Don Huffines: 8%
Overall, 48% say Abbott does not deserve to be reelected to a third term compared to 46% who say he does. "A Trump favorite in a state that is turning less red in recent election cycles, Abbott has a decent but in no way overwhelming grasp on reelection," Quinnipiac University Polling Analyst Tim Malloy said in a press release.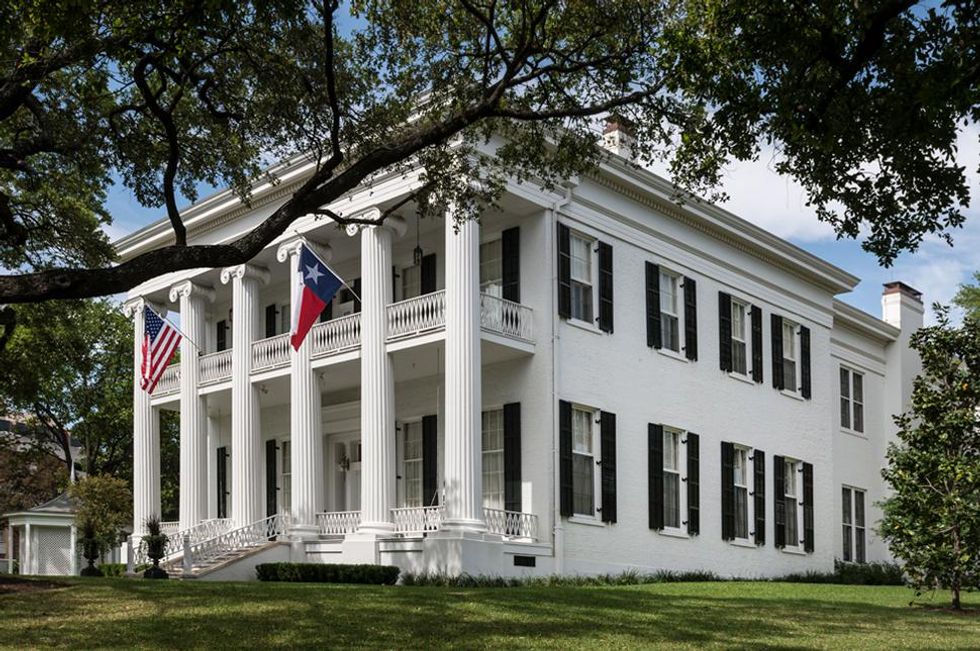 Abbott, McConaughey and Beto O'Rourke could vie for governor in 2022. (Office of the Texas Governor)
Voters are also divided on Matthew McConaughey, who is reportedly considering a gubernatorial run. Forty-one percent of voters say they would like to see him run, compared to 47% who say they wouldn't.

The poll found that Democrats and Independents favor the Oscar-winning Austinite, whose party affiliation is unclear. Forty-seven percent of Democrats would like to see him run, compared to 43% who wouldn't. Forty-four percent of Independents would, compared to 43% who wouldn't. Republicans, on the other hand, say 60%-29% they would not like to see him run.
Another possible candidate is former U.S. Representative and presidential hopeful Beto O'Rourke, who is also reportedly mulling a bid. Overall voters say 52%-41% they would not like to see him run for governor. But 77% of Democrats and 50% of Independents would, according to the poll.
"McConaughey and O'Rourke may still be on the fence, but their numbers suggest they have the attention of voters," Malloy said in the same release.
Austinites will soon be able to train like some of Hollywood's biggest stars as F45, a fitness franchise backed by major celebs, like Mark Wahlberg and David Beckham, is on its way to Austin.
F45 listed Austin as the location of its corporate headquarters in a June 21 federal filing—a big shift for the California company. The fitness franchise is preparing for its initial public offering, which will be as an Austin-based company.
F45 will be one of many California companies—Tesla, Oracle and Samsung—that have recently expanded in the Capital City. The company has several famous investors on its side—famed basketball player Earvin "Magic" Johnson and golfer Greg Norman in addition to Wahlberg and Beckham.
The fitness company is opening a 44,000-square-foot headquarters, located at Penn Field on 801 Barton Springs Road, with a lease running through 2029. F45 was one of the early adopters of Austin-based real estate-technology platform AnthemIQ, helping tenants find commercial real estate.
F45 focuses on one-on-one 45-minute workouts, which patrons watch on in-studio displays. With 2,247 franchise agreements spanning across 63 countries, F45 also has offices in Australia and England.
"We believe this flexibility will enable us to capitalize on our estimated long-term global opportunity of over 23,000 studios," the company said in its filing.
The greater Austin area already has 11 F45 locations, which take up 1,600 square feet of space each.
From Your Site Articles
Related Articles Around the Web