Get connected with our daily update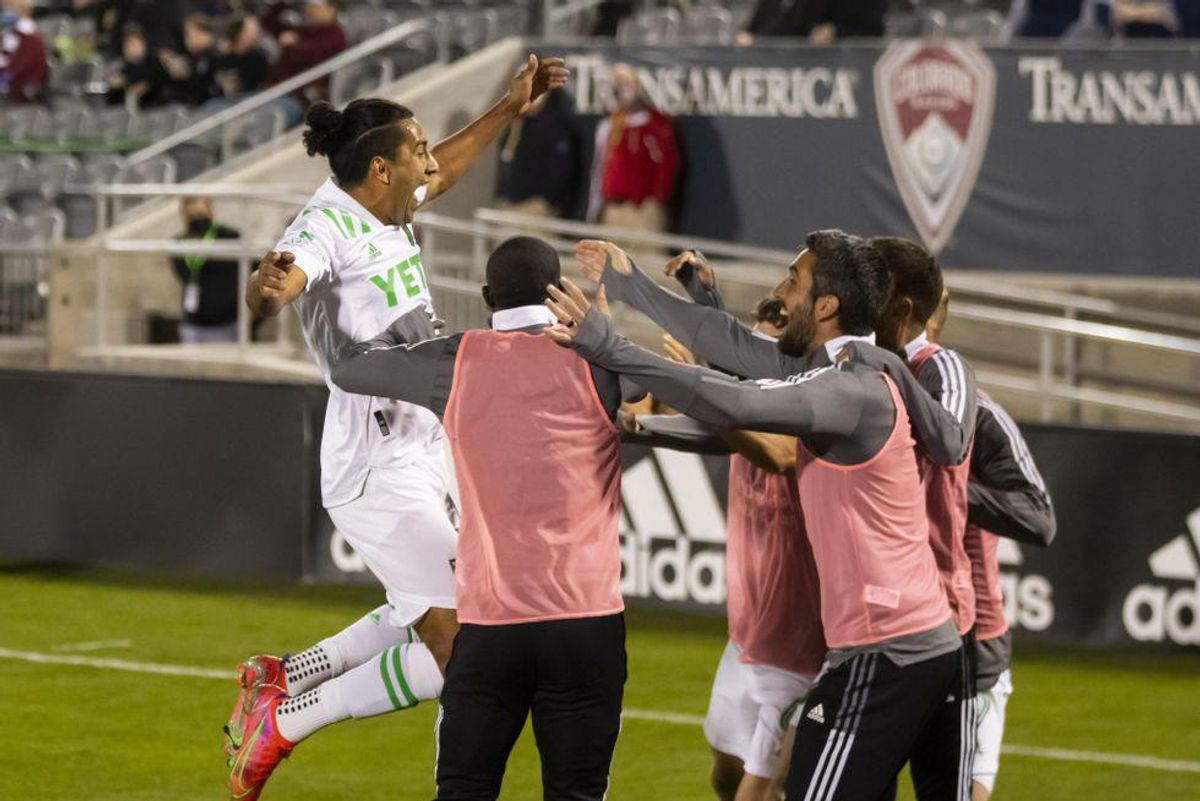 Looks like you might want to get budgeting advice from Austin FC.
For its first season, Austin FC spent $9.1 million, the second least in the league,, according to the MLSPA's 2021 salary release.
---
That's less than the salary budgets of almost every expansion team's first season in the last six years. Clubs like LAFC, who spent $14.1 million in 2018, and NYCFC, who used $17.4 million in 2015 to build their first lineup, dished out millions more than Austin FC for their inaugural seasons.
The club's use of salary money—or lack thereof—is impressive considering the team they've built, and it also could mean a new addition is on the way. Austin FC has a Designated Player slot left, a title that allows clubs to spend more on a star player, and rumors have swirled that the club will pick a new gem to head their offense in the summer transfer window.
Here's a breakdown of how Austin FC's salary spending stacks up to other first-year expansion teams:
Austin FC keeps a low budget for first year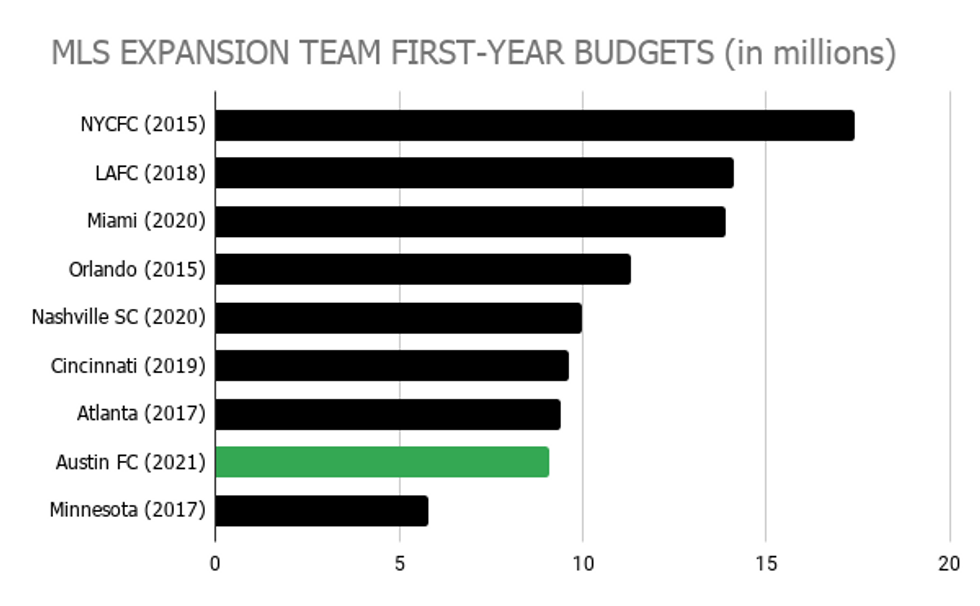 Austin FC has spent the second-least out of any first-year expansion team since 2015. (Claire Partain/Austonia)
Austin FC spent millions less than several breakout clubs, including one of the most successful expansion franchises ever, LAFC. The club spent less than most recent clubs Inter Miami and Nashville SC, both of which expanded in 2020, but spent nearly double that of Minnesota United, which spent just $5.8 million in 2017.
This is despite exponentially increasing salary averages in MLS in the past six years. The average base salary for non-Designated Players on the senior roster has more than doubled in that time frame, according to the MLSPA.
Austin FC spreads the wealth compared to other expansion clubs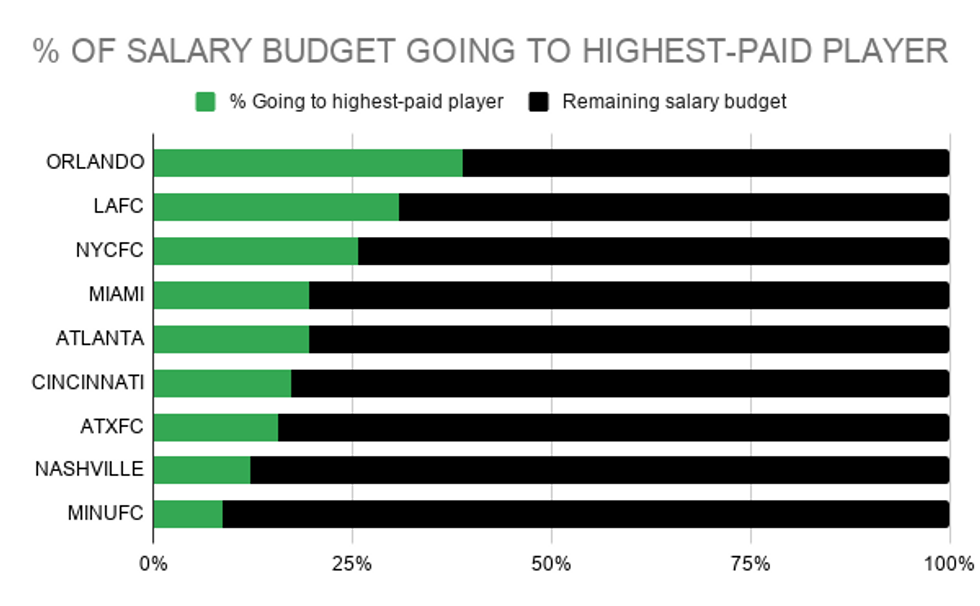 Austin FC spent less of their budget on their highest-paid player than most expansion teams did for their first year. (Claire Partain/Austonia)
Austin FC spent 18.6% percent of its salary on their highest-paid player, Cecilio Dominguez. That's a smaller percentage than six of the eight expansion teams since 2015.
Expansion clubs have a choice when they join the league: build up a roster of mid-range names and homegrown players or bank on a big-name star to build the team's reputation. For instance, Orlando City paid only one player over a million in their inaugural season, Kaka, and they spent a whopping $7 million, more than any other team on the list.
LAFC's successful 2018 campaign was headlined by DP Carlos Vela, who joined the club for a pretty penny ($6.3 million) and built a formidable identity behind him.
Nashville SC, who Austin FC is playing this weekend, was even more frugal than Austin in their first year and still beat their lavishly-spending expansion counterparts, Miami, in the 2020 playoffs. A recent article by The Tennessean recommends that Austin FC follow in the club's footsteps and build on a strong defense.
Austin FC is built not so much on star power but on a mix of young potential and veteran leadership. DP Tomas Pochettino isn't even the second-highest-paid player on the roster; instead, Captain Alex Ring is the second player behind Dominguez to have a $1 million-plus salary. Players that have proven to be key cogs in the Austin FC machine, including Daniel Pereira, Jon Gallagher and Jared Stroud, signed for less than $100,000 apiece. Meanwhile, longtime MLSers Matt Besler ($650,000) and Diego Fagundez ($400,000) balance out the list.
What could come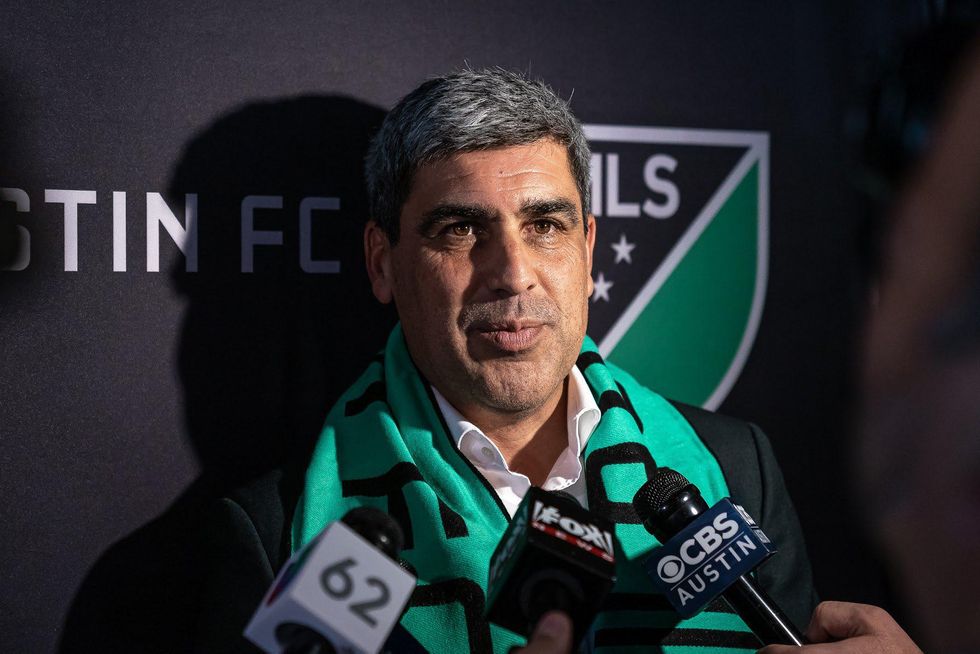 Austin FC Sporting Director Claudio Reyna has said that the club could pick up a third Designated Player in the summer's transfer window. (Austin Anthem/Twitter)
Austin FC clearly knew who to choose when finding players with potential rather than fame, but it could be time to switch gears.
The club is still without a definitive striker as Danny Hoesen and Gallagher attempt to solidify their place at the front of the pitch. Meanwhile, an injury-ridden defense could mean that the club would sign a rare defender as their next Designated Player.
Still, it's more likely that the club will look for a crowning jewel as they enter the summer transfer window, as Sporting Director Claudio Reyna has said. If the club doesn't find their groove again soon, that window will be more than welcome for the MLSs' newest team.
For a look at MLS club salaries from 2007-21, click here.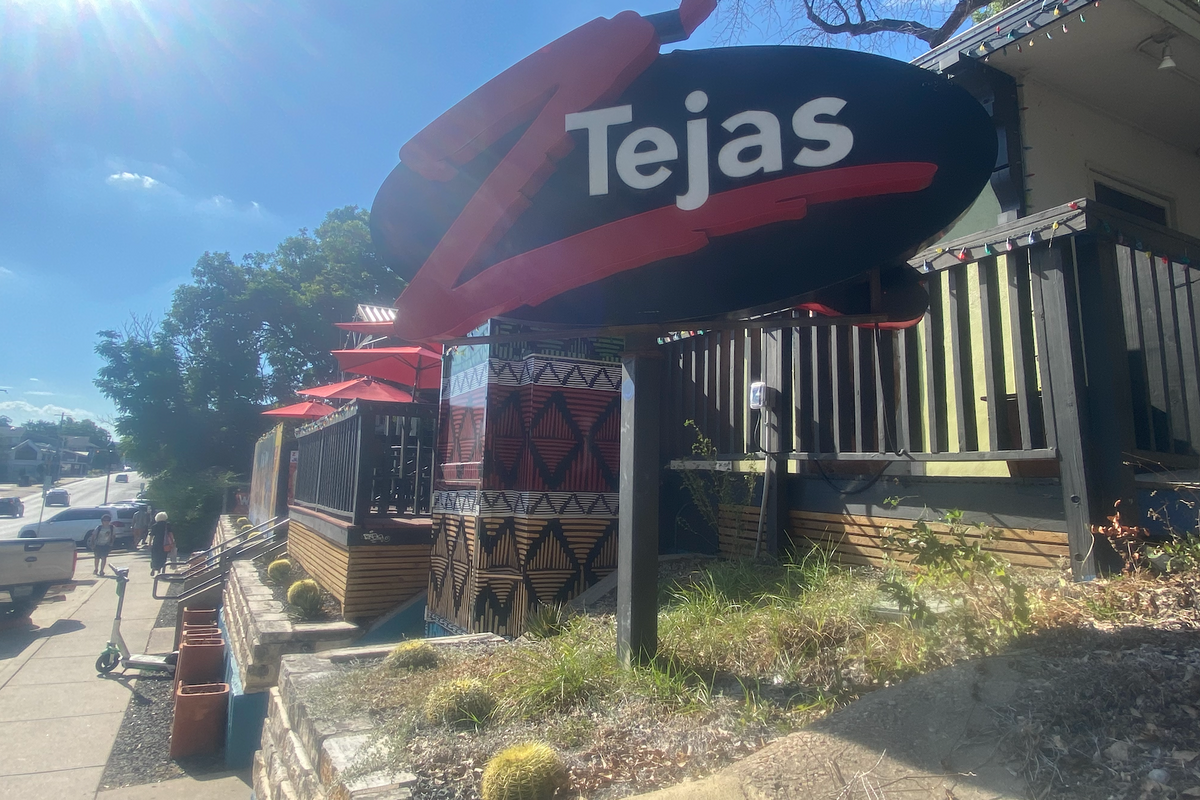 The original Z'Tejas location on West 6th Street is closing its doors after more than 30 years on the lot to make way for new development.
Z'Tejas owner Randy Cohen told Austonia the restaurant will be open at least through the end of 2022, possibly through March 2023.
Cohen said the owners—Larry McGuire of McGuire Moorman Lambert Hospitality—of the land have something new planned, though he's not exactly sure what. Additionally, Cohen said maintenance costs for the old building were becoming prohibitively expensive.
"I think the people who own the dirt will tear it all down and build condos or some other development," Cohen said. "I mean, it's a 60-year-old building, Z'Tejas has been here for 33 years and before that, it was something else. So it's just progress, that's all."
The restaurant isn't going away though—Cohen said Z'Tejas is already looking for a new spot in the downtown area to move into. Z'Tejas also has a location in Avery Ranch, another in the works for Kyle and two in Arizona.
"We have all our ducks in a row right now and the management team is all rowing in the right direction," Cohen said. "We're just excited, we're excited to build this iconic brand back."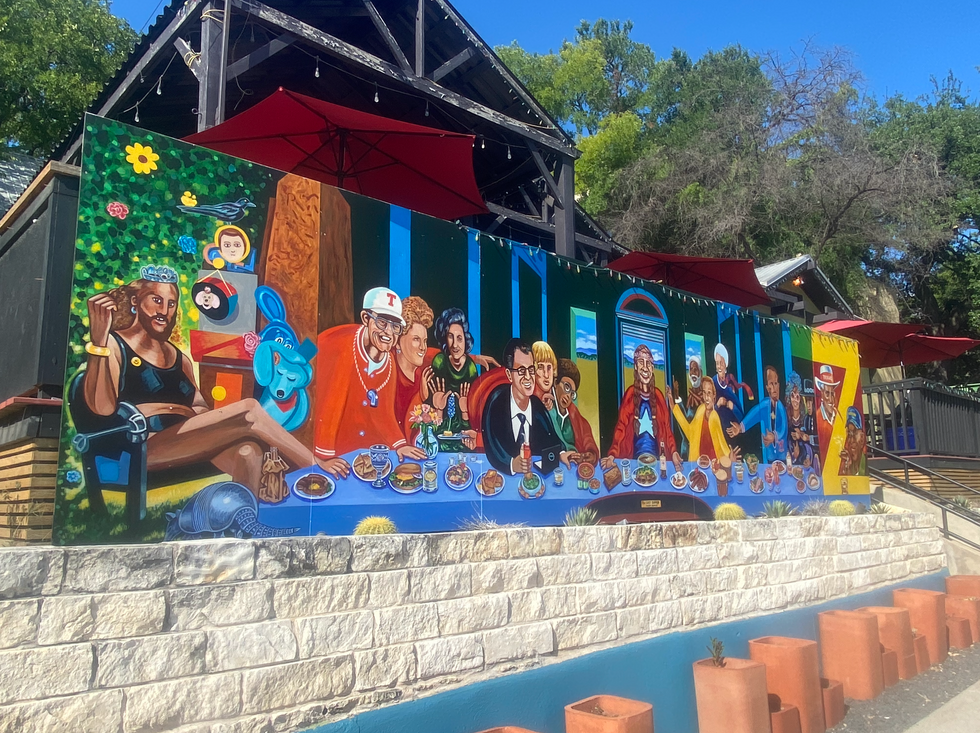 (Laura Figi/Austonia)
Once he finds a new place, Cohen plans to bring along its mural, "The Last Zupper," which features Willie Nelson, Matthew McConaughey and Barbara Jordan. Cohen also plans for the adjoining ghost kitchen, Woo Woo Burgers, to follow to the new downtown location.

"We're still booking events through the end of December," Cohen said. "Come 'Z' me at Z'Tejas, we'd love to see you before we're gone."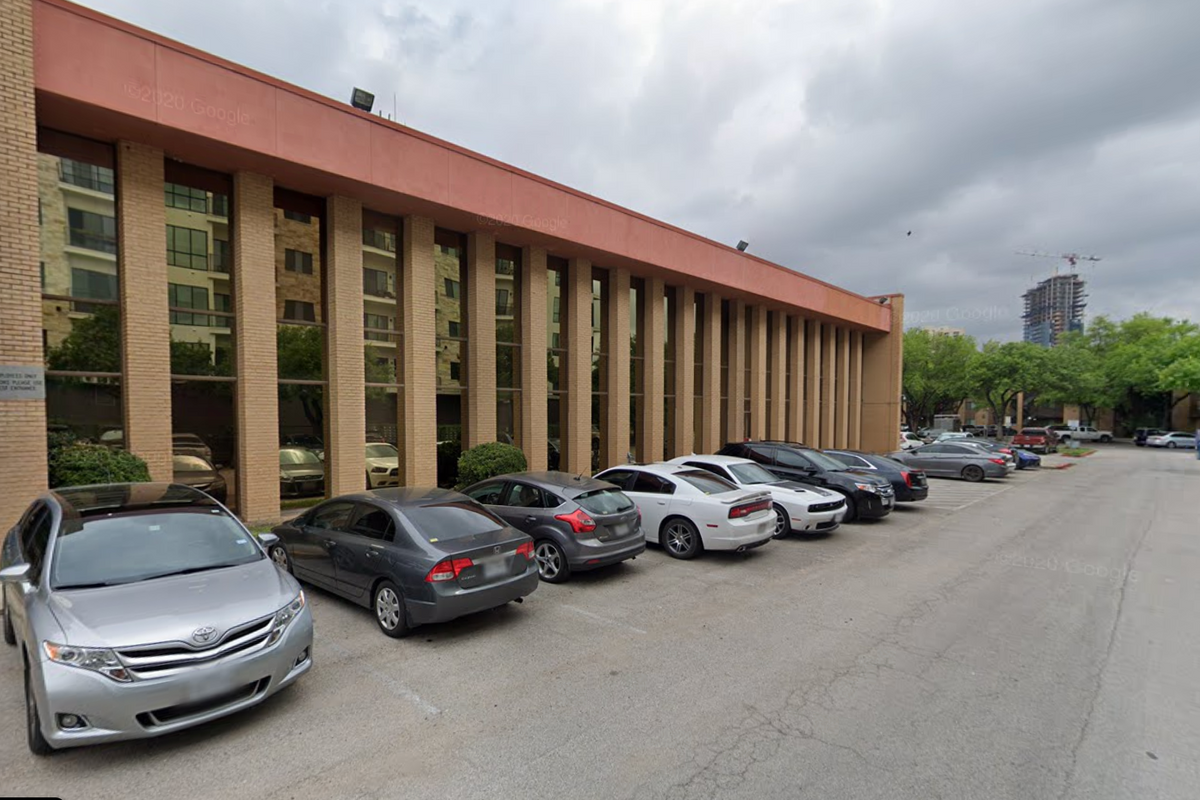 Two towers could be coming just south of the Austin American-Statesman's former headquarters in the South Central Waterfront district.
According to city filings, the proposed planned unit development agreement is set for 200 East Riverside Drive, an area Project Connect's Blue Line is slated to pass by someday.
Carrying this out involves removing the existing building, which is a state office complex and surface parking.
The new towers in place would reach just over 400 feet at their maximum and include office space and space for retail on the ground level. The mix of office and retail is a trend that's been cropping up in downtown sites like the Perennial and the Meta tower.
The proposal on a plot of about four acres aims to incorporate green infrastructure and create a lively environment for pedestrians. It'd also be adjacent to the 118-acres of the South Central Waterfront Initiative, which is aimed at enhancing connections to and along the waterfront over the next couple of decades.
The filing lists architects STG Design, a group involved with work on the sailboat-like Google tower.