Get connected with our daily update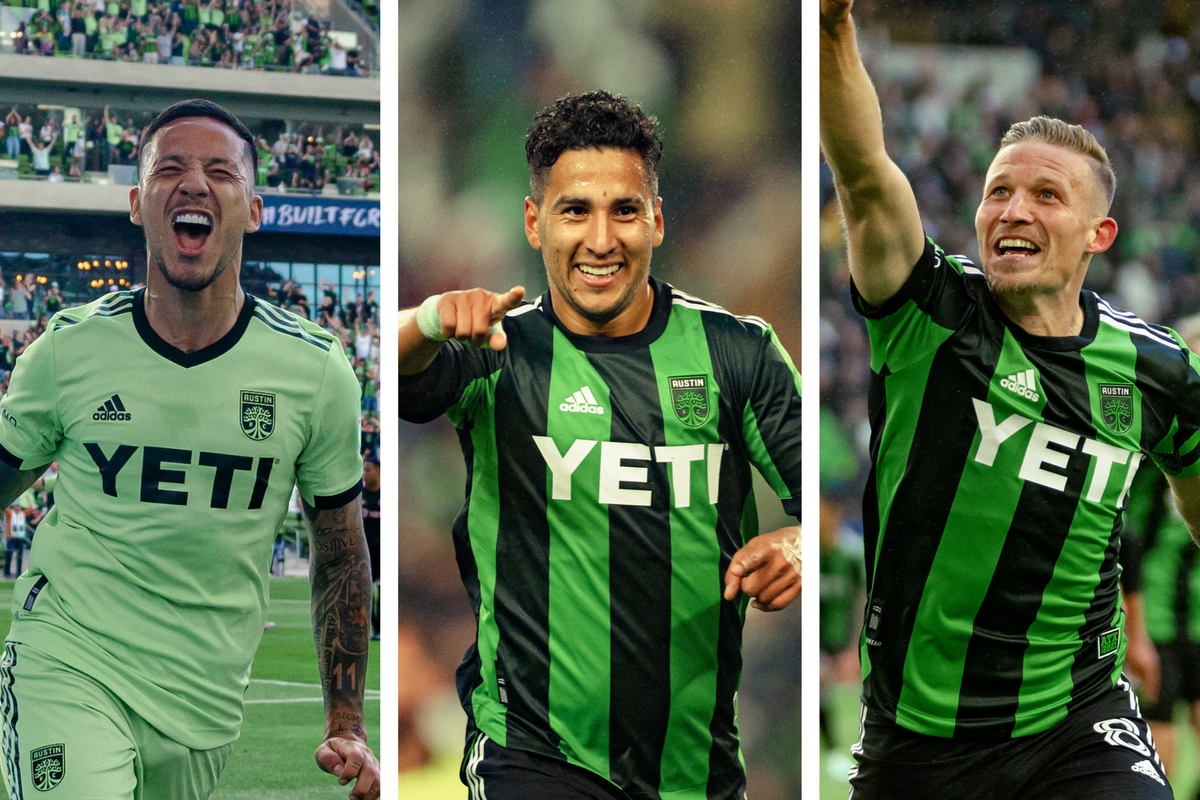 Austin FC forked over $13.8 million for its second-year salary budget—a 50% increase from last season, when the club spent the second-least in the league on its players, according to Major League Soccer Players' Association data.
---
That means three players within its Verde ranks are now bona fide millionaires, and they've got the drip and on-field skills to show it.
Here's a look at the players making a cool milly—or more—with Austin FC:
No. 1—Sebastian Driussi, $2.3 million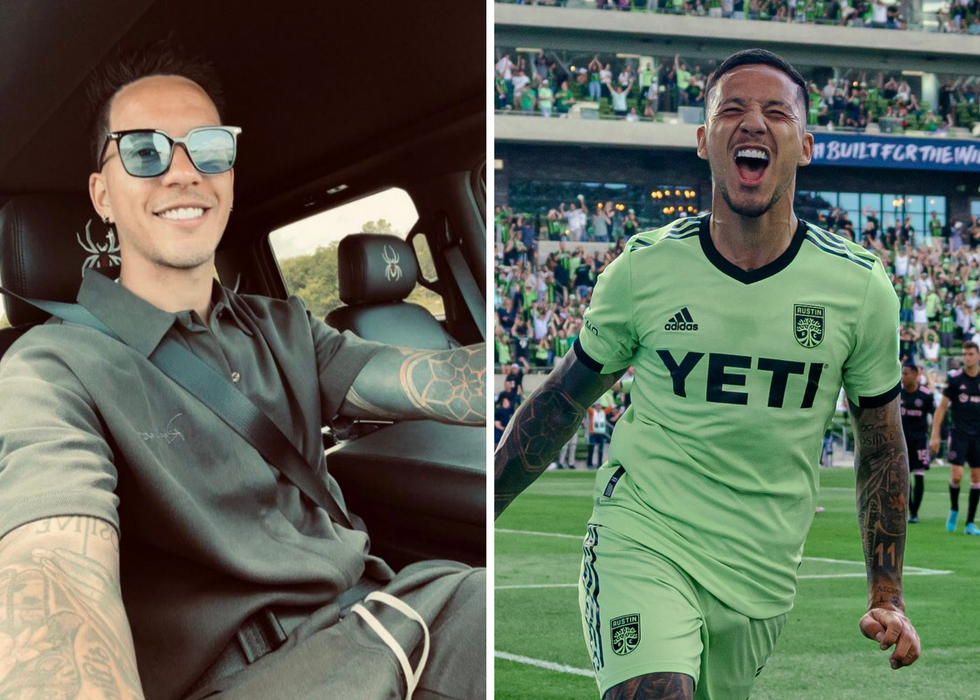 Argentinian forward Sebastian Driussi makes more than any other player on the Austin FC roster. (Sebastian Driussi/Instagram) (Austin FC/Twitter)
There's a reason why Sebastian Driussi can be seen whipping into practice in a Lamborghini or decked-out Chevy Black Widow: the Designated Player has made more than any other Austin FC athlete for two seasons in a row.
This year, that salary amounts to $2,332,000 in guaranteed compensation. That's a far cry from Chicago Fire's Sheridan Shaqiri, who will rake in over $8 million this year, and it's less than most club's top-billed player, but still ranks 22nd in the league.
And each dollar is well-earned. Driussi came to the program as a sort of outlier among MLS teams, many of whom have a habit of picking out aging European stars to take the helm of their team. The 26-year-old Argentine was plucked from Russia after four hot-and-cold seasons in the Russian Premier League, coming to the MLS for the first time in the Verde and Black roster.
In a few months, Driussi merged with his new team halfway through its first season and doubled its expected goals. Now, the forward is an MVP contender after spending a few weeks as the team's top goalscorer. He's put down seven goals and two assists for Austin FC and helped the club rise to third in the MLS West.
2. Cecilio Dominguez—$1.7 million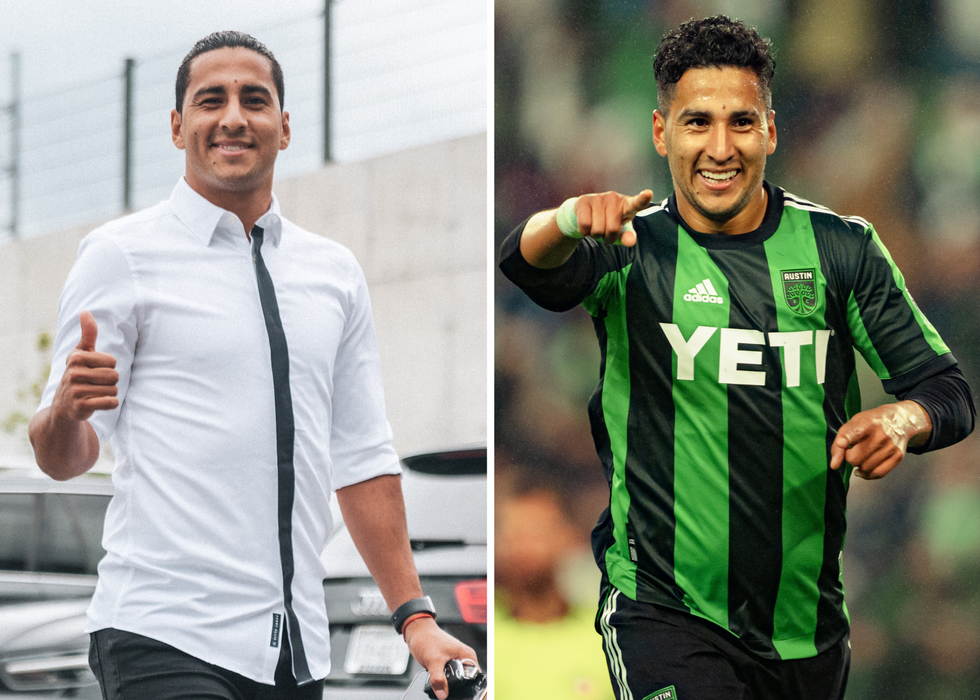 Cecilio Dominguez, Austin FC's original DP, has missed the pitch for six weeks due to possible "verbal and emotional abuse." (Austin FC/Twitter)
Behind Driussi, the next-richest Austin FC player is Cecilio Dominguez, the club's first DP who has spent six weeks away due to off-the-pitch controversy.
Dominguez was wrapped up in an MLS investigation after Austin police were called to his ex-partner's home in early April due to alleged "verbal and emotional abuse." The investigation has since been dropped, but the repercussions of the call linger as fans call for the forward to no longer return to the pitch.
If Austin FC adheres to those fans' wishes and gives up Dominguez in the summer transfer window, the club will free up $1,736,000, or the 35th-highest compensation in the league, in its salary budget.
3. Alex Ring—$1.6 million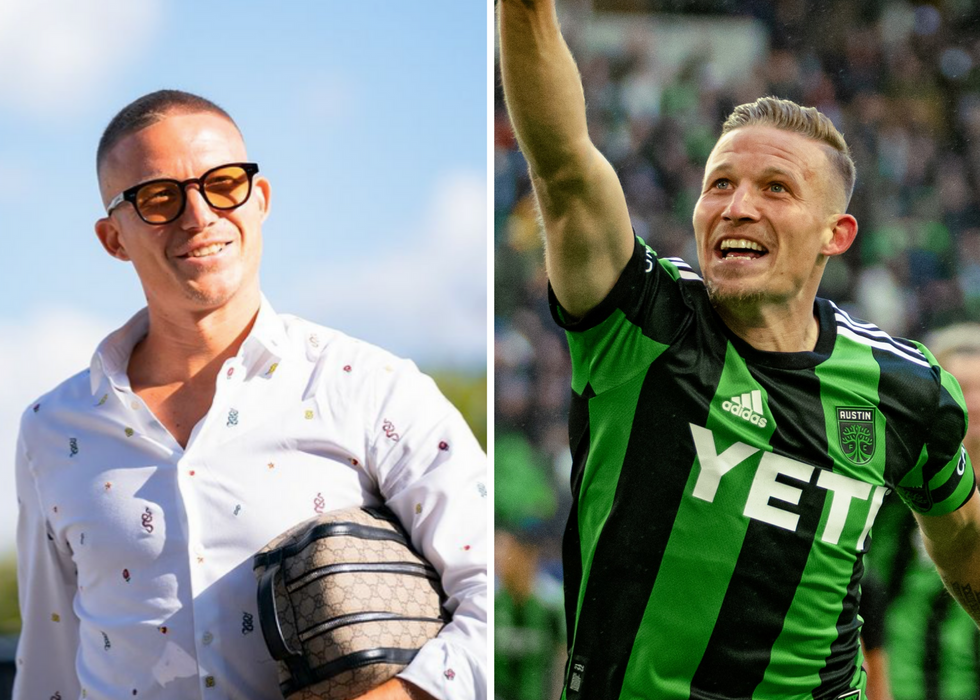 Austin FC's Captain Alex Ring mans the midfield for the club. (Austin FC/Twitter)
Coming in at a close third on Austin FC's budget books is Captain Alex Ring, who earned a raise and DP status this season after a year at the lead of head coach Josh Wolff's new system.
Ring now makes $1,640,000 in guaranteed compensation—a number that some have deemed too high after a few stumbles this season. Still, Ring has led the team to first in the MLS West just two years into its existence, and he's racked up two goals and three assists so far this season.
The low-ballers 
I like it, Picasso https://t.co/rfBlp3TyOOpic.twitter.com/9r5DPr7oLB

— てony Fuentes 🇲🇽 (@tfophotos) May 8, 2022
Fans may not know every player, but if they know any, it's almost always bound to be Diego Fagundez. The midfielder is all-in on Verde—from his hustle to his neon green hair—and leads the MLS in assists this season.
But the fan-favorite is far from breaking the bank, earning the ninth-most on the team with a guaranteed salary of $450,000.
Other possible lowballers include Maxi Urruti, who scored four goals in a four-game stretch and earns $661,000, and Brad Stuver, the star goalkeeper who earns just $185,000 in guaranteed salary.
What it means
My MLS Wages treemap compares payrolls across the league and salary disparities within each roster.
Thanks @MLSPA for the data.
Check out the interactive @tableaupublic to see previous seasons: https://t.co/F2CMPrmvM1pic.twitter.com/SOIGA5lpHE

— Steve Fenn (@StatHunting) May 17, 2022
This time around, the club's salary budget cashed in at 13th in the league. Although its budget is a far cry from LAFC, which consistently spends more than other clubs and topped the list at $21 million this season, the Verde and Black's big-buck spending seems to be paying off.
By May 2021, Austin FC was second to last in salary spending to kick off its first season. And although they nabbed DP Sebastian Driussi and striker Moussa Djitte in the summer transfer window, the club's frugality may have been felt on the field as they finished second to last on the pitch as well.
Interestingly enough, however, total salary budget turned out to have little to no influence on the MLS' final standings last season:
Now, the club has bolstered its front line with multimillion-dollar signings while adding Ruben Gabrielsen to the backline for a cool $950,000. But it hasn't let go of its original M.O.: unlike clubs like Atlanta and Inter Miami CF which tend to spend big on just a few star players, Austin FC continues to spread its salaries a bit more evenly, with its top salary accounting for 16.6% of its total budget.
What that strategy means for the club is unknown, and salary budgets could end up shaken up after the summer's transfer window. Still, it's hard not to notice the team's drastic improvement after making top-dollar signings.
And while the club's salary budget may not stay the same, the swagger Driussi, Dominguez and Ring get from those million-dollar salaries is forever.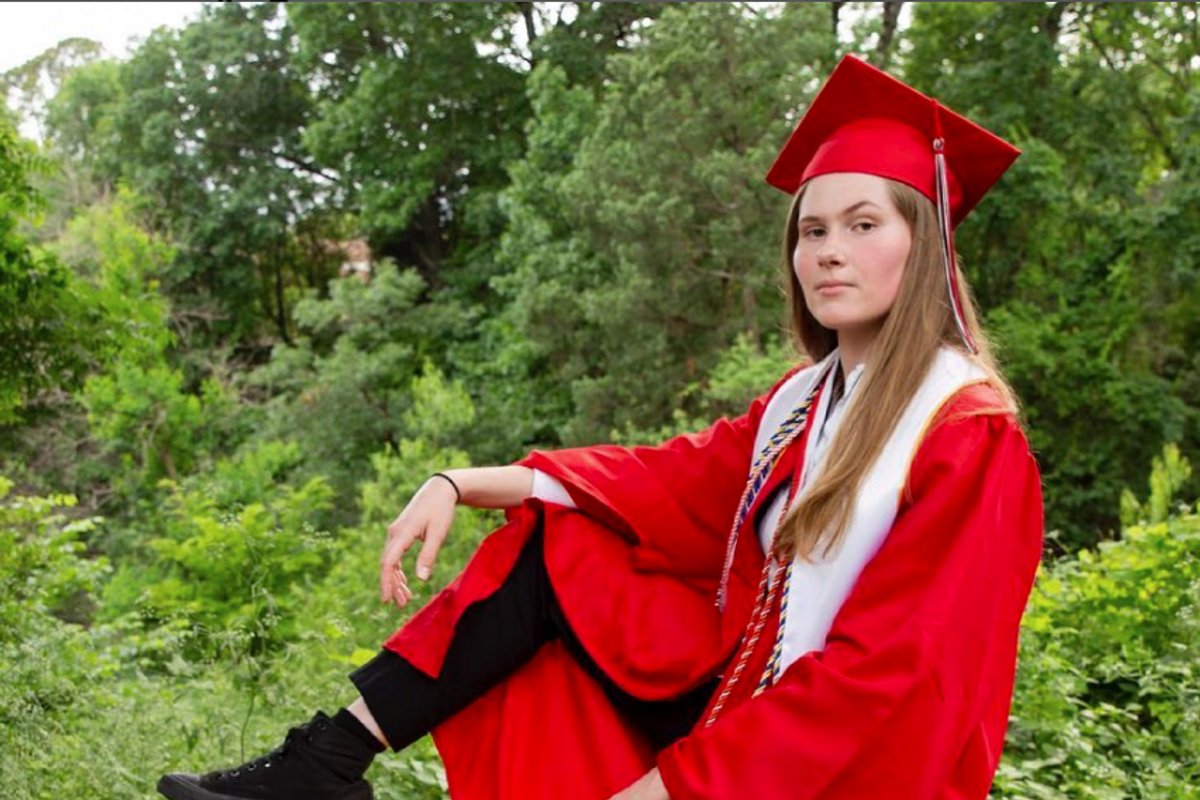 Paxton Smith's 2021 valedictory speech at Lake Highlands High School in Dallas wasn't the same speech she had previously shared with school administrators. She dropped the approved speech and made a case for women's reproductive rights after lawmakers passed the Texas "Heartbeat Bill."
Her advocacy made news on NPR, YouTubeTV and in The Guardian. Just over a year later, the "war on (women's) rights" she forewarned has come to a head as the U.S. Supreme Court voted Friday morning to overturn Roe v. Wade, ending constitutional protection for abortion access.
"It is up to the people to show up and show the courts and the politicians that we won't sit back and let this happen," Smith told Austonia Friday morning. "We will show up, we will fight back. Before, we were scared of them, now they should be scared of us."
Now a University of Texas sophomore and abortion rights activist, 19-year-old Smith said she wanted to give the same speech in the "the most public way possible" to reach "as many people as possible who don't agree that I deserve this right."
However, she says the response was "actually overwhelmingly positive" and supportive of her cause. According to a recent UT poll, 78% of Texas voters support abortion access in most cases.
The speech opened up further opportunities for activism: she advocated for reproductive rights at the International Forum on Human Rights in Geneva, interviewed with Variety magazine and spoke to tens of thousands at Austin's Bans Off Our Bodies protest at the Texas Capitol in May.
Smith also serves on the board of directors for the Women's Reproductive Rights Assistance Project, a national nonprofit organization that helps fund abortions or medication abortion—like Plan C pills—in all 50 states. Most recently, Smith has been attending protests in Washington, D.C. leading up to the ruling.
"This is land of the free. This is where you get to choose how you live your life," Smith said. "Overturning Roe v. Wade violates everything that we have come to believe about what it means to live in this country. I think a lot of people aren't willing to accept that this is a human right that is most likely just going to be gone for over half of the country within the next couple of weeks."
Bracing for the next steps, Smith gave some tips for supporters:
Find a protest to attend.

"I would say invite somebody to go to those protests with you, invite a couple of friends, invite people into the movement," Smith said.

Talk about the issue on social media—use the platform you have.

"Have these kinds of conversations where people can just talk about their fears and then find ways to go and advocate for yourself," Smith said.

Volunteer at a nonprofit near you.
"I feel like a lot of the reason things have gotten as bad as they have within the abortion rights world is that people are not making a scene, not protesting, not putting the effort into ensuring that the government doesn't take away this right," Smith said. "I want to emphasize that if you're not doing anything, don't expect the best scenario, expect the worst because that's the direction that we're going in."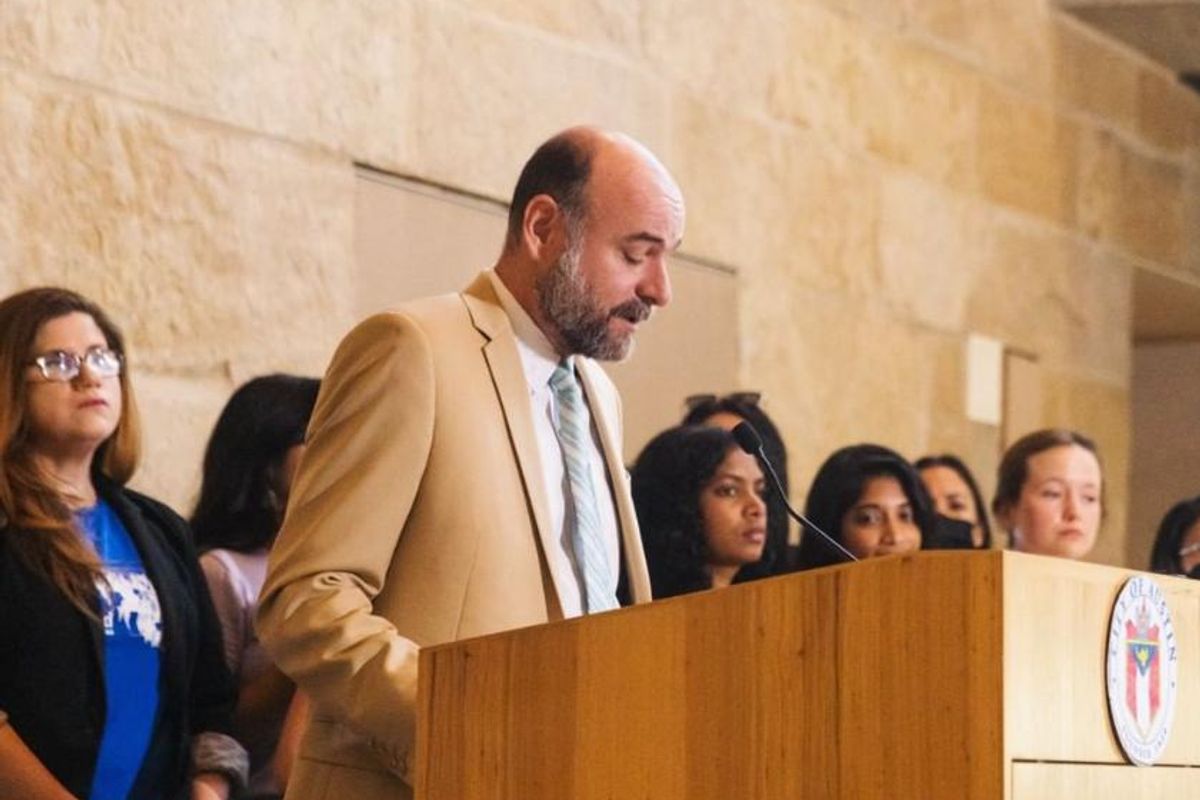 The U.S. Supreme Court overturned Roe v. Wade, the landmark ruling that guaranteed a constitutional right to an abortion, Friday morning. Moments later, Austin City Council set a special meeting for next month to pass a resolution aimed at decriminalizing abortion.
The GRACE Act, which stands for guarding the right to abortion care for everyone, is a twofold plan submitted by council member Jose "Chito" Vela. It recommends that city funds shouldn't be used to surveil, catalog, report or investigate abortions. It also recommends that police make investigating abortion their lowest priority.
Council Member Vanessa Fuentes, who co-sponsored the resolution along with council members Paige Ellis, Kathie Tovo and Mayor Steve Adler, said the importance of the GRACE Act cannot be overstated.
"By introducing this resolution during a special session, City Council is doubling down on fighting back for reproductive health," Fuentes said. "Items like the GRACE Act will promote essential healthcare while enabling individuals to exercise their bodily freedom."
The act takes an approach similar to when former council member Greg Casar moved to decriminalize the possession of small amounts of marijuana. Ultimately, state law doesn't allow city officials to order police chiefs to adopt specific enforcement policies so the resolution would be a request to Police Chief Joe Chacon. In May, Politico reported that Vela is having "ongoing conversations" with Chacon about the proposal.
Austonia contacted Attorney General Ken Paxton for comment on the GRACE Act but did not hear back by time of publication. On Friday, Paxton celebrated the overturning of Roe and announced an annual office holiday on June 24 in recognition of the high court's decision.
In a press release, Vela said the Texas state government has a history of overturning municipal protections of human rights. Thirty days after the Supreme Court's ruling, Texas will ban all abortions, with exceptions only to save the life of a pregnant patient or prevent "substantial impairment of major bodily function."
Still, Vela expressed hope for the GRACE Act's longevity. Council's special meeting on it is set for the week of July 18.
"We know this resolution is legally sound, and Austin is not alone in this fight," Vela said. "We are working with several other cities who are equally horrified by the prospect of an abortion ban and want to do everything they can to protect their residents."