Get connected with our daily update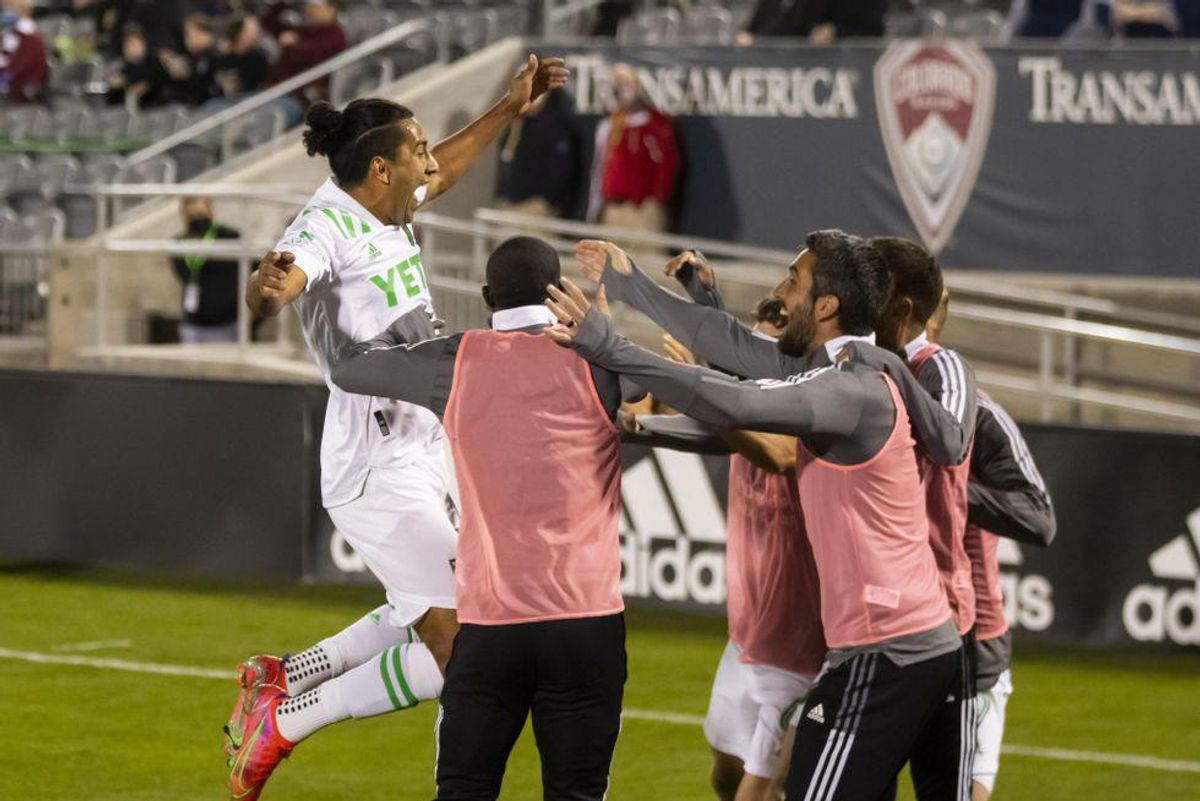 Looks like you might want to get budgeting advice from Austin FC.
For its first season, Austin FC spent $9.1 million, the second least in the league,, according to the MLSPA's 2021 salary release.
---
That's less than the salary budgets of almost every expansion team's first season in the last six years. Clubs like LAFC, who spent $14.1 million in 2018, and NYCFC, who used $17.4 million in 2015 to build their first lineup, dished out millions more than Austin FC for their inaugural seasons.
The club's use of salary money—or lack thereof—is impressive considering the team they've built, and it also could mean a new addition is on the way. Austin FC has a Designated Player slot left, a title that allows clubs to spend more on a star player, and rumors have swirled that the club will pick a new gem to head their offense in the summer transfer window.
Here's a breakdown of how Austin FC's salary spending stacks up to other first-year expansion teams:
Austin FC keeps a low budget for first year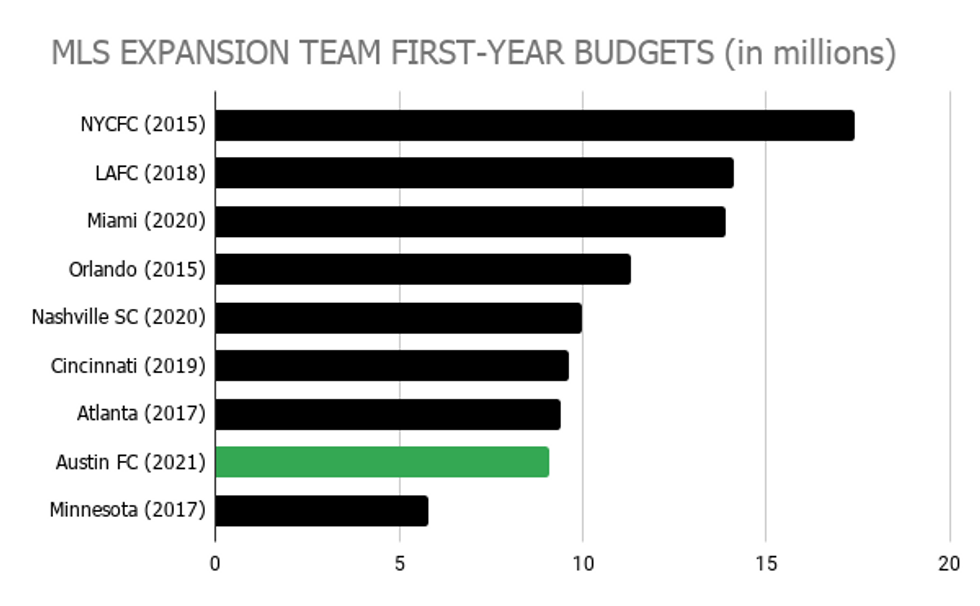 Austin FC has spent the second-least out of any first-year expansion team since 2015. (Claire Partain/Austonia)
Austin FC spent millions less than several breakout clubs, including one of the most successful expansion franchises ever, LAFC. The club spent less than most recent clubs Inter Miami and Nashville SC, both of which expanded in 2020, but spent nearly double that of Minnesota United, which spent just $5.8 million in 2017.
This is despite exponentially increasing salary averages in MLS in the past six years. The average base salary for non-Designated Players on the senior roster has more than doubled in that time frame, according to the MLSPA.
Austin FC spreads the wealth compared to other expansion clubs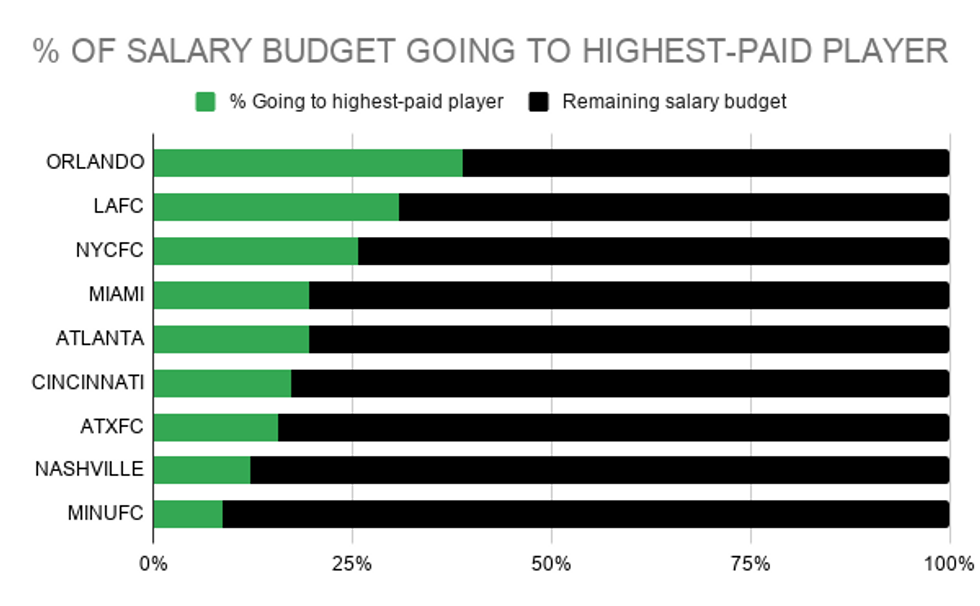 Austin FC spent less of their budget on their highest-paid player than most expansion teams did for their first year. (Claire Partain/Austonia)
Austin FC spent 18.6% percent of its salary on their highest-paid player, Cecilio Dominguez. That's a smaller percentage than six of the eight expansion teams since 2015.
Expansion clubs have a choice when they join the league: build up a roster of mid-range names and homegrown players or bank on a big-name star to build the team's reputation. For instance, Orlando City paid only one player over a million in their inaugural season, Kaka, and they spent a whopping $7 million, more than any other team on the list.
LAFC's successful 2018 campaign was headlined by DP Carlos Vela, who joined the club for a pretty penny ($6.3 million) and built a formidable identity behind him.
Nashville SC, who Austin FC is playing this weekend, was even more frugal than Austin in their first year and still beat their lavishly-spending expansion counterparts, Miami, in the 2020 playoffs. A recent article by The Tennessean recommends that Austin FC follow in the club's footsteps and build on a strong defense.
Austin FC is built not so much on star power but on a mix of young potential and veteran leadership. DP Tomas Pochettino isn't even the second-highest-paid player on the roster; instead, Captain Alex Ring is the second player behind Dominguez to have a $1 million-plus salary. Players that have proven to be key cogs in the Austin FC machine, including Daniel Pereira, Jon Gallagher and Jared Stroud, signed for less than $100,000 apiece. Meanwhile, longtime MLSers Matt Besler ($650,000) and Diego Fagundez ($400,000) balance out the list.
What could come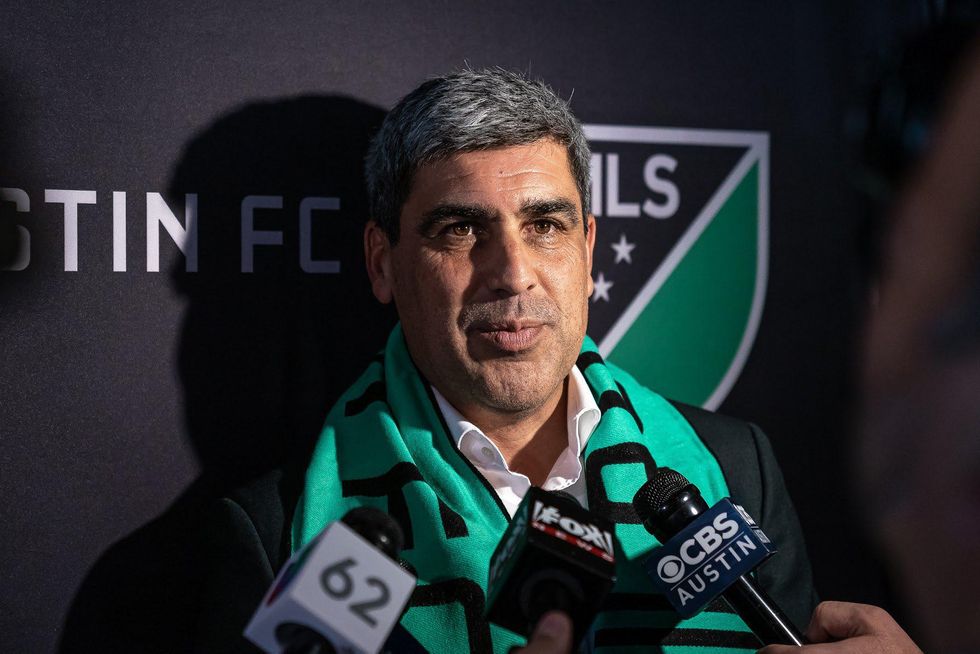 Austin FC Sporting Director Claudio Reyna has said that the club could pick up a third Designated Player in the summer's transfer window. (Austin Anthem/Twitter)
Austin FC clearly knew who to choose when finding players with potential rather than fame, but it could be time to switch gears.
The club is still without a definitive striker as Danny Hoesen and Gallagher attempt to solidify their place at the front of the pitch. Meanwhile, an injury-ridden defense could mean that the club would sign a rare defender as their next Designated Player.
Still, it's more likely that the club will look for a crowning jewel as they enter the summer transfer window, as Sporting Director Claudio Reyna has said. If the club doesn't find their groove again soon, that window will be more than welcome for the MLSs' newest team.
For a look at MLS club salaries from 2007-21, click here.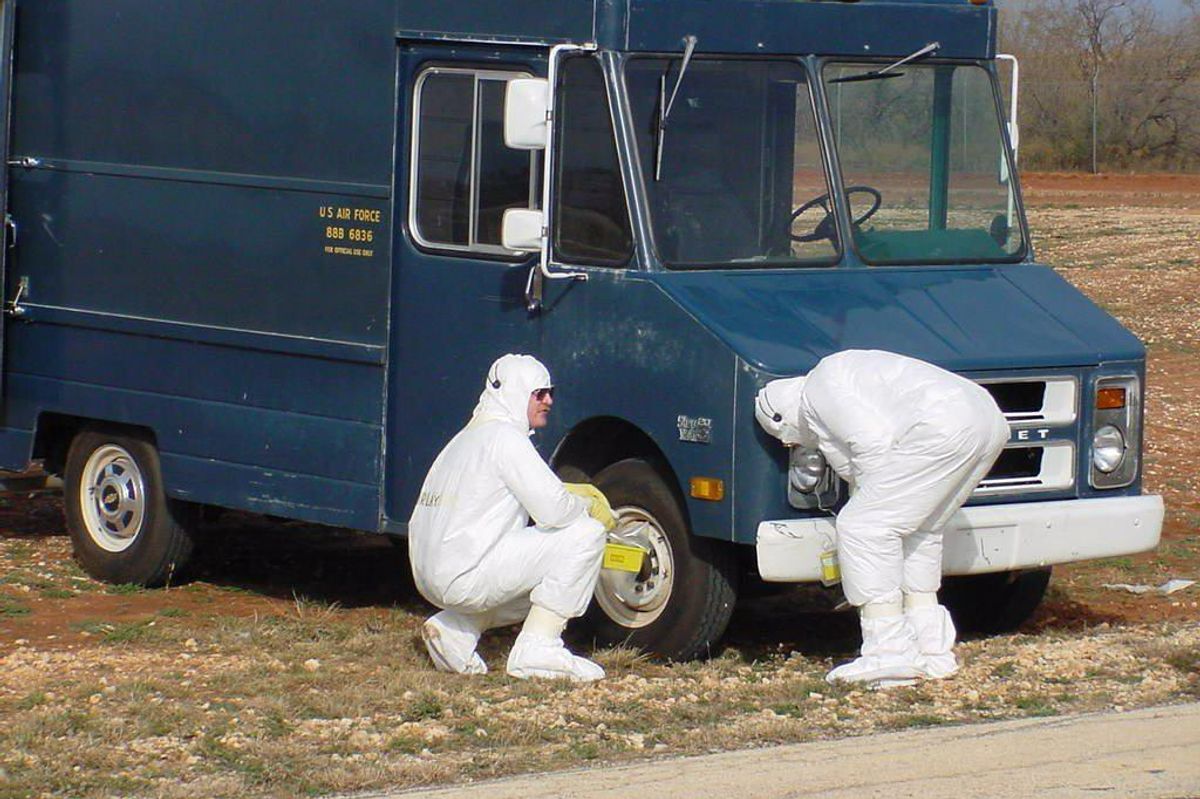 Hazmat suits, low-flying aircraft and more will be seen this week as Austin hosts an exercise to prepare for radiological incident.
The project, called Cobalt Magnet 22, involves more than 30 local, state and federal agencies planning for 18 months to be prepared in the event of radiological threats. It will start Monday and last through May 20.
What to expect: Field teams in protective clothing using radiological monitoring and detection equipment, low-flying aircraft conducting data-gathering overflights, and groups of first responders and others staged at various locations.
The exercise is part of a regular program of training, exercises and planning.
"Th City of Austin is pleased to welcome NNSA and the numerous local, state and federal agencies participating in Cobalt Magnet", said Juan Ortiz, Director of Austin's Homeland Security and Emergency Management Office. "Our goal in this exercise is to test our procedures and make improvements to ensure we're keeping the Austin/Travis County community protected."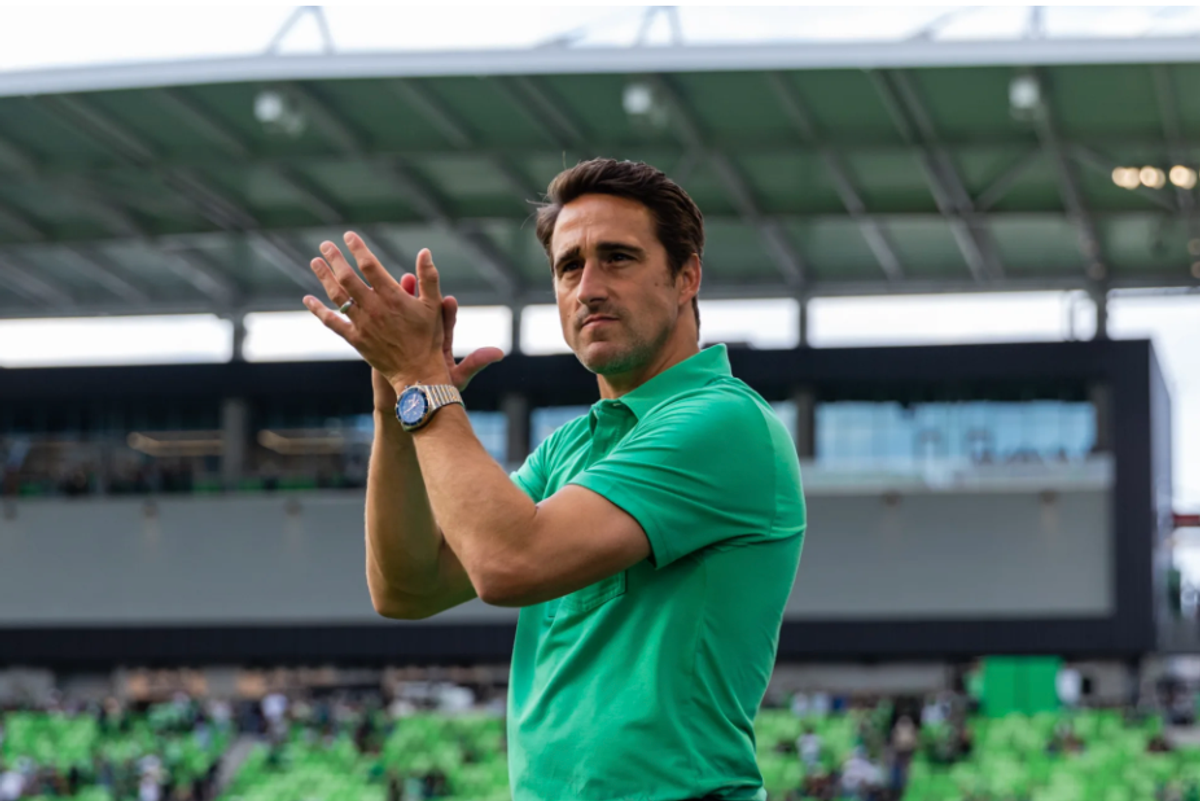 Austin FC head coach Josh Wolff is here to stay as the Club announced he signed a three-year contract extension.
Wolff, who was previously an assistant coach for the U.S. Men's National Team, will coach Austin FC through the end of 2025 under the new contract.
Wolff has been the Austin FC head coach since November 2019. In the team's first year, some hoped to oust Wolff as the team was at the bottom of the Western Conference. But this year, the team is at the top, ranking No. 3.
"This is still a young, growing Club but seeing our vision for Austin FC come to life on and off the field has been one of the great honors of my career. My staff and I will keep working every day to represent the city, and to develop our team both competitively and as human beings. The best is yet to come," Wolff said.