Get connected with our daily update
Looks like you might want to get budgeting advice from Austin FC.
For its first season, Austin FC spent $9.1 million, the second least in the league,, according to the MLSPA's 2021 salary release.
---
That's less than the salary budgets of almost every expansion team's first season in the last six years. Clubs like LAFC, who spent $14.1 million in 2018, and NYCFC, who used $17.4 million in 2015 to build their first lineup, dished out millions more than Austin FC for their inaugural seasons.
The club's use of salary money—or lack thereof—is impressive considering the team they've built, and it also could mean a new addition is on the way. Austin FC has a Designated Player slot left, a title that allows clubs to spend more on a star player, and rumors have swirled that the club will pick a new gem to head their offense in the summer transfer window.
Here's a breakdown of how Austin FC's salary spending stacks up to other first-year expansion teams:
Austin FC keeps a low budget for first year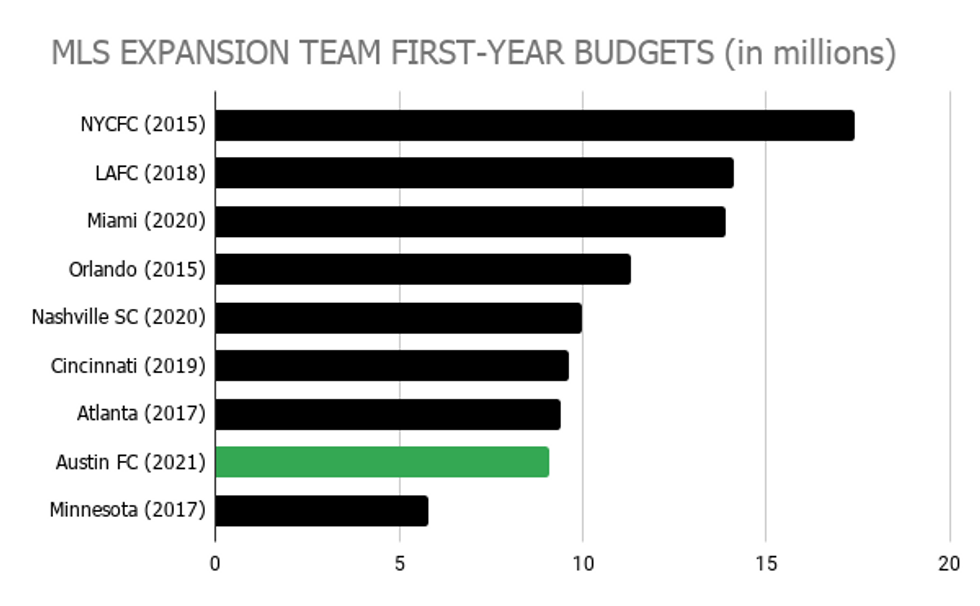 Austin FC has spent the second-least out of any first-year expansion team since 2015. (Claire Partain/Austonia)
Austin FC spent millions less than several breakout clubs, including one of the most successful expansion franchises ever, LAFC. The club spent less than most recent clubs Inter Miami and Nashville SC, both of which expanded in 2020, but spent nearly double that of Minnesota United, which spent just $5.8 million in 2017.
This is despite exponentially increasing salary averages in MLS in the past six years. The average base salary for non-Designated Players on the senior roster has more than doubled in that time frame, according to the MLSPA.
Austin FC spreads the wealth compared to other expansion clubs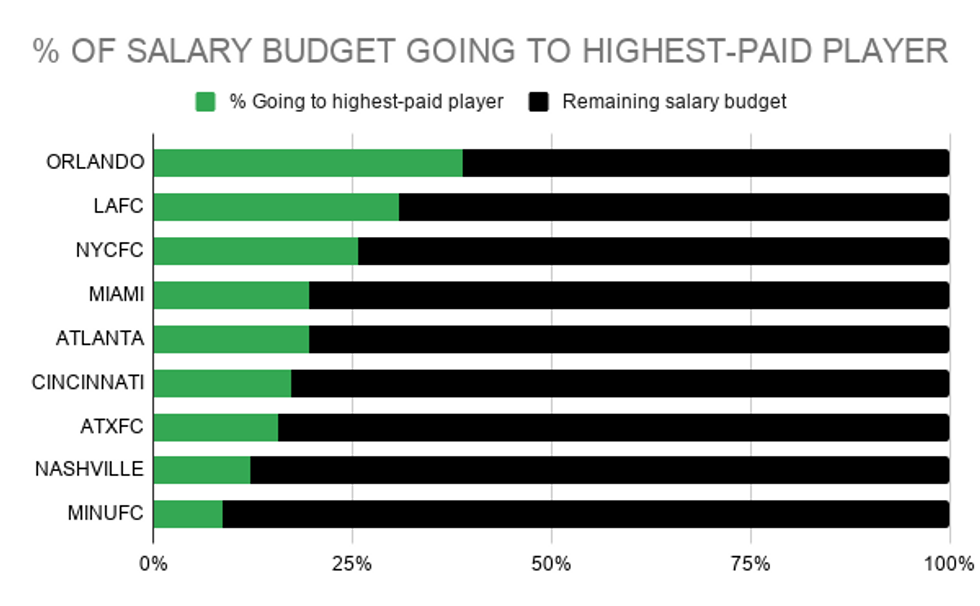 Austin FC spent less of their budget on their highest-paid player than most expansion teams did for their first year. (Claire Partain/Austonia)
Austin FC spent 18.6% percent of its salary on their highest-paid player, Cecilio Dominguez. That's a smaller percentage than six of the eight expansion teams since 2015.
Expansion clubs have a choice when they join the league: build up a roster of mid-range names and homegrown players or bank on a big-name star to build the team's reputation. For instance, Orlando City paid only one player over a million in their inaugural season, Kaka, and they spent a whopping $7 million, more than any other team on the list.
LAFC's successful 2018 campaign was headlined by DP Carlos Vela, who joined the club for a pretty penny ($6.3 million) and built a formidable identity behind him.
Nashville SC, who Austin FC is playing this weekend, was even more frugal than Austin in their first year and still beat their lavishly-spending expansion counterparts, Miami, in the 2020 playoffs. A recent article by The Tennessean recommends that Austin FC follow in the club's footsteps and build on a strong defense.
Austin FC is built not so much on star power but on a mix of young potential and veteran leadership. DP Tomas Pochettino isn't even the second-highest-paid player on the roster; instead, Captain Alex Ring is the second player behind Dominguez to have a $1 million-plus salary. Players that have proven to be key cogs in the Austin FC machine, including Daniel Pereira, Jon Gallagher and Jared Stroud, signed for less than $100,000 apiece. Meanwhile, longtime MLSers Matt Besler ($650,000) and Diego Fagundez ($400,000) balance out the list.
What could come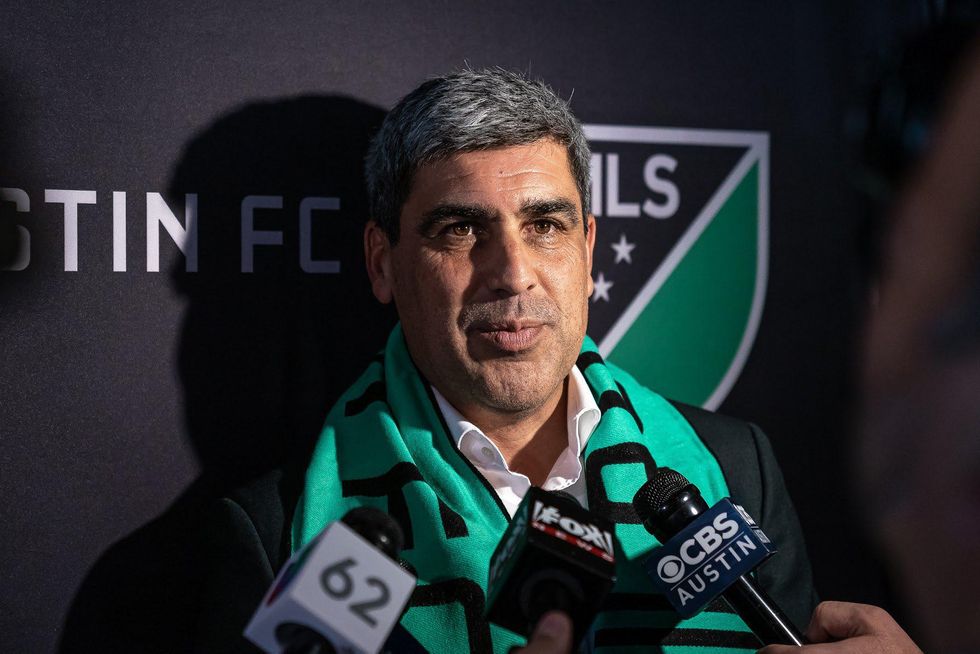 Austin FC Sporting Director Claudio Reyna has said that the club could pick up a third Designated Player in the summer's transfer window. (Austin Anthem/Twitter)
Austin FC clearly knew who to choose when finding players with potential rather than fame, but it could be time to switch gears.
The club is still without a definitive striker as Danny Hoesen and Gallagher attempt to solidify their place at the front of the pitch. Meanwhile, an injury-ridden defense could mean that the club would sign a rare defender as their next Designated Player.
Still, it's more likely that the club will look for a crowning jewel as they enter the summer transfer window, as Sporting Director Claudio Reyna has said. If the club doesn't find their groove again soon, that window will be more than welcome for the MLSs' newest team.
For a look at MLS club salaries from 2007-21, click here.
After months of speculation, a new report says political personality Beto O'Rourke is mulling a run for Texas governor that he will announce later this year.
Sources tell Axios the former congressman is preparing his campaign for the 2022 election, where he will likely vie for the position against incumbent Gov. Greg Abbott. The only other candidate that has announced he will take on Abbott for governor is former Texas GOP Chairman Allen West—no Democrats have announced they are running as of yet.
"No decision has been made," Axios reports David Wysong, O'Rourke's former House chief of staff and a longtime adviser, said. "He has been making and receiving calls with people from all over the state."
A new poll from The Dallas Morning News and University of Texas at Tyler shows O'Rourke is narrowing the gap between himself and Abbott's prospects for governor. In the poll, 37% said they'd vote for O'Rourke over Abbott, while 42% said they'd vote for Abbott.
Abbott has been in the hot seat due to his handling of COVID-19 and the signing of landmark legislation into law, including new abortion and voting rights laws; 54% of poll respondents voted they think the state is headed in the "wrong direction." Still, Texas hasn't had a Democrat as governor since the 90s.
O'Rourke's people-focused approach to the 2018 Senator race, which he lost to Sen. Ted Cruz, gave him a widespread following and many hoped he'd throw his hat into the ring since he said he was considering it earlier this year.
"We hope that he's going to run," Gilberto Hinojosa, the state chair of the Democratic Party, told Axios. "We think he'll be our strongest candidate. We think he can beat Abbott because he's vulnerable."
Austin rapper Jordi Esparza may not have won the 2021 Red Bull Batalla, the world's largest Spanish freestyle rap competition, but for a spirited two rounds, the 22-year old Mexican native looked like he had every right to.
On Saturday evening in Los Angeles, the event itself looked like Cobra Kai meets Star Search with graphics adding a very Batman Beyond aesthetic. Over a dozen rappers hoping to represent the U.S. in the international round of the competition took to the stage with in-your-face jabs at accents, sexual orientation and odors, among other things.
This was Esparza's second rodeo; he had placed third at the 2020 National Finals, automatically securing him a spot this year.
However, things were different this year. He was not nervous about the contest. Unlike in 2020, when he made his Red Bull Batalla debut, the anxiety of the event led him to "feeling so bad."
Affecting a casual calm, the locally-based landscaper said he just felt "so relaxed, so happy" and primarily wanted to "enjoy everything."
Choosing his first-round opponent, Esparza, whose stage name is Jordi, elected to go against LA-based Boss.
Esparza freestyled an attack on his opponent's weight and cholo style of dress.
Boss—bracketing his Latin freestyle with English appeals to the crowd—mocked Jordi's lack of education, made fun of how clean Jordi's shoes looked and suggested that Jordi just came back from a Footlocker.
That first round went to Jordi.
But his next opponent Eckonn would prove to be his undoing.
Eckonn compared Jordi to Hannah Montana, while Jordi soulfully explained that he had learned from the best.
Esparza's verbal dexterity is matched by a rattling rhythm and a game face that is as mawkish as it is mockish. The overall effect is that of an underdog with bite.
Eckonn beat Esparza in that round with the overall championship going to Palm Beach-based rapper Reverse.
However, Esparza was just happy to be there. He recently told Austonia going to the finals again was a dream come true—a pinnacle that he said he won't know how to top.
With his nimble jabs and sneaky prowess, honed from pop culture and the swagger of a young working man hungry to be more, Jordi Esparza is just getting started.