Austonia AM
100% Austin news, info, and entertainment, straight to your inbox at 6 a.m. every morning.
In five minutes, you're fully informed and ready to start another great day in our city.
Get connected with our daily update
(Austin FC/Twitter)
Austin FC will play its first-ever home game in a nationally-televised match on UniMás and TUDN, against the San Jose Earthquakes at 8 p.m. on Saturday, June 19, the team announced Wednesday.
Before they play in the capital city, the team will head to the West Coast to kick off their inaugural season against fellow Californian team, LAFC, at the Banc of California Stadium in Los Angeles at 4:30 p.m. on Saturday, April 17. Fans can book a flight or sit back and watch the nationally-broadcast match on FOX and FOX Deportes.
---
The team also announced that its first regionally-televised match will take place at 8 p.m. on Saturday, April 24 as the team travels to the Rockies to play the Colorado Rapids in Commerce City, Colorado.
All three teams are in the league's Western Conference. The LAFC were runners-up in the CONCACAF Champions League in 2020 and won the MLS Supporters' Shield in 2019, while the Earthquakes are host to one of the longest-tenured and top strikers in the league, Chris Wondolowski. The Rapids were fifth in the Western Conference in 2020.
Austin FC Sporting Director Claudio Reyna said in a statement that he was ready to begin a "new chapter" as the city sees its first-ever professional team begin play.
"Our players and staff are excited to begin the journey to represent all of Austin, and today's initial release of dates allows us to begin making plans for the earliest portion of our regular season schedule while circling June 19 for our historic home opener at Q2 Stadium," Reyna said. "April 17 will represent a new chapter in Austin history, and preparations for our inaugural season are officially under way."
The announcement comes as Austin FC ramps up training ahead of their season opener. Official preseason training began on Monday at St. Edward's University and will end at their new home, the St. David's Performance Center, as the practice facility completes construction.
ATXFC will have two closed-door preseason scrimmages at St. Edward's before the season commences. The team will first face off against USL team OKC Energy on March 19 then and Louisville City FC on March 25. More scrimmages are expected in April and will be announced in the coming weeks.
It's all coming together for Austin's first ever professional team, but head coach Josh Wolff said that it is "just the beginning" for the club at the team's first-ever preseason press conference. Wolff said the team's roster is "near completion" and that they are currently focusing on offensive play and molding each player into one cohesive unit.
Twenty-one rostered players are currently training, while recent signees including Designated Player Tomas Pochettino and Slovenian defender Zan Kolmanic are set to come in soon. Pochettino is projected to begin playing next week, while Zan is finishing up with his current team before making his way to the Capitol.
As the team moves closer to their home opener, the Verde fan base continues to grow. Season tickets are currently sold out, while nearly 11,000 sit on Austin FC's season ticket waitlist. While fans wait for the club to make its way home, games will be streamed across Central Texas on the CW Austin, KXAN and KBVO, and Spanish-language options will be announced closer to the beginning of the season.
Austin FC will play 34 regular season matches, but no further details have been released.
The MLS has yet to announce its full schedule, and the team will announce capacity estimates for its first home match in May.
After Austin voters passed Proposition B, reinstating a ban on public camping, City Council directed staff to look into possible sanctioned campsites where homeless residents could live legally. Now two members are asking to shelve discussion on the controversial topic.
Staff presented dozens of possible sanctioned campsites across each fo the 10 council districts in late May, following the election. But members mostly pushed back on the proposed locations, citing cost, wildfire risk and lack of transparency as concerns.
With updated criteria, staff recommended two sites—one in District 1 and the other in District 8—for further review last week. After being briefed on the options during Tuesday's work session, Mayor Pro Tem Natasha Harper-Madison, who represents District 1, and Council Member Paige Ellis, who represents District 8, issued a joint statement proposing "a pause" on further discussion of temporary sanctioned encampments.
"We are not convinced that these sites would be a cost-effective solution, but rather a band-aid tactic when we need to be supporting the long-term strategy to get folks off the street permanent," they said. "It is our responsibility to look at the situation holistically and objectively, and to spend out city's limited resources on solutions we know can work."
Homeless Strategy Officer Dianna Grey noted that the two locations were imperfect and would require a lot of time and money to outfit as sanctioned campsites during the briefing.
City staff and homeless experts have previously raised concerns about sanctioned encampments, saying they are expensive to maintain, challenging to manage and hard to close, even when intended to to be temporary.
In 2019, staff declined to make recommendations for such sites despite being directed by council to do so, citing 2018 guidance from the U.S. Interagency Council on Homelessness. "Neither authorized encampments nor parking areas provide housing for people experiencing homelessness," staff wrote in a memo. "Rather, each option detracts from the staff resources assigned to addressing this moral imperative."

But with Prop B being enforced and too few shelter beds and affordable units for the estimate unsheltered homeless population in Austin, the city is facing the same predicament that prompted District 9 Council Member Kathie Tovo to pursue possible sanctioned campsites in the first place: "When individuals in encampments ask where they should go, we need to have places to suggest," she said at a May 6 council meeting.
Don't lose your mask just yet—the Centers for Disease Control and Prevention announced it is now recommending masks in areas that are surging as cases rise nationwide and the Delta variant looms.
The CDC announced Tuesday that even fully vaccinated individuals should mask up indoors if their community is experiencing substantial transmission—defined as areas with more than 50 cases per 100,000 people. Travis County is sitting at an average of 94.59 cases per 100,000 over the past seven days, falling into the highest risk category, according to the CDC.
#DeltaVariant surging in U.S. New data show Delta much more contagious than previous versions of #COVID19. Unvaccinated people: get vaccinated & mask until you do. Everyone in areas of substantial/high transmission should wear a mask, even if vaccinated. https://t.co/tt49zOEC8N
— CDC (@CDCgov) July 27, 2021
After two COVID-19 recommendation stage jumps in the last two weeks, from Stage 2 to Stage 4, Austin-area cases are the highest they have been since February. The seven-day average for cases is on an upward trend, reaching 226 on Tuesday.
The CDC is also recommending that all students K-12 wear masks indoors, regardless of vaccination status. A May executive order by Gov. Greg Abbott prohibits schools from requiring masks, regardless of vaccination status. Austin ISD is "strongly" encouraging students to wear masks.
Although vaccinated individuals are still protected against the most severe symptoms of the variant, infections are spreading rapidly and now make up 83% of confirmed cases in the U.S. At least a dozen cases of the delta variant have been confirmed in the Austin area, though there are likely more since testing for it is limited.
CDC Director Dr. Rochelle Walensky said that hospital admissions are "almost exclusively" coming from people who are unvaccinated but those who are vaccinated can still catch and spread the virus.
"Unlike the alpha variant that we had back in May, where we didn't believe that if you were vaccinated you could transmit further, this is different now with the Delta variant," Walensky said. "That leads us to believe that the breakthrough infections, rare that they are, have the potential to pool and transmit at the same with the same capacity as an unvaccinated person."
Research suggests those who become infected carry 1,000 times more of the virus than other variants and could stay contagious for longer.
The announcement comes on the heels of the Biden administration ramping up cautionary measures in the face of the Delta variant. Just last week, the CDC said it had no plans to change its May guidance of vaccinated not having to wear masks unless there was a significant change in the data. Officials met on Sunday night to review new evidence,
according to reports.

The Moody Center, a $338 million, 530,000-square-foot multipurpose arena at the University of Texas at Austin, celebrated its topping out on Tuesday.
With the final beam placed, the arena's steel-frame structural phase—which involved more than 5.3 million pounds of steel—is complete.

"This past year has been full of unprecedented events, not to mention weather challenges, and yet the women and men working on this project continue to deliver," Moody Center General Manager and Senior Vice President Jeff Nickler said in a press release.
To celebrate the topping out Oak View Group, the development and investment firm behind the Moody Center will affix a tree to the final beam in keeping with the time-honored tradition.

The practice dates back to ancient Scandinavian religious rites, which involved placing a tree atop new buildings to appease tree-dwelling spirits displaced during the construction process, according to the International Association of Bridge, Structural and Ornamental Ironworkers in Washington D.C.
After the steel-frame structure phase, the development will move on to enclosing and finishing the interior of the Moody Center.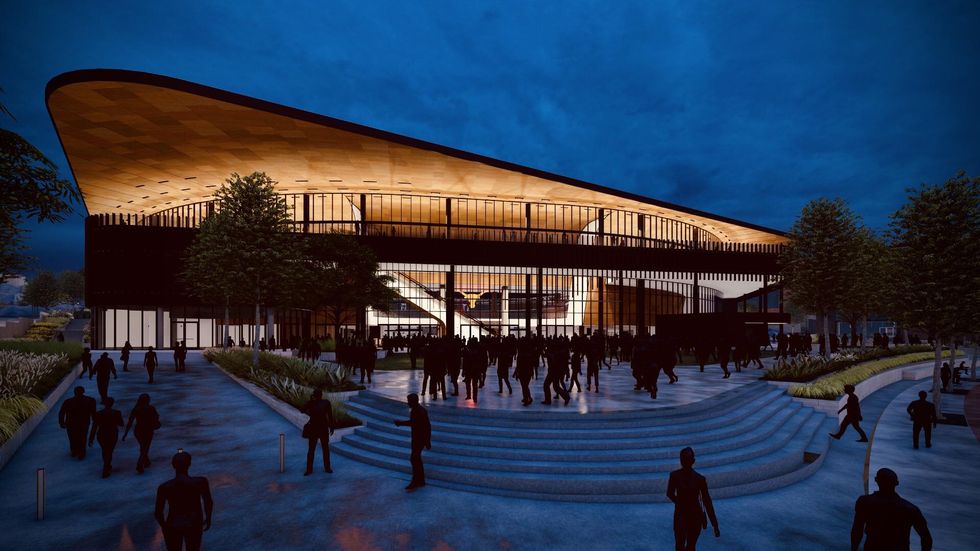 Rendering of the Moody Center. (Moody Center)
The arena is set to open next April and already has some major acts scheduled for its inaugural year, including The Weeknd, Justin Bieber, John Mayer and The Killers. It will replace the 43-year-old Frank C. Erwin Jr. Center and serve as the home of UT's men's and women's basketball games, among other sports and community events.