Get connected with our daily update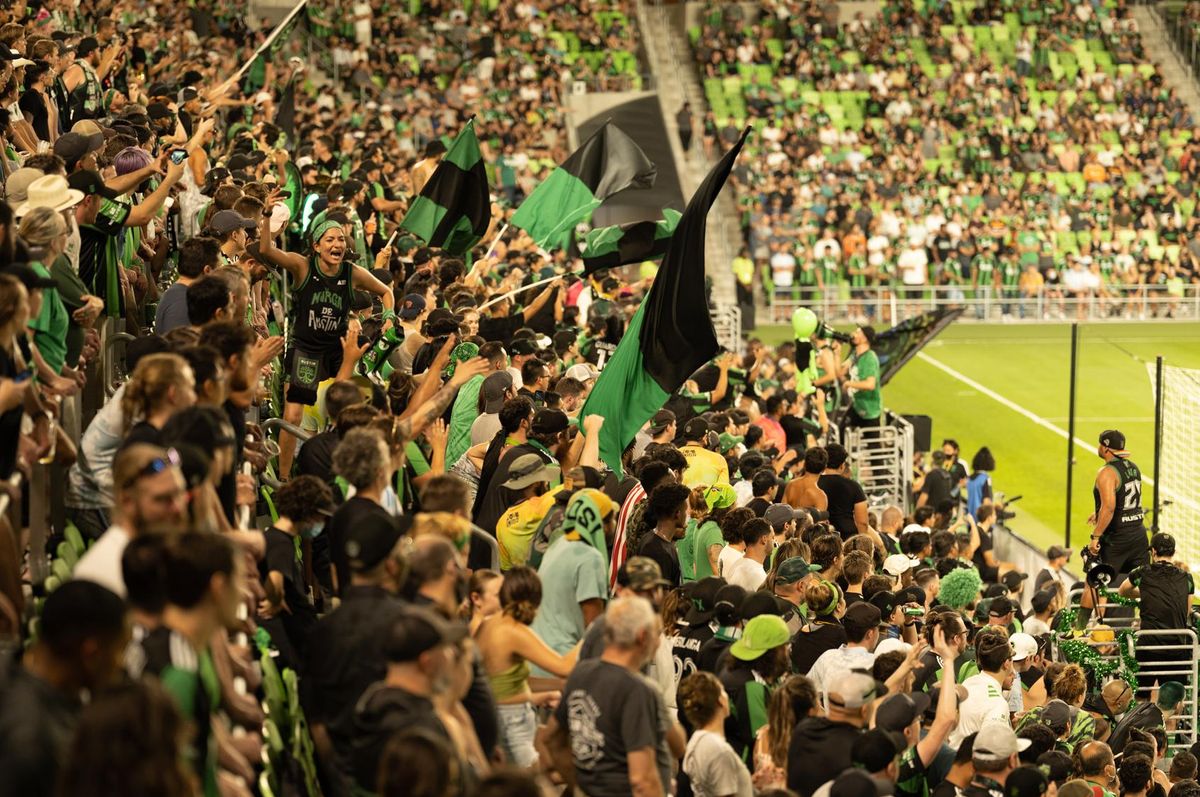 Heading to Q2 Stadium? Four months ago, it would've been tough to do so without dropping a pretty penny, but by mid-September, season ticket holders were clamoring to sell their seats for as little as a $10 beer.
---
While Austin FC continues to sell-out crowds—their most recent match was at capacity despite their record and scheduling conflict with a Texas Longhorns game—demand has dipped as new factors continue to pull down prices.
Austin FC's rocky season has been met with unbridled fan support, but it's also lost that honeymoon-phase traction as they fell to the bottom of the standings, faced a third COVID surge and were met with school, work and good ol' Texas football.
On Sept. 15, Austin FC fan Tanis Olvedo was willing to strike a deal: two beers for a ticket.
Although he later sold at cost to another season ticket holder, many fans have seen the value of their season tickets take a serious dip. By Wednesday, Sept. 15, tickets that were once no lower than $36 had dropped to as little as $14.
Austin Anthem member Phil Stanch used his accounting skills to map out the dip in his ticket sales prices.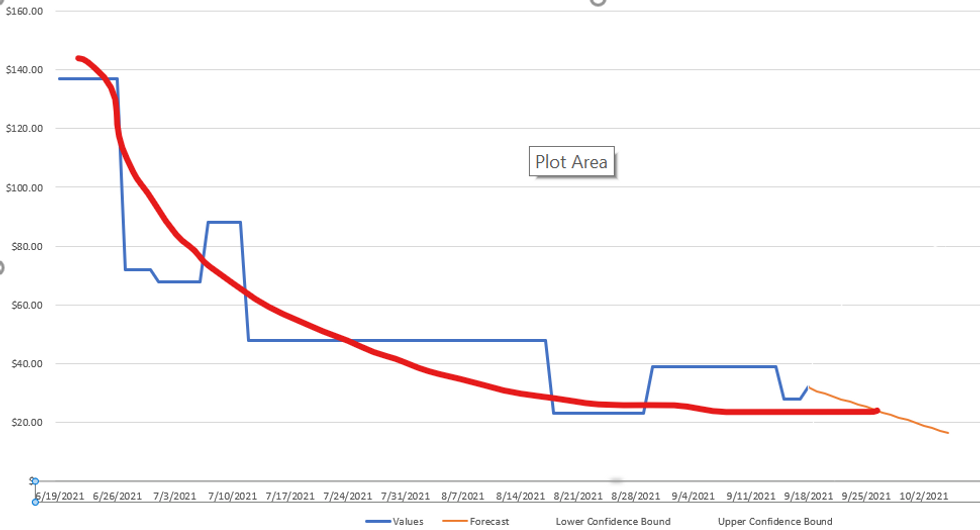 Phil Stanch found that the predicted value of his season tickets (in orange) will continue to trend downward. (Phil Stanch)
Here are the main reasons why fans say Austin FC's ticket prices have taken a tumble:
COVID
Austin FC's first home game on June 19 seemed like perfect timing—by June 16, 51% of Travis County residents were fully vaccinated. Mid-May saw Austin lift its risk-based guidelines to Stage 2 for the first time since the pandemic's onset just in time for the brand-new Q2 Stadium to open at 100% capacity.
But with the third surge sending Austin back into Stage 5 and hospitalizations skyrocketing in late summer, some diehard fans reluctantly began opting for the couch over a 20,738-capacity stadium.
That safety-consciousness comes tenfold for parents of young children who are still ineligible to get vaccinated, at-risk fans and the older population.
School starting and unvaccinated kids. That's why we haven't gone in a while. We are season ticket holders, so we have just given ours away to friends and coworkers that can go.

— jae (@jae98342926) September 23, 2021
Austin has stuck to capacity and hasn't added any masking or testing requirements, garnering some criticism from fans.
I stopped going because of the COVID surge. I tried to sell my tickets a couple of times and they didn't move. Then I decided to eat them to make space. Not happy the club didn't create a mask or vaccination requirement.

— Ruben Cavazos (@rcavazos) September 24, 2021
School
Just as the surge reached its peak in mid-August, schools across Austin once again opened in-person, leaving many families unable to go to late-night games on weeknights. Ten of the club's 17 home games have been on Wednesdays, Thursdays or Sundays—days that have quickly transformed into "school nights."
With 9-5ers unable to justify 8:30 p.m. weeknight games and kids tucked in bed by 10, fewer fans have been able to make their way to the games.
And with school comes another conflict of interest- tried-and-true Texas football is fully underway, and though Sept. 18 saw a sold-out crowd, a few Verde seats were left empty as the two teams played at home at the same time for the first time.
A combo of a number of things:
- Wednesday or Sunday games that end around 10pm are not appealing to people with jobs or kids.
- Being in last place hurts, no matter how passionate people are about the team. Nothing on the line.
- This is still Texas, and it's football season.

— Tom H (@hallockitup) September 23, 2021
Results
While COVID and fall responsibilities have played a factor, Austin FC is also dealing with the unfortunate reality of being a last-place team.
Season ticket holder Doug Mayo was one of the 4% of season ticket holders who didn't renew his deal with the team. Once confident that he would easily sell the coveted tickets for their original price, the team's record plummeted alongside his own ticket prices. Mayo said that the team's 5-4-16 record caused their honeymoon phase to end prematurely.
"The newness wore off fast," Mayo said. "Nobody wants to go to a sporting event when it's 99% certain the team they support will lose."
For Mayo, it'll take a better record and more passionate play on the field to get him back in the 20,000-member season ticket waitlist.
"Mainly (I want) them to start acting more like a professional team," Mayo said. "We were so excited to have something to look forward to throughout COVID and it's just been a disappointment."
I've been a big supporter in general, I went to 4 games in the first half of the season, but no amount of "fan camaraderie" makes me want to spend $30-40 to see a team that plays without heart. And that's bc the last game I saw we actually won (albeit Houston was down a man).

— Brown and in Austin (@DisraelTV) September 23, 2021
Still other reasons abound: some fans say it's those $10 beers themselves that cause prices to dip, while others say tickets were overpriced in the first place. Although Austin FC says 96% of season ticket holders decided to renew for 2022, many did so with a grain of salt, including longtime fan Shawn Collins.
"I have tickets in 110 (the Lexus Club) and even when the demand was crazy high I couldn't get face for my tickets because they were so high to begin with," Collins said. "When I got them I figured I'd make back what I paid on games I couldn't attend."
Austin FC's dip in ticket sales may be more of an MLS problem than a unique issue: gameday employee and University of Texas sports business student Ben Patterson said that prices shot up due to pre-season excitement and are now at more normal levels.
"The initial hype of finally having a pro sports team is likely what drove up season ticket prices at the start of the year," Patterson said. "Now that excitement has cooled off, ticket prices have dropped in value steeply."
But while five straight losses are enough to drive at least some fans away, plenty are committed to staying Verde through thick and thin.
It might not be easy being green, but thousands of fans are now enjoying the benefits of $20 tickets as they continue to pack Q2.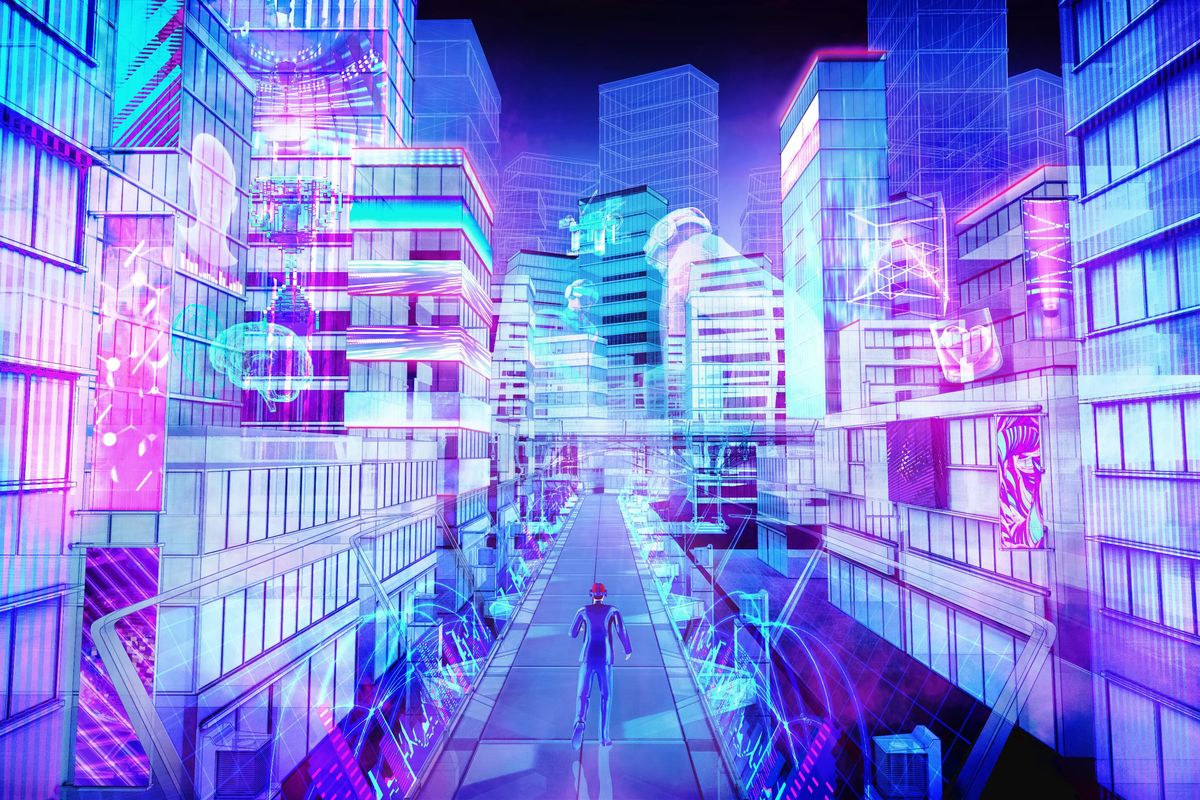 If the idea of the metaverse makes you feel more scared than excited, you're not alone.
In a recent poll on the metaverse, a third of respondents leaned toward feeling more scared about it. It's a response fitting for a tool that's in its infancy stages, where it's not uncommon for some to find it elusive or irrelevant, or require a virtual reality headset.
Amber Allen, founder of metaverse company Double A, has noticed these concerns. Now with the Austin-based company, she's working on advancements in the metaverse, which may see progress in business use before it becomes mainstream in the general public. But getting to that point involves demystifying misconceptions over it, like that we'll all put a headset on and avoid real life.
"A lot of people are talking about the metaverse and like what it could be in 10 or 30 years. And they're not talking a lot about what it is right now. And I think that's what scares people and confuses them," Allen told Austonia. "I'm just very passionate about what is the metaverse now. It's the next wave of the internet. No, you don't need to wear a VR headset."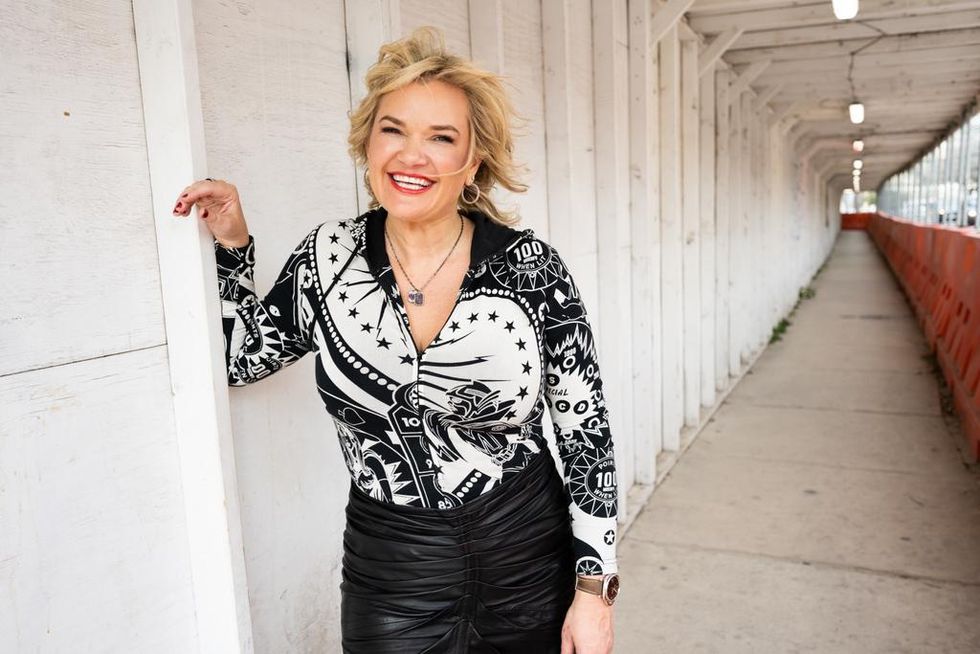 (Amber Allen/Twitter)
She broke this down last week in Forbes, writing about what is hype versus what's actually happening with this phase of the internet.
Allen sees how eventually, the metaverse could become a part of how we play and interact. But before the Metaverse extends to the average consumer, many predict that it will be popular in business first.

It's why some think Microsoft may have an edge over Facebook turned Meta in the industry. And why Allen has designed for work that's 3D, interactive and business to business, garnering interest from companies like General Mills, Dell and Chanel.
She points to how many workers now prefer a hybrid work environment, but says the business tools are not there right now. It's not just within the workplace, however. Double A also offers tools for boosting sales and generating brand engagement through activities like watch parties and meet and greets.
With companies like Allen's, corporate metaverse use could see wider adoption. Double A has hired 13 people this year, adding to the ranks of nearly 30 employees plus dozens of contractors. Some are remote workers outside of Texas while others use the office in East Austin with graffiti art that includes popular gaming figures like Zelda and the Mario Brothers.
Allen takes great pride in working in her home state, saying that she'd like to be a great ambassador for Austin. She said she wants people new to the city to feel welcome. She has meet ups from time to time so that new people who have moved in can get face time with others who have been in Austin for a while.
Still, her work is bound to extend outside of Austin as she aims to create products that will have global reach.
"I want to change the world," Allen said. "You got to think localized. If I'm creating something, how does this work for Europe? How would this work for Asia? How can they build on things?"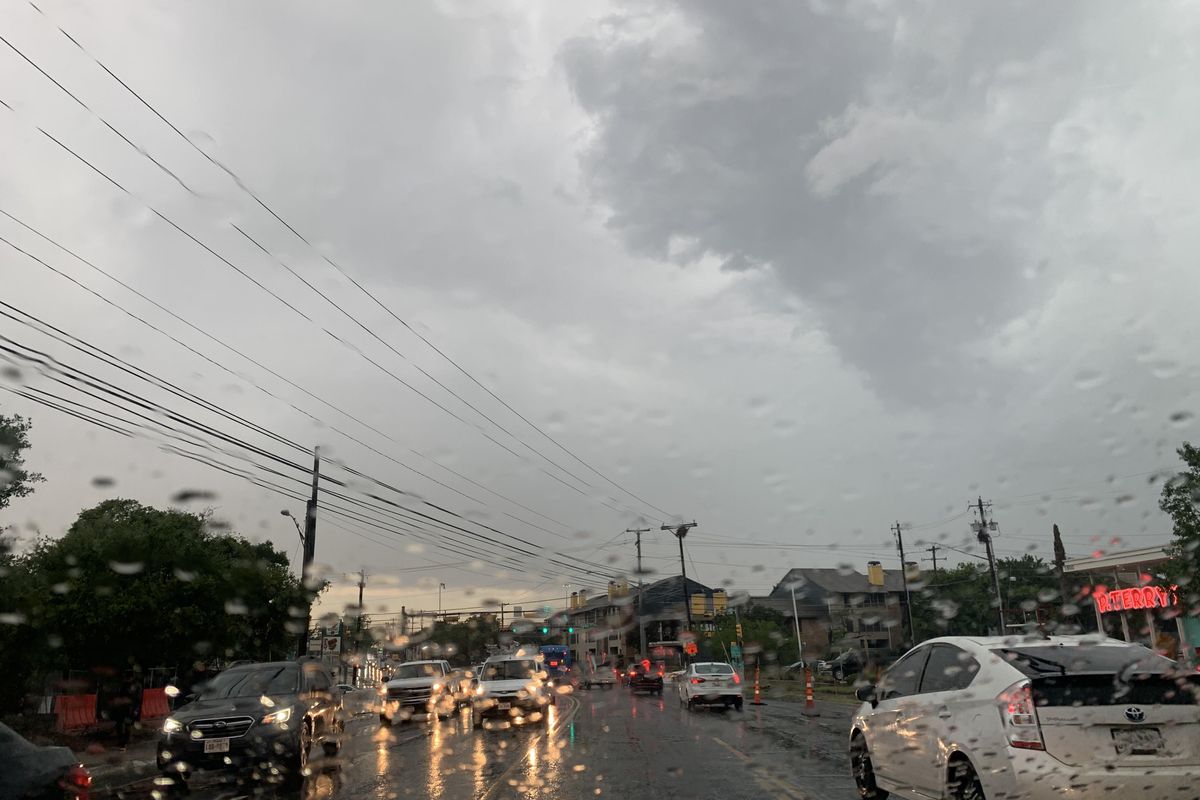 The record-breaking heat seen last week is officially coming to a halt as some much-needed rain is expected in Austin from Monday through Wednesday.
The National Weather Service has issued a Hazardous Weather Outlook for Central Texas as thunderstorms headed this way could be strong to severe.
Thunderstorms are forecast to begin in the west around 6 p.m. Monday, bringing about a half-inch of rain through the night. Then Tuesday, thunderstorms will likely begin after 1 p.m. lasting through the night. Temperatures on Monday and Tuesday will be in the mid-80s before dropping to the mid-70s on Wednesday. Wednesday will also bring rain and thunderstorms in the morning before clearing out.
Rainfall chances will increase today beginning in the west before spreading east. Rain chances remain elevated through tonight and then again tomorrow and tomorrow night. Strong to severe storms and locally heavy rain will be possible from the stronger activity. pic.twitter.com/f8OpN50dkX
— NWS Austin/San Antonio (@NWSSanAntonio) May 23, 2022
The rain comes after a dry spring that has pushed drought conditions from moderate to severe, according to the U.S. Drought Monitor. Lake Travis has dropped to its lowest level in almost 4 years as a result.