Get connected with our daily update
Heading to Q2 Stadium? Four months ago, it would've been tough to do so without dropping a pretty penny, but by mid-September, season ticket holders were clamoring to sell their seats for as little as a $10 beer.
---
While Austin FC continues to sell-out crowds—their most recent match was at capacity despite their record and scheduling conflict with a Texas Longhorns game—demand has dipped as new factors continue to pull down prices.
Austin FC's rocky season has been met with unbridled fan support, but it's also lost that honeymoon-phase traction as they fell to the bottom of the standings, faced a third COVID surge and were met with school, work and good ol' Texas football.
On Sept. 15, Austin FC fan Tanis Olvedo was willing to strike a deal: two beers for a ticket.
Although he later sold at cost to another season ticket holder, many fans have seen the value of their season tickets take a serious dip. By Wednesday, Sept. 15, tickets that were once no lower than $36 had dropped to as little as $14.
Austin Anthem member Phil Stanch used his accounting skills to map out the dip in his ticket sales prices.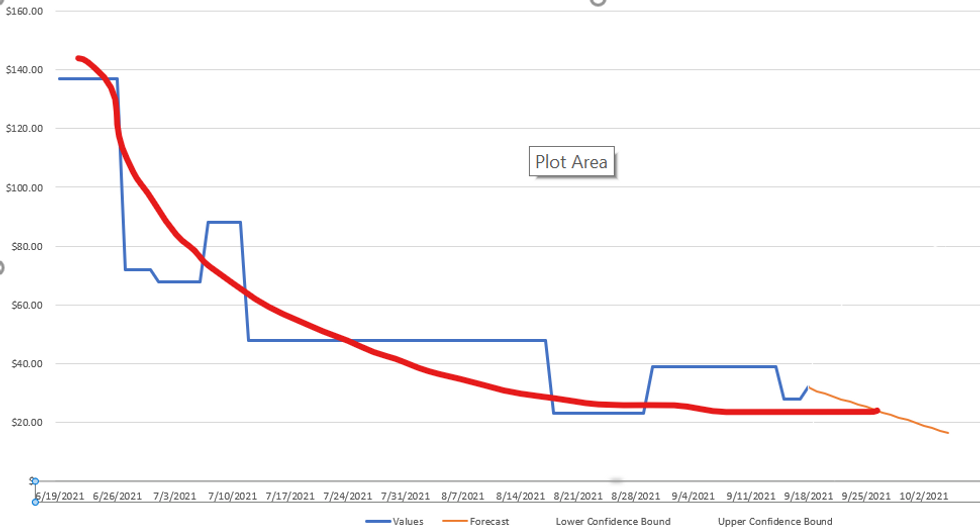 Phil Stanch found that the predicted value of his season tickets (in orange) will continue to trend downward. (Phil Stanch)
Here are the main reasons why fans say Austin FC's ticket prices have taken a tumble:
COVID
Austin FC's first home game on June 19 seemed like perfect timing—by June 16, 51% of Travis County residents were fully vaccinated. Mid-May saw Austin lift its risk-based guidelines to Stage 2 for the first time since the pandemic's onset just in time for the brand-new Q2 Stadium to open at 100% capacity.
But with the third surge sending Austin back into Stage 5 and hospitalizations skyrocketing in late summer, some diehard fans reluctantly began opting for the couch over a 20,738-capacity stadium.
That safety-consciousness comes tenfold for parents of young children who are still ineligible to get vaccinated, at-risk fans and the older population.
School starting and unvaccinated kids. That's why we haven't gone in a while. We are season ticket holders, so we have just given ours away to friends and coworkers that can go.

— jae (@jae98342926) September 23, 2021
Austin has stuck to capacity and hasn't added any masking or testing requirements, garnering some criticism from fans.
I stopped going because of the COVID surge. I tried to sell my tickets a couple of times and they didn't move. Then I decided to eat them to make space. Not happy the club didn't create a mask or vaccination requirement.

— Ruben Cavazos (@rcavazos) September 24, 2021
School
Just as the surge reached its peak in mid-August, schools across Austin once again opened in-person, leaving many families unable to go to late-night games on weeknights. Ten of the club's 17 home games have been on Wednesdays, Thursdays or Sundays—days that have quickly transformed into "school nights."
With 9-5ers unable to justify 8:30 p.m. weeknight games and kids tucked in bed by 10, fewer fans have been able to make their way to the games.
And with school comes another conflict of interest- tried-and-true Texas football is fully underway, and though Sept. 18 saw a sold-out crowd, a few Verde seats were left empty as the two teams played at home at the same time for the first time.
A combo of a number of things:
- Wednesday or Sunday games that end around 10pm are not appealing to people with jobs or kids.
- Being in last place hurts, no matter how passionate people are about the team. Nothing on the line.
- This is still Texas, and it's football season.

— Tom H (@hallockitup) September 23, 2021
Results
While COVID and fall responsibilities have played a factor, Austin FC is also dealing with the unfortunate reality of being a last-place team.
Season ticket holder Doug Mayo was one of the 4% of season ticket holders who didn't renew his deal with the team. Once confident that he would easily sell the coveted tickets for their original price, the team's record plummeted alongside his own ticket prices. Mayo said that the team's 5-4-16 record caused their honeymoon phase to end prematurely.
"The newness wore off fast," Mayo said. "Nobody wants to go to a sporting event when it's 99% certain the team they support will lose."
For Mayo, it'll take a better record and more passionate play on the field to get him back in the 20,000-member season ticket waitlist.
"Mainly (I want) them to start acting more like a professional team," Mayo said. "We were so excited to have something to look forward to throughout COVID and it's just been a disappointment."
I've been a big supporter in general, I went to 4 games in the first half of the season, but no amount of "fan camaraderie" makes me want to spend $30-40 to see a team that plays without heart. And that's bc the last game I saw we actually won (albeit Houston was down a man).

— Brown and in Austin (@DisraelTV) September 23, 2021
Still other reasons abound: some fans say it's those $10 beers themselves that cause prices to dip, while others say tickets were overpriced in the first place. Although Austin FC says 96% of season ticket holders decided to renew for 2022, many did so with a grain of salt, including longtime fan Shawn Collins.
"I have tickets in 110 (the Lexus Club) and even when the demand was crazy high I couldn't get face for my tickets because they were so high to begin with," Collins said. "When I got them I figured I'd make back what I paid on games I couldn't attend."
Austin FC's dip in ticket sales may be more of an MLS problem than a unique issue: gameday employee and University of Texas sports business student Ben Patterson said that prices shot up due to pre-season excitement and are now at more normal levels.
"The initial hype of finally having a pro sports team is likely what drove up season ticket prices at the start of the year," Patterson said. "Now that excitement has cooled off, ticket prices have dropped in value steeply."
But while five straight losses are enough to drive at least some fans away, plenty are committed to staying Verde through thick and thin.
It might not be easy being green, but thousands of fans are now enjoying the benefits of $20 tickets as they continue to pack Q2.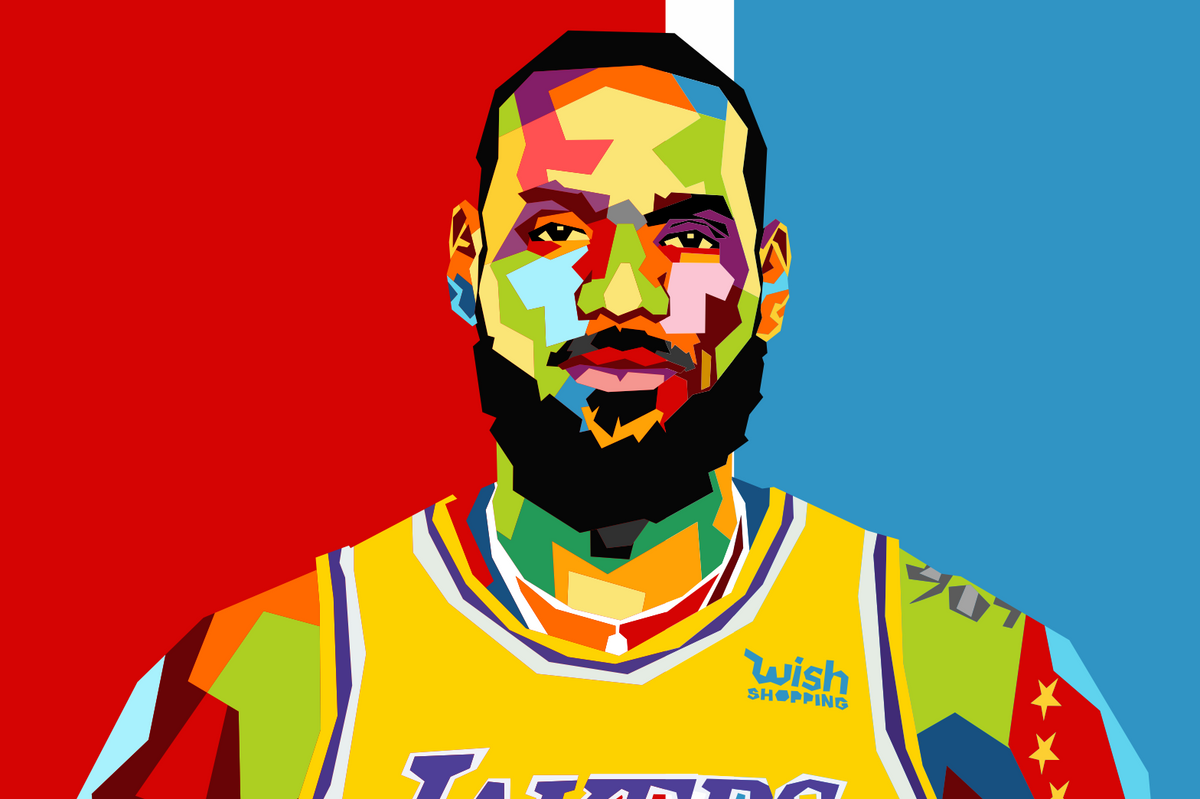 Shutterstock
It's not on the level of LeBron signing with the Spurs, but who knows, maybe you'll see him at Guero's one day, having a Rob's Especial marg and a No. 1 dinner?
LeBron James, Draymond Green, Kevin Love, LeBron's business partner Maverick Carter, and a bunch of other sports-related investors are buying a Major League Pickleball expansion franchise.
Oddly, MLP teams aren't associated with places, so at this point it's just "an expansion team."
But Major League Pickelball is based in Austin, created, according to the Austin Business Journal, by Dreamland and Richard's Rainwater owner Steve Kuhn.
League investors include familiar Austin names like C3 Presents founders Charles Attal and Charlie Walker, Parsley Energy founder and partial Austin FC owner Brian Sheffield, Silicon Labs Chairman Nav Sooch, and pickleball enthusiast Brené Brown.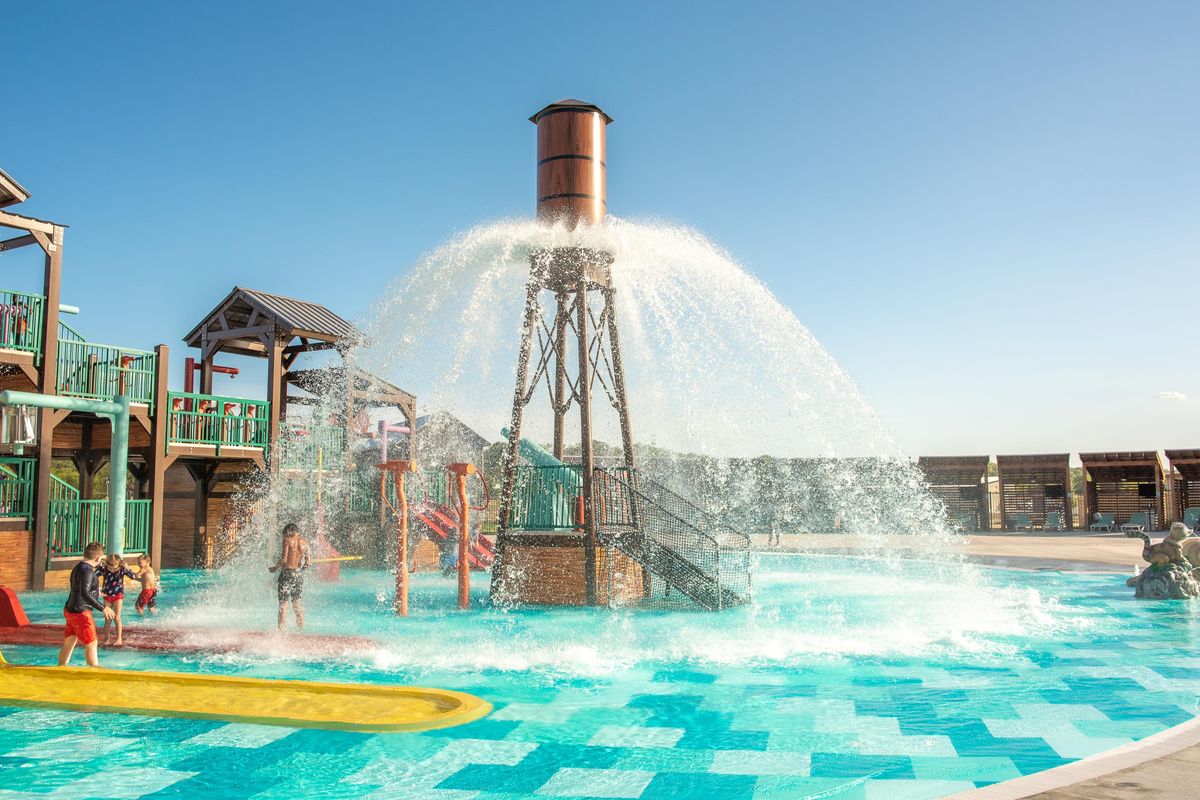 Camp Fimfo Waco
Camp Fimfo Waco, a brand new camping resort, is kicking off football and fall camping season in style! With top-notch amenities, premium accommodations, and 10 weekends of fall fun, there's no better place to have a fall camping getaway, especially if you're a Baylor football fan!
Fall promises to be a one-of-a-kind camping experience. From Sept. 16 to Nov. 24, weekends will be packed with fall-themed activities, including special Halloween weekends in October. Campers can enjoy activities like fall crafts, campground trick-or-treating, costume contests, site decorating, outdoor movie nights, and more!