Get connected with our daily update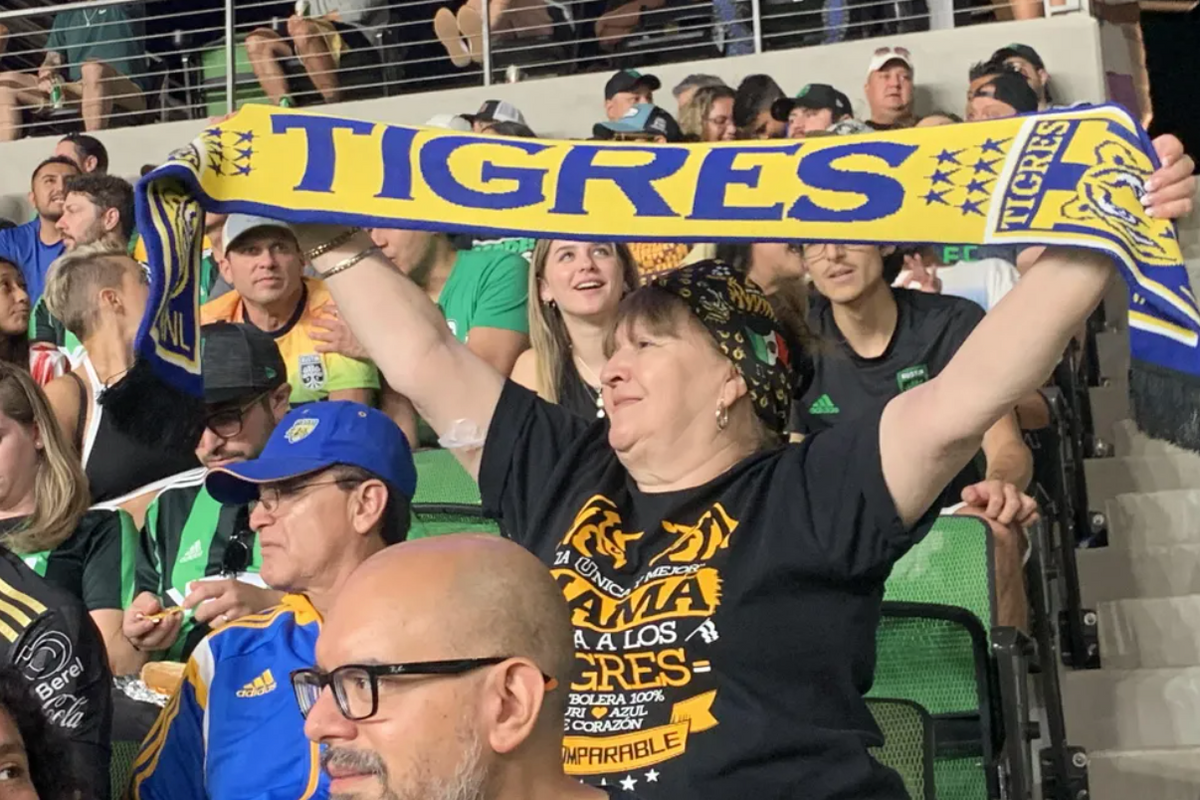 Austin FC and Tigres UANL fans seemed to be given an uncomfortable wardrobe choice as they headed into the exciting game. Instead of "Yellow or Verde?," many fans asked "Why not both?" as they geared up with both of their favorite teams' colors in a match that celebrated the true spirit of Austin.
In Austin's first-ever international friendly—a match that doesn't affect the teams' standing in their leagues—on Tuesday, Tigres UANL brought the heat that they are known for. With lots of Austin supporters of the Monterrey team, Austin FC and Tigres UANL fans mixed and mingled—and some even bore the same name—as Austin lost 3-1 to the Liga MX powerhouse club.
---
Both teams brought their backup players to the front of the lineup to start the match. Austin, with its slew of injured starters, saw keeper Andrew Tarbell and defender Aedan Stanley for the first time and put fan favorites Diego Fagundez and Kekuta Manneh in the starting XI. Gentle giant Jhohan Romana and midfielder Tomas Pochettino, both recovered from injuries themselves, were also back on the pitch. Defender Matt Besler took the captain slot.
Rodney Redes broke through with his first goal in the regular season, but the Tigres reminded the crowd of their spot at the top of CONCACAF, a continental championship, as they responded with two back-to-back goals at the end of the match to take the friendly 3-1.
It seemed as though many Austin FC fans who have followed Tigres their entire lives would face a moral dilemma as they went into the match. Instead, supporters sported Verde scarves with yellow Tigres jerseys, sat next to their opposing teams' fans and even cheered for both of their favorite clubs as they went head to head at Q2.
Yellow y Verde
Austin FC fans wore both yellow and green in a rare show of support for both teams at Tuesday's friendly. (Claire Partain/Austonia)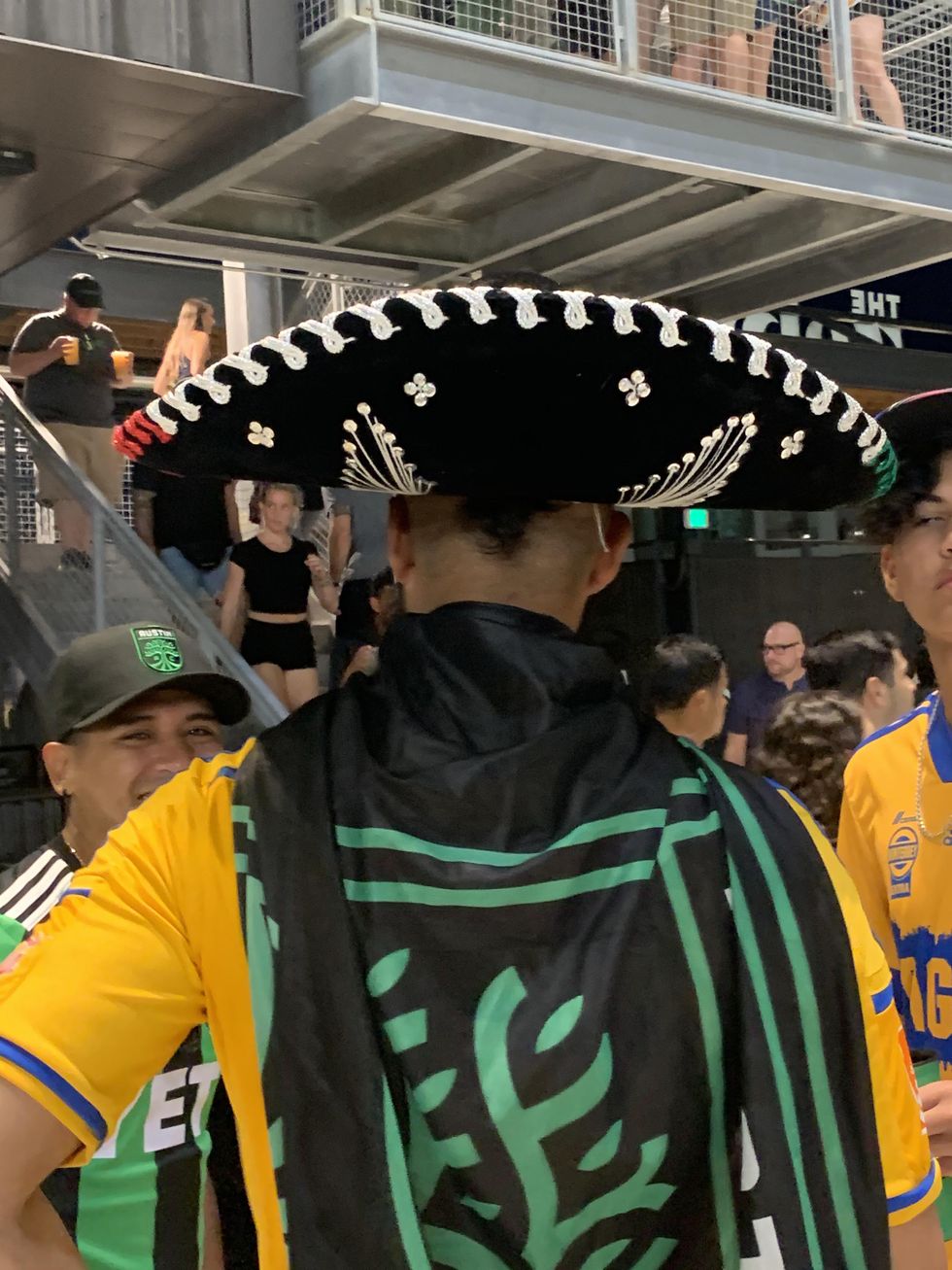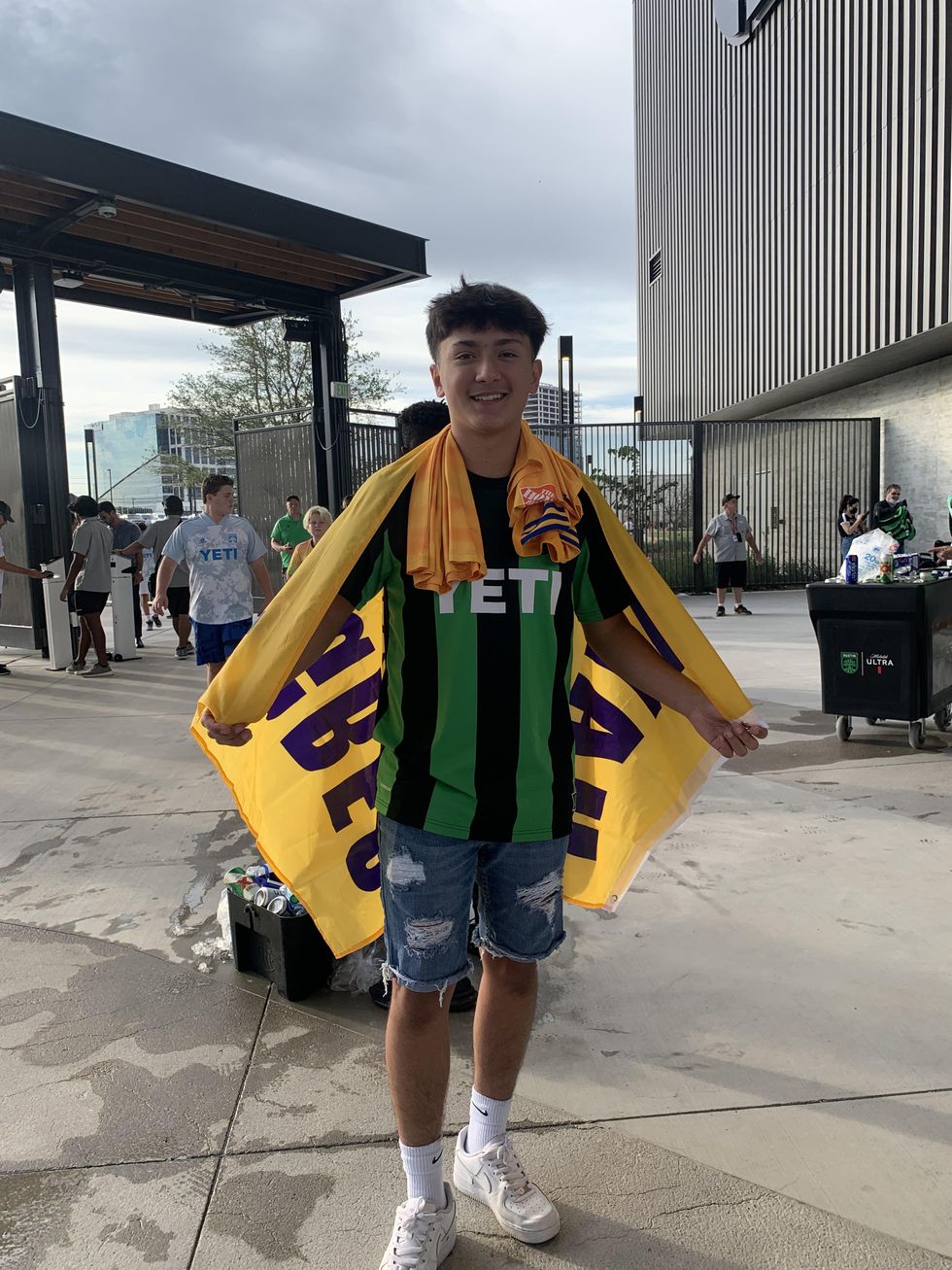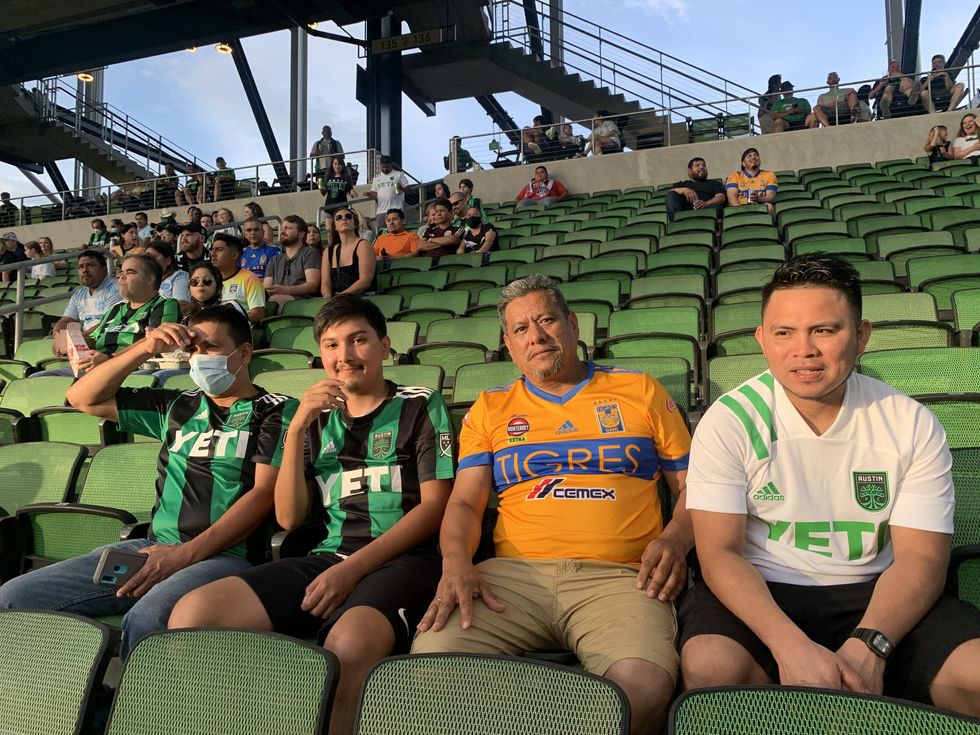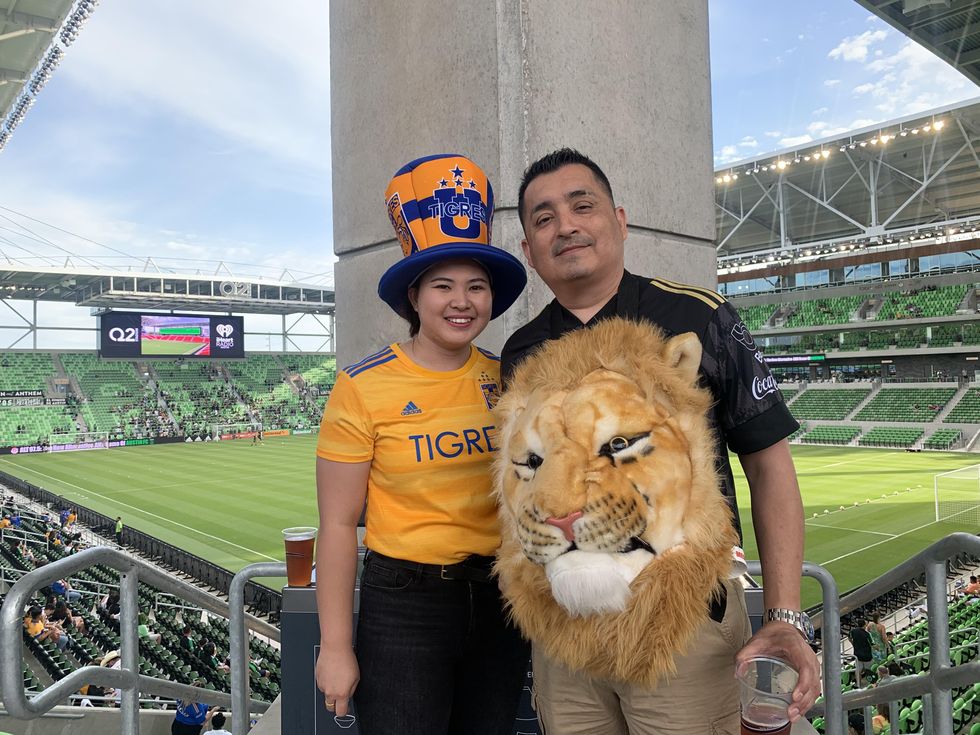 For the first time, the Mexican flag flew next to the U.S. flag at Q2 as both national anthems were sung tearfully by fans in the supporters' section.
While the match didn't count toward either teams' standings, Austin FC fan band La Murga de Austin was as rowdy as ever as they led the supporters' section through heartfelt Austin FC chants. Beer was thrown, water was splashed and a steady drumbeat kept fans alive even after Tigres responded with two goals to win the match.
Verde supporters show out
Austin fans roared and swung flags as their club scored its first international goal. (Claire Partain/Austonia)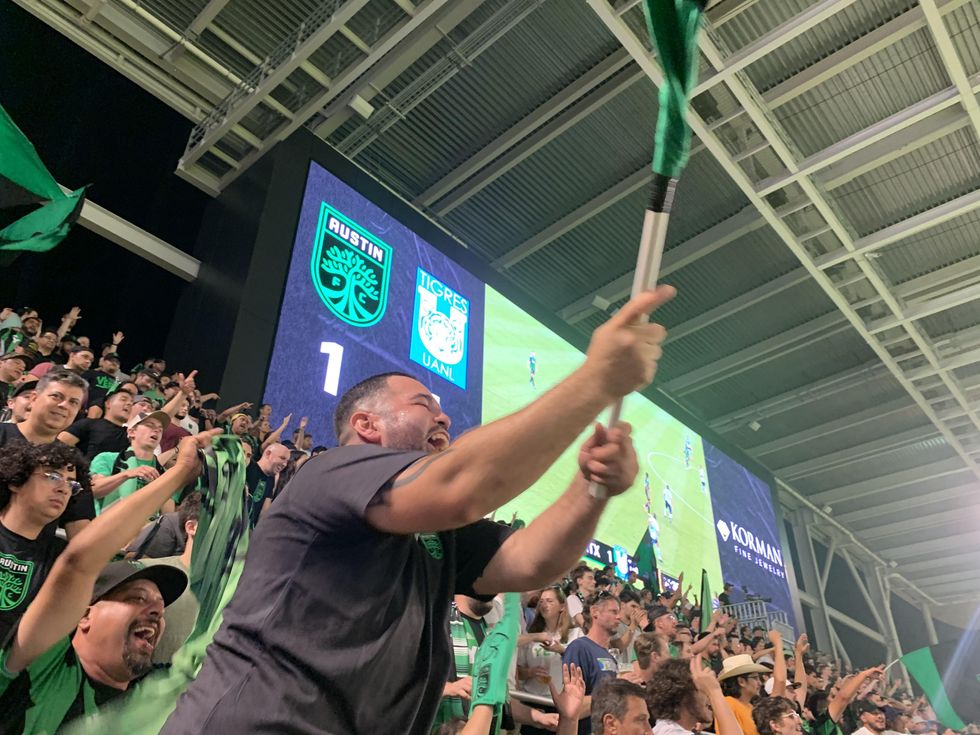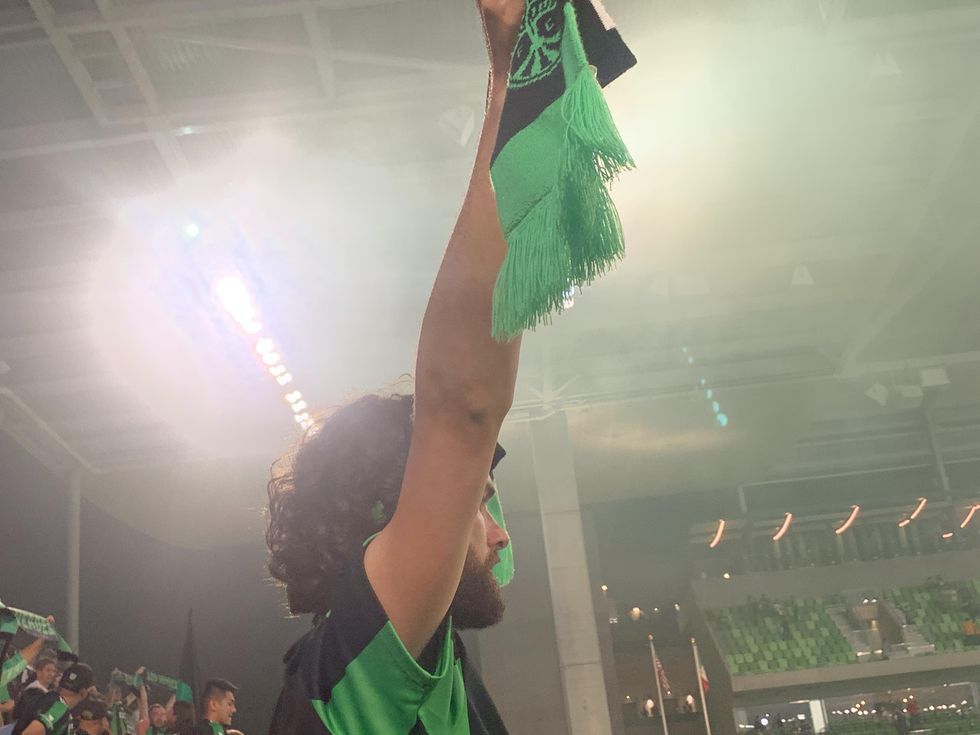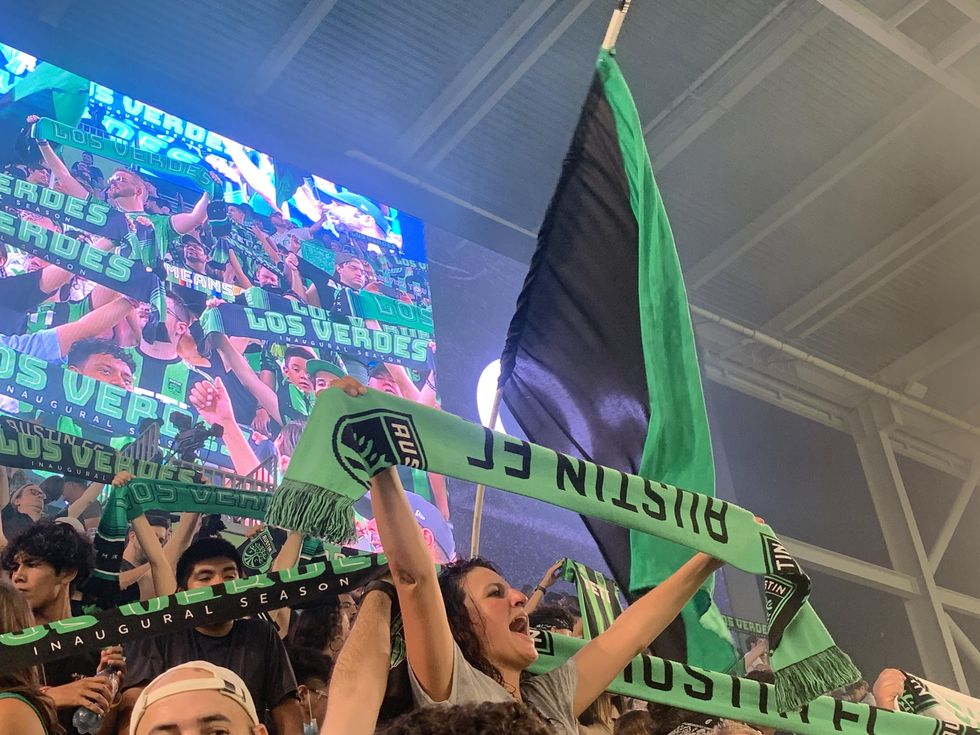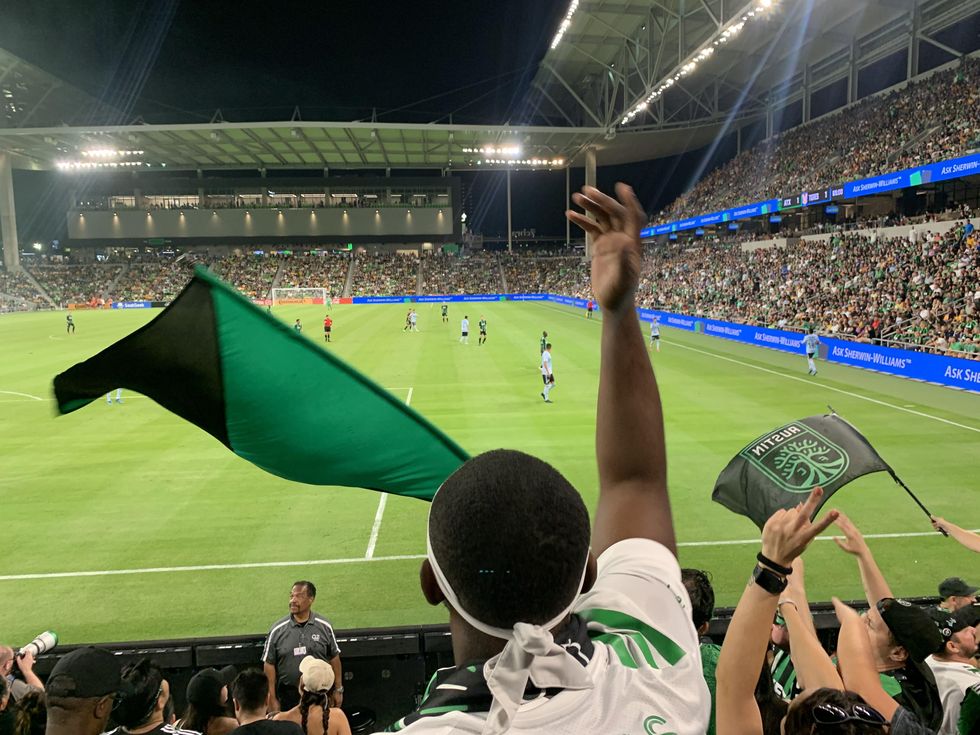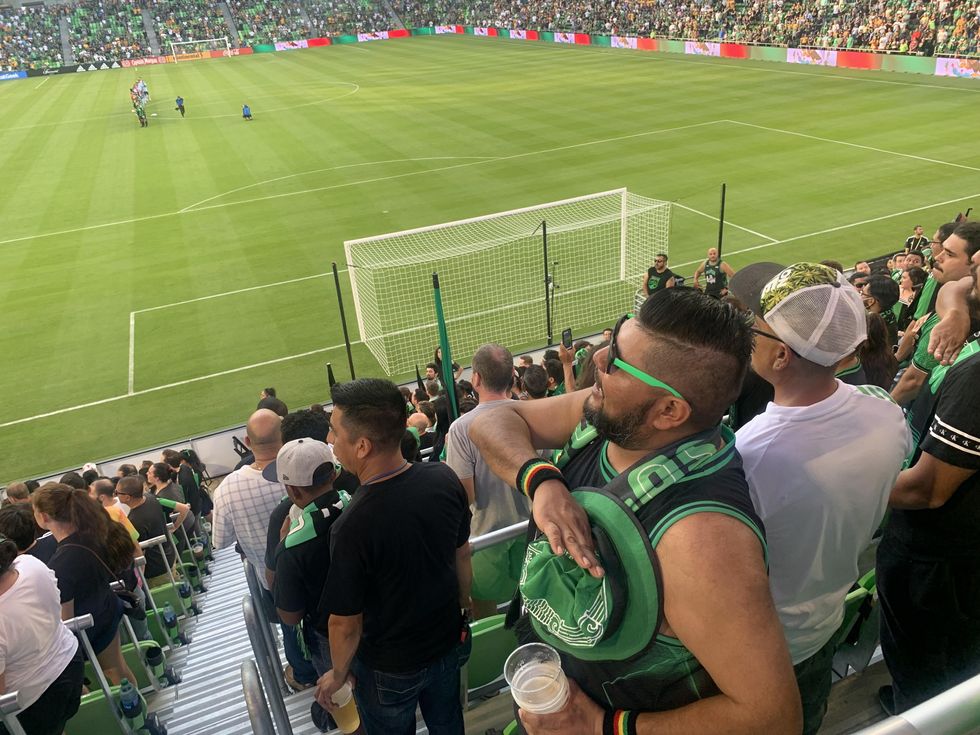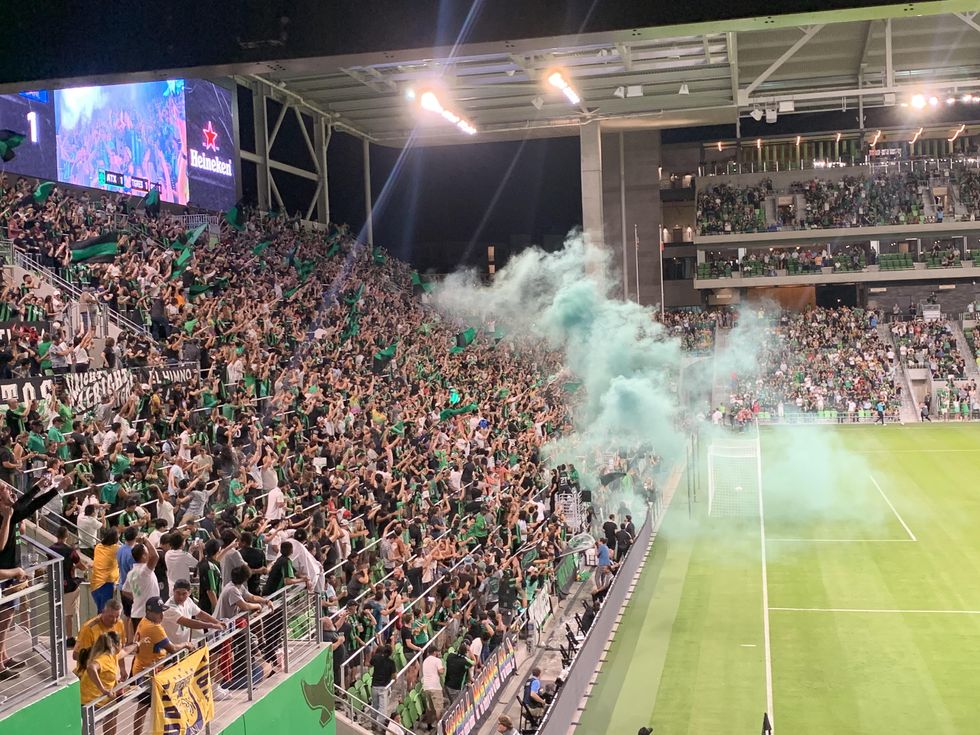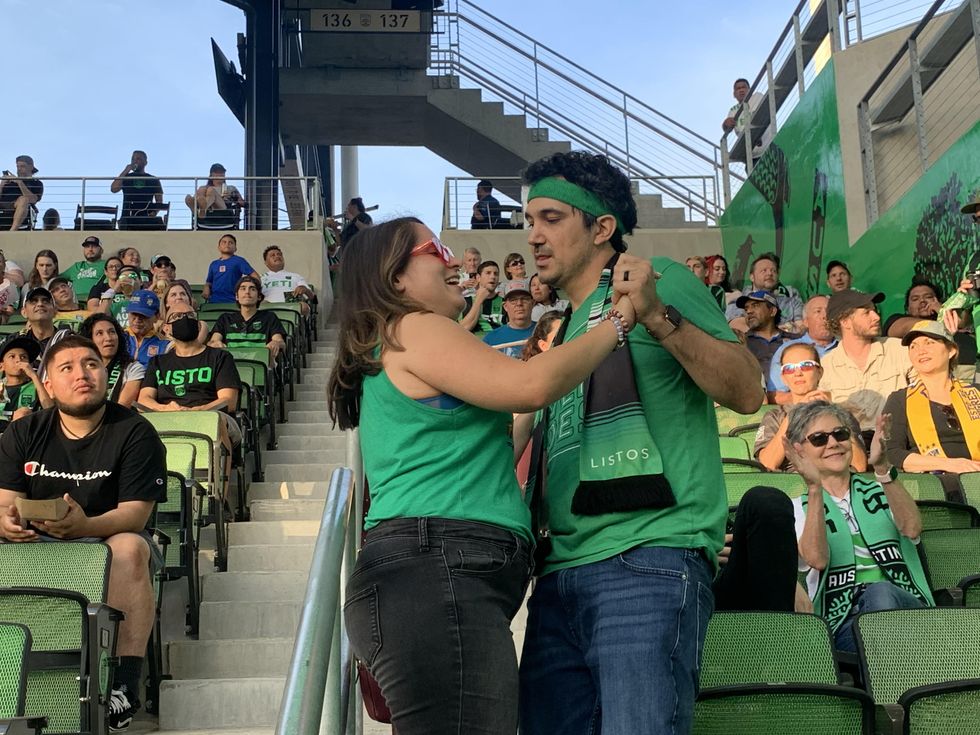 Meanwhile, Tigres fans found their home base near the top of the West side of the stands. Q2 saw more opposing fans than ever before as hundreds flocked from near and far to watch their lifelong club play.
Javier Hernandez and his wife, Sochy, looked like total Tigres fans as they repped blue and yellow hats and a giant lion's head.
But that choice came more down to jersey options than anything else. The two Austinites are Austin FC fans as well, and they're happy to see the two teams come together. Eventually, Javier wants to combine two Tigres and Austin FC jerseys to form one unified Verde and yellow jersey.
"We didn't know what to wear," Hernandez said. "I had a friend who is from Monterrey too, and he was wearing an Austin FC jersey. There's no rivalry or anything like that. We're all friends."
While most fans said they felt united and accepted by Austin FC in the match, a few said they felt they were unfairly discriminated against as they were asked to leave their own drums and banners at the gates.
Candelario Lopez and his family came from San Antonio and Temple to watch the match. Attending a Tigres match in Monterrey is normally a 12 hour drive, so Lopez said he was happy to have his favorite team so close to home. "It means a lot," Lopez said.
Still, he wished that the opposing fan section was given the same treatment as those in Verde.
"We had no problems at the beginning but, it's a friendly," Lopez said. "We are acting friendly, some others are not."
Tried and true Tigres fans find their own spot
Tigres fans couldn't compete with the excitement of Austin's supporters' section, but they still kept it loud and stayed on their feet throughout the match. (Claire Partain/Austonia)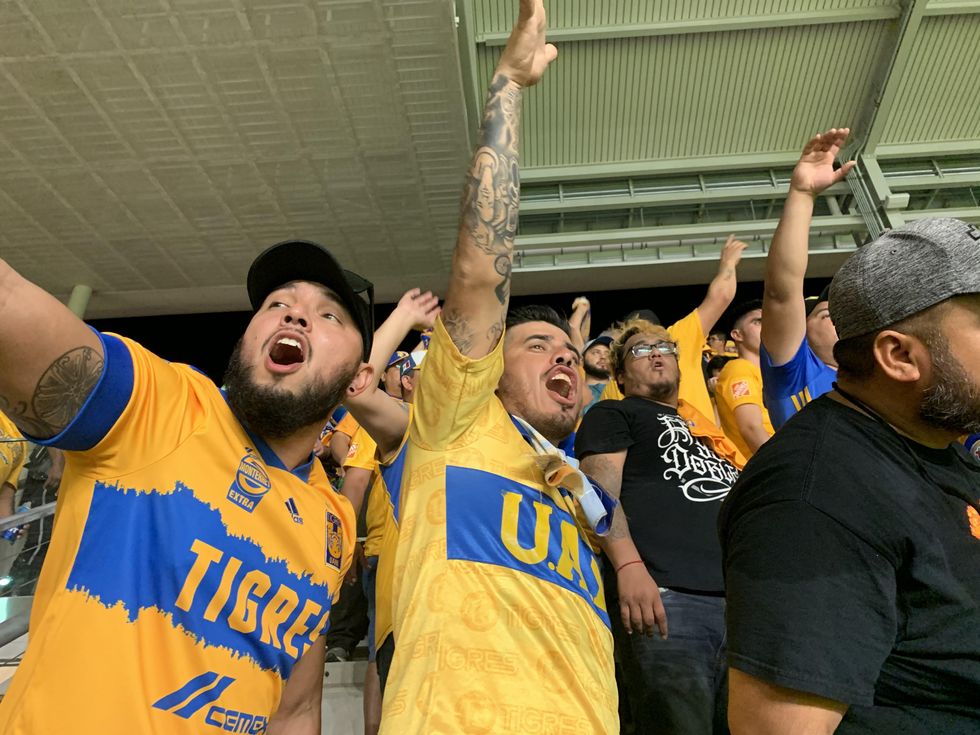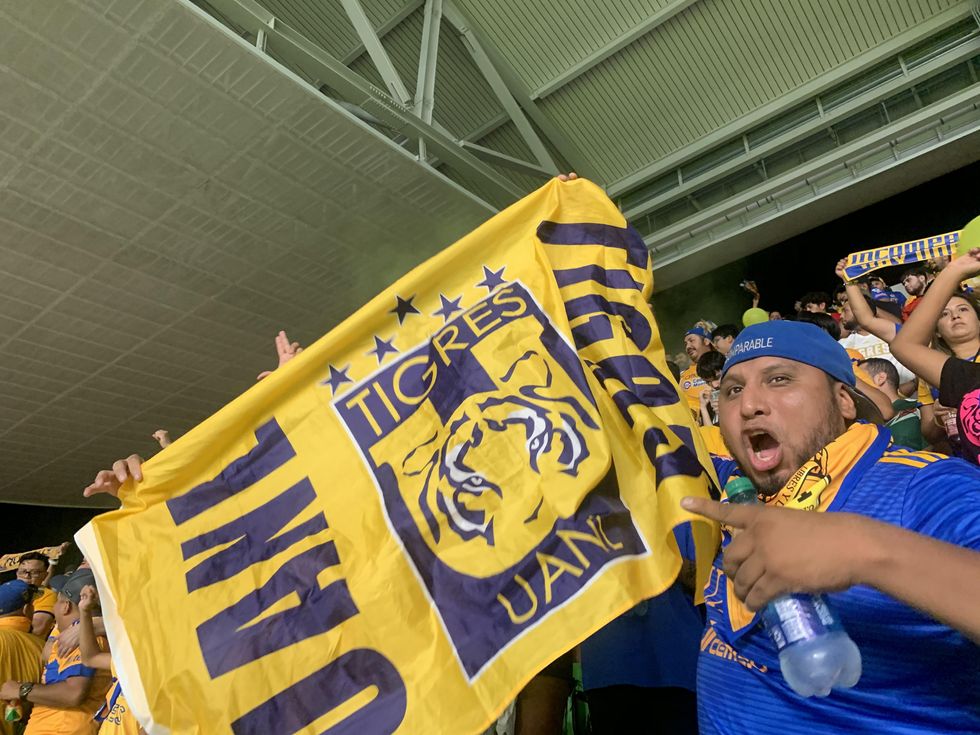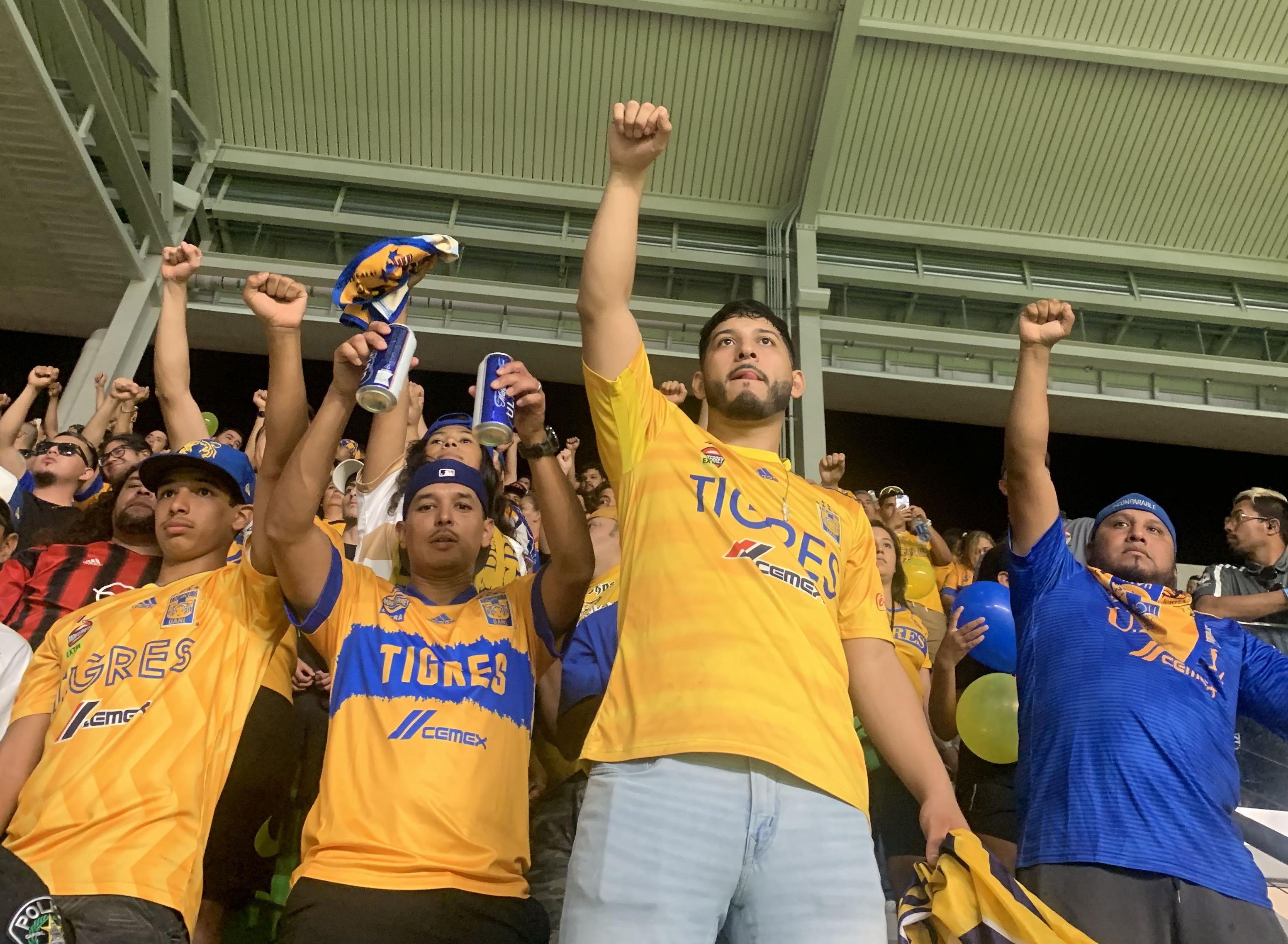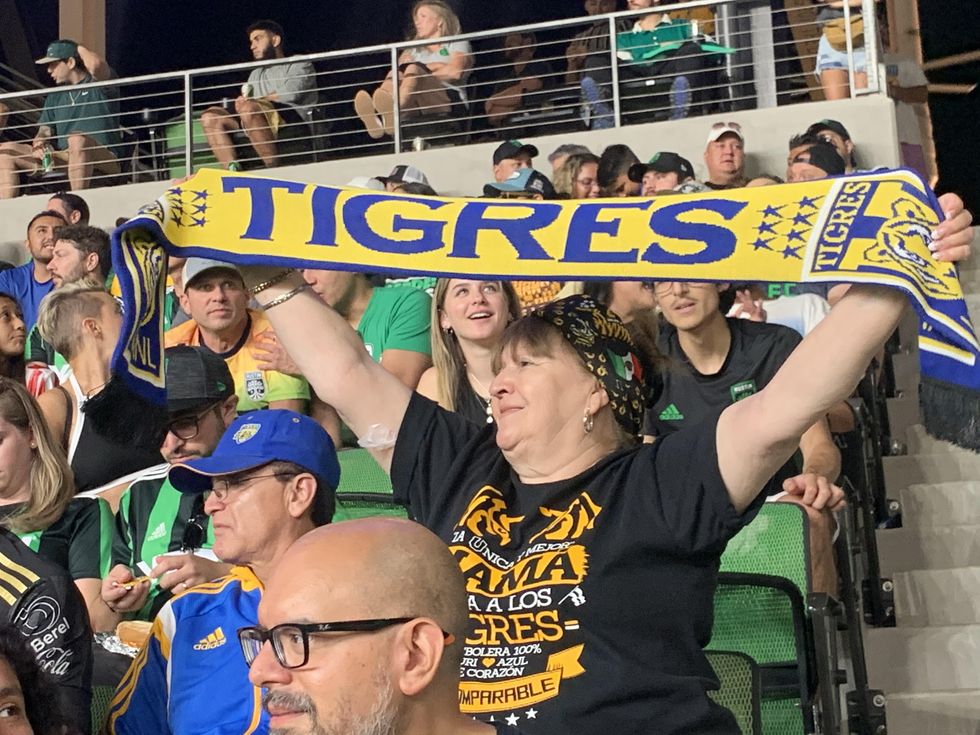 While one team had to win in the end, the match will help both Austin and Tigres grow in new ways on and off the pitch. Many Austin supporters hope the partnership lasts for many years to come as Austin builds its fanbase and Tigres continue to build on its legacy.
Aselmo Jimenez, who was in Verde but was chatting with Tigres fans, said he knew a partnership would happen before it even started. He said he knew the partnership would continue past the match before it even started. His friend in yellow, Carlos Gomez, agreed.
This is a great opportunity for Austin fans to see firsthand a team from Mexico face our team," Gomez said. "We're excited. The atmosphere and experience is just awesome.".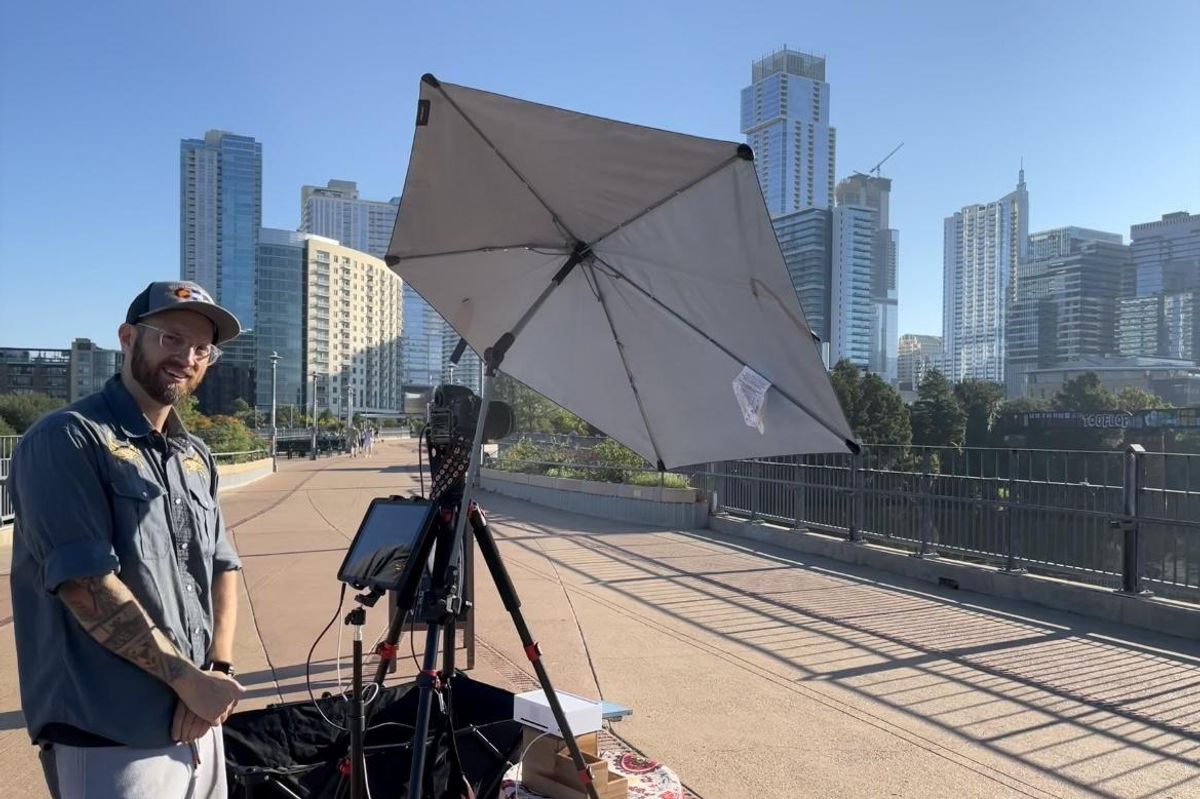 Nicklaus Pereksta says he loves photographing enthusiastic people, and it's why his latest gig offering pictures to people out on Lady Bird Lake's hike and bike trail is going smoothly. He sets up his gear on the Pfluger pedestrian bridge and puts out a sign: Photos, $10.
"Overwhelmingly, this has been a really positive experience," Pereksta said. "I get excited when I wake up in the morning and I can't wait to go to work."
Bikers and joggers are excited about it too. On the pedestrian bridge leading to downtown Thursday morning, a man on an e-bike rode up and posed, wanting more photos.
"I posted the last pictures on Instagram and people loved it. They asked, 'where is this guy?'" the biker told Pereksta. Bashfully, Pereksta, who also photographs landscapes and at weddings and other events, said he was happy to hear that.
Pereksta started these photos about a month ago, after the strenuous runs required in his valet job started causing pain in his legs. And though he has a passion for photography, he wasn't so sure when he started working independently if it would work out.
He felt uncertain about the demand for it and was also worried about having lots of expensive equipment out in the open.
"Then like the first day was nothing but high praise and people are like, this is so awesome. This is great. I've never seen anything like this before. I was like, Wow, this was really good, like positive turnout. So I got encouraged."
Now, he wants to expand and is thinking of contacting the Mueller Farmers Market about how to become a vendor. Still, he'll carry a connection to photographing on the bridge since the word bridge is related to his last name.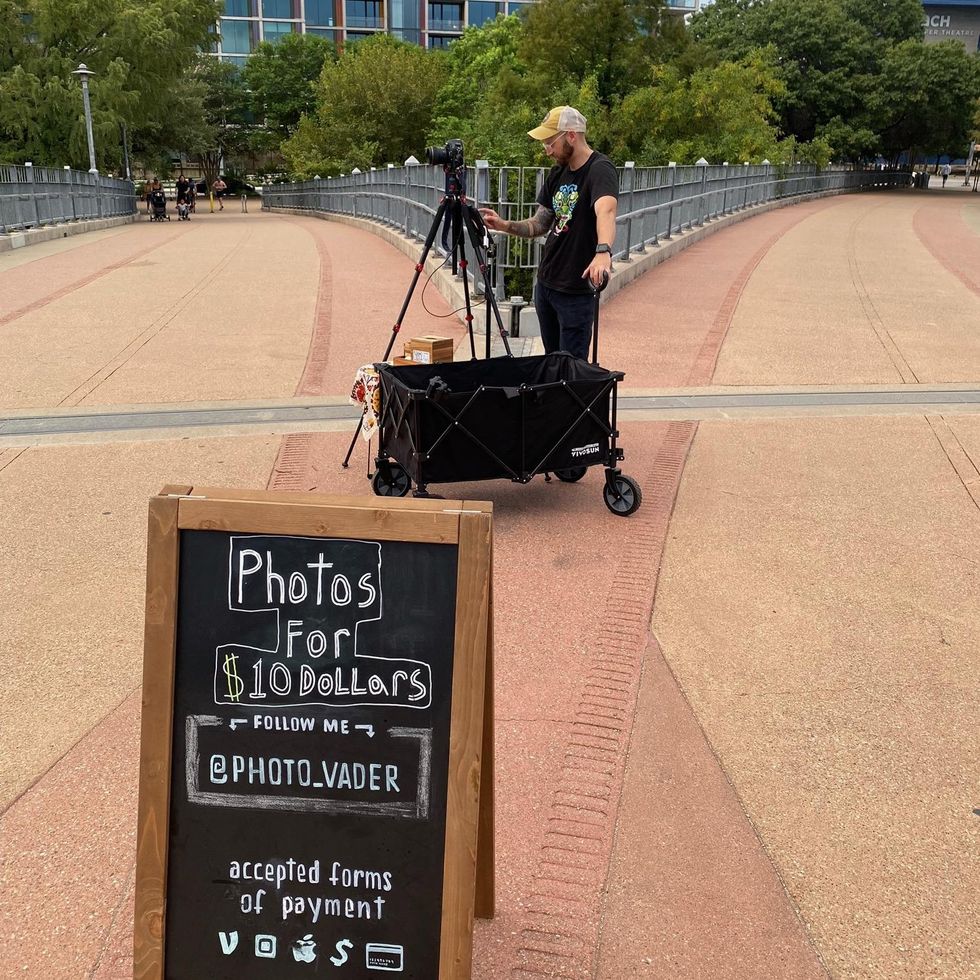 (Dewey C.)
"It's a name my great, great, great grandfather came up with when he was marrying somebody. It's actually quite a romantic name. It means a joining of two bridges," Pereksta said. "So, I thought it was ironic that I'm set up on a bridge. I'm kind of representing my last name right now."
Austonia talked to Pereksta about life in Austin, where he's lived for eight years after living in Boston doing band photography.
What was your first experience with Austin?
I came here to visit some friends and they took me to Barbarella. So we went to Barbarella and I was like, 'wow, this place is great.' And then the restaurants and the food and going to Barton Springs. I was like, 'this is amazing.' Because there's nothing like that in Boston. If you want to go to a natural spring, you got to go to New Hampshire. There's no pools in the city at all. So there's lots of swimming out here.
What do you like best about Austin?
You go to any little quiet bar and there's a band playing that should be like onstage for a sold out show. Yeah, they're playing to 10 people, right? Like, one of the best bands ever and they're playing for 10 people, right? And just little magic moments like that are pretty fun. You just run into little random weird things.
What do you think makes Austin different from other places?
There's no fall.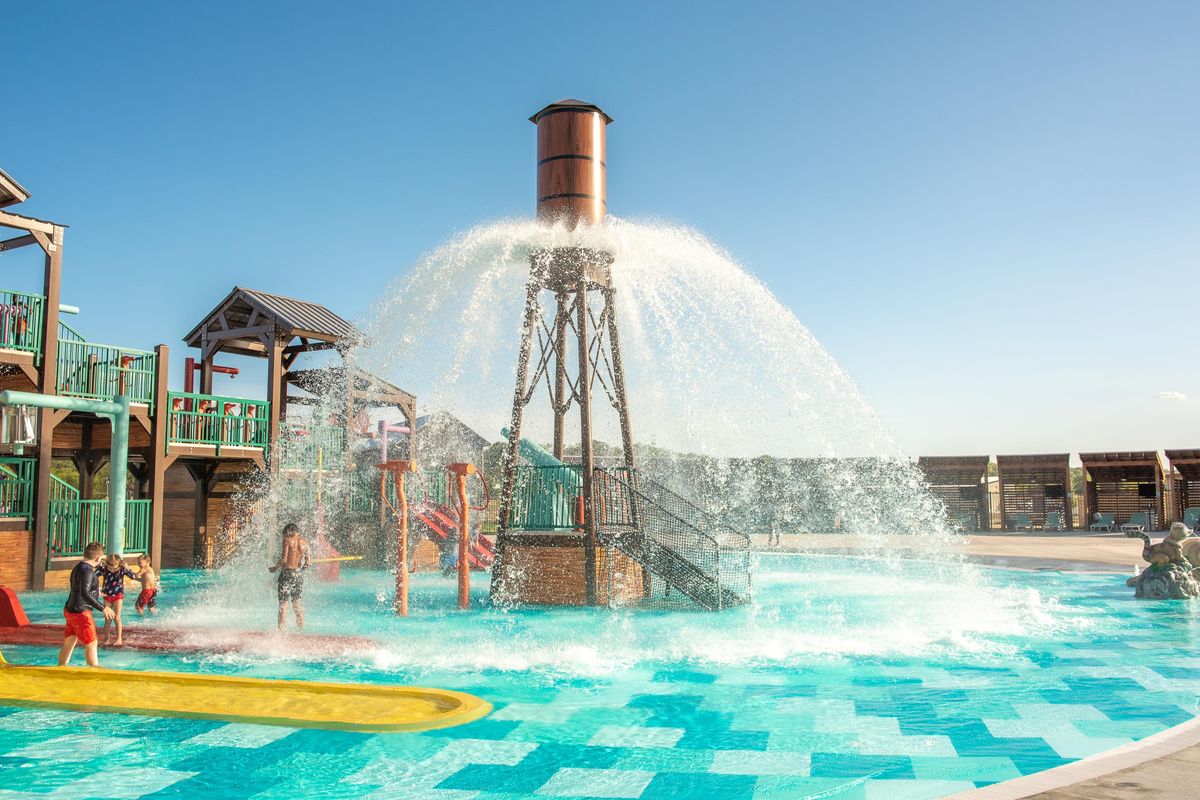 Camp Fimfo Waco
Camp Fimfo Waco, a brand new camping resort, is kicking off football and fall camping season in style! With top-notch amenities, premium accommodations, and 10 weekends of fall fun, there's no better place to have a fall camping getaway, especially if you're a Baylor football fan!
Fall promises to be a one-of-a-kind camping experience. From Sept. 16 to Nov. 24, weekends will be packed with fall-themed activities, including special Halloween weekends in October. Campers can enjoy activities like fall crafts, campground trick-or-treating, costume contests, site decorating, outdoor movie nights, and more!