Get connected with our daily update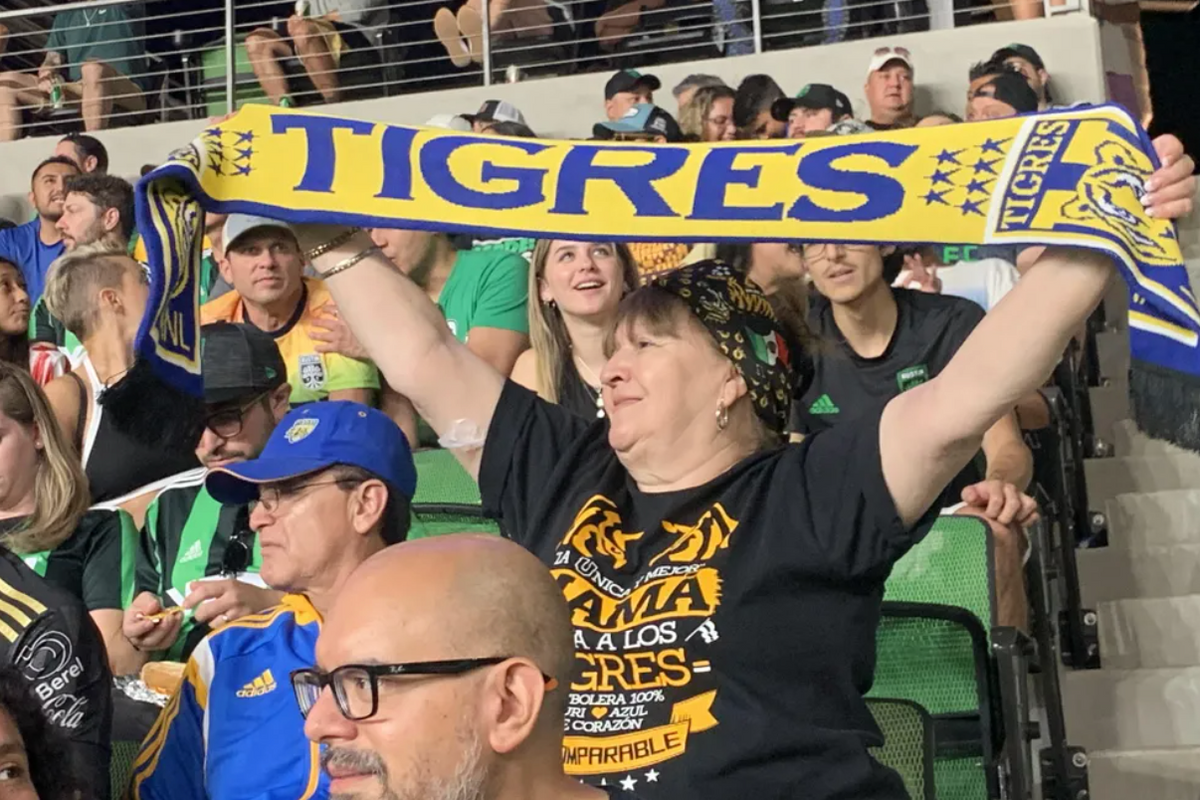 Austin FC and Tigres UANL fans seemed to be given an uncomfortable wardrobe choice as they headed into the exciting game. Instead of "Yellow or Verde?," many fans asked "Why not both?" as they geared up with both of their favorite teams' colors in a match that celebrated the true spirit of Austin.
In Austin's first-ever international friendly—a match that doesn't affect the teams' standing in their leagues—on Tuesday, Tigres UANL brought the heat that they are known for. With lots of Austin supporters of the Monterrey team, Austin FC and Tigres UANL fans mixed and mingled—and some even bore the same name—as Austin lost 3-1 to the Liga MX powerhouse club.
---
Both teams brought their backup players to the front of the lineup to start the match. Austin, with its slew of injured starters, saw keeper Andrew Tarbell and defender Aedan Stanley for the first time and put fan favorites Diego Fagundez and Kekuta Manneh in the starting XI. Gentle giant Jhohan Romana and midfielder Tomas Pochettino, both recovered from injuries themselves, were also back on the pitch. Defender Matt Besler took the captain slot.
Rodney Redes broke through with his first goal in the regular season, but the Tigres reminded the crowd of their spot at the top of CONCACAF, a continental championship, as they responded with two back-to-back goals at the end of the match to take the friendly 3-1.
It seemed as though many Austin FC fans who have followed Tigres their entire lives would face a moral dilemma as they went into the match. Instead, supporters sported Verde scarves with yellow Tigres jerseys, sat next to their opposing teams' fans and even cheered for both of their favorite clubs as they went head to head at Q2.
Yellow y Verde
Austin FC fans wore both yellow and green in a rare show of support for both teams at Tuesday's friendly. (Claire Partain/Austonia)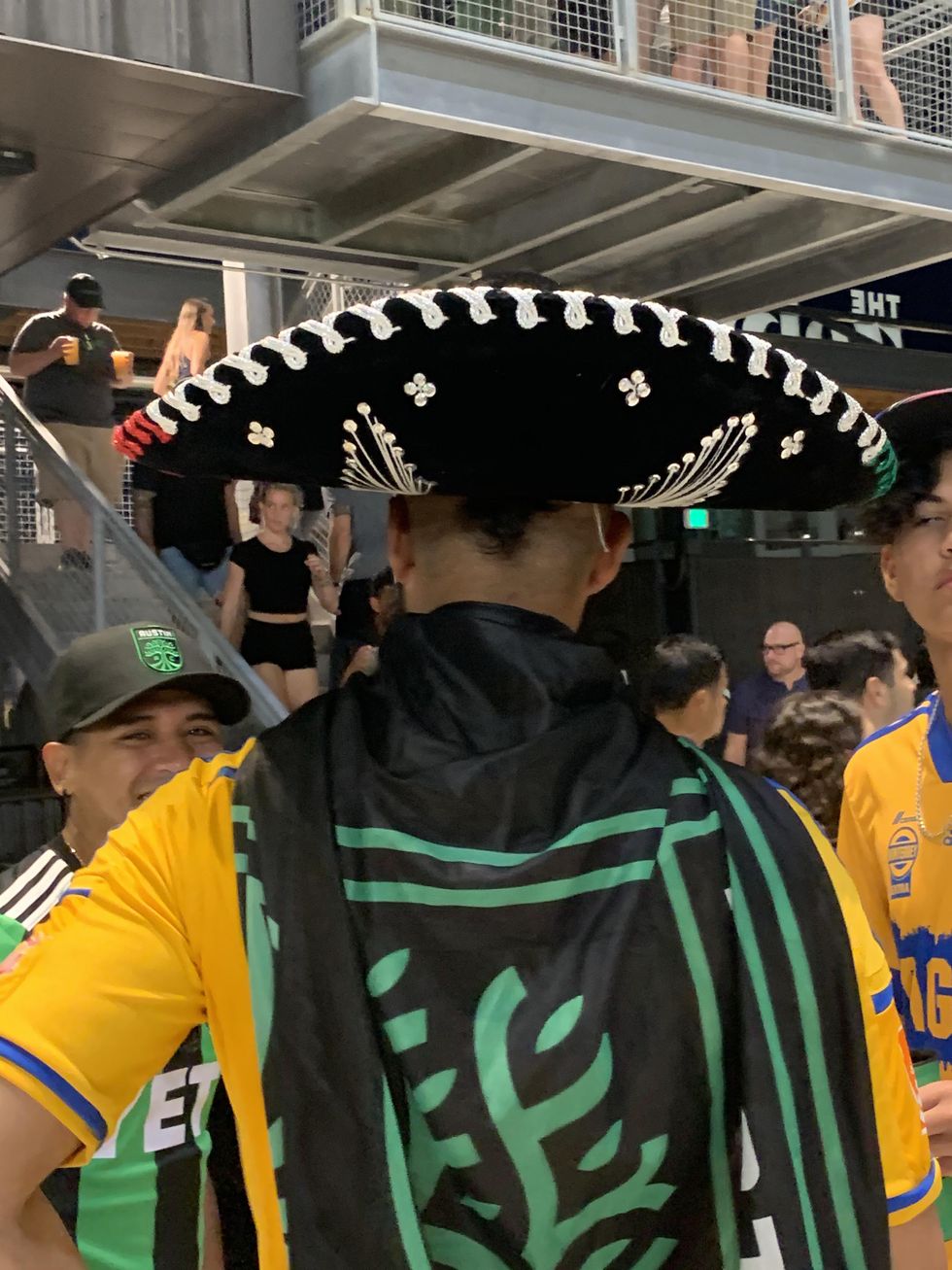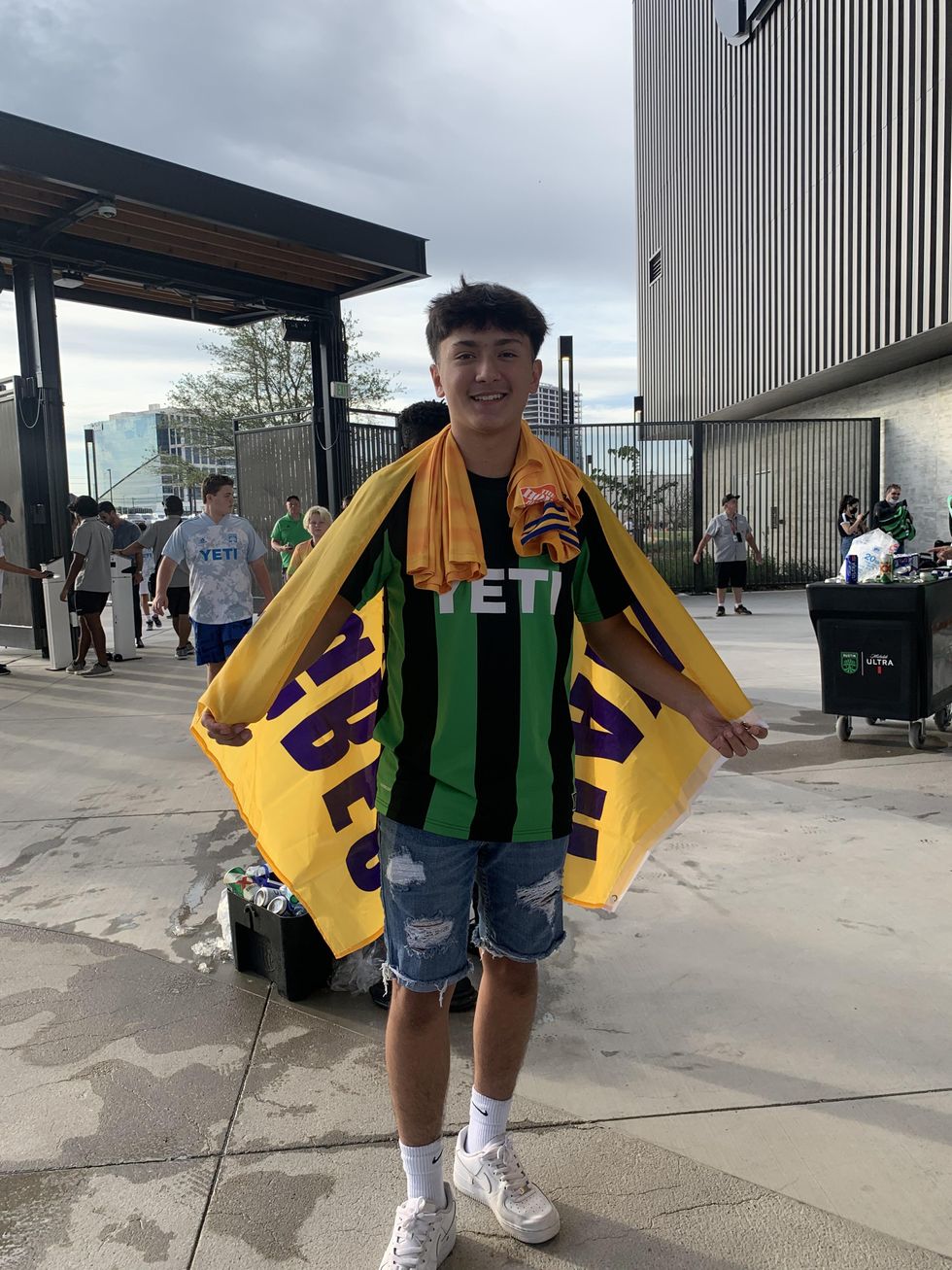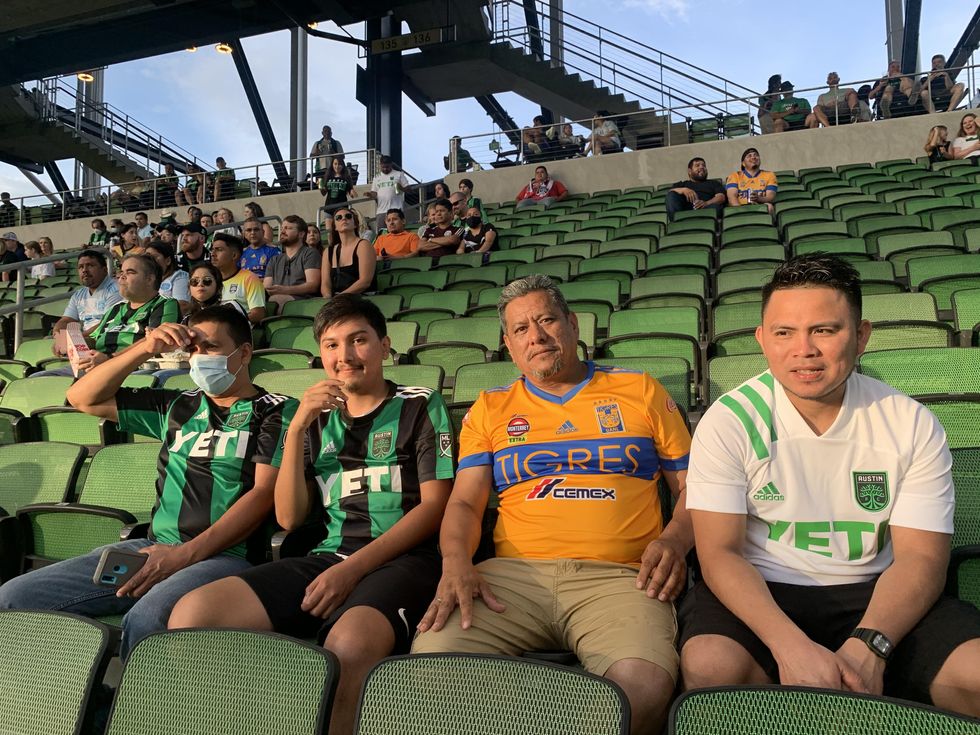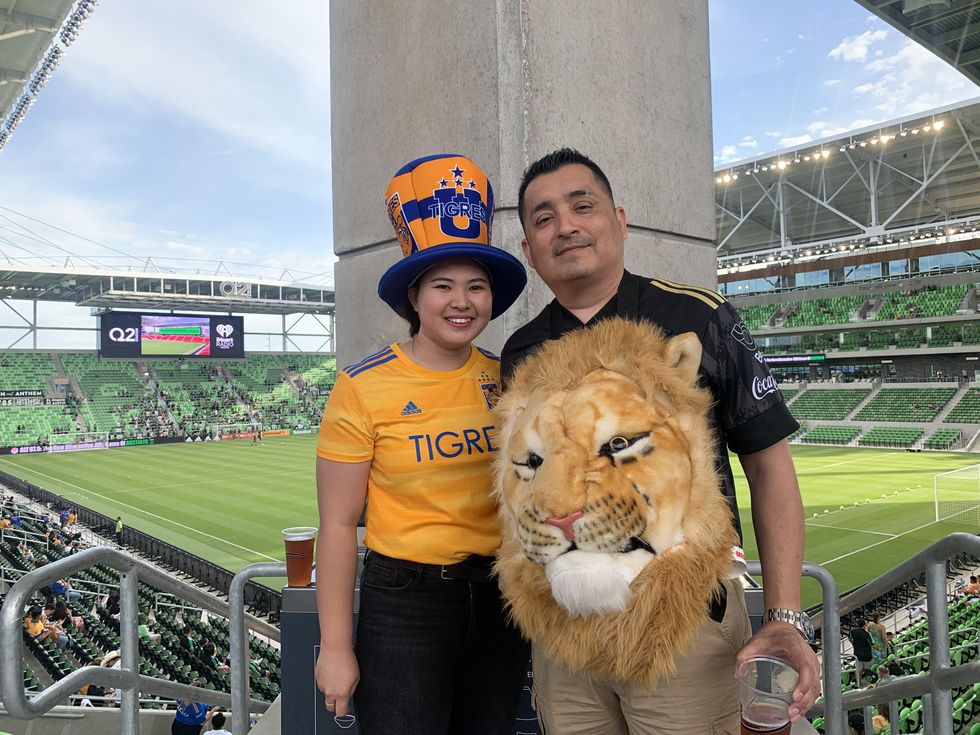 For the first time, the Mexican flag flew next to the U.S. flag at Q2 as both national anthems were sung tearfully by fans in the supporters' section.
While the match didn't count toward either teams' standings, Austin FC fan band La Murga de Austin was as rowdy as ever as they led the supporters' section through heartfelt Austin FC chants. Beer was thrown, water was splashed and a steady drumbeat kept fans alive even after Tigres responded with two goals to win the match.
Verde supporters show out
Austin fans roared and swung flags as their club scored its first international goal. (Claire Partain/Austonia)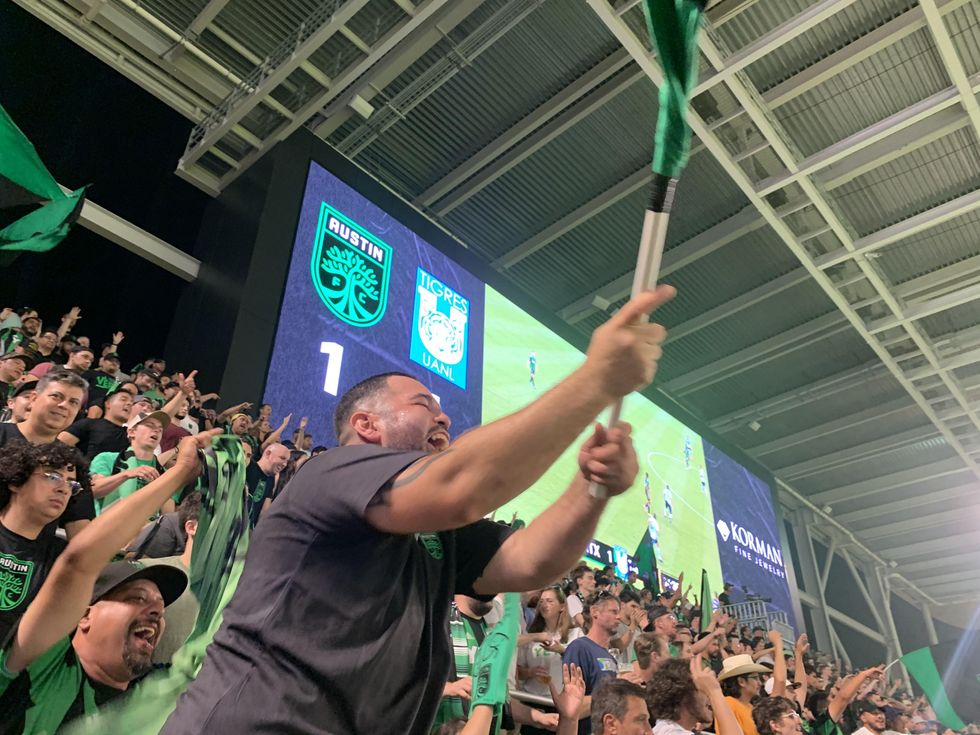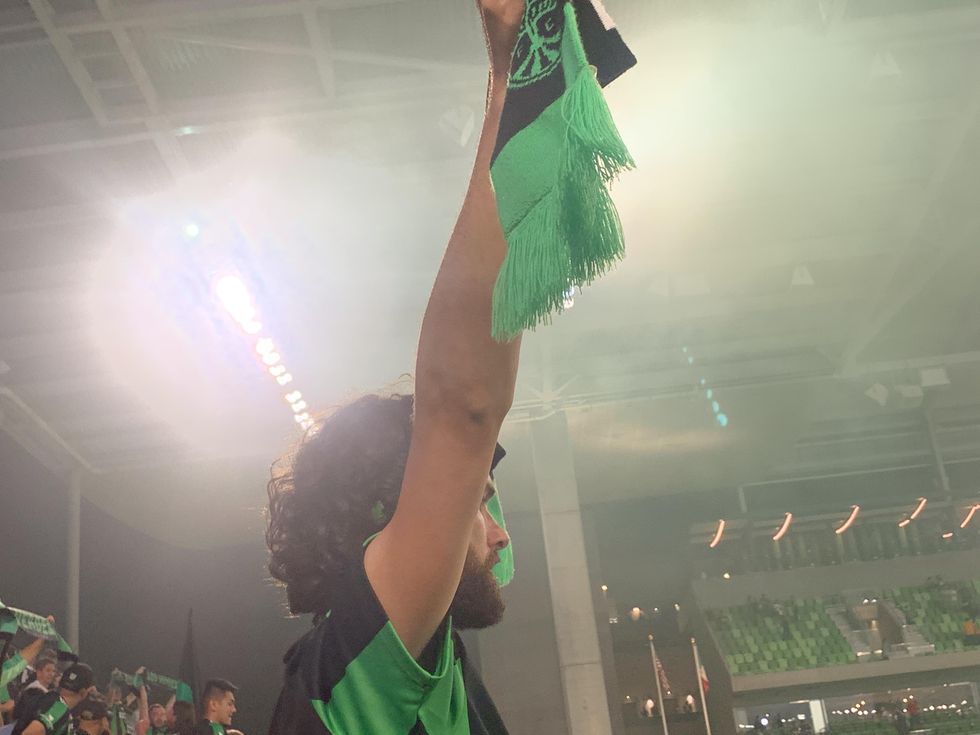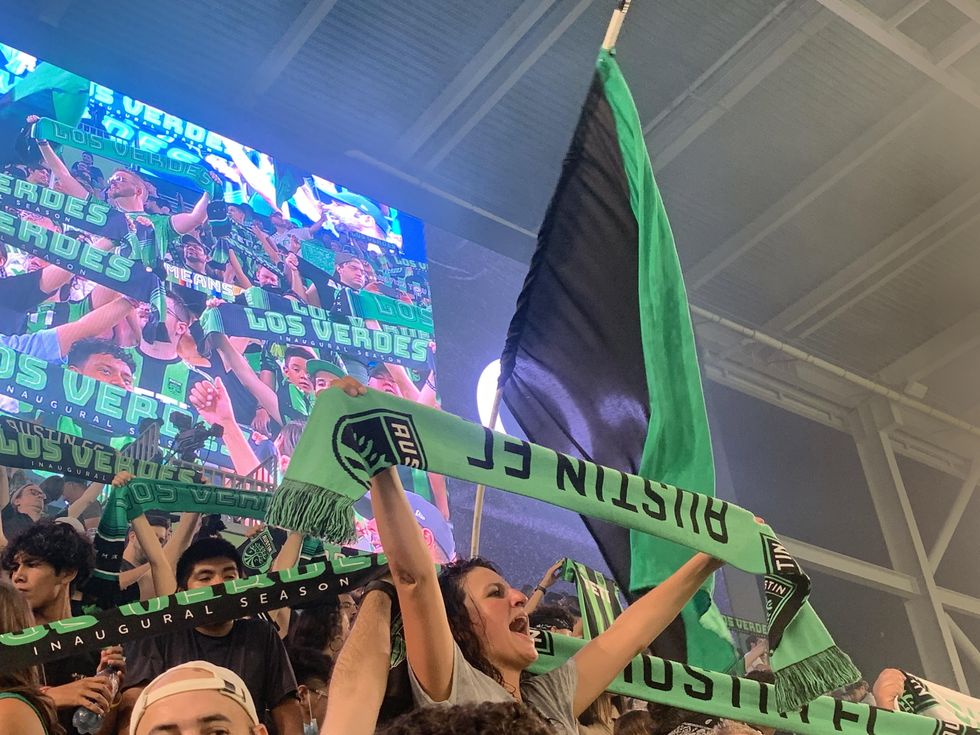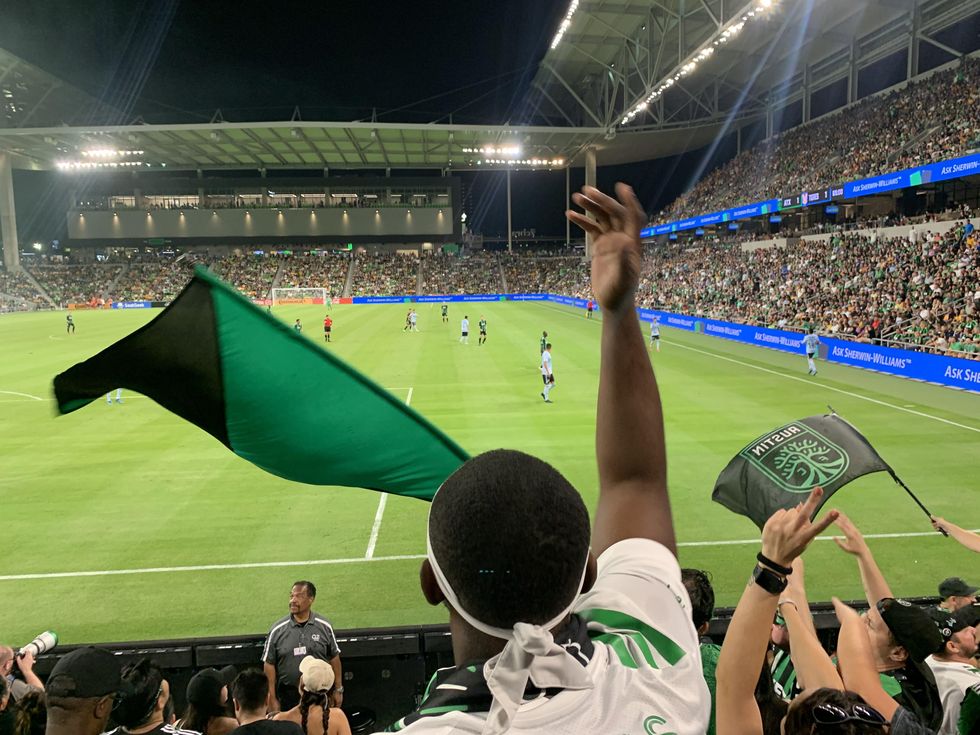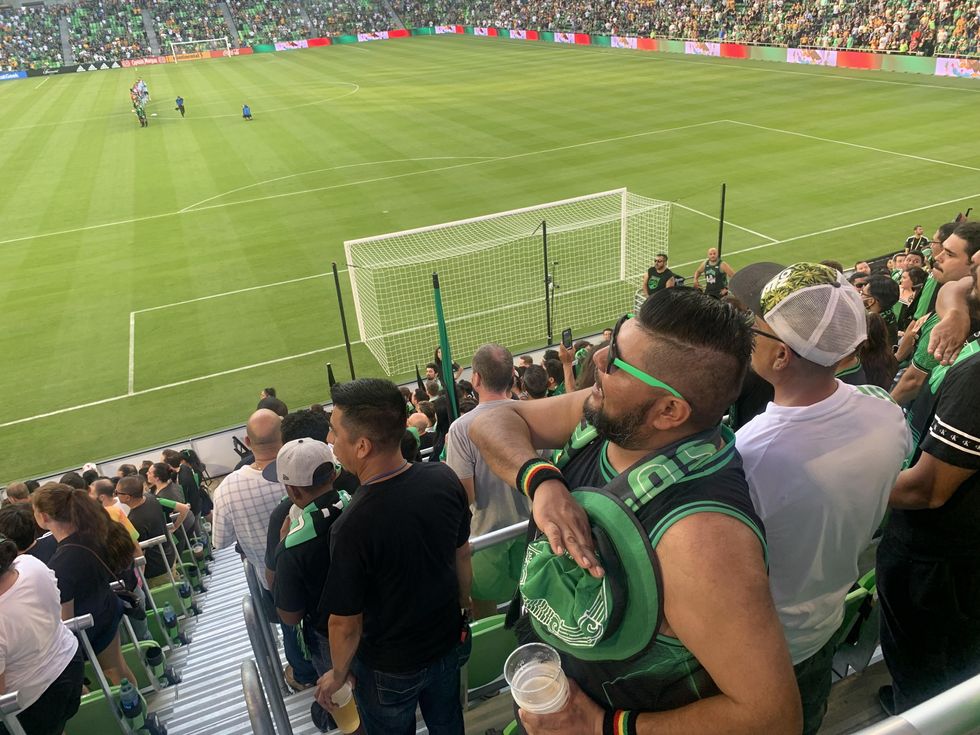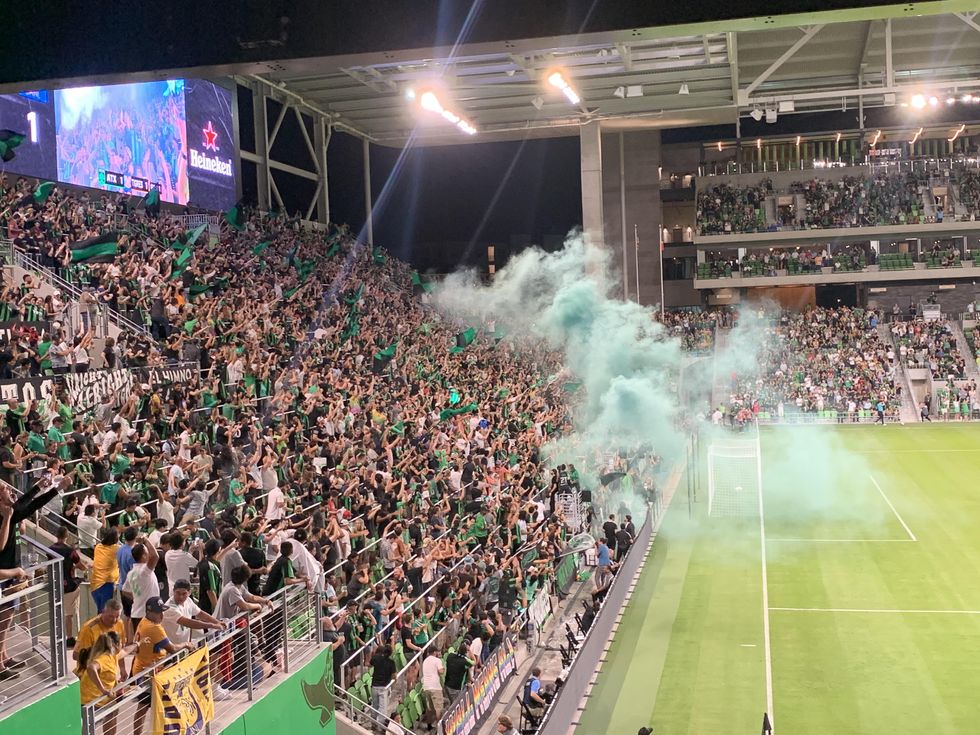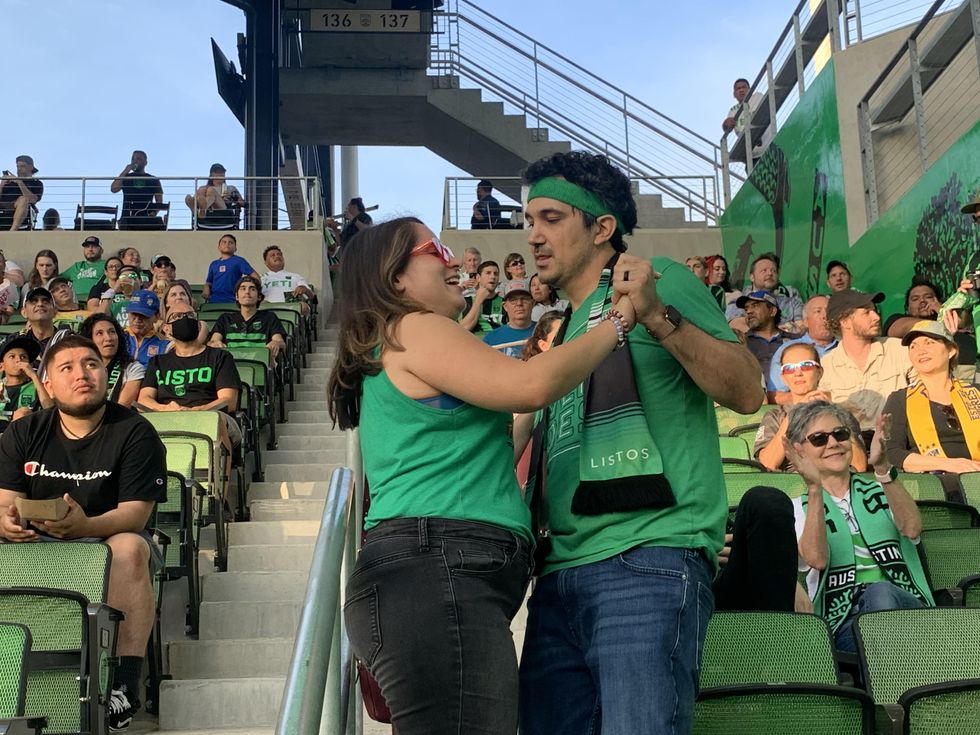 Meanwhile, Tigres fans found their home base near the top of the West side of the stands. Q2 saw more opposing fans than ever before as hundreds flocked from near and far to watch their lifelong club play.
Javier Hernandez and his wife, Sochy, looked like total Tigres fans as they repped blue and yellow hats and a giant lion's head.
But that choice came more down to jersey options than anything else. The two Austinites are Austin FC fans as well, and they're happy to see the two teams come together. Eventually, Javier wants to combine two Tigres and Austin FC jerseys to form one unified Verde and yellow jersey.
"We didn't know what to wear," Hernandez said. "I had a friend who is from Monterrey too, and he was wearing an Austin FC jersey. There's no rivalry or anything like that. We're all friends."
While most fans said they felt united and accepted by Austin FC in the match, a few said they felt they were unfairly discriminated against as they were asked to leave their own drums and banners at the gates.
Candelario Lopez and his family came from San Antonio and Temple to watch the match. Attending a Tigres match in Monterrey is normally a 12 hour drive, so Lopez said he was happy to have his favorite team so close to home. "It means a lot," Lopez said.
Still, he wished that the opposing fan section was given the same treatment as those in Verde.
"We had no problems at the beginning but, it's a friendly," Lopez said. "We are acting friendly, some others are not."
Tried and true Tigres fans find their own spot
Tigres fans couldn't compete with the excitement of Austin's supporters' section, but they still kept it loud and stayed on their feet throughout the match. (Claire Partain/Austonia)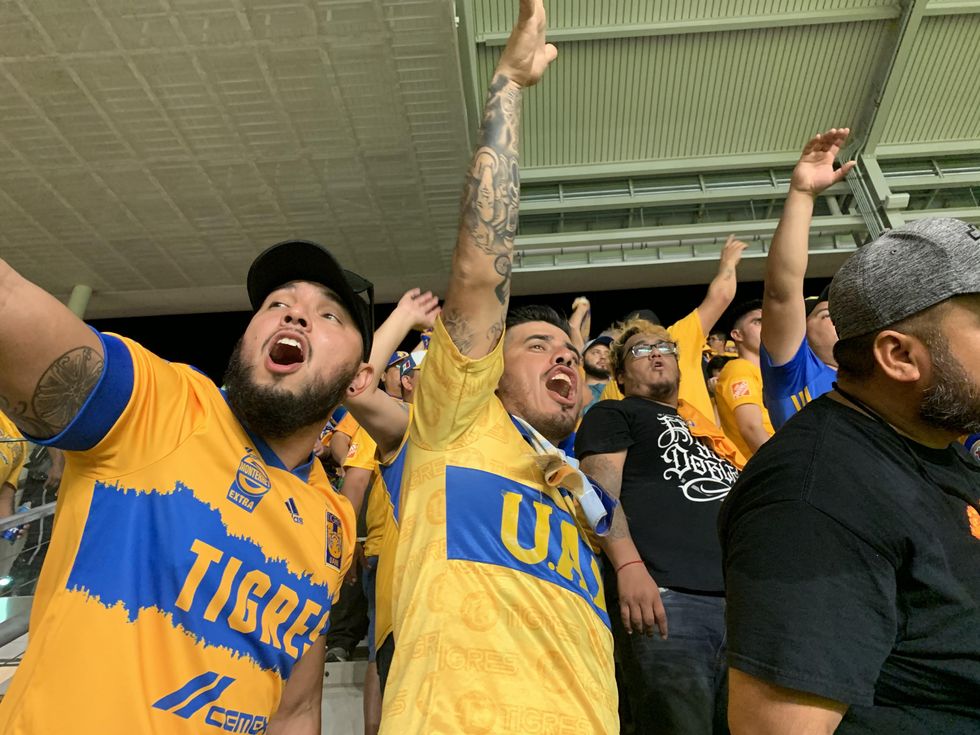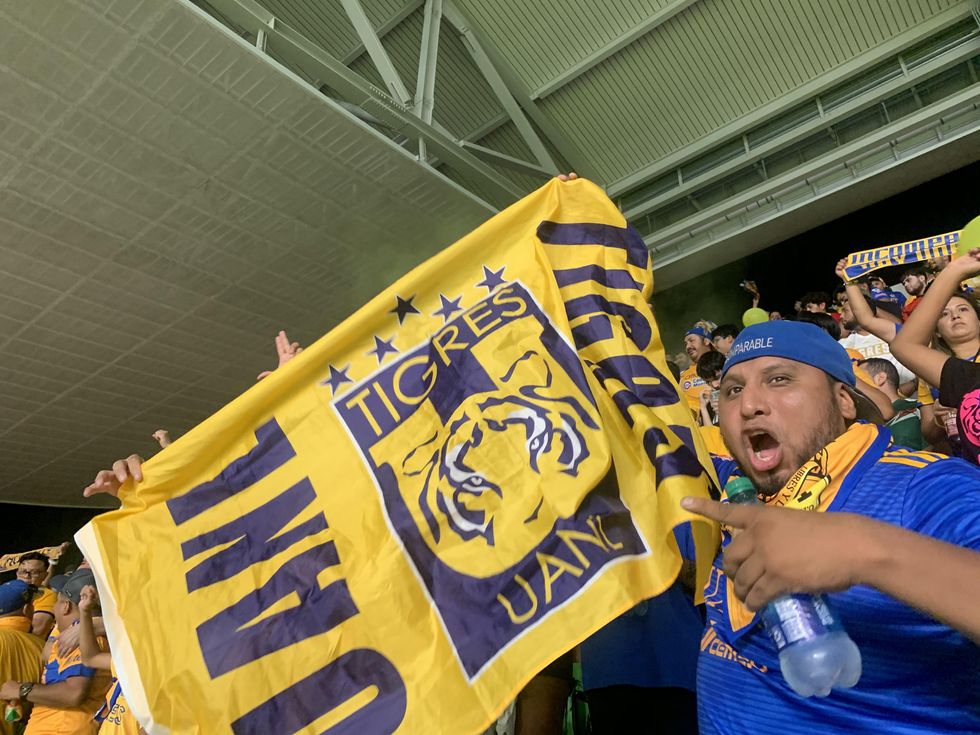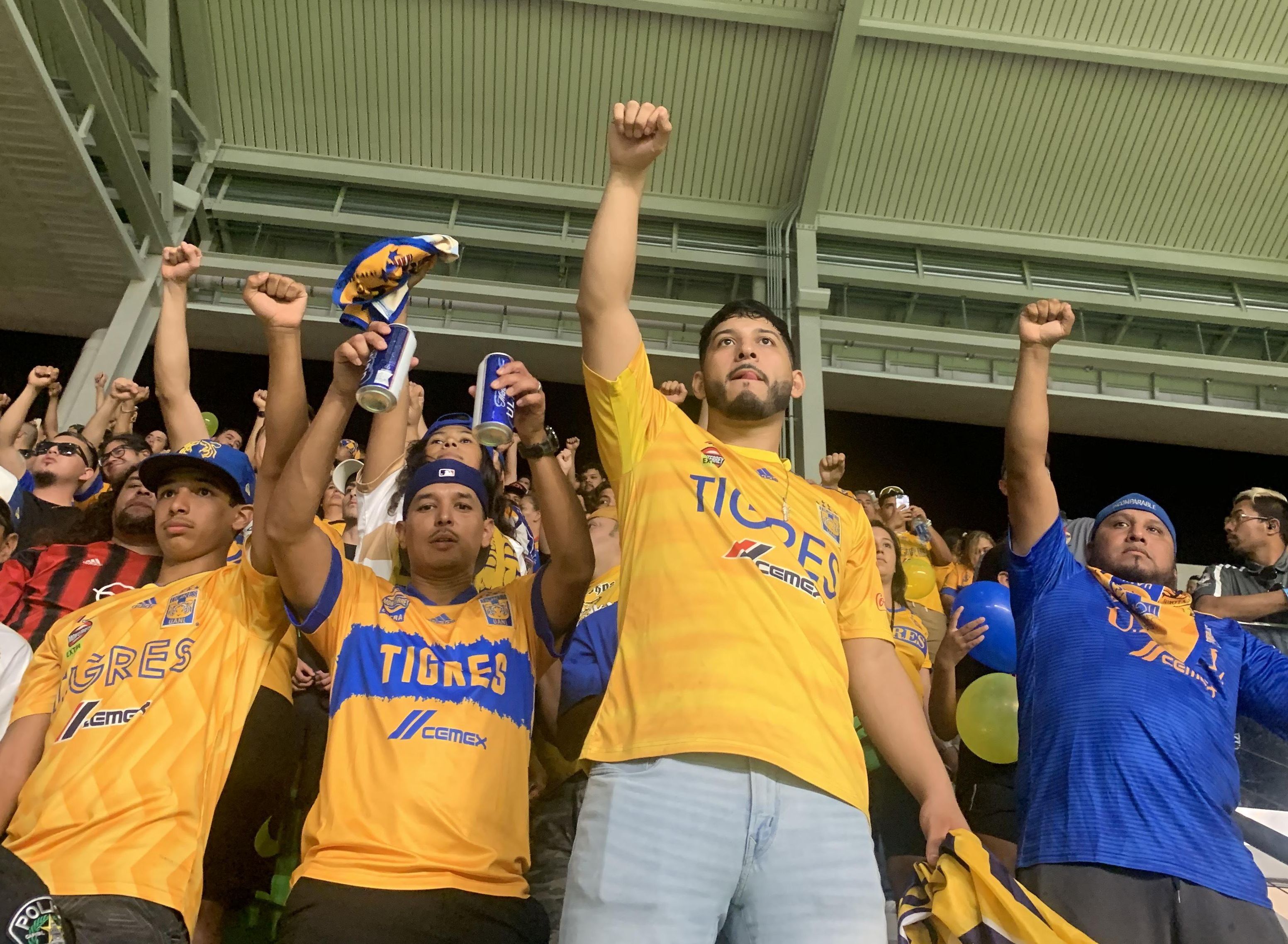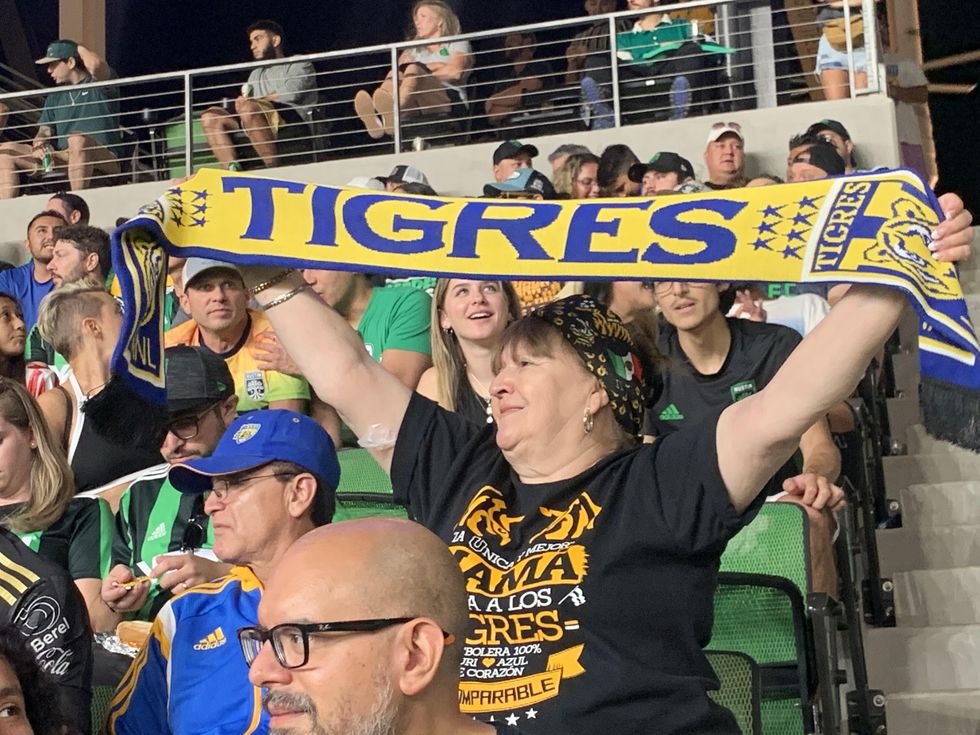 While one team had to win in the end, the match will help both Austin and Tigres grow in new ways on and off the pitch. Many Austin supporters hope the partnership lasts for many years to come as Austin builds its fanbase and Tigres continue to build on its legacy.
Aselmo Jimenez, who was in Verde but was chatting with Tigres fans, said he knew a partnership would happen before it even started. He said he knew the partnership would continue past the match before it even started. His friend in yellow, Carlos Gomez, agreed.
This is a great opportunity for Austin fans to see firsthand a team from Mexico face our team," Gomez said. "We're excited. The atmosphere and experience is just awesome.".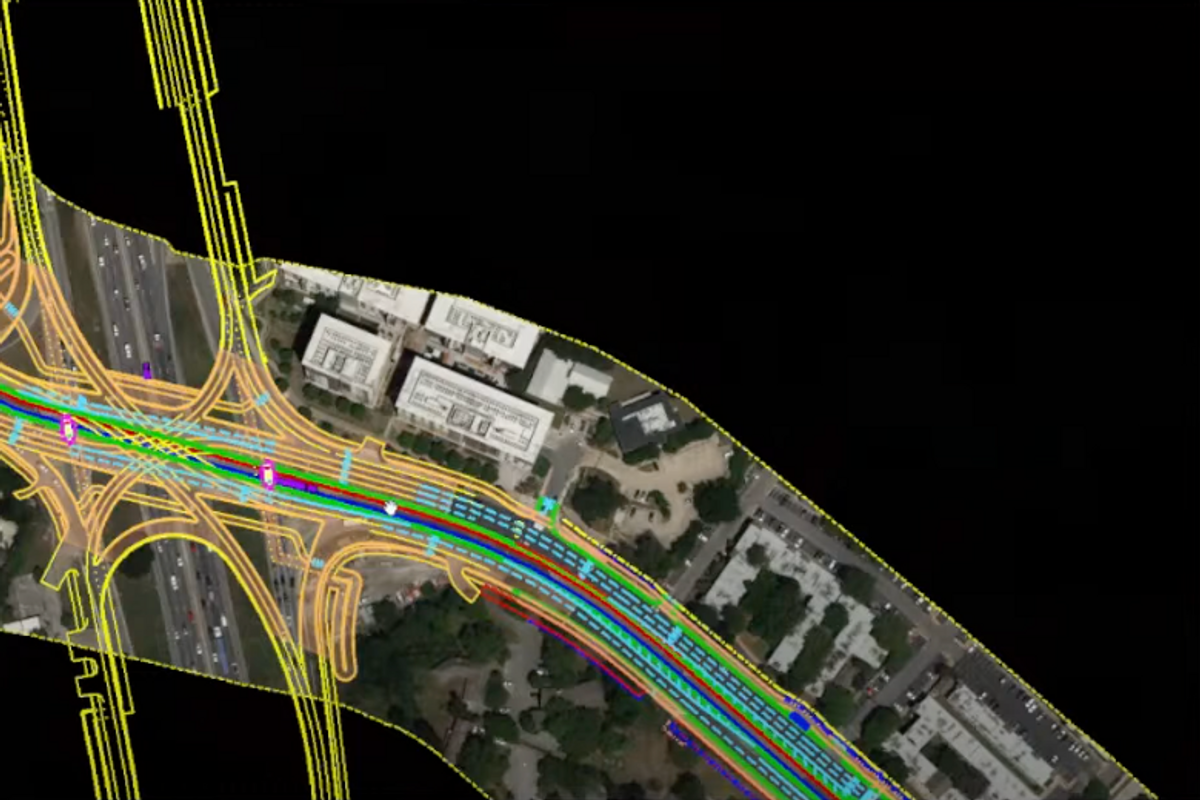 Designs for stations along Project Connect's Blue Line were presented this week, giving a detailed look at what part of the rail system extending from downtown to the airport could look like.
The planned stations that have gotten the latest focus include Waterfront, Travis Heights and Lakeshore stations past Lady Bird Lake.
At the Waterfront station, the preliminary design aims to prevent visual obstructions and save on costs. This is accomplished by a transit guideway that will lower from the bridge to a level station.
Heading onto East Riverside Drive, the light rail faces a curve requiring a slow down to about 10 miles per hour.
The Travis Heights station could involve relocating a pedestrian crosswalk zone at Alameda Drive to Blunn Creek. Since light rails can't effectively operate on a steep grade, this allows the transit guideway to avoid that.
From there, the rail will extend to the Norwood Park area, and though it will reach along the right-of-way zone, the park will be able to remain open.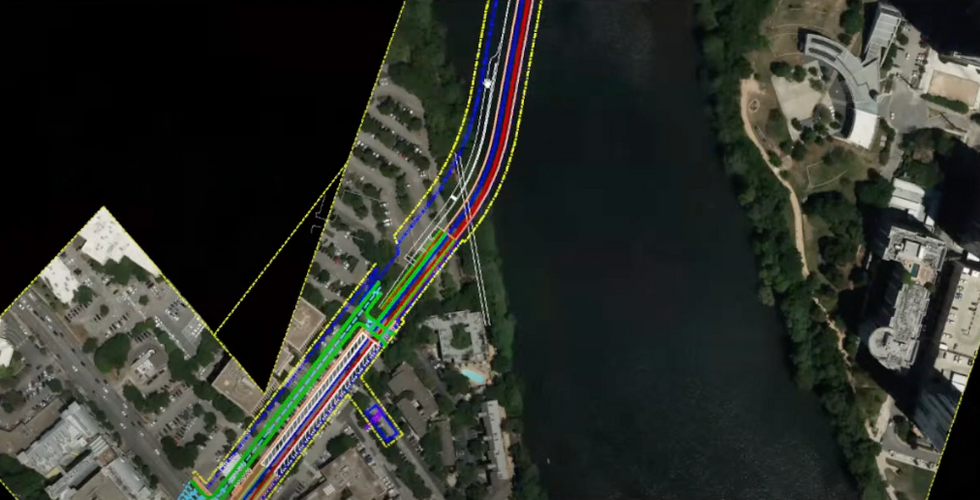 A view of the Blue Line by Lady Bird Lake. (Project Connect)
The line involves some coordination with the Texas Department of Transportation. That's because the department is working on an intersection that will have to be built before the phasing of the section of the Blue Line involving an I-35 crossing.
When it comes to the safety of cyclists and walkers, design ideas include a pedestrian hybrid beacon by East Bouldin Creek that would provide a protected signal to cross. And for the intersection TxDOT is carrying out, Project Connect is working with them on pedestrian access across the intersection. It could involve shared use paths along the street and crossings beneath it.
This summer, the public can expect 30% of design and cost estimates to be released. Though the project was $7.1 billion when voters approved it in November 2020, the latest estimates factoring in inflation and supply chain constraints show it could ultimately be upwards of $10 billion.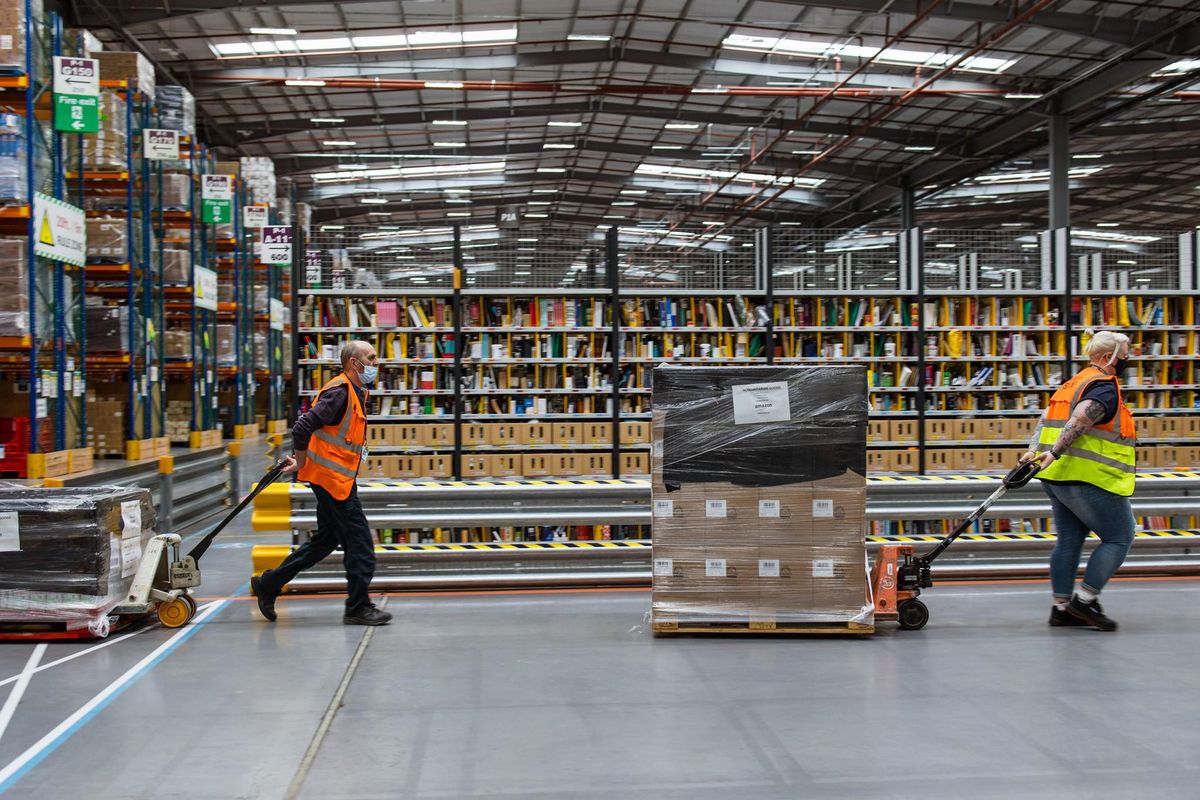 Plans for an Amazon warehouse in Round Rock—a $250 million project slated to be a large distribution center—are on hold.
This comes just after the tech giant had its worst financial quarter in seven years.
The details:
Late last year, it announced an expansion at the Domain adding 2,000 more corporate and tech jobs.
Amazon still owns the site in Round Rock. Plans for it are unclear.
Early this week, the Wall Street Journal reported that Amazon is aiming to scrap warehouse space as it faces a slowdown in its e-commerce operations.
Part of that effort involves exploring the possibility of ending or renegotiating leases with outside warehouse owners. Another aspect is a plan to sublease warehouse space.
"It allows us to relieve the financial obligations associated with an existing building that no longer meets our needs," an Amazon spokeswoman told the Wall Street Journal. "Subleasing is something many established corporations do to help manage their real estate portfolio."