Get connected with our daily update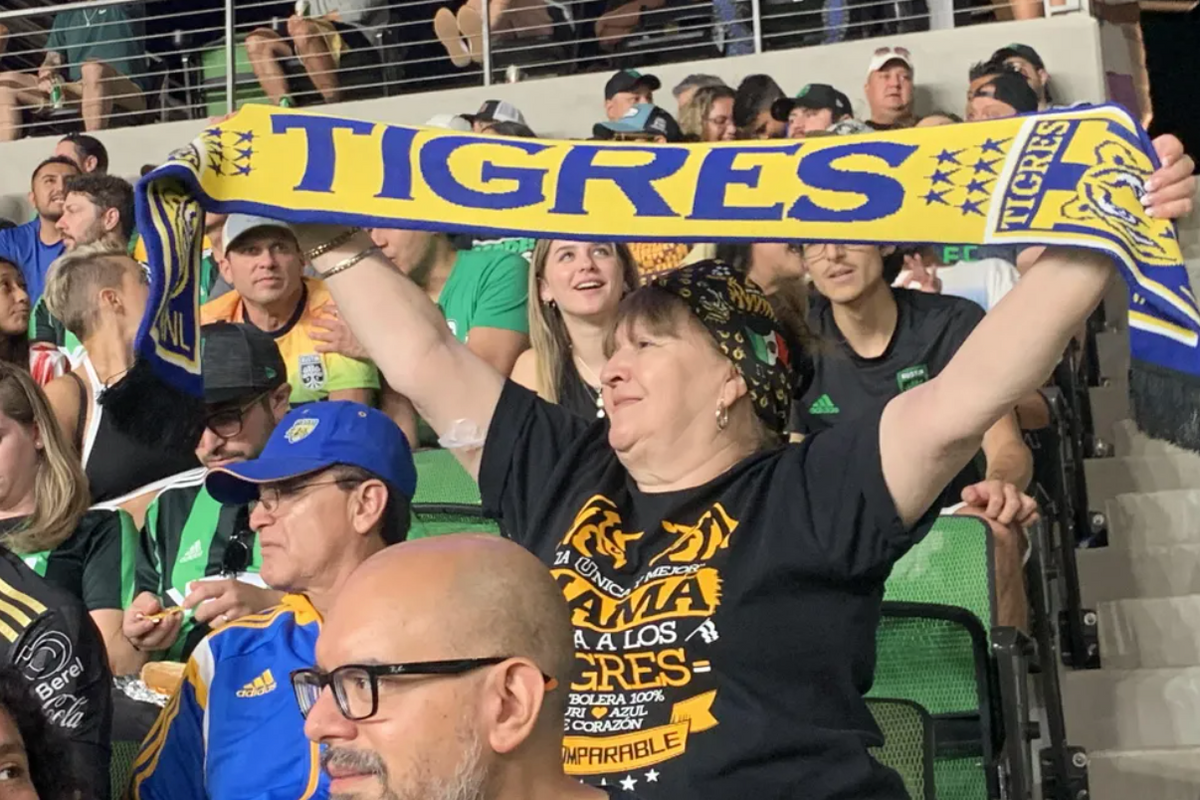 Austin FC and Tigres UANL fans seemed to be given an uncomfortable wardrobe choice as they headed into the exciting game. Instead of "Yellow or Verde?," many fans asked "Why not both?" as they geared up with both of their favorite teams' colors in a match that celebrated the true spirit of Austin.
In Austin's first-ever international friendly—a match that doesn't affect the teams' standing in their leagues—on Tuesday, Tigres UANL brought the heat that they are known for. With lots of Austin supporters of the Monterrey team, Austin FC and Tigres UANL fans mixed and mingled—and some even bore the same name—as Austin lost 3-1 to the Liga MX powerhouse club.
---
Both teams brought their backup players to the front of the lineup to start the match. Austin, with its slew of injured starters, saw keeper Andrew Tarbell and defender Aedan Stanley for the first time and put fan favorites Diego Fagundez and Kekuta Manneh in the starting XI. Gentle giant Jhohan Romana and midfielder Tomas Pochettino, both recovered from injuries themselves, were also back on the pitch. Defender Matt Besler took the captain slot.
Rodney Redes broke through with his first goal in the regular season, but the Tigres reminded the crowd of their spot at the top of CONCACAF, a continental championship, as they responded with two back-to-back goals at the end of the match to take the friendly 3-1.
It seemed as though many Austin FC fans who have followed Tigres their entire lives would face a moral dilemma as they went into the match. Instead, supporters sported Verde scarves with yellow Tigres jerseys, sat next to their opposing teams' fans and even cheered for both of their favorite clubs as they went head to head at Q2.
Yellow y Verde
Austin FC fans wore both yellow and green in a rare show of support for both teams at Tuesday's friendly. (Claire Partain/Austonia)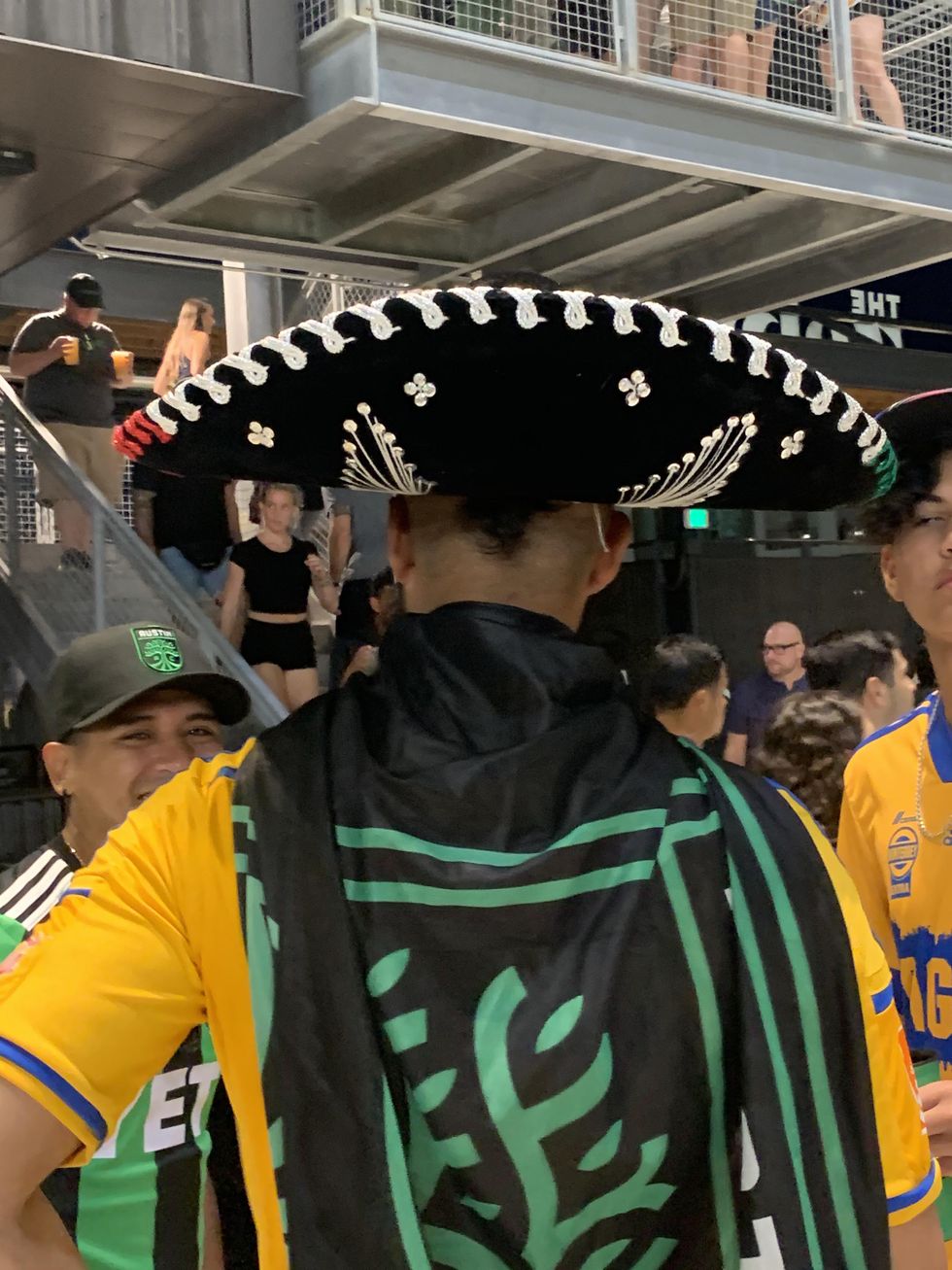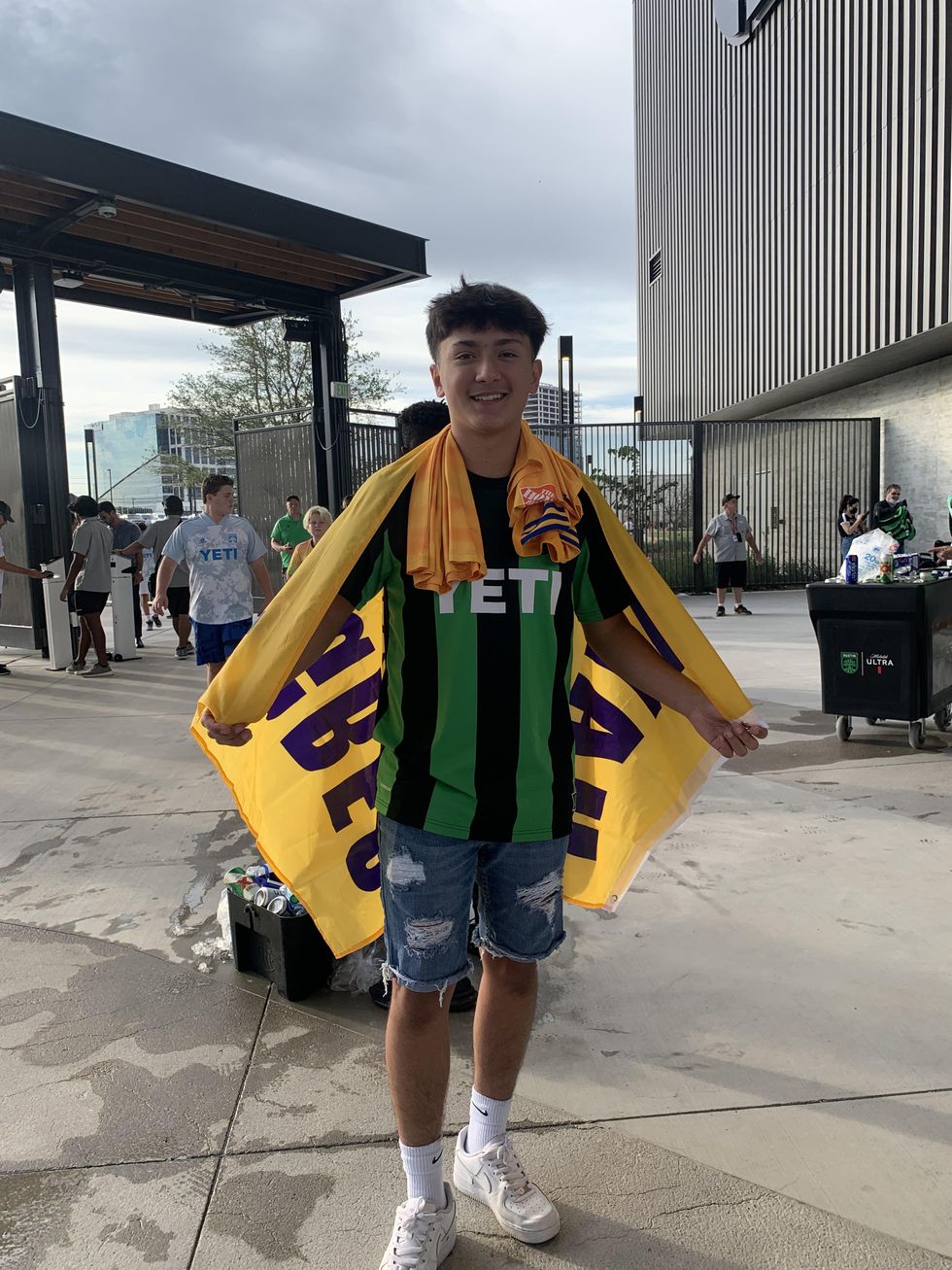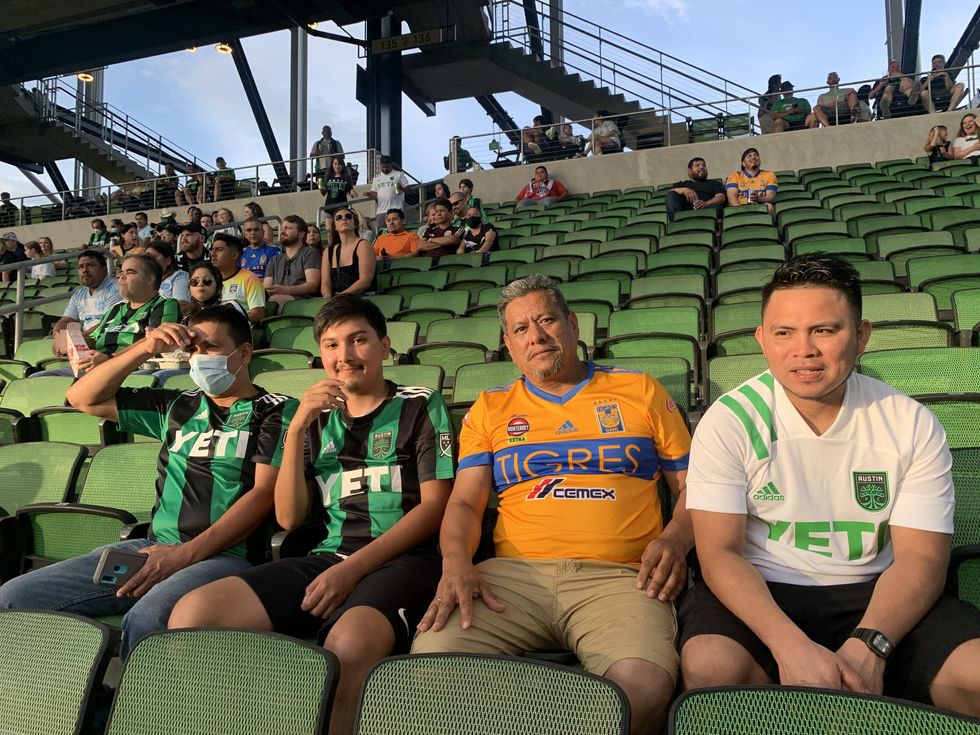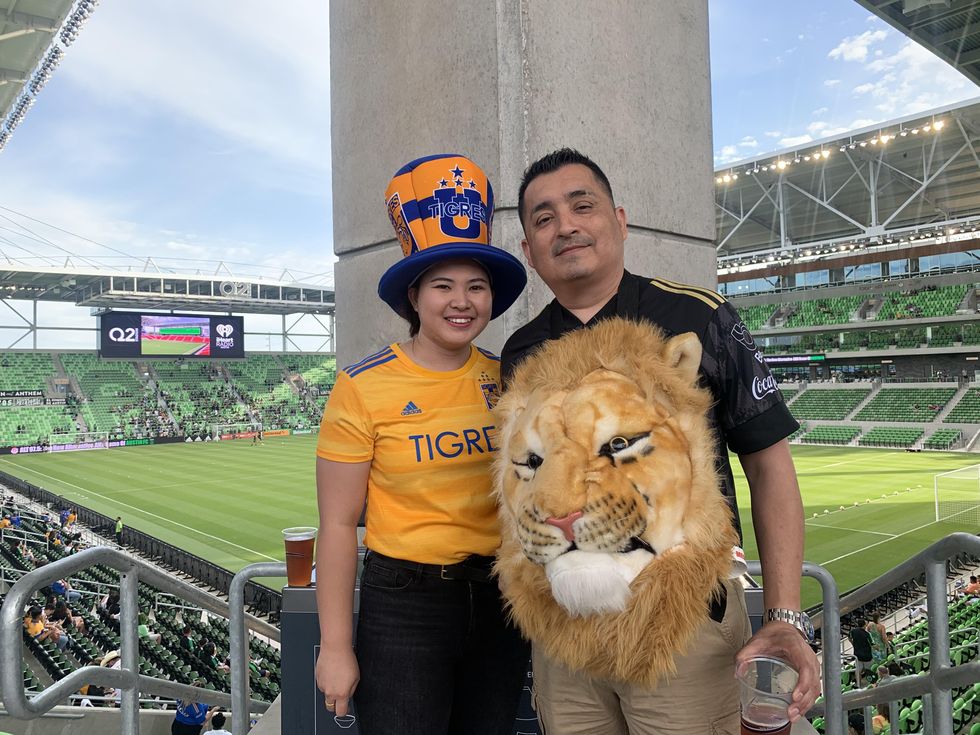 For the first time, the Mexican flag flew next to the U.S. flag at Q2 as both national anthems were sung tearfully by fans in the supporters' section.
While the match didn't count toward either teams' standings, Austin FC fan band La Murga de Austin was as rowdy as ever as they led the supporters' section through heartfelt Austin FC chants. Beer was thrown, water was splashed and a steady drumbeat kept fans alive even after Tigres responded with two goals to win the match.
Verde supporters show out
Austin fans roared and swung flags as their club scored its first international goal. (Claire Partain/Austonia)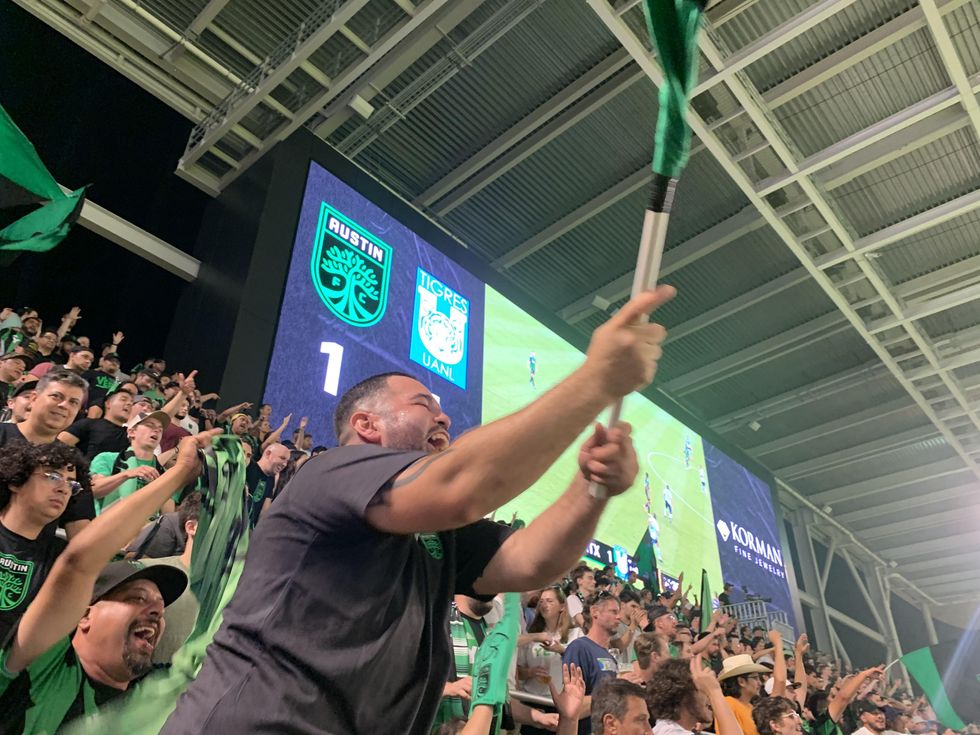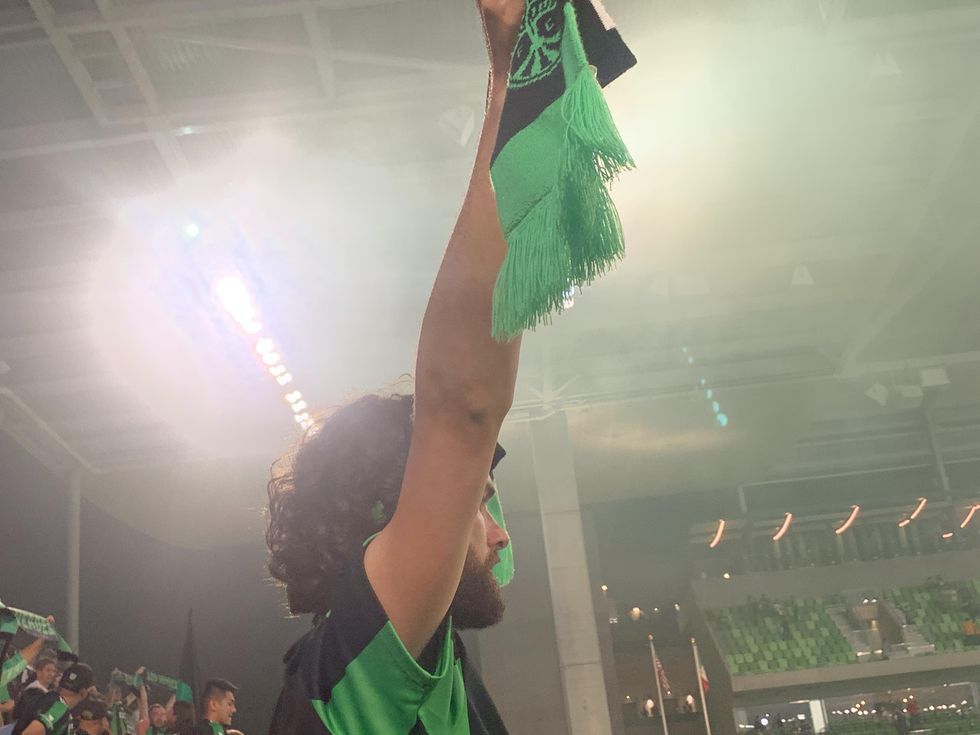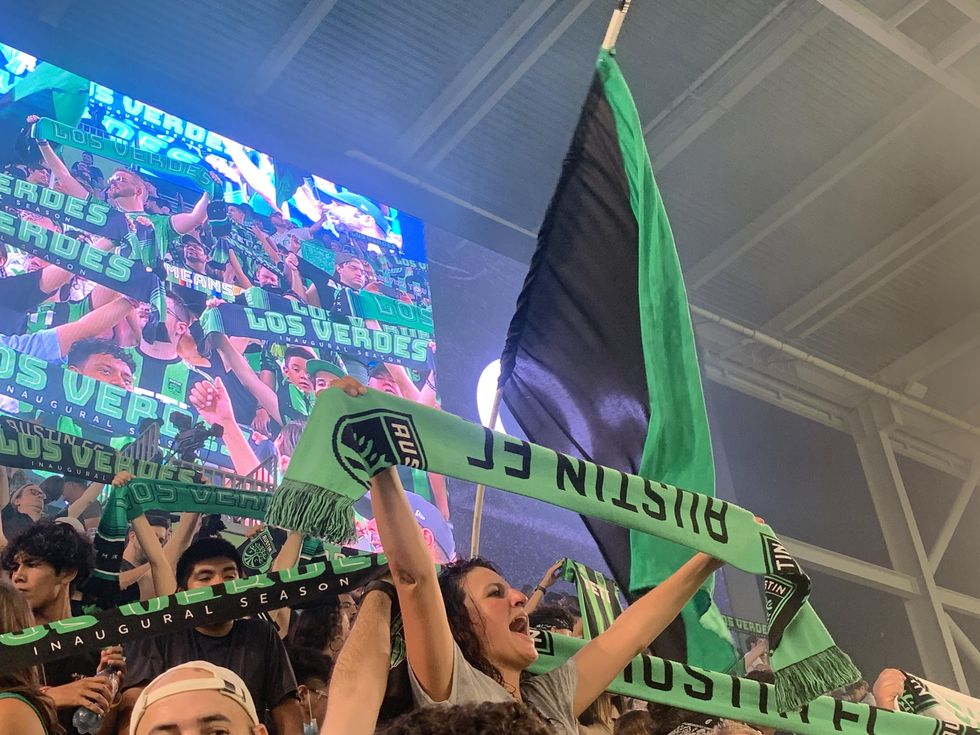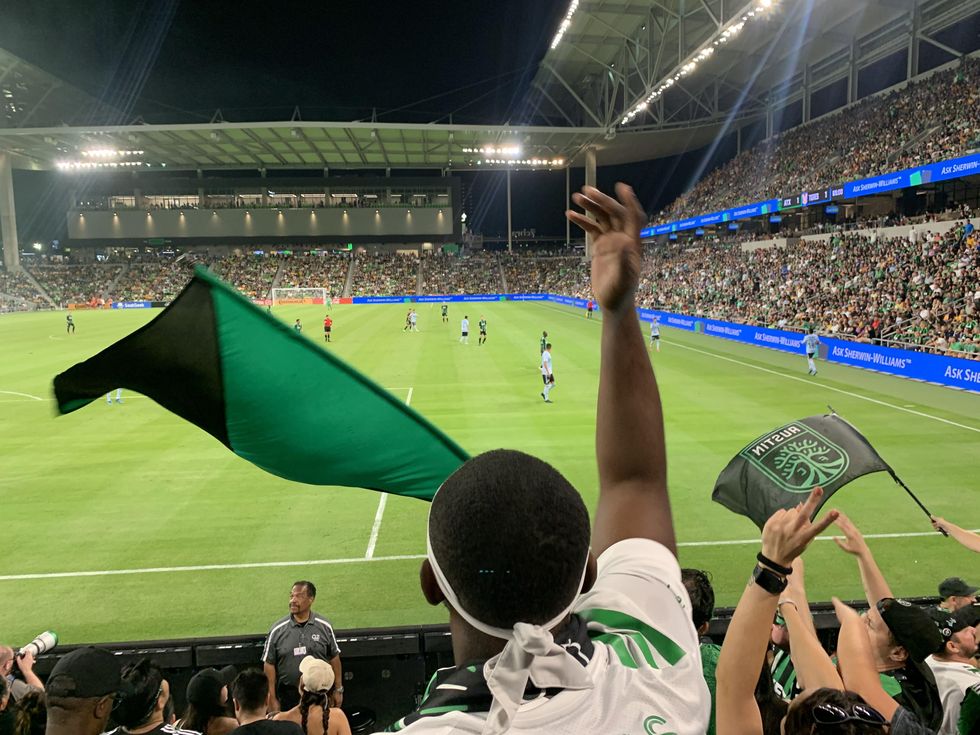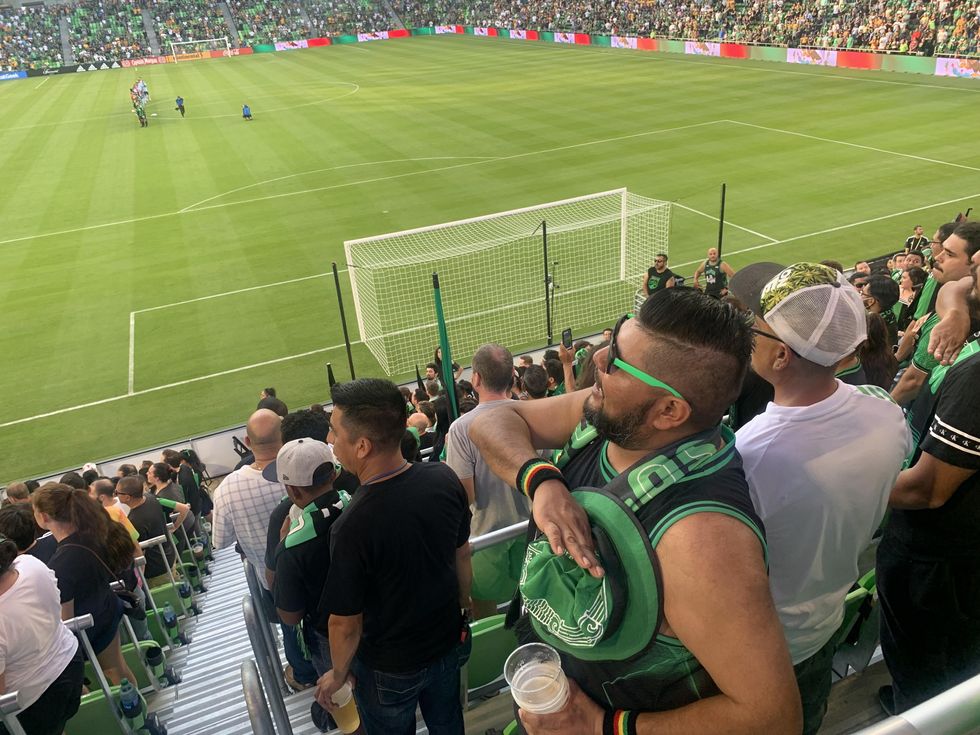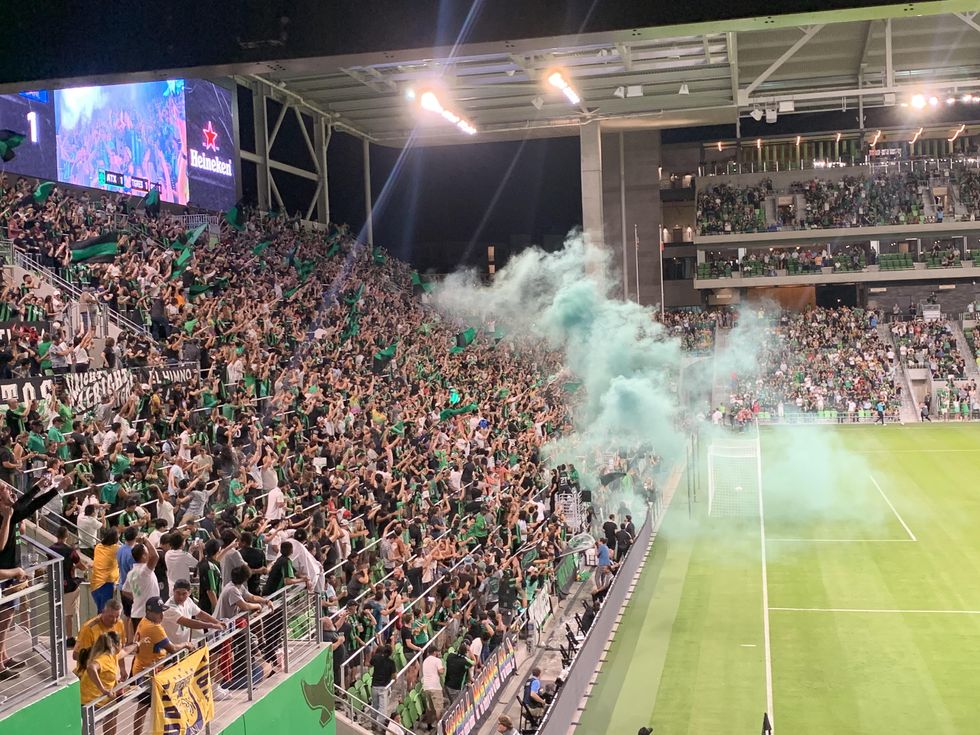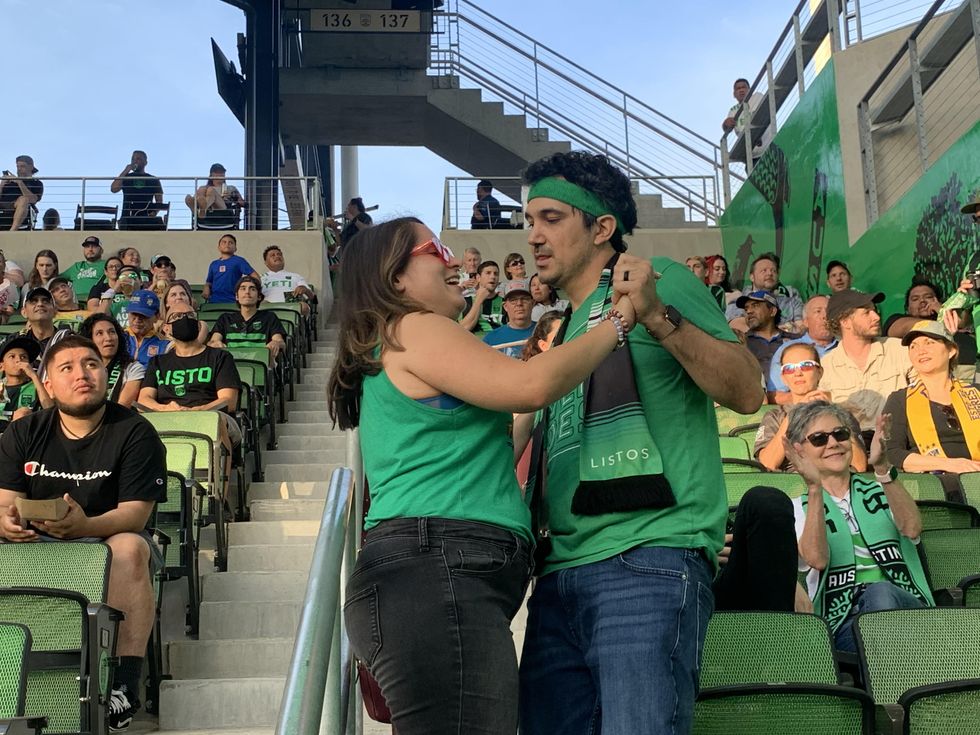 Meanwhile, Tigres fans found their home base near the top of the West side of the stands. Q2 saw more opposing fans than ever before as hundreds flocked from near and far to watch their lifelong club play.
Javier Hernandez and his wife, Sochy, looked like total Tigres fans as they repped blue and yellow hats and a giant lion's head.
But that choice came more down to jersey options than anything else. The two Austinites are Austin FC fans as well, and they're happy to see the two teams come together. Eventually, Javier wants to combine two Tigres and Austin FC jerseys to form one unified Verde and yellow jersey.
"We didn't know what to wear," Hernandez said. "I had a friend who is from Monterrey too, and he was wearing an Austin FC jersey. There's no rivalry or anything like that. We're all friends."
While most fans said they felt united and accepted by Austin FC in the match, a few said they felt they were unfairly discriminated against as they were asked to leave their own drums and banners at the gates.
Candelario Lopez and his family came from San Antonio and Temple to watch the match. Attending a Tigres match in Monterrey is normally a 12 hour drive, so Lopez said he was happy to have his favorite team so close to home. "It means a lot," Lopez said.
Still, he wished that the opposing fan section was given the same treatment as those in Verde.
"We had no problems at the beginning but, it's a friendly," Lopez said. "We are acting friendly, some others are not."
The Tigres supporters' section was full of several hundred fans eager to rep their club in Austin. (Claire Partain/Austonia)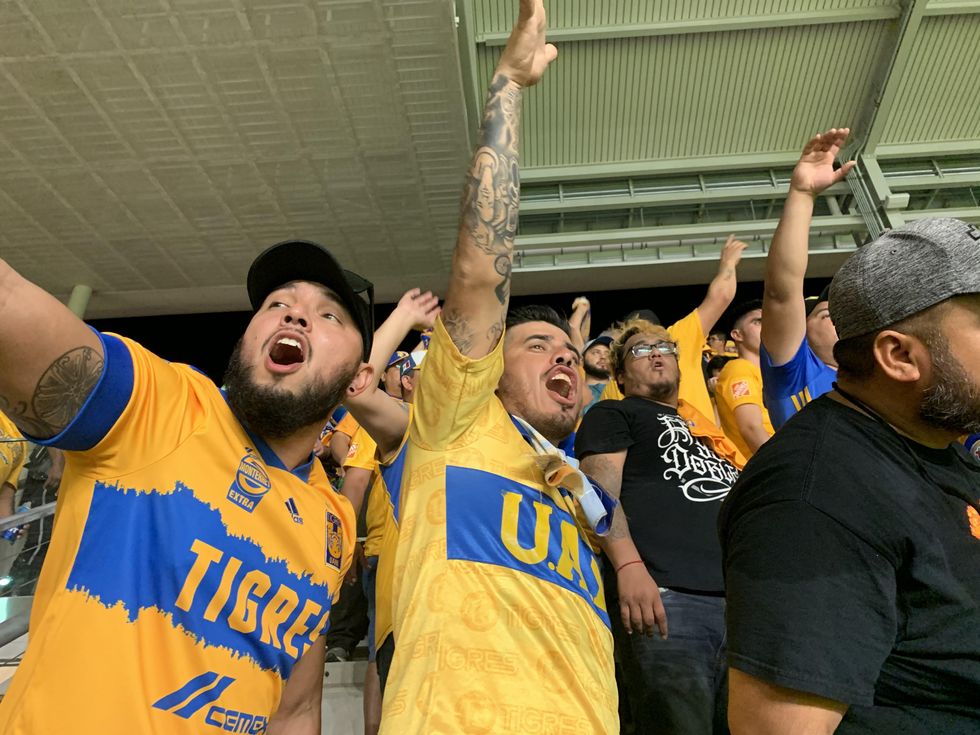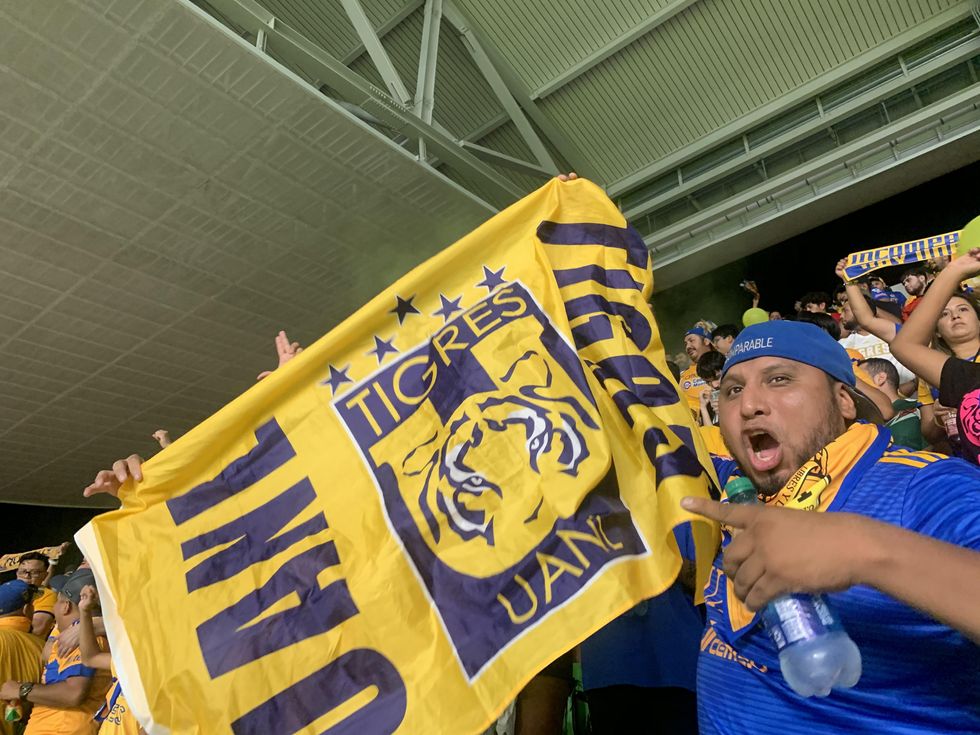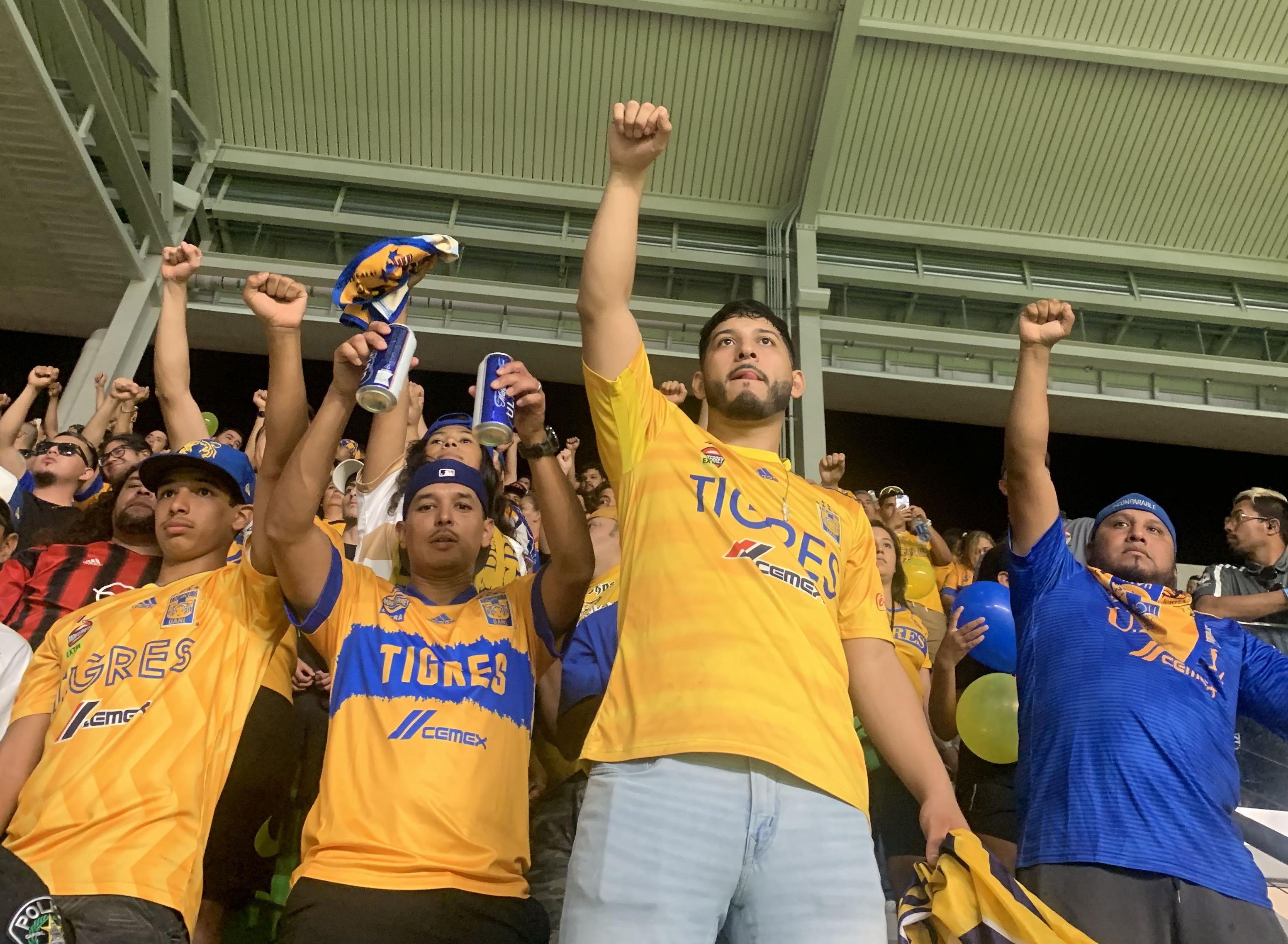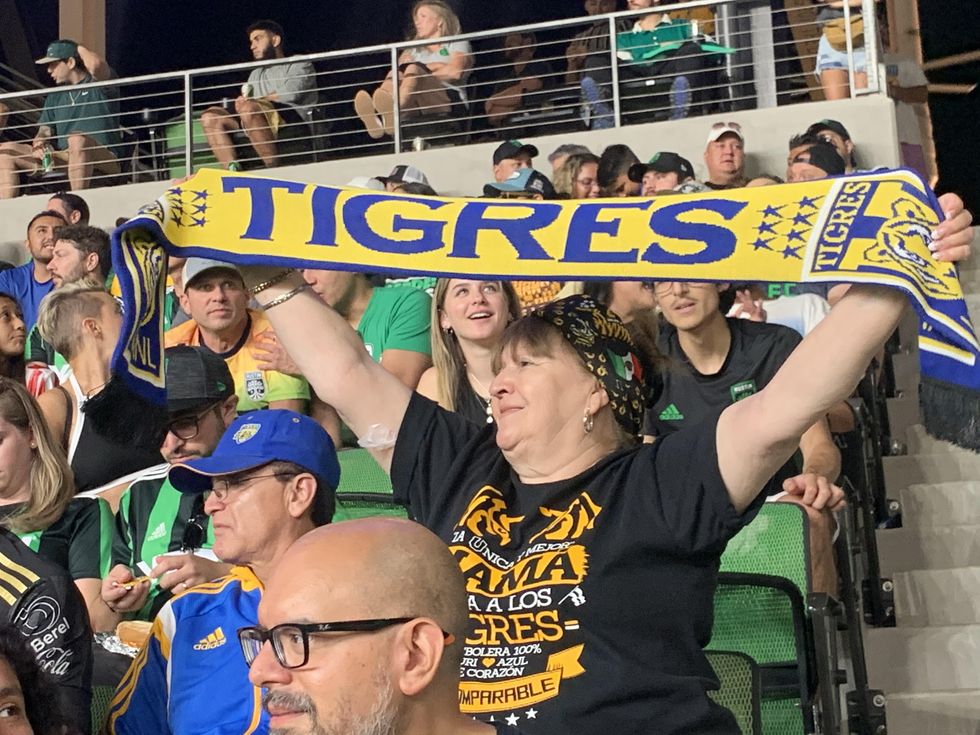 While one team had to win in the end, the match will help both Austin and Tigres grow in new ways on and off the pitch. Many Austin supporters hope the partnership lasts for many years to come as Austin builds its fanbase and Tigres continue to build on its legacy.
Aselmo Jimenez, who was in Verde but was chatting with Tigres fans, said he knew a partnership would happen before it even started. He said he knew the partnership would continue past the match before it even started. His friend in yellow, Carlos Gomez, agreed.
This is a great opportunity for Austin fans to see firsthand a team from Mexico face our team," Gomez said. "We're excited. The atmosphere and experience is just awesome.".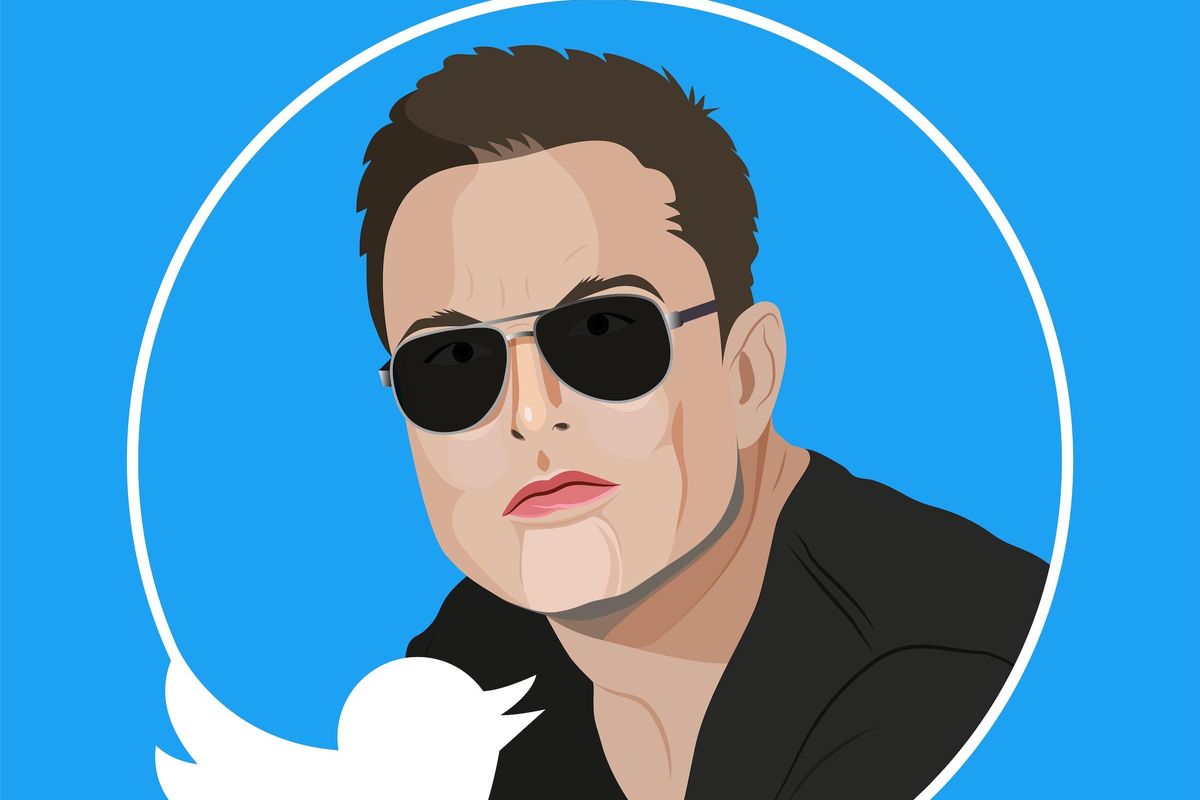 Shutterstock
Elon Musk has proposed once again to buy Twitter for $54.20 a share.
The news that Musk is offering to carry on with the $44 billion buyout was first reported by Bloomberg. Now, a filing with the Securities and Exchange Commission shows Musk made the proposal in a letter to the tech giant on Monday.
The New York Stock Exchange temporarily halted trading in Twitter stock twice Tuesday, first because of a big price move and the second time for a news event, presumably the announcement of Musk's renewed offer.
While the per share offer price on this latest proposal remains the same as the original offer, it's unclear if Musk has made other term changes or if Twitter would reject it. According to other reports, a deal could be reached this week.
The stock closed at $52.00/share Tuesday, indicating market uncertainty around the $54.20 offer.
After Musk informed Twitter of plans to terminate the original agreement in July, Twitter sued. A trial has been expected in Delaware Chancery Court on Oct. 17.
With the proposition of a buyout on the table again, it revives the question of whether Musk might move Twitter from San Francisco to Central Texas.
He's done so with some of his other companies. Tesla's headquarters in southeast Travis County had its grand opening earlier this year and tunneling business The Boring Company moved to Pflugerville. At least two other Musk companies, SpaceX and Neuralink, have a Central Texas presence without being headquartered here.
Technology journalist Nilay Patel this afternoon voiced concerns that owning Twitter and Tesla together could be problematic for Musk, as his Tesla manufacturing facilities in Germany and China are both in countries that have disputes with Twitter over content moderation and censorship.
Telsa shares fell after the Twitter news became public, before rallying to close up, at $249.44.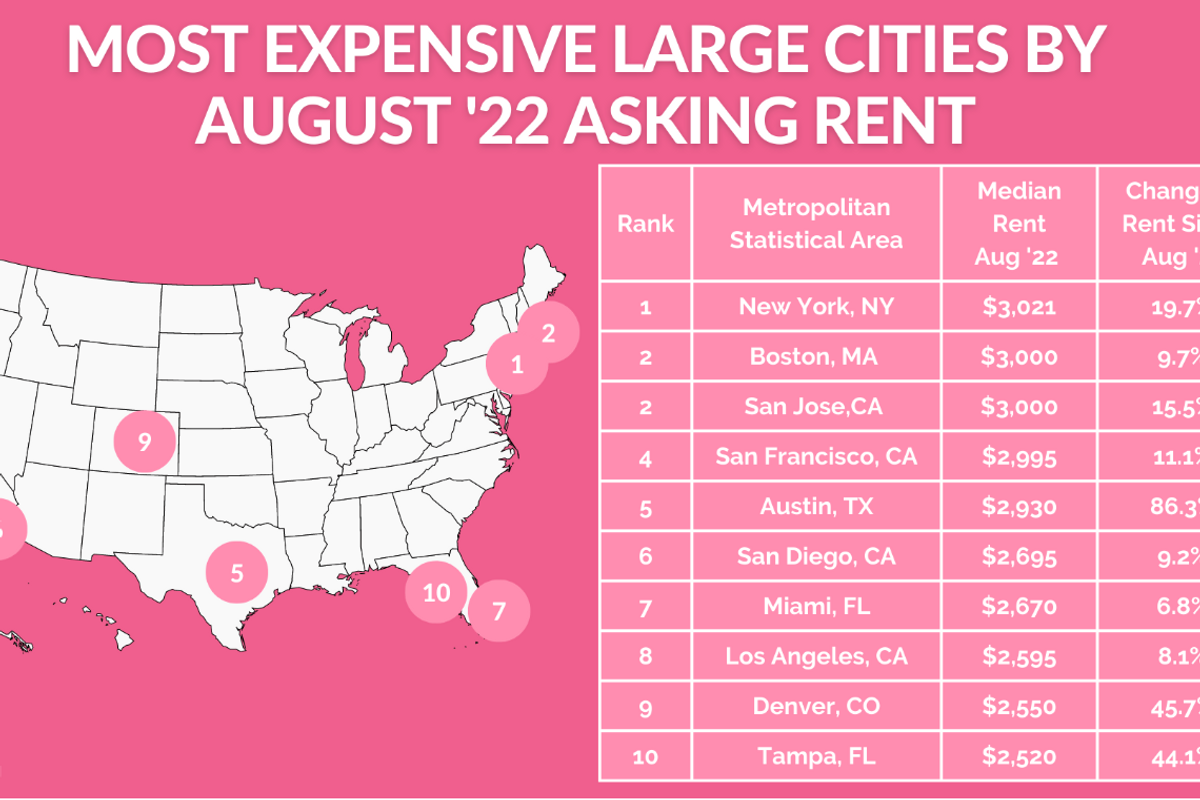 Dwellsy
While searching for a place to live, Austin renters will face monthly rates of nearly $3,000, a recent guide from rental marketplace Dwellsy shows.
The median rent in August this year was $2,930, a more than 86% increase since August 2021. That's $820 more than the nationwide median asking rent in August and puts Austin just below the Bay Area, Boston and New York for large cities with the most expensive asking rent.
"Within this group, Austin, TX stands out for the highest increases in asking rent, which has nearly doubled since this time last year," the study notes.
Outside of those large cities, however, others are seeing even higher rent spikes. Metro areas that ranked above Austin in one-year increases include those like Kansas City, MO with a 112% change in rent since last August and Tucson, AZ with a 124% change.
The data reflects large apartment communities, single-family homes and 2-6 unit buildings.