Get connected with our daily update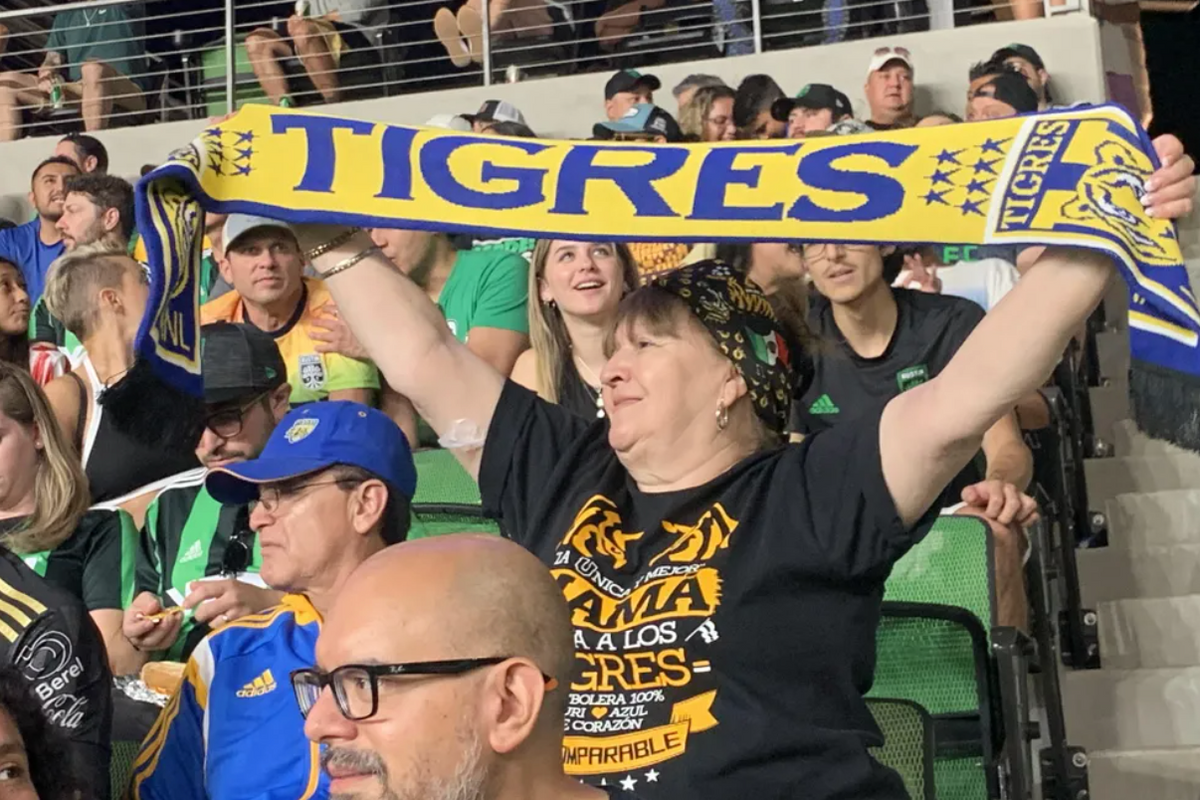 Austin FC and Tigres UANL fans seemed to be given an uncomfortable wardrobe choice as they headed into the exciting game. Instead of "Yellow or Verde?," many fans asked "Why not both?" as they geared up with both of their favorite teams' colors in a match that celebrated the true spirit of Austin.
In Austin's first-ever international friendly—a match that doesn't affect the teams' standing in their leagues—on Tuesday, Tigres UANL brought the heat that they are known for. With lots of Austin supporters of the Monterrey team, Austin FC and Tigres UANL fans mixed and mingled—and some even bore the same name—as Austin lost 3-1 to the Liga MX powerhouse club.
---
Both teams brought their backup players to the front of the lineup to start the match. Austin, with its slew of injured starters, saw keeper Andrew Tarbell and defender Aedan Stanley for the first time and put fan favorites Diego Fagundez and Kekuta Manneh in the starting XI. Gentle giant Jhohan Romana and midfielder Tomas Pochettino, both recovered from injuries themselves, were also back on the pitch. Defender Matt Besler took the captain slot.
Rodney Redes broke through with his first goal in the regular season, but the Tigres reminded the crowd of their spot at the top of CONCACAF, a continental championship, as they responded with two back-to-back goals at the end of the match to take the friendly 3-1.
It seemed as though many Austin FC fans who have followed Tigres their entire lives would face a moral dilemma as they went into the match. Instead, supporters sported Verde scarves with yellow Tigres jerseys, sat next to their opposing teams' fans and even cheered for both of their favorite clubs as they went head to head at Q2.
Yellow y Verde
Austin FC fans wore both yellow and green in a rare show of support for both teams at Tuesday's friendly. (Claire Partain/Austonia)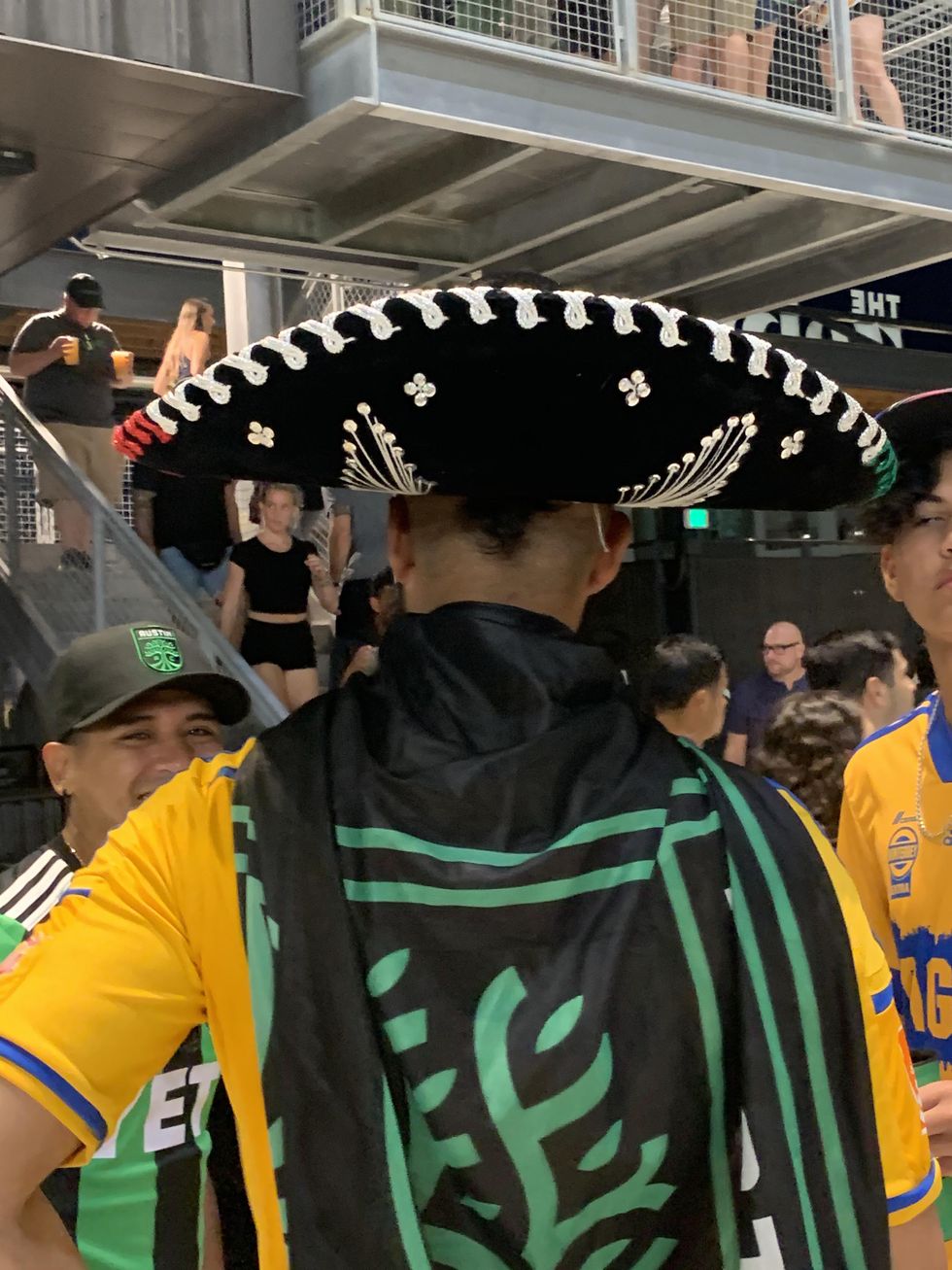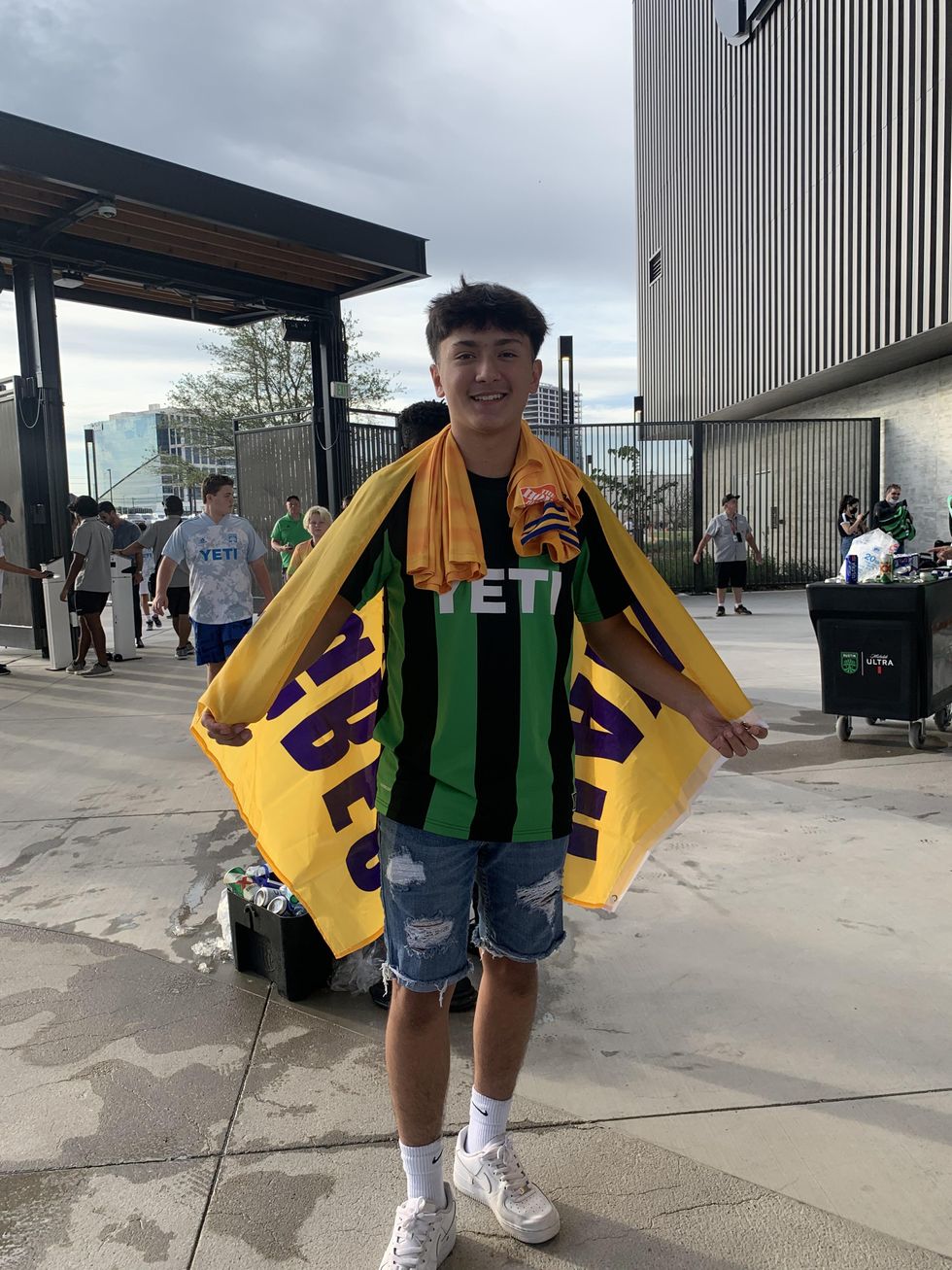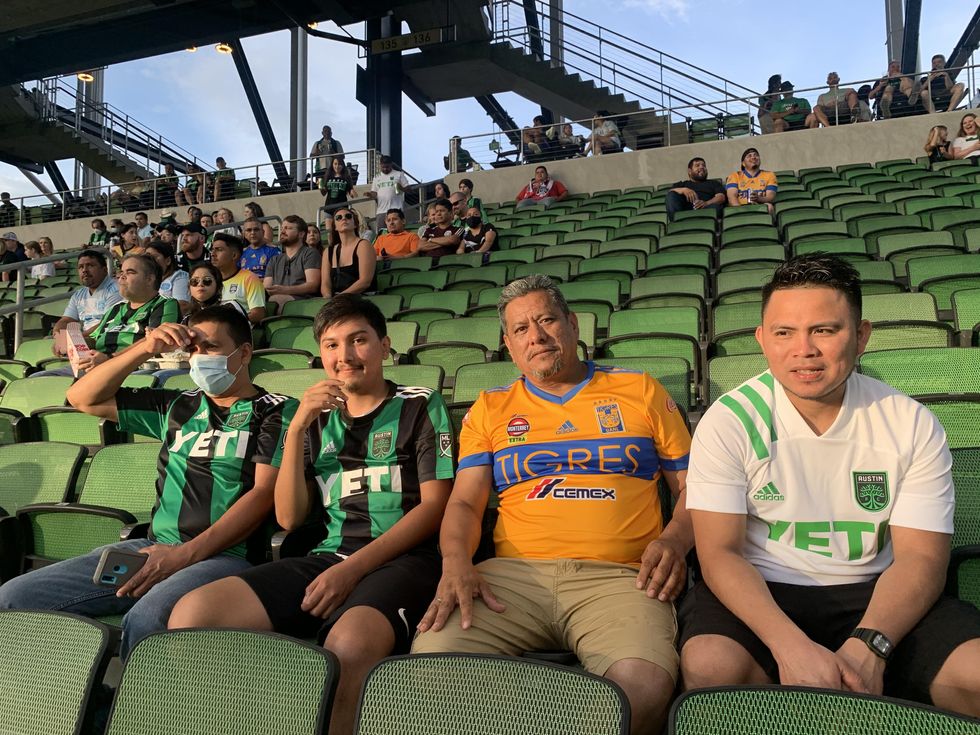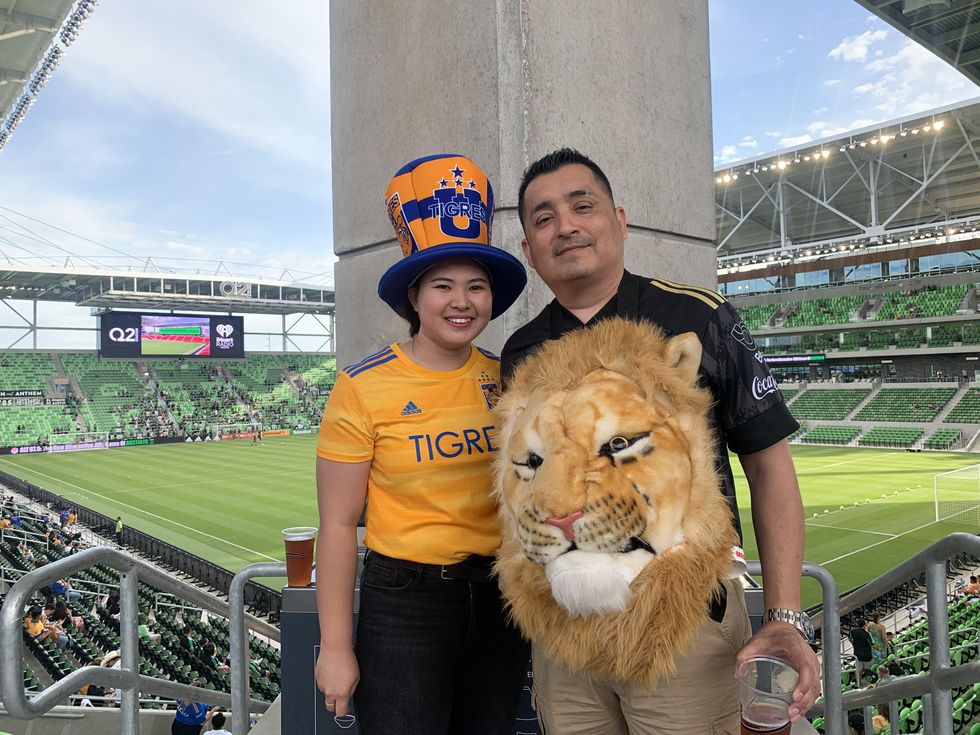 For the first time, the Mexican flag flew next to the U.S. flag at Q2 as both national anthems were sung tearfully by fans in the supporters' section.
While the match didn't count toward either teams' standings, Austin FC fan band La Murga de Austin was as rowdy as ever as they led the supporters' section through heartfelt Austin FC chants. Beer was thrown, water was splashed and a steady drumbeat kept fans alive even after Tigres responded with two goals to win the match.
Verde supporters show out
Austin fans roared and swung flags as their club scored its first international goal. (Claire Partain/Austonia)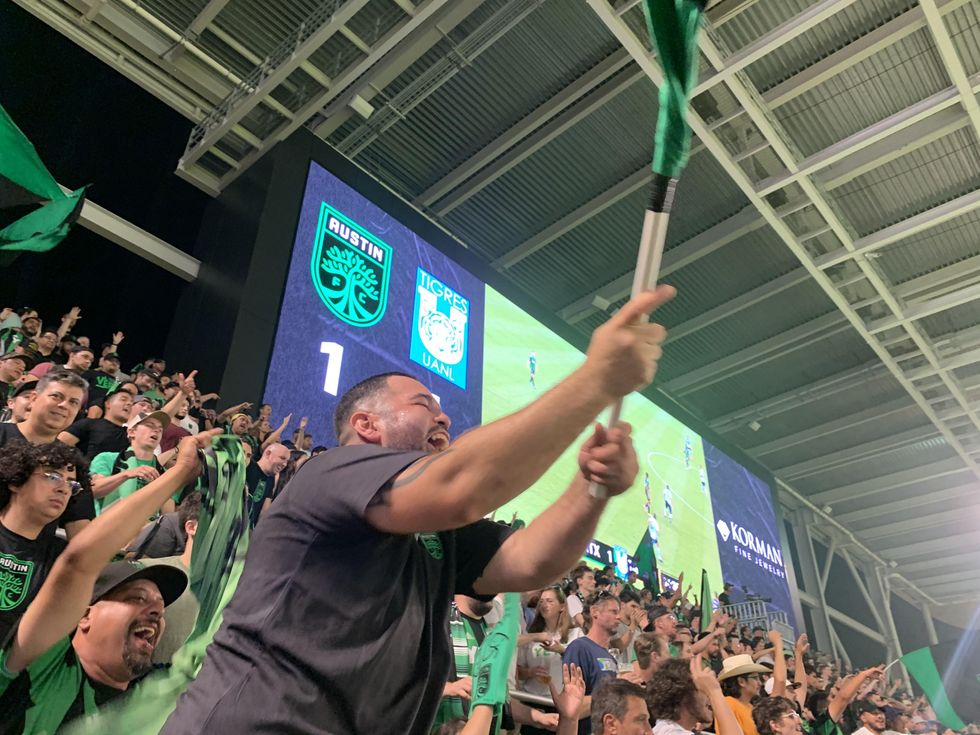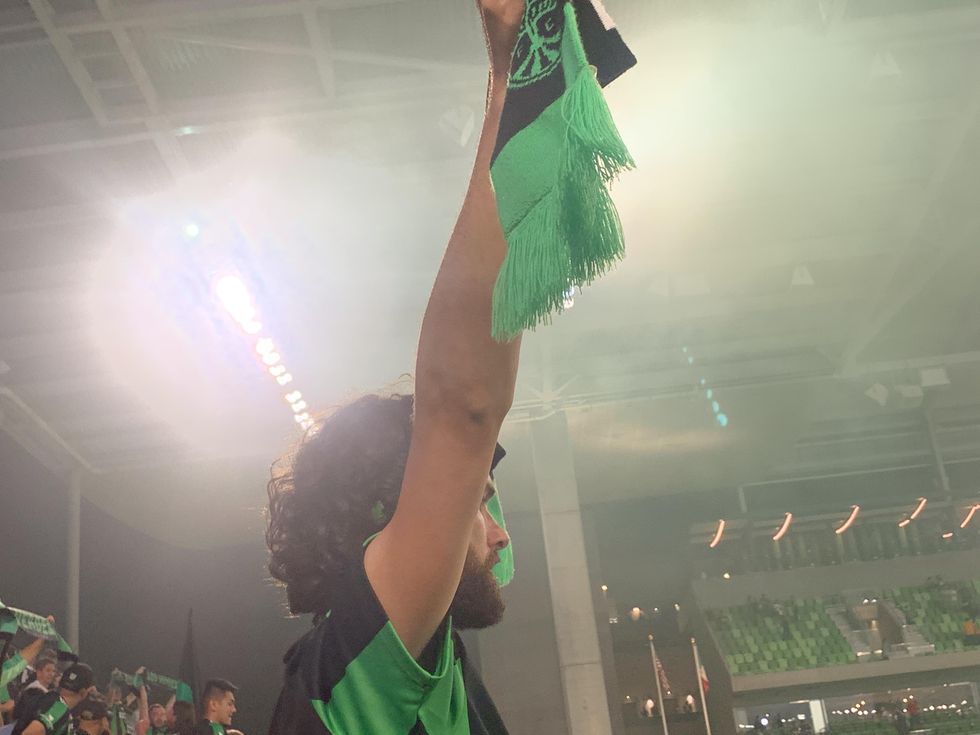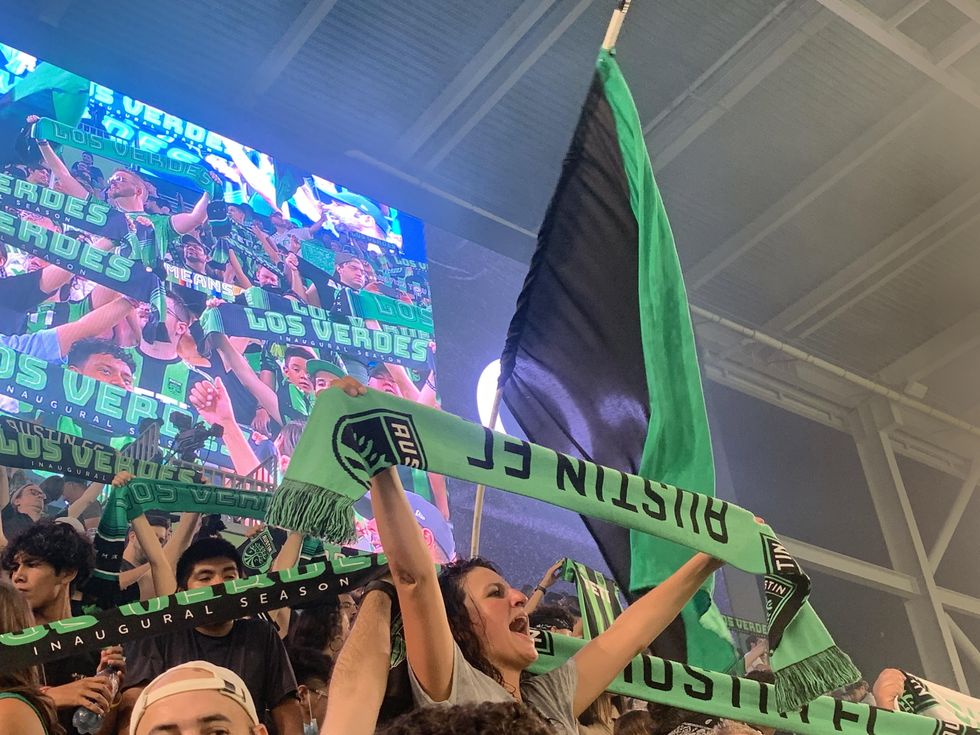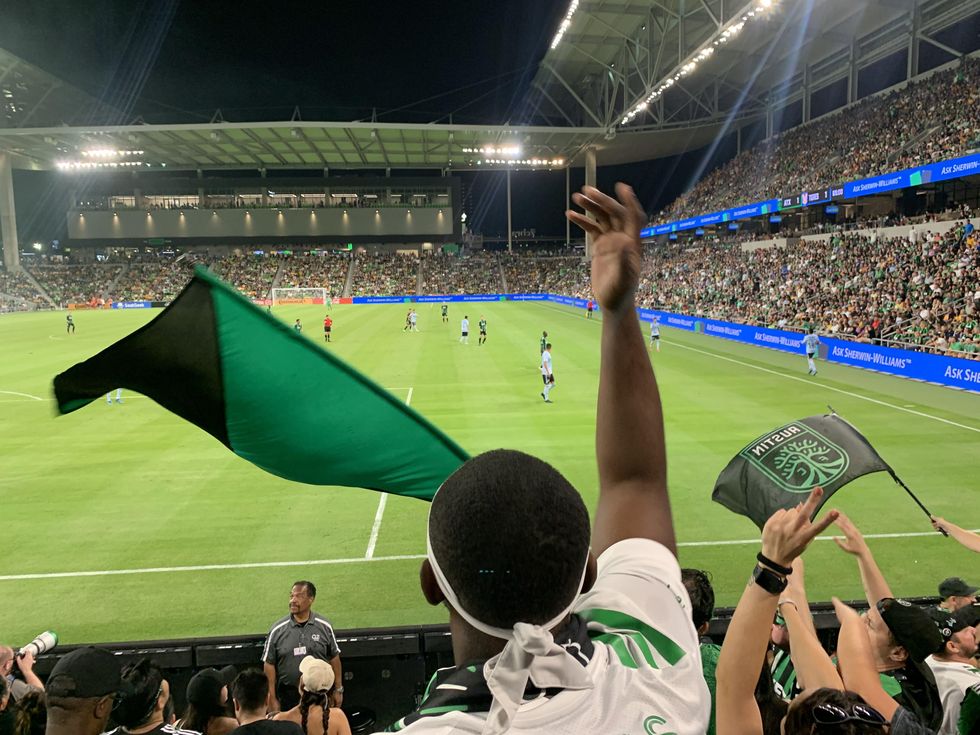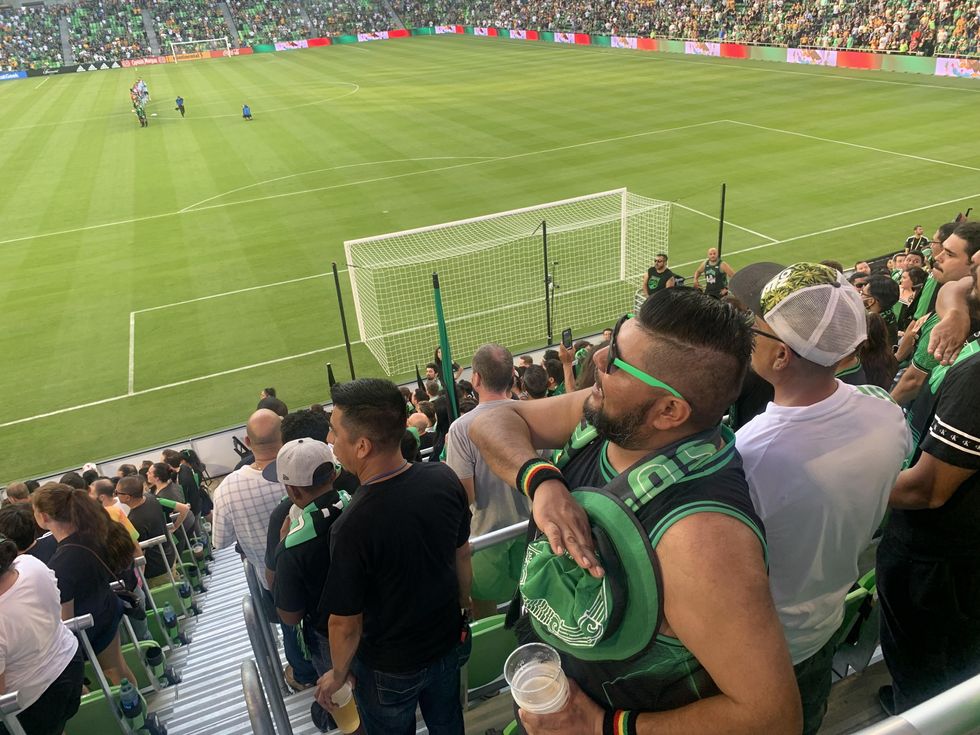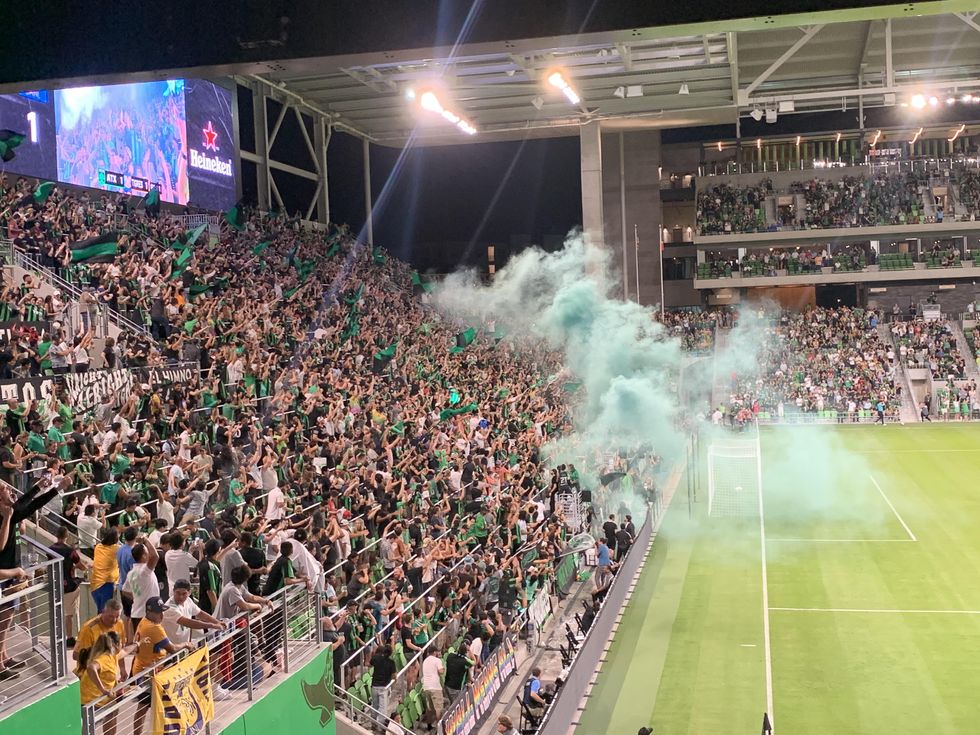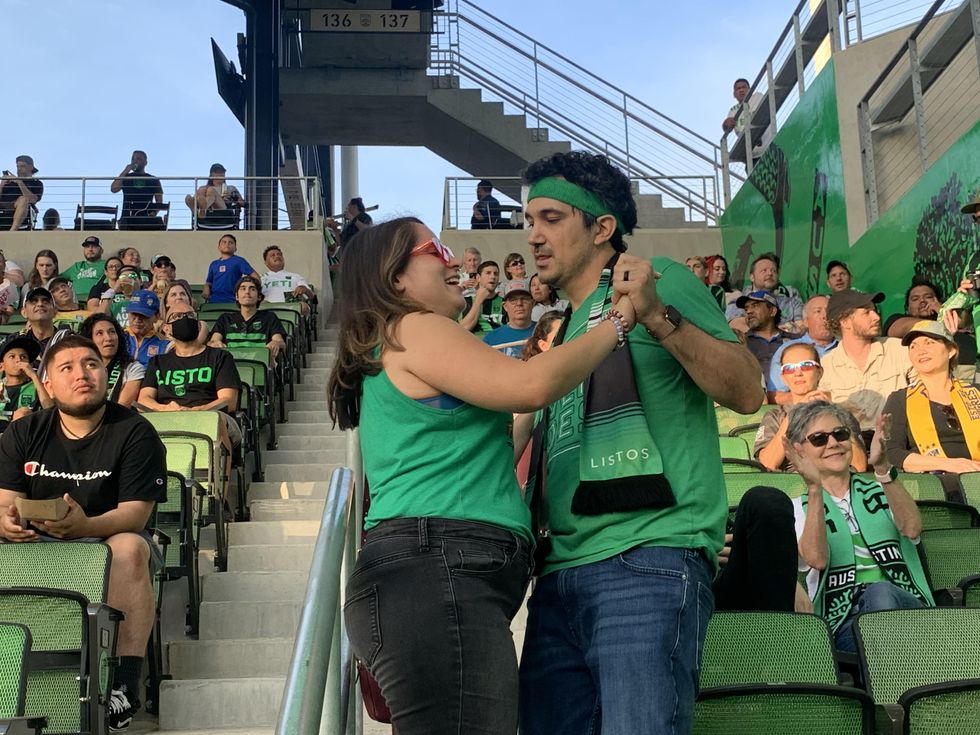 Meanwhile, Tigres fans found their home base near the top of the West side of the stands. Q2 saw more opposing fans than ever before as hundreds flocked from near and far to watch their lifelong club play.
Javier Hernandez and his wife, Sochy, looked like total Tigres fans as they repped blue and yellow hats and a giant lion's head.
But that choice came more down to jersey options than anything else. The two Austinites are Austin FC fans as well, and they're happy to see the two teams come together. Eventually, Javier wants to combine two Tigres and Austin FC jerseys to form one unified Verde and yellow jersey.
"We didn't know what to wear," Hernandez said. "I had a friend who is from Monterrey too, and he was wearing an Austin FC jersey. There's no rivalry or anything like that. We're all friends."
While most fans said they felt united and accepted by Austin FC in the match, a few said they felt they were unfairly discriminated against as they were asked to leave their own drums and banners at the gates.
Candelario Lopez and his family came from San Antonio and Temple to watch the match. Attending a Tigres match in Monterrey is normally a 12 hour drive, so Lopez said he was happy to have his favorite team so close to home. "It means a lot," Lopez said.
Still, he wished that the opposing fan section was given the same treatment as those in Verde.
"We had no problems at the beginning but, it's a friendly," Lopez said. "We are acting friendly, some others are not."
Tried and true Tigres fans find their own spot
Tigres fans couldn't compete with the excitement of Austin's supporters' section, but they still kept it loud and stayed on their feet throughout the match. (Claire Partain/Austonia)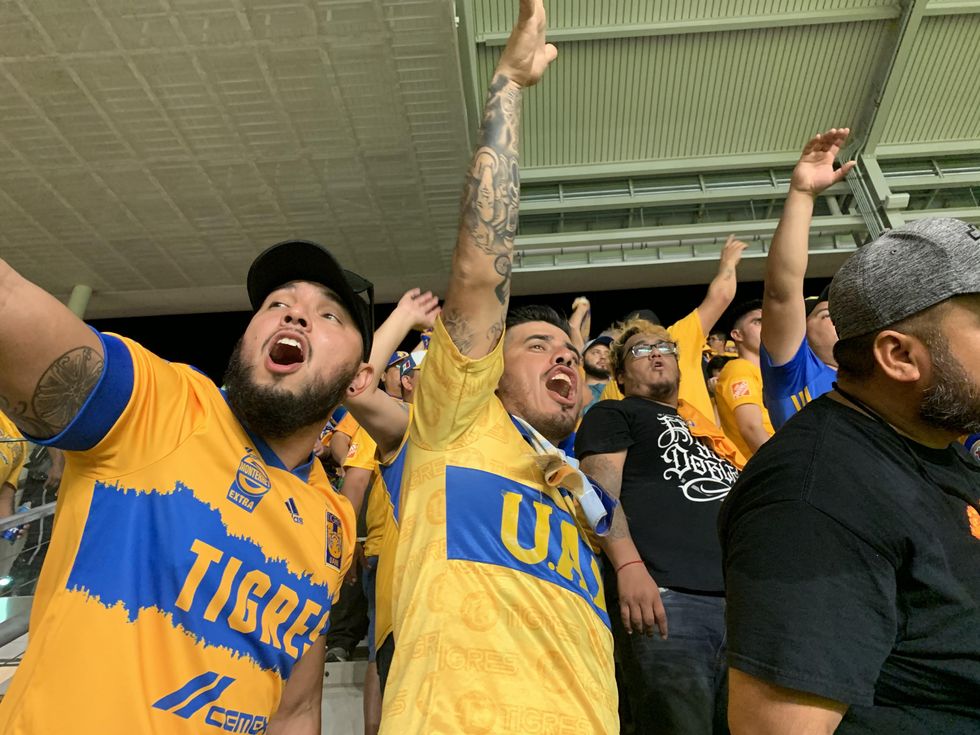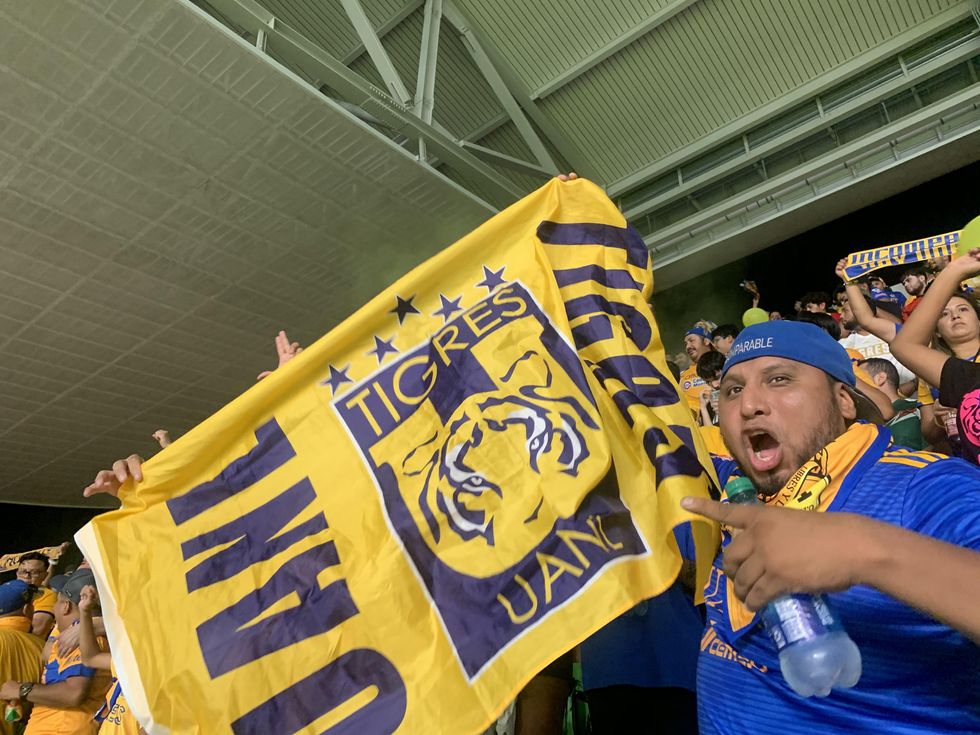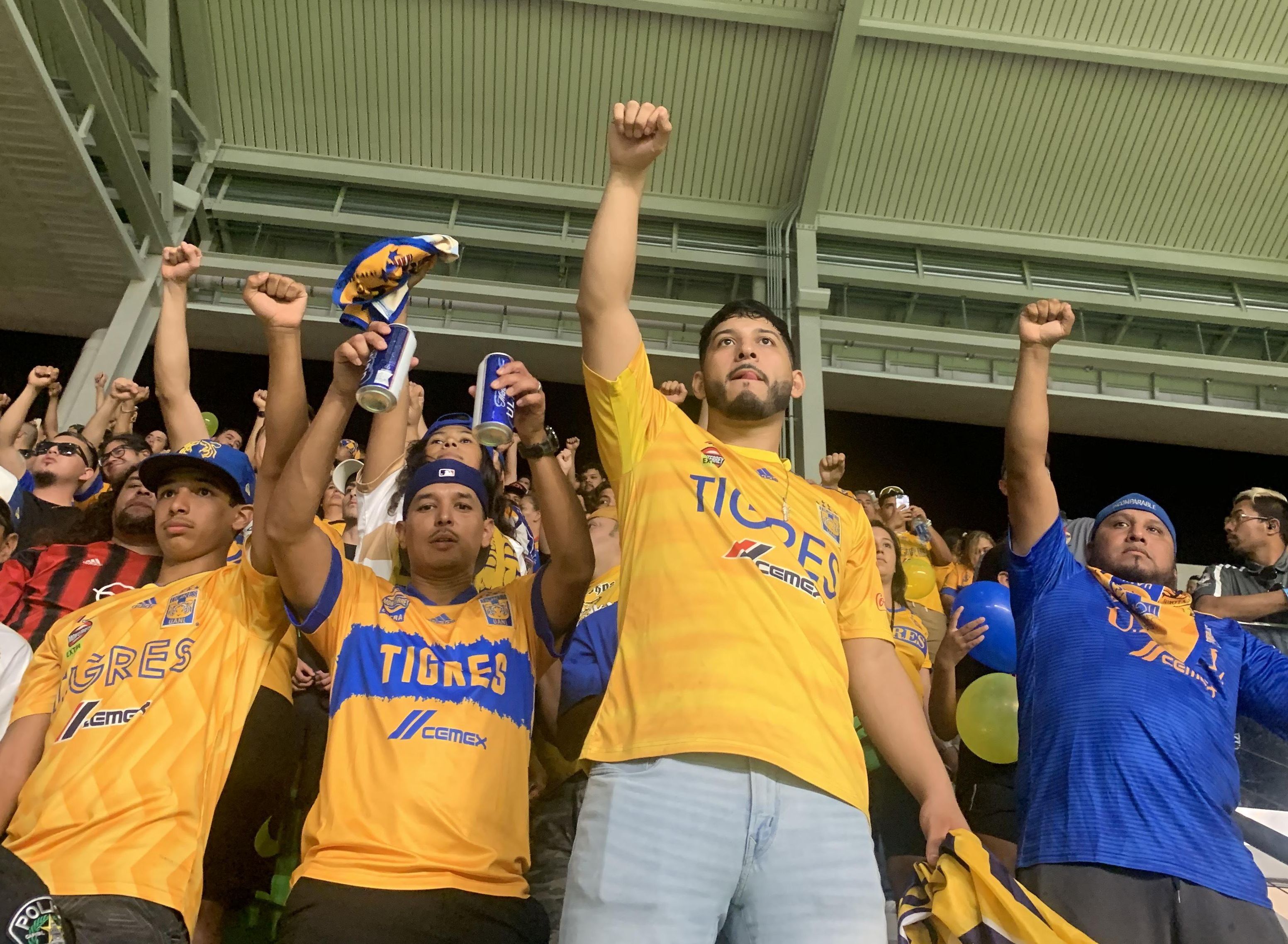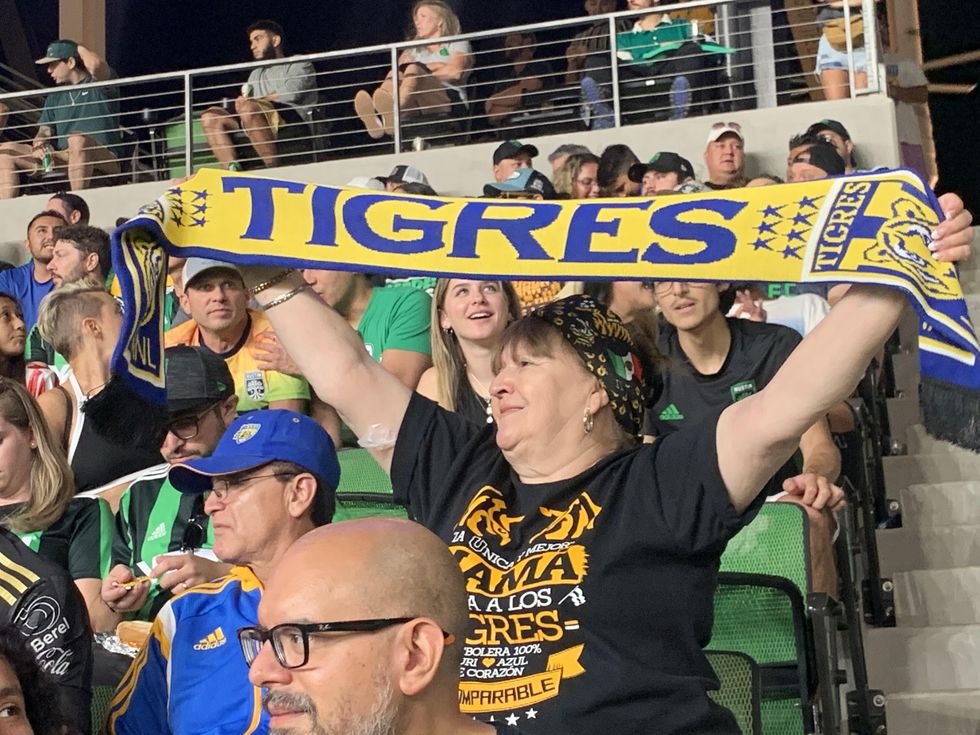 While one team had to win in the end, the match will help both Austin and Tigres grow in new ways on and off the pitch. Many Austin supporters hope the partnership lasts for many years to come as Austin builds its fanbase and Tigres continue to build on its legacy.
Aselmo Jimenez, who was in Verde but was chatting with Tigres fans, said he knew a partnership would happen before it even started. He said he knew the partnership would continue past the match before it even started. His friend in yellow, Carlos Gomez, agreed.
This is a great opportunity for Austin fans to see firsthand a team from Mexico face our team," Gomez said. "We're excited. The atmosphere and experience is just awesome.".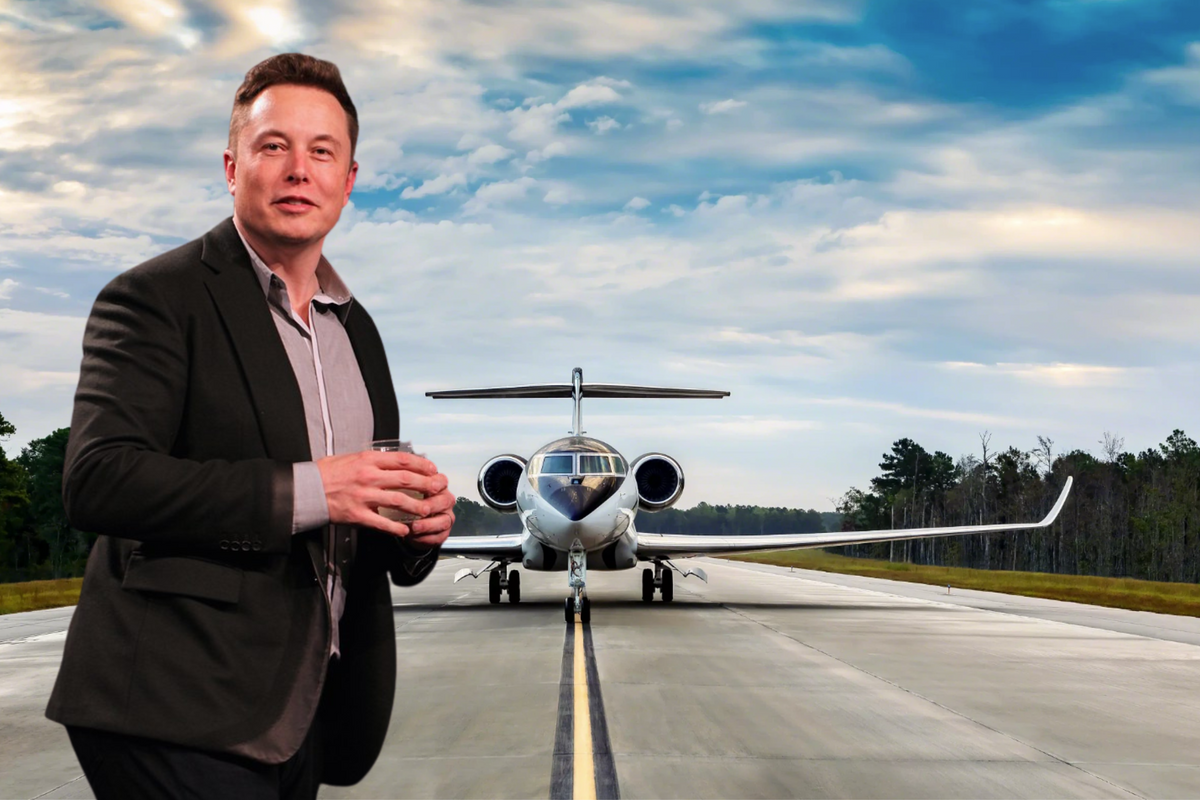 Elon Musk is developing plans for a new private airport, multiple sources tell Austonia. While the timetable and exact location are unknown, the conceptual plans have been confirmed by sources who say the airport would be east of Austin, near Bastrop.
Besides being available for private jet travel for himself and his executives, the potential new airfield could service Musk's companies, many of which have a local presence: Tesla, SpaceX, and The Boring Company in particular. Musk and his companies own thousands of acres in Central Texas, mostly along the Colorado River corridor.
The key piece of land for Musk is Giga Texas in southeast Travis County. Covering 2,500 acres, Tesla made the site its headquarters in December.
The Boring Company, which first came to Pflugerville in December 2020, also joined Tesla in an HQ move to the Austin area and this spring saw the region's largest ever venture investment. Its address on Impact Way sits three miles from Austin Executive Airport, a controlled airfield that serves as a general aviation alternative to the Austin-Bergstrom International Airport.
Last year, Gapped Bass LLC, an entity tied to top executives at Boring, purchased 73 acres in Northwest Bastrop. Then in February, representatives for the company sought approval from the Bastrop County Commissioners Court for a permit to build an 80,000-square-foot warehouse and manufacturing facility. Plans for the site are unclear, but job postings indicated it may be used for developing a tunneling technology known as "Prufrock."
It's unclear how much space Musk would use for a private airport. But for scale, Austin Executive Airport has a 6,025-foot runway and over 130,000 sq. ft. of community hangar space.
Currently, Musk's visits to Austin are made on a 2015 Gulfstream G650, though he has placed an order for a new top-of-the-line private jet that has an expected delivery in early 2023. Trips to Central Texas this year have been key for Musk as Tesla ramps up production on its Model Y at Giga Texas.
At the grand opening of the gigafactory, Musk boasted about the site's proximity to the Austin- Bergstrom International airport, which is about five miles away.
Building a new airport requires federal EPA approval for environmental impacts and FAA approval for air traffic impacts. Local regulations may apply, too. The path to completion could be a long one, especially given Musk's ongoing feud with President Joe Biden.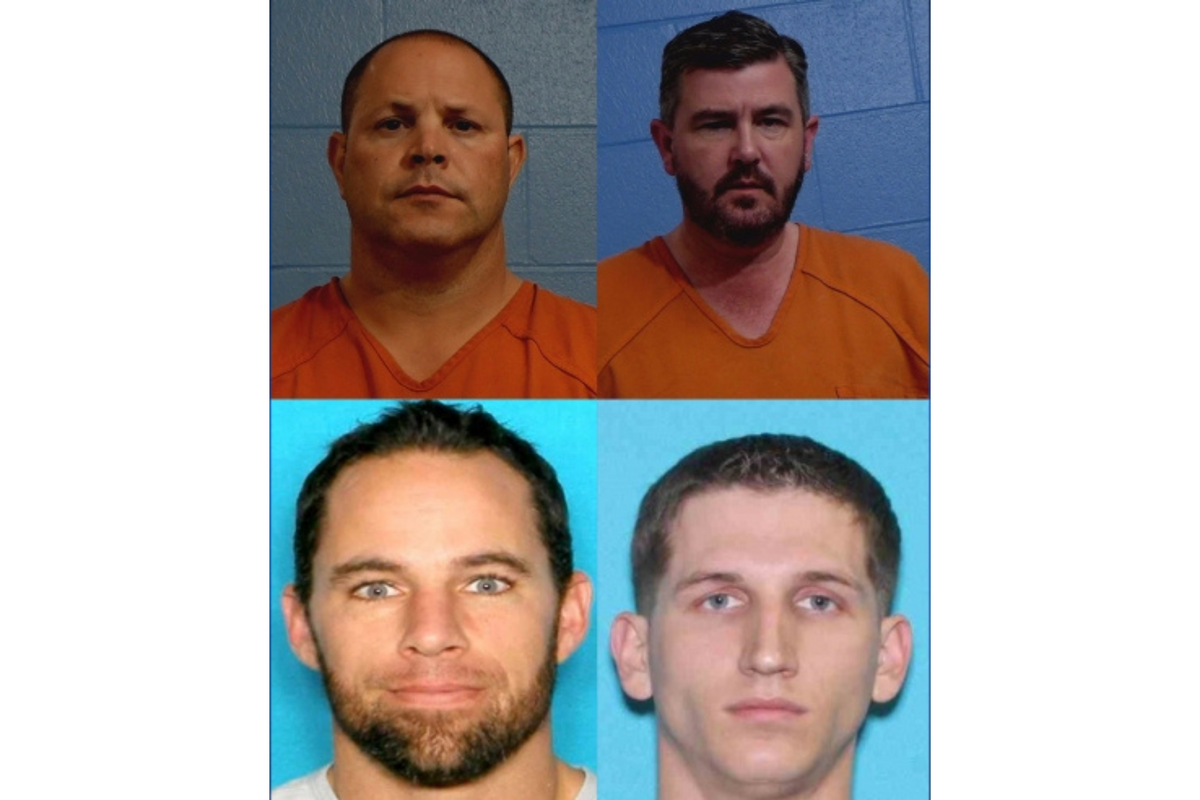 A former partner with Austin-based Maund Automotive Group has been indicted on murder-for-hire charges, alongside three others, for killing a man and woman in Nashville in March 2020.
Austinites Erik Charles Maund, Gilad Peled, Bryon Brockway and North Carolina native Adam Carey were additionally charged with conspiracy to kidnap resulting in death and kidnapping resulting in death, according to U.S. Attorney for Middle District of Tennessee Mark H. Wildasin.
The case centers around the murder of 33-year-old Holly Williams, who 47-year-old Maund was allegedly seeing. Upon hearing of the relationship, Williams' estranged boyfriend William Lanway, allegedly messaged Maund, who is married, asking for hush money. Williams and Lanway were found dead inside a car in Nashville about a month later.
According to the U.S. Department of Justice, Maund is also facing an additional murder-for-hire charge for trying to arrange to have one of his co-conspirators killed after Peled told Maund in prison they were asking for more money.
The DOJ release said Maund agreed to pay the co-conspirator an additional $25,000, $50,000 to Peled and $100,000 to Brockway to end further payment requests. Since March 11, Maund transferred more than $750,000 to a bank account belonging to Peled, which is believed to be the initial payment.
The four were arrested in December 2021 and remain in custody. If convicted, they could face life in prison.