Get connected with our daily update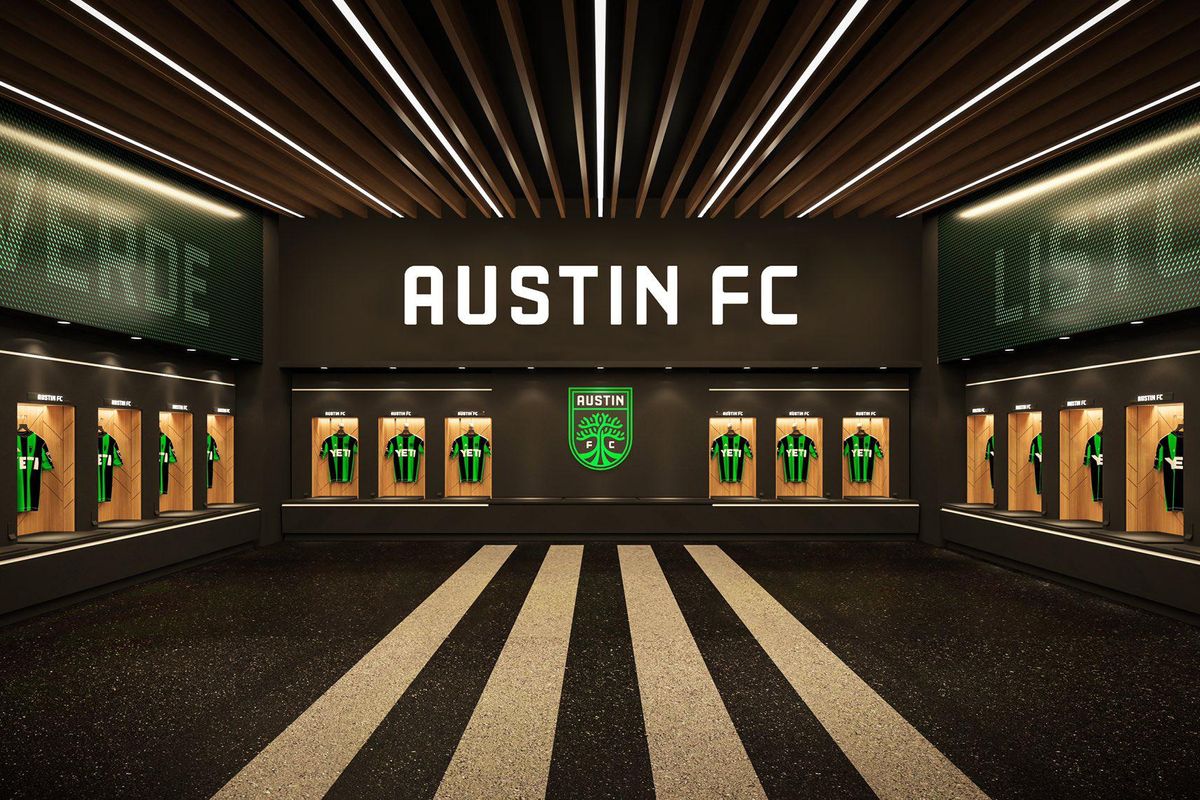 (Q2 Stadium/Twitter)
The capital city is finally host to its first-ever major professional sports league, and it comes in unique Austin fashion. The Matthew McConaughey-backed Austin FC will begin its first-ever season with the MLS in April, complete with signature Verde uniforms, an international roster and a brand new stadium.
---
To stay up to date with all things Austin FC, sign up for text updates from Claire Partain:
The team has already sold out season tickets and excited the city, but if you're unfamiliar with the biggest sports news to ever hit Austin, here's everything you need to know before kickoff on April 17.
The League
Major League Soccer is America's premier soccer league with 27 teams in the US and Canada. In 15 years, the league has expanded 100%, from 12 to 24 teams as of 2019. Even with the pandemic clipping its wings, the MLS managed to produce new teams including Inter Miami CF, Nashville SC and Austin FC itself, with two other prospects on the way.
Once thought of as a "retirement league" for international stars such as David Beckham, the MLS is quickly opening itself up to a global market of promising new and seasoned athletes. This is evident in the Austin FC roster, where the club has scouted players from Paraguay and Argentina and four players are 21 and under.
As the newest expansion team, Austin FC will be the third club in Texas and the latest addition to an ever-expanding league.
Austin FC joined the ranks back in 2018 and quickly gained majority ownership by Anthony Precourt. Head Coach Josh Wolff was appointed in the summer of 2019, and the ball quickly got rolling as founding sponsorships were made. In July of 2020, 20-year-old Paraguayan forward Rodney Redes was named the club's first-ever signee, and 21 more players have followed to date. Over two years of planning have led up to the 2021 season, and coaches, players and fans alike are ready to get their team out on the pitch.
The players
He's #VERDE!
Your newest Designated Player. 🌳

Welcome to Austin FC, Tomás Pochettino! pic.twitter.com/WUwcTuoqdS

— Austin FC (@AustinFC) February 11, 2021
Being a new team has its perks. That's how Austin FC landed the first overall draft pick at their first-ever MLS SuperDraft, making midfielder Daniel Pereira their No. 1 choice. At 21, Pereira may have a ways to go before becoming a team starter but could come out hot and make a name for himself early. Either way, he's got potential at becoming a big name for the team.
The league is becoming more global, and Austin FC has followed suit by scouting around the world. Most recently, the team scooped Slovenian superstar Žan Kolmanič, who plays for the nation's 15-time national champions NK Maribor. Although the reported $1.8 million contract hasn't been confirmed by the club, other top-dollar international signees have.
Perhaps one of the most exciting picks for Austin FC is Argentinian attacking midfielder Tomás Pochettino. The club signed on Pochettino as their second Designated Player for a reported $2.5 million and is likely to put him in the starting No. 10 position.
Before Pochettino, the club signed Paraguayan forward Cecilio Domínguez as their first-ever Designated Player in August 2020. Domínguez, who has scored 73 goals and made 288 Club appearances in his career, transferred from Club Atlético Independiente in Paraguay.

Austin FC has 23 current rostered players and two unsigned draft picks from the MLS SuperDraft, defender Aedan Stanley and midfielder Daniel Steedman, who will be practicing with the team during preseason. The team can have up to 30 players on their roster per MLS rules, and they'll likely still be looking for some final picks into the summer.
The stadium 
It's only natural that the city's first-ever professional sports team gets a brand new stadium.
Austin FC's new home comes in the form of the $260 million Q2 Stadium, which will be able to seat more than 20,000 fans. Dubbed "Austin's biggest backyard," the stadium is nestled on a 24-acre property in North Austin at 10414 McKalla Place and is predicted to be finished by late March or early April. Although the team won't play on their home turf until early June, fans can look forward to the prospect of a stadium complete with a merch store, a "beer hall" and food trucks in signature Austin fashion.
With a lush field and green-and-black seating, the stadium has brought an exciting splash of Verde to Austin.
Brands you'll see
Austin FC has landed dozens of both Austin-centric and nationally-recognized partners leading up to their first season. Here's a couple of noteworthy brands sponsoring the club:
Q2: The Austin financial technology, or "fintech," company secured a multiyear naming rights sponsorship in January and will be featured as the namesake for Q2 Stadium.
Yeti: Adorned in bold lettering on official Austin FC jerseys, the Austin-based cooler company landed a $4 million, multi-year jersey deal ahead of the 2021 season.
St. David's Healthcare: St. David's is sponsoring the future home of Austin FC players and coaches, the St. David's Performance Center, which will serve as their practice and training facility. The center will hopefully be done in time for some preseason practice, but in the meantime, Austin FC is making camp at St. Edward's University and the Fairmont Austin, which is also a sponsorship partner.
Austin Eastciders: The Austin-based company is now the "official cider" of the club and will have tailgate specials at its bar and tasting room.
DoubleDave's Pizza: The buffet and delivery restaurant that started out in Austin, known best for its pizza rolls, will be the official pizza of Austin FC.
The team has also gained Texas grocer H-E-B, global clothing brand Adidas, Coca-Cola, Michelob Ultra and Austin sparkling water company Waterloo as their official partners.
Tickets
Season tickets for the team's 2021 season have already sold out. However, for $50, fans can join the waitlist membership, where they will receive priority on season ticket matches, be eligible for up to six season tickets when they become available and have presale access to third-party events happening at Q2 Stadium.
With the waitlist membership, members will have a 24-hour exclusive window to purchase tickets leading up to each MLS regular season match. They'll also get an extra 10% off Austin FC items at MLSStore.com.
For those looking to watch in luxury, the club is allowing fans to deposit $1,000 ahead of time to secure hospitality suites at regular-season matches. The stadium's lounges range from 24-member private party rooms to access to the Porch Lounge, which will feature couches rather than stadium seats. If interested, email premium@austinfc.com to send your deposit.
The team partnered with SeatGeek back in 2019 to provide a mobile ticketing experience. Available tickets will be powered through the SeatGeek website or app, and fans will be able to scan into the stadium using their phones.
Regular season tickets have not been released. Click here to stay up to date on Austin FC tickets.
Where to watch
For those staying home to see the Verdes play, there's plenty of local and national stations to watch from. Thanks to a deal with parent company Nexstar, Austin FC games will be broadcast throughout Central Texas on the CW Austin, KXAN and KBVO. Spanish-language carriers will be announced in April, according to Austin FC President Andy Loughnane.
For fans out of the Hill Country, some MLS matches will be picked up by national providers including ESPN, FOX and Univision. The exact number hasn't been specified yet.
With the end of COVID on the horizon, some fans may want to go to the ultimate soccer viewing location: the classic neighborhood sports bar. Luckily, these bars and brands have already shown interest in repping their team.
Grab a beer, gather some friends and watch the Verdes play at these locations:
Austin Eastciders, 979 Springdale Road Ste. 130
The sponsor has said they will host various watch parties around the Austin metro, including at their own Collaboratory Tap Room. At the tasting room, $1 per pint sold will go to the charity branch of Austin FC, the 4ATX Foundation. These funds will go toward 4ATX's mission of closing the opportunity gap by helping out Austin's youth.
Heineken
The official import beer of Austin FC will be hosting Away Game watch parties around the Austin metro as the season begins.
Lustre Pearl, 97 Rainey St.
In an Austin FC video series, Lustre Pearl owner Bridget Dunlap said she would be "super grateful for every viewing party, every before-and-after party" they can do to kick off Austin FC's season.
Crown & Anchor, 2911 San Jacinto Blvd
Crown & Anchor manager said on the same series that she hopes people will go out to the bar to watch upcoming games. The neighborhood pub has already established itself as a soccer watching destination after hosting watch parties for the World Cup and Women's World Cup.
Many watch parties and pub sponsors haven't been officially announced, so lots more are expected to come as the season approaches.
Merch
The Verde Van is stopping at @HotelVegasATX this weekend!

Order online at https://t.co/FQVQIffR4q for pick up or purchase select items on site, including the latest ATXFC set! pic.twitter.com/6bLEW4B52T

— Austin FC (@AustinFC) February 27, 2021
Finally, while at games, viewing parties or even the living room, many fans may want to rep their local team's signature Verde colors. Merch for any occasion can be found here:
"Verde Store"- A one-stop shop for the widest selection of Austin FC merchandise will be located in the North Building of the Q2 Stadium.
mlssoccerstore.com- New threads including the recently-released "Legends" jersey and ATX line are all available at Austin FC's official merchandise site. From pickleball paddles to bumper stickers, the site includes all kinds of Verde-sponsored items.
Adidas- As Austin FC's official sponsor, Adidas has jerseys and jackets with the Austin FC crest available for sale.
Other carriers include Academy, Fanatics, Dick's Sporting Goods, or Austin FC's own Verde Van, which travels throughout the city to deliver to Austinites who want Verde merchandise.
Schedule 
As construction wraps up and fans wait for the season to start, the club is getting ready to begin its first-ever preseason on Monday, March 8, at Fairmont Austin and St. Edward's University. Optional training sessions began Monday, March 1 and will extend through March 7. Training will include six weeks of closed-door scrimmages and matches before the 2021 MLS season begins on Saturday, April 17.
The MLS kicks off their season April 17, but Austin FC hasn't released their official schedule yet. While Q2 Stadium is set to finish in time for their season start, the Verdes aren't predicted to use their home field until early June.
Read more about how Austonia is covering Austin FC: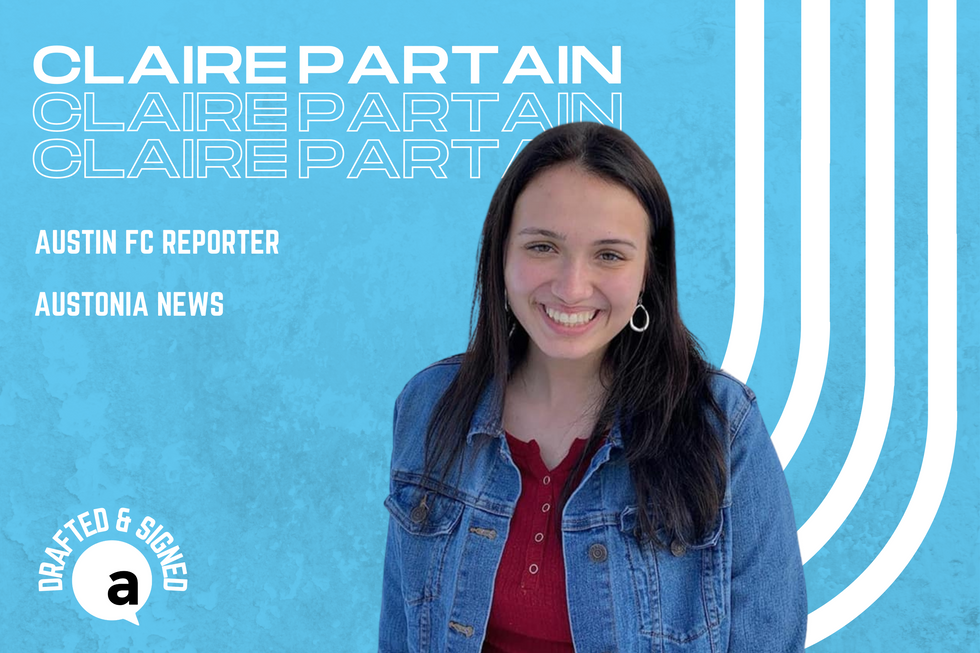 Austonia announces Austin FC reporter hire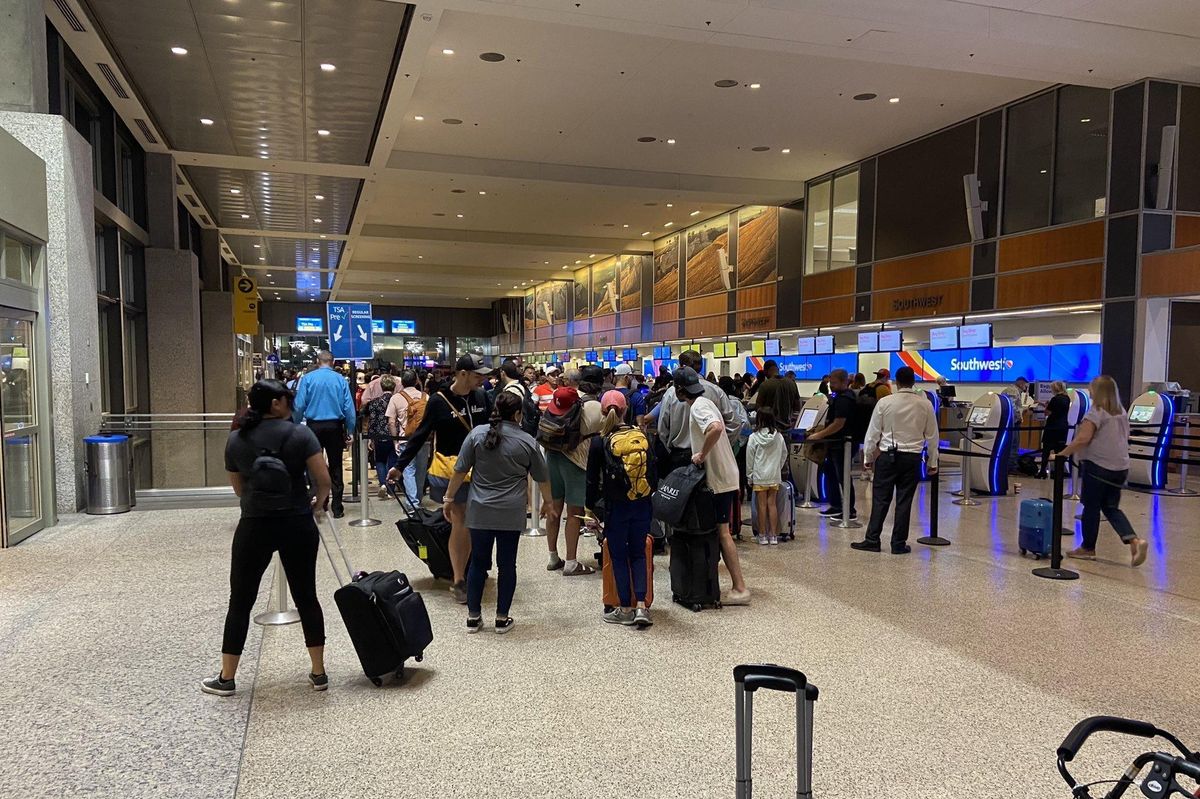 Flyers are less satisfied with the Austin-Bergstrom International Airport than a year ago, a new study shows.
Research firm J.D. Power placed ABIA at No. 15 on a list ranking overall customer satisfaction at large airports, a slip from last year's spot at No. 7. Other Texas airports secured rankings ahead of Austin, with Dallas Love Field at third, Houston Hobby at eight, and San Antonio International Airport at ninth.
Dallas/Ft. Worth ranked eight in the "mega airport" category.
The study examined airports based on the following factors: terminal facilities; airport arrival/departure; baggage claim; security check; check-in/baggage check; and food, beverage and retail.
On a 1,000-point scale, Austin-Bergstrom received 785 points this year compared to its score of 819 in 2021.
Passenger experiences at Austin-Bergstrom have been influenced by population growth in Central Texas, which has brought record traffic and longer wait times at TSA. And a recent power outage at Austin-Bergstrom caused flight delays. Michael Taylor, travel intelligence lead at J.D. Power., said that consumer satisfaction with flying has decreased overall.
"The combination of pent-up demand for air travel, the nationwide labor shortage and steadily rising prices on everything from jet fuel to a bottle of water have created a scenario in which airports are extremely crowded and passengers are increasingly frustrated—and it is likely to continue through 2023," Taylor said.
Bailey Grimmett, a spokesperson for ABIA, commented on the ranking.

"We're grateful that AUS customers continue to rank our airport above average, especially during this year that saw air travel disruption here in Austin and across the globe as airports, airlines and the air travel industry continued navigating the impacts of the pandemic," Grimmett said. "We look forward to delivering near-term and long-term improvements through our Journey With AUS program to improve the passenger experience."
That program is slated to bring a new midfield concourse to increase gates and connect to the Barbara Jordan Terminal through an underground connector tunnel.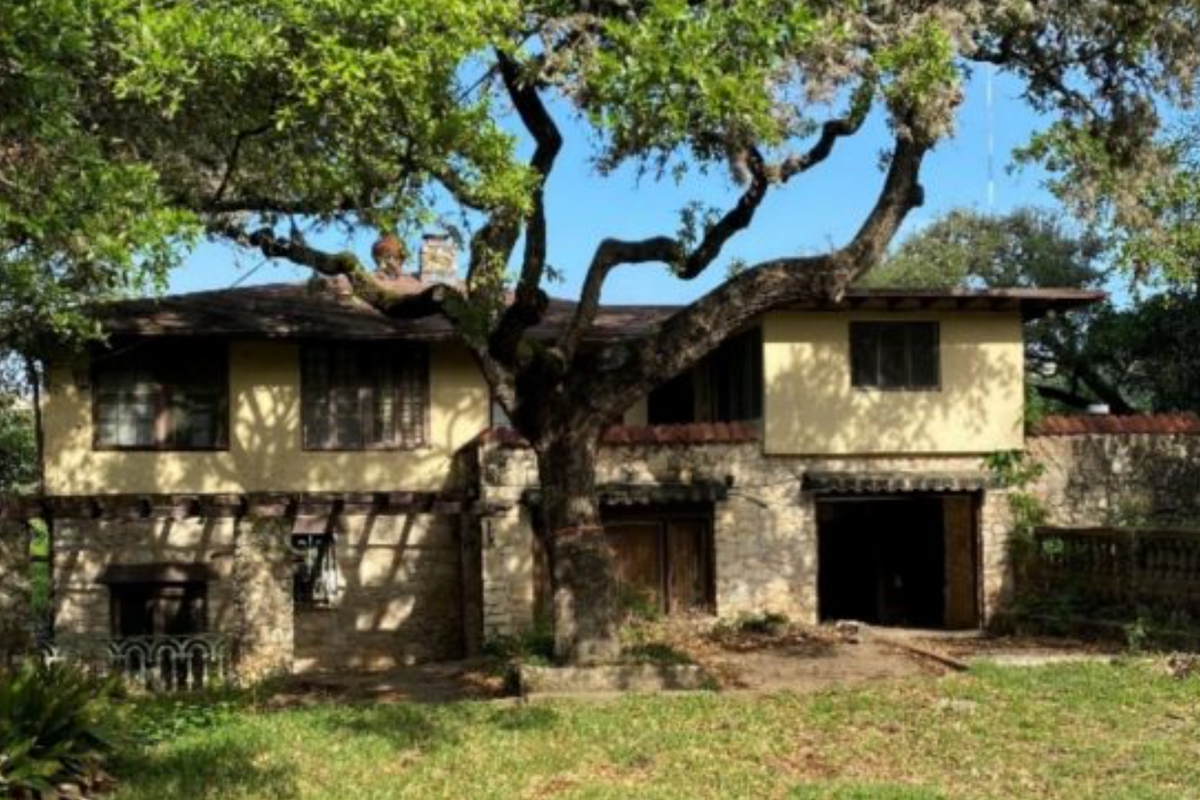 Austin Monitor
By Jonathan Lee
The Planning Commission was split Tuesday on whether to help save an eclectic lakefront estate from demolition by zoning it historic amid concerns over tax breaks and the likelihood that a previous owner participated in segregation as a business owner.
The property in question, known as the Delisle House, is located at 2002 Scenic Drive in Tarrytown. The main house, with Spanish and Modern influences, was built in 1923 by Raymond Delisle, an optician. A Gothic Revival accessory apartment was built in 1946. The current owner applied to demolish the structures in order to build a new home.'
Historic preservationists, for their part, overwhelmingly support historic zoning, which would preserve the buildings in perpetuity. The Historic Landmark Commission unanimously voted to initiate historic zoning in July, citing architectural significance, landscape features and association to historic figures. City staffers recommend historic zoning, calling both structures one-of-a-kind examples of vernacular architecture.
Tarrytown neighbors have also banded together to stop the demolition. Many have written letters, and a few spoke at the meeting. "How could anyone buy this property with the intent of destroying it?" Ila Falvey said. "I think it's an architectural treasure."
Michael Whellan, an attorney representing the property owner, said that the claims made by preservationists are shaky. The buildings are run down, he said, and have had substantial renovations. A structural engineer hired by the owner said any attempt at preservation would involve tearing down and rebuilding – an undertaking Whellan said would likely cost millions.
Whellan also argued that any historical significance derived from the property's association with Delisle and longtime owner C.H. Slator is dubious. "These men are not noted for any civic, philanthropic or historic impact," he said.
What's more, according to Whellan, Slator likely participated in segregation as the owner of the Tavern on North Lamar Boulevard between 1953 and 1960.
A city staffer, however, said she found no evidence to support the claim. "We would never landmark a property where a segregationist lived, or there was a racist person," Kimberly Collins with the Historic Preservation Office said.
Commissioner Awais Azhar couldn't support historic zoning in part due to lingering uncertainty about Slator. "Focusing on that factor is not here to disparage an individual or family. It is not about playing the race card. This is an important assertion for us to consider as Planning commissioners," Azhar said.
Commissioner Carmen Llanes Pulido said that allegations of racism should come as no surprise. "We're talking about white male property owners in the 1950s, in Austin, on the west side – and of course they were racist," she said. But she argued that allowing the house to be demolished based on these grounds does nothing to help people of color who have been harmed by racism and segregation.
The question of tax breaks was also controversial. Michael Gaudini, representing the property owner, said that the tax breaks associated with historic zoning would exacerbate inequality by shifting property tax burdens to less affluent communities. City staffers estimate that the property, appraised at $3.5 million, would get either a $8,500 or $16,107 property tax break annually, depending on whether a homestead exemption is applied.
Commissioner Grayson Cox preferred the commission focus not on tax breaks but on whether the structures merit preservation. "To me, nothing in the historic preservation criteria lists, is this person deserving of a tax break or not?"
Azhar, on the other hand, said he plans to propose a code amendment getting rid of city property tax breaks for historic properties.
The commission fell one vote short of recommending historic zoning, with six commissioners in support and three opposed. Azhar and commissioners Claire Hempel and Greg Anderson voted against.
The odds of City Council zoning over an owner's wishes are slim. Nine out of 11 members must vote in favor, and there have only been a handful of such cases over the past several decades.