Austonia AM
100% Austin news, info, and entertainment, straight to your inbox at 6 a.m. every morning.
In five minutes, you're fully informed and ready to start another great day in our city.
Get connected with our daily update
(Q2 Stadium/Twitter)
The capital city is finally host to its first-ever major professional sports league, and it comes in unique Austin fashion. The Matthew McConaughey-backed Austin FC will begin its first-ever season with the MLS in April, complete with signature Verde uniforms, an international roster and a brand new stadium.
---
To stay up to date with all things Austin FC, sign up for text updates from Claire Partain:
The team has already sold out season tickets and excited the city, but if you're unfamiliar with the biggest sports news to ever hit Austin, here's everything you need to know before kickoff on April 17.
The League
Major League Soccer is America's premier soccer league with 27 teams in the US and Canada. In 15 years, the league has expanded 100%, from 12 to 24 teams as of 2019. Even with the pandemic clipping its wings, the MLS managed to produce new teams including Inter Miami CF, Nashville SC and Austin FC itself, with two other prospects on the way.
Once thought of as a "retirement league" for international stars such as David Beckham, the MLS is quickly opening itself up to a global market of promising new and seasoned athletes. This is evident in the Austin FC roster, where the club has scouted players from Paraguay and Argentina and four players are 21 and under.
As the newest expansion team, Austin FC will be the third club in Texas and the latest addition to an ever-expanding league.
Austin FC joined the ranks back in 2018 and quickly gained majority ownership by Anthony Precourt. Head Coach Josh Wolff was appointed in the summer of 2019, and the ball quickly got rolling as founding sponsorships were made. In July of 2020, 20-year-old Paraguayan forward Rodney Redes was named the club's first-ever signee, and 21 more players have followed to date. Over two years of planning have led up to the 2021 season, and coaches, players and fans alike are ready to get their team out on the pitch.
The players
He's #VERDE!
Your newest Designated Player. 🌳

Welcome to Austin FC, Tomás Pochettino! pic.twitter.com/WUwcTuoqdS

— Austin FC (@AustinFC) February 11, 2021
Being a new team has its perks. That's how Austin FC landed the first overall draft pick at their first-ever MLS SuperDraft, making midfielder Daniel Pereira their No. 1 choice. At 21, Pereira may have a ways to go before becoming a team starter but could come out hot and make a name for himself early. Either way, he's got potential at becoming a big name for the team.
The league is becoming more global, and Austin FC has followed suit by scouting around the world. Most recently, the team scooped Slovenian superstar Žan Kolmanič, who plays for the nation's 15-time national champions NK Maribor. Although the reported $1.8 million contract hasn't been confirmed by the club, other top-dollar international signees have.
Perhaps one of the most exciting picks for Austin FC is Argentinian attacking midfielder Tomás Pochettino. The club signed on Pochettino as their second Designated Player for a reported $2.5 million and is likely to put him in the starting No. 10 position.
Before Pochettino, the club signed Paraguayan forward Cecilio Domínguez as their first-ever Designated Player in August 2020. Domínguez, who has scored 73 goals and made 288 Club appearances in his career, transferred from Club Atlético Independiente in Paraguay.

Austin FC has 23 current rostered players and two unsigned draft picks from the MLS SuperDraft, defender Aedan Stanley and midfielder Daniel Steedman, who will be practicing with the team during preseason. The team can have up to 30 players on their roster per MLS rules, and they'll likely still be looking for some final picks into the summer.
The stadium 
It's only natural that the city's first-ever professional sports team gets a brand new stadium.
Austin FC's new home comes in the form of the $260 million Q2 Stadium, which will be able to seat more than 20,000 fans. Dubbed "Austin's biggest backyard," the stadium is nestled on a 24-acre property in North Austin at 10414 McKalla Place and is predicted to be finished by late March or early April. Although the team won't play on their home turf until early June, fans can look forward to the prospect of a stadium complete with a merch store, a "beer hall" and food trucks in signature Austin fashion.
With a lush field and green-and-black seating, the stadium has brought an exciting splash of Verde to Austin.
Brands you'll see
Austin FC has landed dozens of both Austin-centric and nationally-recognized partners leading up to their first season. Here's a couple of noteworthy brands sponsoring the club:
Q2: The Austin financial technology, or "fintech," company secured a multiyear naming rights sponsorship in January and will be featured as the namesake for Q2 Stadium.
Yeti: Adorned in bold lettering on official Austin FC jerseys, the Austin-based cooler company landed a $4 million, multi-year jersey deal ahead of the 2021 season.
St. David's Healthcare: St. David's is sponsoring the future home of Austin FC players and coaches, the St. David's Performance Center, which will serve as their practice and training facility. The center will hopefully be done in time for some preseason practice, but in the meantime, Austin FC is making camp at St. Edward's University and the Fairmont Austin, which is also a sponsorship partner.
Austin Eastciders: The Austin-based company is now the "official cider" of the club and will have tailgate specials at its bar and tasting room.
DoubleDave's Pizza: The buffet and delivery restaurant that started out in Austin, known best for its pizza rolls, will be the official pizza of Austin FC.
The team has also gained Texas grocer H-E-B, global clothing brand Adidas, Coca-Cola, Michelob Ultra and Austin sparkling water company Waterloo as their official partners.
Tickets
Season tickets for the team's 2021 season have already sold out. However, for $50, fans can join the waitlist membership, where they will receive priority on season ticket matches, be eligible for up to six season tickets when they become available and have presale access to third-party events happening at Q2 Stadium.
With the waitlist membership, members will have a 24-hour exclusive window to purchase tickets leading up to each MLS regular season match. They'll also get an extra 10% off Austin FC items at MLSStore.com.
For those looking to watch in luxury, the club is allowing fans to deposit $1,000 ahead of time to secure hospitality suites at regular-season matches. The stadium's lounges range from 24-member private party rooms to access to the Porch Lounge, which will feature couches rather than stadium seats. If interested, email premium@austinfc.com to send your deposit.
The team partnered with SeatGeek back in 2019 to provide a mobile ticketing experience. Available tickets will be powered through the SeatGeek website or app, and fans will be able to scan into the stadium using their phones.
Regular season tickets have not been released. Click here to stay up to date on Austin FC tickets.
Where to watch
For those staying home to see the Verdes play, there's plenty of local and national stations to watch from. Thanks to a deal with parent company Nexstar, Austin FC games will be broadcast throughout Central Texas on the CW Austin, KXAN and KBVO. Spanish-language carriers will be announced in April, according to Austin FC President Andy Loughnane.
For fans out of the Hill Country, some MLS matches will be picked up by national providers including ESPN, FOX and Univision. The exact number hasn't been specified yet.
With the end of COVID on the horizon, some fans may want to go to the ultimate soccer viewing location: the classic neighborhood sports bar. Luckily, these bars and brands have already shown interest in repping their team.
Grab a beer, gather some friends and watch the Verdes play at these locations:
Austin Eastciders, 979 Springdale Road Ste. 130
The sponsor has said they will host various watch parties around the Austin metro, including at their own Collaboratory Tap Room. At the tasting room, $1 per pint sold will go to the charity branch of Austin FC, the 4ATX Foundation. These funds will go toward 4ATX's mission of closing the opportunity gap by helping out Austin's youth.
Heineken
The official import beer of Austin FC will be hosting Away Game watch parties around the Austin metro as the season begins.
Lustre Pearl, 97 Rainey St.
In an Austin FC video series, Lustre Pearl owner Bridget Dunlap said she would be "super grateful for every viewing party, every before-and-after party" they can do to kick off Austin FC's season.
Crown & Anchor, 2911 San Jacinto Blvd
Crown & Anchor manager said on the same series that she hopes people will go out to the bar to watch upcoming games. The neighborhood pub has already established itself as a soccer watching destination after hosting watch parties for the World Cup and Women's World Cup.
Many watch parties and pub sponsors haven't been officially announced, so lots more are expected to come as the season approaches.
Merch
The Verde Van is stopping at @HotelVegasATX this weekend!

Order online at https://t.co/FQVQIffR4q for pick up or purchase select items on site, including the latest ATXFC set! pic.twitter.com/6bLEW4B52T

— Austin FC (@AustinFC) February 27, 2021
Finally, while at games, viewing parties or even the living room, many fans may want to rep their local team's signature Verde colors. Merch for any occasion can be found here:
"Verde Store"- A one-stop shop for the widest selection of Austin FC merchandise will be located in the North Building of the Q2 Stadium.
mlssoccerstore.com- New threads including the recently-released "Legends" jersey and ATX line are all available at Austin FC's official merchandise site. From pickleball paddles to bumper stickers, the site includes all kinds of Verde-sponsored items.
Adidas- As Austin FC's official sponsor, Adidas has jerseys and jackets with the Austin FC crest available for sale.
Other carriers include Academy, Fanatics, Dick's Sporting Goods, or Austin FC's own Verde Van, which travels throughout the city to deliver to Austinites who want Verde merchandise.
Schedule 
As construction wraps up and fans wait for the season to start, the club is getting ready to begin its first-ever preseason on Monday, March 8, at Fairmont Austin and St. Edward's University. Optional training sessions began Monday, March 1 and will extend through March 7. Training will include six weeks of closed-door scrimmages and matches before the 2021 MLS season begins on Saturday, April 17.
The MLS kicks off their season April 17, but Austin FC hasn't released their official schedule yet. While Q2 Stadium is set to finish in time for their season start, the Verdes aren't predicted to use their home field until early June.
Read more about how Austonia is covering Austin FC: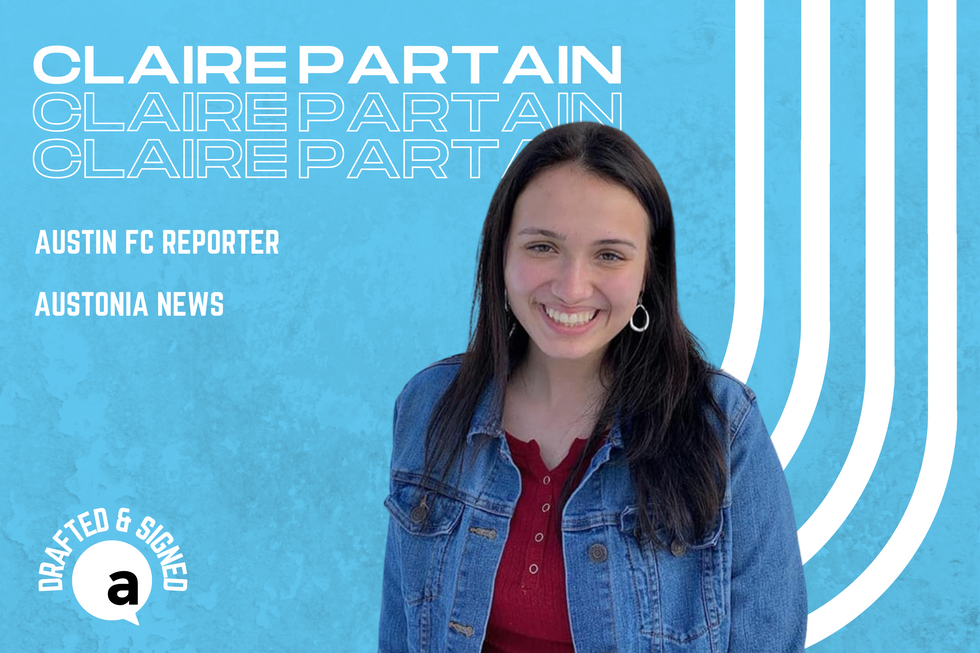 Austonia announces Austin FC reporter hire
After Austin voters passed Proposition B, reinstating a ban on public camping, City Council directed staff to look into possible sanctioned campsites where homeless residents could live legally. Now two members are asking to shelve discussion on the controversial topic.
Staff presented dozens of possible sanctioned campsites across each fo the 10 council districts in late May, following the election. But members mostly pushed back on the proposed locations, citing cost, wildfire risk and lack of transparency as concerns.
With updated criteria, staff recommended two sites—one in District 1 and the other in District 8—for further review last week. After being briefed on the options during Tuesday's work session, Mayor Pro Tem Natasha Harper-Madison, who represents District 1, and Council Member Paige Ellis, who represents District 8, issued a joint statement proposing "a pause" on further discussion of temporary sanctioned encampments.
"We are not convinced that these sites would be a cost-effective solution, but rather a band-aid tactic when we need to be supporting the long-term strategy to get folks off the street permanent," they said. "It is our responsibility to look at the situation holistically and objectively, and to spend out city's limited resources on solutions we know can work."
Homeless Strategy Officer Dianna Grey noted that the two locations were imperfect and would require a lot of time and money to outfit as sanctioned campsites during the briefing.
City staff and homeless experts have previously raised concerns about sanctioned encampments, saying they are expensive to maintain, challenging to manage and hard to close, even when intended to to be temporary.
In 2019, staff declined to make recommendations for such sites despite being directed by council to do so, citing 2018 guidance from the U.S. Interagency Council on Homelessness. "Neither authorized encampments nor parking areas provide housing for people experiencing homelessness," staff wrote in a memo. "Rather, each option detracts from the staff resources assigned to addressing this moral imperative."

But with Prop B being enforced and too few shelter beds and affordable units for the estimate unsheltered homeless population in Austin, the city is facing the same predicament that prompted District 9 Council Member Kathie Tovo to pursue possible sanctioned campsites in the first place: "When individuals in encampments ask where they should go, we need to have places to suggest," she said at a May 6 council meeting.
Don't lose your mask just yet—the Centers for Disease Control and Prevention announced it is now recommending masks in areas that are surging as cases rise nationwide and the Delta variant looms.
The CDC announced Tuesday that even fully vaccinated individuals should mask up indoors if their community is experiencing substantial transmission—defined as areas with more than 50 cases per 100,000 people. Travis County is sitting at an average of 94.59 cases per 100,000 over the past seven days, falling into the highest risk category, according to the CDC.
#DeltaVariant surging in U.S. New data show Delta much more contagious than previous versions of #COVID19. Unvaccinated people: get vaccinated & mask until you do. Everyone in areas of substantial/high transmission should wear a mask, even if vaccinated. https://t.co/tt49zOEC8N
— CDC (@CDCgov) July 27, 2021
After two COVID-19 recommendation stage jumps in the last two weeks, from Stage 2 to Stage 4, Austin-area cases are the highest they have been since February. The seven-day average for cases is on an upward trend, reaching 226 on Tuesday.
The CDC is also recommending that all students K-12 wear masks indoors, regardless of vaccination status. A May executive order by Gov. Greg Abbott prohibits schools from requiring masks, regardless of vaccination status. Austin ISD is "strongly" encouraging students to wear masks.
Although vaccinated individuals are still protected against the most severe symptoms of the variant, infections are spreading rapidly and now make up 83% of confirmed cases in the U.S. At least a dozen cases of the delta variant have been confirmed in the Austin area, though there are likely more since testing for it is limited.
CDC Director Dr. Rochelle Walensky said that hospital admissions are "almost exclusively" coming from people who are unvaccinated but those who are vaccinated can still catch and spread the virus.
"Unlike the alpha variant that we had back in May, where we didn't believe that if you were vaccinated you could transmit further, this is different now with the Delta variant," Walensky said. "That leads us to believe that the breakthrough infections, rare that they are, have the potential to pool and transmit at the same with the same capacity as an unvaccinated person."
Research suggests those who become infected carry 1,000 times more of the virus than other variants and could stay contagious for longer.
The announcement comes on the heels of the Biden administration ramping up cautionary measures in the face of the Delta variant. Just last week, the CDC said it had no plans to change its May guidance of vaccinated not having to wear masks unless there was a significant change in the data. Officials met on Sunday night to review new evidence,
according to reports.

The Moody Center, a $338 million, 530,000-square-foot multipurpose arena at the University of Texas at Austin, celebrated its topping out on Tuesday.
With the final beam placed, the arena's steel-frame structural phase—which involved more than 5.3 million pounds of steel—is complete.

"This past year has been full of unprecedented events, not to mention weather challenges, and yet the women and men working on this project continue to deliver," Moody Center General Manager and Senior Vice President Jeff Nickler said in a press release.
To celebrate the topping out Oak View Group, the development and investment firm behind the Moody Center will affix a tree to the final beam in keeping with the time-honored tradition.

The practice dates back to ancient Scandinavian religious rites, which involved placing a tree atop new buildings to appease tree-dwelling spirits displaced during the construction process, according to the International Association of Bridge, Structural and Ornamental Ironworkers in Washington D.C.
After the steel-frame structure phase, the development will move on to enclosing and finishing the interior of the Moody Center.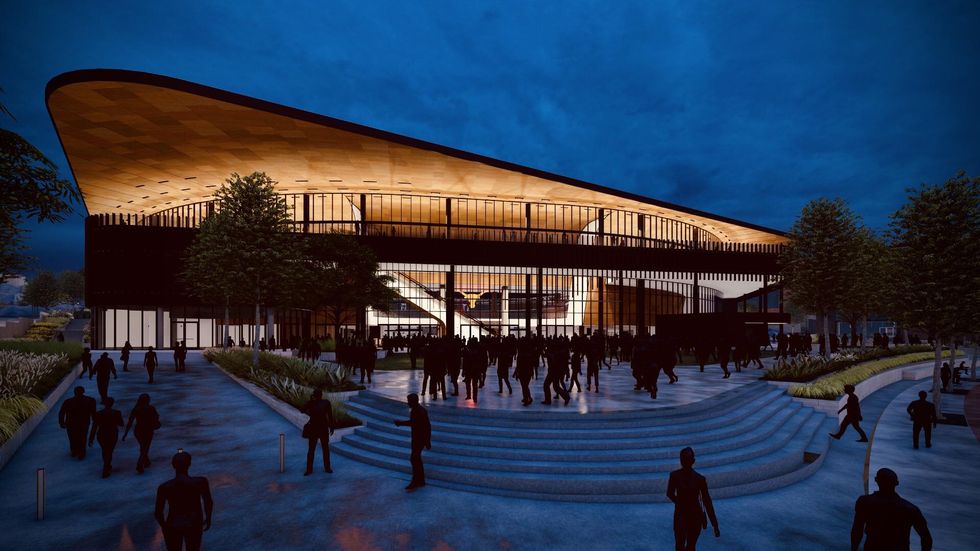 Rendering of the Moody Center. (Moody Center)
The arena is set to open next April and already has some major acts scheduled for its inaugural year, including The Weeknd, Justin Bieber, John Mayer and The Killers. It will replace the 43-year-old Frank C. Erwin Jr. Center and serve as the home of UT's men's and women's basketball games, among other sports and community events.